Latest Fashion Trends for Summer 2009
Black & White - Monochrome Fashion Trends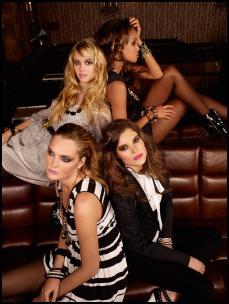 Black and white monochrome looks are one of the few real trends in women's fashion. Monochrome is one of the simplest, most chic of looks to work whatever the year. Monochrome never fails to gain attention when done well.
Monochrome is easy for creating a fairly effortless travel wardrobe, and it can be given the lift of the moment with a bright accessory taken straight from the latest colour trend chart. If colour blocking with paintbox colours is not for you, then go monochrome.
Think neutral. Think black with white. Think of alternating all black or all white garments with the opposite contrasting accessories. Accessories can be the key to getting this look so easily.
This fashion look is always smart, crisp and frequently fun as designers come up with new ways of reworking the yin and yang of black and white.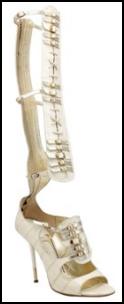 The monochrome look also lends itself to the nautical clothes trend which designers celebrate every year. Whilst nautical clothes are also a true trend for the modern woman, the underlying trend is the simplicity of monochrome. This dark against light, black with white monochrome fashion look is classic, and the perfect choice right now for anyone with a financially critical wardrobe budget.
Monochrome is capsule dressing and will stretch that tight budget. Long after coloured garments have faded into last season's oblivion you will still be able to wear monochrome classics that stand the test of time. The black and white monochrome outfits shown left are from Miss Selfridge Spring Summer 2009 collection.
The ivory 'High Gladiator Boots' right, are from Jonathan Kelsey at Harvey Nichols.
You are reading an original article about how black and white monochrome fashion designs are influencing fashions in the USA and Europe for 2009. Author Pauline Weston Thomas at www.fashion-era.com Copyright 2009 ©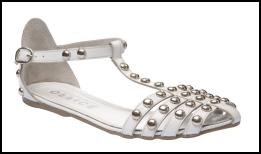 If you like to make an impression consider first getting the killer fashion accessory. These knee high Gladiator ivory open summer boots would certainly set everyone talking. They are the ultimate in statement making Warrior woman footwear this summer!
These futuristic boots by shoe designer of the moment, Jonathan Kelsey, would take any fashionista into 2010 when worn with a simple LBD.
Left - Office Taboo studded Gladiator sandals, £40 and also available in black. Office High Summer 2009 Ladies Collection.
In footwear terms Gladiator is still with us and stronger than ever graduating to gladiator lines within both full on shoes and boots. But with hot summer days ahead Gladiator sandals make the most sense. Many of us may well be happier with such easy wear, run-about-town footwear like these comfy looking flat white Gladiator sandals. Gladiator sandals are still high fashion and they offer breathable relaxed day footwear for pounding the plaza near you.
Or choose the zany spotted black and white ballerina flats shown below.
Below Left - Hobbs spotted white ballerina shoe - Black Maida Polka Dot Pump - Hobbs Summer 2009.
Below Right - Hobbs black and white striped brogue shoes - Summer 2009 Footwear - Ferne - £139 Hobbs Spring Summer 2009.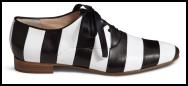 Footwear is a truly easy way to introduce fantastical black and white using boldly noticeable elements of monochrome. These will always be a keeper item for any wardrobe since monochrome comes in and out of women's fashion with such regularity. Take your pick of monochrome footwear, from flat spotted ballerinas to striped lace ups, gladiator enclosed sandals or the highest of statement heels.
Below Left - Zebra gladiator sandals £39.99 from the SS09 Ethnic range at River Island Clothing Co. Ltd.
Centre - Animal decorative tribal statue heeled black and white shoes by Dior.
Below Right - Faith Footwear white and black court peep-toe shoe - Carlotine £65, €80. Sizes 3-9.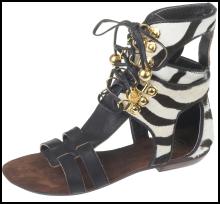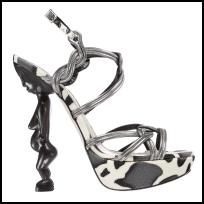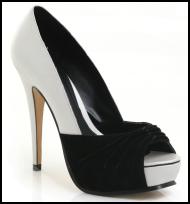 ‡‡
Below Left - Accessorize Spring Summer 2009 Byzantine Black Zebra Print Clutch £28 (€47 Eire).
Below Right - Dior minaudière box clutch bag.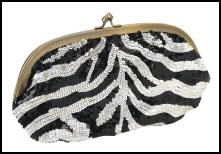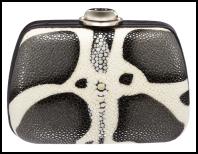 You are reading an original article about how black and white monochrome fashion designs are influencing fashions in the USA and Europe for 2009. Author Pauline Weston Thomas at www.fashion-era.com Copyright 2009 ©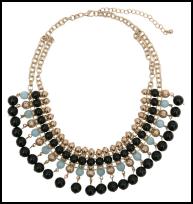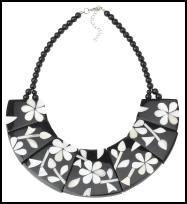 Anyone wanting to change their fashion look this 2009 may well find that monochrome is the first direction to take.
When strong primary and secondary colours get added to the monochrome scheme it makes the wearer think more about impact, style and statement.
All of the outfits shown here can instantly be made to dance with the vibe of the moment with the addition of the right accessory.
Tribal inspired costume jewellery is perfect for this season. It's ostentatious, but available in most high street stores for under £30. This is a fast fashion fad and best kept at costume jewellery level. It is statement making, but very memorable and so often best kept at the cheap and cheerful limited wearing level rather than the investment required for fine jewellery.
Above Left - Accessorize Spring/Summer 2009 Mahiki black/white Collar Necklace £16 (€27 Eire).
Above Right - ASOS.com Multi Bead Necklace, £14 Womenswear Spring/Summer 2009 Accessories.
However, if classic black or white pearls would be an investment pieces for you then look no further than my Jewels of Ocean page or to Dior for some serious costume jewellery with a negative positive approach. These Dior designer earrings show two different pairs of earring, but two very different jewellery looks.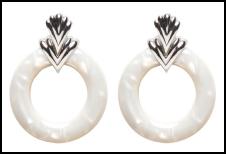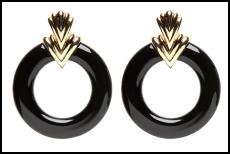 Whatever black or white accessory you select, here are some examples of monochrome that will see you through the summer of 2009. The simplest looks depend on a basic black or white dress, with the alternate tone as an accent. In these cases you don't even have to work hard on getting an accessory as it comes with the garment.
Starting simply with a little black number and a touch of white or ivory cream here we see the major floral rose trimming trend that features throughout clothes for 2009.
Roses are either added as applied pin-on pieces, appliqué, or fabric print as shown below right. If you are suffering with credit crunch wardrobe deficits then the addition of simple contrast corsage or belt to an existing black or white dress maybe your instant update.
The first two images left feature a bold ivory white corsage rose. The near right cap sleeved LBD is brought bang up to date with bow trim at the waistline. You are reading an original article about how black and white monochrome fashion designs are influencing fashions in the USA and Europe for 2009. Author Pauline Weston Thomas at www.fashion-era.com Copyright 2009 ©
Above Left - Hobbs Kyra, embroidered dress-£169, Gemma corsage - £59, Dandy court shoe £149 - all items Hobbs Spring Summer 2009 Campaign.
Centre Left - Long Tall Sally Spring Summer 2009 Monte Carlo Pleated Skirt Coat. The outfit has a 5 button fastening pleated skirt detail and 2 tone lining. Dry cleanable. Sizes;10-20 Black. £120. Available from www.longtallsally.com online at 0870 990 6885 and also stores nationwide.
Far Right - Hobbs Spring Summer 2009 Iliana short sleeved dress - £179.
§
Architecture and geometry are a feature of many pieces even on the high street. Catwalk inspiration comes from many designers, but for circular references Chloe was inspirational. Geometry can affect both the cut shape of a garment and also be introduced as linear patterns and print.
The first dress feature a play with striped pattern, crossover back straps and tulip skirt. The central shift dress below looks to the catwalk with its feature collar using circular scallops. The last prom dress uses dynamic angles and parallel lines to create a bold striking pattern that will ensure lots of attention.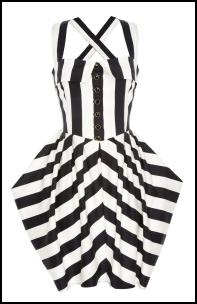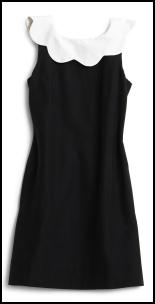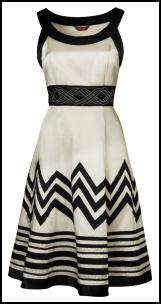 Above Left - Black and white striped tulip dress £17.00 in store end March from the Primark Collection for Summer 2009. Primark Summer 2009.
Centre - Petal frill collar black and white dress Hobbs Spring Summer 2009.
Above Right - Monsoon black and white dress. Kristen dress £115 / €194 Spring/Summer 2009 - February Monsoon Spring/Summer 2009 - Occasionwear.
Simple shift dresses in plain white accessorize well with black patent or mixed black and white accessories. The high street has plenty of selection among white dresses or white and black garments. Tribal and animal references are used across the fashion ranges.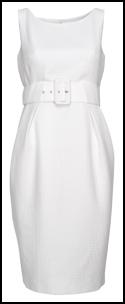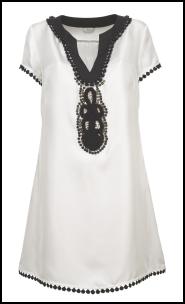 Above Left - Oasis Spring/Summer 2009 Oasis Stores Ltd white dress.
Centre - Belted dress, £45, T59 8804D Marks & Spencer Spring Summer 2009.
Right - Silk white and black dress, £79, T50 7410 in store April Marks & Spencer Spring Summer 2009.
Wide belts instantly create a dynamic look on any black and white dress.
Dressing up or dressing down can be very easy with a wardrobe based on monochrome. Monochrome is simple and elegant. It can be the perfect answer when you have no idea what to wear as it adapts itself so easily to any occasion. The look is always chic, never tawdry or out of place. The most classic example of all is the nautical fashion take, but as a black and white striped top, trimmed with this season's hot haberdashery a self fabric rose flower.
The first image below is courtesy of Boden.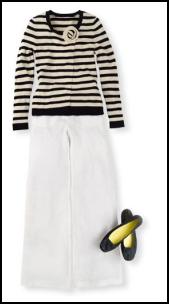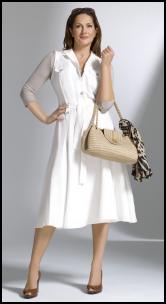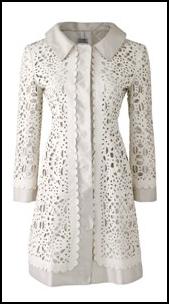 This white dress centre above and from Marks and Spencer is shown here worn as a pinafore shirt dress. Yet it is a button-through summer dress which could be worn as it comes, slipped over swimwear as an instant cover up, or worn over trousers or long sleeved tunic or dress and worn like a modern sleeveless coat over other layers. Image courtesy of Marks and Spencer and from their new Portfolio range.
Be aware that Marks and Spencer now ship fashion goods to various parts of the globe. Links all over this website will take you straight to the online store.
For a special dress up without wearing full evening/cocktail wear or longer lengths, what could be more stunning than this Alberta Ferretti coatdress from Harvey Nichols and shown far right above. The classic shape worked in fabric to thrill has a simple yet pure architectural form bound to give a great figure to the wearer. Image courtesy of Harvey Nichols.
‡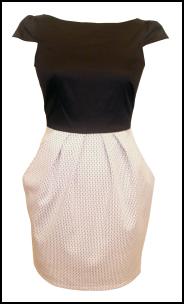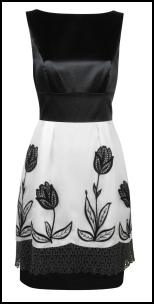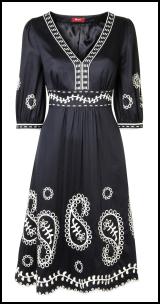 These dresses will flatter different problem figures.
The skirt fullness in the dress left, is perfect to disguise a bit of a tummy, whilst the darker top disguises a heavier bust as focus is drawn to the collar bones and the wide neckline. This style would be good for small top heavy women but with small shoulders as it adds width making it an area that the eye settles toward at necklace level.
Left - New! in at JOY - 2 in 1 Patterned Skirt Black and White Dress £45.
Near Centre - Monsoon Spring/Summer 2009 - Originals Adlyn Black and White Dress £160 / €271.
Far Right - Monsoon Spring/Summer 2009 Main Range Black and White Empire Dress.
Similar in line, the centre dress focuses on the skirt and would suit those who wish to draw attention to their hips and smaller waistline. The white skirt section also gives the false hem illusion making the onlooker believe the skirt is shorter than it is yet being comfortably longer for a woman who dislikes real shortness in a frock.
The third paisley border, white-on-black dress can be very effective for the shorter woman. The border draws the eye to the hemline. The deep V neckline draws the eye to perhaps a handsome cleavage. Since the eye is drawn to two points far apart this certainly helps elongate when the soft gathers also help cover up any midriff bulge.
This style of dress so often suits shorter women as the distance from bust to hem of the skirt helps to elongate, and create a false illusion of streamlined fabric. So often shorter women like the definition that a raised empire dress or raised tunic waist can give them. It may well be one of the few occasions when the seam actually sits where it is intended to sit, unlike a normal waistline seam which may be too long in the body and create unsightly back folds of fabric.
A petite woman, with shorter arms, may prefer a sleeve that is not full length leaving this in between length to settle wherever it suits her best. These are some of the wardrobe tips and tricks to play with when shopping. Think where you want to draw the eye to and where you want to draw it away from whilst creating an illusion of balance.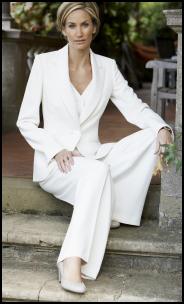 You are reading an original article about how black and white monochrome fashion designs are influencing fashions in the USA and Europe for 2009. Author Pauline Weston Thomas at www.fashion-era.com Copyright 2009 ©
Taller women may love dresses too, but many will look really stunning in an all white trouser suit such as this one worn by Lisa Butcher for Long Tall Sally.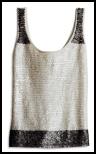 Confidence comes from choosing the right clothes for the body you have.
This white trouser suit could easily be made more versatile with this black and white sequin top from. Left - Sardinia Outfit with Sardinia single button jacket £85, Sardinia Waistcoat £46, Sardinia Palazzo Trouser £60 - all Long Tall Sally Spring Summer 2009.
Right - A monochrome inspired sequin top perfect for jazzing up a basic skirt or pants. Details - Taryn - £99 sequin vest Hobbs Spring Summer 2009.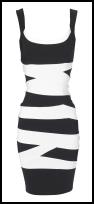 If you are tall and rangy then a zebra stripe bandage style dress like this one right may make you look a million dollars. Pattern and print is dynamic in monochrome as these example show.
Right - Jane Norman Body con fitted black and white dress in zebra stripes perfect for a young toned figure and good arms.
-------v6-------
Tribal, Tropical and Animal Monochrome Fashion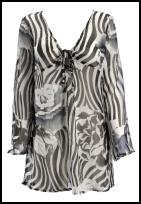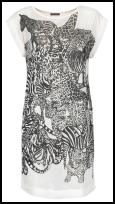 Tribal, Tropical and Animal Monochrome Fashion are headlining racks in a store near you.
These Zebra and cow print garments and bags are fashion having great fun with itself.
Far Left - Animal empire line Kaftan tunic by BHS Spring Summer 09 Holiday Shop - Monochrome Kaftan £20.
Near Left - Marks & Spencer Spring Summer 2009 - Animal Print Black and White T-shirt £19.50, T69 0751F in store April-mid June. Both of these tops and long tunic dress are ideal as swimwear cover ups.
Lots of swimwear is also worked up in monochrome black and white. Take your pick from styles like these.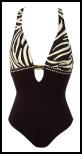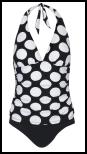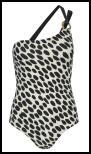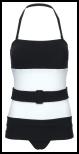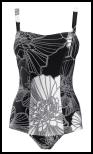 Far Left - Matalan Swimwear - Contrast animal Zebra top black and white swimsuit £10 - Matalan SS09 Women.
Centre Left - Marks & Spencer Spring Summer 2009 black and white swimsuit - T524328, £29.50.
Centre - Marks & Spencer Spring Summer 2009 black and white swimsuit T52 4476, £29.50.
Centre Right - Marks & Spencer Spring Summer 2009 black and white swimsuit - £29.50.
Far Right - BHS monochrome black and white swimsuit £25 - Spring Summer Holiday Shop 2009 at BHS.
Black and white checks and tablecloth check linear patterns are hot on the tail of animal and tribal clothing. These black and white gingham dresses present similar fabric but informal and formal options.
On trend budget beater details :-
Below Left - Tesco Spring Summer 2009 Cherokee Womenswear - Black and white dress in check fabric £14.
Below Centre - Marks & Spencer Spring Summer 2009 - Gingham black and white dress - £45.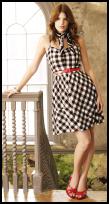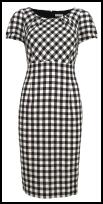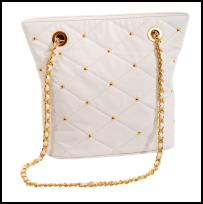 Bags are also available in checks or the very popular square and diamond quilted bags with gold intertwined chains and which ape designer handbags rather well but at high street prices. Above Right - Miss Selfridge Spring/Summer 2009 Accessories quilted bag with gold chain - £25.
One final version of the black and white trend which takes a lead from all the peasant/ikat/tribal fad is the effect of traditional blackwork embroidery.
You can read more on my fashion top ten credit crunch tips there. You have been reading an original Spring Summer Fashion Top Trends 2009 Monochrome Black and White Fashion article by Pauline Weston Thomas at www.fashion-era.com ©
Copyright of images courtesy of Prshots, Miss Selfridge, Harvey Nichols, BHS, River Island, Marks & Spencer, Accessorize Monsoon, Matalan, Principles, Hobbs, ASOS, Long Tall Sally, Primark, Dior, Faith Footwear, Office Footwear.
Date added 13 April 2009 - Ref:P.715 Monochrome Fashion.
If you like this page then please share it with your friends
---
--Link--
For more information on ladies and teens fashion trends go to:-
* AW (Autumn Winter)
Archived Sections
Custom Search
About Fashion-Era.com
Fashion-Era.com looks at women's costume and fashion history and analyses the mood of an era. Changes in technology, leisure, work, cultural and moral values. Homelife and politics also contribute to lifestyle trends, which in turn influence the clothes we wear. These are the changes that make any era of society special in relation to the study of the costume of a period.

Fashion-Era.com can take no responsibility for any information on the site which may cause you error, loss or costs incurred from use of the information and links either directly or indirectly. This site is owned, designed, written and developed by author: Pauline Thomas and Guy Thomas. This site is designed to be viewed in 1024 X 768 or higher.
ALL RIGHTS RESERVED. Fashion-era.com reserves the right to add or delete information, graphics and links. Copyright © 2001-2014 on all content, text and images in Fashion-era.com. Images and text in this website may not be used on other websites.
Before you write to me for costume/fashion help or information please, please consult the extensive sitemap which lists all our pages. If you still cannot find the answer after searching the site, then before you email me, please consider if you are prepared to make a donation to the website.
Donations
Reader's donations help this site flourish, in particular donations encourage me to write more articles on fashion history as well as current trends. PayPal allows anyone with a credit card to donate easily and securely. You may donate any sum you feel appropriate.