Summer Dresses 2009 - Latest Fashion Looks
This article is about pretty and sophisticated summer dresses for 2009. I will cover the latest silhouette, the fabric type, colours and patterns. It is interesting to compare trends of previous recessions with those of fashion looks in 2009. For example, increased modesty in dress with longer, fuller skirts, more reserved necklines, wider shoulders and billowing sleeves capping or encasing arms. Despite recession hardship there will always be women who want fashionable clothes at affordable prices.
In fashion history terms it is now very easy to see how the dress for 2009 is moving from a straight silhouette to A-line. The profile is getting much wider at skirt and shoulder level, and is balanced with a longer hemline.
Observe how many of the dresses on this page illustrate the use of a wider A-line silhouette, drapery, tucks, pleats and bows. Almost all are combined with that other strong new fashion trend of greater modesty at the neckline. Most of these frocks have more modest sweeping jewel or boat necklines rather than ultra low revealing dιcolletι.
Less formal dresses are the easy A-line 60's shifts, or Kimono sleeve dresses that morph into tunics when worn over trousers.
Asymmetric one shoulder dresses are leading the way for occasion and evening wear styles, although there are also plenty of prom fairy style dresses and maxi dresses too. You are reading an original article about fashions in summer dresses for 2009, author Pauline Weston Thomas at www.fashion-era.com Copyright 2009 ©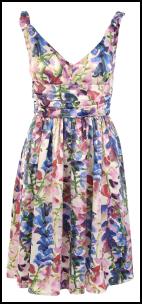 All manner of styles have appeared for Spring 2009 with both customers and retailers taking the dress to heart. These two dresses above right are by Celine. Both Celine dresses illustrate the fashion trendsetter elements with the loose painted on dye fabric effect, the widening longer line skirt and wider shoulder line.
This is a pivotal change in the everyday silhouette and worthy of note. For not only is the dress now a norm, but it also comes in a wide array of silhouette styles.
‡‡
Plain bold colours, or monochrome schemes, produce powerful yet summery looks. Newer fabric decoration gives full rein to the paint box. Painted-on colour using wide brushstrokes of watercolour, plus soft dreamy Ombre effects, create a kaleidoscope of colour yet are blended to art palette perfection.
Floral roses, trailing blooms of sweet peas and daisies combine to create watercolour like prints. Fabrics done in a painterly manner allow whole gardens to be brought to dresses, as shown by the dresses above. Such patterns suit the classic waisted fifties dress so well.
Right - TK Maxx Floral Print Dress. £49.99 Spring Summer 09 Dresses.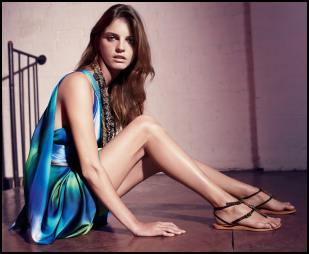 The tunic dress above left, by Michael Angel, is in an abstract wet-on-wet watercolour material similar to the styles of fabrics from Celine shown top of the page.
These dye print/ombre/brushstroke/tie-dye effects are so new they blur the boundaries of traditional pattern and prints, the result is to invent fabrications that have the look of hand painting and hand-screen printing.
Blue is an important colour this year, and fused with aquamarine green or purple mauve it becomes like a vibrant psychedelic dream.
The blue and sea green dress right, and which reflects all the colours of the sea, is from Warehouse Spring 2009 Womenswear.
Warehouse Impact Print Dress £60/€95, Necklaces start from £14/€22, Sandals £28/€45.
Prints help to fashion a more ethereal and exotic effect. Fabrics are layered or given additional texture with brocade surface interest and the play of metallic, satin and silk fabrics combine to add surface depth.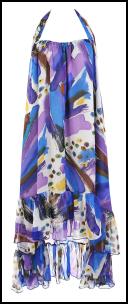 Designers are using the artist palette in its full range even in animal prints. We are seeing patterns from zebra to leopard, which are much more exotic than in previous years; what makes the difference is the rich jewel hues.

Bright colour is one of the strongest fashion statements of the season. This vivid blue paint brushstroke halter maxi dress left is from TK Maxx and bears striking print imagery similar to the designer fabrications above.
Left - Multicoloured blue mix halter-neck maxi dress £29.99 Spring Summer 09 Dresses TK Maxx (Limited availability on items at TK Maxx).
Stylised statement is the key to Japanesque detail, for example, print fabrics with meandering motif ornamentation that have bold Ikebana styled flora and grasses like this Monsoon maxi dress. Maxi dresses offer a large canvas of fabric, and are wonderful to display the largest of lone motifs as a bold single work of art.
This dress is part of Oriental Garden, Monsoon's range full of Eastern promise. The collection fuses vintage detailing with the delicate allure of the Orient. It is inspired by the romance of nature, Japanesque floral prints and intricate embellishment all teamed with an uncomplicated silhouette. Right - Tokyo Maxi Dress £55 / €93 - Monsoon Spring/Summer 2009 Main Range. You are reading an original article about fashions in summer dresses for 2009, author Pauline Weston Thomas at www.fashion-era.com Copyright 2009 ©
§
So many of the examples above featured blue tones, Santorini blue, bright Yves Klein blue through to sea green blue tones, all make the blue family a major colour for 2009. These dresses below show not only the variety of the blue tone, but also the changing silhouette of the year 2009.
The silhouette of the first blue dress begins with an undefined drapery in the sleeve shoulder area. Moving along the line, the royal dress develops a slight A-line that compliments the asymmetric shoulder line. Next is a simple blue summer shift with decorated neckline, it has an easy flared A-line silhouette. The final dress in the line-up features a green dress with extra fullness in the form of medium restrained pleats, but the skirt has visibly widened.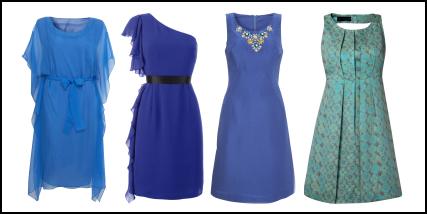 Far Left - Wallis Spring Summer 09 - Blue stingray dress £50/€80.
Centre left - Matalan Dresses - Et Vous ruffle one shoulder dress £25 - Matalan SS09 Women's Apparel.
Centre Right - Wallis Spring Summer 09 - Beaded neck shift dress £60/€95.
Far Right - Dorothy Perkins Spring Summer 09 - Blue jacquard mini dress £40/€60.
Even with so many styles of dress available, the most noticeable trend for summer dresses 2009 is for a bold strong colour, with drapery in a gradually widening skirt silhouette. Fashion designers achieve this by employing double layer skirts.
Volume, once a dirty word in early noughties fashion, now seems so normal compared to just a few years ago. The shoulder line has widened and covered bare shoulders giving a fifties/early sixties touch of fashion. This is groomed dressing. You can also see actresses wearing examples of this dress style in the TV series 'Mad Men'.
In the line-up of 4 summer dresses below, the rich green strapless dress shown left has a fuller silhouette with a much wider skirt and a deep inverted pleat. The prom bodice is also higher than in previous seasons. The apple green sleeved and yellow dresses all have draped soft pleats which add volume fullness.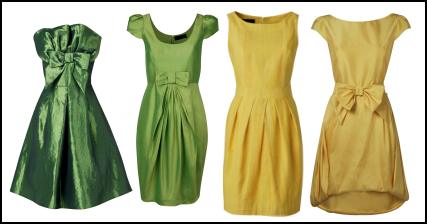 Far Left - Dorothy Perkins Spring Summer 09 - Green taffeta prom dress £40/€60.
Centre Left - Dorothy Perkins Spring Summer 2009 - Lime bow front shift dress £40/€60.
Centre Right - Dorothy Perkins Spring Summer 2009 - Yellow linen shift dress £35/€55.
Far Right - Dorothy Perkins Spring Summer 09 - Yellow bow front dress £45/€70.
‡
In the warm toned dress line up below, the silhouette moves from the popular A-line yoke shift, to the red prom line full skirt. This red prom dress is also much more modest than bustier styles of last year. The silhouette moves back to tiered half skirts on pencil line underskirts and in the final pink dress the waist shows 1920 influence as it drops to a high hipline. As a result, skin exposure is additionally much more restrained in the 2009 summer dress.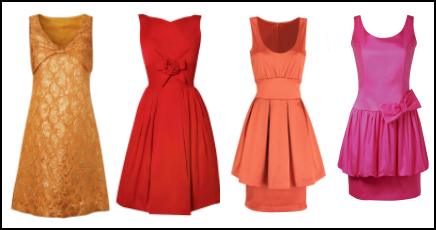 The silhouette is changing and it is obvious a wider skirt will very soon be the norm.
Far Left - Dorothy Perkins Spring Summer 2009 - Gold jacquard shift dress £40/€60.
Centre Left - Dorothy Perkins Spring Summer 09 - Red bow front prom dress £45/€70.
Centre Right - Littlewoods Direct Spring Summer 2009 - Two layered peplum dress £49.
Far Right - Dorothy Perkins Spring Summer 09 - Pink bubble hem dress with bow £45 €70.
For summer 2009 the dress fashion trend most likely to win over every age group is the 60s A-line shift dress, such as the orange brocade dress above left or these easy A-line dresses left.
Left - Richard Nicoll for People Tree - Pink Stripe Ruffle A-line Shirt Dress - £75.
Both embroidery and beads are also used to embellish these summer dresses, especially at centre fronts and necklines. This transferred trend really stems from the influence of kaftans in fashion. Centre Left - Coral Pip Dress £65 / €110 - Fusion Monsoon Spring/Summer 2009.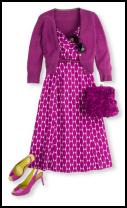 Even empire line dresses, like this bold bright magenta dress from Boden and the floral dress below right, are moving toward A-line silhouettes. Right - Boden Spring Summer 2009 - Magenta outfit of A-line empire dress and cashmere cropped cardigan, rose covered handbag and sling back shoes.
Short, knee, calf or maxi length dress - it does not matter; just make sure you have at least one empire line dress in your wardrobe this summer and preferably one with full kimono sleeves to ensure you can instantly feel updated.
The Empire Line LBD
What could be more grown up than this raised waist little black dress from Harvey Nicholls. It is the ultimate grown up dress, yet combines youthful frivolity with sophistication.
Left - The LBD from Harvey Nichols. Giambattista Valli Rope Detail Sheath Dress.
The garden has meandered onto summer 2009 frocks, and of course roses abound in prints and create such stylish dresses. Few floral prints could be more delightful or epitomise hazy summer days more than Harvey Nichols' empire line dress right.
Right - Twenty8Twelve Pixelated Rose Print Empire Dress at Harvey Nichols
You are reading an original article about fashions in summer dresses for 2009, author Pauline Weston Thomas at www.fashion-era.com Copyright 2009 ©
A Bold Colour, a Soft Pastel or Print for Everyone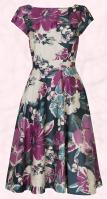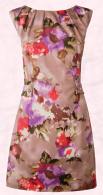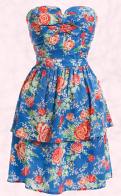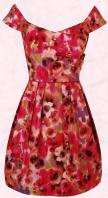 Left - Posey Dress £75 / €127 form Monsoon Spring/Summer 2009 Main Range.
Centre Left - Dorothy Perkins Spring Summer 2009 - Brushed floral shift dress £40 €60.
Centre Right - Miss Selfridge Floral Blue Prom Dress - £45/€68 - Miss Selfridge Spring Summer 2009.
Right - Pink Waterlily Dress £60 / €102 - Monsoon High Summer 2009 - Fusion. This Pushing Daisies dress is inspired by all things ladylike. It has blurred florals with the classic Fifties silhouette of nipped-in waists with sophisticated, mismatched styling.
Prints in Summer 2009 Dresses
Pattern is very important with botanical garden prints, and there are also Amer-African tribal prints and animal designs. Brushstroke marks and hazy watercolour blends of dyes that run into each other add a touch of dreamy lightness to lazy summer day frocks, tea dresses and occasion wear. Many of the currently fashionable retro inspired prints examples above are reminiscent of Vintage 1950s Calpreta cotton satinised fabrics.
One instance where pattern is shown to great effect is in the kimono sleeve and Kaftan sleeve. Widths of sleeve and drape vary, but the potential for even greater volume is still growing.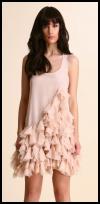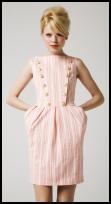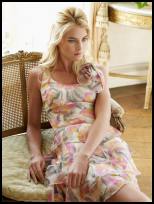 You may like the newness of the softer fondant colours with a watery sorbet appearance. These soft flesh pink dresses have a wistful femininity about them.
The summer dress far right from asos.com has a frilly ruffle hemline interest in line with frill and haberdashery trims so fashionable on 2009 garments. The rose-print dress centre also has a rose corsage on the shoulder to emphasise the tiered frill frock. Centre Right - Littlewoods Direct Spring Summer 2009 Corsage detail summer dress £59.
The pink and white shift dress far left right has elements of military a trend that has been ongoing for some years. This year striped fabrics are a hot fad too.
Above Left - Feminine tailored candy striped pink and white military look lantern dress with pockets, Spring 2009 from Primark - Pink and white striped dress £17. You are reading an original article about summer fashion dress looks by Pauline Weston Thomas at www.fashion-era.com © 2009
-------v6-------
Drapery focusing on the waist or side waist is a fashion style being adopted everywhere. It's not just bold brights of lapis or sea green, but also a choice of neutral creams, silver greys, expensive bronze and flesh tones. The goddess draped fashion dresses are especially suited to subtle colour ways and they can be found in biscuit, dusty soft rose, creamy putty tones, white, grey or copper gold. These are all tints that imply Grecian antiquity or even 1940s goddess.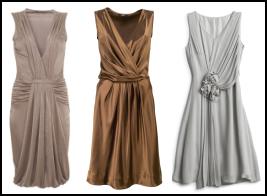 Who can forget the draped satin curtains of their childhood when they visited the cinema. Thus many of these draped and architectural styles lend themselves to satin, satin backed crepes, knit jersey or silk chiffons.
This sheen and gleam of silk jersey and silk satin looks at its most glorious when falling into luxurious swathes and drapes and the maxi dress is the ultimate in Grecian goddess since the extra length lends itself to create trains and layers.
Near Left - Wallis Spring Summer 09 - Draped deep v-neck dress £40/€60
Centre - Marks and Spencers - Bronze goddess draped dress. TBC
Right - Hobbs Spring Summer 2009 - Draped silver grey occasion dress. TBC.
Often when describing must-have fashion looks what, what we really mean is a must-have seasonal fad. The real trends to watch are those of Monochrome, Nautical, Military, Vintage and Volume looks. These are all trends that have had a growing impact every fashion season this decade.
Left - A real fashion trend - Volume in fashion sleeves and skirts. Matthew Williamson Fuchsia Floral Dress With Puffy 3/4 Sleeves available from Harvey Nichols.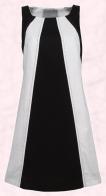 Right - A true fashion trend - Monochrome Looks. Dress by Episode Spring Summer 2009, available at House of Fraser large stores.
If colour and pattern is not your thing then there are two options. Firstly, seek out the classic nautical colour schemes of navy/red/white/tan, secondly, choose the simplicity of black and white.
Monochrome is a very easy look to adopt and adapt in the credit crunch. A monochrome garment with the boldness of retro chic blocks of contrast tones like this dress from Marks and Spencer Summer 2009 range creates an optical illusion of slimness.
You are reading an original article about fashions in summer dresses for 2009, author Pauline Weston Thomas at www.fashion-era.com Copyright 2009 ©
Dropped shoulder 1980s style tops, and kimono sleeve Kaftans create silhouette tunics with relaxed looks perfect for casual and comfortable relaxed summer wear. Kaftan tops are ideal with jeans, shorts or other trousers, or on the beach as cover up wear.
These short dresses use intense colour mixes, magnificent border prints to create dresses with exotic flair and mystery.
The wide kimono sleeve left is important to note as follow-on styles will be led by this look.
Left - Keja Dress £85 / €144 Monsoon Spring/Summer 2009 - Main Range.
Right - Monsoon High Summer 2009 - Occasionwear Kaftan Tunic Dress.
Kimono and loose easy Kaftan styles also feature strongly in maxi dress silhouettes. These maxi dresses are both empire line in silhouette, and follow the tiered styles set last year by Dolce and Gabbana. These examples illustrate the designer version at Gucci or the high street low cost credit crunch version from Primark. The full sleeves signal new shapes to come.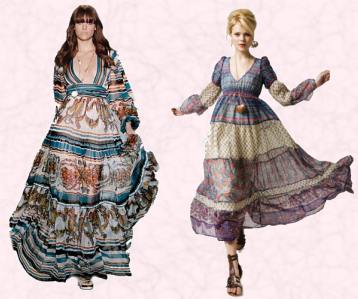 Above right - Long sleeve chiffon maxi dress £15.00 due in store mid March worn with wood heart pendant necklace £2.50. Crescent flower drop earrings £2.00, Leather buckle gladiator sandals £10.00 - Primark Collection for Spring 2009.
The dresses on this webpage illustrate the new 2009 dress fashion silhouettes, the bold strong paint box colours and painterly fabrics of Spring and Summer 2009. You are reading an original article about fashions in summer dresses for 2009, author Pauline Weston Thomas at www.fashion-era.com Copyright 2009 ©
Copyright of images courtesy of prshots, Swarovski, TK Maxx, Celine, Harvey Nichols, Dorothy Perkins, Wallis, Miss Selfridge, Oasis, New Look, Littlewoods, River Island, Marks & Spencer, Accessorize Monsoon, Matalan, Gucci, Principles, Hobbs, House of Fraser, ASOS.com, Warehouse, Primark, Boden, People Tree.
Date added 18 January 2009 - Ref:P.711.
If you like this page then please share it with your friends
---
--Link--
For more information on ladies and teens fashion trends go to:-
* AW (Autumn Winter)
Archived Sections
Custom Search
About Fashion-Era.com
Fashion-Era.com looks at women's costume and fashion history and analyses the mood of an era. Changes in technology, leisure, work, cultural and moral values. Homelife and politics also contribute to lifestyle trends, which in turn influence the clothes we wear. These are the changes that make any era of society special in relation to the study of the costume of a period.

Fashion-Era.com can take no responsibility for any information on the site which may cause you error, loss or costs incurred from use of the information and links either directly or indirectly. This site is owned, designed, written and developed by author: Pauline Thomas and Guy Thomas. This site is designed to be viewed in 1024 X 768 or higher.
ALL RIGHTS RESERVED. Fashion-era.com reserves the right to add or delete information, graphics and links. Copyright © 2001-2014 on all content, text and images in Fashion-era.com. Images and text in this website may not be used on other websites.
Before you write to me for costume/fashion help or information please, please consult the extensive sitemap which lists all our pages. If you still cannot find the answer after searching the site, then before you email me, please consider if you are prepared to make a donation to the website.
Donations
Reader's donations help this site flourish, in particular donations encourage me to write more articles on fashion history as well as current trends. PayPal allows anyone with a credit card to donate easily and securely. You may donate any sum you feel appropriate.