Women's Nautical Clothes for Summer 2009
Red, White and Blue Fashion Trends
Exclusive looking yacht and cruise wear is always in fashion, and it's quite clear that along with the staying power of ethnic trends, nautical military is also one of the enduring fashion trends of the noughties.
Red, white and blue combinations with a European slant suits the notion of Saucy Sailor Girls, Breton Babes, Maritime and the Yachting Club Med lifestyle. These are all the terms being used to describe a recurring nautical based trend that comes around every spring with a fresh combination of a brighter blue as well as traditional darkest navy blue and white, with red or tan touches.
Women's Nautical Clothes
Nautical Fashions for Summer 2009
This page looks at some of the nautical inspired blue, white and red fashion apparel and accessories that are everywhere. These items are for sale this 2009 from UK stores and online services.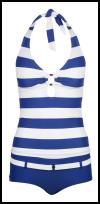 One point to observe is that nautical fashion for 2009 provides a choice of two blues - dark navy blue or bright palace blue.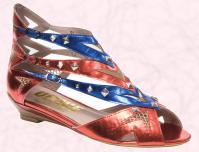 This seafaring fashion look is also frequently reinvented as part of ship ahoy, Rule Britannia, or USA cheerleaders. The wide striped halter tankini swimwear shown left from Tesco, should be affordable for most women. The swimwear fits the traditional naval theme in the most appropriate way, but in this new brighter blue a favourite colour of 2009.
Left - Florence & Fred blue and white stripe tankini £13. Spring Summer 2009 F&F Womenswear at Tesco.
Right - Office Spring Summer 2009 Ladies Collection - Red and blue stud 'Hold Me Back' Gladiator sandal £65. The red and blue modern gladiator sandals have a jaunty cheerleader air and youthful touch.
Nautical clothes this year have more fun, and these sandals show how designers are exploring different facets of the maritime them. While more red and white and blue items are shown further down this page, our immediate thought of nautical clothes is generally one of crisp sharply defined looks, such as these jackets below.
Classic navy and white double breasted jackets are recognisable for that authoritarian and severe air; yet in the summer of 2009 this jacket also conveys that smart, crisp and ship shape appearance. Winter looks so often follow the more utilitarian, longer, warm woollen, pea coat style, but for spring and summer shorter jacket and blazer versions are more the norm.
Sharply smart, the naval look jacket always has something of the uniform about it, which lends an air of importance, smartness and a 'take me seriously' edge. This is the sort of outfit that gets a sharper service from assistants and respect from onlookers.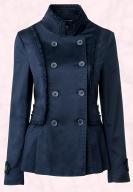 Shown left is one of the lowest cost high street offerings that I have found. Again it's from Tesco's fashion range called the 'Florence and Fred Spring Summer 2009 Collection'.
Near Left - Double breasted navy jacket £15, F&F white high waisted trousers £15, F&F black lock frame bag £15. All from Spring Summer 2009 F&F Womenswear at Tesco.
While this plain navy summer jacket right from Dorothy Perkins is military inspired, it has been softened up with a small and very feminine frill trim. Like the Tesco version, it's also smartly within budget at just £35. You are reading an original article about women's nautical fashion in 2009 by Pauline Weston Thomas at www.fashion-era.com ©
‡‡
For sheer fashionable fun in 2009, women's clothes take inspiration from catwalk military. The runway model's jacket left is clearly inspired by Bonaparte's uniform. Observe how this House of Balmain washed out denim jacket is trimmed with navy and fine piping.
River Island have also picked up the catwalk look, to create an ivory cream military jacket with its braid and button decoration.
Interestingly, each of these military nautical looks is teamed with white.

The Balmain white jeans are distressed at the knee and in credit crunch times this is one look so very easy to copy yourself with a little home customising.
The navy and white scarves worn by the girl above right are such an easy way for any cash strapped young woman to update to this season's nautical looks and stay right on budget.
In fashion history terms, designers have reworked the hussar trend countless times this decade. Yet the military look has retained freshness each year and more importantly, customers love the look making the latest naval versions a trend maintaining classic longevity.
Notice how shoulders are widening, and sleeves are being worn pushed up the arm. Sleeve and arm interest is creating a new erogenous zone. The effect has to be better than the muffin top!
Above Right and Shoulder Detail - Balmain jacket available at Harvey Nichols.
Far Right - Cream military jacket £40 Therapy, Blue and white striped scarf £10 Therapy, White broderie dress £30 by Therapy - Young Fashion Spring Summer 2009 all from House of Fraser.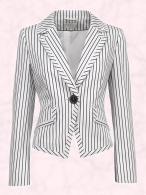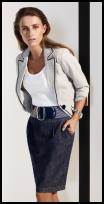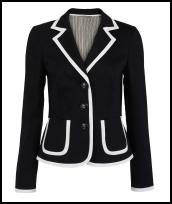 The sharply trimmed navy and white jacket left is the simplest way to get this crisp look started. Teamed with existing navy or white pants or jeans, or even the latest new pants shape you can walk straight into the nautical look.
Left - Phase Eight Spring Summer 2009 Navy Cotton White Trim Jacket £99.00.
Centre - Wallis Exclusives SS09 Stripe Blazer £40/€60, White vest £10/€15, Blue denim skirt £30/€45.
Right - Stripe Blazer T59 1494J in store April £49.50 - Marks & Spencer Spring Summer 2009.
But the nautical look is given a much more summertime appeal when the positive/negative take is employed.

For example, here a white and navy stripe fabric is trimmed with navy braid creating a smart, but more informal appearance for what might be a hot business day.
The way you wear a garment and style your outfit affects the end look. This narrow jacket and white trouser combo has a laid back air. You can achieve this look by wearing the jacket in a more carelessly un-buttoned style. When teamed with an irreverent fun T-shirt vest tank top, and jaunty trilby hat, a jacket and trousers can transform into a casual style.
Betty Barclay Spring/Summer 2009 - The outfit of white trousers in an ultra-fashionable Marlene Dietrich style and feminine blazer is cool and casual. The white decorative seams in particular accentuate the relaxed look, and emphasise the slim line styling. The white ribbed top with its cheeky print adds a sporty touch.
Blazer ₤170, Top UK ₤30, Trousers UK £105 - all Betty Barclay.
You are reading an original article about women's nautical clothes in 2009 by Pauline Weston Thomas at www.fashion-era.com ©
Whilst the short and cropped jackets are still in abundance this summer, the newer boyfriend blazer is a longer line 'cover up'.
This classic boyfriend blazer near left is from Marks and Spencer in a wide range of sizes.
Near Left - Long boyfriend style navy sailor blazer £75 from Per Una Spring Summer 2009 Collection at Marks & Spencer from April.
For an easy on-trend way to work the boyfriend blazer, add an 80's vibe by rolling up the sleeves and show the lining. Contrast linings earn extra brownie points.
Left - The River Island gladiator shoes are worth a closer look! Catwalk calling!
Luella oversized blazer £49.99,
Papercut work dress £59.99,
Claire bondage heels £89.99 .
All from River Island Clothing Co. Ltd., Spring Summer Collection.
§
If you have legs good enough for short skirts, then this nautical dropped waist dirndl skirt will ease you through the summer. And if your legs are less than perfect, consider the many options of wearing it over longer visible net petticoats, over jeans, with bold bright tights or other legwear.
But for ease of adapting existing outfits, a simple pair of nautical inspired wedge shoes may be all you need.
Near Right - Dorothy Perkins Spring Summer 09 Cream border stripe full nautical skirt £28/€44.
Right - NEXT Spring Summer 2009 - Womenswear Woven Super Wedges £28/€42.
Following on from the stripe theme there are always several styles of white and navy tops each summer, and 2009 is no exception. Shown below are two simple even-stripe tops from French Connection and Matalan. While both standard fare, the sailor button decorated skirts and dark jeans are very much summer 2009.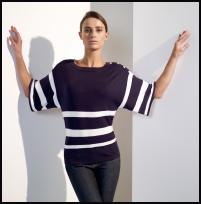 The variety of scale within stripes also offers some interesting contrasting tops, and many show negative/positive graphic work.
Left - Matalan Catwalk Look - Sequin striped t-shirt £10 Nautical shorts £10 Lace heart tights £3.
Centre Left - Navy and white nautical stripe top £40, High waisted denim Trousers £75, Black wedges £85, all French Connection SS09.
Right - Wallis Exclusives SS09 Navy/White striped jumper £30/€45, Jeans £30/€45.
This year roses and frills are a strong feature on women's nautical clothes. These two basic striped seafaring T-Shirt tops have been enlivened with first a frill drape and secondly a rose appliqué motif.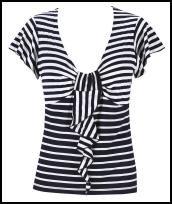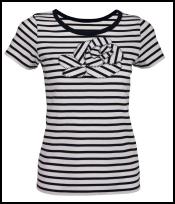 Above Left - Per Una Spring Summer 2009 - Nautical stripe Top £23 from Marks & Spencer.
Right - Phase Eight Spring Summer 2009 Stripe Flower T Shirt £35.
‡
Stripes come in many colours, but this year offers a second bright blue as a change from navy-blue. There are also many bright striped garments in other colours, particularly red and white tops. All give greater choice for those who find navy and white too sombre.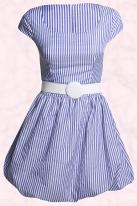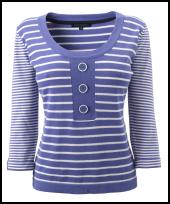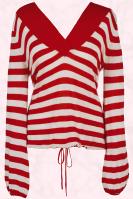 Above Left - Boohoo.com - Dorothy striped puff ball hem dress with belt and cap sleeves £20 Spring Summer 09.
Centre - Bonmarché Spring Summer Mixed Stripe Sweater - Also available in Black/White & Blue/White. £20.
Right - Matalan Red and White striped casual top - Et Vous cashmere blend striped jumper £18, SS09 Womenswear.
Beginning with naval accessories, several stores combine red white and blue to create fun pieces suited to patriotic moments, here are three with an English flavour.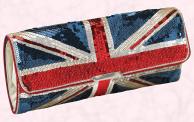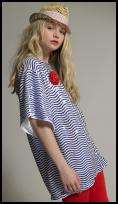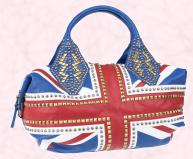 My first thought when I saw the above items, was 'This is not yet 2012' when such accessories might come into their own as patriotic Olympic statements for UK supporters. My second thought was 'Prince William is not getting married this year as far as I know!'
But if you just want to fly the flag, even in an ironic way, these pieces are great fun.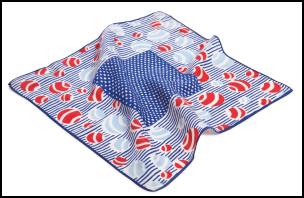 Two of the items here - the clutch bag and the oversized T-shirt, highlight the fashion world's love affair with the sequin this year. However, let's not forget golden studs which have also been adorning bags now for several years. This bag makes use of the Union Jack flag and studs. The shape reminds me of Fendi spy bags.
Above Left - Spring/Summer 2009 Women's Accessories Bags - Debenhams Star by Julien Macdonald.
Centre - New Look - Spring/Summer 2009 Collection Womenswear.
Above Right - Union Jack Oversized Tote £150.00 - SS09 WW Hero Pieces at River Island Clothing Co. Ltd.
Left - Red white blue print scarf from Hobbs. Hobbs Spring Summer 2009. You are reading an original article about women's nautical accessories in 2009 by Pauline Weston Thomas at www.fashion-era.com ©
-------v6-------
More Red, White or Blue Nautical Accessories
Whilst these items are designed to be nautical you can mix and match your own naval inspired outfits from the widest range of red and bright blue garments and accessories through the retail sector this season.
Easy straight shift dress, straight fitted double breasted dress, or a simple easy to wear skirt - take your pick.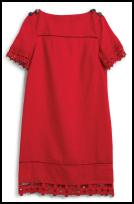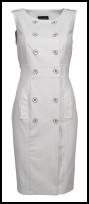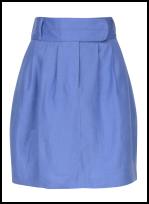 Far Left - Red shift dress by Hobbs Spring Summer 2009 Collection.
Centre Left - Blue dress by Aquascutum Spring Summer 2009.
Centre Right - White button dress - Marks & Spencer Spring Summer 2009 - In store June £59 T50 5801.
Far Right - Blue Skirt with front pleat, £25 - in store April-June Marks & Spencer Spring Summer 2009 - Ref T69 0445.
Accessorise with a bag or bold necklace. Gold chain handle bags, as on the blue bag from Harvey Nichols below, are hot on trend and so is chunky statement jewellery like this lovely blue necklace from Dior.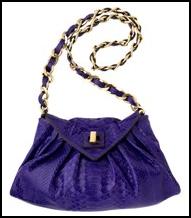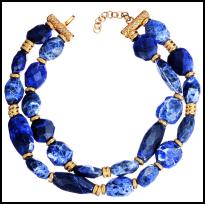 For something different try a patterned bag like this terrific red spot bag below and from Dune.
Lotty Shoes £85 and Motty handbag, £45 - Spring/Summer 2009 - Ladies & Accessories both Dune.
Or opt for this divine rose clutch bag from Boden who say 'This is an exquisitely luxurious clutch, completely enveloped in a cluster of 100 % silken roses, which gently pops shut with a satisfyingly expensive click.'
Boden rose clutch £79. Boden Red Suede Corsage Wedges £79. It uses premium quality suede, corsage decoration, cork heels and has a comfortable padded sole.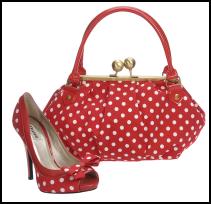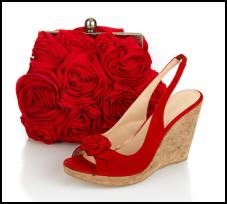 Perhaps the smallest most effective item you could add to update your nautical wardrobe would be one of the many coloured cuffs or bangles like these from the high street. Both of these costume jewellery items are from Wallis.
Left Below - Wallis blue flower opaque stone clamp cuff £14 - Wallis Spring Summer 09 Jewellery.
Below Right - Wallis red opaque round stone wide stretch cuff bracelet £18 - Wallis Spring Summer 09 Jewellery.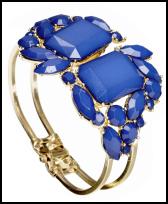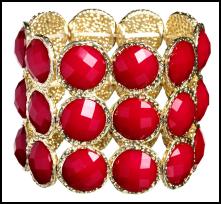 Finally, add the blue touch with some accessories like these shoes, from enclosed decorative wedges to cut outs shoes to a blue and white sandal.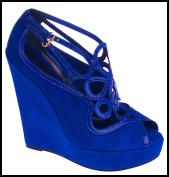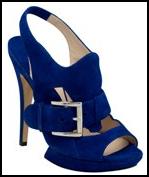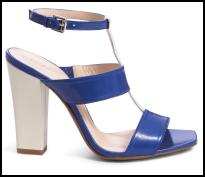 Left - Blue art deco wedge £64.99 River Island Clothing Co. Ltd SS09 Hero Pieces.
Centre - Harvey Nichols - N Kirkwood Blue high heels sling-back sandal shoe.
Right - Hobbs Spring Summer Footwear - Blue and white heel open high Gladiator sandal shoe.
So with so much choice on offer take a fresh look at nautical, blue red and white fashion trends for summer 2009.
You have been reading an original Spring Summer Fashion Nautical, Red White and Blue Trends 2009 article by Pauline Weston Thomas at www.fashion-era.com ©
Copyright of images courtesy of prshots, Swarovski, Aquascutum, River Island, Wallis, Hobbs, Boden, Harvey Nichols, Dune, Marks & Spencer, Dior, Miss Selfridge, Oasis, New Look, Debenhams, Accessorize Monsoon, Matalan, Bonmarche, Principles, Hobbs, Benetton, ASOS, Warehouse,, Dorothy Perkins, Phase Eight, boohoo.com, French Connection, Dorothy Perkins, NEXT, Betty Barclay, Tesco and Office Shoes.
Date added 22 March 2009 - Ref:P.714.
If you like this page then please share it with your friends
---
--Link--
For more information on ladies and teens fashion trends go to:-
* AW (Autumn Winter)
Archived Sections
Custom Search
About Fashion-Era.com
Fashion-Era.com looks at women's costume and fashion history and analyses the mood of an era. Changes in technology, leisure, work, cultural and moral values. Homelife and politics also contribute to lifestyle trends, which in turn influence the clothes we wear. These are the changes that make any era of society special in relation to the study of the costume of a period.

Fashion-Era.com can take no responsibility for any information on the site which may cause you error, loss or costs incurred from use of the information and links either directly or indirectly. This site is owned, designed, written and developed by author: Pauline Thomas and Guy Thomas. This site is designed to be viewed in 1024 X 768 or higher.
ALL RIGHTS RESERVED. Fashion-era.com reserves the right to add or delete information, graphics and links. Copyright © 2001-2014 on all content, text and images in Fashion-era.com. Images and text in this website may not be used on other websites.
Before you write to me for costume/fashion help or information please, please consult the extensive sitemap which lists all our pages. If you still cannot find the answer after searching the site, then before you email me, please consider if you are prepared to make a donation to the website.
Donations
Reader's donations help this site flourish, in particular donations encourage me to write more articles on fashion history as well as current trends. PayPal allows anyone with a credit card to donate easily and securely. You may donate any sum you feel appropriate.