Latest Fashion Trends for Fall 2008 & Winter 2009
Winter Coats
In the past few seasons we have observed a silhouette change in catwalk fashion. Pyramid A-line trapeze shapes, armorial futurist space age looks, and cocoon fashions have all been ways to manipulate volume looks. Softer versions hit the high street, but the influence is there in the styles available at the mall.
This autumn the new silhouettes for 2008 shown right and which we looked at in key looks, are each developing a more architectural sculptured contour. Designers are playing with fabric folds, and the fit, flare and shaping of garments in novel ways.
These images are all from Autumn 2008 / Winter 2009 catwalk shows.
Right - A fashionable dropped waist coat by Oscar de la Renta. Below - See main key trends page for details - Dior, Aquascutum and Vuitton.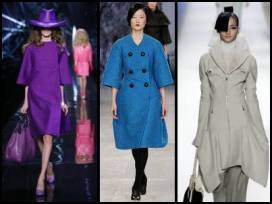 Of course there are many other coat styles that made their mark. What each style illustrates is a leaning toward a more sculptured structure.
Sleeve shapes are intriguing what we are seeing is overlong skinny sleeves, cropped bell sleeves, gigot sleeves and Bishop sleeve blouson looks. The pictures below show Autumn 2008 Catwalk outerwear coat and jacket clothing including designs by Jil Sander, Rick Owens and Armani.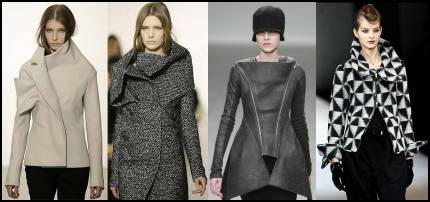 Newer garment styles have an unfamiliar structure, what is happening is theatrical elements are adding exaggerations more akin to historical costumes of earlier eras. Clothing in general, and coats in particular, are intended to be three dimensional, but the Autumn of 2008 sees the emergence of a true new fashion trend rather than passing fad.
Collars stand large, proud and high; excess fabric is folded into 3D configurations. Materials frequently look as if they have been deliberately sculptured to make the onlooker focus on the more unusual display zones in the fashion silhouette. The garments themselves make a fashion statement. Little else is required in the way of accessories to remain concentrated on the original fashion message. You are reading an original winter coats fashion article by Pauline Weston Thomas at www.fashion-era.com ©
The cocoon barrel-line coat has edged itself into fashion by developing a cut that can introduce curvy balance with volume. The application of fur or velvet banding at the hemline and sleeves has made the silhouette more interesting.
One of the strong looser silhouettes this autumn is that of the pyramid coat. The House of Dior did this well, but other houses also use the pyramid to create youthful looking coats, especially when the waist is dropped.
Trapeze pyramid shapes morph into more shapely cocoons than we saw last year. These two styles stand side-by-side and both have bulky sleeves. Note how each silhouette moves through subtle changes to arrive at its distinct forms. The choice is yours.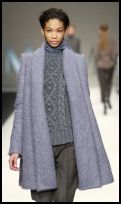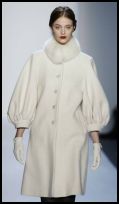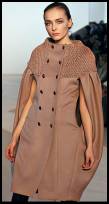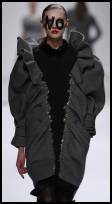 Far left - Blue grey coat with fall shawl and turn back collar - Max Mara
Centre left - Winter white wool felt coat, dyed fox collar, with gigot sleeves - Verrier
Cocoon coat - With semi-fitted cape like shaping - Viktor & Rolf
Far right - Mink trimmed jacket by Viktor and Rolf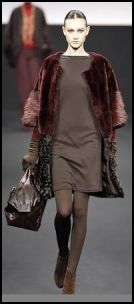 Left - Maurizio Pecoraro
Centre - Narciso Rodriguez
Right - Reem Acra
‡‡
Dropped-waist coats have skirts that fall from softly controlled, gathered fullness, like these coats below.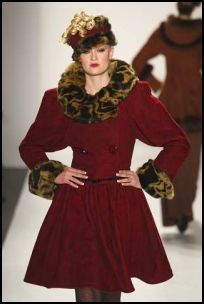 Above - Catwalk Coats with Dropped Waists
Left - Blue coat - Karen Walker.
Centre - Berry red coat Kati Stern for Venexia
Right - A sumptuous golden embellished coat with dropped waist and funnel neckline from Christian Lacroix.

These are examples of the fur trimmed coats that were shown on the catwalks for Autumn 2008/ Winter 2009. There were many coats with large collar variations especially fur collars and lots of fur coats. Fashion designers are using fur along hemlines, and also as decorative trims to open-front coats. Above is a coat by Dennis Basso, suit by Monique Lhuillier and puffa white coat by Blugirl.
Sleeves have certainly been getting the designer treatment this past couple of years. Huge deep fur cuffs were used on luxury coats as well as on puffa style jacket coats; note also the matching fur hood on the right. Images courtesy of Swarovski.

The tweed coat shown here is by Pollinini; he has used leather cleverly to create a faced outer top cuff, matched with a wide belt. The leather trim on the coat belt and cuffs above is very decorative, as is the raised embellishment on the coats below.
You are reading an original winter coats fashion article by Pauline Weston Thomas at www.fashion-era.com ©
§

Winter white was a favourite base colour to show off textural embellishments of coats on the catwalk. White on white, cream on cream, taupe on taupe, black on black always creates an expensive look.
This beautiful coat right and the pearl bead appliquι detail of the embellishment shows what a gorgeous garment the design house has created.
Far left - Coat by Blugirl. A very similar coat to this one by Blugirl is available at Neiman Marcus at $2285.
Near left - Detail of embellishment on Blugirl coat.
Right - Givenchy winter white coat.
The high street is hot on the tails of the catwalk shows, and the version you see below is not an exact copy, but to me I believe it has been inspired by the above coats, and other similar winter white mantles on the catwalk.
Making a mass production copy of this winter white coat is a challenge. However Marks and Spencer have pulled it off with this coat below, which is available in September 2008. It is a winter white dream of a coat, hitting also the Folk Boho fashion trend. You are reading an original winter coats fashion article by Pauline Weston Thomas at www.fashion-era.com ©
Below right - Marks and Spencer Faux fur coat garment silhouette.
Centre - Coat detail of embroidery.
Below left - Model wearing Marks and Spencer Coat, Price: £150.00, Sizes: S-XL. The colour is called Oatmeal and the faux fur coat is available in September - Stroke no: T62 8440C.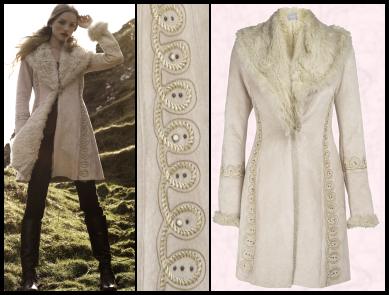 Leather and fur coats are one of THE looks of autumn 2008. Marks and Spencer for example have taken note of the sculptural cocoon shapes, and this leather coat combines several trends in one garment.
The leather biker jacket is a top trend of course, but the use of leather in coats has been slowly gaining a following, and not only in coats and biker jackets, but also in leather dresses and skinny trousers. Marks & Spencer have a dress in their leather collection too.
Right - Marks & Spencer - Grey short sleeved leather coat available from October to November at £199.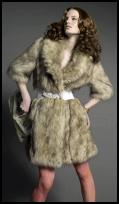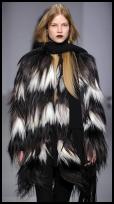 The catwalk was full of fur coats, and whilst many were cut with precision, many designers used simple silhouettes to which drew attention to the material itself. Leopard and animal prints are discussed on a page of its own.
High street retailers are producing value for money, faux fur coats for under £100 like this one from New Look. The black and white fur coat is from Jaeger catwalk show.
Far left - New Look - Faux Fur Coat £75/€115, Belt £12/€18, Clutch £10/€15, Bracelet £8/€12, Tights £8/€12 from the New Look Autumn/Winter 2008 Collection.
Near left - Jaeger Long Hair Shearing Coat - Product 700026. Jaeger Ribbed Scarf with Long Fringe - Product 620044 and available at Jaeger.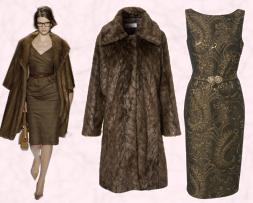 You could emulate this glamorous catwalk fur fashion trend, as seen at Michael Kors, by browsing high street shops. The cut-out shot of the coat and dress is of garments from Wallis.
The model wears Michael Kors to the left. The cut-out coat shown centre right is from the W:A Limited Edition - Brown faux fur coat £85 and is from the Wallis autumn Collection for 2008/9 as is the gold printed sleeveless dress £55/€90.
It's not just fur that is a fashionable material this winter, but also satin and satinised fabrics; there are styles in both bold primary and secondary colours. Think electric bright satins, and super sleek neutral satin fabrics too. Of the bright warm colours, tomato red, teal and fuchsia and bright magenta are all racing for your attention this fall. Tomato red is dealt with on its own page. You are reading an original winter coats fashion article by Pauline Weston Thomas at www.fashion-era.com ©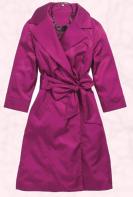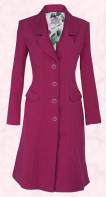 It would be hard to miss the many colourful and cheerful colours in the stores this Autumn 2008. Bright colour is developing into a fashion trend in itself.
Key colours for autumn 2008 and winter 2009 include no end of berry tones, we are seeing pinks through to the purple orchids and inky aubergine blues. Look out especially for reds, crushed damson, dusty pink, orchid pink, magenta, rose petal, claret, maroon, rich aubergine, blackberry and puce.
Left - Boden satinised coat which could be worn unbelted or open.
Far right - Marks & Spencer Molly Coat in Fuchsia, Price £79.50 Sizes: 8-20, available: September, Stroke no: T62 2530.
Below far left - Jaeger Pink Vintage coat.
Centre left - Dorothy Perkins pink check coat.
Centre right - Country Casuals magenta coat modelled by Jane Seymour.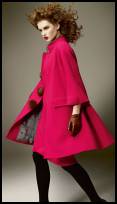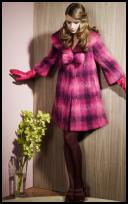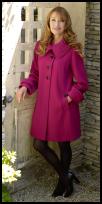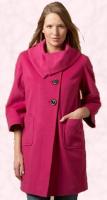 Check designs is still a strong trend, and each mass retailer has many offerings. The Dorothy Perkins pink check coat above is unusual in that it is a brushed fluffy yarn window check plaid. It's cute, feminine and youthful. There are more plaid tartan coats on the check fashions page.
Far right - Marks & Spencer Perfect Collection Cocoon Coat, £79.00 in bright magenta. Product Code: T491153.
For what it's worth, my sister tried on this Perfect Collection Cocoon Coat, and said it was generous in cut, making it a great easy everyday coat for those between sizes, with perhaps a size 14 fitting a UK 14-16. This is a value for money coat, it comes in a length once frequently described as a car coat. You might wish to compare the architectural collar of it with the purple Aquascutum coat here.
One fashion point worth noting is that each coat has been teamed with opaque tights.
Looking over the styles above, I felt there hasn't been such variety in coat styles since the late 1980s. Even though several coat silhouettes exist, from wildly innovative styling to classic princess line coats, I believe that a coat is a major wardrobe investment. That investment is not just in monetary terms, but with the concept in mind that, 'A coat is the first thing others see of you and gain an impression of who you are'. Evidently a woman should buy a coat that flatters her body and her colouring. Don't buy a coat just because it's the 'Now shape' if it makes you look like a pudding, a sack, or even a beanpole. Always ask for a second opinion, and with triple mirrors always check side and back views, make sure that you try it fully buttoned up. If you find yourself walking around the shop wearing it whilst looking at other clothing it probably already feels like it belongs on your shoulders.
Fashion articles often tell you update your old coat by adding a belt - yes that's great if you have a waistline, but if you don't have a waist, the bunched up trench look takes on a nightmarish vibe. Instead, look for gentle seaming which defines and hints at what might be a curvy body shape beneath.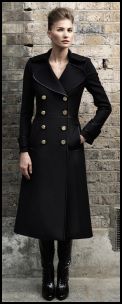 Different brands will cut with greater or lesser ease, and you should actively seek a brand that suits your figure type. If you are more mature, your waist is likely to be a little thicker than in younger days, so try on lots of brands and get to know brands that flatter your body shape. If you are younger and still have not rounded out, then less expensive brands may suit not only your pocket, but also your waistline.
Your coat is a big cover up and can play up good points whilst playing down bad figure flaws. Choose wisely.
You are reading an original winter coats fashion article by Pauline Weston Thomas at www.fashion-era.com ©
Right - Coat by Wallis Autumn/ Winter 2008 - Black double breasted military coat £90 €115.
It seems that every season I write that the military trend is still with us. For Christmas 2002 I bought a maxi military style coat with detachable fur collar and fur cuffs. Amazingly the coat still looks great, although to be fair I have bought, and worn, seven other coats since then (shhh..) and it did start life as a quality wool garment. To update it, I changed the black buttons to brass military style fastenings. Clearly this trend will always be with us.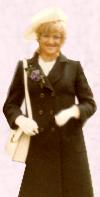 I also owned a military style navy coat back in 1974 and I was amazed by the similarity to the one from Wallis shown right above. So I dug out a silly wedding picture left. I'm wearing a black toned navy military coat with some ghastly white accessories of the era! Whilst I soon hated that floppy hat and white leather shoulder bag of the fashion era, the spring coat stood the test of time.
I loved that coat and could only wear it on my thinnest of days. It buttoned like a corset. It always felt so smart whenever I wore it and the tailoring was good enough to give me the shape that diet alone never quite achieved. The almost black navy fabric was a beautiful, quality fine wool. The shoulders had a sharp and crisp line, and the lustrous edge braiding was applied perfectly. Even without the old photo I still recall the coat fondly and if you have memories of old outfits, please do send me your old photos.
In fact you should regard the military coat as a classic. A military shaped and contoured coat like the one above right, can if it is cut correctly for your height, add a waist where there is none and elongate the body. There is a reason why this style is so beloved of uniform makers. It instantly knocks some shape into the wearer, makes the wearer stand up straight, and gives the individual a better bearing to face the world.
The trick is to find the manufacturer that designs for your body shape and body height. A winter coat designed for woman who is 5'8" or 5'9" usually has the waist in the wrong position for a woman who is 5'3". You may get away with this with a chain store wrap dressing gown that you slop around in at home, but it won't work on a coat.
Try on lots of brands until you find the coat brand that suits you. There are also military line jackets and outerwear hip jackets in stores too.
For this autumn season, when shopping for new clothes, think about how designers are developing lines that have this sculptured approach. If you buy into this sculptured fashion trend for Autumn 2008/Winter 2009 you should consider investing more in a quality garment that follows the newer silhouettes. Buy a quality winter coat, and think of it in terms of investment dressing; and check that you are wisely adding a classic to your wardrobe rather than slavishly following the very latest fashion trend.
The new style elements are there, now we must watch and see how this innovative train of designer thought develops in terms of fashion wear.
Quality lasts, quality shows, and moreover, quality feels good. In future, think quality investment dressing.
You have been reading an original fashion article by Pauline Weston Thomas at www.fashion-era.com ©
Copyright of fur images courtesy of IFTF. Special thanks to prshots with images courtesy of Country Casuals, Boden, Aquascutum, Marks & Spencer, Dior, Wallis, Swarovski, Debenhams, Dorohy Perkins, and New Look. Header image courtesy of Swarovski and featuring Louis Vuitton coat.
Date added 12 Aug 2008 - Ref:P694.
If you like this page then please share it with your friends
---
--Link--
For more information on ladies and teens fashion trends go to:-
* AW (Autumn Winter)
Archived Sections
Custom Search
About Fashion-Era.com
Fashion-Era.com looks at women's costume and fashion history and analyses the mood of an era. Changes in technology, leisure, work, cultural and moral values. Homelife and politics also contribute to lifestyle trends, which in turn influence the clothes we wear. These are the changes that make any era of society special in relation to the study of the costume of a period.

Fashion-Era.com can take no responsibility for any information on the site which may cause you error, loss or costs incurred from use of the information and links either directly or indirectly. This site is owned, designed, written and developed by author: Pauline Thomas and Guy Thomas. This site is designed to be viewed in 1024 X 768 or higher.
ALL RIGHTS RESERVED. Fashion-era.com reserves the right to add or delete information, graphics and links. Copyright © 2001-2014 on all content, text and images in Fashion-era.com. Images and text in this website may not be used on other websites.
Before you write to me for costume/fashion help or information please, please consult the extensive sitemap which lists all our pages. If you still cannot find the answer after searching the site, then before you email me, please consider if you are prepared to make a donation to the website.
Donations
Reader's donations help this site flourish, in particular donations encourage me to write more articles on fashion history as well as current trends. PayPal allows anyone with a credit card to donate easily and securely. You may donate any sum you feel appropriate.