Latest Fashion Trends for Autumn 2008 and Winter 2009
Wardrobe Fashion Tips for Investment Dressing
TOP WARDROBE TIP
The biggest tip this autumn is not for a single fashion item, but the welcome return to INVESTMENT DRESSING!
The attitude of consumers is changing again. Investment dressing is on the way back.
The economic recession is biting the purse strings at every level. People are waking up to consuming too much of not just clothes, but of everything. Individuals have become aware of over-estimating their real need for consumables, whether it be food, fuel or fashion items. This past year many of us have realised we have to slow down on purchasing or we will drive ourselves mad. Ask yourself do you really need to move to larger accommodation, or do you really need to buy less and get rid of existing excess consumables, especially poor quality fashion goods.
The solution is to buy less clothing, but to buy better quality items that fit perfectly, and the garment is finished smoothly. Become a fussy shopper in the way women did years ago. Don't consider returning goods, buy only with the attitude that it won't be going back. That self imposed lack of a 'return me within 28 days' safety valve, will really stop and make you ask yourself if the purchase really is the right purchase.
We need to adopt investment dressing strategies now. Everyone needs to understand the real meaning of a trend in fashion rather than use it to indulge in every fad on the dress rails. The time has come to slow down, ignore the hype, and think slow fashion and investment dressing.
Quality lasts, quality shows, and moreover, quality feels good. In future, think quality investment dressing.
TOP WARDROBE TIP
Begin by trying to find which silhouette is currently in vogue. Then think in fashion history terms, 'where is the silhouette trend likely to go next?'
The silhouette is changing again and, a more architectural, sculptured contour is developing. What we are seeing is folded fabric with geometric cutting, flared squared corner panels, and high proud or wide collars. The resulting look is an exaggerated three dimensional style. Fabric wraps about the body creating a cocoon and this redefines the body contours creating the current fashion silhouette. Observe this trend in the four coats below:

Far left - Aquascutum Anahita coat in blue contrast.
Centre left - Aquascutum Hine coat in dark brown.
Centre right - Aquascutum Hera coat in indigo.
Far right - Aquascutum Enki coat in blue.
More here on the winter coats fashion trends page.
The above photo line-up displays coats from the British company Aquascutum; they have been renowned for superb coat designs for 155 years. These coat images are from the Autumn 2008 Aquascutum collections. Aquascutum outerwear was worn by royalty and film stars long before the celebrity cult, as we know it today, even existed. For over a century the Aquascutum brand has been a byword for beautifully made, quality garments of understated British elegance.
For autumn 2008, Aquascutum created a silhouette that was balanced superbly with innovative womanly shaping, but with control over loose volume creating a soft roundness. Sculptured collars and hemlines, shapely sleeves are all the features note to help select instant updated coat looks.
Let me remind you again about investment dressing.
Quality lasts, quality shows, quality feels good. Think quality investment dressing.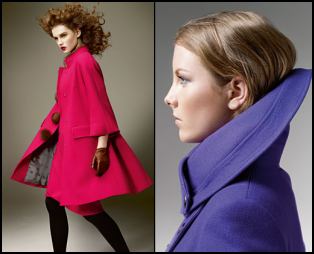 When shopping for new clothes, whether, coats, jackets dresses or knitwear, think about this sculptured approach. Look for the little edgy details that say: 'forward and new in cut', but still have classic appeal. Seek only garments that are both statement making and investment dressing.
One of the strong trends in looser silhouettes this autumn is that of the pyramid coat. In this example near right Aquascutum uses the pyramid trapeze to create a youthful looking coat with a hint of vintage.
Near right - Aquascutum Vintage Collection - Diplomatic coat in pink, Fall 2008.
NB. Please note that the Vintage Collection is only available in the Aquascutum, 100 Regent Street, UK and Marunouchi, Japan store. Go to the Aquascutum website if you wish to order from their waiting list. Other ranges are sold at select venues globally.
Far right - Aquascutum Colli coat in purple from the Aquascutum London collection Autumn 2008.
The House of Dior also did this well too and you can see more swing coat styles on the key fashion trends page and on the winter coats fashion trends page.
‡‡
Trend Alert Wardrobe Tip - Look for attention demanding collars, they could be sculpted, shawl, scarf or fur, but the collar must have presence.
Another indication that this is an important trend is the number of collar variations. Look out for flat, wide, large collars, also shawl or cowl collars, all are important fashion statements in autumn coats, dresses and knitwear.
When designers want to add a touch of luxury to dresses, they have used collars, whether fake or real to create an eye-catching fashion. Mongolian fur and collars made from feathers, also add a contrasting looser Boho texture.
Near right - Debenhams Autumn/Winter 2008 Womenswear from Betty Jackson. Black fur collar jacket £85/€132.
Far right - Hobbs Autumn Winter 2008 - Keeler cocktail dress in winter cream with feather neck detail. Read more about winter white for AW 2008/9 here.
The first three coats here have an easy straight line. Each is trimmed with a flat fur collar, and the coat on the right has deep fur cuffs. You may also begin to notice coats with really deep fur arm-warmers that creep to at least elbow level. Read and see more coat styles in winter coats.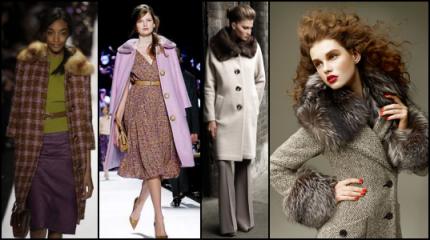 Above far left - Fur collar check coat by Michale Kors.
Above centre left - Lilac felted boucle balmacaan with dyed mink collar by Michael Kors.
Above centre right - Wallis Autumn/ Winter 2008 - Stone fur collar cocoon coat £90/€115.
Above far right - Fabulous fur trims on this Aquascutum Reaburn coat in grey. From Aquascutum's Autumn 2008 Vintage Collection.
NB. Please note that the Vintage Collection is only available for collection in the Aquascutum, 100 Regent Street, UK and Marunouchi, Japan store.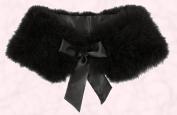 If you want to get more wear out of an existing coat or dress in your wardrobe, then tune into this fashion trend by updating the garment with a tie-on, button-on fur collar, or buy a tippet fashion accessory.
This fur collar detachable accessory, is from Wallis and also comes in a blonde tone.
Right - Wallis Autumn 2008 Collection - Black faux fur ribbon tie stole £12/€20. See more fur looks here in winter coats.
Trend Alert Wardrobe Tip - Tie Bow Necklines.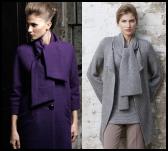 Coats also sport ties at the neck. The ties are versatile and can become scarves or bows if you wish to adjust the look. This characteristic is used on many knitwear pieces as well as blouses. This is a classic look that goes in and out of fashion regularly.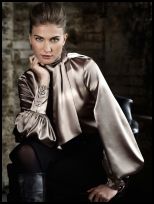 Far left - Wallis purple scarf wool coat £75/€95 from Wallis.
Near left - Wallis grey chunky knit tie cardigan knitwear from Wallis Autumn 2008 Womenswear Collection - £45/€70.
After years in the wilderness the tie neck blouse has come back into fashion, and at last they don't look too granny-like especially when made in luxury satins and worn with skinny leather trousers. The ties can either become bows, or left trailing as a scarf. Several trends are running at once in this dressy blouse right. Notice the full blouson Bishop style sleeves, which are a perfect foil beneath a bell coat, cropped coat, or jacket outerwear sleeves. Observe the deep sheen of the rich satin fabric; also note the extra long and shaped cuffs. Very 1970s.
Above right - Wallis Autumn/ Winter 2008AW - W:Limited Edition mink satin neck-tie blouse £35/€45. This blouse left hits all the right style notes with its beautiful bloused sleeves with deep cuffs.
A few years ago volume frightened most women, even in sleeves, but now sleeves have developed some very pretty feminine fullness. As always happens in costume history, sleeve fullness is best highlighted when the cuff is deep. So now we find that cuffs are lengthened and shaped to the forearm, as a result that blouson fullness can be displayed both attractively and practically as a true Bishop sleeve.
§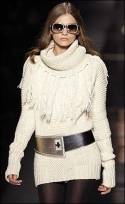 In the Autumn of 2008, cowl necklines have grown into even larger sculptural forms. Find cowl and 'stand' necklines on knitwear, jackets and coats.
Far left - Catwalk show cream fringed long line sweater with cowl neckline
Observe the elongated sleeves and see that the jumper is hip length.
Near left - Catwalk inspired Aran style cowl knit from Oasis Autumn 2008 collection.
Note how winter white, creamy white and natural tones from the catwalk shows have made an impact on high street knitwear.
By now many of you will own more than one jacket, or coat with cropped three quarter sleeves. For that reason, to get more wear out of it, and make it pay for itself through this autumn at least, invest in the black body sweater shown below.
Trend Alert Wardrobe Tip - Seek tops with high polo/roll necklines.
TOP WARDROBE TIP
With so many sleeves being cropped on coats and jackets, you will need a warm basic layer underneath for the winter months. Now the most useful layering basic must-have will be the polo neck sweater.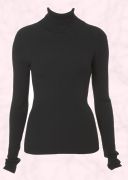 This slim-fit polo neck is also a perfect garment to team with a biker jacket.
Buy from any source - from the mall or online. Wallis, Marks and Spencer, John Lewis, NEXT to Dolce & Gabbana all have these slim fit layering sweaters in stock. This is the no-brainer must-have garment, otherwise buy long gloves now! Note those hand covering extra long sleeves.
Right - Wallis Autumn/Winter 2008 - Black knitted polo neck jumper -£25/€40.
Far right - Coat with cropped cape sleeves by Principles for Autumn 2008.
The polo roll-neck, extra long, sleeved sweater is a staple must-have for Autumn 2008 and Winter 2009. Make sure you buy a quality garment to add to your wardrobe.
The short-cropped jacket has been popular now for several seasons. Heavier hip length coats perfect for wearing with jeans or pants still have that swing feel. They can easily be made to look more fitted with a belt.
There are two fitted jacket styles that look like winter winners - opt for either a military tunic, or a leather biker jacket. Both have a more fitted design rather than the more swingy look of recent seasons.
Scores of jackets for autumn winter show military styling, either with button placement, Hussar decoration, majorette trims, piping and stand collars. Military is still a strong trend.
These black jackets show how a trend develops. This old favourite remains classic yet manages to achieve new distinctions each year.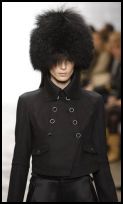 Left - Designer Vanessa Bruno cropped military jacket.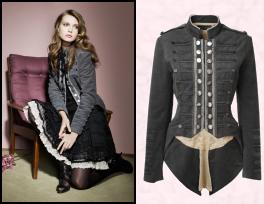 Centre - Dorothy Perkins AW 08 - Tailcoat military jacket £40 €65, Lace-edged skirt £40 €65, Strappy sandals £30 €45. Far right - Military coat from Dorothy Perkins is exactly the same jacket as above, but shown flat and also from Autumn/Winter 2008/9.
You may already have a military line jacket from last winter, if so, with a bit of tweaking it could be swiftly updated. You could change the buttons or add a bit of military ribbon braid. With the resulting savings, you could do a bit of investment dressing and forget military and spend instead on a biker jacket. You can also read more about the full length military coat style in winter coats.
TOP WARDROBE TIP
Trend Alert Wardrobe Tip - The leather biker jacket is the most talked about new fashion trend for Autumn 2008. Buy it now and it will soon pay for itself since a short jacket is perfect for keeping you warm while looking good in the months leading up to Christmas.
If a new jacket is on your must-have list, then browse the racks of leather biker jackets, because already this is shaping up to be the hottest fashion trend of Autumn 2008.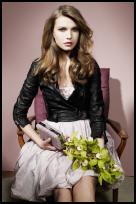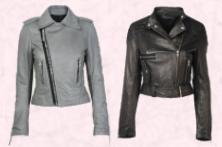 If your choice of biker jacket is a leather version then do think of its as an investment. A tan, taupe, soft brown, inky blue, grey or coloured leather bike jacket will see you through more seasonal options than the heaviness of darkest black leather.
This grey leather zipped biker jacket near left, is by design house Balenciaga and is available online from Matches at £1275.
This black leather zipped biker jacket right, and also modelled far left, is by high street Dorothy Perkins Autumn/Winter 2008 collection leather jacket £100/€160.
In my own search for a jacket I have been browsing online to get a feel for what is available. This autumn make sure you check out Oasis, either online or in their nearest shop. When I visited they had 6 different leather biker styles on offer, moreover, each style had different colour options. Older complexions look better in softer tones of leather. Shiny black leather can look harsh and hard. Which ever price range you are looking at, just be sure that the leather feels good and soft, furthermore because there is so much choice, be sure that this is the jacket you really want.
A biker jacket is one item you may wear to death this winter, therefore, consider spending more than usual and put it in the category of investment dressing.
‡
There are alternatives to a biker jacket in the form of gilets in fur, Mongolian fur, velvet, leather, knit, sheepskin, denim. These styles fit seamlessly into Russian Doll/Boho/Folkloric fads.
Read more about folkloric fashion trends on the Folk page.
The leather biker jacket and the fur gilet shown left are both from the Oasis autumn 2008 collection. Prices TBC.

I love this butter colour gilet shown right, it's also from Oasis Autumn 2008/9 range. This particular garment is made from Mongolian fur including the curly trim. The shapely silhouette means you will stay shapely too. However, gilets can make you look as roly-poly as a Michelin man if you don't choose wisely.
This gilet is in Oasis stores now and costs £75, UK sizes 8 to 16. Oasis fashion stores also have 2 reversible fur gilets in lovely tone of cocoa and a lighter creamy tone of butter, at just £50 each and to fit a similar size range.

A gilet is great for keeping you warm outdoors, but indoors it may easily become too hot. Consider the knitted alternatives this season has to offer. Knitwear is back on track and the fashion selection is huge.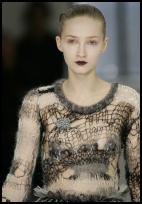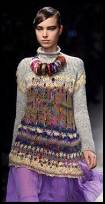 Knitwear for autumn falls into an attractive, but mixed bag, with some knits made up in silky fibres or mohair. There are also intricate textured lacy knits, cobweb fine knits or superfine classic fully fashioned finer knits.
Styles drift from extra long asymmetric cardigans, through to hip length longer tunics and useful cropped styles. The latter style is especially good at helping women cover up the bare gap at shoulder level and real life bingo-wing arms.
Far left - Knitwear from Rodarte.
Near left and right - Catwalk knitwear.
Chunky knitwear takes on texture through the use of garter stitch. Also, cable style knitwear and rich complex patterns that we have not seen for a decade re-emerged in the Autumn of 2008.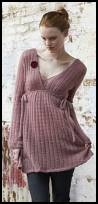 Grey is a strong trend in knitwear, and the high street has good range of grey cardigans. Many are made more interesting by their texture of cables, rib patterns and interesting collars in both short cropped and longer length styles.
See more examples in the shops now on the fabrics/knits page. There are also long or short cardigans with full collar trims, cowls and fringe as shown further up this page.
Right - Plumo Autumn 2008 Longer line lacy knit tunic.
Autumn and winter is a good season for trousers with several styles on offer.
If you want 70s style, then flares are for you. If you fancy 80s, then try carrot top fuller looser pants. For eveningwear, it is possible to go the whole hog and adopt sequin pants, brocade or gold lamι looks. But keep that trend just for the month of December. Christmas is the time to put on the glitz.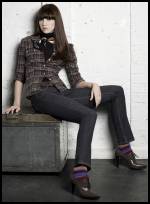 Leather skinnies will team will with that biker jacket, but if casual is more your personality, then loose jeans are just fine too. Find them at Warehouse.
The contrast between the over-the-foot flowing flares, and cropped at-the-ankle shorter lengths could not be greater. See these cropped jeans to the right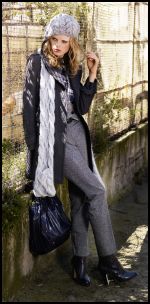 Ahhh... choice... wonderful.
I'll just be getting the trousers that suit my body shape best. If we are not careful some of the pants on offer may well be destined for that fancy dress box we keep for Halloween.
Right - Skinny ankle jeans and jacket from House of Fraser.
Left - Clothes by Warehouse from the Autumn 2008 Gentry collection.
Coat £90/€140, Waistcoat £40/€62, Trousers £45/€70, Shirt £40/€62, Scarf £16/€25, Beanie £12/€19, Bag £30/€45, Boots £75/€115.
Mannish trousers in the style of Marlene Dietrich or Katharine Hepburn, with deep wide flares, suit many working women, and all the main stores are stocking such lines. Soft loose tunics team well with the flared trousers, as a result the whole outfit flows. Wide flares are particularly attractive when used in evening jumpsuits.
The newest lines in the stores right now are these peg-top narrow ankle cropped trousers shown above left and right. The really fashion aware will be heading straight for these slim line pants that taper to the ankle. Narrow line trousers which show the ankle will need an attention grabbing shoe-boot to seal that gap.

What an excuse to buy new footwear like these neutral trouser boots, or shoe boots in patent greyed taupe. The punched work is a decorative feature on a great deal of autumn footwear.
Far right - Hobbs Autumn Winter 2008 - Sara Shoe boot - Brogue Style Shoe boot - Grey - £ 159.
TOP WARDROBE TIP
Wardrobe Tip Trend Alert - If you have abandoned pants in favour of skirts, autumn sees a change which fits in with the season, and as result skirts are getting longer. Start to think skirts below the knee.

Other winter options for the bottom half of the body, rest with variations of the skirt. Younger looks do include minis, but there were fewer of this length than some years.
Really the shortest skirts around are prom slouch skirts, which work well with trends such as Russian Boho.
The key trend with skirts is that they are now more ladylike. Tulip skirts with reigned in fullness offer potential to add variety to your clothing. The line is straight, but not straight.
Right - Taupe tulip shape skirt from Principles Autumn/Winter 2008 Key Items - Mocha belted tulip skirt £55/€85.
Far right - The tulip wrap prom puff skirt in this tartan check wrap dress is from Primark. It costs just £14.00 and is shown worn with platform town shoes £12.00, with opaque tights. All from the Primark Autumn/Winter 2008 Collection.
The dress has firmly re-established itself as winner with women and girls worldwide. It's such simple all-in-one ready to go dressing. There is a variety of bodice styles, raised or true waistlines, with perpendicular or fuller skirts. You will see straighter silhouette styles vie with blouson drop waist Boho folksy shapes. Whilst puffy full skirt prom dresses are all perfect for the party season ahead.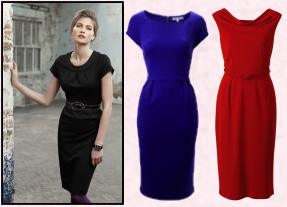 The newest looks have more ladylike, longer skirts which rest on, or below the knee.
In investment dressing terms, opt now for longer skirt lengths.
To my mind, the prom style on younger girls does look better with a shorter skirt. This look is easy to lengthen if you are happy to style your dress with a visible net petticoat. Many prom dresses are also being sold this way, hence many are of indeterminate length.
Above
Far left - Black dress from Wallis Autumn Winter 2008/9.
Centre - Royal purple dress by L. K. Bennett and stocked at selected John Lewis stores.
Right - Debenhams Womenswear Autumn/Winter 2008 - Betty Jackson. Black red cowl neck belted dress £55/€85.
The popularity of maxi lengths this summer, means we are likely to see a return to full evening gowns for formal evening wear. Since dresses have become more usual, a cocktail dress is no longer always dressy enough for the most formal of events. See more formal gowns on the evening page. See a straight gold printed dress teamed with a fur coat in the winter coats page..
Wardrobe tip - Purple and tomato red are great colours for autumn 2008/9.
Top colours for Autumn 2008 include red, teal, inky blues, aubergine purple and winter white. More shades are listed on the key trends for AW2008 page.
Colour is always important to any season. Even dusty or subdued hues can add to the impact of a season. This autumn invest in the strongest colour trends of tomato red, teal blue, and purple.
Popular prints include the Paisley pattern of the folkloric fashion trend. This exotic and mythical pattern was even incorporated into rich bold damask materials. Ornate tapestry patterns were all part of the Gucci show and the hysteria bag collection.
TOP WARDROBE TIP
In mass market and higher end terms the animal fashion trend is set to continue through the Autumn 2008/Winter 2009 fashion season. You, like me probably already have some animal print items, or possibly clothes with animal lining. I have a small cute leather leopard print handbag I bought in Russell and Bromley in Autumn 2006. So far the bag has had only occasional wear, but now I'm going to wear it out, as this is the trend for this autumn.
This year if I buy anything new in animal print, it will most likely be an accessory. Since I already have a leopard handbag I may well select a black and white zebra print bag. But I am duty bound to tell you that the leopard print blends with no end of outfits, in just the same way that a tan handbag is versatile. Leopard print is a fashion trend that wafts in and out of fashion with regularity. I have a leopard umbrella that I was given one Christmas as a jokey gift about 10 years ago. It has not dated! Leopard is now a classic print, so classic that Dolce and Gabbana and Prada both have Animalier accessories.
Left - Jaeger Tilly style leopard handbag. Price to be confirmed, but other bags in the Jaeger Tilly range are £299-399. See more animal bags here.
Footwear is a good buy for animal print products. See lots of shoe styles on the animal prints page. I have found animal print accessories have a knack of going with numerous outfits, and leopard print in particular looks terrific with black or camel clothing. Zebra zig-zag stripes are smart with strong bright colours as well as teaming zebra print with the more obvious black.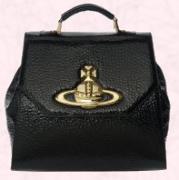 If you are new to animal prints, then learn more about the different types of animal skin on my animal trends page. See small pictures showing the differences between ocelot, leopard, jaguar, snow leopard and giraffe and tiger markings. Read more about animal fashion trends here.
Wardrobe Tip - The classic handbag has made a return.
My money is on this bag shape from Vivienne Westwood's RED LABEL.
Vivienne Westwood at selected House of Fraser stores - Doctor's handbag at £565.
Read more about bags and shoes on the dedicated bag pages on this website.
-------v6-------
At last, scarves are clearly making a comeback, but this time they are regal heritage silk head squares covered with classic motifs and equestrian styling. Now is the time to search through your over flowing drawers to find a classic scarf you have had many years.
How you wear your scarf is up to you. You can be queenly and wear a silk head square like a countrywoman. Alternatively, wear it cowboy style, draped around the neck, or simply tied at the front like a large shawl collar.
With the folkloric fashion trend so strong this autumn you can drape a scarf how you prefer. Make sure longer scarves have lots of fringing to keep that Boho vibe. You could kill three fashion trends in one go with this cashmere scarf. Choose from the soft cashmere red and black animal print, or the luxurious green snakeskin print scarf with its long fringe.
Both scarves are from Jaeger. Quality lasts, quality shows, quality feels good.
Ladies I love fashion, but fashion is just like buses - there will be another trend along any day now, next week, next month, even next year! Learn now to think in terms of investment dressing.
To my mind, one of the contributing factors of this fashion conundrum, is the availability of fashion which is too often out of synchronization with the real season, the real weather that week, and needs of real women. But we have been encouraged to buy ahead in case the item is gone in our size when we next shop.
At last, women on a tight, or reduced budget are resisting purchasing fashion out of line with their immediate needs. Now women are thinking twice about buying the latest fashion trend months ahead of the intended season.
Experience has taught many of us that all too often clothes for a season not fully arrived are part of retailing 'keep them interested' bridging lines. Many such garments are on final sale a mere 4 or 5 weeks later, before even the real climatic seasonal change has arrived. Even more galling is our noticing that fresh stock always seems prettier, more attractive and less dull than the item bought on an earlier visit. All this is frustrating women who are ultimately waiting longer and longer to buy not only in season, but at 50% the original price.
So for this Wardrobe Tips page I decided to see what we really do need to own in fashion trend terms to stay within current fashion trends for Autumn 2008 and Winter 2009. I hope you have found an idea here for your own perfect piece of investment dressing when you plan your new wardrobe this season. Check out the winter coats page here.
You have been reading an original fashion article by Pauline Weston Thomas at www.fashion-era.com ©
Special thanks to prshots with images courtesy of Aquascutum London, Debenhams, Hobbs, Wallis, John Lewis, Oasis , Principles, Dorothy Perkins, River Island, Jaeger London, Swarovski, Warehouse, House of Fraser, Primark, IFTF and Plumo.
Header image Aquascutum Colli coat in purple from the Aquascutum London collection Autumn 2008.
Date added 28 July 2008 - Ref:P693.
If you like this page then please share it with your friends
---
--Link--
For more information on ladies and teens fashion trends go to:-
* AW (Autumn Winter)
Archived Sections
Custom Search
About Fashion-Era.com
Fashion-Era.com looks at women's costume and fashion history and analyses the mood of an era. Changes in technology, leisure, work, cultural and moral values. Homelife and politics also contribute to lifestyle trends, which in turn influence the clothes we wear. These are the changes that make any era of society special in relation to the study of the costume of a period.

Fashion-Era.com can take no responsibility for any information on the site which may cause you error, loss or costs incurred from use of the information and links either directly or indirectly. This site is owned, designed, written and developed by author: Pauline Thomas and Guy Thomas. This site is designed to be viewed in 1024 X 768 or higher.
ALL RIGHTS RESERVED. Fashion-era.com reserves the right to add or delete information, graphics and links. Copyright © 2001-2014 on all content, text and images in Fashion-era.com. Images and text in this website may not be used on other websites.
Before you write to me for costume/fashion help or information please, please consult the extensive sitemap which lists all our pages. If you still cannot find the answer after searching the site, then before you email me, please consider if you are prepared to make a donation to the website.
Donations
Reader's donations help this site flourish, in particular donations encourage me to write more articles on fashion history as well as current trends. PayPal allows anyone with a credit card to donate easily and securely. You may donate any sum you feel appropriate.