Latest Colours in Fashion for Autumn 2008 and Winter 2009
Also Clothing Colours for Prints and Knits
The Autumn 2008 Winter 2009 fashion season is one full of attractive jewel colours, opulent fabrics, contrasting knit textures and exciting prints.
This season's clothing colours are deep and intense. If you choose the garments carefully to suit your skin tone, they create a shot of complexion enhancing colour. For instance, blues and purple lift the eyes, reds add a natural warm blush, whilst gold reflects highlights onto hair. Iris purple is one of the few colours that look good on every skin tone from palest blonde females to raven haired women.
We saw on the fashion colour mood boards how fiery tomato red and iris purple are two of the hottest colour trends of autumn. These two colours also merge to form rich cranberry tones that blush with the colours of crushed berries. Add sea green, old dusty rose, taupe, burnt orange, peridot green, yellow ochre and the result is a rich palette the starting point for a whole host of jewel coloured clothes. All the clarity of the most beautiful hues of the world's loveliest coloured gemstones are there - peridot, aquamarine, topaz, sapphire, tanzanite, amethyst, tourmaline, kunzite, ruby pink, garnet red, yellow citrine and smoky quartz.
Winter white and black add the perfect contrast. Black and inky navy are used as a base for Folk Boho prints, which often feature red and golden tones. Red, one of the main autumn colours, was also discussed on the latest main trends for Autumn 2008 webpage. You are reading an original colour in fashion article by Pauline Weston Thomas at www.fashion-era.com ©
These catwalk designer colours for Autumn 2008 and shown the tones that you will find in shops this autumn and winter.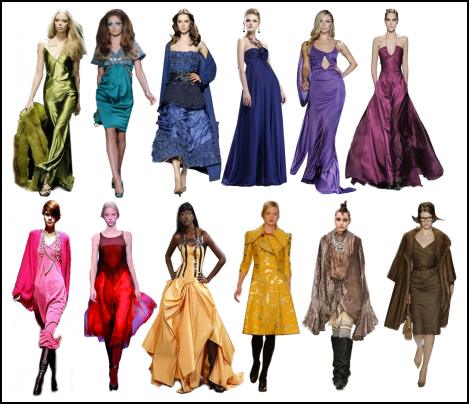 Images courtesy of Dior, IFTF, Aquascutum, Swarovski and Celine.
Blues are strong clothing colours in the autumn of 2008, with inky blues making a welcome return. The blues range from moonlit night skies, royal sapphire, iris, deepest kingfisher teal to soft turquoise. Watery citrus greens, yellow toned olives, cardamom and avocado greens are truly autumnal when mixed with rusts and ochre.
The fashion colours of golden apricot, yellow ochre, taupe and cocoa pink all develop a hint of pastel ice cream tones when white is added to the hues.

The inky blues meld into aubergines and rich purples; as you can see the designers ran through the whole range of purple/lilac colour, from lilac right through to dark aubergine, damson and plum puce. These berry tones are the epitome of autumn fashion colour. Think of rich dark cooked plums or blueberries, and then think of that shade when you add cream. Images above courtesy of IFTF, Dior, Swarovski.
‡‡
Berry tones are used for every type of garment from jeans to evening gowns. These jeans right are from a selection of brands at House of Fraser.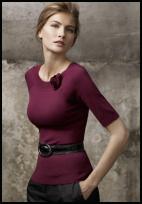 Fashionable clothing colours start with the reddest of berries and then moves through the purple tones of damsons and blueberries.
Left - Plum berry tone sweater knit from Wallis.
Wine corsage Bardot jumper £25.00 - Wallis Autumn/ Winter 2008 Exclusives.
High street retailer Wallis has introduced 'Exclusives', a capsule collection which, in this era of credit-crunches and penny pinching, gives fashion-conscious customers the chance to update wardrobes without breaking the bank.
Knitwear signals the move from summer to autumn, and Wallis has everything from little embellished cover-ups and sleek knitted dresses through to more chunky knits. They also have wraps and checked cardigans which offer a lightweight and modern alternative to the traditional coat. Polo-necks, a very flattering season staple, are available in a range of colours with various sleeve lengths and button or corsage details.
Tomato red is a major clothing colour for this coming winter 2009 and was also discussed on the latest main trends for Autumn 2008 webpage.
Dior showed a range of red garments that moved through tones of orange, coral, tomato red to hot deep pinks.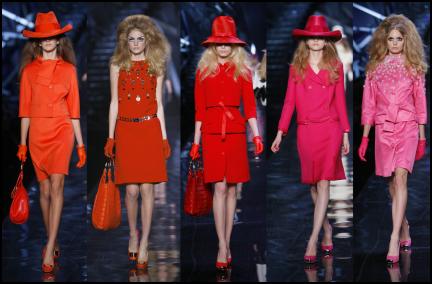 The high street has responded to Dior's fashion colours, and is still favouring that old chestnut of a 'lady in red' for every last dance at the Christmas party.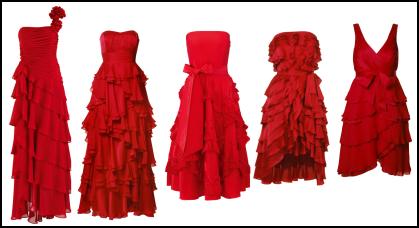 Here is a line-up of red and ruffled, frilled or tiered party prom evening wear dresses from the high street for autumn 2008. Choose from cocktail length to maxi full length gowns. You are reading an original colour fashion trends article by Pauline Weston Thomas at www.fashion-era.com ©
Far left - Debut Red Carpet corsage one shoulder dress £140/€217 - Debenhams Christmas Partywear Autumn/Winter 2008.
Centre left - Wilhelmina Dress £200/€339 from Monsoon Autumn/Winter 2008 Womenswear.
Centre - Debenhams Womenswear Autumn/Winter 2008 Pierce Fionda Flamenco ruffle prom £150/€232.
Centre right - Monsoon - Amanda Frill Dress £160/€271 Monsoon Autumn/Winter 2008 Womenswear.
Far right - Monsoon Christmas 2008 Originals - no details yet.
§
One of the favoured fabrics by mass retailers is high-sheen and satin. The high street has picked out particular clothing colours for autumn 2008. For example, inky blues in the purple based tones, and sea greens in the cooler tones.
The dress is still one of the most popular garments that women are buying, so these fashionable blue toned styles below illustrate some of the choices for party and evening that are available.
Slinky bra dresses, prom gowns, sheath dresses, puffballs and slips mean there is a fashion dress for every shape and every age.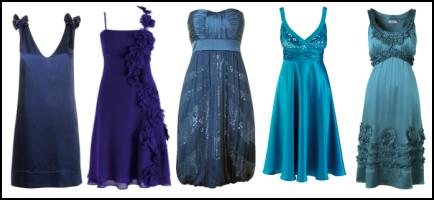 Details of garments above - High street cocktail party dresses from Womenswear AW08 collections and in tones of blue starting far left:-
Far left - Inky blue satin silk dress with flower detailed shoulders £95 by French Connection AW 08 Womenswear.
Centre left - Royal purple evening dress by Debenhams. Christmas Partywear Debut corsage dress £85/€132.
Centre - Strapless Inana Dress £180/€305 from Monsoon Originals Autumn/Winter 2008 Womenswear.
Centre right - Turquoise bra dress - Debut sequin dress £80/€124 Christmas Partywear Debenhams
Far right - Teal empire line satin Nancy Pleat Dress £110/€186 from Monsoon Originals - Autumn/Winter 2008 Womenswear.
The blues of the oceans can be watery greens and aquamarines. They can also be the deepest ocean blues that reflect the brilliant sunlit sky or reflect the green plants living beneath the surface. This means there are many shades of sea blue-greens in Autumn 2008 fashionable clothes.
The last dress right below uses brocade. Brocade is a winner for the winter 2008/9 season. The rich complexity of pattern and crisp handle means it makes up well in jackets, coats and especially in fuller prom skirts and dresses. Slim line dresses that are tube like columns such as this one far right and from Wallis, have the advantage of showing off the pattern with minimal cutting. You are reading an original colour fashion article by Pauline Weston Thomas at www.fashion-era.com ©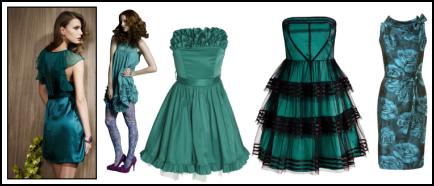 Above far left - Dorothy Perkins - Teal exposed zip back dress £30 €45, Diamantι bracelet £15 €19.
Centre left -Autumn/Winter 2008 Collection (Womens) by New Look - Dress £35/€55, Bracelet £8/€12, Tights £8/€12, Heels £35/€55.
Centre - Satin Ruffle Prom Dress by Rare - Autumn/Winter 2008 - £55.
Centre right - Debenhams Christmas Partywear - Red Herring Special Edition ribbon detail prom £55/€85. Stockist number 08445616161 Shop online: www.debenhams.com
Above far right - Wallis Autumn/Winter 2008 - Aqua large floral print dress £50/€80.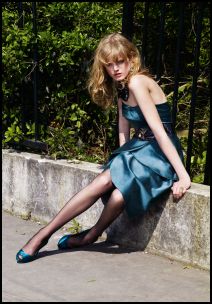 This lovely dress left is from Warehouse and their Spotlight collection.
Left - Warehouse - Dress £80/€125, Headband £18/€27, Belt £30/€45, Necklace £16/€25, Earrings £8/€12, Shoes £55/€85 all by Warehouse.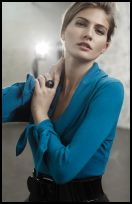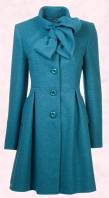 It's not just dresses, but coats and knitwear too that get the teal blue treatment.
Near right - Dorothy Perkins Autumn/Winter 08 - Teal bow collar coat £75/€112.
Far right - Wallis Autumn/Winter 2008 from the Wallis Exclusives range.
Teal tie cuff cowl neck top £25.
Black large waist belt £15.00.
‡
Fabrics for autumn have substantial textural or surface print interest. In the colour image of 12 garments at the top of this page, most of the models use opulent materials such as slinky satin, brocade or velvet. Golden and silver cloth is usual for brocade, but look out too for brocade in jewel colours, and there are fine dresses in sea and emerald greens.
Print fabrics with riotous designs, and painterly effects, compete with folkloric and border print designs. Expect to see clothes with roses, flowers, paisley, small neat patterns or hound's-tooth checks in coloured silks and chiffons competing with rich heavy plain satins, velvet and silk.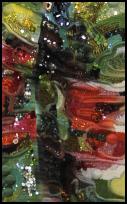 Sequin dresses were a big fashion hit last autumn, but this year the dress is enhanced with sequin jackets. Embellished jackets, pants and dresses add a fun twist to an old favourite.
Right and left - Details of sequins and embellishment of fabrics plus the model in the dress and from Erdem.
This look has evolved, and we now the sequin dress worn with dark opaque or contrast coloured tights. This adds a much more careless casual air to what is a fantastical fitted short cocktail dress rich with embroidery cording and textures.
These shift dresses below are covered in sequins and beads, and they too would team well with dark or coloured opaque tights.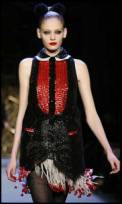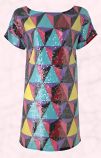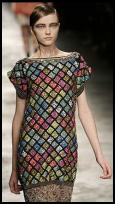 Swarovski are world leaders in producing all types of top quality crystal and beads. The 2 designer garments right have each been crystallized with Swarovski materials.
Far right - Zac Posen, does a surreal take on male evening dress. To the near left we have a designer sequin and beaded dress that has been worked in a diagonal chequerboard pattern of multi colours. In the centre is the high street mass retailer version of the shift.
The shift tunic sequin dress in the middle is part of the Autumn Winter 2008/9 New look collection. See more on sequin dress fashion for 2009/10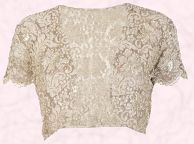 Miu Mui hates lace so much she made it into a collection to overcome her fear of the textured fabric. But this wonderful material holds no fear for many women and it gives a feminine edge to many styles.
It is used especially for little shrug like jackets as well as dresses and easily meets peek-a-boo garments where sheer and lace can become one look.
Far right - Beaded Lace Bolero £80 - Phase Eight Autumn/Winter 2008.
It's not just lace that is fashionable, but also any fabric that has an interesting surface, including knitwear.
Knits are newsworthy this winter. There are many forms of texture, especially extreme chunky knits which feature heavy cable work. These contrast well against the fine knits, fur trimmed pieces or the openwork loose stitched gauzy knits in the finest silk, mohair or cashmere.
Winter white, soft greys and soft pastel tints are colours that work well for knitwear. This lovely textured knit with a nod to folkloric Austrian knits left is by Blumarine. The soft dusty old rose tone is one of the main colours of autumn 2008. The airy feather weight designer knit tunic near left by Sinha Stanic features similar tones set against charcoal.
You are reading an original article on clothing colours by Pauline Weston Thomas at www.fashion-era.com ©
If you have already read my key trends pages you will know that Autumn 2008/9 is about new colour, about hues of depth with the warmth of the renaissance palette.
Summary of Autumn 2008 Colours in Fashion
Each year, and each season within a year has distinctive nuances of colour. The Autumn and Winter 2008/9 fashion colour palette contains lots of berry tones that run through to inkier shades and includes crushed damson, dusty pink, rose petal, claret, maroon, rich aubergine, cranberry, blackberry and midnight sapphire. You will also see clothes in burnt ochre, cork, putty, bisque, honey, rich amber, brandy, mushroom and earthy terracotta compete with auburn bronze, sienna, warm chocolate. Look out for coloured clothes in the blue-green range, also slate blue, iris and deepest kingfisher teal see return to the blues of the sea. Others such as olive, cardamom, pistachio, winter white, gunmetal grey continue in strength and any of them will enrich your fashion wardrobe.
You have been reading an original fashion article by Pauline Weston Thomas at www.fashion-era.com ©
See also the main page on Wardrobe tips AW 08 - Also Coat Fashions
Special thanks to prshots with images courtesy of Aquascutum London, Dior, Debenhams, Rare, Wallis, Principles, New look, Dorothy Perkins, Phase Eight, Swarovski, Monsoon, Warehouse and IFTF. Crystal header image in purple tones is courtesy of Swarovski.
Date added 8 September 2008 - Ref:P697.
If you like this page then please share it with your friends
---
--Link--
For more information on ladies and teens fashion trends go to:-
* AW (Autumn Winter)
Archived Sections
Custom Search
About Fashion-Era.com
Fashion-Era.com looks at women's costume and fashion history and analyses the mood of an era. Changes in technology, leisure, work, cultural and moral values. Homelife and politics also contribute to lifestyle trends, which in turn influence the clothes we wear. These are the changes that make any era of society special in relation to the study of the costume of a period.

Fashion-Era.com can take no responsibility for any information on the site which may cause you error, loss or costs incurred from use of the information and links either directly or indirectly. This site is owned, designed, written and developed by author: Pauline Thomas and Guy Thomas. This site is designed to be viewed in 1024 X 768 or higher.
ALL RIGHTS RESERVED. Fashion-era.com reserves the right to add or delete information, graphics and links. Copyright © 2001-2014 on all content, text and images in Fashion-era.com. Images and text in this website may not be used on other websites.
Before you write to me for costume/fashion help or information please, please consult the extensive sitemap which lists all our pages. If you still cannot find the answer after searching the site, then before you email me, please consider if you are prepared to make a donation to the website.
Donations
Reader's donations help this site flourish, in particular donations encourage me to write more articles on fashion history as well as current trends. PayPal allows anyone with a credit card to donate easily and securely. You may donate any sum you feel appropriate.