Latest Fashion Trends for Fall 2008 & Winter 2009
Colour Fashion Mood Boards
The main fashion trends for Autumn 2008/9 hinge on a good strong fashion colour palette, which is rich and earthy. Such beautiful hues mean there is no better time to buy winter coats in colours that suit every complexion.
Fiery red with the tone which is found only on the ripest tomatoes is one of the more joyful new autumn fashion trends for colours of 2008. Red is a base for footwear, shoes and handbags as well as leather, satin and folkloric rose embroidery. It's perfect for party dresses to wear in the holiday season and looks wonderful when set against ruby red gemstones, garnets or Swarovski crystals.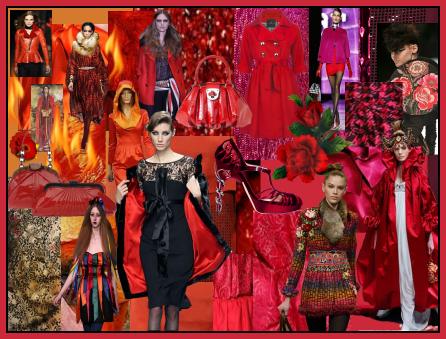 Please note all these moodboards are copyright of Fashion-era.com
The main colours for autumn concentrate on rich moody hues. In 2008 we are seeing the berry tones of reds and damson infused purples, plus the Renaissance artist palette of raw umber. Tones of red and purple are often paired together to create a vibrant colour scheme that sings 'look at me'. Jewel colours also mean gems like amethyst, tanzanite and iolite make perfect accessories to lift garments in these colours.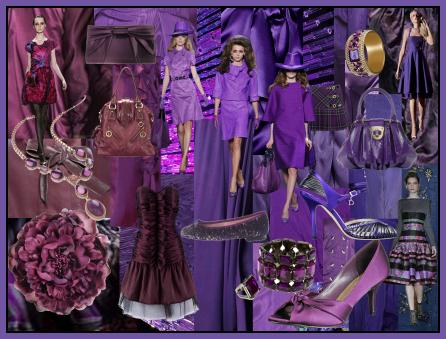 Kindly realize this mood board is copyright of Fashion-era.com
Purple has established itself as colour of note in the latter part of this first decade of the new millennium. The central models in the mood board above all feature purple tones worn at the Dior catwalk show. The regal colour moves through shades of lilac, to deeper aubergines, and culminates in a more inky base of dark deep deep blues. This heralds the return of inky navy as a fashion tone after a long spell in the wilderness. You are viewing an original fashion colour mood board presentation and reading an original fashion article by Pauline Weston Thomas at www.fashion-era.com ©
‡‡
The blues are rich, and range from blue black ink, royal sapphire, iris, deepest kingfisher teal to soft turquoise. The glorious blue stone earrings shown centre below are from Dior.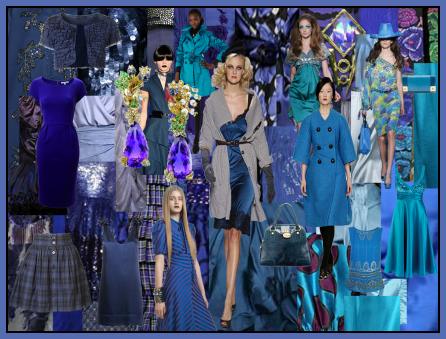 Please note: This mood board is copyright of Fashion-era.com
Jewels such as emerald are a strong influence in the green range of fashion mood boards. You will also see turquoise and teal merge with sea green, at the softer end of the tonal range are watery citrus greens and yellow toned olives and avocado greens.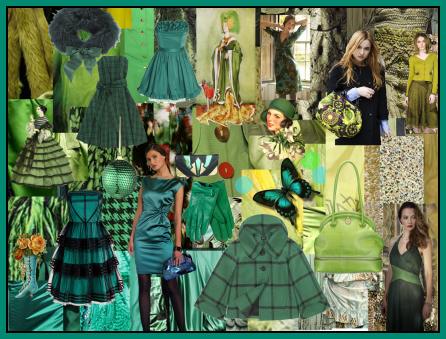 Kindly realize this mood board is copyright of Fashion-era.com
As you can see from this storyboard, green prom dresses are out in force this winter. The Victorian lady far left of course wore a much longer crinoline supported version 160 years ago.
§
The golden apricot fashion mood boards feature citrus greens, melt creamy banana, and rust. Animal skin prints highlight the importance of the rich ginger and tortoise tones. This season watch out for shoes and bags in golden toned leopard prints. To find out more about the different exotic skin types see the page on animal fashion trends.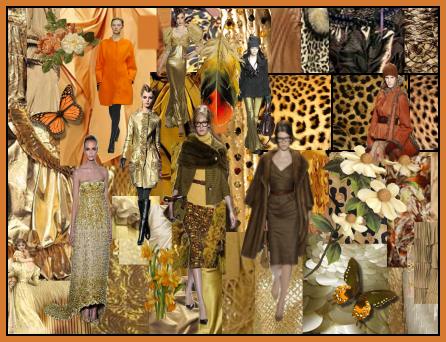 Please note: This mood board is copyright of Fashion-era.com
The classic fashion mood board for winter features light shades of tangerine orange and crushed brown sugars. What you also get is a warm earthy palette that soon meets cappuccino, taupes and pink based cocoa. As winter is the coldest season, these colours often are so watered down and pastel they become a tint of winter white.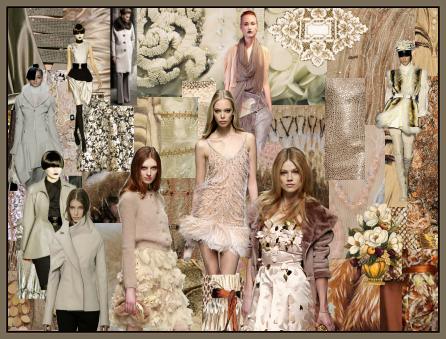 Please note: This mood board is copyright of Fashion-era.com
Those same taupe and cocoa pink tones develop sorbet like tints when white is added to them; the resulting soft dusty hues are pretty and gently feminine.
If you have already read my key trends pages you will know that Autumn 2008/9 is about new colour, about hues of depth with the warmth of the renaissance palette.
‡
Summary of the Colours for Fashion Mood Boards
Autumn and Winter 2008 a fashion colour palette of burnt ochre, cork, putty, bisque, honey, rich amber, brandy, mushroom and earthy terracotta. There are also tones of auburn bronze, sienna, warm chocolate, crushed damson, dusty pink, rose petal, claret, maroon, rich aubergine, blackberry and midnight sapphire. In the blue-green range we have, olive, pistachio, winter white, gunmetal grey, slate blue and deepest kingfisher teal. It is a colour palette of rich hues as illustrated by the mood boards on this page and one which will enliven any new trends added to your fashion wardrobe.
You have been reading an original fashion article by Pauline Weston Thomas at www.fashion-era.com ©
See also the main page on Wardrobe tips AW 08 - Also Coat Fashions
Special thanks to prshots with images courtesy of Aquascutum London, Dior, Boden, Debenhams, Hobbs, Rare, Wallis, John Lewis, Oasis, French Connection, Principles, Great Plains, Dorothy Perkins, River Island, Phase Eight, Billy Bag, L. K. Bennett, Noli, prettyballerinas.com, T. K Maxx, Jaeger London, Swarovski, Vera Mont, Tesco, Marks & Spencer, Harvey Nichols, Accessorize, Warehouse, House of Fraser, Wilkinson, Primark, IFTF and Plumo. In due course all models used in the mood boards will appear in content in the trends pages.
Date added 28 August 2008 - Ref:P696.
If you like this page then please share it with your friends
---
--Link--
For more information on ladies and teens fashion trends go to:-
* AW (Autumn Winter)
Archived Sections
Custom Search
About Fashion-Era.com
Fashion-Era.com looks at women's costume and fashion history and analyses the mood of an era. Changes in technology, leisure, work, cultural and moral values. Homelife and politics also contribute to lifestyle trends, which in turn influence the clothes we wear. These are the changes that make any era of society special in relation to the study of the costume of a period.

Fashion-Era.com can take no responsibility for any information on the site which may cause you error, loss or costs incurred from use of the information and links either directly or indirectly. This site is owned, designed, written and developed by author: Pauline Thomas and Guy Thomas. This site is designed to be viewed in 1024 X 768 or higher.
ALL RIGHTS RESERVED. Fashion-era.com reserves the right to add or delete information, graphics and links. Copyright © 2001-2014 on all content, text and images in Fashion-era.com. Images and text in this website may not be used on other websites.
Before you write to me for costume/fashion help or information please, please consult the extensive sitemap which lists all our pages. If you still cannot find the answer after searching the site, then before you email me, please consider if you are prepared to make a donation to the website.
Donations
Reader's donations help this site flourish, in particular donations encourage me to write more articles on fashion history as well as current trends. PayPal allows anyone with a credit card to donate easily and securely. You may donate any sum you feel appropriate.