Latest Fashion Trends for Autumn 2008 & Winter 2009
Folk Boho Clothes
Folk Boho clothes are set to be one of the top fashion trends for autumn 2008. In fashion history terms, Folk Boho is merely a continuation of an ethnic trend that has been developing during the last decade. Already various hippy clothing such as the gilet is a garment destined for a secure place in the noughties decade of costume history.
A recurring theme through the first decade of the new millennium is embroidery, beading and appliqué on clothing. Here we go again, and Boho is more chic than ever.
Folkloric fashion styling is hot on the heels of biker jackets, and equally wearable for the vast majority of women who feel young at heart. Russian Doll, Folkloric, Folksy and Folky Ethnic are all variations on this Boho theme. In fact some of the interpretations of the Boho style are nearer to Trad Folk dress than anything seen in many years.
Right - BHS faux fur gilet with paisley smock shirt - Autumn 2008 range.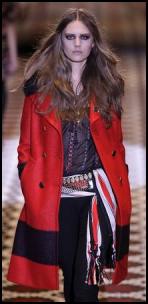 The Folk Boho look will suit every woman who loves the complexity of bold paisley pattern, rich prints, golden discs, beads, embroidery, lavish fur and fringe trims. This style embodies the woman who wants flexibility and simply cannot give up the relative freedom of 'a sweet disorder in the dress', which Folk Boho so easily allows.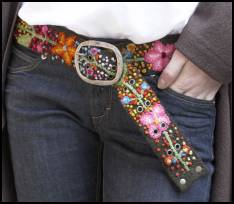 Folk Boho is a trend which is kind to most dress sizes; folkloric fashion offers something chic for small to large plus sizes, it also suits both petite and tall women. The sixties hippy chick, the accessory crazed young girl, even the average woman, all love a folklore costume.
All it takes is to achieve this fashion look is one key piece like this chunkily embroidered belt right. Indeed, one key piece is the answer to you controlling Folk Boho, rather than letting 'it' controlling you. Know when to stop piling it on!
Above right - A beautiful hand-embroidered Argentinean belt with floral motif and vintage style silver buckle. The belt is handmade in South America for Plumo and colours vary, but it is a Fairtrade product and produced in sizes up to 114cm, price £45.00.
‡
Numerous designer houses have invested a great deal of effort into this folksy look. Gucci in particular has set a trend that many mass retailers are following. Their luxe 1970s look uses striking colour mixes, with a classic palette of black or inky blue tones as a base, peppered with brilliant highlights of garnet crimson red. They also use white, gold as well as the earthy tones found in more natural dyes. Their autumn catwalk collection captured rock chic, hippy and luxury Folk Boho clothes all in one runway display.
Above left - Gucci Garnet red large stripe bouclé double breast coat and black embroidered wool chiffon tunic top, Shetland red and ivory Kirov pattern cotton and silk scarf with fringes.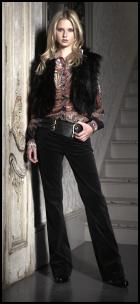 Near right and centre - Runway outfits from Gucci's Autumn Winter 2008/9 collection. Elements for inspiration include the black short sleeve high neck bomber and black Shetland red drop printed silk square.
Centre right - Gucci black drop printed silk muslin smock top.
As is often the case, the runway looks were soon reproduced by the high street. They are not exact copies, but retailers certainly have this trend summed up, as you will see further down this page.
Dropped waist dresses, tops and skirts have all hit the mass market shopping malls. You will also see the continuing trend of the gilet, furry cropped top, or military braided jacket.
Far right - Folk Boho interpretation from Matalan Autumn 2008/Winter 2009 Fashion Collection.
The colouration is interesting, note a black or navy base, which is lifted with red, pink or yellow hues. The colour and pattern combinations have been seen all over Europe, and they have also been used in the craftwork of many nations, for example, in traditional Persian woven carpets.
You are reading an original Autumn Fashion Trends 2008 article by Pauline Weston Thomas at www.fashion-era.com ©
§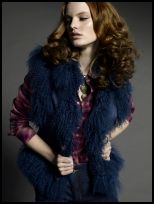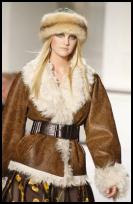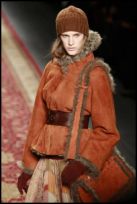 The gilet vest is one of the fastest ways of adopting a plainer Folk Boho look. For greater warmth choose jackets similar to these skin/fur short coats if you are less keen on brighter stylised floral embroidered looks.
Above far left - New Look Autumn/Winter 2008 Collection (Women's), Gilet £40/€60, Check Shirt £18/€28, Jeans £22/€34
Heart Necklace £18/€28
Centre - Oscar de la Renta coat.
Right - Hermes coat and bag.
These are my favourite folksy garments from online and high street retailers for Autumn 2008. Visually, the dresses have all the Folk Boho pattern elements that capture this combination of the latest flirtation with eclectic ethnic.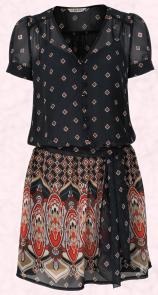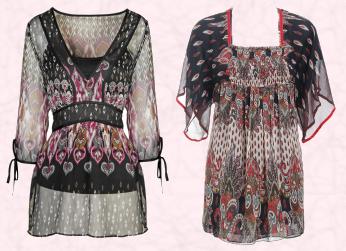 Observe, the paisley feather form motifs, also the hearts, ogees, teardrops and overblown colourful flowers, often roses. Moreover, admire small, medium and large repeat motifs.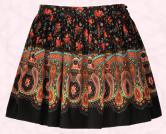 Arrangements such as this mostly use border printed fabric which can be manipulated to bring pattern into an area of main focus, such as sleeves into cuffs, hemline and waistlines. Patterns flow and meander into each other making this a very feminine girl to woman look.
Above left - George at ASDA - AW08 - George Women Print dress £18.
Centre - Tunic top dress from Wallis Statement range for Autumn 2008.
Far Right - Smock Tunic from T.K.Maxx Chiffon bohemian smock £24.99/€34.99 - Autumn 2008/9, but dependant on random stock as below.
Right - George at ASDA Ethnic print skirt £12 - AW08 - G21 Collection.
TK Maxx say 'TK Maxx is an off-price retailer that sells designer and high street brands in womenswear, menswear, childrenswear, gifts, accessories and homeware at up to 60% off the RRP. This 'off-price' shopping offers a mix of predominately current season designer and high street items all at up to 60% off the recommended retail price. The amazing deals can be passed on to customers because the stores offer a no frills operation. Each store has over 50,000 items in stock and will sell one fifth of all stock every week so there's 10,000 new items arriving in store every week. This fast turnover combined with daily deliveries means that stock is always fresh.'
This Autumn 2008/ Winter 2009 is rich with rose embellished materials. The skirt above has a traditional paisley border and then a small all-over rose pattern. One way to adopt this floral rose look is to buy a scarf; it's an easy way to adopt the rose if you don't see yourself in a totally floral garment.
Below left - Catwalk fashion inspiration for Autumn 2008/winter 2009 by Matthew Williamson. What a delicious riot of colour and texture. I just love it when textile clothing becomes a piece of wearable art.
Centre - Accessorize Gypsy Floral Scarf £15/ €23.50 August.
Left - Plumo Autumn 2008 - Kapre flower scarf, a gorgeous wool scarf with striking folk style flower embroidery and tassels. £49.00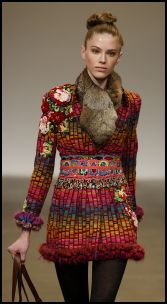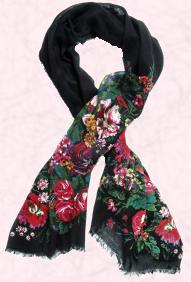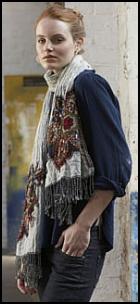 The rich have always been able to afford complex woven patterned fabric. Woven fabrics like damask and brocade were once very expensive; consequently, the poor made-do with stitchery, ribbon, or braid. Another technique used by the less wealthy was to sew fabric contrasts (appliqué) or ribbons onto plain materials so they could wear those garments at festivals and as Sunday best clothes.
The Gucci skirt shown here has been made using applied velvet ribbons. Gucci, near left, features a black and white goat pleated jacket with leather trim detail, black wool linen multi-ribbon embroidered skirt and sequoia and brown silk scarf with tassels.
The centre outfit far left is from High street retailer Warehouse Autumn 2008 range.
Warehouse - Blouse £45/€70, Skirt £35/€55, Lace Insert Skirt £35/€55, Belt £35/€55. The two folk outfits below show how designers return time and again to traditional dress for fresh inspiration.
Poor peasants lacked access to expensive fabrics and they compensated by creating highly decorative fabrics, which they intended to emulate rich woven materials. Poor families traditionally did this by either withdrawing threads to make designs, or they added contrast threads which often followed the rectilinear nature of the weave, and in this way they introduced rich patterns.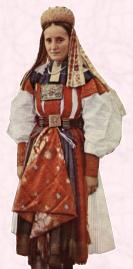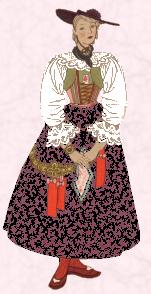 Near right features a traditional regional Tyrolean dress; far right shows a traditional regional Hungarian dress, both designs are similar in that they use a dirndl skirt, blouse and bodice. Each is wonderful source material for Boho chic designers.
The elements of folklore costume and embroidery can easily be traced to European regions such as the Tirol, the Black Forest, Rumania, Bulgaria and the Ukraine. But comparable elements also exist in Celtic patterns and Scandinavian designs.
The structure of such folkloric designs is based on following a grid, and then making a repeating basic motif. Another design feature is the way variety of scale is built up by using small medium and large versions of the motif. This creates rhythm in a design. Plus an endless range of style variation can be created by using mirror image, 45˚corner angles, plus positive and negative repeat motifs. It is interesting to trace how so many regional differences exist, just by manipulating rudiments within a simple pattern, yet they magically retain a unity.
You are reading an original Autumn Fashion Trends 2008 article by Pauline Weston Thomas at www.fashion-era.com ©
Traditional folkloric patterns also favour floral forms. Roses are especially prominent, and often intertwined with leaves, boughs and birds. Indeed, anywhere you find cloth and interiors you find rose decoration. A famous boudoir use of the rose was in Barbola mirrors and also in fine petit point brush and hand mirror backs of dressing table accessories. In the 1950s, satin dress cotton smothered in roses was one of the most popular female fabrics of the era.
It's not just female clothes that have been smothered in roses. Men's vests were in the past heavily adorned with roses and floribunda. Right - Rumanian embroidered lambskin vest for a man and from the 1920s.
Many of the patterns were passed through generations of families, and this is how the regional pattern variations we see today came into creation. Dull cloth once embellished in this way becomes alive, especially when paired with a pure white, ivory or cream blouse. No wonder top fashion designers continue to plunder this area from a pattern library that is so fertile and thus enriches our wardrobes with exciting new fashion clothing.
This page has been about the latest fashion trends for Folk Boho clothes that will be in the shops this Autumn 2008, Winter 2009.
You have been reading an original fashion article by Pauline Weston Thomas at www.fashion-era.com ©
Copyright of designer fur images courtesy of IFTF.
Special thanks to prshots with images courtesy of Swarovski, Asda, Matalan, Wallis, Warehouse, Plumo, and personal collection.
Header details - IFTF image of Gucci Garnet red large stripe bouclé double breast coat and black embroidered wool chiffon tunic top, Shetland red and ivory Kirov pattern cotton and silk scarf with fringes.
Date added 20 August - Ref:P695.
If you like this page then please share it with your friends
---
--Link--
For more information on ladies and teens fashion trends go to:-
* AW (Autumn Winter)
Archived Sections
Custom Search
About Fashion-Era.com
Fashion-Era.com looks at women's costume and fashion history and analyses the mood of an era. Changes in technology, leisure, work, cultural and moral values. Homelife and politics also contribute to lifestyle trends, which in turn influence the clothes we wear. These are the changes that make any era of society special in relation to the study of the costume of a period.

Fashion-Era.com can take no responsibility for any information on the site which may cause you error, loss or costs incurred from use of the information and links either directly or indirectly. This site is owned, designed, written and developed by author: Pauline Thomas and Guy Thomas. This site is designed to be viewed in 1024 X 768 or higher.
ALL RIGHTS RESERVED. Fashion-era.com reserves the right to add or delete information, graphics and links. Copyright © 2001-2014 on all content, text and images in Fashion-era.com. Images and text in this website may not be used on other websites.
Before you write to me for costume/fashion help or information please, please consult the extensive sitemap which lists all our pages. If you still cannot find the answer after searching the site, then before you email me, please consider if you are prepared to make a donation to the website.
Donations
Reader's donations help this site flourish, in particular donations encourage me to write more articles on fashion history as well as current trends. PayPal allows anyone with a credit card to donate easily and securely. You may donate any sum you feel appropriate.