Women's Winter Coat Fashion 2009
It's winter, even if the weatherman say's it will be a mild day, it's going to feel a whole lot colder than summer, so what a woman needs is a fashionable coat. Thus think of a new coat for autumn winter 2009 as an investment purchase.
Coats are a big fashion for understated dressing. But in 2009/10 that understated archive inspired coat is simply code for wearing fashion as a form of stealth wealth. Stealth wealth is easily shown in both the cut of the mantle and the handle quality of the cloth. These understated statement coats make the wearers feel wrapped in luxury.
This desirable ladies Crombie coat left is understated luxury - its retailer heaven - big ticket daywear. The Crombie Autumn 2009 coat is second to none, this is the ultimate in understated luxury dressing for the most discerning of ladies.
The ladylike coat is also available in black, and both are made in a mix of a luxury blend of wool, angora and cashmere. At £525 this is an investment coat. These trend risk-averse coats in luxe fabrics are precisely pitched at target customers such as well-heeled 35+ customers.
Image Left - Luxury cream shawl collar belted wrap coat from Crombie.
Coats have always had their fashion eras, and the late noughties is one of those eras. One of my favourite eras for women's coats was the late 1920s and 1930 when coats were all the rage. You can see examples on my 1930 women's wear coat fashion history page, furthermore if you can sew and pattern draft you can even get a free pattern draft chart for a 1930 coat.
As a fashion lover, you may be like me and have a small closet full of coats of varying types. Today if you are in the market for a new coat it is important to select your coat knowing its overall purpose. So begin by accepting that the coat is the first thing an onlooker sees when they cast their glance over you. It is from your outer top coat people gain perceptions about you, whatever garments you have thrown on underneath.
Ask yourself, 'Are you looking for an investment coat to last several years or more?' Do you perceive one function as being a coat that discreetly tells those in the know the price tag, but ever so subtly. Or is it a fun fashion coat choice, outerwear merely destined to make its micro trend fashion point over just a few months. You are reading an original article on 2009 women's coats by Pauline Weston Thomas only for publication on www.fashion-era.com ©
Premium, refined, high-quality wools mixed with on-trend silhouettes, create the clothes women want to buy.
Good materials take much longer to wear away at sleeve, collar and front facing edges. At first glance a piece of cloth might appear satisfactory, but with wear that cloth will reveal how tightly packed the weft and warp was in the weave. In low count cheap cloths spaces will soon appear making the cloth look threadbare fast. You will soon see visible lines of worn thread marks.
This is not shabby-chic, but shoddy-cheap.
Caveat Emptor - Buyer Beware - With fabric and especially with coat material, you get what you pay for.
What you pay is reflection of the quality of the cloth. Coat material must be made of good stuff with a high percentage of natural fibre.

A very small amount of polyamide (nylon) added to cashmere and pure new wool fibre mixes can also increase the wearing qualities of the resultant end material.
Above Left - Understated Elegance - Couture quality fabric in Dior vintage style 1920s grey coat.
Right - An understated, but very modern approach to the shorter ladies coat by Antonio Berardi. A power chic grey coat and grey Shearling thigh boots. See high street available grey coats below.
‡‡
A new coat purchase also demands that you investigate future trends and in particular check for any strong silhouette directions. In the autumn of 2009 you can see the change in the shoulder line in both coats and jackets. This grey coat from Antonio Berardi focuses on the newer well defined shoulder, but the Balmain line is an even greater focus of fashion interest in 2009.
Grey is also one of the big neutrals of Autumn 2009 winter 2010. The bonus is that buying basic neutrals, with a good eye to the current silhouette, will stretch your wardrobe budget over several seasons. From an image planning figure improving point of view, wearing matching colours top and bottom streamlines the silhouette too. Those over knee thigh boots certainly give it the zeitgeist feel.
In 2009 we not only have luxury cloth coats, but also luxe leather and suede, which adds a new dimension and may even give you an excuse to add a leather classic to your wardrobe. As ever, when you pay more you will be rewarded with better quality in the form of luxury feel lather skin.
Right - Red Leather Coat by Miuccia Prada.
Suede and leather pieces can be costlier than wool Melton, camelhair and cashmere coats, and yet often leather clothing falls into the casual wear category. If spending a lot on a suede piece, make sure it suits the lifestyle you lead.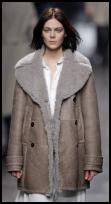 Some may prefer to regard suede items as occasion pieces. Suede marks and stains more easily than fabrics, and specialist suede cleaning can be far more expensive than regular dry cleaning.
These two leather ladies coats left, are designer wear by Burberry and Todd Lynn.
The Burberry leather coat, above far left is from the Harvey Nichols Autumn 2009 Winter 2010 collections and the belt wrap style is ideal for accommodating plenty of winter layers beneath it.
Near Left - Todd Lynn - Stylish, but fierce fitted leather coat best teamed with little more than a body con dress beneath it.
Near Right - Burberry Shearling coats provide not only warmth, but a casual understated fashion look. Available at Harvey Nichols.
...(v4r)
Animalistic and fur looks come around every year. This season the short chubby jacket holds force, but there are coloured fur coats too, and also capes and capelets. High street versions of animal print concentrate more on faux trim pieces especially as uplifting relief on long tweed coats. See some animalistic pieces here.
Blanket coats offer a less structured and easy-to-wear look. The blanket coats from Chloe and Matthew Williamson are in this relaxed mode. Chloe's blanket coat hit the mark - desirable wearable women's clothes.
Closely aligned to this is the boiled wool coat. Boiled wool, mostly unlined, is often used in freeform Lagenlook style coats.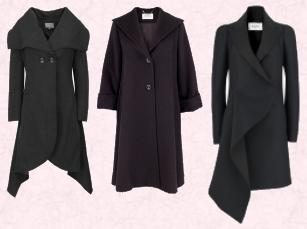 Architectural touches that play with folding of fabric mean designers have focused on collars an area made for designer creativity. Look for coats with wide flat collars, cowls and collars that trail into waterfall effects and extend to the hemline like this Rue coat near right. Far Left - Per Una Autumn 2009 - Origami Coat T62 0108F £120.00. In store at Marks & Spencer in September sizes: 8-20.
Centre - Max Mara Coat - Harvey Nichols.
Near Right - Stunning Rue du Mail Coat - Harvey Nichols.
The best investment coat is always one that suits your body shape. This is true whether you select an architectural origami sculptured coat, with a cleverly tailored cut, or a simple cape find real fashion trend choices for Autumn 2009. It will not be difficult to find a coat that is not only an investment buy, but also will have enough directional elements to take you into 2010. You are reading an original article on 2009 women's coats by Pauline Weston Thomas only for publication on www.fashion-era.com ©
The belted wrap coat will be loved by many women who like to show off their waistlines and hated by just as many who have no waist! These neutral base colours in varying camel, biscuit tan, cappuccino and grey shades are touted as the understated investment colours of the winter 2009 season.
Right - Classic Camel Belted Wrap Coat - Max Mara - Fall 2009.
These wrap coats are star turns at the Max Mara Collections.
Wearable shades like the darker tans in the double breasted coats below are a take on the classic British Warm style. They have a slight military air and and make a good business wear coat.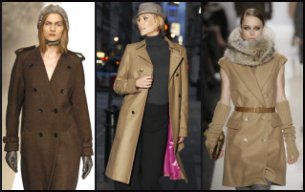 Sleeveless coats have great potential for layering with knits and arm warmers and open fronts allow the drape of cowl necks and fine cobweb knit scarves. They look good in camel and other basic colour ways. Long fur gilets also offer similar layer dressing opportunities.
Centre Left - Max Mara dark tan coat with epaulets.
Centre Right - From www.longtallsally.com - Hayworth Coat And Bergman Sweater. Items worn by Lisa Butcher. This stylish, double breasted wool mix coat with contrast hot pink satin lining comes in sizes; 10-20 and in Camel at £150. The super-soft cashmere mix, roll neck with shell floral etched buttons, sizes; XS-XL. Charcoal is £40.
Far Right - Sleeveless Camel Coat - Michael Kors Catwalk.
...(v4r)
Other military styles of coats in bright coloured are often so youthful and so short they are little more than long jackets, but they can be ideal for wear over trousers. Some of the military line coats are shown on the wardrobe page.
If the camel based colours drown your complexion then instead add just a fashionable touch of camel with a bag, gloves or suede belt. If you simply loathe camel and never buy it, consider instead opting for cream, winter white or equally fashionable grey. As a generalisation blondes, honey blondes and redheads look good in camel tones, whereas those with black or silver grey hair look better in greys and creams.
Cream coats are classy and look expensive because they need to be pristine for best effect. The quality of the material is important. This beautiful cocoon yoked coat far left is available from Harvey Nichols.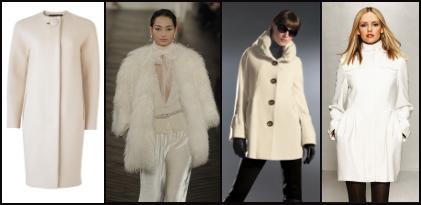 Above Far Left - Martin Grant Coat at Harvey Nichols. Harvey Nichols have a wonderful selection of quality ladies coats.
Above Centre Left - Ralph Lauren Catwalk 09. The chubby coat was a catwalk hit. This cream Mongolian chubby coat is breathtaking in its simplicity. The honeybear effect means everyone really will want to hug you.
Centre Right - The soft, cuddly jacket from Betty Barclay and made in finest cashmere and wool is sure to keep you warm even in the iciest weather. It has lots of little details, a playful collar design and feminine styling.
Above Centre Right - Betty Barclay Autumn Winter 2009 - Jacket Style No: 4344/8146. The coat is 60% virgin wool, 20% cashmere, 20% polyamide - UK ₤240/IRL €270.
Above Right - A Value Economy choice - Et Vous Hooded Tulip Coat £50 - Matalan Women AW09.
Cream and winter white will get you noticed, but if you want to merge with the background select a more urban friendly colour like grey. Grey can be lively and interesting when its a speckled tweed fabric as well as cool and expensively severe in dove silver grey to deepest charcoal. Belted grey coats like these below are a mainstay of every retailers collection for Winter 2010.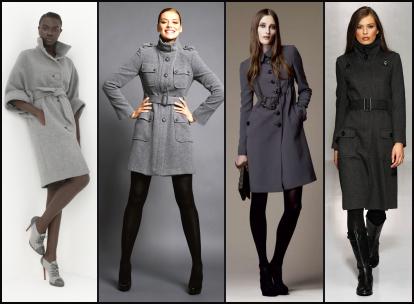 Above Left - Martin Grant Grey Belted Cape Sleeve Coat at Harvey Nichols
Centre Left - BHS Belted Military Coat - £70. Womenswear - Sophie Gray @ BHS Autumn Winter 09 - Available Sep.
Centre Right - Burberry Coat at Harvey Nichols.
Far Right - Matalan AW09 Funnel Neck Military Coat £40.
Seeking catwalk inspiration for a high street buy? Then look no further than this wonderful dusky lilac Shearling coat near right.
Near Right - Bottega Veneta's Dusky Lilac Shearling Coat. The coat has bracelet sleeves and a round neck making it the height of sartorial luxury. Available from Matches Fashion at £3,690.
Fancy brocades, checks, tweeds and quilted coats give women plenty of selection. Everyone can choose a coat for the life they lead. Autumn 2009 is all about wearable fashion for an individual lifestyle.
Left - Akris Catwalk Coat. If you need to wrap up well where you live to stay warm then a style of coat like this chubby cocoon A-line and with kangaroo pockets may be just the piece to fill the fashion gap in your closet.
‡
Paramount to every fashion collection for Autumn 2009 was the colour family of purple. Purple, violet, puce, purple heart, aubergine, damson all make for statement coats in striking vivid colours. These three ladies coats show how much variety is in store for you, and how shorter coat styles are so popular.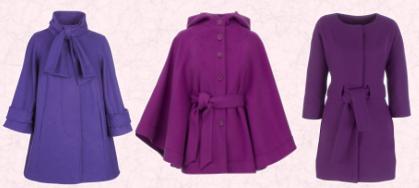 Left - Matalan Womenswear AW09 Papaya Structured Collar Coat £35.
Centre - Marks & Spencer Autumn Winter 2009 - Purple Hooded Felt Cape Coat With Belt £65. In store Nov 2009.
Right - John Lewis - JL Purple Belted Coat - AW2009.
Although capes have been around for a few seasons, now they have more variation and a nod to a wider range of cloaks and capes in costume history. The cape above centre is interesting in combining two looks of a belted coat to give form, shape and figure definition and the wider shoulder sleeve emphasis that a cape provides.
Capes may well take off as a steady trend, especially those mid thigh capes. These might clearly show others you are wearing the latest trend of over the knee boots. You are reading an original article on Autumn 2009/Winter 2010 women's coats by Pauline Weston Thomas only for publication on www.fashion-era.com ©
The various easy cocoon shape coats shown here are good styles for dressmakers to copy as the fit need not be quite as figure skimming perfect as with a sharply tailored jacket.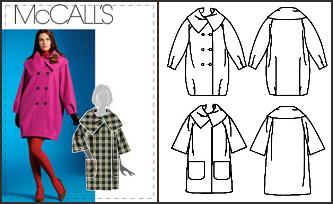 This pattern by McCall's shown right captures all the elements of an easy coat shape to make in a credit crunch economy.
McCall's Pattern Number M5939 Image courtesy of McCall's Patterns. Sizes 8-16 Misses and Women 18Wto 24W. The diagram fit of this coat looks generous so I would choose a smaller size and the double breasted version will allow a little leeway for manoeuvre.
Please note we do not sell this pattern. You can get this sewing pattern from good UK pattern retailers like Jaycotts online. Do note that American Sizing is generally more generous than British sizes.
Tweeds, checks and houndstooths patterns look good in the simple cocoon silhouette too because it shows the fabric pattern to full effect, without destroying the integrity of weave grid. These cocoon coat pieces are wearable, fit many body shapes despite figure flaws. This makes them commercially viable and very sellable as they have both a smart and casual aesthetic easily accommodating layers of winter knitwear.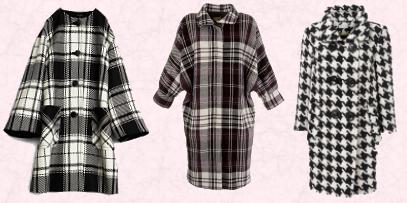 Above Left - Hobbs Autumn Winter 2009 Wool Hilton Checked Coat £269.
Above Centre - Preen Check Cocoon Coat £99 - Very AW09 Clothing.
Above Right - Wallis Autumn Winter 09 - Dogtooth Check Coat, €140.
Glen checks and oversized plaids like these give three-quarter length woollen coats a youthful, modern touch.
Dogtooth in every size to super houndstooths was a look explored on many a catwalk. The most memorable was possibly from Alexander McQueen and this coat (below near left) from Preen.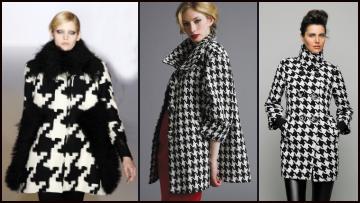 Preen showed not only houndstooths check coats but also dresses using these bold checks. Funnel necks gave them a fresh update.
This classic is I feel best in black and winter white. It looks best when the white is an ivory white. Dogtooth and houndstooths checks and even puppy tooth checks seem to span many seasons and recur in new forms regularly.
The two models centre and right, wear high street coats at an affordable price point.
Centre - Tesco F&F Dogtooth Coat £45, F&F Red Dress £16, Autumn Winter 09 Womenswear.
Right - Wallis Autumn Winter 09 - Oversized Houndstooths Coat, £85/€98, Black PU trousers, £45/€52.
Other dogtooth colour options this Autumn 2009/Winter 2010 include grey teamed with black or red or royal blue with black or grey.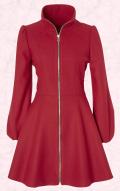 Finally coats also have hardware decoration and one feature that has cropped up on many winter coats is the visible zip either as a front closure or a decorative embellishment. Eventually the rich purple tones meet red on the colour chart for 2009. This red coat is playful and youthful a contrast to some of the more sober understated looks in store now. This is a fun fast fashion piece a buyer will wear to death. The red coat is from Matalan.
Right - Matalan Be Beau red fit and flare coat for Autumn 2009. It costs just £50.
Michelle Obama Belt (Mobamabelt)
'MOBAMABELT' The new trend for wearing a belt outside your coat is what Michelle Obama frequently does with her coats to bring mixed outfits together. Thicker midriff waists are better supported with deeper 10cm belts. Small ribcage gals can take narrow belts. Make sure the look and position of the belt suits you.
Conclusion for Women's Coat Fashion 2009
On this page I have concentrated on the women's coat styles for autumn 2009. My advice is to think of buying a coat as a fashion investment; for this season in particular look for a well defined shoulder. Other styles to try include wrap belted coats, camel coats, chubby fur coats and cocoon coats. Another trend for all garments in the winter of 2009 is decorative zip embellishment. If buying a new coat would be too expensive, then maybe sewing your own coat with the help of a McCall's pattern could solve a financial problem while developing a valuable skill.
You have been reading an original article on 2009 women's coats by Pauline Weston Thomas only for publication on www.fashion-era.com ©
-------v6-------
Copyright of images courtesy of Prshots, IFTF, Swarovski, BHS, Gil Bret, Marks & Spencer, Hobbs, Harvey Nichols, John Lewis, Dior, Betty Barclay, Wallis, Matalan, Matches, Joy, Tesco, Very/Preen, Matches, BHS, McCall's, Crombie, Long Tall Sally. My thanks to prshots.com.
Date added 15 August 2009 - Ref:P.739.
If you like this page then please share it with your friends
---
--Link--
For more information on ladies and teens fashion trends go to:-
Archived Sections
Custom Search
About Fashion-Era.com
Fashion-Era.com looks at women's costume and fashion history and analyses the mood of an era. Changes in technology, leisure, work, cultural and moral values. Homelife and politics also contribute to lifestyle trends, which in turn influence the clothes we wear. These are the changes that make any era of society special in relation to the study of the costume of a period.

Fashion-Era.com can take no responsibility for any information on the site which may cause you error, loss or costs incurred from use of the information and links either directly or indirectly. This site is owned, designed, written and developed by author: Pauline Thomas and Guy Thomas. This site is designed to be viewed in 1024 X 768 or higher.
ALL RIGHTS RESERVED. Fashion-era.com reserves the right to add or delete information, graphics and links. Copyright © 2001-2014 on all content, text and images in Fashion-era.com. Images and text in this website may not be used on other websites.
Before you write to me for costume/fashion help or information please, please consult the extensive sitemap which lists all our pages. If you still cannot find the answer after searching the site, then before you email me, please consider if you are prepared to make a donation to the website.
Donations
Reader's donations help this site flourish, in particular donations encourage me to write more articles on fashion history as well as current trends. PayPal allows anyone with a credit card to donate easily and securely. You may donate any sum you feel appropriate.