Blue Colours in Fashion for Autumn Winter 2009
One of the top ten Pantone colours for Autumn 2009/Winter 2010 is Majolica Blue shown right. Majolica Blue might strike you as somewhat dull, but it is a good base colour. Look further at the images from catwalk to high street shown on this page and you will see that the starter colour offers more scope when light or shade is added.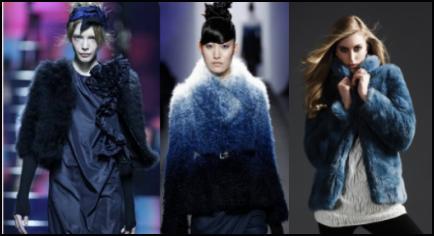 Pantone say that Majolica Blue, a deep, mysterious teal blue, has more vibrancy than the usual navy; they suggest it brings an exotic flair to Autumn 2009 fashion.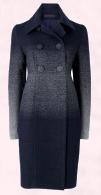 At first glance Majolica Blue - PANTONE 19-4125, is a hue that looks uninspired, but you can see from the above pictures that the tonal offshoots that spring from this hue can be attractive. It is the texture of the material used that determines effectiveness of this colour. These first two fur jackets left and centre were on the Autumn 2009 catwalk from Blugirl and Ogawa. The far right jacket above is an Autumn 2009 high street buy from the Per Una range at Marks & Spencer.
Above left dyed lamb jacket from Blugirl and centre Ombre Mongolian fur jacket by Ogawa.
This shade of blue also suits the military look. Far right is a designer coat from Martin Grant sold by Harvey Nichols. The coat's distinctive weave introduces a welcome softness taking us through tones of the blue.
The coat below has quite a different look, but is still a military line coat. It is a mini/three quarter blue military coat style from JOY Autumn Winter Womenswear 2009. You are reading an original article by Pauline Weston Thomas on Majolica Blue fashion trends for Autumn 2009, only for publication on www.fashion-era.com ©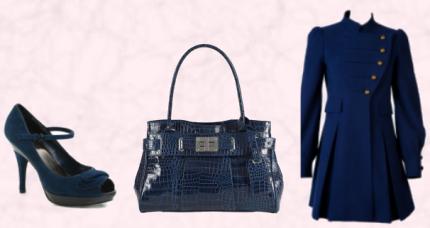 Accessory manufacturers have latched on to Majolica Blue, so you will have no trouble incorporating this fashion look in your wardrobe scheme. Translated into accessories, Majolica Blue is a versatile colour.
Above Left - Faith Footwear - 'Cembar'- £75 Suede and patent peep toe platform court. Due Mid Sept 09.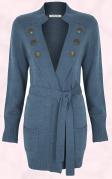 Above Centre Left - Bag by Oasis.
Above Centre Right - JOY Autumn Winter Womenswear 2009 - Blue military coat.
Above Right - Moda in Pelle Autumn/Winter 2009 Suede biker boot with stud straps. Accent (blue) £95 - Due in: September.
Military looks have been translated across the board, and this longer line cardigan fulfils the trend of military. Longer line boyfriend cardigans are also a strong micro trend this winter.
Right - Military Cardigan £14, AW09 - George Women, George at ASDA.
You are reading an original article by Pauline Weston Thomas on Majolica Blue fashion trends for Autumn 2009/Winter 2010, only for publication on www.fashion-era.com ©
‡‡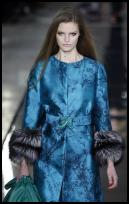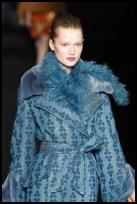 Catwalk evening wear has inspired retailers to add Majolica Blue based sequin dresses and coats to their inventory.
The brocade coat far left was by the House of Valentino.
Centre Left - Catwalk coat from Alberta Ferretti.
Right - This blue coat is by Peter Som - Blue karakul coat with sable collar.
From experience as someone with a fair complexion I know Majolica Blue/Blueberry can be a difficult colour to wear. It can look harsh against fair skins compared with softer purple based blues.
When mixed with other related tones the look is softer and can bring out colour of the eyes.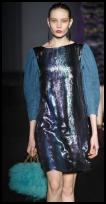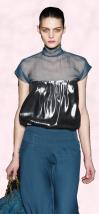 Focusing again on the new erogenous zone - the shoulder, this mixed blue halter neck sequin dress right, is by Marks & Spencer and is available in October for Christmas 2009.
Autograph blue sequin dress £65 T50 5112.
The blue sequin dress far left, by fashion designer Alberta Ferretti, draws our attention to the interesting fuller banana sleeves. The chain handle handbag is made of blue Tuscan lamb fur.
The pants and chiffon/metallic top (centre left) are also by Alberta Ferretti and shoulder interest is at the fore again,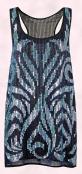 but here as a peek-a-boo fashion design.
Near Left - Shoulder focus is important this winter and the racer back mini dress tunic uses several tones of blue sequins. It gives choice against all those one shouldered posh frocks in store.
Racer back blue sequin tunic dress £75 from Miss Selfridge Autumn/Winter 2009. You are reading an original article by Pauline Weston Thomas on Majolica Blue fashion trends for Autumn 2009, only for publication on www.fashion-era.com ©
Hot on trend, Miss Selfridge offers the latest most important colours.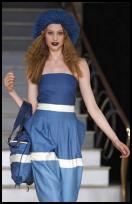 Blue is set to be one of the biggest colours not only for this winter, but also for next summer, so invest now in blue tones that suit your complexion. These shades of blue outfit from Henry Holland enhance a striking outfit.
Left - House of Holland - Tones of Blue and Tibetan lamb headpiece.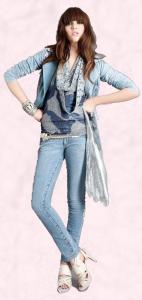 Blue Denim (serge de Nîmes) is made by a process of indigo dyeing, whereas black and other shades of denim are made by sulphur dyeing.
If sequins are too dressy for you, then denim may be the easy alternative. It really is hard to go wrong with a denim purchase. The runways were awash with serge pieces and this outfit shown right is sure to appeal to younger women and girls.
Far Right - Light blue jacket, skinny jeans £35, £25, Miss Selfridge Autumn/Winter 2009.
Like me, many of you will prefer the softer tint of the same blue hue as translated by the three pieces below. Denim always look great paired with white so everyone can wear the blues. Softened with white it takes on one the familiar denim washed out tones.
Studs and zip embellishment on a top ten colour tone easily bring an item into season.
Below Left - Studded denim waistcoat £75 Miss Selfridge Autumn/Winter 2009.
Below Centre - Blue Shoe Boot - Marks & Spencer Autumn Winter 2009 Accessories Ankle Boot, £55.
Below Right - Denim jacket with zip from £35 Miss Selfridge Autumn/Winter 2009.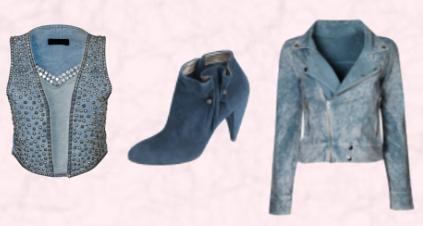 Pantone of course is not the only colour authority. There are other providers of top colour charts, although they all use the Pantone recognised numbering system to ensure those who buy their charts have access to the consistently exact colours wherever they are in the world. A retailer in Europe can instruct a supplier in China or Brazil on a dye colour in various materials using the Pantone system and know the end colours will be correct.
Other colour providers include Lenzing, TFL colour trends for the Leather industry, Interfiliere, Stahl, Premiere Vision, Pinklemon, Design-Options.com, The Style Council and The Color Association of the United States to name some of the leading colour design sources. This is not the only blue you will find in the fashion industry this year and some of my other pages look at alternative popular blue choices. Right now teal blue, cobalt and ultramarine are all also having their fashion colour moment.
§
Conclusion
On this page I have discussed how and why Majolica Blue will be a strong colour, not only for Autumn 2009 but also for summer 2010. This hue of blue is stylish in coats in general, and those with a military look in particular. You know when a colour is popular and about to become trendy when start seeing a whole variety of accessories in Majolica blue. This is an original Autumn Winter Colour Fashion Trends 2009-10 article by Pauline Weston Thomas only for publication on www.fashion-era.com ©
Copyright of images courtesy of Prshots, IFTF, Swarovski, Miss Selfridge, Marks & Spencer, Harvey Nichols, Moda in Pelle, John Lewis, Oasis, Pantone, Joy.
Date added 20 August 2009 - Ref:P.741.
If you like this page then please share it with your friends
---
--Link--
For more information on ladies and teens fashion trends go to:-
Archived Sections
Custom Search
About Fashion-Era.com
Fashion-Era.com looks at women's costume and fashion history and analyses the mood of an era. Changes in technology, leisure, work, cultural and moral values. Homelife and politics also contribute to lifestyle trends, which in turn influence the clothes we wear. These are the changes that make any era of society special in relation to the study of the costume of a period.

Fashion-Era.com can take no responsibility for any information on the site which may cause you error, loss or costs incurred from use of the information and links either directly or indirectly. This site is owned, designed, written and developed by author: Pauline Thomas and Guy Thomas. This site is designed to be viewed in 1024 X 768 or higher.
ALL RIGHTS RESERVED. Fashion-era.com reserves the right to add or delete information, graphics and links. Copyright © 2001-2014 on all content, text and images in Fashion-era.com. Images and text in this website may not be used on other websites.
Before you write to me for costume/fashion help or information please, please consult the extensive sitemap which lists all our pages. If you still cannot find the answer after searching the site, then before you email me, please consider if you are prepared to make a donation to the website.
Donations
Reader's donations help this site flourish, in particular donations encourage me to write more articles on fashion history as well as current trends. PayPal allows anyone with a credit card to donate easily and securely. You may donate any sum you feel appropriate.