Key Fashion Colour Trends for Autumn Winter 2009
This page will review the colour trends for Autumn 2009 to Winter 2010. However, if you want to look further than the headline hues, I will also explain how designers put together these tones to create this season's most fashionable clothes and accessories.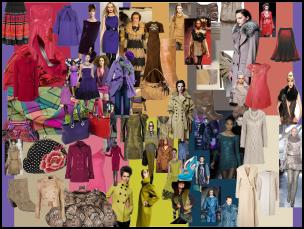 When Pantone released its top ten colours for Autumn 2009, they suggested that designers had favoured hues of a thoughtful palette which was practical, yet attractive to consumers.
Pantone's top 10 autumn 2009 colours for women are:
American Beauty - PANTONE 19-1759
Purple Heart - PANTONE 18-3520
Honey Yellow - PANTONE 16-1143
Iron - PANTONE 18-1306
Crème Brûlée - PANTONE 13-1006
Nomad - PANTONE 16-1212
Burnt Sienna - PANTONE 17-1544
Rapture Rose - PANTONE 17-1929
Warm Olive - PANTONE 15-0646
Majolica Blue - PANTONE 19-4125
Pantone provide an industry standard for colours. They are also a world leader in fashion colour forecasting. These are the their top ten colours selected from a survey of the designers of New York Fashion Week. The result is a an important collection of colour inspiration and colour philosophy.
The moodboard above right highlights the hues of the main Pantone colour chart for Autumn fashion 2009. I will review more of these colourful garments below, and also in other fashion-era.com trend pages.
Vibrant colour grabs the consumers' eyes, and, according to the executive director of Pantone Colour Institute, entices them to buy. Indeed most of us are attracted to exiting colours rather than the utilitarian grey or beige. You are reading an original article on fashion colour trends for Autumn 2009/Winter 2010 by Pauline Weston Thomas only for publication on www.fashion-era.com ©

Purple Heart implies a sense of refinement and sensuality, adding an air of creativity and excitement to the top ten colours. Purple heart mixes really well with either warm olive or honey yellow. Think of the crocus and you'll recall how the colour mix that nature gives us is so perfect.
Near left - Purple Heart (Pantone PANTONE 18-3520).
The check coat/jeans outfit and colourful bags below right are from Boden. The purple dress is a good buy from the JL Collection at John Lewis. These bag, belt and shoe accessories would set you on the right colour trends for Autumn Winter 2009.
All the items are easy to purchase online, details below. Purple hues have been in fashion for a few years, but now every tone from richest aubergine to softest mauve is making itself felt in the retail fashion sector.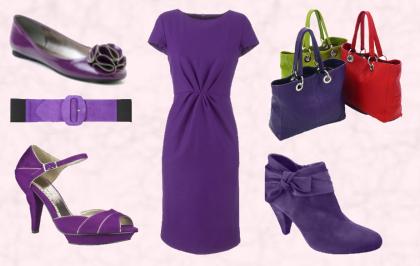 Top Left - Faith Footwear - Autumn Winter 2009 Purple Flat Shoe.
Centre Left - Oasis Purple Buckle Suede Stretch Belt - £25.
Lower Left - Red Herring Piped Island Platform £35/€54 - Debenhams Autumn/Winter 2009 Women's Accessories.
Centre - JL Collection - Tailored Purple Dress £75 JL at John Lewis AW 2009.
Top Right - PURPLE, RED, GREEN Bags from Boden.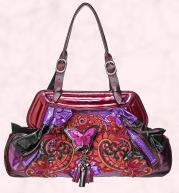 Lower Right - George at ASDA - AW09 - George Women Bow Ankle Boot £15.
Shoes, especially evening shoes, are trimmed with roses. Both day bags and evening bags have flourishing 3D roses. In fact, roses are sprouting elsewhere, you can see them as corsage roses and hair ornament roses.

Purple, pink and tones within this range remain two of the most important block bright colours of the Autumn 2009 Winter 2010 season. This bag illustrates how well the Pantone colours can be combined. Far Right - Bag from House of Fraser - Multi-coloured 'Butterfly' Bag Bracher Emden - £310.
Near Right - Foil animal print bangle £2.00 due in store beg August from the Primark Autumn 2009 Collection. Also at Penneys Ireland. You are reading an original article on key fashion colours for 2009 by Pauline Weston Thomas only for publication on www.fashion-era.com ©
‡‡
Reds
AMERICAN BEAUTY
Pantone's press release tells us that American Beauty (near right), is a wonderfully balanced, true red, perfect for all skin tones and a feel-good colour.
Near Right - American Beauty - PANTONE 19-1759.
Far Right - Rapture Rose - PANTONE 17-1929.
Pinks
RAPTURE ROSE
Rapture Rose (far right) adds spark to the fall palette, capturing the vibrancy of fuchsia and the softness of pink, enlivening the more traditionally subdued autumn colours.
Below near left - Bodycon dress George at Asda.
Centre left - Martin Grant Fitted Coat at Harvey Nichols - Autumn 2009.
Upper near right - Red high heeled court with rose corsage detail £39 Sophie Gray at BHS. In store from end of August. Also available in black. Womenswear - Sophie Gray @ BHS Autumn Winter 09.
Lower near right - Deep Pink Flared Skirt Limited Collection Marks & Spencers AW2009 - £35 T69 5305.
Far Right - Red Dress - Marks and Spencers Autumn 2009 - Limited Collection Tailoring.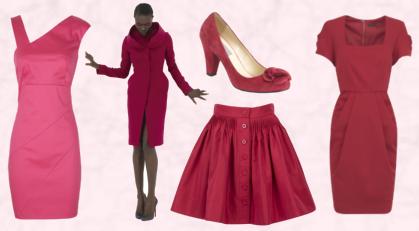 Stronger hues like Rapture Rose are easily balanced by understated neutral tones. Purple and vibrant warm olive are the important block-bright colours of the Autumn 2009 season. Just a touch of warm olive can add impact to a colour scheme and is especially good at lifting grey, charcoal and black.
Warm Olive is a rich yellow-green much like the olive in a martini, and it adds a touch of elegance and sophistication to autumn.
Left - Warm Olive - PANTONE 15-0646.
Right - Cowl neck contrast 8 button double breasted coat, note the military influence, £65, €75.

Available now from Wallis Autumn Winter 09.
Square Print Tulip Skirt £10 AW09 - George Women George at ASDA.
Left - This warm olive and purple printed brocade was used by Marni in several catwalk pieces.
On the catwalk, warm olive was also a natural choice for autumnal knitwear. But it looked very new when constructed in such rich lustrous fabrics.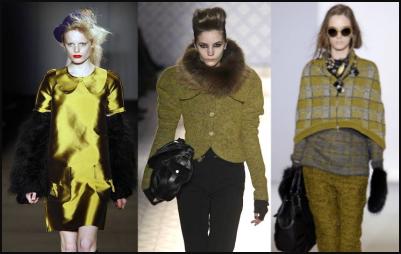 Above Left - Giles Catwalk Autumn Winter 2009.
Centre - Pollini Catwalk AW2009. Notice how those shoulders are growing larger.
Far Right - Marni Catwalk AW2009.
§
Blues
MAJOLICA BLUE - Key Fashion Colour for Autumn 2009

Pantone say that Majolica Blue has more vibrancy than the usual navy, and this deep and mysterious teal blue brings an exotic flair to the group.
Left - Majolica Blue - PANTONE 19-4125.
Many of you, like me, will prefer the softer tint of the same colour as translated by pieces in washed out denim looks. But this tone does benefit when the texture is more interesting as in sequins or suede materials.
Far Right - Blue sequin top with bat wings, grey wet look leggings £95, Miss Selfridge AW 2009.
Blue is set to be one of the biggest colours for next summer so invest now in blue tones that suit your complexion. If this shade of blue does not look good near your skin, then opt for accessories like these buckle biker boots.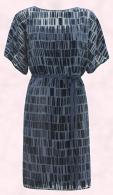 Left - Moda in Pelle Autumn/Winter 2009 Suede biker boot with stud straps.
Accent (blue) £95 - Due in: September.
Near Right - Blue Velvet Square Dress £49.50 (T56 3114) Marks & Spencer Autumn Winter 2009. Notice how shoulder interest here focuses on the aerial 80s theme of batwing and dropped shoulder loose sleeves.
A monochrome autumn palette of grey, more grey, charcoal black and white, is a cost effective basic neutral palette, to which you can add bursts of colour with accessories. But if you prefer to actually have some tonal colour then these neutrals below can help make your selections look expensive rather than dull.
Expensive tones of shell pink and beige blush tones are still as desirable as they were for spring, with many shops stocking this delicate colouration. These neutrals also mix well with them.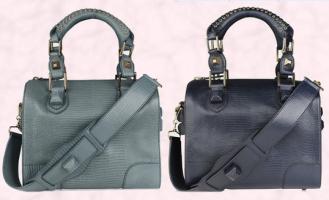 Grey and Navy bags, but in the same tonal families. The bags with fashionable homage to the season of the stud, are by Balenciaga and are available online from www.matchesfashion.com Autumn 2009.
Read and see more about Majolica Blue here.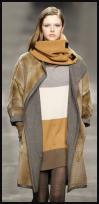 Iron (far right) serves as the "new black," making traditional basics much more interesting. Iron is neither gray nor brown, yet it coordinates well with all the other colours in the palette.
Nomad (centre right), bridges the gap between beige and light gray, and also introduces timeless neutrals.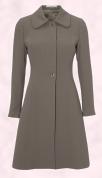 Crème Brûlée (near right) is a greyed-down coffee, making a beige au-lait tone.
Iron - PANTONE 18-1306.


Crème Brûlée - PANTONE 13-1006.
Nomad - PANTONE 16-1212.
All three classics can stand alone, or serve as anchors when paired with other colours. This catwalk outfit (above left) from Trends Les Copains shows how well the colours here mix and match.
Near Right - Dune Mixed Neutrals Court Shoe - Dune Autumn Winter 2009- Women's & Accessories - Stopper, £90/€120.
Far Right - Crombie Classic Coats - Fitted Single Breasted Coat £450.
‡
Honey Yellow (left) is a warm, more subdued golden yellow tone, making it ideal for autumn and winter. It looks good as a contrast to Purple Heart as does warm olive.
Honey Yellow is the foundation tone for all the camel coats this autumn.
Near Right - Knitwear in honey yellow.
Centre Right - Tuleh Brocade Coat -
Easy cocoon shaped coats in classic neutral colours can be regarded as investment coats. The camel coat style far right is from Hobbs Autumn Winter 2009. Hobbs Camel Hair Barton coat - £249. Such loose styles are great for accommodating layers of knitwear in winter.
Left - Burnt Sienna - PANTONE 17-1544.
Burnt Sienna is a deepened, earthy shade of orange. One reason that it's so popular this season is because it is reminiscent of an autumn sunset
Burnt Sienna paired hue with Nomad or Rapture Rose gives a different twist.
Near Right - Matthew Williamson fashion design. Wonderful use of Burnt Sienna in a luxurious boyfriend cardigan accessorized with a fur cowl and skinny belts.
Centre Right - Here fashion designer Matthew Williamson, renowned for great knitwear pieces has combined honey yellow, burnt sienna with the Pantone AW 09 neutrals of Iron, Crème Brûlée and Nomad to create a tasteful modern Joseph's Technicolor Dream coat.
Centre Right - This coat also by Matthew Williams, has been imported into the high street. Coat far right and from Wallis Collection Autumn 2009 - Burnt orange graduated coat £85, €130 - Wallis.
Conclusion of Autumn 2009 Fashion Colour Trends
...(v4r)
On this page I have concentrated on the range of colours for Autumn 2009/Winter 2010. Each year the industry leader Pantone produce not only colour charts, but a list of the top 10 most popular tones. Two colours that stand out this season are Majolica blue and American beauty. You have been reading an original Autumn Winter Fashion Trends 2009-10 article by Pauline Weston Thomas only for publication on www.fashion-era.com ©
Copyright of images courtesy of Prshots, IFTF, Swarovski, Miss Selfridge, Marks & Spencer, Hobbs, Harvey Nichols, House of Fraser, Mode in Pelle, John Lewis, Schuh, Dune, Primark, Penneys, Boden, Crombie, Matchesfashion, George at Asda, Oasis, Debenhams and Wallis.
Moodboard image contents primarily courtesy of prshots.com, IFTF and Harvey Nichols. Other images in moodboard include material used elsewhere in these pages. Wallis, Miss Selfridge, Oasis, New Look, Debenhams, Littlewoods, River Island, Marks & Spencer, Accessorize Monsoon, Matalan, Vera Mont, Principles, Hobbs, Benetton, ASOS, Warehouse, Pantone, Harvey Nichols, Swarovski, Aquascutum, Miss Selfridge, Oasis, New Look, Debenhams, Littlewoods, Accessorize Monsoon, Matalan, House of Fraser, Mode in Pelle, John Lewis, Dune, Dior, Jane Norman, Joy, ASOS, Warehouse, Asda, Faith, Penneys, Planet, IFTF, Brownsfashion, Matches, Plumo, Prshots.
Date added 18 August 2009 - Ref:P.740.
If you like this page then please share it with your friends
---
--Link--
For more information on ladies and teens fashion trends go to:-
Archived Sections
Custom Search
About Fashion-Era.com
Fashion-Era.com looks at women's costume and fashion history and analyses the mood of an era. Changes in technology, leisure, work, cultural and moral values. Homelife and politics also contribute to lifestyle trends, which in turn influence the clothes we wear. These are the changes that make any era of society special in relation to the study of the costume of a period.

Fashion-Era.com can take no responsibility for any information on the site which may cause you error, loss or costs incurred from use of the information and links either directly or indirectly. This site is owned, designed, written and developed by author: Pauline Thomas and Guy Thomas. This site is designed to be viewed in 1024 X 768 or higher.
ALL RIGHTS RESERVED. Fashion-era.com reserves the right to add or delete information, graphics and links. Copyright © 2001-2014 on all content, text and images in Fashion-era.com. Images and text in this website may not be used on other websites.
Before you write to me for costume/fashion help or information please, please consult the extensive sitemap which lists all our pages. If you still cannot find the answer after searching the site, then before you email me, please consider if you are prepared to make a donation to the website.
Donations
Reader's donations help this site flourish, in particular donations encourage me to write more articles on fashion history as well as current trends. PayPal allows anyone with a credit card to donate easily and securely. You may donate any sum you feel appropriate.