Key Fashion Looks for Autumn Winter 2009
Each era has it's unique fashion silhouette, for example, flapper fashion in the 1920s, mini-skirts in the 1960s, and now in the late noughties, we have Balmania shoulders. The page also discusses over 20 micro-trends in fashion, which you can monitor during this autumn winter 2009.
N.B. Latest Fashion Trends for Winter 2012
Balmania and the concept of a well defined shoulder is a growing fashion craze. Forget bagmania and 'it' bags (for a week or two at least) as the latest piece to covet has moved toward a razor sharp shoulder with skinny-fit arms. What we are seeing for autumn 2009 is the importance of the stylish, Balmain inspired, fuller peak-shoulder line.
This Balmania trend has been gaining momentum, and now everyone wants a shoulder line like this one shown right. Reader, you may not be able to afford £2,430 for the Balmain blouse far right, or £7,000+ for the Balmain black leather jacket beside it, but like me, you may well still want an item with the same fashionable shoulder silhouette.
Images courtesy of Brownsfashion. Balmain is available at Browns in London and in limited numbers.
The Balmain black leather jacket brings together trends prevalent this autumn 2009 - structured shoulders - leather - plus chain embellishment hardware. It is rock chick heaven when teamed with skinny jeans, thigh high slim wader boots or studded footwear. You are reading an original Autumn Winter Fashion Trends 2009-2010 Top Fashion Looks article by Pauline Weston Thomas only for publication on www.fashion-era.com ©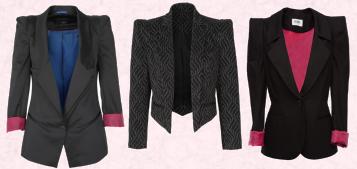 High street retailer, and online Directory company NEXT, have several boyfriend jackets and shorter croppies which show a more sculptured shoulder line emulating the power-chic Balmain shoulder above.
Details
Left - Penneys Power Shoulder Blazer ROI €25.00 - Penneys Autumn 2009 Collection. Also at Primark £19. Centre - NEXT Power Shoulder Silver Print Cropped Jacket £55/€71. Autumn Winter 2009 Womenswear at NEXT DIRECTORY. Right - Also from NEXT Autumn Winter 2009 Womenswear - Tux Jacket £60/€77. See more well defined shoulders in other 2009 fashion trend pages.
Top Tip - Think Chiconomics
Scour these latest fashions, then carefully evolve the trends into the fashion looks that YOU really want to follow. Rediscover how to dress with panache without breaking the bank. Discard the dross, and pick only women's fashions that suit your body shape, colouring, personality and lifestyle. In 2009, 'Think Chiconomics' should be stamped on your forehead before parting with cash.
This list of top twenty fashion looks defines the main features. These are the trends to follow when you shop for this season's wardrobe. Every whim and desire from the fashion shows is covered, and all the elements needed to toughen, or glam up an understated look, is discussed.
OUTLINE SHAPES
THE TOP SILHOUETTE TREND - WIDER SHOULDER & PUFF SLEEVE INTEREST
The shoulder line has widened and there are variations from full-on puffs to structured sleeves. Those from Balmain have an interesting architecture to produce 45º upward ski-slope volume - the BALMANIA LINE is a must-have. There is also plenty of wider shoulder choice on offer, so opt for a jacket or bodice with WELL DEFINED shoulders or puff volume sleeves, all best with SKINNY ARMS arms or pushed up sleeves for balance.
SWELLING SKIRT SILHOUETTE - Lampshade puffball, volume tulip skirts, draped skirts. Slim skirts. Right D&G opulent fabric lampshade skirt with well defined shoulders - fuller puff sleeves.
ASYMMETRIC DRESSES, BODICES - Glam up with off-the-shoulder/one-shoulder dresses, sleeveless/one-sleeved.
FASCINATING FOOTWEAR is another key fashion craze for the winter of 2010 - Slim Legs - OVER THE KNEE SKINNY WADER BOOTS. Other variations of existing trends include strapped biker boots, spike stiletto and carved high heels and flattest lace-up brogues. SHBOOTS. Gladiator ankle strapped, mid calf boots. Mixed colours, materials and textures. Shoes/courts with roses. Animal print footwear. Lacing/ribbon ties.
SLIMMER LINE TROUSERS - FLAT or Peg top trousers, narrower legs balance wider top silhouette. TREGGINGS.
TOP ATTITUDES
INVESTMENT DRESSING - Statement Coats in beautiful quality fabric. Clothes which are wearable time and again also repay their outlay handsomely.
POWER CHIC - HEAVY METAL - HARDWARE - STUDS - ZIPS - BIKER BUCKLES - Multiple zip additions and/or pyramid/round stud and eyelet decoration on many products especially footwear; proudly visible zips, rows of biker buckled belts. Right - Cavalli studded outfit.
ANDROGYNOUS LOOKS - BOYFRIEND BLAZERS & CARDIGANS, DISTRESSED DENIM, MILITARY WOMAN.
COLOURS
REGAL BERRY TONES - PURPLE - IRIS -INDIGO BLUES. A return of browns with copper olive bronze tones, caramels, tans, camel meets café au lait and chocolate, palest blush pink to red. GOLD TONES - Shimmering Metallics. Molten liquid tones, shining burnished copper bronze. Majolica Blue, sea green to acid green. MONOCHROME MIX- GREYS, BLACK, WHITE.
MATERIALS
ANIMAL PRINTS - Animal in natural patterns a true noughties trend. New bright hues digital animal prints.
LEATHER & SUEDE - BIKER/MILITARY JACKETS, DRESSES, SKIRTS - Black/colourful smooth/croc surfaces. Suede waterfall collars. Right - Planet - Military purple suede jacket.
FAUX/REAL FUR - MONGOLIAN CHUBBY COATS - Shearling coats/gilets. Fur collars, cuffs, hems, cowls.
VELVET - RICH DARK VELVETS in inky indigoes/purples/black. Velvet devore burnout contrast fabrics.
LACE - See through sheer areas, lace tights. Sheer dark hosiery. Opaque coloured tights.
WOOLLENS - DOG/HOUNDSTOOTHS/TWEEDS - Black/white/colour checks. Fine tweeds. Chanel also have some tweedy cropped semi-fitted jackets with sharp shoulders. The use of tweed with a sharper jacket profile gives tweed a modern edge bringing it bang up to date for Winter 2010.
ROSES/FLOWERS - Flowers in 3D forms on necklaces, as accessories for dress necklines, waistlines and as shoe and hair decoration. Dress hems with roses and bags with massive roses are in vogue this autumn.
LAYERED KNITS - Longer cardigans, waterfall drape cardigans - Lagenlook/Layering textured, fine knits, wispy lacy mohair, chunky cables. Oversized scarves worn as or with cowls/snoods. Knit berets. Lower Right - Missoni knitwear.
ACCESSORIES
BAGS - There is a continued trend for smaller bags. Chain braided 'Chanel' type handles. Clutches. Coloured bags smothered in frills, roses or pleats. Bags carried as clutches. Metallic bags especially burnished bronze/copper toned bags are popular. Animal and fur bags abound.
BELTS - Belts with studs. Choose deep, wide and colourful belts, alternatively, experiment with obi styles in leather, or suede. Narrow belts are often a fabric knotted tie.
'MOBAMABELTED' - Wear your belt and 'Mobamabelt' it over your cardigan or coat. This is what Michelle Obama frequently does with her cardigans and coats to bring mixed outfits together. Thicker midriff waists are better supported with deeper 10cm belts and worn under a cardigan or coat. Small ribcage gals can take narrow belts. Make sure the look and position of the belt suits you.
JEWELLERY - Oversized metal necklaces and massive cocktail dress rings are on trend for the autumn of 2009. Note bows and insect bugs in jewellery. As the fronts of colliers become more decorative and weightier even more necklaces have tie ribbon closures. Contrasting fine delicate chains - Bezel set gems or diamonds in gold chains enhance necklines. Even deeper wrist/forearm contoured cuff bangles. Coloured gems, rose gold tones andPandora/Troll and similar charms all have our attention.
Each of the Autumn 2009 Winter 2010 fashion trends listed above is examined in more detail in other pages of the fashion-era website. You are reading an original Autumn Winter Fashion Trends 2009 article by Pauline Weston Thomas only for publication on www.fashion-era.com ©
‡‡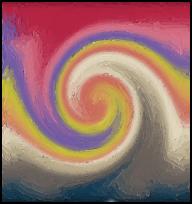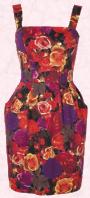 Understated neutral tones compliment the stronger primary and secondary colours that add highlight and lift to otherwise dull rather basic hues. Purple and puce remain two of the most important block bright colours of the Autumn 2009 Winter 2010 season.
Two of the most noticeable of Pantones top 10 autumn 2009 fashion colours for women (left) were Purple Heart (Pantone PANTONE 18-3520) and Warm Olive, an acid yellow-olive based warm green tone (Pantone 15-0646).
American Beauty (PANTONE 19-1759) is a rich red. Reader see how some of these hues have been used in this abundantly patterned rose floral dress from NEXT DIRECTORY Autumn Winter 2009/10 Collection. See more top colours, clothing and accessories on the Autumn 2009 colours page.
...(v4r)
Intense red or deep claret nails in matte, non-shiny finishes also say Autumn 2009/2010 fashion. Along with bigger and blowsier hair, updos and French pleats, this makes for a fast colour and beauty makeover.
More subdued colours with an added urban tough edge include plenty of grey tones from silver dove to deepest charcoal, majolica blue, blueberry, olive, camel, tan, chocolate, russet, aubergine, burnished copper looks to mushroom gill pink and smudgy café au-lait.
Such safely neutral tones as you see in the camel coat below possess an ability to soften down anything too brilliant. But each colour can frequently be found with gleam and sheen which adds some much needed glamour. Many tones team well with black for a winter finish ideal for duller northern climates.
You are reading an original Autumn Winter Fashion Trends 2009-10 article by Pauline Weston Thomas only for publication on www.fashion-era.com ©
Your wardrobe edit for Autumn Winter 2009/2010 should include awareness of investment coats, well defined shoulder lines, longer cardigans, animal prints, over knee boots, flat brogues, cowl wrap necks and belts. Take into account the importance of products in velvet, fur, sequins, studs, leather, checks, chain or zip applique, and you have the basics of an easy wardrobe makeover for Autumn 2009.
The dominant trend for Autumn 2009 Winter 2010 shows a natural drift toward the ongoing fashion of investment dressing. It means designers have accepted an overriding awareness that consumers need moral support to keep a balance in their closets as well as their budgets.
Despite the lingering credit crunch, every garment or accessory designers and retailers have produced for Autumn 2009/Winter 2010, ensures as much product choice as in earlier boom seasons. Fashion never lies down and dies, it always goes on in some manner whatever the global circumstances.
Many Autumn 2009 catwalk garments are straightforward down-to-earth wearable pieces and very covetable outfits.
Think wearable and desirable pieces, but wearable again and again.
Near Right - Two chic coats of the moment, showing understated investment dressing.
A deep camel/caramel coat worn with arm warmers and from Donna Karan, IFTF.
Far Right - A classic pale camel coat in luxury yarns from Max Mara at House of Fraser.
Recession led, understated fashion pieces compete with overstated 'notice me' fashions resulting in a body conscious look.
Those latest looks are the power-chic fashion options of thigh high boots, sequins, studs and glamour.
These thigh high skinny boots challenge more utilitarian sturdy biker boots.
Left - Rodarte Catwalk Collection, the best thigh boots of runway shows. Image courtesy of Swarovski.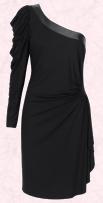 For evening the bare shoulder asymmetric dress of summer has morphed into a winter version with one bare shoulder and one full length long sleeve or a single cap sleeve instead of a shoulder strap or bow.
Asymmetric one shoulder dresses are the alternative to bustier prom dresses. The latter have been refined and the upper bodice is now much higher with even some arm coverage being attached, a reverse order of styles of circa 1992.
A simple plain fabric or satinised trim version such as this the one sleeved dress right from Marks & Spencers Autumn 2009 range could become the LBD of your Christmas outfits.
Right - Limited Collection Black Dress. The dress allows for one bare shoulder and one long sleeve - Marks & Spencer A/W 2009/10.
‡
Shoulder Interest
Structured shoulders are contrary to asymmetric shoulders, but each offers fashion promise - the promise of the next best thing of a new fashion future, in a new decade.
Sequin asymmetric dresses are the ultimate glamour dress for the festive season. This sequin one-sleeved mini dress shown left, is by Balmain and from Harvey Nichols Spring 2009 range a leader of looks that other manufacturers have followed.
Warming tweeds and tough, but butter soft leather or suede contrast with delicate silks and satins, flimsy sequins or lace and peek-a-boo garments.
Below Left - Velvet and Peek-a-boo lace dress, lace tights, for Autumn 2009/Winter 2010 from Warehouse Womenswear.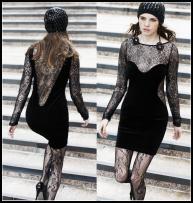 Contrasting with the glamour of the Dynasty sequin micro-trend is the closely related powered up version of space age intergalactic power-chic glam punk fashion. Think studs, taping, zips and belt buckling - glam warrior woman is still at large.
The biggest evening dress look for autumn is possibly that of the future shock disco diva dresses with body con hugging fabrics. With sharp shoulders the sequin dress can be worn with or without leg wear, updated with thigh boots or teamed with slim pants or lace patterned tights.
Dress lengths can vary from tunic to knee length and so leg wear is your choice. Sheer and lace tights are a good option for super glam occasions and soften up fierce leather dresses. Patterned hosiery is also looking a great choice for Autumn 2009.
The military look just won't go away. Women love military fashion, but what was once viewed as a ship shape jacket or winter coat with frogging, or extra inspired buttoning is now taking on more innovative inspiration with input from Balmain with the tweed military cape and Miuccia Prada has also taken the military theme a step further.
Prada created inventive Roman centurion leather dresses (as shown left) that are bound to inspire other fashion designers to follow with their own variations. Near Right - Detail of Prada Roman Legion Dress.
A catwalk look that also inspired retailers was the Cavalli suede wrap studded skirt and waterfall drape front jacket shown above in the top twenty fashion list.
These armour like pieces were boldly embellished with studs. Both Miuccia Prada's Roman centurion legion dresses and Cavalli's studded pieces are highly novel. No doubt spin-off elements of this look will keep the leather and stud industry in business for several years to come.
For designer inspiration on Roman battle dress see my Ancient Rome costume history pages.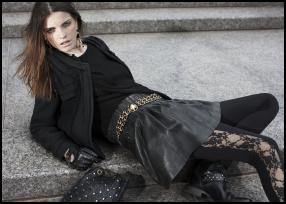 Even hair wrap accessories in leather were shown by YSL. But leather has also been used this season for the wet look of slinky body con leather pants and especially of form fitting black leather dresses.
Every major retailer has at least one black leather dress in its Autumn 2009 range. Price start from about £100.
Near Right - A high quality soft leather dress from Hobbs Autumn Winter 2009 - Alford Limited Edition Dress, £299.
Far Right - High street leather skirt, teamed with lace tights, studded belt and bag are all from Warehouse. Fall 2009 is the ultimate season of the studded piece, whether bag, belt or garment.
...(v4r)
Some stylists are showing models wearing belts Boho style on the hip again. These are perhaps less low slung than in previous years. Others show belts firmly on the waist defining dresses and worn over cardigans, Mobamabelted. Every retailer is offering both deep and narrow belts, black and coloured, patent and leather, studded or buckled, so the choice is all yours. Micro trends include curtain rope belt cords with tassels ends. But whatever belt you opt for or wherever you place it - waist or hipline just make sure you do belt up. You are reading an original key fashion looks 2009 article by Pauline Weston Thomas only for publication on www.fashion-era.com ©
Outerwear
Investment Coats - Top Tip - Select Luxurious Cloth, Incredible Colours
Whether you choose a neutral or a coloured cloth coat, the trick with any investment buy, is to perhaps pay a bit more than you usually might for a piece. Select a coat that make you feel like a million pounds. Make sure it has fabulous quality material or hide that feels so good against your skin and is a luxury experience to wear.
Try to ensure any investment coat has a good front cover/closure for really cold days. If you are thinking ahead for a few years, black is always a safe choice, but a colour may uplift your looks far more. The correct colour will enhance your face faster than Botox.
Beyond the obvious black winter cashmere/wool coat, investment coats have classic good looks that will take you through many occasions. Camel (see top of page above) and grey shades (left) give neutral base fabrics that can be dressed up or down.
Left - Investment Dressing With An Aquascutum Grey Coat. Aquascutum is one of only a few remaining British luxury brands to still manufacture the majority of its outerwear in England.
'Made in England' reaffirms the company's luxury positioning.
If the neutral colours seem too dull and safe, there are still desirable brightly coloured alternatives like the purple coat and the acid green coat shown just below.
Early and mid 2009 also highlighted the importance of vivid colour block mixing or clashing. This reached a new peak this summer and now many are wearing brights like these strong confident catwalk hues which have a wow factor that only colour can give.
Clearly Michelle Obama is a big fan of purple and has teamed her Maria Pinto purple sheath dress with a studded belt by Azzedine Alaia.
Centre Right - Dior Purple Cowl Collar Suit. Some of the suede and leather pieces are as costly or costlier than fine cashmere and wool coats or suits.
This lovely suit from Dior in Pantone's Purple Heart, or this purple coat from the Paul Costello Collection at John Lewis are the exact shade of purple for Autumn 2009.
Right - Paul Costello Collection Purple Coat in luxury cloth and from John Lewis - £399.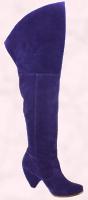 The purple Costelloe coat has sharp military elements and is made in a luxurious Italian wool and cashmere mix. It features a top trend of autumn - the cowl stand neckline, which is also a staple part of many knitwear pieces.
The iris/blue/purple/violet range looks good on almost everyone whether redhead, blonde or brunette. If you have qualms or lack the confidence to wear such a vast amount of a vibrant strong colour then accessories always give you the easy option of introducing the current fashion colour, but far away from your face if the colour is unsuitable for your skin tone. These purple over knee boots are by Scuh.
Right - Schuh - Autumn Winter 2009 Collection Schuh Melanie Over The Knee Boot In Purple Suede £109.99/€145. Also available in black.
Coloured suede, leather, fur and brocade coats suggest more teasing qualities that make fashion exciting for so many women.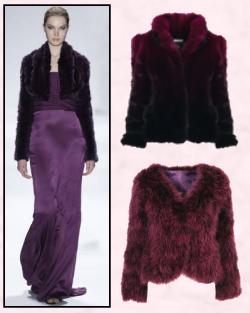 Purple, puce pink and damson remain two of the most important block bright colours of the Autumn 2009 Winter 2010 season. Often teamed together there are plenty of footwear options that use variations of this hue. Look out for every tone from palest mauve ultra violet to rich plum.
Some of the coloured coats for autumn are in fake or Mongolian fur or animal prints. These cropped and chubby fur jackets shown right, catch the mood of the AW09 fashion season. Teamed with evening wear or jeans they have fun attitude and offer functional warmth as well as a sophisticated colouration.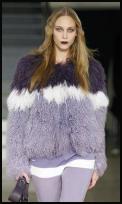 The new Chubbies generally have a plain cocoon silhouette made up in real or fake fur, but especially fun in Mongolian fur or Shearling as a short chubby coat jacket.
Ombre Mongolian fur in particular creates a chubby honey monster coat that ranges from waistline cropped, hip and knee length versions. These colourful Chubbies offer fun looks and cover many autumnal colours. Right - Ombre shaded purple Mongolian fur chubby coat - House of Holland.
Left - The catwalk model wears a gown and jacket by Carlos Miele. The dark damson collared fur jacket above right is from Marks & Spencer Limited Collection - In Store Nov-Dec 2009 - £99. The collarless wine fur jacket just below it is from Miss Selfridge.
Regal purple and damson berry tones are top trend colours for Autumn 2009 with a whole range of hues running from iris blues and violet indigo to damson and aubergine. These colours can be quite mesmerizing. You are reading an original key fashion looks 2009 article by Pauline Weston Thomas only for publication on www.fashion-era.com ©
Vibrant upbeat clashing colours of the season also include red, sapphire blue, teal, majolica blue, sea green and warm olive an acid yellow green. Lime and citron yellow tones have grown in popularity through the mid/late noughties.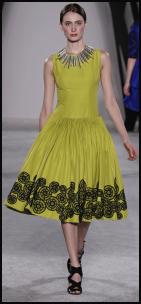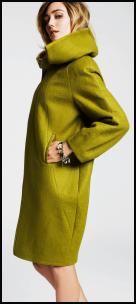 Lemongrass green came to prominence when Michelle Obama wore it as a coat and dress for the 2009 Presidential Inauguration. Warm olive green, teal and red are all good mixers for lifting understated sombre greys or black.
This warm olive dress right is by Jason Wu, a designer Michelle Obama has supported this year. The black rose embellishment on the hemline of this dress softens down the strong colour. The skirt at hip level shows an interesting technique favoured very much by the Victorians. Cartridge pleating was often used by Victorians as a method of disposal of skirt fullness was seen in work by several designers in 2009.
...(v4r)
The huge crystal collier necklace is a Swarovski statement masterpiece.
Image courtesy of Swarovski.
Left - This lively warm olive acid-green coat with fashionable zip front closure ticks all the right boxes for autumn. Redheads look terrific in this colour. Coat - Betty Jackson at Designers at Debenhams - Autumn 2009 Womenswear. 'Black' Cocoon Coat £200/€310.
Animalistic looks are a perennial fashion trend and animal prints with leopard spots or zebra stripes were being worked in many other colour ways especially in black and white.
Zebra print and other animal prints are the base pattern for knitwear as well as accessories.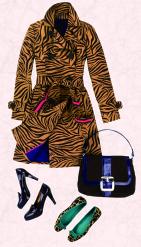 Traditional camel and black leopard print are used for mainstream courts, ballet shoes and bags. Mulberry to Marks and Spencer have leopard spot footwear and at Tod Lynn there were even horsehair boots.
Left - Isabel Marant Leopard print fur coat.
Ankle boots and peep toe courts, or Mary Jane shoes all combine with zips, black patent contrast heels, trims, buckles and bows to create animal driven footwear accessories.
Statement prints have used animal textures for some time, but now many animal prints have been digitised to create an innovative modern take on traditional prints. These digitised prints have an edgy, but still animal feel.
Coats, biker bomber jackets, gilets, macs, umbrellas, bags footwear and chubby coats all feature animal prints. Right - This coat is from Boden and made up in a zebra print, but in tan tones.
Boyfriend cardigans with their longer lines are easy dressing and can give structured hip cover when combined with slim leg pants. But light outerwear these days often just means quirky lagenlook - layers of soft jersey, boiled wools, linens or knitwear.
Layering of knits with many different textures have become a staple of the British woman's wardrobe. In the past 20 years the temperate climate we live in is frequently more temperamental than temperate! As the years have passed we have become used to building up layers of clothing using mainly knits of different weights and fibres.
The opportunity to layer and layer with the finest cobweb and gauzy knits, to the outermost layers of heavy cable and fair isle, means we have become adept at mixing and playing with pieces. Lagenlook is the perfect way for indecisive weather.
Cowls
Cowls are on all garments this autumn. Long droopy shawl knit cowls add interest and a final layer to muffle up on inclement days. High stand mandarin cowls and deep fur cowls are a feature of coats and jackets. Cowls also morph into oversized snoods.
Textures in Knits
For autumn waterfall knits, and rib or Birdseye fine wools add contrast and texture when played as texture against texture. Right - Ribbed Long Line Purple Cardigan - Wallis Collections Autumn 2009.
Lace knits, Aran pattern cables, tucks and cable bobble knits with Swiss surface embroidery, fair isle, sculptural knits and overlaid contrasting textures all create moods that move from day to night, country to city.
Left - Traditional Austrian Style Knit - Kenzo.
Some of my favourite available on the high street attractive interesting knit pieces include those of Fenn Wright Manson, Sarah Pacini, Nicole Farhi, Stills, Boden, Hobbs, Crea Concept, Theory and Marks & Spencer Limited Collection and Autograph pieces. The latter from M&S are excellent value, but you have to be quick to get the best more innovative styles. You are reading an original key fashion looks 2009 article by Pauline Weston Thomas only for publication on www.fashion-era.com ©
Top Tip Key Fashion Trend for Autumn 2009 Winter 2010
Thigh High Over the Knee Boots
Thigh high wader boots were at many runway shows, but especially at Giles (left) and Rodarte (centre right), Chloe, Prada, Pucci and Marc Jacobs. Coloured suede especially purple was popular footwear them on runways.
Shorter calf length boots were seen at Balmain and Louis Vuitton. Purple boots were hot.
The best high street 'quality' version of this designer fashion trend are possibly by retailers Russell and Bromley. Always hot on runway footwear trends, the retailers over the knee must-have boots are the £445 Thigh High Boot and by designer Stuart Weitzman.
These over knee boots far right are also from the high street or available online.
Centre Right - Rodarte Catwalk Thigh Boots.
Far Top Right - Moda in Pelle Autumn/Winter 2009 Harlow Black Over The Knee Leather Boot, Elasticated Back - £180. Due Sept.
Lower Right - Littlewoods Oko Style Over The Knee Platform Stretch (non Leather) Boots - £49.
Littlewoods online AW09 Clothing & Footwear also have over the knee boots by Dune at £180 and ones by Moda in Pelle at £170. Their boot range covers all looks and at a pricepoint most can afford.
Studs, studs and more studs can now only mean Autumn 2009 and Winter 2010. Multiple haberdashery on clothing and accessories has been a micro fashion trend of the summer. Think visible zippers and more zippers.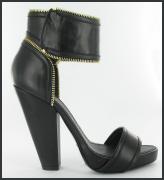 Accessories now fall into two camps - those of simple elegant investment style more classic ladylike pieces. Then there are pieces smothered in studs, straps or zips, crying out 'my fashion moment is here and now.'
Studded, zips and buckled belt straps are the mainstay additional embellishment of a great deal of footwear, belts, bags and hair ornaments like barrettes. At Burberry, McQueen and Bottega Veneta heels were sexy punk dominatrix luxury lace up boots, or women's brogue shoes such as those further below and from Dune
Right - Alexander McQueen Laced Boots - Harvey Nichols.
Above Left - These zip embellished deep ankle strap heels are by Givenchy, and also available from Harvey Nichols.
...(v4r)
Gladiator sandals have morphed into Gladiator Legion Shboots with their studded straps and very high heels. Biker boots with plenty of buckled straps easily toughen up any softly feminine garments.
For general court shoes, studs and multiple straps are paired with skinny heels. Some shoes and boots have strappy ribbon or leather streamer bows to wrap up the leg and also to tighten up shoes. Spoilt for choice again.
For Autumn 2009 footwear, a reaction to the highest of heels has begun. The option of high or flat shoes or boots will be very welcome to many women. Tottering high and carved heels vie against the newcomer - flat laced brogues - the flats are being used to toughen up softer outfits.
Traditional flat laced brogues in superior leather also competed with brogue versions turned into high heeled lace brogues, with decorative punch eyelet work or studs.
Right - Dune Autumn Winter 2009 - Women's & Accessories Flat Brogue - Style - Sir, £75/€100.
Roses & Bows
Shoes especially evening shows are trimmed with roses. Day bags and evening bags have flourishing 3D roses. Roses sprout elsewhere as corsage roses and hair ornament roses.
Bows decorate clothing, but especially accessories. In jewellery pave bows, bows on long pearl chains, bow hair ornaments often oversized ass fun elements that lift spirits.
Chain & Ribbon Handles
Chanel style chain and ribbon or leather thong threaded handbag straps proliferate on accessories and even clothing.
Gold chain or silver chain straps on handbags have made a welcome return being both feminine and easy to carry without over bulking. The Chanel bag that uses this strap has been copied by all the major chain stores and new variations on the theme are still emerging.
Bags
Ladylike handbags of normal size that allow shoulders to have their own lives. Animal prints and fluffy furry bags bring the jungle into the city. Opulent heavily embellished clutch bags with beading and brocade as well as tassels and gold chains all feature this winter.
...(v4r)
One wonders if costume jewellery can become much more chunky or heavy. The reaction of some has been to begin following instead the micro trend for finer daintier gold and silver chains. Fine chain jewellery interspersed with bezel set gems and faceted stones offer tasteful statement pieces with ladylike grace.
Elsa Perretti's Diamonds by the yard from Tiffany have a growing following. At Tiffanys a 16" sterling silver and 0.09ct diamond necklace costs £350 and a 30" sterling silver necklace £740. These going up in grades of diamond carat weight and chain metal quality to £14,900 for a luxury 38" platinum with some 4.32 ct VS diamonds. They have necklaces for every pricepoint. The diamond earrings to match are quite beautiful.
Others invest in slider beads for Pandora, Troll, Biagi, or Lovelinks brands of self selecting bead charms for technically matching snake chain bracelets or necklaces.
For those still enjoying chunky oversized jewellery pieces then agate and wood jewellery bangles of differing widths piled high are a way of showing contrasting textures and tones.
Outfits can be set off with just one massive cocktail ring or stacking rings that fit magically into one another creating a band of your own arrangement.
Right - Gemstone rings from jewellery designer Sarah Bond and Saretta's new Black Magic Collection. The collection is inspired by the magic and allure of natural coloured clear cut gem stones.
All the gemstones used have been ethically sourced and the bullion used is ethically certified. As a fundamental service Saretta offers each piece in the collection to be made in a variety of precious metals to suit the customers price range and demand. Prices starting from £210 GBP in Silver. See more work by Sarah Bond at her website.
Dark glamour rings and black diamond rings of cocktail size can draw attention to beautifully manicured hands showing red or rich wine matte polish fingernails the mark of a 1940s glamour goddess. The matt manicure is one of the hardest to achieve and really requires the skills of a professional manicurist. It is stealth wealth in action.
The return of rose gold as a trend driven precious metal satisfies the colour combos of the burnished and copper tone gold clothes that will be seen everywhere through the Thanksgiving and Christmas season. Wide cuffs are morphing into even more complex wrist formations of filigree or chunky dimensions. Initially when the cuff trend was first spotted most wrist cuffs were vintage pieces of costume jewellery, or low cost plastic or crystal pieces. As the trend for jewel cuffs has flourished, so has the talent of craftsmen designers. Delicate and artistic cuff bangles are becoming more readily available.
Conclusion on Key Fashion Looks for 2009
Pay close attention to the shoulder silhouette, a Balmania line jacket could be the defining look for the autumn winter 2009 season. To keep warm, a layered look will keep you on trend, also for those smart indoor events, asymmetric shoulders are still in fashion. For that journey home in the cold night air, invest in a good coat with a faux or fur collar.
When you accessorize multiple zip additions and stud decorations look good, especially on footwear. Also investigate accessories with shimmering metallics and molten liquid tones.
You have been reading an original Autumn Winter Fashion Trends 2009-10 article by Pauline Weston Thomas only for publication on www.fashion-era.com ©
Copyright of images courtesy of Prshots, IFTF, Swarovski, Aquascutum, Dorothy Perkins, BHS, Gil Bret, Miss Selfridge, Debenhams, Littlewoods, Marks & Spencer, Hobbs, Warehouse, Harvey Nichols, House of Fraser, NEXT, Mode in Pelle, John Lewis, Schuh, Dune, Dior, Penneys, Boden, Debenhams and Betty Jackson.
Date added 15 August 2009 - Ref:P.738.
If you like this page then please share it with your friends
---
--Link--
For more information on ladies and teens fashion trends go to:-
Archived Sections
Custom Search
About Fashion-Era.com
Fashion-Era.com looks at women's costume and fashion history and analyses the mood of an era. Changes in technology, leisure, work, cultural and moral values. Homelife and politics also contribute to lifestyle trends, which in turn influence the clothes we wear. These are the changes that make any era of society special in relation to the study of the costume of a period.

Fashion-Era.com can take no responsibility for any information on the site which may cause you error, loss or costs incurred from use of the information and links either directly or indirectly. This site is owned, designed, written and developed by author: Pauline Thomas and Guy Thomas. This site is designed to be viewed in 1024 X 768 or higher.
ALL RIGHTS RESERVED. Fashion-era.com reserves the right to add or delete information, graphics and links. Copyright © 2001-2014 on all content, text and images in Fashion-era.com. Images and text in this website may not be used on other websites.
Before you write to me for costume/fashion help or information please, please consult the extensive sitemap which lists all our pages. If you still cannot find the answer after searching the site, then before you email me, please consider if you are prepared to make a donation to the website.
Donations
Reader's donations help this site flourish, in particular donations encourage me to write more articles on fashion history as well as current trends. PayPal allows anyone with a credit card to donate easily and securely. You may donate any sum you feel appropriate.