Wardrobe Fashion Tips
Image Planning for Autumn Winter 2009
Wardrobe Fashion Tip
Now that budgets are tight, women are buying only key fashion items. They are looking for clothes and accessories for their wardrobe that equate to quality, chic style and value for money.
If you want to invest in just a handful of this autumn's new pieces, then look to the main silhouette trend for garments. In Winter 2010 we are going to see an increased popularity for well defined shoulder lines and statement sleeves. To this basic profile add some assertive footwear such as slim leg over-knee boots, studded footwear, ankle boots or flat brogues. Choose quality items in superior materials, and then wear those pieces with panache.
Autumn 2009 also sees the animalistic fashion trend continue. Vibrant colours mix easily with pattern, print and all offer contrast with the severe understated sober neutrals that are the panacea to credit crunch restricted wardrobe budgets.
Invest in clothes with well defined shoulders. Left - Posen Catwalk Outfit with very noticeably defined shoulders.
Right - High street answer -

Miss Selfridge, has garments like this bronze jacket right that have bold, but sleek structured shoulders that are so now.
In this Miss Selfridge jacket right, you can see three fashion trends in one garment - Metallic bronze copper fabric, showy zip placement and well defined peak shoulder.
Right - Miss Selfridge Autumn/Winter 2009-2010 - Gold/Bronze Structured Shouldered Jacket With Diagonal Zip - £110.
Don't make the mistake of thinking wider shoulder definition means shoulders in 80's Dynasty/Dallas style. Oh no - the new shoulder is purposefully sharp, sculpted and fuller, the resulting outline is almost PAGODA like, but it is not NFL footballer. Not yet anyway!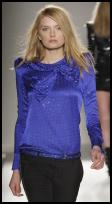 The Balmania line is the new must-have of the season. The new shoulder direction comes from designers like Antonio Bernardi, Dolce and Gabbana and of course Christophe Decarnin at Balmain.
Right - Balmain Iris Blue Blouse at Harvey Nichols, AW09.
You may recall the rock chick denim/military braided jacket from Balmain, a line that set this trend off. It really has produced a new sharply streamlined shoulder silhouette that looks set to stay for a few years.
The sharp shoulder is clearly a fashion trend to buy into now.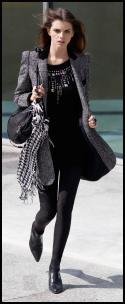 A Balmain line shoulder makes the rock-chick look actually appear expensive. For the overall fashionable look, think razor sharp shoulders, leather studs or biker straps and some token hair backcombing.
Mass producers have been working toward a wider more architectural shoulder for many fashion lines. This grey tweed mix coat shown left is from Warehouse and the structured shoulder design has clearly been influenced by shoulders seen at Balmain and other top design houses.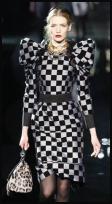 Left - Warehouse 'English Eccentrics' - Tweed Coat £100/€130 Jumper Dress £65/€75, Leggings £14/€18, Bag £80/€104 Scarf £22/€25.
All Warehouse Autumn 2009 - Winter 2010.
Design house Balmain was not alone in tackling a new architectural shoulder. Other designers like duo Dolce and Gabbana have led the pursuit for more sleeve variety with their the fuller bigger ornate puffed sleeve.
This Dolce&Gabbana silver and black bold check dress right, with its leg of mutton sleeves defines the shoulder. Yet it also shows a firm grip on keeping the body and lower arms slender in silhouette.
You are reading an original wardrobe fashion tips article by Pauline Weston Thomas only for publication on www.fashion-era.com ©
There is a wide range of structured sleeves, look out for classic leg-of-mutton and other blowsy puff sleeve styles to add to your wardrobe.
The Louis Vuitton autumn 2009 advertising campaign is promoting a bag, and the model is dressed in a wonderful puce dress with raised head puff sleeves.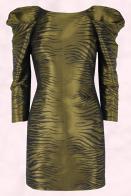 Nicole Farhi was one of many designers who toyed with both the fullness at the shoulder and width at the lower cuff. As usual, retailers have absorbed some of these touches into their autumn collections.
This warm olive dress far right is from Marks & Spencer's Christmas 2009 selection. It features a distorted zebra animal print in such an unexpected colour way. The sleeve is an important focal point for the simply cut dress.
Wear it in a similar manner to the black dress shown left and from Warehouse. Notice the similar very wearable more modest necklines.
Right - Limited Collection AW2009 Warm Olive Abstract Zebra Print Dress at Marks & Spencer, £49.50 - Due November.
Left - Warehouse 80's Black Dress £65/€75, Tights £8/€10, Bag £120/€156 all Warehouse Autumn Winter 2009-10.
‡‡
The wider shoulder has the effect of suggesting masculine strength, whilst emphasising smaller, more feminine areas, like the waist or wrists. Everyone knows the desirability of a woman in a man's oversized shirt, and the loose roomy boyfriend jacket follows this trend.
Masculine cuts create Boyfriend Blazers, and its easy to push up sleeves on these jackets to give a touch of feminine balance. Some boyfriend jackets have a contrast sleeve lining, so turning the sleeve back or flicking the collar up adds a flirtatious touch.
Designers often turn to menswear for inspiration, and the boyfriend blazer is a typical choice, yet no sooner have they selected this as a statement piece they soften it up. The easiest way is to use glitzy fabric mainly associated with women.
Enter the sequin blazer, the brocade blazer or the gold/copper/bronze lamι blazer.
Right - River Island Clothing Co. Ltd AW09 - Ondine Silver Grey Sequinned Blazer £69.99, Grey Marl Shoulder Pad T £16.99, Black Military Boots £59.99, Multilink Necklace £39.99, Tilly Waistcoat £24.99. All River Island Clothing Co. Ltd AW09.
Shimmering Metallics
Copper, Gold, Silver, Sequins & Brocade
Golden glimmer, burnished bronze, or olive glossy surfaces create rich fantastical looks of molten mirror shine.
An easy way to tune to this shimmering metallic look is to buy golden footwear, shiny bags, headwear or mirror shine molten legwear. Better still, add some dull sequins in a jacket piece. This will be an easier option for many than the alternative of sequin leggings.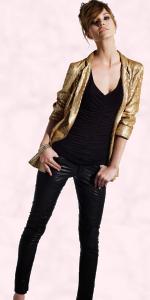 These sequin blazers, which are available at Warehouse and Topshop, are a reminder of Gucci 1980s in-you-face glamour. When teamed with heavy satins, fluid silks, luxury laser cut velvet or metallic lace fabrics, then sequins add instant disco 80s luxury and romance to your wardrobe.
Left - Antik Batik at House of Fraser - Gold Sequin Jacket.
Right - Gold Sequin Boyfriend Blazer £80/€125, Leather Skinny Trousers £110/€175, Studded Bracelet £20/€3. DP COLLECTION - AW 09 (OCTOBER)- DP COLLECTION @ Dorothy Perkins.
Brocade in Dresses & Coats
...(v4r)
Designers such as Dolce Gabbana sent brocade decked beauties down the catwalk wearing opulent silk brocade dresses and jackets that glowed with glorious glamour. Also on the runway were regal bustier dresses sporting the pompadour mini skirt effects of a round lampshade and puff sleeve extensions. Marni also showed old gold brocade shift like embellished dresses with ornate neckline focus.
Quilted silks or brocades look novel when teamed with contrasting textures of leather accessories. These opulent gold fabrics make even more glam with highly wrought jewellery pieces and an intricate headpiece. Marc Jacobs and his Louis Vuitton collection was all romantic glamour, which nodded to eighties Parisian ruffled allure.
But if you don't see yourself as a sequin wearer, maybe a simple cover up like this coloured animal print cardigan far right is your answer.
This classic animal print sea green and black cardigan has been inspired by runway looks from Dolce&Gabbana.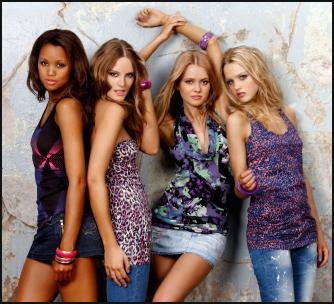 The cardigan is a Tesco F&F Green Leopard Print Cardigan £14 from the Tesco Autumn 2009 Womenswear F&F Collection.
Animalistic looks and zebra print this year are often digitised giving the prints an edgy touch.
The animal prints are made in both natural animal tan, camel, or black and white tones. You will also see a more modern look when bright colours are used for the prints.
Left - Miss Selfridge Tunic Tops. Coloured animal prints from Miss Selfridge Autumn/Winter 2009 Collections.
Coats, biker bomber jackets, gilets, macs, umbrellas, bags footwear and chubby coats all feature animal prints. But some of the newest looks are in colours.
You are reading an original Autumn Winter Fashion Trends 2009 Winter 2010 Wardrobe Tips article by Pauline Weston Thomas only for publication on www.fashion-era.com ©
Leather is a strong challenger as an alternative material to replace this decade's fascination with animal prints, but Mongolian fur is possibly a very close contender and it is currently a top material for constructing gilets or chubby fur jackets.
Gilets have been one trend that won't lie down and die this decade. Gilets enable layering to be lifted to an art form. This year the combination of over-the-knee boots, gilets or other sleeveless coats make for eye-catching tiered looks.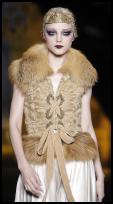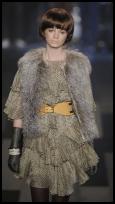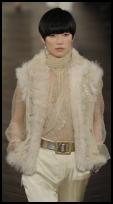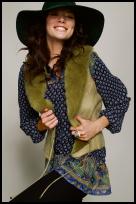 Above Left - Dior Catwalk Look - Luxury Bustier Laced Gilet.
Above Centre Left - Phillip Lim Mongolian Shearling Gilet £695 - Phillip Lim Silk Blend Ruffle Dress £625. Both at Harvey Nichols
Above Centre Right - Lauren Cream Embroidered Fur Trimmed Gilet.
Far Right - Olive Green Gilet from Bhs Autumn Winter 09 Womenswear Vanilla Sands.
Blouse - £22. Faux Fur Trim Gilet - £35.
The short fur gilet, which many find so convenient to pop on for a quick trip to the supermarket, will not go away. It's had a similar ongoing impact to the Boho gypsy skirt of the early/mid noughties.
The gilet is modern version of the waistcoat and 1970s maxi waistcoat. Dependent on the season, the gilet re-emerges each year either as fur, velvet, sheepskin leather or quilted down filled puffa versions. The purpose is simple - they provide an extra layer, and we are now all mistresses of layering.
Left - Marisota Autumn Winter 2009 - Gilet, from £25, Jersey Waistcoat, from £22, White shirt (pack of 2) from £25, Jeans, from £27, Boots, £80.
One change this year is the rise of much longer fur gilets. Maybe we have simply become used to the art of layering.
Right - Long Black Toscana Lamb Gilet by Miss Sixty - Worn with black lace hosiery and over the knee boots.
You are reading an original Autumn Winter Fashion Trends 2009 Winter 2010 Wardrobe Tips article by Pauline Weston Thomas only for publication on www.fashion-era.com ©
The alternatives to the gilets are other cover-ups such as military jackets, biker bomber jackets, waisted shrugs and short chubby fur coats.
Left - Pixie Geldof wearing a dyed Mongolian fur chubby coat.
Today faux fur can look very effective as a whole garment as well as a fake fur hem or collar trim. Fake fur has come a long way since the early versions of Modacrylics.
Because they are ecologically sustainable celebrities often favour coats and gilets made from Mongolian lamb wool, or to use its other name, Tibetan lamb wool.
Faux fur is a high street favourite, and it is used for short chubby and cropped jackets as well as hemline, cuff and collar trims on tweedier longer coats.

Left - Lauren White Tibetan Lamb Coat.
Centre Left - Debenhams Autumn/Winter 2009 Womenswear Star by Julien Macdonald Chinchilla Long Faux Fur Coat £70/€109.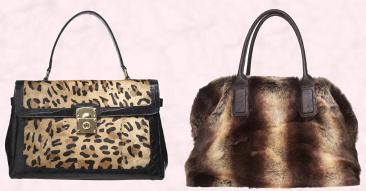 Centre Right - Monsoon Autumn/Winter 2009-10 Originals- Brown Originals Carrington Fur Coat £150/€254 Eire,
Right - Wallis Autumn Winter 09 - Fur Jacket, £75/€86, Lime Shell Top, £40/€46.
Fur and animal fur prints are also used for bags as well as umbrellas, footwear and hats. See more on the Accessories page.
Above Left - Leopard Print Bag with Gold Lock £175/€210 by Episode at House of Fraser.
Above Right - Faux Fur Bowling Bag £89/€107 by Linea Womenswear & Accessories AW09 at House of Fraser.
Leather is a leading material for autumn, but think butter-soft leather, or soft draping coloured suede.
The natural fabric for a biker jacket is leather. However, leather has also been used this season for the wet look of slinky body con leather pants and especially of form fitting black leather dresses.
If you buy leather clothing for fashion's sake, rather than biking, make sure the leather is butter-soft. This is even more important if your choice is suede. Soft draping jackets in coloured suede have been copied by many manufacturers, with the easy carelessness of waterfall jackets giving them the fashion factor.
Above Left - Waterfall Leather Jacket £125 - Littlewoods AW09 Clothing & Footwear.
Above Centre - Nicole Farhi (at John Lewis) Luxury Grey Leather Jacket - £800.
Above Right - Limited Collection Waterfall Leather Jacket - £149 - Marks & Spencer Autumn Winter 2009.
It's not just leather that is worked into regimentally neat military line styles. Knitwear, coats, biker jackets, velvet evening coats, even dresses can show military styling. Coats can be long, on the knee, above knee, hip length or cropped to waist and empire line. All martial inspired styles are fashionable, and right now knitwear is experiencing the novelty of a military touch.
Right - George at Asda - Cream Military Knit.
Denim, moleskin and corduroy in particular all make a garment with a very wearable look when constructed as a military piece.
Left - Long Tall Sally Autumn Winter 2009 Petrol Blue Kern Military Coat.
Long Tall Sally is especially designed for the lofty longer bodied woman. This is an eye catching double breasted moleskin jacket with satin trim in sizes; 10-20, £90. Soft, leather gaucho boot with buckle detailing, sizes: 7-11. Tan: £100 and all items in image available from www.longtallsally.com, 0870 990 6885 and stores nationwide.
...(v4r)
Within the military styling is a broad approach that gives many interpretations from Captain Pugwash and Sergeant Pepper looks to Regency Hussar spencers.
Military Fashion Styling Names
Military has been called many names, and includes terms such as Majorette, Bandstand, Sergeant Pepper, Officer's Uniform, Hussar, Little Drummer Boy, Circus Boy, Admiralty, and Dr Zhivago Revolution coats. None of these names matter, they simply add a minor definition to the micro trend of the season. What does matter is that the jackets are sharply ship-shape cut, adorned with uniform rows of well balanced buttons or braiding, frogging, cuff or epaulette trims, soutache appliquι, gold twist fringe, and in such ornamentation terms it can mean only one thing - Military fashion styling.
These military jackets right cover all types of military concepts in clothing.
Above from left to right all items are Autumn 2009 in store garments.
Top Left - Double breasted coat - Per Una Nikita Coat £120.00, In store: October sizes: 8-18, Per Una Autumn 2009 at Marks & Spencer.
Top Centre - Velvet Military Coat - Dorothy Perkins AW09 - Velvet Smoking Jacket £65/€105 - DP COLLECTION @ Dorothy Perkins.
Top Right - Spencer Style Cropped Military Jacket - Louche at JOY Pretty In Punk Jacket - £59.00, Due 14th September.
Bottom Left - Military Black Cropped Trophy Jacket £60/€95 from DP COLLECTION @ Dorothy Perkins AW09.
Next Right - Cropped Military Jacket £30, AW09 - G21 George at ASDA.
Far Right - - Wallis Autumn Winter 09 - Black Military Jacket, £65, €95.
You are reading an original Autumn Winter Fashion Trends 2009 Winter 2010 Wardrobe Tips article by Pauline Weston Thomas only for publication on www.fashion-era.com ©
Land Girl Military Coats
Another take on the military look is the fashion worlds fascination with urban utility, what you now see is a cool modern make-do-and-mend vibe, where wool is sometimes set against satin.
I think of this as boiled-wool women, variations include land girl looks of khaki, air force blue, greys and other drab tones.
Left - Burberry Coat at Harvey Nichols
Right - Blue Burberry Coat at Harvey Nichols
Thigh length coats are great for showing off over the knee boots. These mini coats sometimes allow women to experiment with fragile colours, bold check patterns and experimental new shapes they might avoid in longer lengths.
Autumn 2009 is all about wearable fashion for a individual lifestyle with fancy brocades, checks, tweeds and quilted coats giving women plenty of selection. Choosing a coat for the life you lead has never been easier.
Coat styles exploit simple cocoon shape styles as well as wrap and military lines. Colours vary from beautiful pale winter whites to blush and other safe tones. Beige blush ivory tones look expensive and are still as desirable as they were for spring with many shops stocking this delicate colouration.
So many coat fashions this season also offer belt options, but if belting your coat just bunches you up, or you prefer a looser line, then try a style of cocoon coat or blanket coat.
The Camel Coat
The camel coat is prime candidate for a staple buy this autumn 2009 Winter 2010. Choose from camel, tan, caramel brown, chocolate or deeply rich rust as well as ladylike cream and blush tones. These hues all look wonderful with gold jewellery, especially rose gold jewellery.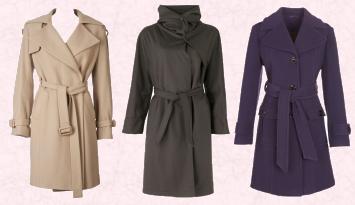 For more information on coat styles see the Autumn 2009 Coats page and Fashion Looks Autumn 2009-10 page.
Near Left - Louche at JOY Camel Coat - £120. In store mid-September. Louche at JOY A/W '09.
Centre - Max Mara Coat from Harvey Nichols.
Far Right - Matalan AW09 Womenswear Papaya Cashmere Blend Coat £50.
Invest and impress, chose a covetable coat in cream, camel, grey, indigo, aubergine purple or plum tone. Some of the finest investment pieces are the cashmere coats at Max Mara, Jaeger, Dior, Aquascutum, Crombie and Martin Grant at Harvey Nichols.
Buying basic neutrals, with a good eye to the current silhouette, can stretch a wardrobe budget over several seasons. From an image planning figure improving point of view, wearing matching colours top and bottom streamlines the silhouette too.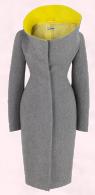 If camel drains you, it may be because it does not suit your complexion. Camel looks terrific on honey blondes and with peaches and cream skin of the 'Spring' colour personality, but camel less good on dark brunettes. Expensive tones of shell pink blush tones are still as desirable as they were for spring with many shops stocking this delicate colouration which can suit brunettes.
Dark haired women, and those who have gone white or silver grey, often look better in charcoal greys through to the softest silver. If you are a raven haired beauty opt instead for rich grey garments and clear jewel colours, like the coats below leaving the soft golden tones to your blonder friends.
Jill Sander's grey coat near right is one of the more memorable silhouettes of Autumn 2009 collections. You are reading an original wardrobe fashion tips article by Pauline Weston Thomas only for publication on www.fashion-era.com ©
‡
For Autumn 2009 many designers explored the use of tweeds, checks and plaids, but especially dogtooth and houndstooths weaves. Stylish cutting gives Saville row fabrics paired with simple tweeds a modern look. These androgynous pieces can be softened with a feminine ladylike clutch, or tie the waist with a shapely figure forming belt.
Left - Gil Bret - Black/White Check Jacket. Style No: 9975/6194 - Material: 70% Wool, 10% Alpaca, 10% Polyamide, 10% Mohair - UK£ 350.00 IRL€ 390.00.
The feel of the black and white material will captivate everyone from the start.
Chanel also have some tweedy cropped semi-fitted jackets with sharp shoulders. The use of tweed with a sharper jacket or coat profile gives tweed a modern edge bringing it bang up to date for Winter 2010.
YSL featured an investment dressing monochrome autumn palette of grey, more grey, charcoal black and white. YSL showed a severe, but subtly sophisticated sleek wardrobe in tune with the concept of dwindling bank balances.
In a recession, where even the rich are cutting back, bread and butter basic colourways such as grey or stone, black and monochrome contribute to replacement product safe purchases. They also mean a possible later buys of more vibrant accessories that uplift these basic neutral pieces.
But those who like more uplift in their wardrobe will always go for brighter colours, and no retailer can afford to lose those customers either. In autumn 2009 - Winter 2010, berry colours and the tones of damsons, blueberries, purple, aubergine, burgundy through to raspberry red create an important colour spectrum for most collections.
Nicole Farhi is one designer who has toyed with both the fullness of the top shoulder area and lower cuff of the sleeve. This alpaca and wool raspberry coat right from her Autumn 2009 - Winter 2010 collections focuses on a dramatic cuff shape giving the coat an air of the highwayman.
What a marvellous rich berry colour for a winter coat.
Nicole Farhi Show Look Double Face Coat in Raspberry - £1250.
Nicole Farhi coats range in price from around £285 to £1000+ dependant on the brand collection. Her top pieces use the finest cloth including mixes of virgin wool with silk, or virgin wool with baby alpaca fibre.
Nicole Farhi is at 158 New Bond Street, London W1S 2UB, Tel: +44 (0) 20 7499 8368. For advance orders on this coat contact 020 7495 6963.
Her bio states:- Nicole Farhi now has 9 free standing stores internationally, concessions nationwide and wholesale customers in the US, Italy, Russia, Spain, Australia, Scandinavia and the Far East. There are also showrooms in London, New York, Paris, Milan and Madrid. Due to demand, April 2009 saw Nicole Farhi launch an ecommerce site to satisfy customers in the furthest corners of the globe.
Find it here at www.nicolefarhi.com.
I especially love casual pieces and knitwear by Nicole Farhi finding them relaxed. Yet the quality yams used and the resultant great drape of the knits ensure they are always smart to wear whatever the occasion.
...(v4r)
Bright colours in strong jewel colours are sure to brighten up dull winter days, and if you prefer to invest in a neutral toned coat the outlay of a brightly coloured cardigan or tunic as above may be easier on your budget. Boyfriend cardigans in bright pops of colour are just the job to cheer up an otherwise dull mix of basic pants and shirt.
Overall note how there is more assortment in knitwear with both long and short knits at most shops. In mass market terms, look out for boyfriend cardigans or the waterfall long alternative. Aran style cable knits, fine knits, striped pieces, asymmetric styles, batwing or dropped sleeves, leg-of-mutton sleeves, cowl necklines and coat cardigans, all help to generate vast array.
Cowl necklines, either constructed, as part of a knitwear piece, or added as a separate accessory give that functional and fashionable layered look. Many cowls are so oversized they have become snoods.

This boyfriend cardigan is by Burberry and the purple tone hot on trends since purple is possibly the most important fashion colour this autumn 2009 Winter 2010.
Far left - Burberry Cardigan at Harvey Nichols.
Centre Left - Oasis Striped Sweater Dress - Autumn 2009/Winter 2010.
Centre Right - Benetton Knitwear - Details at bottom of page.
Far Right - Warehouse Autumn Winter 2009-10 - Dress £50/€65, Jeans £40/€52, Shrug £45/€60, Bag £32/€37, Snood £18/€24, Gloves £16/€18.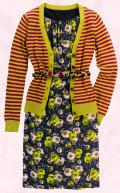 Longer length cardigans are a welcome alternative to more formal coats. Boyfriend cardigans in neutral tones can diffuse the strength of some overpowering prints. Long skinny knit silhouettes exist side by side with bulkier layered looks that are more textural.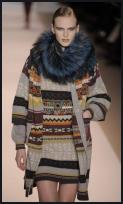 Fine knitwear contrasts with bulkier pieces, but much of it is designed for the Lagenlook way of layering. There are cardigans which have interesting patterns, such as mohair printed tie-dye knits. Such pieces can change the overall appearance of on outfit based on a plain or patterned sheath dress or colourful contrast tights.
Right - A styled look from the Boden Autumn 2009 collection.
Patterned knits can be mixed with patterned fabrics and striped cardigans can be mixed with florals and animal accessories.
In better designer boutiques patterned fair isle knitwear is returning like this runway long knit grey fair isle set from Matthew Williamson knitwear and shown left.
You are reading an original wardrobe fashion tips article by Pauline Weston Thomas only for publication on www.fashion-era.com ©
Dresses are once again a wardrobe mainstay, and numerous women use them for work and business wear. Just as many women appreciate the straightforwardness of one garment dressing, so they welcome the ease of layering up with a cardigan and contrast belt, the perfect items to wear under a heavier coat.
Far Right - French Connection Dress Autumn 2009/10.
Purple, Magenta, Raspberry, Acid Green are all colour contenders this Autumn 2009 and this dress right, from French Connection utilises some of Pantones top colours from Autumn 2009.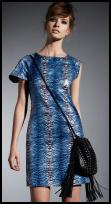 Read more about fashionable hues on the Colour Trends Autumn 2009/Winter 2010 page.
One of the most popular and easy to wear styles of the past year has been the kimono sleeve dress. It began as a short Kaftan, than became a longer kimono sleeved tunic, and is now of dress length.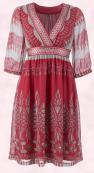 V-necklines enable the wearing of ethnic chunky jewellery. The raspberry red kimono dress left, is by Rene Derhy.
Right - Rene Derhy Print Silk Dress, £115, and from John Lewis Autumn 2009 Collections.
Often semi-fitted, these day-dresses look good with either, A-line or tulip skirts. The tulip skirt offers a great deal of comfort when sitting, and the trend is for the skirt silhouette to widen into fuller prom and crinoline styles, especially for daywear. Long sleeves add style and class to a dress.
Above Left - Dorothy Perkins AW09 - Blue Zebra Sequin Dress £50/€80, Black Studded Fringe Bag £35/€50. Read more about Majolica Blue on the Blues in Fashion Trends.

Left - Dress from House of Fraser - Pink Leopard Print Dress £120/€144 by Untold.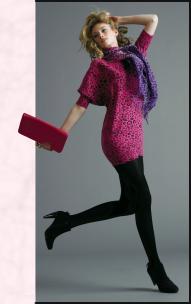 Animal prints in strong colours are a refreshing change from the usual tans and caramel of animalistic patterns. Both the blue and red animal print dresses utilise 2 of autumns top ten colours - American Beauty and Majolica Blue. Autumn 2009 Blues.
Wide-ranging dress styles are in strong jewel colours, but even sober colours can be lifted with a bright belt or cardigan. Brighter colours especially the berry hues look terrific when teamed with contrasting opaque tights or boots.
If high investment items break the bank for you, try some colourful budget items from big supermarket chains like those at Tesco or Asda. This simple raspberry based animal print tunic dress from Tesco AW09 Womenswear F&F range, uses rich berry bright colours to bring you on trend autumn fashion at low cost. The whole Tesco F&F outfit comes in at under £50.
Right - Tesco F&F Pink Animal Print Dress £16, F&F Animal Print Scarf £5, F&F Black Suede Ankle Boots £18, F&F Pink Frame Clutch £7.
Leg cover is still important with dress wear, especially shorter tunic style above knee dresses or mini-crin skirt silhouettes. There is a continuing popularity of coloured and textured tights, although sheer bare look tights are making a comeback.
You are reading an original Autumn Winter Fashion Trends 2009 Winter 2010 Wardrobe Tips article by Pauline Weston Thomas only for publication on www.fashion-era.com ©
Designers seem interested in playing with texture whether its fine or chunky knitwear, butter-soft leathers, laser cut suede, lace or peek-a-boo fabrics, studs and ribbon embellishment. Now they have a new fascination once again with velvet. And if its not thick plush velvet, its devore burnout velvet chiffon.
Ladies, Women, Teens, Girls - Let me tell you now - Most men love the feel of velvet and love it when women wear velvet. Lush silk velvet has a sumptuous rich luxuriant quality that no other fabric has. Make sure you indulge yourself with a velvet dress this winter. But do be careful that it fits just perfectly since velvet can add extra pounds if the style is badly selected. For tips on restoring the plush and sewing velvet see my velvet pages.
Limited Velvet Dress T69 2955 £45 Marks & Spencer Autumn Winter 2009/10 - Marks & Spencer - Christmas 2009.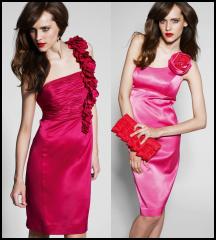 These 2 dresses left, are both from Designers at Debenhams, and each has decorative shoulder interest with a rose or a trailing lei flower style corsage along the length of one shoulder.
Cherry Red Dress - BDL by Ben de Lisi Corsage Detail Ruched Bust Cocktail Dress £130/€201 - Autumn/Winter 2009 Womenswear Debenhams.
Far Right - Pink Dress - Debenhams Autumn/Winter 2009 Womenswear - Debut Soft Flower One Shoulder Stretch Satin Dress £80/€124.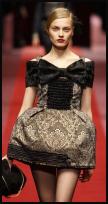 For evening, the bare shoulder asymmetric dress of summer has morphed into a winter version with one full length long sleeve. Asymmetric one shoulder dresses are the alternative to bustier prom dresses.
Prom bustier dresses have been refined for Autumn 2009 and the upper bodice is now much higher with even some arm coverage being attached, as this dress from Dolce&Gabbana illustrates.
Right - Damask Brocade Catwalk Black Broadtail Trimmed Lampshade Mini-Crin Dress by D&G.
There is a trend amongst tulip skirts for greater embellished, some feature the richness of contrast textures, for instance cord belts that create a curtain style tassel finish.
Fashion Trends in Skirt Silhouettes
...(v4r)
Waist nipping, regal bustier, prom dresses with lampshade mini skirts, will certainly appeal to those under 25. Baroque brocades take such dresses into an architectural world since the fabric is easy to sculpt into intriguing forms. But basically this is just a mini crin. This trend is also visible in some coats where the skirt has gained frou frou fullness enhanced by being belted.
You can soften tougher looks with lush velvet, black lace hosiery or gloves, cosy fur gilets, or friendly cardigans. Vamp up soft looks with red lips and berry nails that have a matt finish without shine. Be a fickle or fierce woman playing soft or tough, or a bit of both, as the mood takes you.

For the best fastest on-trend updates, add aggressive hardware statements to your outfits in the form of pyramid and round punk studs or superfluous zipper tape appliquι pieces. Studded belts, studded footwear especially ankle boots and studded suede bags are the fastest route, but biker jackets, gilets and dresses all feature studs. Right - Ted Baker Tehya Ankle Boots at John Lewis - £130.
Studs can be small or large, but they are seen in excess everywhere in keeping with applied chunky crystal decoration and oversized jewellery.
Glam warrior woman loves to wear studs, taping, zips and belt buckling. She loves to shock with body con hugging fabrics and sharp shouldered disco diva dresses.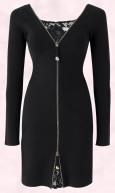 Tape, ribbon and zipper tapes have all been used to interesting effect by designers for Autumn 2009. See more zip and tape styles here. Right - Zip Dress by Temperley at Harvey Nichols.
Tape and grosgrain are used to create modern belts, but belts sometimes close with a bow rather than a buckle or disc. Bows and roses both decorate clothing extensively too.
Day bags and evening bags have flourishing 3D roses. Roses sprout elsewhere as corsage roses and hair ornament roses.
Skirts and trousers use extraneous zips to add extra texture. These trousers left are from Pucci. This is a great example of practical winter wear showing the newer line of slim line pants and worn with ankle boots.
Every pant leg width is available from palazzo style pants to straighter slimmer legs. The overall trend suggests a narrower leg, thus straight leg trousers have gained in-store rack space. These often have peg-top waist styling. Tregging or slim denims are perfect for tucking into boots. But finding the right pair can sometimes be a nightmare and many women feel happier in pants that fall with palazzo or straight silhouette comfort.
Jumpsuits, or all-in-ones, run the whole gamut of leg width variations from super wide to super slim. Winter shorts are best worn with over-knee thigh high wader boots or ribbed tights. This is a young look best kept for teens, so reassess just what does young mean today and question if you are having more mutton moments than is wise.
For evening, pants are making a return as they can also be teamed well with long sequin tunics. Sequin trousers and shimmering fluid trousers create elegant looks when worn with fine wool or silk tops.
Belts, both wide and narrow, still pull a look together whether you are wearing, skirts, pants, cardigan, sweater or a dress. Asymmetric belts, studded belts, animal and snake prints are all belt looks of the moment. I make a special journey often to get my belts made by a leather craftsman in Worcestershire, UK.
The Belt and Bag Shop in High Street Droitwich Spa. Nick Williams is a leather belt craftsman and owns The Belt and Bag Shop in the quaint ancient High Street in Droitwich Spa. Nick hand crafts the belts in the finest Nappa leather in hot fashion colours you choose. For me this is a bonus as I have been able to have deep belts made curved and lined firmly to fit my difficult waistline shape, and been able to choose buckles I prefer. The belts have been much admired by friends and relatives and they can help really pull an outfit together. Nick also makes classic Equestrian belts to order and to match older equine pieces that have become worn. Of course Nick also has a good range of ready made leather belts and bags for sale too, selling known bag brands like Radley. Nick is not open on Sundays or Mondays, but a weekday journey is worth a visit as his shop is about 50 yards away from a very large Waitrose, so you can combine household chores with shopping pleasure. Nick's Belt and Bag shop is at 20 High Street, Droitwich WR9 8EW and the Telephone Number is 01905 779334.
Conclusion of Wardrobe Fashion Tips
...(v4r)
Fashion amuses and delights consumers into feeling better about themselves. What could be more reason to go shopping than a period full of doom and gloom? When the chips are down fabulous fashion ideas can still thrill and move your day from a dull one to memorable and extraordinary.
R-E-L-A-X... and in a few easy steps, see the benefit of both understated and overstated dressing. Learn to have confidence in making your own fashion statement as you please. Even investment items can be enjoyable when teamed with edgy accessories that make your wardrobe appear to have cheeky sassiness.
On this page I have concentrated on the main Autumn 2009 Winter 2010 fashion trend items that you should at least consider when planning your wardrobe. You have been reading an original Autumn Winter Fashion Trends article by Pauline Weston Thomas only for publication on www.fashion-era.com ©
Date added 20 August 2009 - Ref:P.742.
Copyright of images courtesy of Prshots, IFTF, Swarovski, Dorothy Perkins, BHS, Gil Bret, Miss Selfridge, Dorothy Perkins, Debenhams, Littlewoods, Marks & Spencer, Warehouse, Harvey Nichols, Marisota, Nicole Farhi, House of Fraser, John Lewis, Boden, Wallis, French Connection, Brownsfashion, Matches, Long Tall Sally, Monsoon, Oasis, River Island, Accessorize, Matalan, Benetton, Joy, Plumo, Asda, Tesco, BHS.
Benetton details - Purple ribbed wool maxi cardigan, Style n.: 1103D6058, Sizes: ONE SIZE; Deep v-neck wool pink maxi cardigan Style n.: 1024D4132, Sizes: S -L. Patent eco-leather bag with applied pocket, Style n.: 6SO5D1B67, Sizes: ONE SIZE. Lace up suede ankle boots with high heel and rubber sole, Style n: 8ZD8B3605, Sizes: 35 - 41, Photo: F. Morandin.
If you like this page then please share it with your friends
---
--Link--
For more information on ladies and teens fashion trends go to:-
Archived Sections
Custom Search
About Fashion-Era.com
Fashion-Era.com looks at women's costume and fashion history and analyses the mood of an era. Changes in technology, leisure, work, cultural and moral values. Homelife and politics also contribute to lifestyle trends, which in turn influence the clothes we wear. These are the changes that make any era of society special in relation to the study of the costume of a period.

Fashion-Era.com can take no responsibility for any information on the site which may cause you error, loss or costs incurred from use of the information and links either directly or indirectly. This site is owned, designed, written and developed by author: Pauline Thomas and Guy Thomas. This site is designed to be viewed in 1024 X 768 or higher.
ALL RIGHTS RESERVED. Fashion-era.com reserves the right to add or delete information, graphics and links. Copyright © 2001-2014 on all content, text and images in Fashion-era.com. Images and text in this website may not be used on other websites.
Before you write to me for costume/fashion help or information please, please consult the extensive sitemap which lists all our pages. If you still cannot find the answer after searching the site, then before you email me, please consider if you are prepared to make a donation to the website.
Donations
Reader's donations help this site flourish, in particular donations encourage me to write more articles on fashion history as well as current trends. PayPal allows anyone with a credit card to donate easily and securely. You may donate any sum you feel appropriate.