Zipper Fashion & Tape Decoration
Latest Fashion Trends for Autumn 2009 Winter 2010
One of this years micro trends is the visible presence of the zip.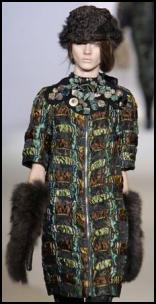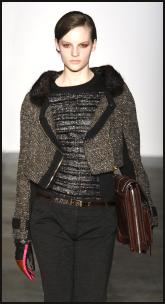 In Autumn 2009 designers are appliquéing zipper tape onto fabric as embellishment. Chunky teeth zippers are attached to dresses and coats as a very visible closure and a main focal point.
Left - Textured Brocade Coat worn with fur arm warmers. Coat by Marni has a centre front zip - AW2009.
Right - Schouler Tweed Zipped Jacket - AW2009.
Just as the Boho stud was the prime hardware of the early noughties, so now in the later noughties sees the developing trend of the external zip as a fashion statement.
A well inserted invisible zip or a beautifully made rolled invisible hem has always been a sign of great craftsmanship. Not since the 1960s have showy zips been so popular as focal points on garments or accessories.
Zips have become decorative units in the way that a motif might be applied to cloth, and zippers are sprouting on every garment from biker jackets, to coats and especially on dresses. You are reading an original Autumn Winter Fashion Trends Autumn 2009-10 Zip Fashion article by Pauline Weston Thomas only for publication on www.fashion-era.com ©
Top Tip - Accessorise with Hardware Elements
Zip Embellishment
This zip corsage flower shown right, is typical of many fun accessories this Autumn 2009, where the elements of zipper twill tape and teeth are twisted into roses, the brooch has no useful purpose other than to cheekily amuse and decorate an otherwise ordinary outfit.

Right - Accessorize Autumn/Winter 2009 - Admiral Navy Ziptastic Corsage £8/€13.50 Eire.
Zipper tape, artfully looped into ornamentation applied to clothing or footwear as linear decoration, is another micro trend worth tuning into.
Left - Mohair Yarn Cowl Neck Jumper £14, Zip Decorated Bubble Hem Skirt £14, Black Leggings £5 all Matalan AW09 Women Catwalk.
The biker leather jacket below left uses studs as well as zips.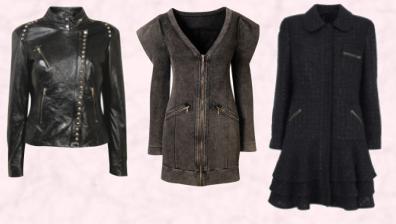 The dark denim Miss Selfridge coat dress in the centre features three zips, also note the well defined focus shoulders as this is a major fashion trend this season. The tweed knee coat has multi zips. You can see how designers often use pocket closures as a showcase for their zips.
Left - Dorothy Perkins AW 09 - Leather Studded Biker Jacket £120/€190.
Centre - Miss Selfridge Autumn/Winter 2009 Denim Zip Coat Dress.
Right - Black Winter Coat Marks & Spencer Autumn Winter 2009 - Due in store November 2009.
‡‡
The retailer called RARE have many cocktail short evening dresses with ZIP front feature fastenings. These three dresses are all using ruching as a construction method and each has the fashionable centre front visible zips.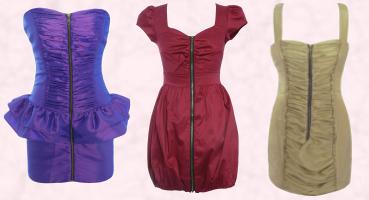 The RARE brand is distributed through 21 concession-based outlets within Topshop, and recently developed a new luxury capsule collection, Rare Opulence.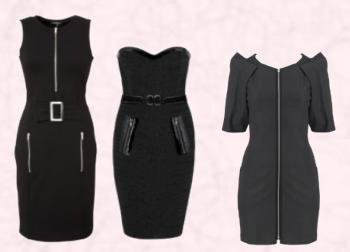 Above Left - Zip Front Peplum Dress Available in Purple & Gun Metal - RARE AW09.
Centre - Red dress Zip Cap Sleeve Dress Available in Red & Navy RARE AW09.
Right - Zip Front Dress Available in Gold & Black RARE AW09.
While all the 3 dresses right are black, they show a variety of zipper fashion. The sheath dress left is multi zippered. The central bustier dress has main interest of patent belt and patent welt surrounds to zip hip pockets. The mini dress shown right is most like a typical sixties zippered dress with just a single central spotlight zip.
Left - Papaya Zip Detail Body Con Dress £19 - Matalan Womenswear AW09.
Centre - Andrew Gn Zip Bustier Dress - Harvey Nichols - AW2009.
Right - Black Zip Front Dress by Oasis.
Plus sizes are also catered for with zip fashions. This hot pink coat is from Evans and is sure to delight buxom girls who won't have to worry about popping buttons at bust level!
Every big girl's nightmare is the gap caused at by inadequate facing closure where buttons sit at bust level. All too often big girls have to sew an extra fastener in that position. Enter zipper fashion to solve a costume malfunction problem.
Left - Evans Hot Pink Sleek Zip Coat in Plus Sizes - £65 - Evans Autumn Winter 2009.
...(v4r)
Top Tip - The problem is that zips can sometimes be a little stiff, or the teeth are jagged, especially on coarser chunkier zips. The solution: level any rough teeth by running a little smear of hair silicone fluid along the zip edges, then wipe away the excess fluid with a tissue so that it does not mark the fabric. You are reading an original Autumn Winter Fashion Trends 2009-10 article by Pauline Weston Thomas only for publication on www.fashion-era.com ©
Zippers are employed not only as a fastening closures on a bag, but also as part of the visible decorative surface material of handbags.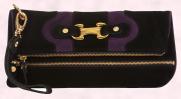 Right - Moda in Pelle Autumn/Winter 2009 - Tiabag (multi) £60 - Suede clutch bag with gold trim and purple detail.
Zips as decorative outer seam can now be regarded as protective guards at the sides of handbags. Whilst this may protect the handbag leather, beware, such bags can also ruin your delicate clothing and fabrics, so when you buy run your finger over the zip edge.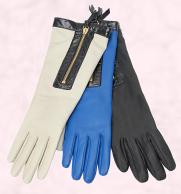 Choose a zip decorated bag with quality finishing. Use the silicone tip above to ensure the zip teeth are smooth.
Longer gloves can be more difficult to put on, but are an essential to fill the cold arm gap left with shorter and half sleeve coats. Here zipper fashion has a practical use, namely to keep your wrists warm.
Right - Zipper Gloves Barrientes from aldoshoes.com - £35.00 Aldo Autumn/Winter 2009 - Accessories at Aldo.
Zipper fashion works particularly well with footwear because the zipper can provide a very snug fit for the calf. The difference between these zipped boots, and those of previous seasons, is that the zip is now very visible on the outside rather than inside leg of the boot.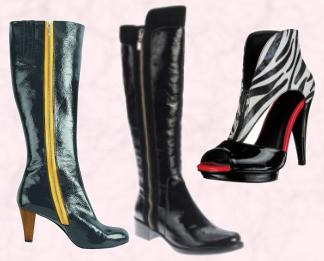 The boot on the left is from Boden, see how it makes a feature of the zip by using a contrasting bright yellow zipper. The heel is not overpoweringly high making them very wearable.
The sturdy biker boot next to them is a classic boot and is ideal if your boot budget has to last several years. These boots should cover many scenarios and you will get your value from them.
You can just make out from the picture that the zip in the zebra ankle boot is in the centre, which ensures a close and fast fit. Animal print footwear is still very fashionable and the ankle boot with the front zipper gives it an updated feel. The red trim is possibly an homage to Louboutin red soles.
Above Left - Boden Heeled Boots With Yellow Zipper - Autumn 2009/Winter 2010.
Above Centre - Dune Autumn Winter 2009 - Women's Accessories Rip B, £140/€195.
Above Right - Miss Selfridge Autumn/Winter 2009 Shoes - Zebra/Zip Ankle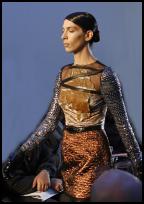 Boot.
Ribbon or tape appliqué is used to create surface interest especially on dresses. Christopher Kane (near right) and Rodarte (far right) used features which employed tape, leather strip or ribbon appliqué looks.
Mass manufacturers have created dress and coat versions using applied tape or leather strips to follow seam and construction lines.
Left - Debenhams - Star by Julien Macdonald Colour Block Day Dress £60/€93 - Autumn/Winter 2009 Womenswear.
It's not just zipper tape, but also twill and other tape or ribbons that have been utilised in the decoration of garments in 2009.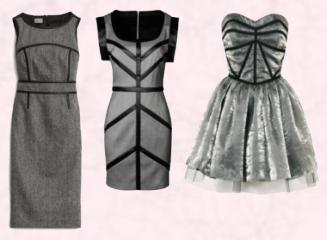 Below Left - Hobbs Edington Limited Edition Leather Trim Dress - £179 in Herringbone Wool - Hobbs Autumn Winter 2009.
Below Centre - Grey Dress with Black Detailing - £48 - Miss Selfridge Autumn/Winter 2009.
Below Right - Metallic Prom dress £50/€80 - Dorothy Perkins Autumn Winter 2009. You are reading an original Autumn Winter Fashion Trends Autumn 2009-10 Zip Fashion article by Pauline Weston Thomas only for publication on www.fashion-era.com ©
‡
Tape and grosgrain are used to create modern belts, but belts sometimes close with a bow rather than a buckle or disc.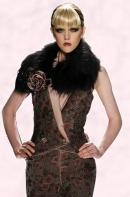 Bows and roses both decorate clothing extensively too.
Left - Venexiana catwalk fashion design with rose corsage.
Both day and evening bags have flourishing 3D roses. Roses sprout elsewhere as corsages and hair ornament roses.
There is a trend amongst tulip skirts for greater embellishment. Some feature the richness of contrast textures, for instance cord belts that create a curtain style tassel finish.
Chain has also appeared on clothing particularly leather jackets and on belts.
Chanel style chain and ribbon, or leather thong threaded handbag straps proliferate. Gold chain or silver chain straps on handbags have made a welcome return being both feminine and easy to carry without over bulking. Vintage Chanel bags have been copied by all the major chain stores, and new variations on the theme are still emerging.
Belts, both wide and narrow, still pull a look together whether you are wearing, skirts, pants, cardigan, sweater or a dress. Asymmetric belts, studded belts, studded suede bags, animal and snake prints are major belt materials. Micro trends include curtain rope cords with tassel ends used as belts. Some chain belts also have dangling large charms or coins. Stud belts continue to be popular.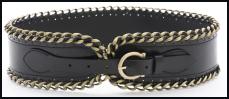 This belt uses chain as a modern thong chain finishing touch.
Right - Chain Belt £30/€42 - NEXT Autumn Winter 2009 - Womenswear.
Even investment items can be enjoyable when teamed with edgy accessories that make your wardrobe appear to have cheeky sassiness.
You may be interested in my comments on zips taken from my 20 page fashion-era.com Vintage section.
...(v4r)
Schiaparelli liked new things as well as new ideas. In 1933 she promoted the fastener we call the zip or zipper. In the UK we are more likely to refer to this fastener as a Zip and in the USA the term Zipper is more usual.
The metal zip had been invented in the Victorian era as far back as 1891 by W Litcomb Judson of Chicago USA. He patented a clasp locker system of fastening constructed from a series of hooks and eyes with a clasp lock for closing. By 1893 the zipper was in production. But it was clumsy as it needed to be locked tooth by tooth. It was slow to catch on until refinements were gradually introduced.
In 1913 a Swede developed Judson's ideas in the USA, making a hook less fastener with interlocking teeth. By 1917 it was somewhat timidly used for tobacco pouches and shoes. B. G. Worth of Goodrich and Co., gave those shoe zips the name zipper and it stuck. In 1917 it was used for clothing when the U.S. Navy applied it to windcheater jackets.
Schiaparelli's use of the new plastic coloured zip in fashion clothes was both decorative, functional and highly novel. Her 1930's designs were the first to use it as a major feature of fashion garments. Even so most garments were still designed with button fastenings until the 50s when improvements in zip manufacture were acknowledged. Zippers soon became universally used and are now a very reliable form of fastening.

Plastic zippers were available in the 1930s, but made with individual teeth moulded onto them in the exact same way as metal zippers were constructed. Concealed zippers which are very fine were introduced in 1958. In 1961 I can just recall my elder sister having a beautifully made bought dress from a local boutique in the latest new fabric "Crimplene". It was the height of luxury, with a concealed zipper of such neat insertion it fascinated the whole family. The dress cost her 7 guineas, about $30 at that time.
In 1963 EFLON woven zippers appeared and this is where some people become confused with the later finer knitted tape zips, but with continuous coil features of one single shaped monofilament. Plastic coil zippers as we know them were first introduced in 1971. The plastic coil is woven as part of the fabric of the tape with single loops each making one tooth. Thermoplastic resins, specific versions of the plastics Nylon and Polyester are both used today in zip making.
Now in 2009 Zipper fashion is back big time. But the visible zipper in fashion is a very different item to the concealed zip. The zipper decorating fashion clothing as a statement piece of haberdashery is the very chunky gold or silver tooth zipper most commonly used in jeans, heavyweight or industrial items. Schiaparelli would be pleased to see zips used as in such a non functional decorative manner to produce creative fashion.
Read more about the vintage zip and sewing here.
Header Image and Coat Image Right - Autumn 2009 Winter Coat - Matalan Be Beau Red Fit and Flare Coat - £50 Matalan Womenswear.
On this page I have concentrated on the main Autumn 2009 Winter 2010 fashion trend items that may have a zipper as a main decorative feature. You have been reading an original 2009-10 autumn winter fashion trends article by Pauline Weston Thomas only for publication on www.fashion-era.com ©
Date added 20 August 2009 - Ref:P.743.
Copyright of images courtesy of PrShots, IFTF, Swarovski, NEXT, Dorothy Perkins, Miss Selfridge, Dorothy Perkins, Debenhams, Marks & Spencer, Harvey Nichols, Boden, Wallis, RARE, Oasis, River Island, Matalan, Dune, Hobbs, Aldo, Moda in Pelle, Evans.
If you like this page then please share it with your friends
---
--Link--
For more information on ladies and teens fashion trends go to:-
Archived Sections
Custom Search
About Fashion-Era.com
Fashion-Era.com looks at women's costume and fashion history and analyses the mood of an era. Changes in technology, leisure, work, cultural and moral values. Homelife and politics also contribute to lifestyle trends, which in turn influence the clothes we wear. These are the changes that make any era of society special in relation to the study of the costume of a period.

Fashion-Era.com can take no responsibility for any information on the site which may cause you error, loss or costs incurred from use of the information and links either directly or indirectly. This site is owned, designed, written and developed by author: Pauline Thomas and Guy Thomas. This site is designed to be viewed in 1024 X 768 or higher.
ALL RIGHTS RESERVED. Fashion-era.com reserves the right to add or delete information, graphics and links. Copyright © 2001-2014 on all content, text and images in Fashion-era.com. Images and text in this website may not be used on other websites.
Before you write to me for costume/fashion help or information please, please consult the extensive sitemap which lists all our pages. If you still cannot find the answer after searching the site, then before you email me, please consider if you are prepared to make a donation to the website.
Donations
Reader's donations help this site flourish, in particular donations encourage me to write more articles on fashion history as well as current trends. PayPal allows anyone with a credit card to donate easily and securely. You may donate any sum you feel appropriate.