2009 Fashion Accessories - Trends in Floral Style
Accessories naturally lend themselves to decoration, and bags and scarves are the prime targets for floral fashion. But this year, shoes, necklaces and hosiery all vie for retail floor space. Square scarves are firmly back in the accessories drawer, and think about wearing them as a cowboy bib style for a careless air. Tops, tunics and blouses are an easy way to bring florals into your wardrobe without overdoing flower power. These items below are made from printed fabric or embroidered material.
Flowers probably first appeared on clothing as attached to a corsage or leaf wreath. At some point surface stitchery was added, and later simple motifs were introduced into basic weaves, the latter grew into complex damask brocade weaves.
Embroidery adds a true folkloric touch, and is most effective when applied to either a black or white background as the many example here illustrate.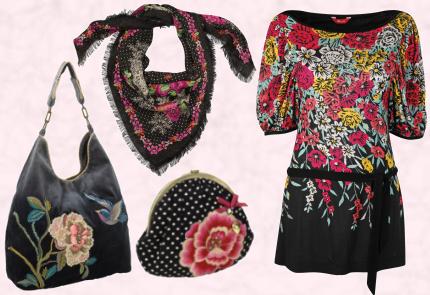 Above Left - Accessorize Black Hummingbird Velvet Bag £40/€68 - Eire Accessorize Autumn/Winter 2009.
Top Centre - Accessorize Black/Pink Gypsy Scarf £15/€25.50 Eire, Accessorize Autumn/Winter 2009 Fashion.
Lower Centre - Accessorize Back Spotty Flower Clutch £25/€42 Eire - Accessorize Autumn/Winter 2009.
Right - Monsoon Black Keeley Print Tunic Top £35/€59 Eire Monsoon Autumn/Winter 2009 – Main Range.
This season separate floral or rose attachments appear on every accessory you can imagine. Marks & Spencer is onto a winner with this low cost rose decorated handbag. It has a patterned lining and has had rave reviews from purchasers. For more floral shoes and bags see the purple page.
Floral hosiery and footwear can also add a blast of colour to your winter outfits.

Above Left - Sparkle Suede Sandal With Ankle Strap, Large Rose Detail - Faith Footwear - Lerose - £70. Autumn Winter Sandals 2009/10 by Faith.
Above Centre - Pink Rose Bowler Handbag £22 - Marks & Spencer - Per Una AW2009 Collection.
Above Right - Matalan Pink Floral Hosiery £3 - Matalan AW09.
‡‡
Rose Bag Socks & Slippers
Accessories with flower forms add a fun touch. Plumo has some exceptional pieces such as these below. The velvet bag from Plumo uses a rose print theme. The slipper socks have roses as part of the knit design. Finally the ballet pump slippers by Ruby Brown at Plumo have a 3D soft sculpture like rose decoration.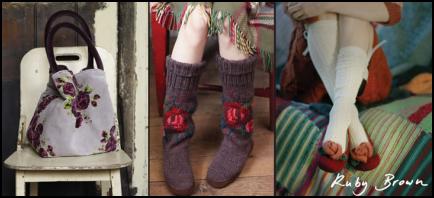 Above - Velvet rose bag and rose sock slippers from Plumo Autumn 2009. You are reading an original article about 2009 fashion accessories by Pauline Weston Thomas, only for publication on www.fashion-era.com ©
Chunky jewellery has gained in volume again. This is no longer statement jewellery, but weighty armour. Floral forms, especially huge metal and semi-precious roses mixed with chain and pearls give extra three dimensional form to neckwear.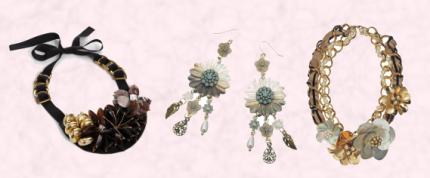 Above Left - Hobbs Autumn Winter 2009 - Tris Flower Necklace Leather/Glass Beads, £99.
Centre - Accessorize Autumn/Winter 2009 Cream Francesca Earrings £16/€27 Eire.
Right - Dorothy Perkins Jewellery - Courtesan Chain Pearl Collar Flower Detail £30/€45.
But it is not just on accessories that flowers appear. Home furnishings, personal items and favourite household retro pieces all please when covered in floral pattern.
...(v4r)
Flowers pop up in various fashion history eras, but usually when they are popular in garments they are also popular in furnishings. When they become unpopular in fashion clothing so too they move out of the home environment.
In the cycle of history, floral fashion crops up time and again in carpets. Abstract pattern has been creeping into rugs for several seasons and now flowers are on the floor again. Both these rugs from the NEXT Autumn 2009 Winter 2010 collections show how flowers in rugs can look very modern when stylised and worked in a limited colour palette.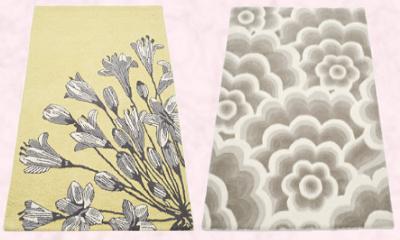 Above Left - NEXT Home AW09 - Botanical Study Rug from £80/€105.
Above Right - NEXT Autumn Winter 2009 - Raised Flower Rug from £80/€105.
‡
This Roberts Retro radio is a classic household radio, but Roberts regularly update it to the latest looks, and floral fashion is big trend this year in both clothing and the home. This retro floral radio is available at John Lewis and would make a great Christmas gift for anyone who would love a girly accessory.
Above Right - Kath Kidston's Floral Robert's Radio £199 from John Lewis.
See more top colours, clothing and accessories on the Autumn 2009 colours page. You are reading an article by Pauline Weston Thomas only for publication on www.fashion-era.com ©
You have been reading an original article by Pauline Weston Thomas about 2009 fashion accessories, only for publication on www.fashion-era.com ©
Copyright of images courtesy of Prshots, NEXT, Swarovski, Monsoon, Accessorize, Matalan, Dorothy Perkins, Marks & Spencer, Hobbs, Faith Footwear, John Lewis, Plumo, Very.
Date added 25 September 2009 - Ref:P.749.
If you like this page then please share it with your friends
---
--Link--
For more information on ladies and teens fashion trends go to:-
Archived Sections
Custom Search
About Fashion-Era.com
Fashion-Era.com looks at women's costume and fashion history and analyses the mood of an era. Changes in technology, leisure, work, cultural and moral values. Homelife and politics also contribute to lifestyle trends, which in turn influence the clothes we wear. These are the changes that make any era of society special in relation to the study of the costume of a period.

Fashion-Era.com can take no responsibility for any information on the site which may cause you error, loss or costs incurred from use of the information and links either directly or indirectly. This site is owned, designed, written and developed by author: Pauline Thomas and Guy Thomas. This site is designed to be viewed in 1024 X 768 or higher.
ALL RIGHTS RESERVED. Fashion-era.com reserves the right to add or delete information, graphics and links. Copyright © 2001-2014 on all content, text and images in Fashion-era.com. Images and text in this website may not be used on other websites.
Before you write to me for costume/fashion help or information please, please consult the extensive sitemap which lists all our pages. If you still cannot find the answer after searching the site, then before you email me, please consider if you are prepared to make a donation to the website.
Donations
Reader's donations help this site flourish, in particular donations encourage me to write more articles on fashion history as well as current trends. PayPal allows anyone with a credit card to donate easily and securely. You may donate any sum you feel appropriate.