Sequin Dress Fashion for Autumn Winter 2009
This page reviews how spangles, jewels and sequins give dresses a glitzy, stylish look, which will make you the star attraction at any seasonal party.
A ladies sequin dress is the ultimate glamour dress for making an impression especially over the Thanksgiving or Christmas season. This autumn whatever the occasion, festive party dresses or clubbing cocktail wear offers lots of textured fabrics. The base fabrics are embellished with either sequins, beads or studs. Flowers such as roses and lei swathes drape across shoulders. Brocade fabrics, velvets, soft nappa leather and softest silk chiffons are mixed with sequins and artfully draped and swathed and all will catch your attention.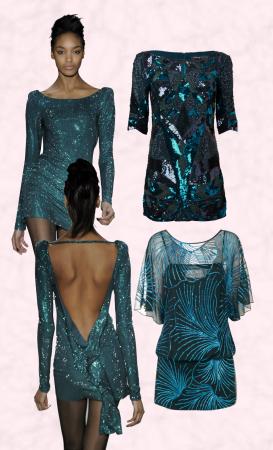 Designers gave us a catwalk look of simple short sequin shifts. High street retailers have followed with equally pretty versions. Countless women will sigh 'ahh pretty' when they see the sequin dress on a clothing rail, but in reality find the tunic type mini dress simply too short. This winter designers universally seem to think women want dresses that expose their knees. Take it from me, some of these dresses are so short they can be thought of only as a long top.
How you wear the sequin pieces depends on you. Some women with shapely thighs will wear the tunic styles as mini dresses, whilst others will pair them with pants or opaque tights, and the fashion forward will choose over knee boots.
Near Right - Teal Blue Catwalk Sequin Dress by Twenty8Twelve.
Above Right - French Connection Teal Blue Sequin Spirit Dress £260.
Lower Right - Monsoon AW09 Neptune Blue Sequin Overlaid Dress - £135.
This low back teal blue sequin dress right is a catwalk fashion from Twenty8Twelve. The high street version from French Connection is a boldly embellished cubist abstract sequin and bead fabric design that coruscates with reflected light. It would look even more wonderful in night lighting, and the modest back neckline makes it a more wearable option for the majority of women.
Below that dress is a sequin blouson tunic dress from Monsoon. The semi sheer sleeve over the underslip body adds a measure of mystique and glamour for many who prefer to cover up their arms. You are reading an original article about sequin dress fashion for Autumn Winter 2009 by Pauline Weston Thomas, only for publication on www.fashion-era.com ©
These are some of the high street versions featuring the simple sequin tunic shift dress.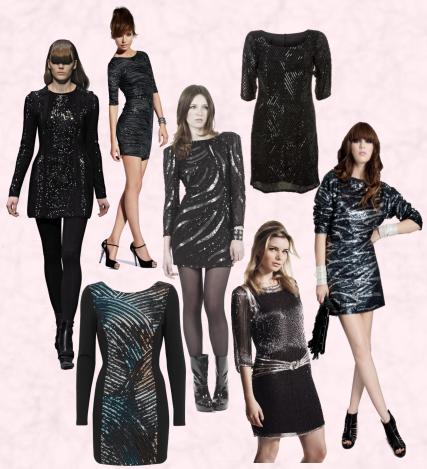 Mostly, these tunic dresses are totally sequin embellished, but they can also be beaded with bugle and seed beads, or made from molten liquid look metallic fabrics. Some are colourful like the bright sequin dresses shown further below. Others have cap sleeves, are sleeveless or are variations on strapless and sequin bra dresses.
Many of these sequin dresses rely on the body con principle for real definition on the body, rather than hanger appeal. The dresses use power fabrics combined with sequins and beads to create figure hugging looks.
Other styles skim and float over the body with a retro sixties shift feel.
All Autumn Winter 2009-10 Collections.
Side Left - Catwalk Fashion - Louise Goldin AW09.
Top Left - Glitter Zebra Dress £32/€48 at Dorothy Perkins
Bottom Left - Marks & Spencers Limited Collection Sequin Dress AW09, £49.50 - In Store November.
Centre - Model in Black Sequin Dress Fashion Oasis AW09.
Top Right - Wallis AW09 Black Sequin Dress £100/€160.
Bottom Right - House of Fraser AW09 Black and Silver Sequin Dress £335 Antik Batik - Womenswear.
Far Right - Miss Selfridge AW09Zebra Stripe Sequin Tunic Dress.
‡‡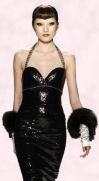 For Autumn 2009, sequin rich body hugging fabrics easily help create a body con ultra glam look whilst retaining a slight future shock feel. The halter neck sequin dress exists, but when made from glittery sequins, the one-shoulder or asymmetric dress is front runner to create the look every would-be party goddess desires.
Right - Catwalk - Venexiana Black Halter Sequin Dress.
At some offices and workplaces only the most mundane of uniforms or business attire is the everyday norm. So when Christmas is on the horizon, a cute cocktail dress or full length gown is the only option. As long as you have the figure - and some underwear solutions - then it will be no problem to transform yourself like Cinderella going to the ball.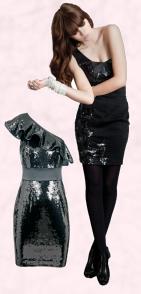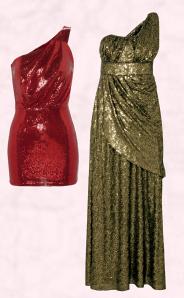 The little black dress, when worked as a one shoulder number, can enhance lovely toned arms and suggest more mystery than the obvious plunging neckline.
Far Left - Monsoon Tsarina Black Sequin Frill Dress. £75/€127 Eire - Monsoon Christmas 2009 - October - Monsoon Fusion Collection.
Near Left - Miss Selfridge AW09 Black Sequin One-Shoulder Dress.
Near Right - T. K. Maxx Asymmetric Red Sequin Dress - £19.99 €23.31.
Far Right - Monsoon Saturn Maxi Dress - Gold Sequin Full Length Evening Dress. £225 / €379 Eire. Monsoon Christmas 2009 - Due November.
Each asymmetric dress has its own look whether its the drapery of the gold dress or the super shininess of the sequin frill dress. Each one-shoulder dress is quite different, and next season expect to see even more one-shoulder dresses with lei corsages flowing along the shoulder-line.
...(v4r)
Wearing a one shoulder, backless or strapless dress can present bra problems. You may think you no longer have the pert bust to wear such a one-shoulder item, but that's because your thinking is out of tune with modern support bras designed to enhance your curves. In the past the only alternative was to wear a somewhat unreliable strapless bra or go braless. Furthermore only small cup sizes were available. Now you will find websites selling shape support-wear pieces that will transform your silhouette.
The Multi Plunge Wonderbra is an extremely versatile bra. The straps can be moved to over 100 positions making it ideal for those strappy tops and little black dresses.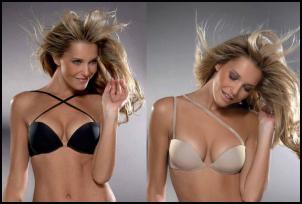 The image right shows how the black version has been set for a halter dress and the beige Wonderbra Multi Plunge version is perfectly supportive for a one shoulder dress. Wearing an asymmetric dress should never again be a problem with a bra like this.
I think the versatility of this bra means the Wonderbra Multi Plunge is an absolute 'must have' lingerie item. Imagine how confident you will feel knowing it will look fantastic under the simplest of T-shirts, the most complicated criss-cross tops or those daring backless dresses. Notice the centre front strip at cleavage level. The clear centre gore strip makes this bra perfect for wearing under the most revealing low cut outfits.
Lingerieplease include 3 sets of straps with this Wonderbra and these interlink with any of 40 eyelets on the top of the cups for exact positioning. It's easy to see why this bra along with a strapless Wonderbra which would be perfect for the strapless dresses below are some of the best sellers at Lingerieplease. Whilst I have seen other sites stocking this Wonderbra Lingerieplease is one of the few that appeared to cover a broader range of sizes from size 32A to size 38D.
Wonderbra Multi Plunge Bra Images Courtesy of Lingerieplease
For those who love prom looks these strapless glitter sequin dresses are a more modern take on an old theme. Note how all these prom bustier necklines are higher than in previous years, thus offer more modest bosom coverage for a strapless dress.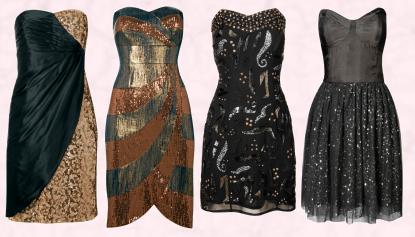 These sequin party dresses show several micro trends which are developing in the winter of 2009/10. Far left we see draped fabric combined with a sequin contrast. Centre left the dress features the more copper metallic bronze tones so popular with designers on the catwalk for autumn.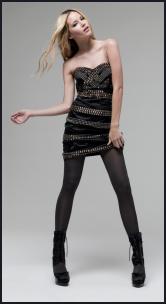 The centre right dress features both sequins and studs, and the fuller skirt leans more toward a tulip shape. The dress above far right is in true prom style and features a sequin overskirt.
All Autumn Winter 2009-10 Collections.
Above:- Far Left - Monsoon Eclipse Dress in Gold and Black £180. Due November.
Near Left - Monsoon Cosmic Dress in Gold & Copper £180. Due Nov.
Far Right - Miss Selfridge Stud Sequin Black Dress.
Near Right - Miss Selfridge Strapless Dusty Black Dress.
You have a choice of leg wear as glitter dress lengths can vary from tunic to knee length. But, sheer tights are a good option for glamorous events, and give legs a silky look that separates day from evening more clearly than patterned hosiery does.
In this black studded strapless sequin dress (right) the model wears laced open boots and black opaque tights. The hosiery and boots toughen up the dress. All she needs now is a biker jacket or chubby fur coat. See more sequin beaded dresses.
Right - Dress - Matthew Williamson at Debenhams.
You are reading an original article about sequined dress fashions for Winter 2009 by Pauline Weston Thomas, only for publication on www.fashion-era.com ©
If a little black dress is your choice for the 'Office Christmas Party Dress', then these black sequin versions would suit a range of figures from slim teenager to more mature woman. The bottom row of dresses also have slightly higher necklines for the woman who prefers a more demure look. The little cap sleeves on the last two black glitter dresses bottom right, eliminate the need for a cover-up or jacket.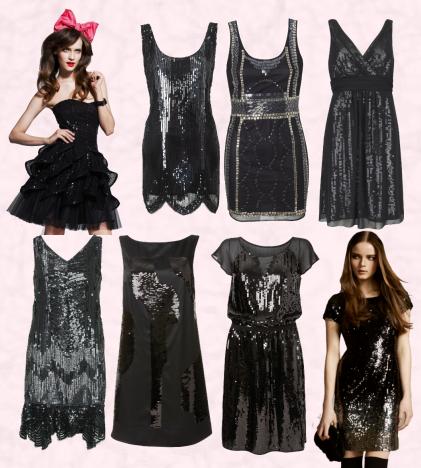 All Autumn Winter 2009-10 Collections.
Top Far Left - Debenhams AW09 Red Herring Black Sequin Detail Net Prom Dress £70/€109.
Top Centre Left - Oasis Black Sequin Dress Fashion.
Top Centre Right - Oasis Black Sequin Dress.
Top Far Right - Marks & Spencers Sequin Dress.
Bottom Far Left - Oasis Black Sequin Dress.
Bottom Centre Left - Wallis Black Sequin Shift Dress - £60/€91 - Wallis Autumn Winter 09.
Bottom Centre Right - Chiffon Sequin Dress - £60/€91 - Wallis Autumn Winter 09.
Bottom Right - Hobbs Graduated Cabaret Black Sequinned Short Sleeve Tunic Dress - £199, Haven Clutch Evening Bag - £99 Hobbs Autumn Winter 2009.
‡
There is something about silver that brings out the rock chick when teamed with tough black accessories. Not all metallic fabrics used are sequin or bead encrusted, some garments use foil printed materials, others use Lurex knits.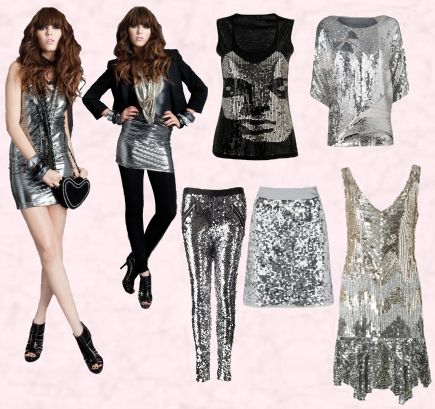 The silver glittery dress, lower right and from Oasis, would be perfect for anyone going to a twenties theme party.
All Autumn Winter 2009-10 Collections.
Far Left - Miss Selfridge Liquid Silver Foil Body Con Dress.
Top Near Left - Miss Selfridge Liquid Silver Skirt.
Top Centre Right - Miss Selfridge Black/Silver Sequin Face Top.
Top Far Right - Miss Selfridge Liquid Silver Kimono Sleeve Easy Top.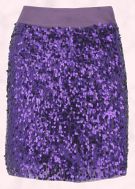 Bottom Centre Left - Harvey Nichols Silver Leggings.
Bottom Centre - Silver Sequin Skirt, £45 In store November at Marks & Spencer Autumn Winter 2009 - Limited Collection.
Bottom Far Right - Oasis Silver Sequin/Bead Dress.
If you like brighter colours then the silver skirt, above from Marks & Spencer, also comes in this wonderful shade of purple. Right - Purple Sequin Skirt, £45, In store November, Marks & Spencer Autumn Winter 2009 Limited Collection.
What's especially good about pieces such as these liquid silver separates is they offer more choice for those who have either a larger, or a smaller, top torso compared with their bottom half.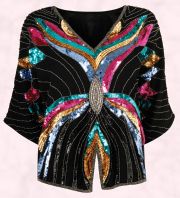 This black and multi coloured sequin kimono top also allows a bit more figure flexibility for anyone with a few lumps and bumps. It is also very pretty and from Miss Selfridge!
Right - Black Fashion Top & Coloured Sequin Detail, 3/4 Length Sleeves £55 - Miss Selfridge Autumn/Winter 2009.
Left - Actress Lindsay Lohan wearing a blue sequin dress.
A sequined dress glitters, but coloured sequins add a vibrant living shimmer to sequin party frocks. These simple shift silhouette dresses feature four similar, but different necklines. They are from left to right, scoop, boat, jewel and bateau necklines. Whether you seek a gold, silver, purple, red or hot pink sequin dress, this is the season you should find the very colour you have in your mind.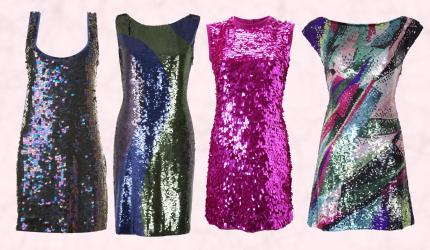 All Autumn Winter 2009-10 Collections.
Above:- Far Left - Internacionale Purple All-Over Sequin Pailette Dress - £29.99.
Near Left - Matthew Williamson at Debenhams - Multi Colour Sequin Dress.
Far Right - French Connection Ladieswear AW2009 - Magenta Pink 'Raindrop' Sequin Sleeveless Dress £150.
Near Right - Butterfly - Matthew Williamson Collection Debenhams - Multi Colour Sequin Tunic Dress.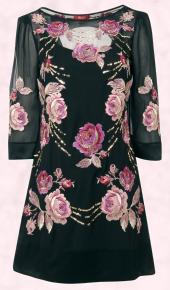 This lovely flower sequin dress is from Monsoon and combines Chinese style embroidery of rose floral forms and foliage. The flowers and rosebuds are decorated with bugle beads and sequins.
This three quarter sleeve black and pink tunic is perfect for a woman who want a special dress, but an outfit which is not as glittery dress as the average sequin party dress.
Left - Detail of the Rose Embroidery and Sequin/Bead decoration. Monsoon Paula Rosa Sequin Embellished Tunic £95 - Autumn Winter 2009-10 Monsoon Collections.
A silk chiffon sequin dress like this can double as tunic or stand alone as a party frock.
‡
Some fashion sequin dresses have super sized Pailettes that glitter against contrasting fabrics especially against velvet or leather.
Left - This Dolce&Gabbana evening suit has been Swarovski CRYSTALLIZED and the gems glitter and sparkle like huge galactic jewels.
Look too for sequin Pailettes encrusted jackets perfect for adding glamour at the office party. Use either a jacket, a clutch bag, shoe or boot smothered in sequins to make your glitterati point.
If you find a floral sequin dress too overpowering, then perhaps a small accessory such as a shimmering sequin, metallic or molten liquid look bag would be the fast and easiest way to add colour and texture to your festive party wardrobe.
Check out the countless sequin-embellished clutch bags in the high street and easily available online.
Right - Accessorize Multi Technicolour Sequin/Bead Clutch Evening Bag - £35/€59 Eire, Accessorize Christmas 2009.
You may decide that the expense of buying a new dress just for an office do means a Christmas party dress does not fit in with your budget. Time to re-evaluate your existing wardrobe. So what if you have worn your dress before? You probably bought it because you liked it and it will be so easy to just brighten it up with a beaded or sequin clutch bag or a Pailette or sequin jacket. These sequin jackets below are the sort of simple cover up women like.

Left - Penneys (Ireland) Autumn 2009 Ladieswear. Beaded Cropped Jacket €29.00. Due in store mid October from the Penneys Autumn 2009 Collection.
Centre - Wallis Sequin Jacket - No Details.
Right - Wallis Silver Pailette Cardigan Wallis Autumn Winter 09 - Black/ Silver Sequin Cardigan, £60/€91.
There are sequin boyfriend blazer jackets too, and they come in many colours, but especially in midnight blue, black, silver and gold. The blush pink jacket is a delightful coloured alternative to the typical darker tones.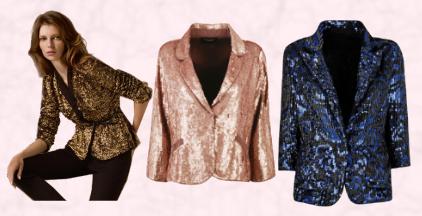 Left - Antik Batik at House of Fraser - Antique Gold Sequin Jacket £325 Antik Batik, Black skinny belt £15/€18 Linea, Black skinny jeans £169/€203 7 For All Mankind.
Centre - Dorothy Perkins Blush Pink Sequin Boyfriend Blazer - £70/€110.


Right - Navy Blue Sequined Dinner Jacket - £150, Miss Selfridge Autumn/Winter 2009.
Defined sharp shoulders make an otherwise simple sequin dress an item that can be dressed up or down worn with or without leg wear.
Select from fierce ankle boots, thigh boots, lace patterned tights or slim skinny pants. You can even choose sequin ankle boots, glittery or sequin shoes like these fun boots right. Right - Sequin Ankle Boot £50 - ASOS Womenswear AW09 Accessories.
With all the lovely sequin dresses, bags and boots about this forthcoming winter season you can go from Cinderella to Sequinella in the pull of a zipper!
...(v4r)
Fads for decorating with sequins come and go. Over the years sequins have been made of many materials. The oldest sequin use is thought to be those found at King Tutankhamen's burial site. Craftsmen produced the sequins by rolling gold super thin, cutting out discs, glazing them to prevent scratches and then attaching them to the boy king's clothes. Shisha mirror work has a long history in India and among nomadic tribes.
Gold coins have also been used as a form of sequins and the travelling Romany gypsies decorated their clothes with coinage. Others suggest that iridescent fish scales have also been used. Certainly fine layers of mother of pearl have been used to make sequins. A more robust version is that worn by Pearly Kings and Queens who have decorated their clothes with natural mother-of-pearl shell buttons. The buttons discs reflect light in a similar manner - all sequins discs are intended to behave as spangles to catch the light and reflect it back.
Sequins were certainly being used in embroideries of the C16th. Usually silver metal, discs were made from flattening a ring of silver wire. The flat silver disc was sewn on with a bead to hold it in place. They were embroidered on to three dimensional C16th English pieces found on stomachers, mules, bonnets and shoes.
When gelatine was discovered and used to create sequins, the sequins produced from the material were unstable and could never be laundered or put near heat. They also gave off an odour. I'll leave that bit to your imagination!
Thinly rolled silver sheets produces a weighty sequin, and gave incredible hang to the weight to flapper dresses. But such sequins have long been abandoned because silver tarnishes and discolours on the sequin cut edges. In the latter part of the C20th sequins have been made with various plastics. The current method employs the use of vinyl plastics. Today sequins are cut from what is basically a sandwich of coloured foil. But if you desire the look of vintage clothes then seek out vintage sequins online. You are reading an original sequins fashion article by Pauline Weston Thomas at www.fashion-era.com ©
Lei is an Hawaiian word relating to garlands or blossoms threaded together to form a swathe of flora.
A small shiny ornamental disc, especially sewn on women's clothing, accessories and used for theatrical or dance purposes.
Also known as a spangle or a pailette or paillette.
A former gold coin of the Venetian Republic, 1284 - called zecchino; former gold coin of Malta c1535 and of Turkey 1478.
You have been reading an original article about sequin dress fashion for Autumn Winter 2009 by Pauline Weston Thomas, only for publication on www.fashion-era.com ©
Copyright of images courtesy of Prshots, IFTF, Swarovski, Aquascutum, Dorothy Perkins, Miss Selfridge, Debenhams, Marks & Spencer, Hobbs, Harvey Nichols, House of Fraser, John Lewis, ASOS, Penneys, French Connection, Wallis, Accessorize, Monsoon, Oasis, Lingerieplease.
Date added 12 Sept 2009 - Ref:P.746.
If you like this page then please share it with your friends
---
--Link--
For more information on ladies and teens fashion trends go to:-
Archived Sections
Custom Search
About Fashion-Era.com
Fashion-Era.com looks at women's costume and fashion history and analyses the mood of an era. Changes in technology, leisure, work, cultural and moral values. Homelife and politics also contribute to lifestyle trends, which in turn influence the clothes we wear. These are the changes that make any era of society special in relation to the study of the costume of a period.

Fashion-Era.com can take no responsibility for any information on the site which may cause you error, loss or costs incurred from use of the information and links either directly or indirectly. This site is owned, designed, written and developed by author: Pauline Thomas and Guy Thomas. This site is designed to be viewed in 1024 X 768 or higher.
ALL RIGHTS RESERVED. Fashion-era.com reserves the right to add or delete information, graphics and links. Copyright © 2001-2014 on all content, text and images in Fashion-era.com. Images and text in this website may not be used on other websites.
Before you write to me for costume/fashion help or information please, please consult the extensive sitemap which lists all our pages. If you still cannot find the answer after searching the site, then before you email me, please consider if you are prepared to make a donation to the website.
Donations
Reader's donations help this site flourish, in particular donations encourage me to write more articles on fashion history as well as current trends. PayPal allows anyone with a credit card to donate easily and securely. You may donate any sum you feel appropriate.