Sleeve & Shoulder Fashion Trends 2000-2010
This page explains the reasons behind the changes in both sleeve fashion and shoulder fashion in the noughties. These changes are interesting and important as they provide elements of the iconic silhouette for this era.
Trends in Shoulder & Sleeve Fashion History 2000-10
The fashion silhouette of any era is judged on many points; yet often one factor, such as the flapper dress has that indefinable je ne sais quoi which captures the mood of a particular fashion era. Right now the 'It' factor making headlines is the shoulder line, and this page examines how the sleeve and shoulder has developed during this decade.
The interesting sleeves in the images right are courtesy of Swarovski (Topshop Unique), IFTF, Dior 2008.
In the latter part of the noughties decade we have seen the sleeve and shoulder line become a focus of interest on many garments. At the beginning of the trend we saw the the floppy over-the-hand length, what happened next was the shortening of the standard sleeve to seven eighths, and then three quarter length. This brought new focus to the wrist which soon became the new erogenous zone of the early noughties. The wearing of noughties jewellery cuffs is directly related to the visibility of the wrist.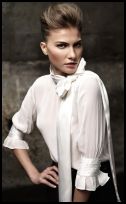 As each new fashion season arrived so designers toyed with the sleeve length, they discovered that by playing with the sleeve hemline, they could create a fresh youthful vibe undiscovered by a whole generation or more. Soon everyone adopted the fad for three-quarter sleeves. Within a short space of time the sleeve was cropped to elbow length, and some designers added a ruffle or flounce frill.
The mass stores soon followed these sleeve trends and fashion history was made. By the 2008/9 season the shorter sleeve fashion was commonplace on both jackets coats and dresses. You can see great examples in these three catwalk show images above, kindly provided by IFTF, Swarovski and Dior from their 2008 archives.
The blouse left, with Edwardian inspired sleeves, was by Wallis and from their 2008 autumn collections. But it shows how as the decade progresses so blouses and jackets had become more feminine as glamour returned to dressing. Softness in dress began to challenge the studded Warrior Woman space age metallic looks. You are reading an original article on sleeve fashion and shoulders fashion silhouettes 2009-10 by Pauline Weston Thomas only for publication on www.fashion-era.com ©
...(v4r)
Surprisingly, the first really noticeable change for shoulders occurred with the pashmina. The pashmina is a very useful warming cover-up when nothing more suitable can be found. However, what sparked a change in shoulder fashion was when the pashmina moved from must-have high fashion shoulder drapery to be referred to as a classic stole.
One of the trendsetters in changing shoulder fashion was bridal and evening prom wear. Covering the shoulder up with a pashmina was no longer the aim. Exposing the shoulder became a norm with prom bustier looks leading the way. By mid decade the pashmina had been confined to a wardrobe's classics drawer, and the shoulder was very visible again. In this way the shoulder sleeve silhouette slowly gained either physical width, or sleeve protrusion beyond the normal armscye at the top of the armhole.
Another way that the shoulder line became more attention seeking was by the clear absence of fabric. This was either in bustier prom dresses or bustiers. This was in total contrast to the late 90s and early millennium when the shoulder gained interest when the pashmina was acting as a cover up shoulder focus. Now the new cover ups were cute jackets, shrugs, boleros and cropped cardigans, or even full dress coats. Matching a dress with a jacket also made a return to formal wear providing women with one of the most useful outfits of all time - the coordinated dress and jacket coat.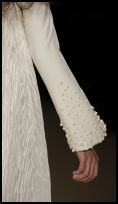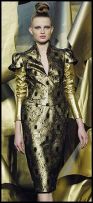 These images are all archive Swarovski 2008, and you can see how designers play with the sleeve fashion. The sleeve became a true area of silhouette interest that reached a new peak for 2009. Back in 2008 this change was evident in every area from evening wear to knitwear.
For autumn 2008 designers focused on shoulders and necklines with dresses like these. We've all seen the real result and adoption globally after Michelle Obama wore a one shouldered gown at the President of the USA Inauguration Ball in 2009. By 2009 one shoulder and one sleeved dresses were a considered style for winter party dresses.



Catwalk images above courtesy of Swarovski, Dior - 2008.
The focus was also on the fuller sleeve. Even slimline sleeves began to show ruffles and frills, greater bell wrist width, or interesting slashing with eruptions of contrast fabrics. Folkloric elements brought the return of the full blouson peasant sleeve and manufacturers pounced on this design concept. With this came the return of the blouse in its own right as a fashion garment, to be paraded rather than a hidden element of a layered look.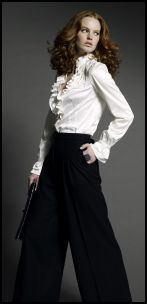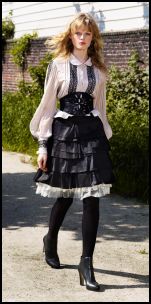 Images above courtesy of Swarovski, IFTF, Wallis, Warehouse - 2008 Archives.
‡‡
The last real era of the full length voluminous bloused sleeve, with floppiness draping into a deep cuff, was back in the 1970s, beyond the memory of young women in 2009. Consequently, this full bloused style looked very different to skinny sleeves or sleeveless fashions of their generation.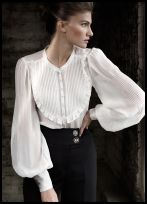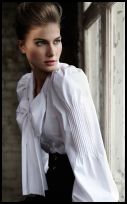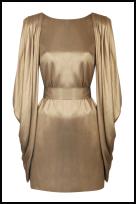 Both images above courtesy of Wallis Autumn 2008 Collections. The blouse sleeves above show lower bloused fullness, very popular during the mid Victorian and Edwardian eras as well as the 1970s. The golden tunic right is from Monsoons Autumn 2009 Originals range and shows how the micro trend of drapery has combined to produce a sleeve line reminiscent of flowing angel 70s styles. Talk about dramatic entrance, this golden top is fit for a Diva. With arms outstretched, those sleeves would create an X-factor moment for anyone.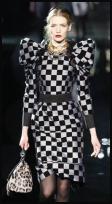 Much neglected in the 1990s, shoulders have been gaining considerable attention from designers and this is an area of more than novel interest. A whole generation of fashionistas have never played with the shoulder line, smothered in cascades of blousy fabric, preferring to bare all in bustier tops. But fashion is always cyclical and the dawn of a new decade sees the latest fashion buzz as being the armour of the proud shoulder.
In 2009, focus moved to the head of the sleeve and the overall shoulder shape began to reform. Yet just over one hundred years ago sleeve fashion was going through a parallel change in silhouette.
The Dolce&Gabbana catwalk photo near right, illustrates a sleeve very similar to those in fashion in about 1896. The Posen model far left below suggests a similar source of inspiration. These are not so much 1980s big sleeves as some fashion magazines suggest, but to a seasoned observer of dress the new sleeves often appear more like 1890s sleeve fashion.
Centre below, note again the important gigot sleeve from Dolce&Gabbana in this berry toned evening suit. On the right below observe the domed structure of the boned sleeve head Antonio Berardi uses in this grey coat. The grey sleeve demands high standards of couture construction with layers of interfacing and boning to achieve that shape. No doubt mass fashion producers will soon have a foam shoulder pad version on the rails.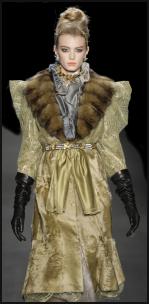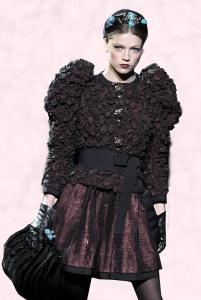 The fashion history timeline of sleeves that I have arranged below shows how the sleeve head grew from modest proportions in 1890/91 (far left) to extreme fullness in 1894-6 (centre). But the sleeve began to subside circa 1897 reverting to a very similar silhouette in 1900 (far right) that it had started with just a decade earlier in 1890. You are reading an original article on sleeves fashion and shoulder fashion silhouette 2009-10 by Pauline Weston Thomas only for publication on www.fashion-era.com ©

These sleeves are not difficult to make as long as you have the right pattern, and the upper sleeve head is suitably interfacing supported. Materials like horsehair, firm twill cotton, net, Vilene, Calico, Buckram, Tarlatan and bridal hem net can all be used successfully.
Enormous gigot (leg of lamb/mutton) sleeves were a focal point of fashion in the late 1820s and 1830s too. None of us were around in that Romantic era, but this caricature of sleeves and hats of 1827 from my personal collection gives you an idea that such extreme styles are nothing new. Do remember this is a send-up cartoon; but it does emphasise as all cartoons the pertinent points - that sleeves of the 1820s were indeed fulsome.
Clearly we should expect anything in the next decade when it comes to sleeves and shoulders!

With mass communication being what it is today I suspect we will go through similar sleeve silhouette stages, but in half the time.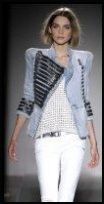 We can trace the noughties power shoulders that began it all, to the now seemingly minor silhouette changes such as in this Balmain nautical inspired jacket and shown left. Now well into 2009, it is clear that there has been an escalating importance of the stylish, Balmain inspired fuller peak-shoulder line. By the end of 2009 everyone will think of it as the must-have silhouette to start off the new year.
Image Courtesy of Harvey Nichols.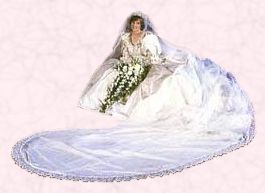 Fashion trendsetters know that the changing shoulder silhouette is likely to define 2010, and go down in the fashion history books as an iconic style message, distinguishing the latter part of this fashion decade from earlier years.
In living memory many can recall the voluminous Dynasty (TV serial) shoulders of the 1980s, The New Romantics and the Princess of Wales, Diana's wedding dress right. Now we can see the statement shoulder is moving in on us once again and we have to re-learn to embrace the styles that suit us. The key will be to try on many different garments until you find just the right shoulder look to enhance your own figure.
In fashion history terms the new shoulder line is clearly making its mark, especially in tailored looks. I think it is silhouette destined to stay for a couple of years. The must-have shoulder factor was confirmed when Madonna sported the latest Balmain shoulder look in her video in the latter part of 2009. So reader, if you want to get a wider berth fashion wise, getting Balmania is your answer.
You have been reading an original article on sleeve fashion and shoulder fashion silhouette 2009-10 by Pauline Weston Thomas only for publication on www.fashion-era.com ©
§
Conclusion
On this page I have concentrated on the developing fashion history of sleeves in the noughties circa 2000-2010. This is an important topic in understanding the defining silhouette for the noughties.
Copyright of images courtesy of Prshots, IFTF, Swarovski, Harvey Nichols, Dior, Wallis, Warehouse, Monsoon.
Date added 5 Sept 2009 - Ref:P.747.
If you like this page then please share it with your friends
---
--Link--
For more information on ladies and teens fashion trends go to:-
Archived Sections
Custom Search
About Fashion-Era.com
Fashion-Era.com looks at women's costume and fashion history and analyses the mood of an era. Changes in technology, leisure, work, cultural and moral values. Homelife and politics also contribute to lifestyle trends, which in turn influence the clothes we wear. These are the changes that make any era of society special in relation to the study of the costume of a period.

Fashion-Era.com can take no responsibility for any information on the site which may cause you error, loss or costs incurred from use of the information and links either directly or indirectly. This site is owned, designed, written and developed by author: Pauline Thomas and Guy Thomas. This site is designed to be viewed in 1024 X 768 or higher.
ALL RIGHTS RESERVED. Fashion-era.com reserves the right to add or delete information, graphics and links. Copyright © 2001-2014 on all content, text and images in Fashion-era.com. Images and text in this website may not be used on other websites.
Before you write to me for costume/fashion help or information please, please consult the extensive sitemap which lists all our pages. If you still cannot find the answer after searching the site, then before you email me, please consider if you are prepared to make a donation to the website.
Donations
Reader's donations help this site flourish, in particular donations encourage me to write more articles on fashion history as well as current trends. PayPal allows anyone with a credit card to donate easily and securely. You may donate any sum you feel appropriate.