Trends in Floral Dress Style for Autumn Winter 2009
Right - AW09/10 Rose Dress with Flower Collar from Marni
Flowers on dresses have periods of popularity within every generation, and across every nation. It's interesting to see how designers develop floral trends through embroidery, weave, print or appliqué. There are also fashion eras when the flower disappears from mainstream garment fabric and furnishings.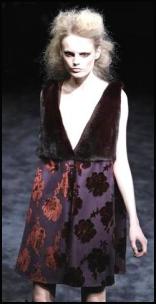 Within these floral fashions are a variety of looks ranging from dainty dimity ditzy dolly mixture floral prints, to life size flowers such as oversized voluptuous cabbage roses. The look can be very pretty and ultra feminine. It can also pay homage to ethnic and folkloric traditions.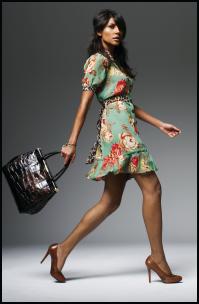 Right - High Street Green Flower Dress - NEXT AW09 - Floral and Animal Print Dress £38/€49.
Floral fashion can be created in many materials other than the basic surface printed fabrics. Flowers can be bold or subtle such as in the pattern imagery within the weave of a damask brocade fabric or be a burnout velvet fabric such as in the flower dress left.
Left - AW09/10 Catwalk Fashion from Dolce&Gabbana.
Flowers can also stand proud when added as surface decoration, sequin and beading embellishment, embroidery or appliqué. Alternatively, the fabric can be soft and float over the body like this dress from NEXT shown right.
Circular floral forms go well with crochet, lace and knitwear especially when they are part of the stitchery design. Extra surface stitchery on knits, known as Swiss Darning, can enhance the texture even more, creating lively raised areas that give shading and contour to floral forms. You are reading an original article about trends in floral dress style for autumn winter 2009 by Pauline Weston Thomas. This article is only for publication on www.fashion-era.com ©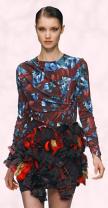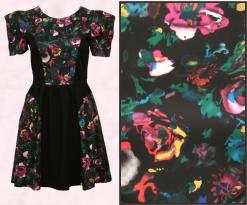 Using modern technology some designers digitally enhance flowers, while others employ paint techniques to distort the images; the result is to create new abstract floral looks for the winter 2009 season. Such techniques have brought pattern and print back into high fashion again. Right now print is an important concept within modern fashion, and the high street retailers have taken catwalk designs as their sources of inspiration. Abstract and floral dress prints are equally popular.
Peter Pilotti used digital prints in his Autumn 2009 collection. ASOS, always at the fore of trend led styles, have digital floral dress prints in their Autumn 2009 clothing range.
Near Centre - ASOS Autumn 2009 WW Clothing - Midnight Flower Panel Dress £40.
Centre - ASOS Digital Print Detail With Watercolour Effect.
Far Right - Peter Pilotti Digital Print Flower Dress.
‡‡
Flowers also lend themselves to artfully arranged border prints, especially Eastern European or Aztec stylised geometric florals.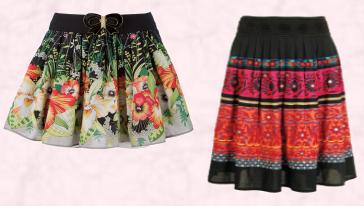 Flowered border prints look wonderful when taking advantage of the construction design elements within a garment.
These skirts illustrate two different border print styles. Within the pattern are two complex pattern print arrangements. The skirt centre left is similar to a riotous garden border, with a foreground of large blooms and a background of medium to pinhead flowers and grasses.
The second skirt (far right) has a folkloric Russian doll feel and the border is based on a deep richly patterned band, followed by a medium scale row and finally a narrow band. This second skirt border style is a common pattern arrangement for applying embroidery directly or as pre-embroidered Bavarian/Hungarian style ribbon braids.
Above Left - Yumi Border Printed Skirt £35 - Very AW09 Clothing & Footwear.
Right - Monsoon Multi Babette Skirt £75/€127 Eire Monsoon Autumn/Winter 2009.
This variety of scale all helps maintain focal interest within the border creating a joyful print so typical of the 'festival day' nature of dress up peasant clothes.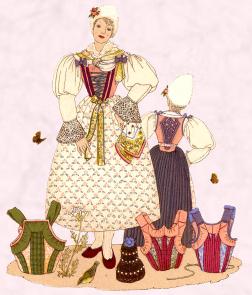 Folkloric looks use a multitude of techniques which hint at a folksy heritage and a reworking of old traditional costume ideas.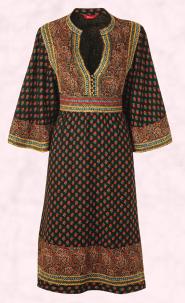 But almost always, border prints employ a variety of scale creating a flowing rhythm of small, medium and large motifs that add lightness and interest.
Wide kimono/blouson sleeves, dirndl style or empire skirts, one piece tunics and of course maxi dresses all offer potential for maximising the delivery of the floral pattern.
...(v4r)
This kimono dress, shown left, is from Monsoon. The print type focuses on a familiar combination of a black background and an overprint which features red, green and yellow. The motifs consist of floral (roses) mixed with paisley, and by and large this gives the dress an Indian character. Right - Monsoon Black Cynthia Dress £65/€110 Eire Monsoon Autumn/Winter 2009 - Main Range.
Traditional folk costumes illustrate the different pattern scale very well. Above Right - Traditional Austrian Tirol (Gries) Dress. Roses are used as a dainty repeat pattern on a hand printed linen skirt. Look carefully and you will note that flowers also feature on ribbons, handkerchiefs and as headwear within this old costume history print.
Many of the flower patterns used in dresses are based on the loveliest of floral forms such as the rose, rosebud and the peony. There is something about the rose and these abundantly petalled flowers that the human spirit loves.
Folkloric looks use techniques which reflect their heritage. They also often rework costume history elements found in traditional folk costumes.
Sometimes whole garments have floral decoration, at other times just bodice fronts, ribbon bands or ties hint at roses.
This season flowers have moved from dresses to outwear and coats, this gives an opportunity to use roses as appliqué contrast fabrics. Some designers have also used colourful yarns in felted boiled wool and tapestry effects.
Far Left - AW09/10 Catwalk - Temperley Quilted Appliqué Coat.
Near Left - AW09/10 Catwalk - Kenzo Tapestry Coat. You are reading an original article by Pauline Weston Thomas about trends in flower dress style for winter 2009. This article is only for publication on www.fashion-era.com ©
Both of the dresses, left and centre below, have impressive floral embroidery on them. The dress far right has a beaded floral border. Monsoon have more dresses, blouse tops, skirts and tunics with thick lavish detailed embroidery work.
This Monsoon skirt right is another example of original ladies fashion wear for autumn 2009; richly decorated items such as these are must-haves for Autumn 2009.
Far Right - Monsoon Akira Skirt £75/€127 Eire - Monsoon Christmas 2009 - October - Daywear.
Below Left - Monsoon Black Rosa Tunic £95/€161 Eire Monsoon Autumn/Winter 2009 - Embroidered Occasionwear.
Below Centre - French Connection Flower Dress - TBC.
Below Right - Floral Bead Noailles Dress £70/€119 Eire - Monsoon Christmas 2009 Due October - Fusion Collection.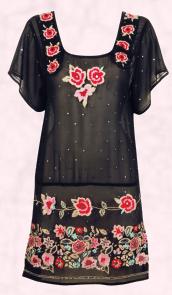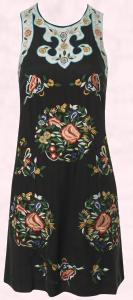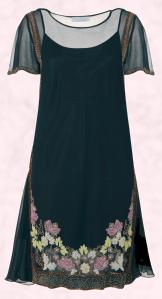 These six floral dresses below are from the UK high street and all priced between £38 and £95. The top three dresses show life size and cabbage rose blooms. Each dress is very different to its neighbour, and each feels modern and sophisticated.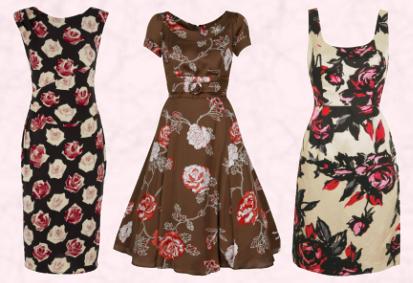 Above Left - Phase Eight Autumn Winter 2009 - Rosie Dress £89.
Above Centre - Brown Per Una Floral Prom Dress T62 1420H - £75.00, Sizes: 8-20 Reg/Long. In Store: October - Marks & Spencer Per Una Autumn 2009. Marks & Spencer are teaming this centre brown rose print dress with their Per Una velvet coat.
Above Right - Ivory White Maribel Dress £85/€144 Eire Monsoon Autumn/Winter 2009 - Occasionwear.
‡
African and Eastern approaches to floral dress fashion create stylised versions of simplified prints, or single floral motif forms. Single motifs are generally so big they dominate a print and dictate that the garment be cut a specific way to show the flower form to best advantage. The floral form can be print as in the centre red rose Yumi dress below or as stylised appliqué or meandering embroidery.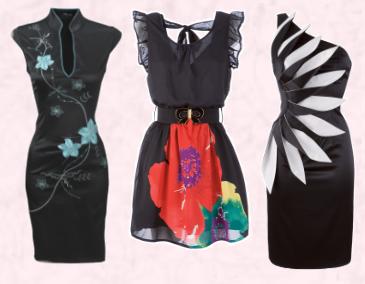 Above Left - Jane Norman AW09 Collection - Chinese flower dress, £45.
Above Centre - Yumi 2 in 1 Printed Flower Dress Style £45 at Very AW09 Clothing & Footwear.
Above Right - Unique Boutique One Shoulder Fan Dress £175 - Very AW09 Clothing & Footwear.
Other popular floral dress features include country flowers such as daisies and forget-me-nots; you will also see in autumn winter 2009 a total contrast of exotic flowers such as lilies or orchids. Small flower patterns are known under names such as dainty, dimity, ditzy, or dolly mixture floral prints to coin size flowers.
Both ditsy prints and cabbage bloom roses are ideal for a tea floral dress, perfect for that afternoon when a woman wants a soft feminine look for a dreamy day.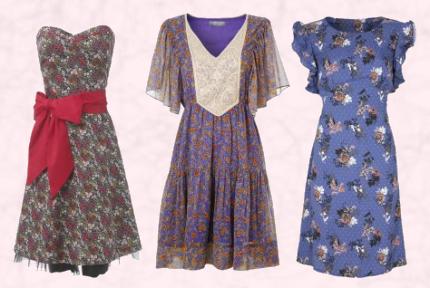 Above Left - Jane Norman AW09 Collection - Ditsy Printed Prom Dress £40.
Above Centre - Monsoon Purple Festival Rose Dress £50/€85 Eire - Monsoon Autumn / Winter 2009 - Fusion.
Above Right - Next AW09 Womenswear - Floral Printed Dress £28/€36. You are reading an original article by Pauline Weston Thomas about trends in flower dress style for autumn / winter 2009. This article is only for publication on www.fashion-era.com ©
For some people the idea of a whole dress covered with flowers is a step too far, too girly and too much in the same way they find colour blocking too overpowering. A blouse can add that fashionable floral dimension without feeling a garden has overtaken your wardrobe. A floral top is especially suited to those who have proportionately mismatched hips to upper torso, and if need be, it can be softened with a toning jacket or knit, so that just a hint of flora is visible. But methinks these tops are far too pretty to hide with a cover-up!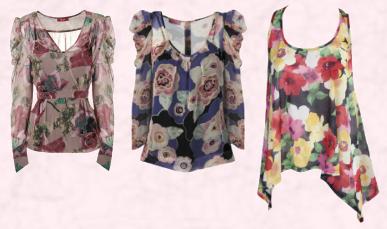 Above Left - Monsoon Christmas 2009 - November - Leola Blouse £65 / €110 Eire - Main Range.
Above Centre - Monsoon Purple Celia Top £55/€93, Eire Monsoon Autumn/Winter 2009 - Occasionwear.
Above Right - Republic Miso Floral Wing £16.99 Autumn Winter 2009 Republic Womenswear Miso.
‡
For special occasions Damask Brocade is the first choice for opulence in material, and is the stuff of luxury floral looks. The subtle, but cleverly intricate jacquard weave plays on the threads which are so often self colour. Often more than one coloured thread is used to create depth and richness. This creates extra textural interest within the pattern fabric.
Right - Dior Rose Brocade Coat.
The concept of matching coats and dresses, or matching jackets and dresses has been a growing trend. The matching jacket coat and dress is one of the most useful of outfits for what to wear problem occasions, and the high street retailers have been inspired by runway shows.
This M&S brocade dress and coat shown below left is a wonderful high street buy, perfect for a special event. To the right the Marni dress and coat are accessorized with heavy textured floral form jewellery. This was a directional jewellery look which the high street has been quick to follow.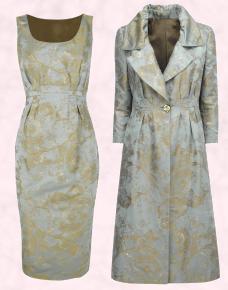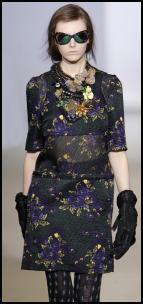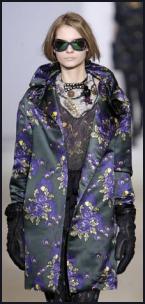 Above Left - Marks & Spencer Per Una Antique Jacquard Dress and Coat Autumn/Winter 2009 - Dress T62 1451H, £59.50 Sizes: 8-20, Coat T62 0103F, £89.50 Sizes: 8-20.
Left and Centre Left - Marni Autumn 2009 Rose Brocade Catwalk Dress and Coat.
Flowers can also stand proud when added as surface decoration, sequin and beading embellishment, embroidery or appliqué. Much of the texture is impressionist, but gives the clear feeling that the onlooker is viewing floral forms.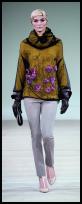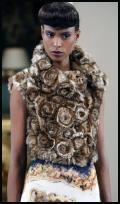 Above Left - Aquascutum Penelope Cashmere Top.
Above Centre - Detail of Aquascutum Penelope Cashmere Top.
Above Right - Graeme Black Catwalk Outfit AW2009.
Thick materials, leather, suede and crisp fabrics work well with three dimensional floral forms on dress. Leather, knit, crochet and felted wool are especially suited to the technique of creating flower forms. In hat making, organza, pineapple material and Sinamay straw all lend themselves well to soft sculpted effects.
Graeme Black has employed a similar technique in this gorgeous mini prom bustier dress below. The floral form has also moved onto accessories and I fell for this David and Scotti leather berry coloured bag with its abstract appliqué forms and it became my personal must-have 'it' bag of Autumn 2009.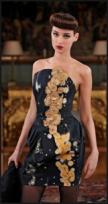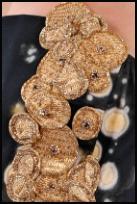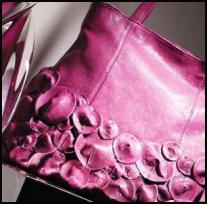 Above Right - David and Scotti Handbag Detail.
Above Left and Centre - Graeme Black Catwalk Outfit AW2009 - Graeme Black Appliqué Detail.
So it is not just on clothing that flowers appear, they also adorn accessories, home furnishings, personal items and favourite household retro pieces. All such items please when covered in floral pattern. See more of these on the accessory page.
Also, see more top colours, clothing and accessories on the Autumn 2009 colours page. You have been reading an original commentary about trends in Floral Dress Style for Autumn Winter 2009 by Pauline Weston Thomas. This article is only for publication on www.fashion-era.com ©
-------v6-------
Copyright of images courtesy of Prshots, IFTF, NEXT, Swarovski, Aquascutum, Monsoon, Republic, French Connection, Accessorize, Matalan, Dorothy Perkins, Marks & Spencer, Hobbs, Dior, Jane Norman, Very, Phase Eight and ASOS.
Date added 25 September 2009 - Ref:P.748.
If you like this page then please share it with your friends
---
--Link--
For more information on ladies and teens fashion trends go to:-
Archived Sections
Custom Search
About Fashion-Era.com
Fashion-Era.com looks at women's costume and fashion history and analyses the mood of an era. Changes in technology, leisure, work, cultural and moral values. Homelife and politics also contribute to lifestyle trends, which in turn influence the clothes we wear. These are the changes that make any era of society special in relation to the study of the costume of a period.

Fashion-Era.com can take no responsibility for any information on the site which may cause you error, loss or costs incurred from use of the information and links either directly or indirectly. This site is owned, designed, written and developed by author: Pauline Thomas and Guy Thomas. This site is designed to be viewed in 1024 X 768 or higher.
ALL RIGHTS RESERVED. Fashion-era.com reserves the right to add or delete information, graphics and links. Copyright © 2001-2014 on all content, text and images in Fashion-era.com. Images and text in this website may not be used on other websites.
Before you write to me for costume/fashion help or information please, please consult the extensive sitemap which lists all our pages. If you still cannot find the answer after searching the site, then before you email me, please consider if you are prepared to make a donation to the website.
Donations
Reader's donations help this site flourish, in particular donations encourage me to write more articles on fashion history as well as current trends. PayPal allows anyone with a credit card to donate easily and securely. You may donate any sum you feel appropriate.