Women's Military Coat Fashion Autumn Winter 2009
Women's military coats illustrate a true fashion trend for the first decade of the new millennium. Military styling returns each autumn with a fresh look, sometimes it's a long military coat which settles around the calves, at other times it's a short cropped military jacket. On other catwalks it's a floor sweeping military maxi coat that is top of hit list. Right - Hobbs Limited Edition Leather Trench 'Emma' Coat.
Women's Military Coat - A True Fashion Trend
Here is a selection of the women's military coats in stores for autumn winter 2009. Not only do they illustrate the fundamentals of military styling, but also they reflect the micro trends of the moment such as cowl funnel necks and the fashion for belting coats.
All women's military coat items are from Autumn 2009 collections on the high street or at selected UK stores.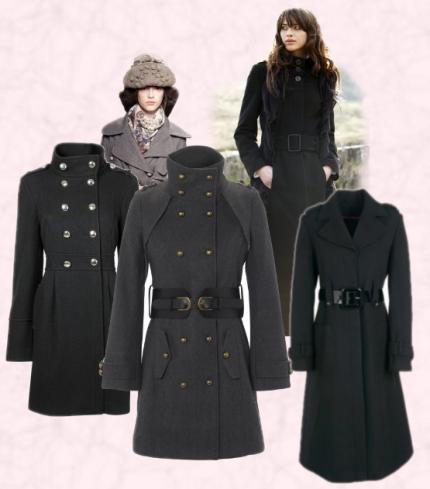 Far Left - Black Alicia Coat £135/€219 Eire – Monsoon Autumn/Winter 2009 Main Range.
Above Left - Kenzo Grey Great Coat, Knit Hat.
Centre - T. K. Maxx Grey Military Coat £49.99/€58.14 Autumn 09. See T. K. Maxx stock note at bottom of this page.
Above Right - Model - Catwalk Funnel Neck Military Coat £40 AW09 - Women Matalan
Far Right - Papaya Military Style Belted Coat £50 AW09 Womenswear Matalan. You are reading an original article on women's military coat fashion by Pauline Weston Thomas only for publication on www.fashion-era.com ©
In fashion history terms, the coats shown above are based on the greatcoats of yore worn by soldiers who were travelling for miles, fighting and sleeping out of doors in wintry Northern countries. Modem military coats for women and men often feature style elements that once had a utilitarian function such as, epaulettes in which to push gloves, a soft hat, or even rolled up documents.
Practical, Utilitarian Coats
Military characteristics in coats include little extras such as multiple pockets inside and out. There were loops and belt hooks to attach weapons so that the hands were free for other tasks, such as riding a horse.
Extra storm flaps at chest and shoulders helped protect the lungs from cold when walking against the wind. The storm flaps are really a leftover style element from caped highwayman coats. Travelling greatcoats had up to three layers of shoulder line capes to help repel rain soaking through to the skin. Burberry and Aquascutum used some of these features in their trench coats which literally were designed for wartime trenches.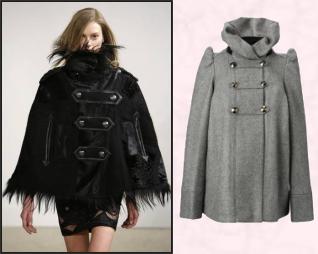 Today extra large lapels can be turned up for greater neck warmth. Buttoned up high cowl and funnel necks do the job automatically. Double breasted coats also offer an extra layer of front wrap material for colder days.
When selecting a military style coat for function and warmth consider all these possibilities. Always make sure that any coat you buy can be buttoned up, just in case one day you find yourself without transport on an extra cold day.
‡‡
If you want to pick up on the latest micro trends, then get a military cape, cloak or perhaps a military inspired cape jacket like this grey coat near left.
Above Left - Emilio Pucci Military Inspired Catwalk Cape Fashion.
Grey Cape - Lark Wool High Neck Jacket £150 - French Connection Ladieswear AW2009. You are reading an original article on women's military coat fashion by Pauline Weston Thomas only for publication on www.fashion-era.com ©
Throughout the fashion history of women's clothing, designers have chosen a snappy term based on a 'character' to differentiate between styles, furthermore a catchy name sticks in the mind.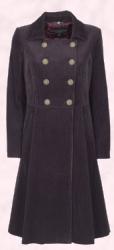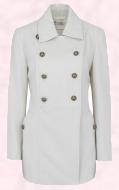 Women's military style coats have a particularly rich variety of names:- Sergeant Pepper coats, Majorette jackets, Bandstand looks, Officer's Uniform, Hussar Spencer jackets, Little Drummer Boy coats, Circus Boy tails, Admiralty pea coats, Captain Pugwash jacket, and Dr Zhivago Greatcoats. These are all phrases used to describe military coat fashions.
...(v4r)
In military style coats lookout for interesting buttons - plain, silver or gold buttons, applied embellishment fabric/tape/braid. Whilst dark tones are favoured for winter military coats, the opposite - winter white, cream and seasonal colours, especially Welsh Guard Red, can also be hits with women consumers. You are reading an original article about women's military coat fashion by Pauline Weston Thomas only for publication on www.fashion-era.com ©
Above Left - Dorothy Perkins AW09 - Modern Red Women's Military Coat £95/€150, Colour block dress £40/€60, Blue multi strap shoes £60/€95 Dorothy Perkins Autumn Winter 2009.
Near Right - Cream Military Coat with Brass Buttons £89. T50 6600 Marks & Spencer Autumn Winter 2009.
Far Right - Per Una Autumn 2009 Marks & Spencer Agnes Cord Coat £79.50 September Sizes: 8-22.
Soutache appliquι, cord braiding, frogging, cuff, epaulette trims or gold twist fringe, can add style to woman's military coat. Striped grosgrain medal ribbons, ship-shape cut, and well balanced buttons in uniform rows, are all features of women's military coats. Any or all of these decorative elements help create a classy military inspired piece.
Constructional touches include double or single breasted placement of buttons, or cord frog fasteners or Chinese soutache button balls. Both these coats right show use of decorative frogging and this gives a Hussar military styling to the women's coats.
Right - Black Short Military Jacket, £65, €95. Wallis Black military coat, £90/€140. Both pieces Wallis Autumn 2009 Winter 2010.
Collar styles can be neat stand or funnel shaped narrow, and the lapels can be wide, sharp or round. Asymmetric front flap fastening and storm flaps add a military air to any piece.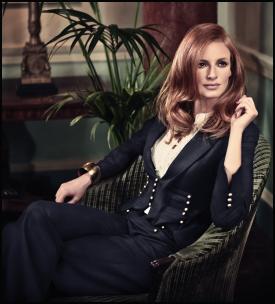 Whilst epaulettes are the most obvious source of further decoration, shoulders, sequins, crystals and piping are micro fashion trend extras of the moment. Notice how button placement adds constant variety to military coats.
This military Jacket left is from Kaliko and uses small repeat rows of buttons combined with sharp fitted tailoring to make the military statement.
Midnight Military Jacket, Ivory Frill Pleat Blouse, Midnight Military Trouser. Jacket £140/€200, Blouse £50/€75, Trouser £80/€115 Kaliko Autumn Winter 2009.
Coat fabrics such as thick wool Melton cloth, cashmere, leather, denim, serge, corduroy, velveteen, velvet, and moleskin each make wonderful military style coats. Designer military jacket, short coat or long coat, vintage military coat or charity shop bargain, just take your pick - military is now a classic fashion style.
Military coats, jackets, blouses, and now military knitwear, add a new seasonal twist when coat lengths, sleeves and lapels are each adjusted in line with other fashion trends.
Above Left - Military Button Coat £74.99 - Blazers and Coats at River Island Clothing Co. Ltd.
Above Right - Autograph Navy Military Buttoned Coat £69. Marks & Spencer Autumn Winter 2009 - T50 20001A Marks & Spencer Autumn Winter 2009. Both coats have high stand necklines making them winter warmer coats ideal for wear with pants or jeans.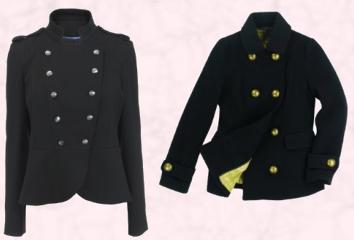 Above Left - Black Military Style Cropped Jacket £35 Sophie Gray at BHS Womenswear - Sophie Gray @ Bhs Autumn Winter 09.
Above Right - Quality Black Buttoned Marching Band Wool Military Coat From Boden. This coat has a contrast lining and is also available in a fabulous tone of purple and red UK sizes 8-18.
See more on women's military coats.
‡
Military Jackets
These military jackets also discussed in the wardrobes tips page are shown here again in, but with bigger picture size as the detail is interesting.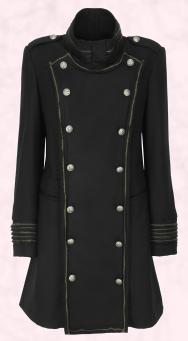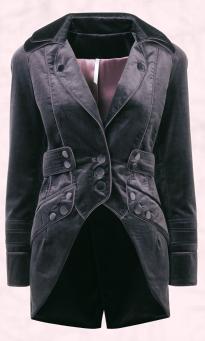 Above Left - Double breasted coat - Per Una Nikita Coat £120.00. In store: October sizes: 8-18. Per Una Autumn 2009 at Marks & Spencer.
Above Right - Velvet Military Style Smoking Jacket £65/€105. Dorothy Perkins AW09 - DP COLLECTION @ Dorothy Perkins.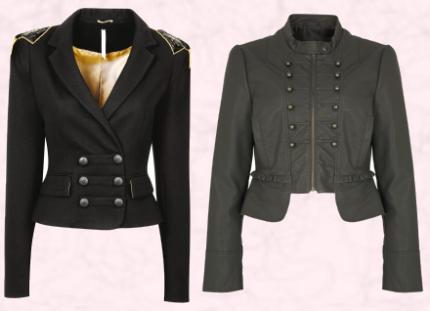 Above Left - Military Black Cropped Trophy Jacket £60/€95. DP COLLECTION @ Dorothy Perkins AW09.
Above Right - Cropped Military Jacket £30, AW09. G21 George at ASDA.
As you can see there is so much variety in women's military coats. Military pieces can look quite simple or get a designer touch like the piece below by John Galliano and which take it out of the ordinary. Denim is also a perennial favourite in every age group now, so of course some military jackets must be made in denim!
Below Left - Current Elliott Denim Military Jacket at Harvey Nichols.
Below Right - John Galliano Trompe L'oeil Military Piece.

On this page I have concentrated on the main Autumn 2009 Winter 2010 in women's military coat trend items that you should at least consider when planning your wardrobe. You have been reading an original article on women's military coat fashion by Pauline Weston Thomas only for publication on www.fashion-era.com ©
...(v4r)
TK Maxx say PLEASE NOTE THAT STYLES VARY PER STORE. This means the coat shown on this page may or may not appear in your local store.
PR INFO - TK Maxx
TK Maxx is an off-price retailer that sells designer and high street brands in womenswear, menswear, childrenswear, gifts, accessories and homeware at up to 60% off the RRP. A concept imported from the States and tailored for the UK market, 'off-price' shopping offers a mix of predominately current season designer and high street items all at up to 60% off the recommended retail price. The amazing deals can be passed on to customers because the stores offer a no frills operation. Each store has over 50,000 items in stock and will sell one fifth of all stock every week so there's 10,000 new items arriving in store every week. This fast turnover combined with daily deliveries means that stock is always fresh. TK Maxx currently has over 200 stores around the UK and Republic of Ireland and dedicated home stores in York, Edinburgh and Kingston. To find your nearest store visit www.tkmaxx.com and sign up for hot@arrivals.co.uk for information on the latest special deliveries.
Date added 20 August 2009 - Ref:P.744.
Copyright of images courtesy of Prshots, IFTF, Swarovski, Dorothy Perkins, BHS, Boden, Dorothy Perkins, Marks & Spencer, Harvey Nichols, Wallis, French Connection, Monsoon, Kaliko, River Island, T.K.MAXX, Matalan, George at Asda.
If you like this page then please share it with your friends
---
--Link--
For more information on ladies and teens fashion trends go to:-
Archived Sections
Custom Search
About Fashion-Era.com
Fashion-Era.com looks at women's costume and fashion history and analyses the mood of an era. Changes in technology, leisure, work, cultural and moral values. Homelife and politics also contribute to lifestyle trends, which in turn influence the clothes we wear. These are the changes that make any era of society special in relation to the study of the costume of a period.

Fashion-Era.com can take no responsibility for any information on the site which may cause you error, loss or costs incurred from use of the information and links either directly or indirectly. This site is owned, designed, written and developed by author: Pauline Thomas and Guy Thomas. This site is designed to be viewed in 1024 X 768 or higher.
ALL RIGHTS RESERVED. Fashion-era.com reserves the right to add or delete information, graphics and links. Copyright © 2001-2014 on all content, text and images in Fashion-era.com. Images and text in this website may not be used on other websites.
Before you write to me for costume/fashion help or information please, please consult the extensive sitemap which lists all our pages. If you still cannot find the answer after searching the site, then before you email me, please consider if you are prepared to make a donation to the website.
Donations
Reader's donations help this site flourish, in particular donations encourage me to write more articles on fashion history as well as current trends. PayPal allows anyone with a credit card to donate easily and securely. You may donate any sum you feel appropriate.