Festival Maxi Dress Fashion for 2010
This page reviews maxi dresses designed to be worn at summer outdoor events.
The Maxi Dress - Fashion History Context


In fashion history terms, a woman's maxi dress is once again an acceptable day-wear, suitable as a transition piece for informal wear in many social situations. The maxi is not the same as a long structured embellished evening dress, which is intended solely for post cocktail and red carpet moments. However, the right maxi dress can also be worn from morning till night.
In simple terms a maxi is an ordinary dress, but made to about ankle length.
A 2010 maxi dress should not be confused with a formal long gown. Correctly selected a maxi is a piece that may bridge fashion gaps in your wardrobe. Maxi fashion trends are here.
Take a good look at this white tiered maxi dress with gold coins, because it has been a top seller at Internacionale. Wearers report that it is comfortable, feminine, cheap and cheerful and they like the shape and the unfussy plain fabric. The pure white dress, see far right image, is a summer garment that worn on a bright sunny day or on a tropical holiday, it would take you through a busy day from dawn to dusk.
Near Right - Internacionale White and Gold Coin Maxi Dress £20 - Internacionale SS10 Clothing - Stockist Tel: 0141 552 2020.
Right - White Maxi, Tan Belted Metallic Shimmer Maxi Dress £42 - Jane Norman Summer 2010.

These ditzy floral maxi dresses immediately below are not too overdressed and don't especially look like evening maxis - they all pass as summer daywear and festival wear. They can take you easily from day to casual party.
Small pinhead flowers, ditsy, ditzy, dimity, dotty, dollybird, prints inspired by floral fabrics of the past have led young designers like Erdem to concentrate designing afresh, glorious floral prints that pay homage to other fashion history eras. Right - Erdem Fabric Print.
Prairie Cowgirl is one of this summers fashion trends.
Some of the prettier translations include ditsy floral print maxi dresses as well as pretty scarves and floaty tops. Dimity prints, soft dainty little frills or flowing border print skirts can be teamed with boots or gladiator sandals. Then it's easy to pull the prairie girl outfit together with leather accessories, natural cord or crafted jewellery. The soft muted tones of these prints below are in contrast to the intense brighter full blown cabbage rose and viola looks from designer Erdem or the Mad Men knee length frocks.
Left - River Island Festival Prairie Look - Floral Print Coco Maxi Dress £44.99. Vintage Twist Belt £14.99, Dickens Boots £74.99, Vintage Wayfarers £16.99. River Island Stockist Tel: 0208 991 4904.
Centre Left - BHS Ditsy Floral Maxi Dress £45 - BHS SS10 Womenswear Stockist Tel: 0845 196 0000.
Centre Right - ASOS Floral Rose Print Maxi Dress - ASOS June Clothing £50.
Far Right - Festival Fashion - Warehouse Traveller Mixed Floral Jungle Print Maxi Dress £85/€110, Lace Waistcoat £35/€46, Bag £28/€36 - Warehouse Spring 10.

Details of the ditsy floral prints from the 2010 maxi dresses above.
Above Left - River Island Floral Print.
Centre Left - BHS Ditsy Floral Print.
Centre Right - ASOS Floral Rose Print.
Far Right - Warehouse Floral Print.
These soft ditsy prints are mellow but without any jarring, and they blend in with earthy tones of the drying leaves and vegetation found in the natural countryside. These gentle layered looks lend a feminine and semi rustic ambiance to your wardrobe particularly for festival events. Electric colours that look fine under a Mediterranean sky can be perceived as shocking on a dull cloudier day. Whether Hay-on-Wye or Glastonbury do take account of our volatile British summer weather and select fabrics accordingly.
Get set for your festival moment now with these dresses from Miss Selfridge. They capture the summertime relaxed traveller gypsy fashion trend.
Tiered gypsy Boho skirt elements have now found new life in the romantic look maxi dresses. These tiered styles here are just an extension of the exotic gypsy skirt beloved by so many women in the last decade.
Most of these tiered shirred dresses come with detachable shoestring or fixed spaghetti straps, like this mauve border tier maxi left. The model far right wears a girly tiered dress from Miss Selfridge High Summer 2010 Collections. The flat shot shows the dress shape.
...(v4r)
The constant between this section of dresses is the soft floral ditsy fabric prints with 'Little House on the Prairie' overtones.
Above Left - Miss Selfridge Shirred Maxi Dress £45.
Above Right - Miss Selfridge - Bud Tiered Maxi Dress £45/€70.
Centre Right - Dress Flat Shot Detail. All from Miss Selfridge High Summer 2010 Main Range.
Floral prints also come in brighter fulsome blooms arranged in border prints, mock patchwork and move into abstract mixes. Styles are simple, this style of maxi dress concentrates on bra cup empire-line shaped tops, bandeaus or V bodices.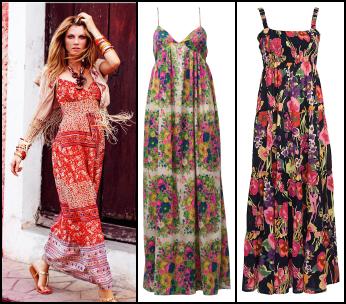 Left - Monsoon Red Border Print Folkloric Maxi Dress - Nicole Maxi Dress £150/€235. Angelina Jacket £120/€185 - Monsoon Ladies.
Centre Left - ASOS Clothing - Maxi Dress £50 - asos
Centre Right - Flower Print Dress, £28, Marisota SS10 - Marisota Stockist Tel: 08719847612.
Far Right - Oli Multi Paisley Floral Maxi Dress £35. Oli - Ref. 55G497WB9 .
In the image above you can see how the flowers move from traditional recognisable flora to the more abstract meandering floral linked thematic pattern of the maxi shown far right.
Plus size ladies clothing from Marisota
It isn't always easy finding stylish clothing suitable for curvy fashionistas. However, the plus size ladies clothing from Marisota just proves that times are changing and there is no longer the need to sacrifice catwalk-influenced contemporary design for clothing that fits shapelier women well. In addition, with some simple steps, finding that perfect wardrobe that makes you feel comfortable and look great is a doddle.
The first rule of thumb when shopping is to bear in mind your body shape and the type of clothing that tends to suit your figure – know your body and know it well. Identify any 'problem' areas of your body that you aren't comfortable with and select garments that help with these to help conceal any lumps and bumps, for example. Alternatively, think carefully about what you love about your figure and don't hold back on embracing these and putting them on show. Have fun with fashion and experiment with this seasons trends that complement the fuller figure and enhance your favourite parts.
Tops and dresses with a sweetheart neckline are great for women with a bigger bust while tailored pieces generally flatter the figures of curvaceous beauties. Large bold prints, on the other hand, aren't as flattering for these body shapes as they tend to create the illusion of a larger surface area. If you are looking for garments with print, stick to smaller, more subtle ones. The colour white is always huge for the summer and is the perfect choice for enhancing enviable holiday tans. Opt for cutwork, lace designs and embellishments teamed with gold jewellery to achieve that ultimate look.
§
Take note of how the first tribal maxi dress below has taken on a less flowery but greater folkloric feel. The pattern has become richer with paisley showing clear similarities with exotic pattern found in carpets and fabrics of the world of foreign Bazaars.
This maxi dress on the right moves almost seamlessly into tribal colour ways and prints, check-out the safe but earthy dusty tones of natures scorched and dusty soils and leaves.




Above Left - Multi Coloured Paisley Print Maxi Dress £35 - Oli Clothing 2010 - Ref.55G497WB9.
Centre - Grecian Boho Holiday Dip Dye Eveningwear Maxi Dress £45 - M&Co Spring/Summer 2010 Ladieswear.
Stockist Tel: 0800 0317 200.
Above Right - Oli Clothing 2010 - Maxi Animal Print Festival Casual Summer Dress £35 - Oli Ref.40C458WB9.
The final long tribal maxi immediate right is from high street chain and online retailer Marks & Spencer.

Right - Marks & Spencer Summer Womenswear Striped Tribal Print Silk Maxi Dress - T50 0217 £79 - Marks & Spencer Clothing 2010. Near Right - Fabric Pattern Detail.
I have recently tried on this fully lined matte silk M&S dress (T50 0217). It feels wonderfully cool, and as the silky maxi flows beautifully over the body so it smoothes over any lumps or bumps. The colouration which I liked is jazzy, murky, yet subtle and understated. You can see how the silhouette looks good, and it will suit olive and darker skins as well as those with English Rose colouring.
The front is quite low, but could be given a few modesty stitches, while the empire-back bodice is cut in a short V-back. The built up shoulder is less revealing overall than many shoestring strap dresses, and I feel more comfortable showing my arms in this maxi than others that I have tried. I think this long silk tribal print dress would suit many special day occasions, and be perfect for a holiday where sea breezes waft nearby. The cut is generous so I went down a size when I bought this dress.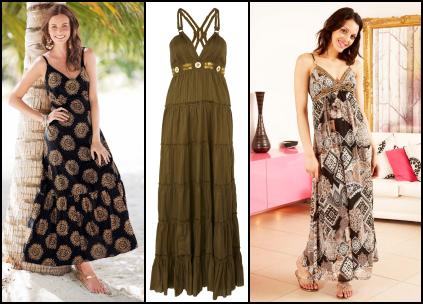 These rich burnt earth tones give an air of being at peace with nature, yet offer a subtle and glamorous approach to maxi dressing.
There are many new takes on animal prints in the summer of 2010, and people are now buying animal marking clothes that feature zebra prints as much as leopard spots. Animal based prints in murky colours merge well with daywear. They are almost the equivalent of a modern everyday marl material.
Still on the ethnic traveller theme, these three dresses use colours which would blend in easily with exotic spices, or the dusty roads of Africa.
Left - Fifty Plus Maxi Dress from £30 - Fifty Plus Spring/Summer 10. Centre - Macramι Maxi Dress £29.99 River Island SS2010.Right - Printed Gypsy Beaded Maxi Dress - Apricot 2010.


Another variation of daywear maxi dresses in 2010 is in the sleeve. They include cap sleeves and floor length T-shirt. Jersey knit fabrics really took off in the 1970s when casual wear became more the norm. Until then a T-shirt was often called a 'Sloppy Joe' simply because it was only considered ultra casual wear. Many 1970s maxi dresses were cut exactly parallel, just like this plain 2010 silhouette - see right.
The elongated jersey T-Shirt it is a practical alternative to the frilly sheer billowing maxi dress, thus is very wearable during the day. The neutrality of style, and simplicity of pattern, makes it very suitable for rock festival blend in wear, or seaside resorts in summer time.
Centre and Far Right - Stripe Corsage Maxi Dresses £25 - Oli Clothing.
All of the maxi vests above also make great roll-up / cover-ups for the beach. If you prefer a long sleeved jersey, then this dress this nautical inspired striped dress far right may be the answer.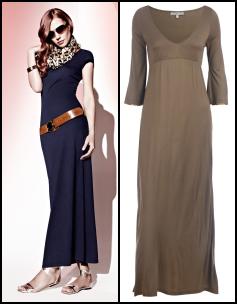 These maxis striped dresses nod to nautical themes.
These two very basic shaped maxi silhouettes are in plain fabrics and ideal for layering and accessorizing up or down. Fabric, and the patterns on it make, all the difference to where and when a woman feels she could stay comfortable wearing it all day.
Far Left - Dorothy Perkins Boho Festival SS 10 Navy Maxi Jersey Dress £18/€28, Sandals £25/€40.
Near - Heidi Klein SS10 Long Line Jersey Maxi Dress - Available at Matchesfashion.com - £145.
A maxi dress fits in with today's fashion for relaxed dressing. However, there are still some rules which all but the willow slim should consider. Do try to get it right when you follow this fashion trend.
Wearing the wrong, over voluminous maxi dress can provoke comments such as, 'when is the baby due', or snide remarks of, 'beefy boob overhang', therefore, select and style which suits your individual body shape.


When selecting jersey fabrics watch that they don't cling too much, especially if you have thunder thighs or a midriff bulge. Choose the correct (SOMETIMES LARGER) size and you will eliminate some of the problems of bulges. Just because a jersey has give does not mean you should be stretching it too much! Know your limits of when to reveal those curves.
Left - Primark Striped Jersey Maxi Dress £11 - Primark Womenswear Collection for Summer 2010.
Right - One for Autumn 2010 - Stripe Jersey Maxi Dress £35 - Available in store Mid of July 2010 BHS - AW10 Womenswear BHS Stockist Tel: 0845 196 0000.
A maxi dress is more relaxed than a formal evening gown as maxi fabric can also be used in casual daywear, summer beachwear and day occasion wear. These neutral dresses can be accessorized with glitzy bling pieces or simple leather neckwear or friendships bracelets.
Florals might suit some women, but others run a mile when they see a bunch of flowers on material. For them the only dress is a plain dress, or classic very simple patterns like the stripes below, or non-florals such as these neutral random patterns created by ink-blot grunge tie-dye effects.
Left - Black/White Maxi Bra Dress - Coast at Debenhams Womenswear SS10.
Centre Left - Matalan Be Beau Grunge Print Maxi Dress £18 - Matalan Stockist Tel: 0845 330 3330.
Centre Right - Utility Trend Tie Dye Hippy Holiday Cotton Maxi Dress £28/€45 - Dorothy Perkins High Summer 2010.
Far Left - Papaya Printed Jersey Maxi Dress £16 - Matalan Women Stockist Tel: 0845 330 3330.
The last long vest shape shown is a winning easy line silhouette and works just as well with the longer sleeves.
Individuals who reject floral materials often enjoy pattern in their clothes, but prefer quirky abstract prints or complex border arrangements.
‡
Blue Maxi Dresses
Then there are the die hard denim fans, who are forever packing several jean styles in their luggage, well, this year they can squeeze in a denim maxi skirt or dress.
So the first choice of denim for many girls will be blue - pale or dark, while others will opt for white denim maxis.
This denim bandeau dress with tiered skirts is from River Island, and girls everywhere will love it for festival events. Left - River Island Double Denim Maxi Dress £34.99. River Island Stockist Tel: 0208 991 4904 www.riverisland.com.
Another blue choice is that of Blue and white Toile de Jouey or Willow Chinoiserie prints. Right - River Island Summer SS10 - Blue Grey White Mix Folk Print Maxi Dress £34.99 River Island Summer - Stockist Tel: 0208 991 4904.
Tribal, abstract and ikat prints spoil women with the abundant choice. Blue is the base for these ikat tie dye tribal style maxi dresses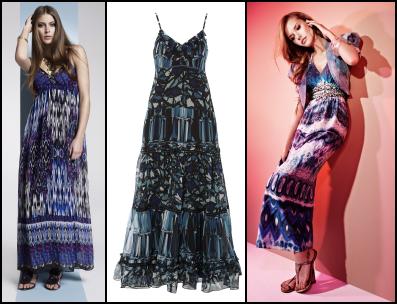 Above Left - BHS - Aztec Blue Festival Printed Maxi Dress £32. BHS SS10 Womenswear Stockist Tel: 0845 1960000.
...(v4r)

Centre - Be Beau Abstract Tiered Maxi Dress - £25 Matalan SS10 High Summer & Swimwear - Matalan Stockist Tel: 0845 330 3330.
Right - Dorothy Perkins - Summer Maxi and Jacket. SS10.
These long halter dresses below are also made in materials such as denim and cotton, making them more suited as beach and festival daywear.
The price of these halter neck dresses is between £14 and £40, and thus can be regarded as a cheap inexpensive budget maxi, but considering their attractive prints good value. As with any item, you need to try them on, and in this instance you may be very pleasantly surprised.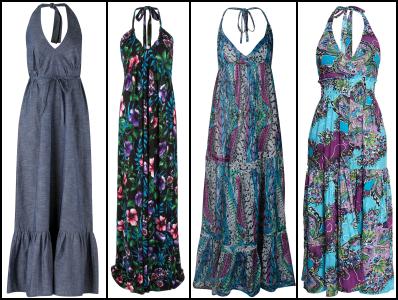 Left - Marisota Denim Maxi Halter Neck Dress - From £40.
Centre Left - NEXT Tropical Maxi Print Dress £40.
Above Centre Right - Reptile Maxi Dress £29, Miss Selfridge - High Summer 2010 Main Range.
Far Right - Purple Floral Halter Neck Maxi Dress £20 - Boohoo.com SS 10 Dresses.
An inexpensive maxi dress is ideal for the beach. You can get sun lotion or al fresco food on it and not fret too much that purchasing it broke the bank. Everyone can don a maxi dress at the beach and feel perfectly comfortable whatever their size.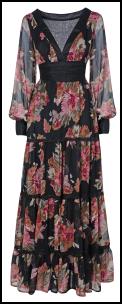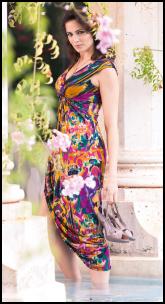 Plus sizes are catered for far better since women voiced their opinion in internet forums and at online chain store reviews. Plus sizes are getting a now better deal, and the high street has upped its game providing many larger women with clothes that are sized up from main ranges.
The first plus size maxi dress right is from Ann Harvey, the long sleeved dress will appeal to any feminine woman who loves, not only frills, but also the sleeves. Get it this autumn 2010 from Evans.
Near Right - Ann Harvey Malibu Print Maxi Dress £75 - Ann Harvey Spring Summer 2010 Stockist Tel: 01582 399856. A bright feminine holiday multicolour maxi dress ideal for the 16+, outsize and plus size woman who likes the tropical women's trends.
Right - Evans Plus Size Autumn 2010 Tiered Maxi Dress.
Big girls love butterflies. Below - Evans Butterfly Maxi Dress £59.50/€89.50.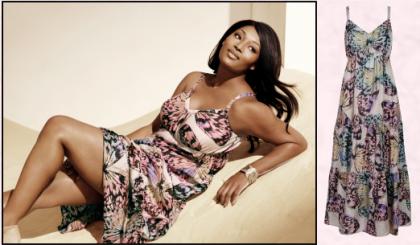 You are reading an original 2010 maxi dress fashion article by Pauline Weston Thomas only for publication on www.fashion-era.com ©
Not since the 70s has the maxi had such a true female following. Typical prints of the 1970s used ditzy Laura Ashley English country florals, Pucci or Matisse inspired abstract prints, geometric op art styles and ikat patterns.


Pockets are not an obvious feature on the maxi dresses of 2010, but may appear in autumn/winter wear dresses, which can be worn more like pinafore dresses with blouses, fine knit or jersey wear tops and sweaters. Autumn maxis are ideal for layering and will work well with autumn 2010s longer line cardigan coats.
1970s maxi pinafore dresses were teamed with long rows of pearls, or gold chains and pearl mixes. Expect to see a revival of opera or 1920's sautoir type necklaces to match the elongation of the maxi dress.
A modern jersey floral dress like this one right from Boohoo would be a good alternative. To highlight the waist add a contrast wide belt.
Above Right - Floral Maxi Dress £20 - Boohoo.com SS10 Boohoo Dresses.
Far Right - Floral Cami Racer Back Maxi Dress £29.99 - River Island Maxi Summer - River Island Stockist Tel : 0208 991 4904. The racer back long vest dress far right has a feminine hemline frill and cabbage rose print.
If you simply don't see yourself ever wearing a dress, let alone a short dress, then perhaps the best maxi for you would be to go shopping for a casual ankle long skirt such as the ones here.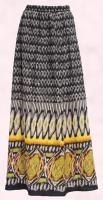 Tribal and ethnic prints like this yellow and black skirt will cheer you. Boho lives! Right - ASOS Clothing - Maxi Skirt £35.
A maxi skirt can be a good choice for both festival wear and a blessing to women with widely differing bust and hip measurements. Strong colour and pattern is a given for this years maxi skirts. Turquoise is the colour of the year for 2010, the colour of great skies and seas making it the holiday colour memory of a lifetime.
Far Left - Long Tall Sally - Floppy Straw Sun Hat £18. Ribbed Vest £14. Linen Skirt, £50. Frill Wedge £46. Skirt available at longtallsally sizes 8-20.
Right - Twist Vest in Copper - Kettlewell Spring/Summer 2010 - Stockist Tel: 01460 282917.
-------v6-------
Copyright of images courtesy of Prshots, Dorothy Perkins, NEXT, BHS, Fifty Plus, Evans, Ann Harvey, Monsoon, Debenhams, River Island, M&Co, Tesco F&F, Long Tall Sally, Matalan, ASOS, Oli, Apricot, Miss Selfridge, Mama-Licious, Marisota, Internacionale, Yogoego, Kettlewell, Matches Fashion, Boohoo.com and Beyond Retro.
Date added 14 May 2010 - Ref:P.767.
If you like this page then please share it with your friends
---
--Link--
For more information on ladies and teens fashion trends go to:-
Custom Search
About Fashion-Era.com
Fashion-Era.com looks at women's costume and fashion history and analyses the mood of an era. Changes in technology, leisure, work, cultural and moral values. Homelife and politics also contribute to lifestyle trends, which in turn influence the clothes we wear. These are the changes that make any era of society special in relation to the study of the costume of a period.

Fashion-Era.com can take no responsibility for any information on the site which may cause you error, loss or costs incurred from use of the information and links either directly or indirectly. This site is owned, designed, written and developed by author: Pauline Thomas and Guy Thomas. This site is designed to be viewed in 1024 X 768 or higher.
ALL RIGHTS RESERVED. Fashion-era.com reserves the right to add or delete information, graphics and links. Copyright © 2001-2014 on all content, text and images in Fashion-era.com. Images and text in this website may not be used on other websites.
Before you write to me for costume/fashion help or information please, please consult the extensive sitemap which lists all our pages. If you still cannot find the answer after searching the site, then before you email me, please consider if you are prepared to make a donation to the website.
Donations
Reader's donations help this site flourish, in particular donations encourage me to write more articles on fashion history as well as current trends. PayPal allows anyone with a credit card to donate easily and securely. You may donate any sum you feel appropriate.