Halter Neck Maxi Dress Fashion for 2010
This page has a range of maxi dresses with halter neckline and cutaway armhole styles. See more about other ladies maxi dresses on the main long maxi dress page.
Women's maxi dresses tend to fall into specific styles with a high percentage based on the elongation principle. The halter neck maxi uses an empire line with the seam directly under the bust, or a focused waist band insert that joins a pieced top. Many of these bodices will have simple over the shoulder spaghetti straps or built up shoulders, but some will be bandeaus or halternecks.
A halterneck bodice is usually finished in one of a few ways, a wide tie or, narrower shoestring straps that can also be tied around the neck as a halter. Alternatively, the bodice may have a column that runs up to the neck and finishes in several methods.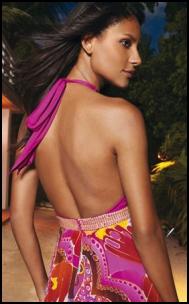 A halter variation is the more sedate cutaway armhole and faced yoke band, with the back of the dress enclosed. But beware, this maxi style can move into revealing territory. This long maxi dress above left costs £65 from NEXT DIRECTORY and comes in three size ranges, Petite, Regular and Tall.
It's cut away fairly discreetly at the front armscye, but when the model turns around there is a large expanse of bare back. If this is your choice then it's perfect for showing off a golden tan, a rich black skin, a milk white expanse of cared for well moisturised skin, or just to keep you cool. However, if you order a halterneck maxi dress online, try to ensure you get a back view so you can make your selection without wasting time if you don't wish to reveal quite so much flesh.

The dress right and below is in this category - it's a lovely dress style in a stunning colour, but at first glance it would be easy to assume the back is cut much like the front rather than the crossover back shown near right.
There is nothing worse than anticipating your online order and as soon as you open the item you realise you selected badly because you failed to see words like 'Dry clean only' or, you thought the matching cover-up was part of the outfit.
You are reading an original halter maxi dress article by Pauline Weston Thomas only for publication on www.fashion-era.com 2010 ©
Above - Model & Back View of Halter Wave Trim Mesh Maxi Dress £48.
Jane Norman High Summer 2010. Fabric sweep is not included.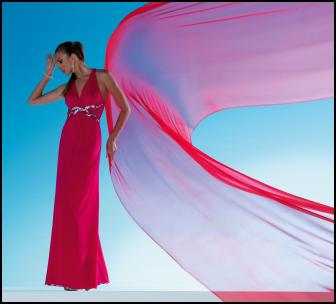 This raspberry red dress is made from 100% Nylon (Polyamide), making it an easy care fabric, which is washable by machine or hand. Caring for a nylon maxi dress
‡‡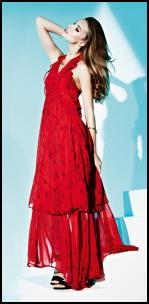 Red with red pinks such as coral and merlot wine are quite a theme in maxi wear. Sheer layers also play a part in holidaywear. The fabric type can add an exotic touch as layers flow and move with a gentle balmy sea breeze.

The front of the bodice is often a focal point for embellishment as shown in the red halter left. It may also be trimmed with self fabric frills/ruffles.
Far Left - Dorothy Perkins Frill Halter Printed Maxi Dress - SS 2010.
Near Left - Littlewoods Ireland - Elements Ring Embellished Maxi Dress - Stockist Tel: 01 811 22 22.
Halter neck styles can fasten with anything from covered buttons and loops to high neck choker or tie wraps with trailing back streamers or sash bows of any width.
It's easy to create variations on the bandeau or empire bra cup style, and make halter neckline versions that are so vibrant with richly embellished construction areas of such beauty the wearer of the dress needs no other accessories.
In the right situation maxis of other types can make sensational day and evening wear. The large canvas provided by the extra fabric in a maxi lends itself to bigger patterns and dramatic border prints.
Right - Vibrant Block Print Pink, Purple & Lemon Maxi Halter Dress - Oli Clothing.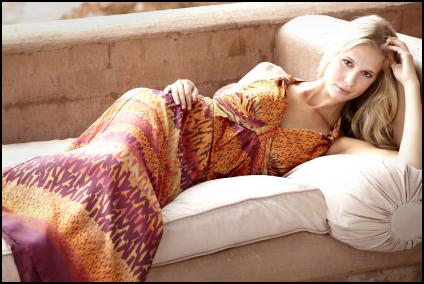 Above - M&Co Ladieswear Boutique Boho Geometric Holidaywear. Orange/Wine Geo Print Maxi Dress £65.
...(v4r)

See how exotic the fabric prints are for some of these halter neck dresses. Clearly they were intended to be worn in hot coastal resorts. Above - Monsoon Hawaii Cutaway Armhole Halter Maxi Dress £180/€305 - Monsoon Ladies SS10.
Note how some dresses have been photographed against an ocean or hotel background and you soon see that designers have taken their colour inspiration from tourists' resorts like the Seychelles.
This Photograph below is of a Seychellois market shop trader and is courtesy of the Seychelles Tourist Board. The photo helps illustrate the cultural diversities that make the essential Creolite conscience peculiar to the Seychelles of the modern world. These values within the Seychelles are historically a blend of European, African and Asian influences. The influences have passed through the Seychellois people and have created a Creolite culture. That culture brings an invigorating colour to the daily life of the Seychelles. In this case we see the market trader by her exotic fabrics which show colours and prints that are an amalgamation of the Creolite history and their individual ancestral melting pool.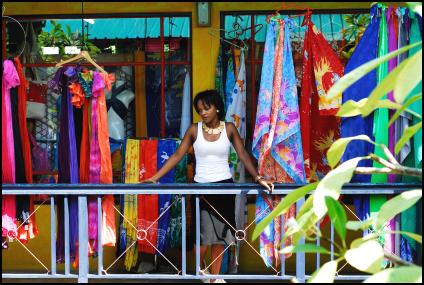 Any lover of fabrics and textile arts would find this image a glorious sight - isn't it amazing how similar some of the maxi dress prints are on this page to the vibrant fabric lengths hanging on the shop front.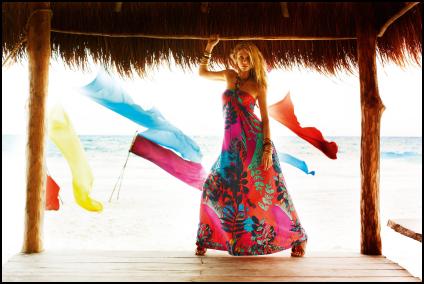 The halter bodice has several formats, but may have a column that runs up to the neck and finishes in a tie. Both the Monsoon dress above and the animal print right share this halter neckline feature.
Above - Monsoon Summer 2010 - A Maxi dress exotic enough for sizzling sunshine lazy beach days and balmy nights. Monica Print £70/€119 - Monsoon Ladieswear.
You are reading an original halter neck maxi dress article by Pauline Weston Thomas only for publication on www.fashion-era.com 2010 ©
Far Right - Budget Buy Maxi Dress - £19.99 - Animal Print Maxi Dress - Internacionale SS10 Clothing - Internacionale Stockist Tel: 0141 552 2020.
Near Right - Neutral Animal Print Halter Neck Long Maxi Dress. Miss Selfridge 2010 - Gossip Girl - Vanessa Leopard Maxi Dress £59.
Urban jungle African tribal patterns give life and energy to prints this season.
This year it's relatively uncommon to see a real animal print colour combination like these first two traditional animal print maxis, which bear a connection to original animal colours in the wild. For 2009 animal prints gained bright colour, and by Summer 2010 they merged with tribal tie dye effects to create a whole new fabric look.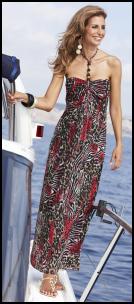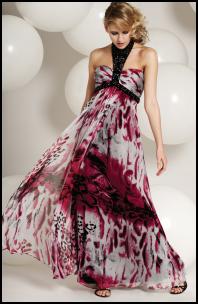 One successful new animal print colour combination is pink red merlot mixed with black/grey/white.
These sheer lightweight halterneck long dresses are the glamorous answer to a modern print in plus size cruise wear.
Right - Halterneck Animal Print Maxi Dress, From £65 - Fifty Plus Spring/Summer 2010 Womenswear. Fifty Plus Stockist Tel: 0871 231 2000.
Left - Frank Usher - DV8602 Col 552 Pink Multi Silk Animal Print Long Halter Dress With Bead Trim - Frank Usher Group AW10 Collection. This halter neck maxi dress in richer, darker colours is a transition season piece for Autumn 2010 cruise and occasion wear.
Its not surprising animal pattern prints are being used on every garment. They look great in long dresses, but equally as good in body con dresses, tops, bags or swimwear. Colour infused animal prints are easy to find in beach and holiday wear shops. This tankini, swim briefs and bikini all provide the facility to work the wardrobe and team the animal print halter tops with maxi skirts or help a woman take a short cut dressing, by being the same line as her over dress.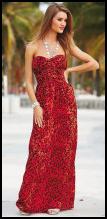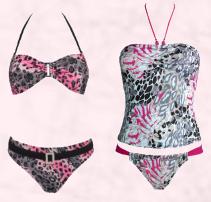 This low cost budget line swimwear is very inexpensive.
Far Right - Matalan Coloured Animal Range, Tankini £7, Brief £4 - Matalan SS10 Swimwear Stockist Number: 0845 330 3330.
Near Right - Animal Pink Print Bikini Top £6, Briefs £5, Tu Clothing - Sainsbury's Womenswear Summer 2010 - Sainsbury's Tu Clothing Womenswear Stockist Tel: 0800 636 262.
Left - Red Animal Print Maxi Dress - NEXT Directory - 2010. You could easily convert this long maxi dress from bandeau to halter style with a little simple sewing and the addition of a red or black ribbon tie. The perfect dress for a little Gok styling!
Today the carefully selected maxi dress can move seamlessly through day into evening wear. The halter neck maxi dress frequently verges on being glamorous enough in design, or with embellishment, to double up as romantic relaxed evening fashion. Designers make good use of the halter structure to incorporate the centre front neck support as a focal point for embellishment at the front of the bodice.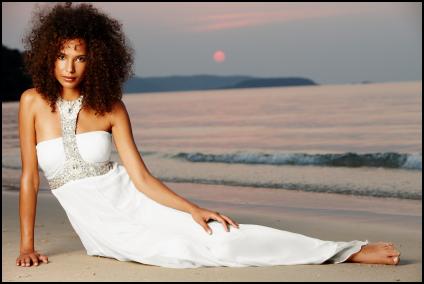 This white maxi dress is of crinkle chiffon with a heavily embellished motif halter style tie and moulded cups. Tall women will love to know that this LONG TALL SALLY maxi dress is designed to flatter them. All Long Tall Sally clothing is designed in house, carefully proportioned for women 5' 8" and above, in sizes UK 8-22; US 4-18; EU 34-48. Above - Cream Zuri Long Dress - Long Tall Sally High Summer 2010, Sizes 10-20, £100. Available at longtallsally.
As relaxed holiday wear, a long maxi dress might be teamed with simple jewellery such as coral, agate, stick pearls, wood beads, leather chokers, or shell necklaces, rather than diamonds and diamante of formal gowns.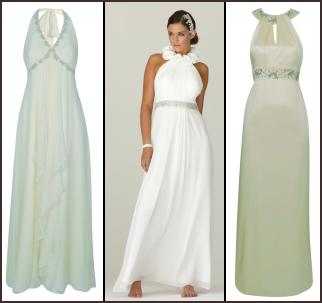 The degree of relaxation in the maxi garment will dictate where and when it might be worn, you have to decide the point at which you should opt for a more formal form of structured seamed evening wear, estate jewellery and designer accessories.
If you select a wedding maxi dress like the one above, which is suitable for evening or weddings, then the dress embellishment against beautiful skin is all you need. This really is a case of less is more - beautiful pampered skin and lovely embellishment equals simplicity in wear.
These three white/cream long halter dresses can all be used as a wedding dress, especially if it were in a hotel or civil ceremony venue.
...(v4r)
Left - Monsoon Spring Summer 2010 - White Vivette Dress £200/€310 Eire.
Centre - Frank Usher Group SS10 Dusk Collection - Destination Bridal SS10 - Style No: DT8210 Long Halter Dress With Rose Neckline.
Right - Monsoon Bridal - Cream Lillianne Dress £225/€350 Eire. Monsoon Summer 2010.
And don't forget that if it's a low cost wedding you are planning, then a maxi dress may suit your budget far better than a formal bridal gown costing thousands of pounds. Brides may also find some of the plain coloured maxis dresses available as occasion wear make good bridal party wear. For the hottest bridal colour tips for 2010 check out my page on Pantone Bridal Colours.
For impact try selecting your halter neck maxi dress in a stunning solid plain colour. These three blue long maxis look quite different from each other simply because of the contrast fabric, or the decorative embellishment.
Despite revealing less body the rich sapphire blue dress nearest with the heavy beading and cascading skirt is by far the most dramatic and formal.
Far Left - Star by Julien Macdonald - Blue Printed Long Maxi Dress - £140 at Debenhams.
Centre - Jane Norman Two Tone Blue Maxi Evening Dress.
Near - Blue Beaded Designer Evening Dress From A Selection At Harvey Nichols.
For many women of course nothing makes them happier than knowing that their long maxi is also a little black dress. But the new LBD is really the long black dress - the maxi dress.
Beading is feature of some of these white and coloured dresses. Swarovski bead embellishment is used on the best designer dresses - Look out for special pieces that use the Swarovski trademark label that states CRYSTALLIZED™ - Swarovski Elements.
You are reading an original halter neck maxi dress article by Pauline Weston Thomas only for publication on www.fashion-era.com 2010 ©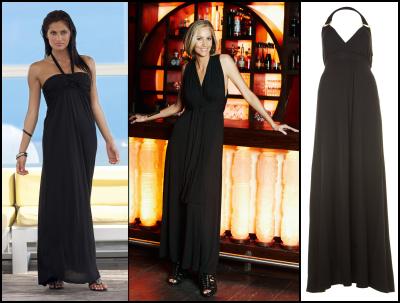 Long maxi dresses fall much more into a category where they are considered to be cocktail dresses or evening maxi dresses, rather than daywear.
These 3 black dresses focus on halter and deep cutaway looks starting with low budget dress.
Far Left - Matalan - Et Vous Pleated Maxi Dress, £14 Matalan SS10 High Summer and Swimwear - Matalan Stockist Tel: 0845 330 3330.
Centre - Lisa Butcher Models The Long Tall Sally Pakho Dress - Black Cutaway Halterneck Maxi Dress. The dress can be worn 2 ways. Sizes: S/M/L, £60. Long Tall Sally High Summer 2010 - Available in stores nationwide.
Right - Black Maxi Dress With Ring Strap by Internacionale.
A few of these long black maxi dresses will see you through to the Christmas season 2010. Note that one of the newer halter cuts for autumn is the crossover inverted 'V-band' halterneck as shown right.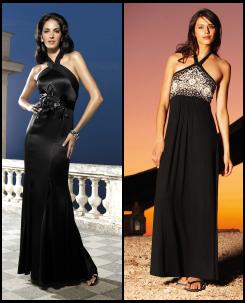 These two black halterneck evening gowns give just a little more cleavage cover for the cooler autumn evenings. As nights draw in, so black takes on a more seductive appeal, and begins to shadow the popularity of whites and the brilliant prints of spring and summer. These two dresses might be still useful in winter.
Near Right - Glamorous Black Silk Evening Halter Gown £149 - Full Length Cruise Wear Party Dress Sizes 8-20 - Elégance Spring/Summer 2010. Elégance Stockist Tel: 0870 990 9904.
Far Right - A maxi for taller women from Long Tall Sally Summer 2010. Jersey Halterneck With Embroidered Bust Panel - Sizes: XS-XL; £65. Available at longtallsally.com by phone 0844 573 6885 or in stores nationwide.
An interesting point about these two black halter cross strap dresses is that the style is moving toward the cutaway just below the armhole, which produces a different silhouette. An Autumn 2010 trend is that the more modest maxi dresses, will be one answer to some women's dislike of too much flesh on show. Since a high percentage of the female population in UK and the USA is over 45 years old perhaps designers could ponder the real needs a woman expects from a garment.
‡
This strikingly pretty printed 'Darina' dress, pictured left and right by Diane Von Furstenberg, is also floor sweeping. It has a crochet macramé racer-back top with bead embellishment. The racer back is not too risqué and could highlight lovely toned arms. Bras are easily available for this cut of this dress.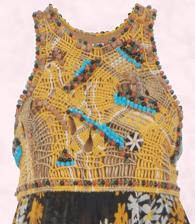 This maxi dress concentrates on cutaway armholes rather than full on décolletage. Just this hint of coverage in the front bodice top may make many women feel more comfortable, possibly even more elegant than those baring all.
For some women the chest area can become a problem area through accident, illness, sun damage, wrinkles, weight loss or post radiotherapy red veins.
Diane Von Furstenberg is an experienced designer particularly of elegant dresses. Being a woman who loves to wear dresses herself, she knows what women want from clothes. Diane understands that clients young or old may still require a glamorous dress which remains feminine, yet covers all the right parts.
The crochet macramé embellished top gives attention getting facial/chest focus without revealing breast cleavage. Made from 66% cotton, 17% polyester, 12% nylon, 5% metallic the fabric should be comfortable and remain easy wear. This romantic elegant sunny designer dress is available from matchesfashion at £732.


Cutaway armhole dresses or yoked halter neck styles offer just a little more coverage for women who prefer to leave total exposure to those who are comfortable displaying their bust. A cutaway dress offers exposure, but not all out revelation.
These cutaway armhole dresses are subtle and begin with the simplest of style based on a neckline drawstring.
The first green maxi style left, is a very good one as the drawstrings generally can be pulled tighter to show more skin or drawn out to cover up flesh. This dress can flow from wide or narrow shoulder lines easily and is helpful for those with shoulders that are much wider or narrower than the average woman. Kylie Minogue was recently photographed wearing a very similar drawstring halter neckline. This style of maxi is exceptionally easy to sew yourself.
Near Right - Monsoon Originals Green Latimer Maxi Halter Dress £200/€310 Eire - Monsoon Spring Summer 2010.
Far Right - Yogoego.com CHILLI PEPPER Embellished Silk Maxi Dress £115 - Yogoego.com Womenswear SS10.
The multi colour blues and browns abstract maxi dress next to it has a cutaway bodice, but more fixed bodice shape set on a neckline yoke band. Halter yoke bands offer lots of scope for embellishment with beads and large Swarovski gemstones, lace or Faggotting insertions.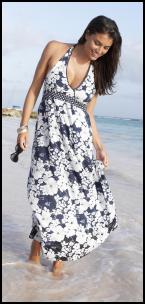 These few dresses are all between £14 and £40 and can be regarded as a cheap maxi, but considering their attractive prints good value. As with any item try them on and you may be very pleasantly surprised with the look.
An inexpensive maxi dress is ideal for the beach. You can get sun lotion or al fresco food on it and not fret too much that purchasing it broke the bank. Every woman can don a maxi dress at the beach and feel perfectly comfortable whatever their size.

The fresh navy and white halterneck maxi the model wears comes in plus sizes from Fifty Plus Spring/Summer 10.
Fifty Plus Washable Cotton Beach Maxi Dress, from £28, Sizes 12 to 32, - SS10 Womenswear Stockist Tel: 0871 231 2000.
Near Left - Another fresh summery print and an easy online buy from Boohoo. Halterneck Tribal Print Maxi Dress £25 Boohoo.com - SS 10 Dresses.
Pick up this darker print maxi halter dress right with your weekly shop at Tesco superstores or get it online.
Right - F&F Blue Peacock Pattern Maxi Dress £15 - Tesco Clothing - Tesco Stockist Tel: 0800 505555 Tesco.
These long halter dresses below are also made in materials such as denim and cotton making them more suited as beach and festival daywear. Remember for continuous weekend wear at a festival, a darker patterned fabric is less likely to show spills of drinks and food - or Glastonbury mud!
Below Left - Marisota Denim Maxi Halterneck Dress.
Centre Left - NEXT Tropical Maxi Print Dress £40.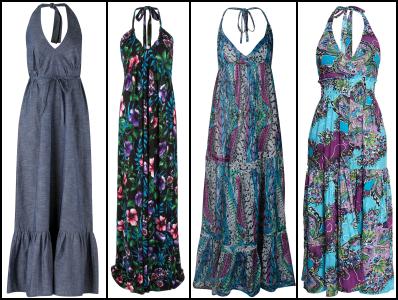 Above Centre Right - Reptile Maxi Dress £29, Miss Selfridge - High Summer 2010 Main Range.
Far Right - Purple Floral Halter Neck Maxi Dress £20 - Boohoo.com SS 10 Dresses.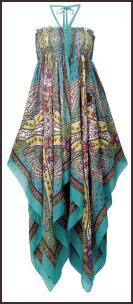 The pattern of flora and meandering paisley silky prints work well with frills. Kaleidoscopic fabric prints of exploding flowers, fireworks or cosmic star and sunbursts are some of the alternative patterns you can find on fabrics.
Right - This firework splash bandeau dress (right) has the extra support of a halter strap and is from chain store BHS. Aqua/Turquoise Halter Neck Printed Maxi Dress £30 - BHS Womenswear SS10. BHS Stockist Tel: 0845 196 0000.
Other variations include the fuller handkerchief hem skirt right. This one has a shirred bandeau and is a very cheap maxi dress at just £14 from Matalan SS10 High Summer and Swimwear. The volume skirt would work well as a maternity beach cover up. At this price it won't break the bank.
Matalan Stockist Tel: 0845 330 3330.
This raspberry red dress is made from 100% Nylon (Polyamide), making it an easy care fabric, which is washable by machine or hand. Even so, you need to take some care because the Nylon mesh manufacturers use to make light airy tops and dresses, can snag, so learn how to look after it properly. For instance, Per Una and Coast brands use mesh nylon in quite a few easy care tops.
Nylon really is easy care and will drip dry, furthermore, it requires next to no ironing if laundered with a cold water final rinse. Always read the care label inside the garment, and also invest in some good brand delicate washing cleaners e.g., Dreft, Stergene or Persil Wool & Silk. Although nylon is technically strong, mesh nylon fabric is by its nature delicate, which is one reason it looks light and feminine and women love it.
Nylon mesh and similar delicate garments, bras and underwear, benefit from being put in a pillow slip, or net bag, so the fabric does not catch and pill during washing. Turning a mesh garment inside out also gives extra protection from washing abrasion. Personally, I prefer to wash the few nylon items I own by hand as machines can cause 'piling' all too quickly. What I do is put a nylon garment to drip dry on a plastic hanger hooked in the shower/wet room/utility room, rather than using a tumble drier. If you must use a tumble drier for nylon, then you must ensure that the final cycle is cool, and remove the garment the moment it's finished otherwise creases will set in it. Because the chemical structure of nylon is similar to wool, you should never use chlorine based bleach or dry it in direct sunlight as both effect weakening of the fibre, and especially yellowing of white and cream nylon. Looked after carefully I am sure this dress will pay for itself over and over.
Model View of Halter Wave Trim Mesh Maxi Dress £48 - Jane Norman High Summer 2010. Fabric sweep is not included.
-------v6-------
You have been reading an original 2010 halter neck maxi dress fashion article by Pauline Weston Thomas only for publication on www.fashion-era.com ©
Copyright of images courtesy of Prshots, Dorothy Perkins, BHS, Jane Norman, Elégance, Fifty Plus, Evans, Monsoon, Debenhams, Wallis, River Island, M&Co, Tesco F&F, Long Tall Sally, Matalan, Harvey Nichols, ASOS, Oli Clothing, Miss Selfridge, Frank Usher, Marisota, Internacionale, Yogoego, Matches Fashion, Boohoo.com, NEXT, Sainsburys, The Seychelles Tourist Board.
Date added 14 May 2010 - Ref:P.763.
If you like this page then please share it with your friends
---
--Link--
For more information on ladies and teens fashion trends go to:-
Custom Search
About Fashion-Era.com
Fashion-Era.com looks at women's costume and fashion history and analyses the mood of an era. Changes in technology, leisure, work, cultural and moral values. Homelife and politics also contribute to lifestyle trends, which in turn influence the clothes we wear. These are the changes that make any era of society special in relation to the study of the costume of a period.

Fashion-Era.com can take no responsibility for any information on the site which may cause you error, loss or costs incurred from use of the information and links either directly or indirectly. This site is owned, designed, written and developed by author: Pauline Thomas and Guy Thomas. This site is designed to be viewed in 1024 X 768 or higher.
ALL RIGHTS RESERVED. Fashion-era.com reserves the right to add or delete information, graphics and links. Copyright © 2001-2014 on all content, text and images in Fashion-era.com. Images and text in this website may not be used on other websites.
Before you write to me for costume/fashion help or information please, please consult the extensive sitemap which lists all our pages. If you still cannot find the answer after searching the site, then before you email me, please consider if you are prepared to make a donation to the website.
Donations
Reader's donations help this site flourish, in particular donations encourage me to write more articles on fashion history as well as current trends. PayPal allows anyone with a credit card to donate easily and securely. You may donate any sum you feel appropriate.