Maxi Dress Fashion Trends 2010
The sheer variety of women's maxi dresses is the biggest clue that this is a really hot trend, which is likely to last into next year. On this page I review, the best of bandeau, floral and tiered styles, also beach and holiday maxi dresses for the summer 2010.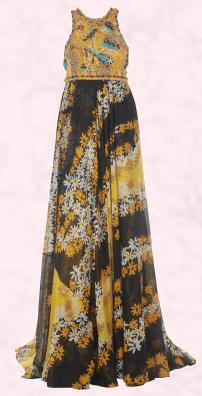 Right this strikingly pretty printed Diane Von Furstenberg 'Darina' dress, is also floor sweeping. See it here and on the halter maxi page.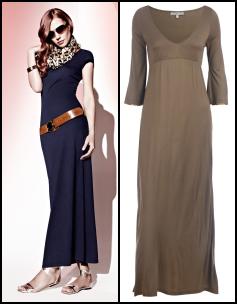 In simple terms a maxi is an ordinary dress, but made to about ankle length. A 2010 maxi dress should not be confused with a formal long gown, however, a maxi correctly selected can be regarded as a piece that may bridge fashion gaps in your wardrobe.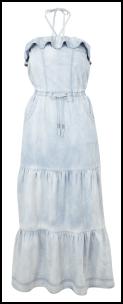 In fashion history terms, a woman's maxi dress is once again acceptable day-wear, suitable as a transition piece for informal wear in many situations. The maxi is not the same as a structured embellished evening dress, which is intended solely for post cocktail and red carpet moments. However, the right maxi dress can also be worn from morning till night.
These two very basic shaped maxi silhouettes are in plain fabrics and ideal for layering and accessorizing up or down.
Far Left - Dorothy Perkins Boho Festival SS 10 Navy Maxi Jersey Dress £18/€28, Sandals £25/€40.
Near Left - Heidi Klein SS10 Long Line Jersey Maxi Dress - Available at Matchesfashion.com - £145.
Right - River Island Double Denim Maxi Dress £34.99. River Island Stockist Tel: 0208 991 4904 www.riverisland.com.
A maxi dress is more relaxed than a formal evening gown as maxi fabric can also be used in casual daywear, summer beachwear and day occasion wear. This denim bandeau dress with tiered skirts is from River Island, and girls everywhere will love it for festival events.
In 2010 we are all far more used to wearing silk. Good silk has low creasing in wear and high quality silk was once a luxurious fabric only for the wealthy, so a dressy silk maxi can also work as bridge wear.
Every woman, whatever her age, can look good in a maxi dress. This page has a range of styles for you to consider.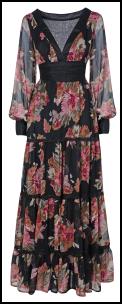 For some women the only way they will feel comfortable with this fashion is if their maxi has sleeves. Even the hint of sleeve or ruffle will please them. Retailers Monsoon and Evans have both recognised this. Evans offers this very pretty black and red floral tiered maxi dress for plus sizes this autumn 2010.
Far Right - Evans Tiered Floral Print Maxi Dress.
Near Right - Monsoon Florence Floral Rose Print Maxi Dress.
You are reading an original article on 2010 maxi dress fashion by Pauline Weston Thomas only for publication on www.fashion-era.com ©

Floral prints from large to small dominate maxi dresses. Small pinhead flowers, ditsy, ditzy, dimity, dotty, dollybird prints inspired by fabrics of the past have led young designers like Erdem to concentrate designing afresh, glorious floral prints that pay homage to other fashion history eras.
Left - Erdem Fabric Print.
These ditzy floral maxi dresses immediately below are in complete contrast to many of the bandeau beach dresses further down, and are not too overdressed for festival wear. They can take you easily from day to casual party.
...(v4r)
Cowgirl Prairie looks are one of this summer's fashion trends. Some of the prettier translations include ditsy floral print maxi dresses as well as pretty scarves and floaty tops. Dimity prints, soft dainty little frills or flowing border print skirts can be teamed with boots or gladiator sandals. Then it's easy to pull the prairie girl outfit together with leather accessories, natural cord or crafted jewellery. The soft muted tones of these prints below are in contrast to the intense brighter full blown cabbage rose and viola looks from designer Erdem or the Mad Men knee length frocks.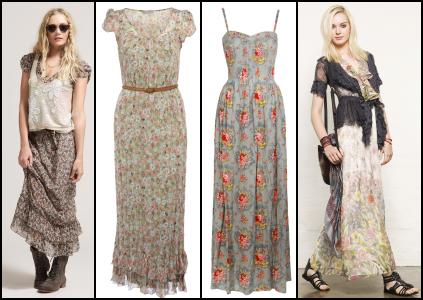 Above Left - River Island Festival Prairie Look - Floral Print Coco Maxi Dress £44.99. Vintage Twist Belt £14.99, Dickens Boots £74.99, Vintage Wayfarers £16.99. River Island Stockist Tel: 0208 991 4904.
Centre Left - BHS Ditsy Floral Maxi Dress £45 - BHS SS10 Womenswear Stockist Tel: 0845 196 0000.
Centre Right - ASOS Floral Rose Print Maxi Dress - ASOS June Clothing £50.
Far Right - Festival Fashion - Warehouse Traveller Mixed Floral Jungle Print Maxi Dress £85/€110, Lace Waistcoat £35/€46, Bag £28/€36 - Warehouse Spring 10.

Details of the ditsy floral prints from the 2010 maxi dresses above.
Above Left - River Island Floral Print.
Centre Left - BHS Ditsy Floral Print.
Centre Right - ASOS Floral Rose Print.
Far Right - Warehouse Floral Print.
These soft ditsy prints are mellow without any jarring, and blend in with earthy tones of the drying leaves and vegetation found in the natural countryside. These gentle layered looks lend a feminine ambiance to your wardrobe, and and the semi rustic style make them particularly suitable for festival events. Electric colours that look fine under a Mediterranean sky, can be perceived as shocking on a dull cloudier day. Whether Hay-on-Wye or Glastonbury do take account of our volatile British summer weather and select fabrics accordingly.
‡‡
Get set for your festival moment now with these dresses from Miss Selfridge. They capture the summertime relaxed traveller gypsy fashion trend.
Tiered gypsy Boho skirt elements have now found new life in the romantic look maxi dresses. These tiered styles here are just an extension of the exotic gypsy skirt beloved by so many women in the last decade.
Most of these tiered shirred dresses come with detachable or fixed shoestring spaghetti straps, like this mauve border tier maxi far right. The model left wears a girly tiered dress from Miss Selfridge High Summer 2010 Collections.
The constant between this section of dresses is the soft floral ditsy fabric prints with 'Little House on the Prairie overtones.
Above Left - Miss Selfridge - Bud Tiered Maxi Dress £45/€70.
Centre Right - Dress Flat Shot Detail.
Far Right - Another Miss Selfridge Shirred Maxi Dress £45. All from Miss Selfridge High Summer 2010 Main Range.
But if pastel or soft ditsy prints are not your preference, then you will be spoilt for choice since every pattern and stripe arrangement imaginable is available in 2010 maxi dresses. Larger florals of course play a huge part, and the wide range of variety within maxi print fabrics shown on this page is astounding.
Left - This patchwork tiered empire line maxi dress from Dorothy Perkins is pure 1970s flower power style. I recall in the mid 70s owning Laura Ashley flowery dresses much like both models are wearing. Fashion fades but all workable looks get redesigned. As Laver's Law reveals, all loved fashions come around again. Loose easy styles like these are very comfortable holiday wear.
Centre Right - Wallis Multicoloured Tiered Maxi £55 - Wallis High Summer SS10 Stockist Tel: 08451214520.
Far Right - Flower Print Dress, £28, Marisota SS10 - Marisota Stockist Tel: 08719847612.
Shirred bodice maxi dresses are especially easy to wear as beach garments. The shirred bodice may be on top of a tiered gathered or straight skirt. Styles can be elasticated over the bust area, or the stretchy area extends to the waist, and thus offers greater volume control and upper bodice shaping.
Other variations include the fuller handkerchief hem skirt (left) or the contrasting slimmer column skirt - see below.
Left and right - These blue and pink maxi dresses have halter shirred bandeaus and handkerchief hems. They are very low priced at just £14 from Matalan SS10 High Summer and Swimwear. They make good bikini bottom summer swimwear cover up. At this price it won't matter if you get them covered in suntan lotions.
Matalan Stockist Tel: 0845 330 3330.
The first 3 dresses below, left to right - are clearly suitable for beach day wear or easy going casual evening wear. The far right image of a lime green embellished dress is in a different maxi category. It is described by Monsoon as one from their 'Black Tie Collection', making it suitable for 5 star evening resort/cruise wear. Compare the price of the lime dress against the other low cost daywear beach maxis and you can see the different target markets.
These cotton maxi dresses are basically what your grandmother might once have described as washing frocks - wash them, wear them, wash them, wear them until of course they wear out.....




Above Left - Internacionale SS10 Clothing - Neon Spot Maxi Dress £16.99. Internacionale Stockist Tel: 0141 552 2020.
Centre Left - Blue Maxi Dress - Internacionale SS10 Clothing.
Centre Right - Internacionale SS10 - Butterfly Maxi Multi-Colour Dress With Shirring - £16.99.
Far Right - Monsoon Spring Summer 2010 - Lime Annabelle Maxi Dress £160/€250 Eire.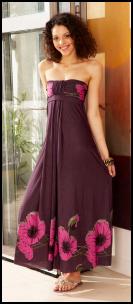 Beach dresses are beautiful, but the empire bandeau style is one to watch extra carefully. Before you venture out check how you look in a three way mirror. Avoid the usual mistakes novices make of wearing a shirred style or bandeau boob-tube top that, minus a bra, seems supportive enough on the beach, but may leave you looking too exposed or wobbly for town, and thus attract the wrong kind of comments.
If you are willow slender and neat like models shown here, a bandeau maxi dress will work for you. Far Right - Wine/Big Pink Flower Print Maxi Dress - Apricot SS10 - Stockist Details Contact Jennifer.
...(v4r)
But if you have flesh popping out of your bandeau underarms and at the back of the dress, then think twice before purchasing this style.
It's always interesting to know what stores find to be their best sellers and this white dress with gold coin sequins has been a top seller at Internacionale so I imagine wearers find it comfortable, feminine, and easy to care for, furthermore, they find the plain fabric to their liking. The blue dress from M&Co has also been one of their top maxi dress sellers this year.
Above Near Right - Internacionale White and Gold Coin Maxi Dress £20 - Internacionale SS10 Clothing - Stockist Tel: 0141 552 2020.
Right - Blue Strappy Animal Maxi Dress £50 - M&Co Ladies Spring Summer 2010. M&Co Stockist Tel: 0800 0317 200.
Florals with large exotic blooms, like the wine dress above, play to the tropical and exotic Far Eastern/Chinoiserie floral themes so popular this year. Look too for the digital, animal, ethnic tribal, tie dye and ikat prints. Prints are big news and especially so in Maxi dresses. Here are some bandeau dresses with prints to dazzle on a sunshine drenched beach.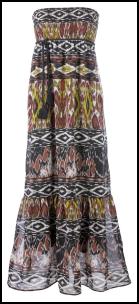 Above - Left to Right -
Above Left - F&F Tropical Print Maxi Bandeau Dress £22, Tesco - Stockist Tel: 0800 505555.
Centre Left - Internacionale SS10 Clothing - Animal Print Maxi Dress £19.99. Stockist Tel: 0141 552 2020.
Centre Right - Oli Clothing Tribal Smock Summer Maxi £60. This bandeau beach dress is casual with Boho ethnic qualities and an African animal print.
Far Right - Multi Neon Pink Purple Yellow Colour Tie Dye Bandeau Maxi Dress £20 - Boohoo.com SS10 Dresses
Also at Internacionale SS10 Clothing - Stockist Tel: 0141 552 2020.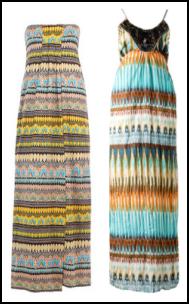 Tribal/ikat/tie-dye and geometric print dresses are well represented in every price range, and up-to-date prints are available in everywhere fashion shop or online mall. If you are seeking discounts on maxis look at some of the article links here for great offers.
The colour mixes of turquoise and burnt ochre are very Mediterranean, observe the effect in both these stripe effect maxis right. They exhibit the earthy colours of crumbling, peeling washed walls of old Italian or Maltese towns. What would look stunning against these prints would be jewellery in Turquoise, aquamarine, coral, carnelian, amber, citrine or onyx.
The nearest strapless bandeau dress is by designer Diane Von Furstenberg.
DVF - Farrin Dress - 100% Silk & Viscose/Silk Trim. It costs £430 at matchesfashion and is dry clean only. Read about a washable silk dress here.
The very similar dress with straps and embellished bodice furthest right is a bargain price maxi from Internacionale. Print Crushed Maxi Dress £24.99 - Internacionale SS10 Clothing - Stockist Tel: 0141 552 2020.
‡
It's easy to create variations on the bandeau or empire bra cup style, and make halter neckline versions that are so vibrant they need no other accessories.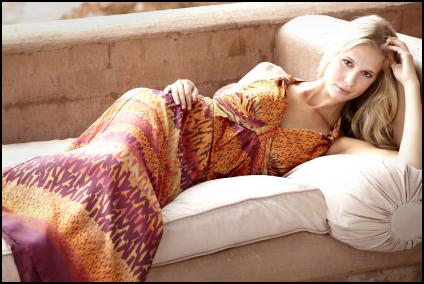 Above - M&Co Boutique Model Orange/Wine Geo Print Maxi Dress £65 - M&Co Ladieswear Boutique Boho Geometric Holidaywear.



The sheen of lustrous silky prints and rich glazed or fine cottons emphasises the kaleidoscopic fabric prints of exploding flowers, fireworks or cosmic star and sunbursts.
Right - Like these rich coral and golds here, aquamarine and turquoise are prominent colour combos in countless prints destined for the beach and marina. This firework splash bandeau dress (right) has the extra support of a halter strap and is from chain store BHS. Aqua/Turquoise Halter Neck Printed Maxi Dress £30 - BHS Womenswear SS10. BHS Stockist Tel: 0845 196 0000.
Since you'll be hiding your legs you may want to show more cleavage.
Left - Internacionale - Orange/Pink/Purple/Yellow Magic Print Maxi Dress £16.99 SS10 Clothing Stockist Tel: 0141 552 202.
Centre Left - Zig Zag Multicolour Maxi Dress £20 boohoo.com S/S 10 Dresses.
This longer body dress below is another from Long Tall Sally and aptly called Passionburst Dress!
Women's maxi dresses tend to fall into specific styles and a high percentage are based on the elongation principle of using a empire line with a seam directly under the bust or a high waistline seam. For those with small or average breasts this means that some women can go braless especially when on the beach as the seam line adds a little support shaping.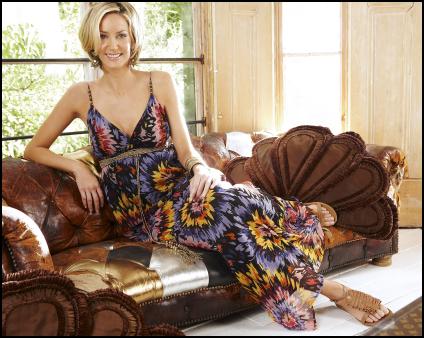 Above - Still on the exploding pattern prints theme - Long Tall Sally Spring 2010 Passionburst Dress £65 - Sizes 10-20, Casino Wrap-around Cord Belt £12, Ethnic Roulette Earrings £8; Barbarry Bracelet £10, Dream Sandal £46 by Lisa for LTS.
In 2010 the maxi dress has been readily available in fashion collections at every price point. A maxi dress can easily flow into being regarded as evening wear, but usually in a more relaxed way than a very structured long gown suitable only for a red carpet, cruise dinner or black tie function.

Left - More formal evening gown with asymmetric shoulder, emerald green plain fabric and bands of beading.
Star by Julien Macdonald - Embellished One Shoulder Grecian Dress £160/€248 at Debenhams 2010.
Unlike the formal long evening gown, which might be made of a plain, but rich satin, chiffon or brocade, a maxi dress is often made of a cotton viscose/Elastane mix. A maxi frequently has a simplicity of cut involving elastication, plain straps, empire bra cut and halter ties. Some maxis are even simpler and are no more than long extensions of a basic T-Shirt as a scoop straight long shift.


More so than a formal prom evening gown, a maxi dress makes use of bold and exotic prints, digital, large floral prints and border prints that work better on the fabric volume a maxi provides. Couple the bolder print with back exposure, such as these two pieces exhibit, and the dress goes straight out of daytime into evening looks.
The larger maxi canvas can often display a fascinating pattern with a statement sweep that a shorter dress can never quite execute. Many collections like Jane Norman, Oli, Phase Eight, Monsoon, NEXT and Debenhams have a whole range of maxi dresses. These maxis are more suited to evening than daywear, yet don't have the formality of the plain green beaded asymmetric gown. Note here how green has gained favour as a fashion colour again. What we are seeing is the full range from turquoise, sea green to emerald, from dark blue green to lime green.
You are reading an original article on 2010 maxi dress fashion by Pauline Weston Thomas only for publication on www.fashion-era.com ©
Right - Making use of the larger area of fabric to display a fulsome print.
Near Right - Blues/Greens FEVER Tiffany Maxi Dress £69.99. Fever Designs SS10 Stockist Tel: 0207 6366 3260.
Far Right - This dress by FEVER has been a best seller at ASOS. Fever Sea Mist Maxi Dress Retro Rose Wave Print £74.99 - Fever Designs SS10.
‡
In the right situation maxis of other types can make sensational day and evening wear. The large canvas provided by the extra fabric in a maxi lends itself to bigger patterns and dramatic border prints.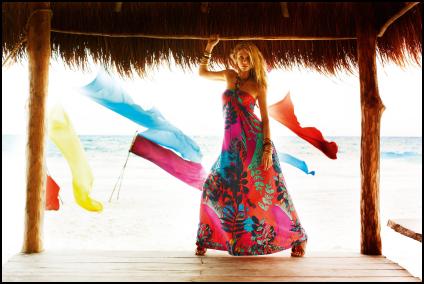 Above - Monsoon Summer 2010 - A Maxi dress exotic enough for sizzling sunshine lazy beach days and balmy nights. Monica Print £70/€119 - Monsoon Ladieswear.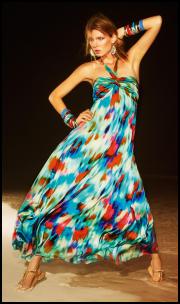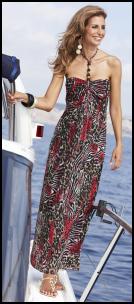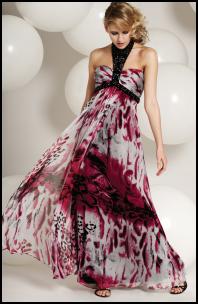 Above Left to Right:
Far Left - Monsoon Women SS10 - Blue Splodges Bolivia Dress £160/€271.
Centre - Print Maxi Dress, From £65 - Fifty Plus Spring/Summer 2010 Womenswear. This sheer lightweight halter neck long maxi is the glamorous answer to a modern print in plus size cruise wear. Fifty Plus Stockist Number: 0871 231 2000.
Right - Frank Usher - DV8602 Col 552 Pink Multi Silk Animal Print Long Halter Dress with Bead Trim - Frank Usher Group AW10 Collection. This maxi dress in richer darker colours, is a transition season piece for autumn 2010 cruise wear.
Today a maxi dress can verge on being glamorous enough in its design or embellishment to double up as romantic relaxed evening fashion. As relaxed holiday wear, a maxi dress might be teamed with simple jewellery such as coral, agate, stick pearls, wood beads, leather chokers, or shell necklaces, rather than diamonds and diamante of formal gowns. The degree of relaxation in the maxi garment will dictate where and when it might be worn, you have to decide the point at which you should opt for a more formal form of structured seamed evening wear, estate jewellery and designer accessories.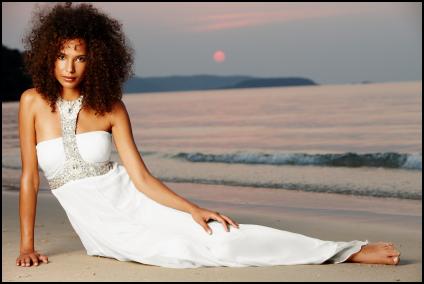 Above - Cream Zuri Long Dress - Long Tall Sally High Summer 2010.Colour: Cream, Sizes: 10-20, £100. Available at longtallsally by phone 0844 573 6885, or in stores nationwide.
This dress is of crinkle chiffon and has a heavily embellished motif halter style tie and moulded cups. Tall women will love to know that this maxi dress is designed to flatter them. All Long Tall Sally clothing is designed in house, carefully proportioned for women 5' 8" and above, in sizes UK 8-22; US 4-18; EU 34-48.
If you select a dress like the one above, which is suitable for evening or weddings, then the dress embellishment against beautiful skin is enough in itself.
Swarovski bead embellishment is used on the best designer maxi dresses - Look out for the Swarovski trademark label that states CRYSTALLIZED™ - Swarovski Elements.
This strikingly pretty printed 'Darina' dress, pictured left and right by Diane Von Furstenberg, is also floor sweeping. It has a crochet macramé racer-back top with bead embellishment. The racer back is not too risqué and could highlight lovely toned arms. Bras are easily available for this cut of this dress.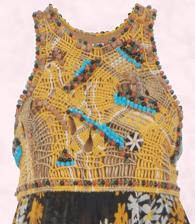 This maxi dress concentrates on cutaway armholes rather than full on décolletage. Just this hint of coverage in the front bodice top may make many women feel more comfortable, possibly even more elegant than those baring all.
For some women the chest area can become a problem area through accident, illness, sun damage, wrinkles, weight loss or post radiotherapy red veins.
...(v4r)
Diane Von Furstenberg is an experienced designer particularly of dresses. Being a woman who loves to wear dresses herself, she knows what women want from clothes. Diane understands that clients young or old may still require a glamorous dress which remains feminine, yet covers all the right parts.
The crochet macramé embellished top gives attention getting facial/chest focus without revealing breast cleavage. Made from 66% cotton, 17% polyester, 12% nylon, 5% metallic the fabric should be comfortable and remain easy wear. This romantic elegant sunny designer dress is available from matchesfashion at £732.


Cutaway armhole dresses or yoked halter neck styles offer just a little more coverage for women who prefer to leave total exposure to those who are comfortable displaying their bust. A cutaway dress offers exposure, but not all out revelation.
These cutaway armhole dresses are subtle and begin with the simplest of style based on a neckline drawstring.

The first green maxi style left, is a very good one as the drawstrings generally can be pulled tighter to show more skin or drawn out to cover up flesh. This dress can flow from wide or narrow shoulder lines easily and is helpful for those with shoulders that are much wider or narrower than the average woman. Kylie Minogue was recently photographed wearing a very similar drawstring halter neckline. This style of maxi is exceptionally easy to sew yourself.
Far Left - Monsoon Originals Green Latimer Maxi Halter Dress £200/€310 Eire Monsoon Spring Summer 2010.
Near Left - Yogoego.com CHILLI PEPPER Embellished Silk Maxi Dress £115 Womenswear SS10.
The multi colour blues and browns abstract maxi dress next to it has a cutaway bodice, but more fixed bodice shape set on a neckline yoke band. Halter yoke bands offer lots of scope for embellishment with beads and large Swarovski gemstones, lace or Faggotting insertions.
Finally this multi red exotic flower maxi from Phase Eight has a high back neck, but with a linear back keyhole split. The dress requires a light delicate machine wash, making it good for holiday packing, cruise wear and breezy open decks.
Right - Phase Eight SS10 - Martina Reds Maxi Dress - £99.
Maxis also customarily feature exotic and ethnic prints, or hints of the mystique of Morocco in their design. The original loose flowing robes/kaftans included djellaba, jalabiya and muumuus. These had African, Eastern or South Sea origins and featured native markings in the patterns. Many companies have produced prints based on abstract African and tropical origins.
A maxi dress can be loose and flowing to give ease of movement, but is not as shapeless as a Kaftan. If you feel trussed up in your maxi dress then its probably more likely to have morphed into a formal gown.
Below & Right - Monsoon - Simply Gorgeous Kaftan Style Butterfly Multi-Colour Summer Dress £55/€93 - Inspired by Miranda Sex and the City 2. This lovely maxi dress is low cut, but has the benefit of a kimono sleeve giving good shoulder and chest cover up, a design factor that makes many women whatever her age group feel more comfortable.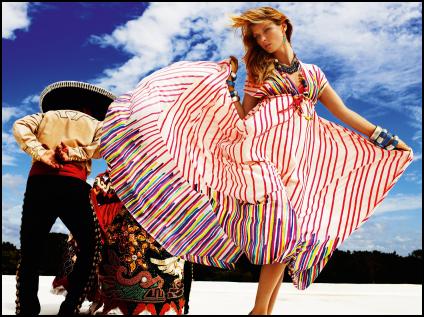 You are reading an original article on women's maxi dress trends for 2010 by Pauline Weston Thomas only for publication on www.fashion-era.com ©
Because a maxi is frequently designed with day-friendly materials like cotton, seersucker/crinkle fabrics or fluid jersey, it is also very suited to beach wear. The fact that many companies have chosen to photograph their maxi dresses on beaches suggests that this is where they think the buyers should be wearing the majority of this type of maxi dress.

Right - French Connection Summer 2010 Watercolour Wonder Maxi Dress £100 - French Connection Ladies Coloured Draped Floor Length Full Length Jersey Striped Beach Maxi.
This beach maxi is a wrap dress, and so very practical for a quick covering up of swimwear. It may also suit those feeding mums to be who want an easy wrap dress. See true maternity maxi dresses suitable for mothers to be below.
Women too often choose the wrong maxi for the wrong venue. Note that a beach maxi should be kept solely for resort wear. You should think twice before wearing a beach maxi in your local town or city.
A beach maxi is designed for the beach because it makes for an all over holiday wear cover up, protecting legs from too much sun, and giving comparative modesty against the brevity of swimwear alone, when off beach at the nearest resort bistro or taverna. As beach dresses are über casual they mostly expose a lot of upper flesh and sometimes it can be flabby. On anyone, but the willowy slim, 'braless beefy boob' overhang is a comfortable, but not always good look. It is easily as bad a fashion faux pas as a muffin top roll. The general public out shopping, do not want to see yards of flesh overhanging elasticated tops. Beach maxis should remain in holiday surroundings or go no further than your own garden. Bandeau beach dresses and shoestring or spaghetti strap dresses are best left for the beach. Let's get this in perspective - the modern way to wear a prom dress in the day is usually with a simple jersey or other fine layering top beneath it - enough said!
Not since the 70s has the maxi had such a true female following. Typical prints of the 1970s used ditzy Laura Ashley English country florals, Pucci or Matisse inspired abstract prints, geometric op art styles and ikat patterns. This Beyond Retro vintage maxi 'Summertime Jumpsuit with Wild Summer Print' shown left right has bold flowers in true 1970s flower power style. Beyond Retro Womenswear - Vintage One-Off Pieces Beyond Retro Stockist Tel : 0207 613 3636.
Left - Original vintage 1970s maxis jumpsuit dress from Beyond Retro.
Maxi dresses in the past frequently had pockets and were sometimes worn as long pinafore dresses. This yellow maxi is very representative of a 1970s maxi.
Pockets are not an obvious feature on the maxi dresses of 2010, but may appear in autumn/winter wear dresses, which can be worn more like pinafore dresses with blouses, fine knit or jersey wear tops and sweaters. Autumn maxis are ideal for layering and will work well with autumn 2010s longer line cardigan coats.
1970s maxi jumpsuits and maxi pinafore dresses were teamed with long rows of pearls, or gold chains and pearl mixes. Expect to see a revival of opera or 1920's sautoir type necklaces to match the elongation of the maxi dress.
A modern jersey floral dress like this one right from Boohoo would be a good alternative. To highlight the waist add a contrast wide belt. Right - Floral Maxi Dress £20 - Boohoo.com SS10 Boohoo Dresses.

Another variation of daywear maxis dresses in 2010 include those based on the sleeves, or cap sleeve floor length T-shirt. Jersey knit fabrics really took off in the 1970s when casual wear became more the norm. Until then a T-shirt was often called a Sloppy Joe simply because it was considered ultra casual wear. Many 1970s maxi dresses were cut exactly parallel with this plain 2010 silhouette.


As a less frilly less sheer billowing dress than some maxis, the elongated jersey T-Shirt it is a practical option as it is quite day wearable. The neutrality of style and simplicity of pattern makes it very suitable for rock festival blend in wear, or seaside resorts in summer time.
All of the maxi vests above also make great roll up cover-ups for the beach. If you prefer a long sleeved jersey wear dress then this nautical inspired striped dress far right may be the answer.
Left - Dorothy Perkins High Summer 2010 - Utility Trend Tie Dye Hippy Holiday Monochrome Cotton Maxi Dress £28/€45.
Near Right - Black Stripe Corsage Maxi Dress 52R478WB9 £25 - Oli Clothing.
Right - Primark Striped Jersey Maxi Dress £11 - Primark Womenswear Collection for Summer 2010.
A maxi dress fits in with today's relaxed dressing. There are some rules which everyone, but the willow slim should consider. Do try to get it right if you follow this fashion trend. Wearing the wrong over voluminous maxi dress can provoke comments such as 'when is the baby due' or snide remarks of 'beefy boob overhang', therefore, select and style for your individual body shape.
You are reading an original 2010 maxi dress fashion article by Pauline Weston Thomas only for publication on www.fashion-era.com ©
-------v6-------
Copyright of images courtesy of Prshots, Dorothy Perkins, BHS, French Connection, Fifty Plus, Evans, Monsoon, Debenhams, Wallis, River Island, M&Co, Tesco F&F, Long Tall Sally, Matalan, ASOS, Oli, Fever, Warehouse, Apricot, Very.co.uk, Warehouse, Miss Selfridge, Frank Usher, Very.co.uk, Marisota, Evans, Internacionale, Kaleidoscope, Yogoego, Phase Eight, Matches Fashion, Boohoo.com and Beyond Retro.
Date added 14 May 2010 - Ref:P.765.
If you like this page then please share it with your friends
---
--Link--
For more information on ladies and teens fashion trends go to:-
Custom Search
About Fashion-Era.com
Fashion-Era.com looks at women's costume and fashion history and analyses the mood of an era. Changes in technology, leisure, work, cultural and moral values. Homelife and politics also contribute to lifestyle trends, which in turn influence the clothes we wear. These are the changes that make any era of society special in relation to the study of the costume of a period.

Fashion-Era.com can take no responsibility for any information on the site which may cause you error, loss or costs incurred from use of the information and links either directly or indirectly. This site is owned, designed, written and developed by author: Pauline Thomas and Guy Thomas. This site is designed to be viewed in 1024 X 768 or higher.
ALL RIGHTS RESERVED. Fashion-era.com reserves the right to add or delete information, graphics and links. Copyright © 2001-2014 on all content, text and images in Fashion-era.com. Images and text in this website may not be used on other websites.
Before you write to me for costume/fashion help or information please, please consult the extensive sitemap which lists all our pages. If you still cannot find the answer after searching the site, then before you email me, please consider if you are prepared to make a donation to the website.
Donations
Reader's donations help this site flourish, in particular donations encourage me to write more articles on fashion history as well as current trends. PayPal allows anyone with a credit card to donate easily and securely. You may donate any sum you feel appropriate.