The Wedding Colour Scheme & Pantone Tools
Fashion Colour Trends for Weddings 2010
Some wedding planning companies like Confetti in UK already make it easier for brides by producing table and favour wedding colour schemes that coordinate. These two photos show two different tables from Confetti UK with cake, favour, table and drape decorations themed in blue. Looking at these colour schemes with their tints and shades I would say that it owes much to the base colour of Pantone Amparo Blue, one of this year's top fashion colours - see immediate right.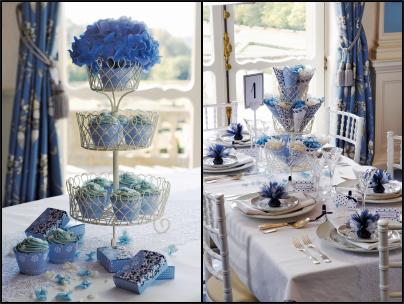 Above - Blues Bridal Table Planning from Confetti.co.uk.
Confetti.co.uk table products listed at the bottom of page - Full Confetti UK Details Below.
You are reading an original article on wedding colour schemes for 2010 by Pauline Weston Thomas only for publication on www.fashion-era.com ©
Fabric and paper are important in helping achieve colour coordination within a wedding.
And here are some more blues in bridal party garments - a deep marine based blue and some fashionable soft blue pastels. 2010 is the year of pastels and these gowns might suit main guests within the bridal party such as bridesmaids, female ushers, or for a very formal wedding, mother-of-the-bride. Long gowns are a great choice when the wedding starts late afternoon and soon moves into formal evening mood. Make sure your dancing shoes are comfortable as well as colour matched.
Below - Bridal Party Marine Based Aquamarine Soft Blues.
Note the pastel blue coordinating brocade figured waistcoat and cravat that the bridegroom model wears.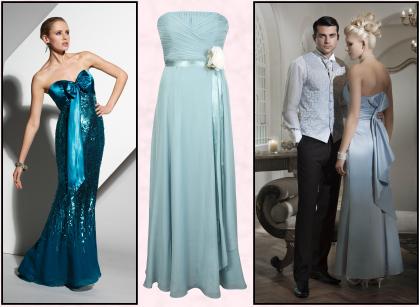 Above Left - The perfect ball gown for female ushers or evening and cruise wear.
Emerald Beaded Long Dress - Bolero Available - Frank Usher Group AW10 Collection. Frank Usher Dress Number FV998 Col 127.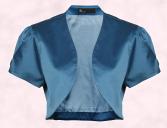 Above Centre - Turquoise Blue Long Dress £195 - Coast at Debenhams.
Above Right - BHS Wedding Collection - SS10 Men's Blue Waistcoat & Cravat £30, Men's White Wing Collar Shirt £25, Dominique Blue Obi Bow BHS Occasion Ladieswear Long Satin Dress £120, Alice Headband £12, Necklace £10, Bracelet £10.
And if a simple cover up is needed, lots of retailers with wedding sections such as BHS, have suitable boleros in high fashion colours. This bolero is a blue version, which may be just the blue you seek. Right - BHS 2010 SS10 Womenswear Bright Blue Occasion Bolero.
BHS Stockist Tel: 0845 196 0000.

This dressy embellished beaded bolero and dress are from Fifty Plus. This company caters for a broad size range, and particularly for the more mature figure of many mothers of the bride. Evening dresses with cover ups jackets are well suited to early cocktail hour weddings.
Far Right - Fifty Plus Bolero from £35, Dress from £70. Fifty Plus Spring/Summer 2010 Womenswear. UK Stockist Tel: 0871 231 2000.
See more wedding fashion garments in bright colours further down this page.
One thing worth remembering is not to give up when the item of your choice is sold out. EBay is always worth checking as the wedding market is the one fashion market where garments you buy have been worn only once.
So as you can see, just taking one colour with the vague name blue can throw up all sorts of difficulties for anyone involved in planning bridal or other special occasion events. All that is about to change now that Pantone have joined with Dessy to ease these colour coordinating difficulties.
Today look no further than the wonder of a Pantone Wedding Colour Guide. Reader, if you are planning your wedding complete with colour coordinated reception, flowers and bridal party wear, then this colour planning tool will make your life so much easier.
On Jan. 20, 2010, The Dessy Group, a leading manufacturer of bridesmaid dresses and bridal apparel, joined forces with Pantone, the global authority on colour, to launch the PANTONE WEDDING™ colour guide.
...(v4r)
Pantone is the provider of professional colour standards for the design industries. In 2010 it has produced the ultimate colour reference tool for brides and wedding planners. The PANTONE WEDDING colour guide is part of PANTONE WEDDING, a collection of colour tools that make it easy for a bride to achieve a perfectly colour-coordinated wedding for any year.
Alan Dessy, chief executive officer of The Dessy Group has said "Since the launch of PANTONE WEDDING, we have been inundated with calls from other wedding vendors." He continued to note "The colour guide is the reference tool the wedding industry has been waiting for to connect and coordinate wedding products and services. Wedding vendors, brides and all wedding professionals now have the ability to communicate and match colours quickly and accurately from day one of the planning process."
Laurie Pressman of Pantone hopes that with the PANTONE WEDDING colour guide, brides will be empowered with a professional colour tool to select, communicate and match their wedding colours with confidence, ease and accuracy.
Pantone's Spring 2010 guide provides inspiration for brides to develop unique colour themes. Brides-to-be can select from 194 colours within a compact colour guide. The guide will help them express their creative vision for that all-important day. The Pantone Wedding guide is small enough to fit inside a bag, consequently, the Bride-to-be can carry the Pantone guide on shopping trips to eliminate any colour guesswork and create the best colour coordination. Thanks to the PANTONE WEDDING colour guide, brides, wedding planners, fraught mothers, mothers-in-law-to-be and wedding vendors can now all speak the same colour language when matching bridesmaid and flower girl dresses, accessories, menswear, flowers, invitations and tabletop design.
According to the Pantone Press Report - The PANTONE WEDDING colour guide includes all 194 PANTONE WEDDING Colours available from spring 2010 from Bridalwear group Dessy, including PANTONE 15-5519 Turquoise, see right, the 2010 colour of the year. Chromatically arranged by colour family, each colour in the colour-on-paper fan deck is numerically referenced and named for easy identification and communication. Designed for portable use, the Pantone Wedding Colour Guide is 4¼ inches wide by 1½ inches high and 2 inches deep, with a full page devoted to each of the 194 colors.
‡‡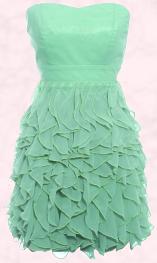 In addition to the new colour guide in the form of a fan, PANTONE WEDDING includes perfectly matched individual paper swatch cards in all 194 PANTONE WEDDING Colours for spring 2010, this means that the cards can be used on their own or in combination with Dessy's popular fabric swatches to communicate wedding colours. Each paper swatch card, measuring 8½ by 11 inches, can be divided into 14 chips with the Dessy colour name and PANTONE WEDDING colour reference number on the back, and given to bridesmaids, wedding vendors and anyone with a colour-related task. To make colour selection and coordination even easier, the Dessy website (www.dessy.com/PANTONE) features a special section dedicated to PANTONE WEDDING with interactive tools, including inspirational Style Boards, to help brides choose their wedding colours and accompanying bridal apparel. See further below for pricing and availability of the product. Please note we do not sell this product on fashion-era.com.
Manufacturers and retailers specialising in bridal and occasion party wear will find this resource a boon. Getting the exact shade of aquamarine, jade, mint or turquoise will now be a problem of the past.
Right - Rare Opulence Mint Chiffon Bandeau Dress by Rare Opulence Premium Collection.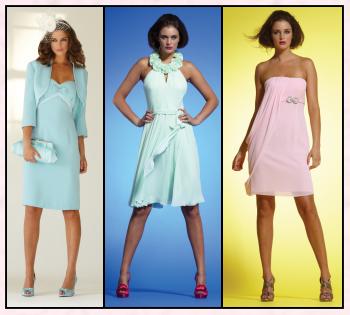 Frank Usher, Monsoon and Debenhams are all UK names that spring to mind when thinking about a great selection of fashionable garments suitable for a wedding. Typical colourful pieces on offer from retailers include these lovely outfits suitable for important guests like mother of the bride or even bridesmaids.
Turquoise and aquamarine make powerful, but pretty stand-out colour statements. This dress and jacket is pretty enough for the bride at a civil wedding, or for her attendants or guests. The halter and bandeau dress would also be ideal for glamorous weddings such as a beach wedding in hot climates and of course for showing off freshly tanned limbs.
Left - Frank Usher SS10 - Aqua Satin Back Crepe Strapless Dress & Bolero Jacket - Style No: FT52500. Centre - Frank Usher Group SS10 Dusk Collection - Style no:DT82015 Apple Green Bridesmaids Dress Rose Neckline. Right - Frank Usher Dusk SS10 Baby Pink Short Bustier Drape Detail Dress - Style no:DT8205 .
You are reading an original article on wedding colour schemes for 2010 by Pauline Weston Thomas only for publication on www.fashion-era.com ©
As well as blue tones, the raspberry pink colours stretch from candy pink to rich aubergine. The raspberry family is a popular wedding colour choice in 2010. Raspberry pink can be used to create opulent wedding settings and add a mystical Bazaar like touch.
Left - Confetti UK - Marrakesh Nights Table - Themed Wedding.
Old Metal Votive Holder £2.49, Petals £24.99, Gold Camera £2.49, Ribbon from £1.99, Chocolate Balls £9.99 for 500g, Butterfly Glass Cutout Cards £5.99 for 10, Gold Glitter Butterflies £16.99 for 24, Gold Metallic Butterfly Confetti £1.99, Gold Disposable Camera £2.45. Confetti UK 2009/2010
Whether a dress, short or long, or a gorgeous well cut trouser suit, it is possible to look glam yet blend in with the colour mood set by your wedding hosts. This pink trouser suit right is from a company called Elégance who now also show online.
Elégance Spring/Summer 2010 Shocking Pink Shimmering Jacket, £249. Sizes 10-22 (56231). Elégance Silk Top, £39, Sizes 10-22 (52591) Elégance Shocking Pink Shimmering Trousers, £119, Sizes 10-22 (56221). Elégance Sandals with decorative beads and crystals, £199 sizes 3-8 (48100). This trouser suit would suit a stylish very modern mother of bride who just does not see herself in a pretty pretty dress. It could also suit the normally jogger dressed more casual guest who wants to feel so special on an important day. Elegance Stockist Number: 0870 990 9904.
...(v4r)
Near Left Duo Image - BHS Wedding SS10 Bridesmaid on left: Merlot Short Dress £90, Alice Headband £12, Bracelet £12. Bridesmaid on right: Merlot Long Dress £120, Earrings £6, Bracelet £12 BHS Wedding Bridesmaids.
Far Right - Frank Usher Group AW10 Collection Aubergine Stretch Satin Dress with Animal Print Chiffon Sleeve - FV7625 Col 327. This dress has been designed with occasion wear for the ushers or mother-of-the-bride in mind.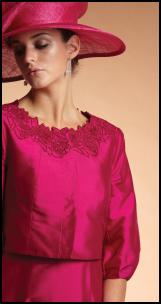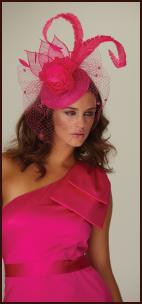 People have different views of how a Mother-of-the-bride should dress for a wedding. I think in reality it depends on the woman and her own style. Some women will look best in formal outfits in luxury fabrics like this hot peony pink Frank Usher outfit left.
Others will look more at home in a dress with fantastic shoes and bag, preferring a fascinator to a hat or just having beautifully groomed shining hair. These days headwear is not obligatory at weddings, and for evening functions a hat can quickly become superfluous.
But if you want to have fun with your outfit and take advantage of the fact that weddings, Ascot or other Ladies Days are some of the rare occasions today when we can indulge in a little fantasy hat dressing up. If you are a hat lover then blow caution to the wind and dress to the nines.
Both these rich pink peony garments are by wedding garment specialist Frank Usher from their 2010 collection. Coterie, Dusk and are all ranges from the Frank Usher Group.
Left - Mother of the Bride - Frank Usher Group SS10 Collection Coterie SS10 :Style No. CT839 Peony Dupion Silk Strappy Dress & Bolero Jacket.
Far Right - Frank Usher SS10 Collection Style No: FT7614 Peony Stretch Satin Short Asymmetric Dress - One Shoulder Bow.
Pink is always a favourite choice for weddings, not just for the bridesmaids, but also for the guests. More neutral outfits that will also make everyday wear can be jazzed up and enlivened with bolder, brighter accessories like this soft pink corsage which is so versatile! It can be used as a hair accessory and a brooch.
Pink Silk Flower Corsage - £10 From Bags of Sparkle Jewellery - Stockist Number: 020 8296 9939 or www.bagsofsparkle.com.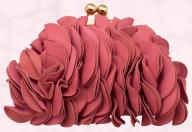 Or if your pink has more red in it then add a touch of coral pink with this petal ruffle clutch bag or even mix and match and clash bold brights. It is a bag that will get conversations going it's so distinctive. At just £29.99 from River Island SS10 WW Collection it is also quite good value for money.
River Island Stockist Tel: 0208 991 4904.
Pink has such a broad range from the softest nude tones to rich vibrant fuchsia. These short dresses are each very different within the pink range and each is occasion wear from the UK high street and also available online.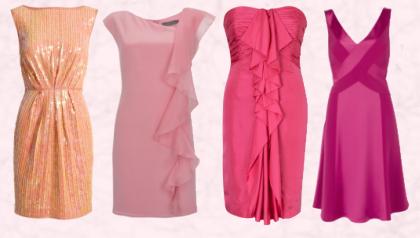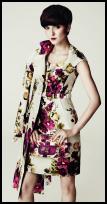 Above Left - Monsoon Summer Cocktail Party - Fusion Oops Dress £90/€153 Peach Pink Sequin Party Dress.
Centre Left - Super Ruffle dress, £75 at Mint Velvet SS10 Collection. Evening Fuchsia Occasion Pink Shift Dress.
Centre Right - Coral Pink Dress by Coast at Debenhams Summer Collections.
Far Right - Pink Autograph Dress £59 Marks & Spencer Main Occasion Range.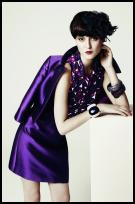 If a short dress is your occasion wear of choice then consider a matching dress and jacket or a Knee coat. Two piece dressing is always so easy, and when it is in a rich lush fabric like this Hobbs purple outfit who could resist.
If you select a floral frock or maxi dress, you would not be out of place this year. Just make sure that the fabric is good quality and the print flattering. Imagine how you will view the photos in a decade or two so make sure your outfit is the one you'll remember for all the right reasons, not the wrong reasons.
Above Right - Still in the pinks but with a rich rose print. Stunning Dress £199 and Mac Coat £249 from Hobbs Limited Edition Collection. Hobbs say "This printed silk wool dress, is exquisitely seamed to mould to the body. A statement zip closure appears at centre of the back."
Near Right - Hobbs Two Piece Purple Dress & Jacket. What a marvellous rich tone of purple, enhanced by the shimmering finish of the silken material. A young mother-of-the-bride would have heads turning with envy if she wore this ensemble.
‡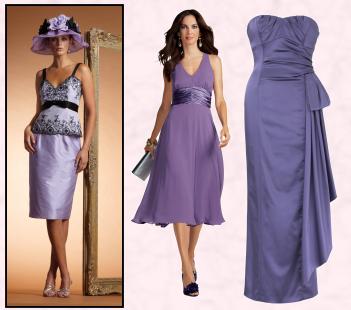 Older mothers may look for more length in their pieces. Lots of older women dislike their knees which get a bit more knobbly and fleshier with age. Likewise some women carry excess water in midlife so flowing styles and tops with looser midriff designs help cover a multitude of figure flaws. This may also be a time when Sculptz and Spanx products earn their keep.
If your shoulder and décolletage are still good, then don't be afraid to show off your best features. Enhance your best bits and play down the less attractive parts.
Far Left - Frank Usher Group SS10 Collection - Coterie SS10 Style No: CT842 Lavender Dupion Silk 3 Piece - Jacket available.
Centre - Halter Neck Dress £65 - Kaleidoscope Spring Summer 2010 - Kaleidoscope Chiffon Evening Dress Ref.26G501WK9.
Far Right - Formal Purple Strapless Waterfall Drape Gown by Coast at Debenhams.
Statement making colours like the lilac purple mauve tones here all add a special touch at any wedding or blessing ceremony.
Purple has thrilled women for several seasons. Purple and all the soft pastel tones it produces have always been favourite colour choices for weddings. My mother had a purple velvet bridesmaid dresses at her winter wedding decades ago, and when it came to my own wedding I chose an iris colour as shown below.
Colour selection and coordination planning for your wedding has never been easier. When I planned my own wedding two decades ago I wanted blues, but not just any blue, my favourite blue and I kept referring to a small miniature iris my sister had growing in her garden border. As a result my bridesmaids' dresses were the colour of that particular little iris! I can still see that iris now, dancing in the wind.


The colour had to fit several criteria. I had been looking for a colour that looked good on both blondes and brunettes, which I liked at the time, and would still like in years to come. The colour also had to be acceptable to the young 'fussy' bridesmaids. That iris and a reel of matching sewing thread was my reference for everything to do with colours and contrasts for the wedding. On the far right is a swatch from a photo of the actual fabric, and near right is a tool picker swatch from one speck of the original. See what depth of colour variation can exist just within a small piece of fabric.

Describing a precise colour is hard. Is my iris colour shown above, anything like the iris flower you visualise?
In fact the lower square to the right is actually part of a petal of a real iris within the true blue iris colour range I selected, rather than the purple based deeper tone of thick velvety rich purple irises.
My point is that colour matching is difficult, because people see colour differently even without the complication of computer monitor variation, this is why Pantone colour tools are so important.
In fact the lower square to the right is actually part of a petal of a real iris within the true blue iris colour range I selected, rather than the purple based deeper tone of thick velvety rich purple irises.
See my point - colour matching is difficult and everyone sees colour differently, with bright pretty blue being no exception. Clearly the world of weddings will be easier for everyone now that Pantone has teamed with Dessy to create the Pantone Wedding Colour Planner.
You are reading an original article on wedding colour trends for 2010 by Pauline Weston Thomas only for publication on www.fashion-era.com ©
-------v6-------
PLEASE BUY THIS PRODUCT DIRECTLY FROM DESSY AS WE DO NOT SELL IT.
The PANTONE WEDDING colour guide is available immediately for U.S. $35. PANTONE WEDDING individual paper swatch cards in all 194 colors are also available for U.S. $10. Individual fabric swatches are available in 6-by-6 inch swatches or by the ½ yard and range in price from $15 to $40.
All products are available at www.dessy.com.
PLEASE BUY THIS PRODUCT DIRECTLY FROM DESSY AS WE DO NOT SELL IT.
About The Dessy Group
The Dessy Group is a leading manufacturer of bridesmaid dresses, social occasion dresses, flower girl dresses and destination wedding gowns under the labels Dessy Collection, After Six, Alfred Sung, Lela Rose Bridesmaid and Sandals Destination Wedding Dresses.
Founded in 1939 by Margot Rosenthal, A & M Rosenthal, now The Dessy Group, got its start designing bridal veils and attendants headpieces. In the 1950s, Margot's daughter Ronnie and her husband Andrew took over the business and added bridesmaid dresses to the Dessy line. Today, the business continues to thrive under the leadership of Alan Dessy and design direction of Vivian Dessy Diamond. www.dessy.com
About Pantone
Pantone LLC, a wholly owned subsidiary of X-Rite, Incorporated, has been the world's colour authority for 45 years, providing design professionals with products and services for the colourful exploration and expression of creativity. Always a source for color inspiration, Pantone also offers designer-inspired products and services for consumers. More information is available at www.pantone.com .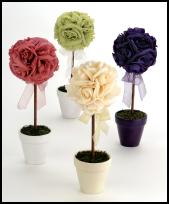 Confetti.co.uk have all your wedding and party occasion needs such as coloured or blue confetti, coloured favours, blue flowers, blue glasses, blue place settings and other special style table themes for weddings. Of course they do have many other colours a various schemes such as those shown in these artificial tree table decorations.
Something Blue Cake Stand Confetti UK.
3 tier wired filigree cup cake basket £15.99.
Cup cake wraps £5.99 for 10.
Blue table theme glasses £39.99 set of 6 white wine glasses.
Laser cut glass place cards £6.99 for pack of 10.
Laser cut favour boxes £7.99 for pack of 10.
White filigree basket cake stand £15.99.
Laser cut table number £6.99 for pack of 10.
White filigree table number holder £6.99.
Blue Hydrangea petals 70g £19.99.
Blue Bonboniere £2.99 pack of 10.
Cones £5.99 for a pack of 10 - Confetti Something Blue.
Copyright of images courtesy of Prshots, Pantone, Marks & Spencer, BHS, Jane Norman, John Lewis, Elégance, Kaliko, Hobbs, River Island, Monsoon, Debenhams, Accessorize, Monsoon, M&Co, Confetti UK, Mint Velvet, Tamaris, A-Shu-co.uk, Schuh, Frank Usher, Hush Puppies, Vera Mont, Kaleidoscope, Fifty Plus. Header Image Bridesmaid Dresses at BHS.
Date added 09 May 2010 - Ref:P.760
If you like this page then please share it with your friends
---
--Link--
For more information on ladies and teens fashion trends go to:-
Custom Search
About Fashion-Era.com
Fashion-Era.com looks at women's costume and fashion history and analyses the mood of an era. Changes in technology, leisure, work, cultural and moral values. Homelife and politics also contribute to lifestyle trends, which in turn influence the clothes we wear. These are the changes that make any era of society special in relation to the study of the costume of a period.

Fashion-Era.com can take no responsibility for any information on the site which may cause you error, loss or costs incurred from use of the information and links either directly or indirectly. This site is owned, designed, written and developed by author: Pauline Thomas and Guy Thomas. This site is designed to be viewed in 1024 X 768 or higher.
ALL RIGHTS RESERVED. Fashion-era.com reserves the right to add or delete information, graphics and links. Copyright © 2001-2014 on all content, text and images in Fashion-era.com. Images and text in this website may not be used on other websites.
Before you write to me for costume/fashion help or information please, please consult the extensive sitemap which lists all our pages. If you still cannot find the answer after searching the site, then before you email me, please consider if you are prepared to make a donation to the website.
Donations
Reader's donations help this site flourish, in particular donations encourage me to write more articles on fashion history as well as current trends. PayPal allows anyone with a credit card to donate easily and securely. You may donate any sum you feel appropriate.