Plus Size Maxi Dress and Maternity Fashion Trends 2010
Aside from the similarity in dimensions that Plus Size and maternity dresses have in common, until recently women in these sizes have been excluded from readily available fashionable dresses. However, due to demand, designers have now produced lovely maxi dresses for these larger ladies, some of which are featured here.
Right - Evans Butterfly Maxi Dress Summer 2010 - £59.50/€89.50.
Bigger women, plus size ladies and pregnant gals all want access to fashion they would wear if they were much more slender. They want what the skinny model or celebrity or WAG wears, but in their larger size. Full-figured women with a few lumps and bumps prefer clothes that glide over their faults and the maxi dress can be the answer to their prayers.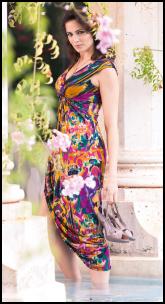 Plus sizes are catered for far better since women voiced their opinion in internet forums and at online chain store reviews. Plus sizes are getting a better deal, and the high street has upped its game providing many larger women with clothes that are sized up from main ranges.
Currently Marks and Spencer don't even list Plus Sizes in their navigation and even a search there does not pull up plus sizes. Yet take yourself to their Portfolio range and you'll see larger sizes galore in the short dress range up to size 24. However none of these larger dresses were maxi dresses. In June 2010 at the height of the maxi rush I could only find three size 20 M&S maxi dresses and one of these was bridal occasion wear.
So in many cases the quest for a good plus size maxi will need to look further afield to specialist plus size retailers and boutiques like for example Beige Plus.
The Alexon group own Ann Harvey, and this plus size maxi dress, featured to the left, will show the curves of fuller figured women. Here we have a bright feminine multicolour maxi dress ideal for the 16+, outsize woman who likes the tropical women's trends. The tropical print is stunning.
Above Right - Ann Harvey Malibu Print Maxi Dress £75 - Ann Harvey Spring Summer 2010 Stockist Tel: 01582 399856.
...(v4r)
The popularity of the maxi fashion trend has taken people by surprise. It is now an acceptable day-wear transition piece for informal wear and moves from ultra casual rough cottons to the silkiest of silks and chiffons. It is still not the same as a long structured embellished evening dress, which is in the red carpet category. You will soon be wearing the right maxi dress from morning till night and regarding it as a winning bridge piece. For plus sizes there is the added bonus that it may cover water bound legs or varicose veins. For those who hate tights the maxi is the answer.
Whilst maxis do hide the legs the majority of them focus on the bustline so this is where big girls take the goal, set and match.
You are reading an original plus size maxi dress article by Pauline Weston Thomas only for publication on www.fashion-era.com 2010 ©
Big girls love a bit of feminine flutter in frills.
Below - Evans Butterfly Maxi Tier Frill Dress Summer 2010 - £59.50/€89.50.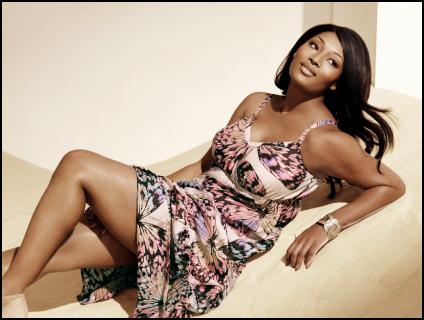 Evans are longstanding providers of fuller figure clothes and are excelling themselves at providing feminine romantic fashions that bigger women enjoy.
Once known as 'Evans Outsizes' they soon dropped the Outsize label and rebranded as 'Evans' when they realised customers hated walking around with a bag publicly declaring they were buying from a shop selling clothes for the fat.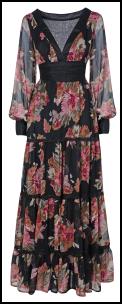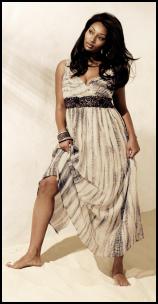 The maxi dress shown on the model above is he same garment featured at the top of this page.
Evans provides a good range of plus size maxi dresses for today's more developed young women who are much larger overall than previous generations. Incidentally, Evans also sell larger, wider footwear and underwear. When women put on weight flesh goes to every part of the body so even necklaces and bracelets are designed for fuller necks and wrists. www.evans.co.uk.
Also from Evans is this tribal print jewel dress left and shown flat. Evans SS10 Ladieswear - Jewel Maxi Dress - £65/€99.50.
Right - Evans Plus Size Autumn 2010.
Tiered Maxi Dress - This long sleeved dress will appeal to any feminine woman who loves not only frills, but sleeves. Get it this autumn 2010 from Evans.
‡‡
You may find many examples of high street stores and concessions where maxi dress ranges now extend to size 20 to 24. Whilst that may not help really large women, there are specialist ranges and boutiques that try to satisfy outsize customers. Fat women are being heard.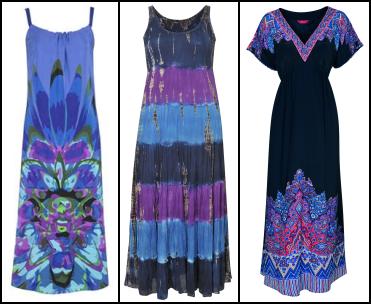 Yes I used the words outsize and fat. Plus sizes are fatter than average, even when average is size 16 and bears no relation in size to pin-thin catwalk models. In the past 2 decades marketers realised women don't want to buy clothes called outsize. These women don't think they are out of size, they are just their size. They don't need reminding they are much larger than catwalk models, they know they are 'bigger' than even the so called size 14 plus size catwalk models.
Above Left - Windsmoor Maxi Print Blue Sundress £149. Windsmoor Collections go from size 10-24 and I would say the fit is more like American sizing. windsmoor.co.uk
Centre - Evans Tie Dye Maxi Dress £35/€55. Evans collections start at UK size 14 and go up to 34.
Right - Monsoon Black Kuta Dress £70/€110 Eire. Most Monsoon clothing collections range from UK Sizes 6 to 22. The Monsoon Fusion range is to up to size 18.
A whole range of companies have begun to spring up, concentrating on serving larger ladies. These companies know there is a huge market for larger garments that women find fashionable and which pay homage to seasonal trends. Companies who ignore larger women will do so at their peril.
Fifty Plus cater for all sizes including petite/tall women who are often neglected.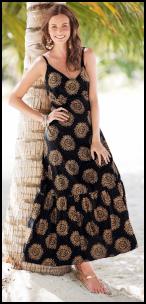 Halter neck maxi dresses are a strong trend on the beach and for cruise wear.
One successful new animal print colour combination is wine red mixed with black/grey/white. Here is the Fifty Plus glamorous answer to modern plus size maxi animal print dress cruise wear.
Near Left - Halterneck Animal Print Maxi Dress, From £65 - Fifty Plus Spring/Summer 2010 Women's Wear. Fifty Plus Stockist Tel: 0871 231 2000.
Far Left - A fresh navy and white plus size halterneck maxi from Fifty Plus Spring/Summer 10. Fifty Plus Washable Cotton Beach Maxi Dress, from £28, Sizes 12 to 32, Fifty Plus - SS10 Womenswear Stockist Tel: 0871 231 2000.
Right - Fifty Plus Maxi Dress from £30 - Fifty Plus Spring/Summer 10.
Fifty Plus carries a large range of maxi dresses including these maxis below and which accommodate larger sizes.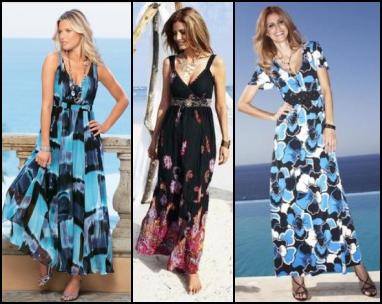 Above Left - Fifty Plus - Changes By Together Print Dress 52in Long - From £36 to £43.20. Fifty Plus say this maxi-style dress is fully lined and machine washable. Sizes 10-28.
Centre - Fifty Plus - Joanna Hope Border Print Crinkle 100% Cotton Dress in 52in/50in Lengths - £40 to £48. The dress has beautiful bead and sequin embellishment to underbust band and is hand wash. Sizes 12 -32.
Right - Fifty Plus - Joanna Hope Jewel Trim Print Dress 52in - £48 to £52.80. This 95% Polyester, 5% Elastane print jersey maxi dress has a jewel trim detail to front underbust band, short sleeves with V-neckline, self fabric back tie fastening and is also hand wash.
...(v4r)
The long tribal maxi left is from the Autograph Medina Collection at high street and online retailer Marks & Spencer. I recently purchased this dress so I am reviewing it here.
The cut is generous so I went down a size when I bought this dress. I noticed the dress goes up to size UK 18 and as its roomy in cut I believe it may even fit a neat plus size UK 20.
Despite reviewing the maxi dress on other pages, I didn't think the maxi dress was a fashion I would want to wear again, especially as I love the classic Mad Men look which suits me. Now the maxi look has gone as viral as the Boho Gypsy Skirt of the mid noughties and I decided to resist no more - I wanted one new maxi in my wardrobe. Is this going to become the established major new fashion trend of the early twentens? It's not the same as the latest must-have Houlihans (close fitting ankle zip pants) but more women everywhere will fit into maxis.
I began looking out for a silk version that could at least be worn on trips/holidays even if I never put it on in UK. I wanted a silk top fabric and washable dress that would pack well, but didn't want one that would break the bank. Knowing its ultimate use would be in a hotter country I wanted to be sure I could comfortably expose my arms without worrying about a cover up. This silk tribal maxi dress from M&S fits the bill and so I bought it online, tried it on at home with the right bra to hand and the deal was done.

Left & Right - Marks & Spencer Summer Womenswear Striped Tribal Print Silk Maxi Dress - T50 0217 £79 - Marks & Spencer Clothing 2010. It is designer inspired and part of the Autograph Medina Collection. The maxi dress feels wonderfully cool to the touch. As the silky maxi flows beautifully over the body so it smoothes over any lumps or bumps.
The colouration is jazzy yet murky. It manages an understated subtlety for a kaleidoscopic tribal print with all the tones found in natures forest floor. The images do not do the colourway justice. The understated quality in the print I think stems from the lining fabric being brown, not white. The simple elongating silhouette is every bit as good as it looks. The mixed print will suit olive and darker skins as well as those with English Rose colouring. Copper freshwater pearls, green amethyst quartz, peridot, rutilated quartz or citrine jewellery all look terrific worn with it. For a less formal look African/Indian bangles, wood beads and carved necklaces can change the final look.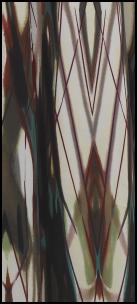 The front is quite low, but could be given a few modesty stitches, while the empire-back bodice is cut in a short V-back marginally higher than the front. The built up shoulder is less revealing overall than many shoestring strap dresses. Like many mature women I need the right armscye cut to feel more comfortable showing my arms and in this maxi I am just about happy to show them.
Whist M&S say its machine washable at 30Deg C and tumble dry, I will probably only ever hand wash my dress and let it drip dry in the shower. The less delicate items see of a washing machine the better. But if you do wash such a dress in a machine choose the silk setting and put the dress in a pillowslip or lingerie bag. Far Right - Fabric Pattern Detail.
This long silk tribal print dress would suit many special day occasions, and be perfect for a holiday where sea breezes waft nearby. The cut is generous so I went down a size when I bought this dress. Since the dress is so roomy it just about takes in plus sizes and I believe the UK 18 (the largest size available) for example may fit a neat size 20. This style could be wonderful if made up in a winter colour and with long sleeves.
One aspect of it that interested me was the fact that the lining is semi fitted and has a centre front seam, but the top fabric is loose and ample especially in the front - loose enough without the lining for someone increasing in size weekly! This means that a pregnant woman might find she could open up the centre front lining and make an adjustment to suit and close the seam up after the maternity needs were met. Of course a mum-to-be could just head straight for the maternity sections of stores and online malls.
‡
One person that will find the maxi dress or maxi skirt a dream especially on holiday is the mother to be. Looking good and comfort go hand in hand on holiday and Maxi dresses often have greater flexibility with elastication, shirring or ruching that accommodates an ever expanding waistline.
Far Right - Green Tiered Maternity Maxi Dress - NEXT Directory Maternity.
Near Left - Mama-Licious - Black Bodice Floral Skirt Maxi Dress - £35.
Available at www.asos.com
Every season there is a fashion that pregnant women can adapt to their needs. There are plenty of smocks around this year, but the maxi dress is a very comfortable option too. For women who find they retain water easily pregnant or not, a maxi dress also offers excellent leg coverage.
For pregnant women the hot maternity tip is to make sure that your maxi dress is not too long. Make sure you can see your footwear like all these maternity dress models show. Whilst you may not be able to locate your feet by looking down over your growing baby, regardless of dress length, if you cannot see your feet in a long mirror whilst wearing your maxi dress then it is too long for the situation. Falling over is not a good option so you must take care not to trip in an overlong maternity maxi dress.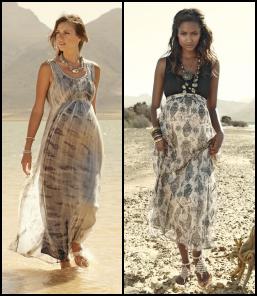 You can buy fashionable maternity maxi dresses online at retailers such as isabella.oliver.com. These garments right are both from Mamas and Papas who specialise in maternity and parenting products. Mama-Licious Maternity Maxi Dresses - ASOS.
Near Right - Mamas and Papas Summer Solstice Maternity Collection - Tie Dye Maxi Dress £70, Necklace £15. This delicate dreamy long dress, with lightweight grey layers is made from ethereal and floaty fabric. You can be both pregnant and pretty in a romantic summer sweeping maxi like this.
Mamas and Papas Maternity Mono Print Maxi Dress £70 - Glamazon Maternity Range. This pretty floaty floral print long maternity dress pick sup on the trend for sleek stylish summer tribal safari fashions. Both items - Mamas and Papas Stockist Tel: 0845 268 2000 or 1890 882 363 for Ireland.
If you are having trouble losing weight after the birth of your baby then a forgiving roomy Maxi dress will help cover many problem figure areas. The generous open bodices on many will accommodate larger busts and may even be a comfortable alternative to buttoned tops if still feeding a newborn. For more general maternity fashion links see this maternity webpage.
Whatever stage of life you are at teen, young mother, middle youth, fabulous at fifty or elegantly mature in your sixties and seventies, there is maxi dress hanging on a rail somewhere with your name on it.
You are reading an original 2010 maternity maxi dress fashion article by Pauline Weston Thomas only for publication on www.fashion-era.com ©
If you simply don't see yourself ever wearing a dress, let alone a short dress then perhaps the best maxi for you would be to go shopping for a casual ankle long skirt such as the ones here.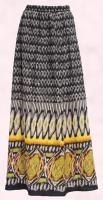 Left - Long Tall Sally - Nancy Hat, Jaco Vest, Gremada Slort and Dream Wedge. Floppy straw sun hat £18. Ribbed vest £14. Linen blend skirt with frilled hem, £50. Frill front wedge £46. Available at longtallsally.
Right - Twist Vest in Copper - Kettlewell Spring/Summer 2010 - Stockist Tel: 01460 282917.
Tribal and ethnic prints like this yellow and black skirt will cheer you. Boho lives! Right - ASOS Clothing - Maxi Skirt £35.
A maxi skirt can be a good choice for both festival wear and a blessing to women with widely differing bust and hip measurements. Strong colour and pattern is a given for this years maxi skirts. Turquoise is the colour of the year for 2010, the colour of great skies and seas making it the holiday colour memory of a lifetime.
-------v6-------
Copyright of images courtesy of Prshots, Dorothy Perkins, NEXT, Fifty Plus, Evans, Marks & Spencer, Windsmoor, Ann Harvey, Monsoon, Long Tall Sally, Mama-Licious, Marisota, Kettlewell.
Date added 14 June 2010 - Ref:P.768.
If you like this page then please share it with your friends
---
--Link--
For more information on ladies and teens fashion trends go to:-
Custom Search
About Fashion-Era.com
Fashion-Era.com looks at women's costume and fashion history and analyses the mood of an era. Changes in technology, leisure, work, cultural and moral values. Homelife and politics also contribute to lifestyle trends, which in turn influence the clothes we wear. These are the changes that make any era of society special in relation to the study of the costume of a period.

Fashion-Era.com can take no responsibility for any information on the site which may cause you error, loss or costs incurred from use of the information and links either directly or indirectly. This site is owned, designed, written and developed by author: Pauline Thomas and Guy Thomas. This site is designed to be viewed in 1024 X 768 or higher.
ALL RIGHTS RESERVED. Fashion-era.com reserves the right to add or delete information, graphics and links. Copyright © 2001-2014 on all content, text and images in Fashion-era.com. Images and text in this website may not be used on other websites.
Before you write to me for costume/fashion help or information please, please consult the extensive sitemap which lists all our pages. If you still cannot find the answer after searching the site, then before you email me, please consider if you are prepared to make a donation to the website.
Donations
Reader's donations help this site flourish, in particular donations encourage me to write more articles on fashion history as well as current trends. PayPal allows anyone with a credit card to donate easily and securely. You may donate any sum you feel appropriate.