Purple Dresses Fashion Trends for 2010
Need a new image? Then look at the various tones within the vast palette of the berry range, in particular purple and violet.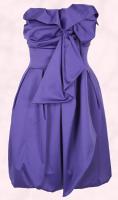 High street and online seller Debenhams have lovely purple and violet prom dresses like this violet dress. Right - Gorgeous violet purple evening dress with prom features and from Debenhams Spring 2010 range. Range - Red Herring Purple Ruched Dress - Debenhams Womenswear SS10.
The retailer called RARE have many cocktail short evening dresses with ZIP front feature fastenings. The rich purple prom dress shown far right below has a fashionable visible back zip that acts a decorative feature. The RARE brand is distributed through 21 concession-based outlets within Topshop, their latest fashion trend is for a new luxury capsule collection, Rare Opulence.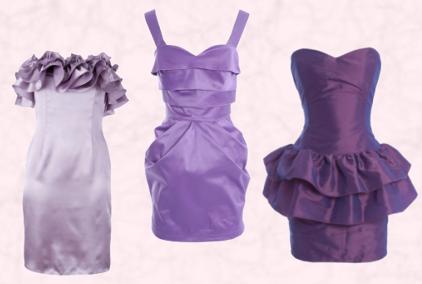 Above Centre - Vanessa Power Dress - £40 - In Purple, Black & Charcoal - RARE AW09 - From 'Rare by The Saturdays'.
Above Right - RARE - Mollie Zip Front Peplum Dress - £35 - Available in Purple & Gun Metal - RARE AW09.
Above Left - Littlewoods Pastel Lilac Teatro Ruffle Bustier Dress - £85.
‡‡
The tone of purple veers from the cooler blue tones of ultra violet through indigo, to the warmer true purple.
These lovely dresses, ranging from ultraviolet to true purple, are on the high street in 2010.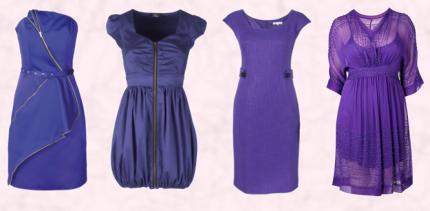 Top Far Left - Matalan Womenswear AW09 - Be Beau Electric Blue Zip Dress £25.
Matalan Stockist Tel: 0845 330 3330.
Centre left - Zip Dress by Rare - Autumn/Winter 2009/10.
Centre Left - Prιcis Petite Purple Dress - £139.
Far Left - Evans Plus Size Beaded Kimono Dress/Slip £55.
The 2010 purple fashion trend also encompasses these lovely colours, deepest blueberry, puce magenta, plum, damson, mauve, heather and aubergine. Observe below how they create colour variety that mixes and blends so well together.
However, purple extends through to the redder berry tones, where it immediately brings to mind summer puddings or the blackberry stained fingers from eating the raw berries.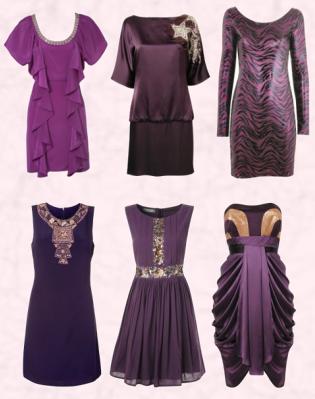 Think of all the red toned and purple toned berry and stone fruits like loganberry, redcurrant, raspberry, blackberry, dewberry, blueberry, cherry, plum, blackcurrant, sloe and damson.
Next imagine mixing these sensational base colours with creamy white or deepest black. Within moments the tonal range of tints and shades within the berry family is enormous.
Berry colours for 2010 range from rapture rose to deepest damson making purple tones some of the most fashionable colours to have in our winter wardrobe.
Details Right:-
Top Far Left - Ruffle Fall Tunic Dress by Oasis.
Centre - Monsoon Autumn/Winter 2009 Purple 'Originals' Andie Dress £135/€229 Eire.
Right - Dorothy Perkins Plum Animal Dress.
Lower Right
Bottom Far Left - Wallis Autumn Winter 09 Purple and Black Embellished Shift Dress, £50/€76.
Centre - Monsoon Fusion Purple Madonna Dress £55/€93 Eire. Monsoon Autumn/Winter 2009.
Right - Monsoon Autumn/Winter 2009 Purple Originals Sue-Ellen Dress £160/€271 Eire.
Here are the latest women's purple tops and tunics for 2010. From slick bustiers to easy sequin cowl neck tops and floaty plus size tunics like these below, all can be bought online.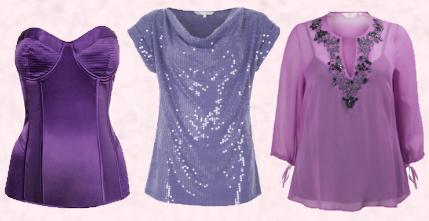 Above Far Left - Dorothy Perkins AW09 Purple Satin Bustier - £30/€45.
Centre - Debenhams 'Red Herring' Sequin Top in Lilac - £32 - Debenhams Christmas 2009 - Women.
Far Right - Simply Be - Embellished Tunic/Camisole by Anna Scholz for Simply Be - Violet Tunic, £65.
You are reading an original article on fashion trends in purple dresses for 2010 by Pauline Weston Thomas only for publication on www.fashion-era.com ©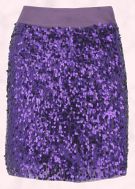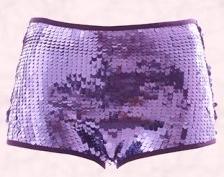 Purple is a bold colour, and some may adore wearing a bright purple sequin mini skirt, like this one shown left, or equally see themselves in these purple sequin hotpants. You may even find them as a sale bargain in January 2010.
Right - Purple Sequin Short Skirt, £45 - Limited Collection Marks & Spencer Autumn Winter 2009.
Left - River Island Purple Sequin Hotpants - £21.99.
‡

Up and down the high street, berry hues and the purple colour family are the principal elements of many fashion collections. In these price conscious times readers will be pleased to read that pantone have also named Violet as one of the top core colours for the spring summer 2010 colour palette. This autumn's purple heart blends beautifully with it.
Left - Fall 2009/Winter 2010 - Purple Heart (Pantone PANTONE 18-3520).
Right - Gorgeous violet purple evening dress with prom features and from Debenhams Spring 2010 range. Red Herring Purple Ruched Dress - Debenhams Womenswear SS10.

Left - Spring 2010 - Violet (PANTONE 16-3320).
The iris/blue/purple/violet/lavender range looks good on almost everyone whether redhead, blonde or brunette. The purple family can range from purple heart like the leather zip jacket or evening dress right, to the softest lilac and richer warmer tones.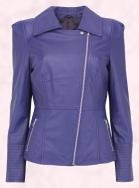 These softer variations of the purple colour are shown in the three prom cocktail dresses and the party tops above, all ideal them for jazzing up trousers and skirts for occasions.
Note too that coloured leathers and visible zippers are big fashion features of 2009/2010. This purple leather zipped jacket would add great cover to many of the purple dresses shown here or look fantastic teamed with jeans.
Near Right - Marks & Spencer 125 Womenswear - 2nd Collection (Autumn 2009) Purple Leather Jacket with Asymmetric Zipper Feature - T693622 - £120.
Women's belts, shoes, and handbags each show subtle new fashion trends, both in the shades of purple and their construction and style.
Belt Accessory
For those who have previously shied away from purple, but now want to try this fashionable colour, I suggest that they introduce a strong bold bright purple into their wardrobe in a small way, rather than wearing it as a major garment. The way to make this fashion statement is by using the latest purple fashion accessories such as this inexpensive wide belt shown right.
A decorative belt like this one sums up the purple mood.
Right - Wallis Christmas 2009 - Purple Stone Embossed Elastic Belt £18/€24.
...(v4r)
High Purple Shoes and Shoe Boots for 2010
Shoe boots offer a little more ankle support than normal court heels so this type of shoe can be good for wearers new to heels.
If you are new to wearing high heels, you don't have to start as young as Suri Cruise, just take it gently. Learn to walk in heels, in private at home by gradually progressing through heels size of 2-3cm, to 5-6 cm and so on until you feel comfortable in a higher heel. Never wear new court heel shoes in the rain without first having walked the sole on a rough surface to help give sole grip and more stability. Alternate wearing different heel heights including flat footwear so you don't over shorten your calf muscle.

Above Left - Barratts Dunaway Belle & Mimi Purple Suede Peep Toe Shoe, Lace Tie Front - £45.
Centre - Schuh Calvin 2 Buckle Shoe Boot, Purple Suede - £64.99/€85. Also available in grey leather and black patent.
Right - Tamaris Purple Fringed Ankle Boot - £69.99 - Sizes 2-9.
All shoes have plenty off textural interest from shiny smooth patent and croc reptilian effects, to suede and suede finishes. Studs, fringe, zips, buckles, laces, buttons and straps complement designs.
Seasoned heel wearers will love these purple shoes with extra straps and concealed platforms. Looks like the Mary Jane shoe has taken on a new lease of life.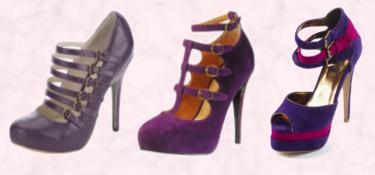 Left - Very.co.uk - Fearne Cassandra Concealed Platform Shoe, Purple.
Centre - Dorothy Perkins AW 09 Purple Multi Strap Mary Jane Shoe - £38 €52.
Right - A-SHU.CO.UK Purple & Puce Triple Strap Suede Effect Platforms £38.00.
You are reading an original article on purple shoe trends for 2010 by Pauline Weston Thomas only for publication on www.fashion-era.com ©
See much more on high purple shoe fashion on this page.
Thousands of years ago Tyrian purple was once a much warmer puce colour with hints of crimson. Today we would probably call the same colour magenta. The cape coat shown top centre right is more like the tone that purple was thousands of years ago. (You can read more about the details of these purple coat fashions here on other fashion-era 2009/10 fashion trend pages.) Today all these other colours are loosely accepted within what we think of as the purple range.
Tyrian purple gets its name from the place of origin. The purple dye was made in Tyre in Phoenicia using marine secretions from the snails found in Murex shells. However the Minoans are also thought to have made a similar royal purple dye using Murex shells found on Crete, but centuries before the Phoenicians made their discovery.
...(v4r)
The dye was always a luxury product and it was as expensive as silver weight for weight then, just as saffron is more costly than gold gram for gram today. Each snail yielded a drop of liquid which took time to develop into the dye making the dye costly to procure and produce. Tyrian purple had a crimson tinge to it.
In Roman times only the upper echelons were allowed to wear purple togas and so a regal connection was born. From this early beginning it became known as the imperial dye. Tyrian purple was very rare and costly to procure from the sea. It needed specialists trained to get the snail bearing the dye. Tyrian purple was more the puce tone you might see on a Bishop's robes which today we think of as more crimson like and very similar to some of the shoe boots shown further up this page.
Purple is a mixture of red and blue. Don't confuse purple with violet which is on the end of the indigo blue spectrum, making it a spectral colour. Variation in purple colour is due solely to the combination mix of red to blue rather than to wavelength as in spectral violet. In good light or as a sheer fabric violet appear more blue toned than purple. Purple may seem warmer and redder.
Purple is a colour full of symbolism and a long association with royalty. The colour purple denotes affluence, supremacy, dominance and magnificent opulence.
Tones of purple can be used as a mourning colour instead of black or white, but be careful when you choose to wear purple as a new millennium mourning colour. Whilst Her Majesty The Queen Elizabeth II experienced no public wrath for wearing purple to a UK Remembrance Service on a Saturday in November 2009, Cherie Blair was heavily chastised for wearing purple the following day at the official Remembrance Sunday Ceremony in 2009, especially as all other attendees wore black.
Purple is also associated with spirituality, mystery and pacification. The stone is believed to protect wearers from getting too intoxicated with alcohol. A good quality amethyst will be a rich deep purple gem, but paler tones of lilacs to rose amethysts are available to suit many tastes and price ranges. The amethyst birthstone is very hard wearing and this makes it a good jewellery buy.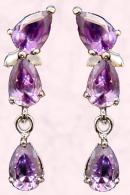 The amethyst is the stone of Saint Valentine and was once the stone of Royals as purple was the colour of power. It is the perfect gemstone to give as a Valentines jewellery gift on Saint Valentine's Day, celebrated on 14 February each year and of course just as suitable fro Christmas and birthdays too.
Right - Studio Edge: Purple Pear Cut Gem Earrings £49.
Studio Edge is a newly launched jewellery website showcasing exclusive, contemporary creations from up-and-coming designers. Studioedge.co.uk aims to bring together original, individual pieces for jewellery-lovers, whilst helping launch the careers of promising new design talent.
You have been reading an original article on purple fashion trends for 2010 by Pauline Weston Thomas only for publication on www.fashion-era.com ©
Copyright of images courtesy of Prshots, Marks & Spencer, Simply Be, Harvey Nichols, House of Fraser, John Lewis, George at Asda, Oasis, Precis Petite, Rare, Evans, Monsoon, Dorothy Perkins, Office, Debenhams, Wallis, Littlewoods, River Island, Accessorize Monsoon, M&Co, Barratts, Tamaris, A-Shu-co.uk, Schuh, T.K.Maxx, Matalan, ASOS, Warehouse, Pantone, Very.co.uk, Warehouse, Studio Edge, and IFTF.
Date added 28 November 2009 - Ref:P.753.
If you like this page then please share it with your friends
---
--Link--
For more information on ladies and teens fashion trends go to:-
Archived Sections
Custom Search
About Fashion-Era.com
Fashion-Era.com looks at women's costume and fashion history and analyses the mood of an era. Changes in technology, leisure, work, cultural and moral values. Homelife and politics also contribute to lifestyle trends, which in turn influence the clothes we wear. These are the changes that make any era of society special in relation to the study of the costume of a period.

Fashion-Era.com can take no responsibility for any information on the site which may cause you error, loss or costs incurred from use of the information and links either directly or indirectly. This site is owned, designed, written and developed by author: Pauline Thomas and Guy Thomas. This site is designed to be viewed in 1024 X 768 or higher.
ALL RIGHTS RESERVED. Fashion-era.com reserves the right to add or delete information, graphics and links. Copyright © 2001-2014 on all content, text and images in Fashion-era.com. Images and text in this website may not be used on other websites.
Before you write to me for costume/fashion help or information please, please consult the extensive sitemap which lists all our pages. If you still cannot find the answer after searching the site, then before you email me, please consider if you are prepared to make a donation to the website.
Donations
Reader's donations help this site flourish, in particular donations encourage me to write more articles on fashion history as well as current trends. PayPal allows anyone with a credit card to donate easily and securely. You may donate any sum you feel appropriate.