Purple Shoes - Fashion Trends for 2010
Here is a selection of the most fashionable purple shoe designs for 2010. If you are interested in some new trendy footwear, then begin by browsing through the berry range of colours. Purple and violet are particularly fashionable colours in 2010.
This season boots and shoes are not just high, but with their concealed platforms can be regarded as catwalk high. Such shoes are designed more for glamour moments than everyday and all day use.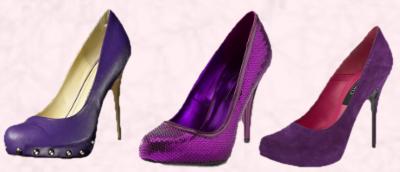 However I would never tell another woman, when or where, she should wear high heels. I only wish I was still able to wear very high pairs for more than a couple of hours myself. Wearing vertiginous high heels all your life does eventually take its toll on your back, so spacing their wearing with intermediate heels and flatter shoes is a healthy alternative and will enable you to wear heels later in life too.
Don't give up high heels, but don't be a slave to them. There is no rule that states these must-have shoes must be worn 24/7.
But they do look so tempting don't they...
Above Left - December's Most Wanted from Dorothy Perkins is this - Purple Studded Court Shoe £35/€50.
Centre - Marks & Spencer Sequin Pink/Purple Party Shoe T020576 £19.50.
Right - Schuh Michy Stiletto Court in Purple Suede £54.99/€65. Also available as a navy or black court suede shoe.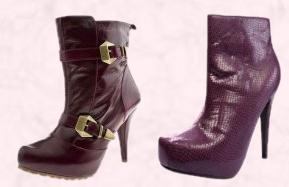 One of the most important pieces of footwear to emerge in the past few seasons of late noughties fashion history, has been that of the short ankle boot and the shoe boot. The shoe boot was initially worn to create a smooth line at the trouser hem. But now shoe boots are also worn to toughen up skirt and dress looks.
For the 2010 fashion season there are some great choices of high purple shoes and boots and of course many of these styles incorporate the concealed platform and they provide a contrast to Ugg boots.
Left - Snakeskin Square Toe Concealed Platform Boots £25 - www.boohoo.com A/W 09 Shoes and Boots.
Right - Schuh Pepa 2 Buckle Ankle Boot Burgundy Leather £79.99/€105 also available in black.
...(v4r)
Manufacturers everywhere describe a whole range of tones as purple although many have blue violet, claret and burgundy tones. These shoe boots below were all described as purple by public relations material, yet to my mind most of them are plum.
Upper level:
Top Row Left - Purple Black Suede Shoe Boots £74.99 - River Island AW09 Accessories.
River Island Stockist Number: 0208 991 4904.
Top Row Centre - Moda in Pelle - Cutie Purple - £80 Suede Peep Toe Shoe Boot - Moda in Pelle Autumn/Winter 2009 Moda in Pelle Stockist Number: 0870 4101001
Top Row Right - Wallis Autumn Winter 09 Purple Patent & Suede Boot - Stockist Tel: 08451214520.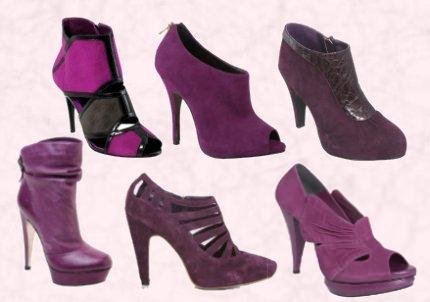 Lower Level
Bottom Row Left - Faith Footwear Sorena, Leather Stiletto Platform Boot - Back Buckle Strap Detail £115/€145 - Faith Footwear Autumn Winter 2009 Boots.
Bottom Row Centre - Littlewoods AW09 Clothing & Footwear - Love Label Mandy Suede Shoe Boot £36.
Bottom Row Right - Magenta Peep Toe Shoe Boot - Oasis Women's Accessories Autumn 2009.
You are reading an original article on purple shoe trends for 2010 by Pauline Weston Thomas only for publication on www.fashion-era.com ©
Here are more examples of purple fashion trends in shoes.
The laced heel brogue instantly toughens up ladylike looks.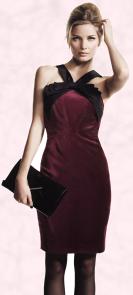 Above:-
Far Left - Purple Shoe Boot, £30 Marisota Autumn Winter 2009/10.
Centre Left - Marks & Spencer - Autumn Winter 2009/10 - Purple Suede Lace Brogue Shoe - £39.50. Style - T02 3243A due Jan.
Centre Right - Marks & Spencer - Autumn Winter 2009/10 - Mauve Stud Shoe - £29.50 due in January Ref:T02 0579.
Far Right - Marks & Spencer - Autumn Winter 2009 - Purple Gemmed Satin Party Shoe - £35 Ref:T020586.
Party shoes like the stilettos will always be popular for those who feel that only a very high heel gives them a sense of 'being' ready to hit the town'.
Much of the footwear shown here could look good with this damson velvet bow halter neck dress £160/192 by Untold from House of Fraser. The black suede and leather reversible clutch at £395 by Anya Hindmarch and black tights at £19 from Wolford are all from House of Fraser. House of Fraser sells many similar clothing and accessory lines online.
‡‡
Many women appreciate the extra shoe support of some form of bar strap, elastic band strap, or tie bow. Such a feature can help a woman walk in a shoe that would otherwise be unsuitable, not just because of heel height, but because many women have one foot slightly smaller than the other foot. The ankle bar or Mary Jane bar gives them extra confidence that the shoe will actually stay on the foot.
Below Top Row:-
Far Left - Harvey Nichols Double Bow Shoe.
Centre - Faith Footwear Cibbon - £70, Suede Platform, Peep Toe High Court Shoe & Lace Up Ribbon Front.
Left - Patent Cut Out Court Shoe £15, George at ASDA - AW09 - George Women.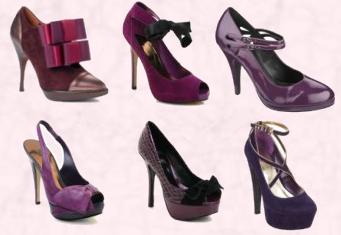 Above Bottom Row:-
Far Left - Faith Footwear Half Leather Platform Sandal Sling Back Peep Toe Half Bow £70, Faith Autumn Winter Court Sandals.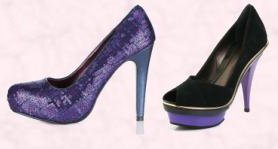 Centre - Faith Footwear Patent PU Reptile Platform Court, Peep Toe With Bow Across Vamp - Gorgeous - £75.
Right - Office - Simple Minds £70 - Office Autumn Winter 2009 Ladies Collection.
Berry tones move right along the spectrum to bluer violet and more pastel tints like these court styles right and the flats below.
Near Right - Littlewoods AW09 Clothing & Footwear - Love Label Stellar Sequin Platform Shoe £30.
Far Right - Faith Footwear Suede Peep Toe Platform Court 'Crave' Shoe - £80 Also in Aubergine.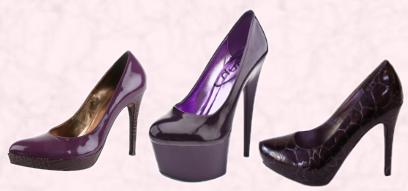 Above Left - Moda in Pelle Dandan (Purple) £85 Patent Platform Court Almond Toe.
Centre - Schuh Kiss Platform Court Purple Patent £49.99/€6.
Above Far Right - A-SHU.CO.UK Purple Patent Croc Effect Platforms £14.99, Stockist - www.a-shu.co.uk.

Above Left - Barratts Ursula Purple Imitation Suede Two Part Occasion Shoe Frill Detail - £35.
Centre - Marisota Purple Shoes, £45.
Above Right - Studded Platform £19, Primark Autumn 2009 Collection.
These lower heeled shoes are frankly easier to wear, and the kitten heel is making a return in 2010!
Lower shoes like these four purple styles are regaining followers as customers realise that very high heels have become too vertiginous for all but taxi to table, or car to club occasions.
Top Left - Kaleidoscope Kitten Heel Shoe.
Top Right - Simply Be Three Bar Mary Jane Shoe - Court Shoe £25.
Lower Left - River Island Purple Ankle Boot - £34.99.
Lower Right - Barrett's Purple Pointed Low Court with Double Knot Detail on Toe. Metallic Lining - £22.
You are reading an original article on purple shoe fashions for 2010 by Pauline Weston Thomas only for publication on www.fashion-era.com ©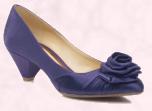 Roses and bows trim both shoes and boots, but are a strong feature of many evening, day and low or flat ballerina pump shoes.
Immediate Left - These purple shoes from Clarks at £39.99 have a heel many may find more wearable over a long day or night.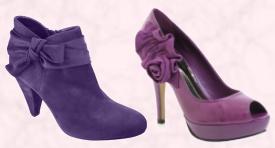 Near Right - George at ASDA - AW09 - George Women Purple Bow Ankle Boot £15.
Far Right - Leather Platform Peeptoe Court Shoe With Flower Detail - Faith Footwear Autumn Winter Court Shoes 2009 - Clower - £80.
Colour adds a fresh modern touch to footwear, so getting the latest multi-coloured footwear such as these purple shoes and boots will bring pizzazz to your fashion day.
Left - Iceberg Catwalk Women's Ankle Boots 2009 - Image Courtesy IFTF.
Zips, hard studs, add toughen up interest. Soft frills and ruching add feminine contrasting novelty to footwear. There are so many Winter 2010 footwear picks everyone is bound to be suited.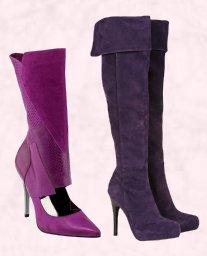 The range of berry tones is great, but within the purple band the tints and tones are as you can judge for yourself quite amazing. These boots and shoes on this webpage span magenta, plum, aubergine, blueberry, purple to lilac.
Berry Colour Boots
Suede is strongly featured this season and it lends itself well to laser cut-out work. Being soft it is also very suitable for fold-back highwayman cuff boots.
Near Left - River Island AW09 Accessories - Purple Laser Cutaway Boot £85.
UK Stockist Tel: 0208 991 4904.
Far Right - Moda in Pelle - Voodo (Purple/Black) Suede Platform Boot - £140. Autumn/Winter 2009 - UK Stockist Telephone Number: 0870 4101001.
See much more on high purple court shoe fashion on this page.
‡
Other Purple Fashion Garments for 2010
Here are a selection of more garments in purple or violet. The dresses, bags and belt each illustrate the latest fashion trends for 2010.
Purple and Ultra Violet Dresses for 2010
The tone of purple veers from the cooler blue tones of ultra violet through indigo, to the warmer true purple.
These lovely dresses, ranging from ultraviolet to true purple, are on the high street for 2010. See more purple dresses here.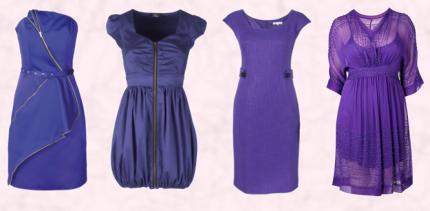 Top Far Left - Matalan Womenswear AW09 - Be Beau Electric Blue Zip Dress £25.
Matalan Stockist Tel: 0845 330 3330.
Centre left - Zip Dress by Rare - Autumn/Winter 2009/10.
Centre Left - Précis Petite Purple Dress - £139.
Far Left - Evans Plus Size Beaded Kimono Dress/Slip £55.
See much more on trends in purple dresses for 2010 on this page.
Plum & Purple, Textured Tartan, Ostrich, Mock Croc & Patent Bags
...(v4r)
Bags have plenty of variety this season, this is because manufacturers have applied a wider range of textured finishes to the outer materials. Patent and high gloss shiny finishes are more popular than dull leather and imprinted finishes such as ostrich and mock croc continue the love of exotic animal skin textures.
Tartan, cloth and embroidered fabrics all add their own dimension creating distinctive and statement making bags.
Details:-
Top Row Left - Vivienne Westwood Tartan Winter Handbag £485/€592 at House of Fraser, Womenswear & Accessories.
Top Row Right - Episode Lavender Dome Bag £199/€239 - at House of Fraser.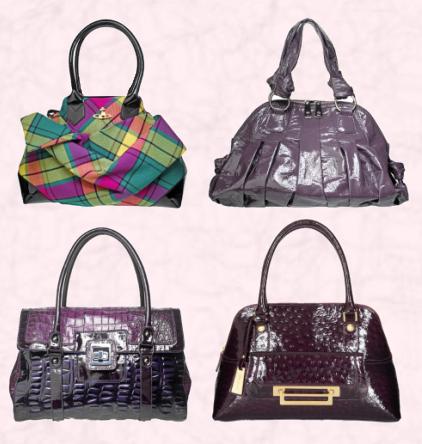 Lower Row Left - House of Fraser - Purple mock-croc tote £89/€109 Linea at House of Fraser.
Lower Row Right - Debenhams J by Jasper Conran London Letterbox Ostrich Handbag £60/€93.
See much more on purple bag fashion for 2010

Up and down the high street, berry hues and the purple colour family are the principal elements of many fashion collections. In these price conscious times readers will be pleased to read that pantone have also named Violet as one of the top core colours for the spring summer 2010 colour palette. This autumn's purple heart blends beautifully with it.

Left - Fall 2009/Winter 2010 - Purple Heart (Pantone PANTONE 18-3520).
Right - Gorgeous violet purple evening dress with prom features and from Debenhams Spring 2010 range. Right - Spring 2010 - Violet (PANTONE 16-3320).
The iris/blue/purple/violet/lavender range looks good on almost everyone whether redhead, blonde or brunette. The purple family can range from purple heart like the leather zip jacket or evening dress right, to the softest lilac and richer warmer tones.
Women's belts, shoes, and handbags each show subtle new fashion trends, both in the shades of purple and their construction and style.
Head & Bottom Gear!
Hats & Zany Purple Ear Muffs
This River Island Purple wool hat £12.99 won't break the bank and its funky and functional too, adding a stylish twenties flapper girl touch along with warmth.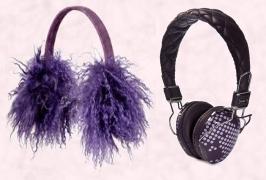 Far Left - River Island Fur Ear Muffs.
For warm and fashion conscious fun why not get these River Island Mongolian Lamb dyed purple fur ear muffs at £19.99. And if you are technically minded these Audio Chi W-Series Headphones in Purple Dots may be exactly the style you have been seeking.
Above Right - Audio Chi W-Series Headphones in Purple Dots £69.95. The W-Series utilises Audio Chi's Structural Acoustics™ Technology which boasts one of the headphone world's most exclusive sound units, the Titanium-Mylar Driver. This is a sure fire way of combining flawless sound, creative design and comfort. Buy them at audiochi.com.
-------v6-------
You have been reading an original article on purple fashion trends for 2010 by Pauline Weston Thomas only for publication on www.fashion-era.com ©
Copyright of images courtesy of Prshots, Marks & Spencer, Simply Be, Kaleidoscope, Marisota, Harvey Nichols, House of Fraser, Mode in Pelle, John Lewis, Dune, George at Asda, Oasis, Clarks Shoes, Love Label, Precis Petite, Rare, Evans, Monsoon, Dorothy Perkins, Office, Debenhams, Wallis, Littlewoods, River Island, Accessorize Monsoon, M&Co, T.K.Maxx, Matalan, ASOS, Warehouse, Pantone, Warehouse, Faith, Lily Wigglesworth and IFTF.
Date added 28 November 2009 - Ref:P.754.
If you like this page then please share it with your friends
---
--Link--
For more information on ladies and teens fashion trends go to:-
Archived Sections
Custom Search
About Fashion-Era.com
Fashion-Era.com looks at women's costume and fashion history and analyses the mood of an era. Changes in technology, leisure, work, cultural and moral values. Homelife and politics also contribute to lifestyle trends, which in turn influence the clothes we wear. These are the changes that make any era of society special in relation to the study of the costume of a period.

Fashion-Era.com can take no responsibility for any information on the site which may cause you error, loss or costs incurred from use of the information and links either directly or indirectly. This site is owned, designed, written and developed by author: Pauline Thomas and Guy Thomas. This site is designed to be viewed in 1024 X 768 or higher.
ALL RIGHTS RESERVED. Fashion-era.com reserves the right to add or delete information, graphics and links. Copyright © 2001-2014 on all content, text and images in Fashion-era.com. Images and text in this website may not be used on other websites.
Before you write to me for costume/fashion help or information please, please consult the extensive sitemap which lists all our pages. If you still cannot find the answer after searching the site, then before you email me, please consider if you are prepared to make a donation to the website.
Donations
Reader's donations help this site flourish, in particular donations encourage me to write more articles on fashion history as well as current trends. PayPal allows anyone with a credit card to donate easily and securely. You may donate any sum you feel appropriate.