Throughout the spring of 2010 there has been a profusion of bright colours such as shocking fuchsia pink. You are also likely to notice fashion garments in ultramarine, and especially in that colour which some call turquoise and others say sea green. As ever, Pantone is the authority on fashion colours and they define each hue with a reference number that is globally recognised.
The most important fashion colour contender for 2010 is TURQUOISE.

This is the year to get the moody blues into your wardrobe. Examine colour combinations involving vibrant turquoise and lagoon through to deep cobalt or Klein blue. Also, cornflower blue Amparo blue through to inky sapphire are all on the hot list of blue tones for 2010. The profusion of blue based accessories in bags, shoes and jewellery reflect this love of all the blue colours, especially marine blues that verge on the myriad tones of sea greens. Turquoise is a colour that flatters most skin tones looking just as good on redheads, blondes or brunettes. Adding a small touch of contrast highlight in the form of orange coral (its opposite on the colour wheel), can make this intense colour buzz with even more life.

So that you can see the importance of turquoise here are the Pantone colour swatches for these very similar marine blues for Spring/Summer 2010 and Autumn/Winter 2010/11.
Above Left - Pantone Colour Turquoise - Summer 2010 - PANTONE 15-5519 Turquoise.
Lower Left - Pantone Colour Lagoon - Fall 2010 - Very similar, but a richer more autumnal tone - PANTONE 16-5418. See more turquoise on the key trends page.
With its extravagant print and rich colours, this Betty Barclay dress below far left, expresses a wonderfully exotic attitude. Effective drape styling at the front shows off the waist and neckline. The figure-hugging style makes this an eye-catching dress ideal for any occasion. The digital print with the teeming tribal and animal markings looks bang up-to-date with the marine blues colour mix. Since this material has a content of 92% Polyester and 8% Elastane it will pack, travel and instantly recover to keep you looking ultra groomed.
Below Left - Betty Barclay Collection "By the Sea" Draped Dress ₤90/€100 IRL, Clutch Bag ₤70.00/€75 IRL.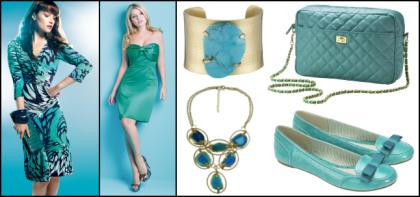 Bottom Centre Right - Jaeger Semi Precious Stone Collar £85 - This semi-precious blue agate quartz crystal collar combines the natural beauty of the sliced stone, to make a fashion forward bib necklace. Here is modern jewellery for the contemporary woman. In this necklace the blue agate slices show gradations of deep blue to turquoise and these agate slices are suspended within linked rings of shiny golden toned metal.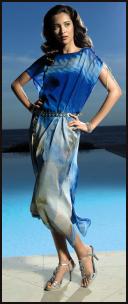 Centre Left - Short Turquoise Cocktail/Prom Dress - Very.co.uk.
Top Centre Right - John Lewis Collection Turquoise Cuff - £20.
Top Far Right - Turquoise Retro Quilted Long Strap Bag - Chain Ribbon Handle, £6 Matalan SS10 - Accessories at Matalan Stockist Tel: 0845 330 3330.
Bottom Far Right - Turquoise Flat Ballet Leather Bow Pumps - £59.95 - White Stuff SS10 - Footwear - Stockist Tel: 020 7735 8133.
If Jade or Turquoise was the gemstone that came to mind when looking at the colour swatches above, then Blue Agate was the stone that came into my mind when I saw Pantone's Amparo blue further below.
Left - The rich tones of a slice of Blue Agate. The dress right with its flowing marble effect print has the same hypnotic movement of the agate striations.
Right - Elégance - Flowing, Pure Silk Dress, £289. Gold Chain Belt, £59. Decorative with Beads/Crystals, £199, also Elégance.
Easy flat ballet pumps in bright colours make holiday sightseeing a breeze.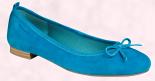 These blue ballet flats are a simple, but effective way to add the latest new fashion colours into your wardrobe without breaking the bank. Pop them into your bag as spares and lift any outfit out of the ordinary. Below Right - Tamaris Blue Suede Flat Ballet Pump - £39.99. Tamaris Spring Summer 2010.
‡‡
Amparo Blue is a very distinct pure blue, while it has a deep richness, there are fewer cobalt or royal tones in it. Amparo Blue PANTONE 18-3945 shown centre below is Pantone's top bright blue for 2010. Below: Top Row Centre - Amparo Blue - PANTONE 18-3945 Spring Summer 2010.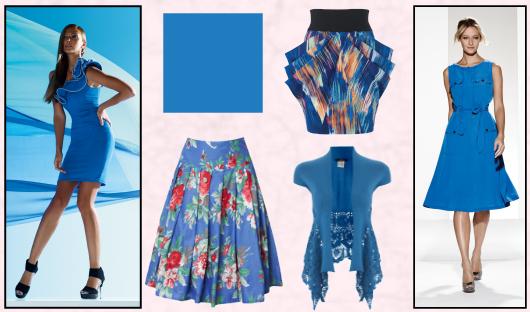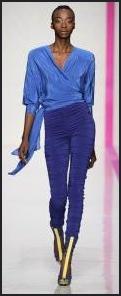 Jane Norman has lots of garments in stock that hit this heart-stopping blue note. The Jane Norman model above left wears a blue one shoulder zip corsage dress.
First Left - Jane Norman Dress £40, Zip Back Lacquer Heel Platforms £35, Diamante Mix Hoop Earrings £6.
Top Row Right - This smudge tie dye pleat side skirt has all the elements of fun summer skirts. Jane Norman Summer 2010 - Deep Elasticated Printed Tulip Skirt £35. The Jane Norman Vintage Floral Print Knee Length Skirt bottom row is £32 and the Crochet Draped Hem Short Sleeve Cardigan £28, beside it is also Jane Norman Spring Summer 2010. Above Far Right - Marks & Spencer bring bright chic looks to this utility inspired summer safari dress with blue pockets.
M&S Portfolio Electric Blue Dress £49.50.
You are reading an original article on the colour fashion trends for 2010 by Pauline Weston Thomas only for publication on www.fashion-era.com ©
The more intense true blues have a rich intensity that delights and owes much to the brilliance of fabulous gemstones like Sapphire, Tanzanite, Lapis Lazuli. Right - Ungaro Catwalk - Blues hitting the depth of gemstone brilliance.
...(v4r)
Blue double denim may be a fashion micro trend right now, but for me the relaxed summer look of denim, tie dye or batik is sharper when worn singly and is less intense if paired with white. The lovely tones of these blues below team well with denim or Broderie Anglaise white lace pieces.
Below: Top Row Left - M&Co Boutique Dip Dye Asymmetric Top £35 - Ladieswear Boutique M&Co Stockist Tel: 0800 0317 200. Top Row Centre - Matalan SS10 High Summer & Swimwear - Be Beau Ikat Blue Animal Jersey Halter Top, £12, Be Beau Denim Hot Pants, £12. Matalan Stockist Tel: 0845 330 3330. Below Top Right - Red Herring at Debenhams - Denim Shirt £28/€43, White Ruffle Dress £35/€54. Middle Centre - NEXT Wood Bangles £10/€14.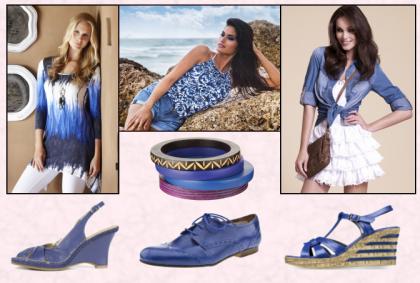 Above: Bottom Left - Hush Puppies Katsia Wedge Royal Blue Leather Sling Back Wedge High Sandal £50 - SS10 Hush Puppies Women's Collection - Stockist Tel: 020 7860 0460. Bottom Centre - Blue Brogue Shoes by Schuh.
Bottom Right - Tamaris Blue Patent Wedge, £54.99.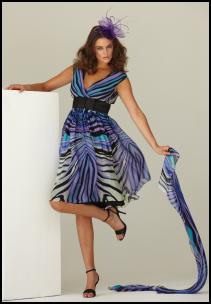 Whether you prefer slip-on sandals, ballet pumps, wedges, flat brogues, or high warrior woman footwear, you will discover that every fashion range has a colourful bright blue based shoe. Kitten heels are making a comeback so snap up any you see in blue.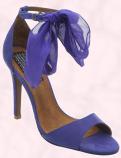 You can't go wrong if you continue to invest in the viola-blue tones. See how they can be mixed with prints, like this tribal influenced occasion dress with its animal zebra pattern and in lovely colours the effect is dazzling.
Far Right - Frank Usher SS10 Silk Print Dress, Black Wide Bow Detail Waistband.
Floating chiffon and silky fabrics appear not only in garments, but also in footwear as ribbon trims and corsage appliqués.
Near Right - Bertie Bow Tie Occasion Shoe - San Antonio £75 - Bertie UK Stockist Tel: 0207 258 3605.
Pantone, the colour specialists, also named Violet as one of the top core colours for the spring summer 2010 colour palette.
Near Right - Spring 2010 - Violet - PANTONE 16-3320.
Last autumn's Purple Heart of 2009 from Pantone blends beautifully with the violet. Also in this Autumn 2010 Pantone Palette is a wonderful slightly deeper purple orchid, which is on the top ten list of Fall colours.


Below Right - For Autumn 2010/Winter 2011 - Purple Orchid - PANTONE 18-3027.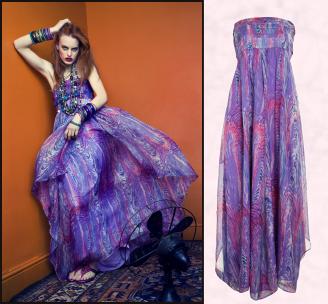 It looks as though purple colours are here to stay for some years as everyone loves the colour so much.
Buying into violet and purple orchid styled clothing will help you transition the seasons more easily. Purple has been really admired since about 2006, and I have made numerous comments on my purple fashion page.
Maxi dresses have developed quite a fan base and are the ultimate luxury holiday piece. Somehow just packing one floaty maxi dress into your luggage, helps transport you to more exotic places, before you have even left the house!
Both images left are the same empire bustier maxi dress by A|wear. A|wear - Eclectic Paradise - Purple Printed Maxi Dress €68/£60.
A|wear say 'Paying tribute to McQueen & DKNY, dresses come in both short & long this season. The 100% silk maxi dress takes prime position in a flowing chiffon bandeau shape…think vivid purple & jade green tones, worn simply with flat sandals & an oversized bag.' For A|wear Stockists Tel: 00 353 1 4724900 or buy at A|wear online.
‡
There are many rich colours in this unusually patterned T-shirt, there is an attractive mix of purple, brown, lilac and silky gold. The lilac-coloured jeans calm the busy top, whilst creating a fresh, updated and appealing pop of colour sherbet pastel look. Below Far Left - Betty Barclay "Sporty Glam" Bright Print T-shirt in easy care 50% Cotton, 50% Polyester, UK ₤45/€50 IRL. Lilac Jeans in 98% Cotton, 2% Elastane, UK ₤90/€100.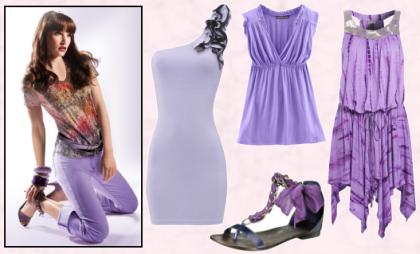 Centre Left - Short One Shoulder Corsage Lilac Dress by Jane Norman.
Top Centre Right - This sugar almond lilac top is ideal for a beach holiday, making a great swimwear cover up, or a relaxed top for a more special evening - Lilac V-Neck Top - Freemans Clothing £18.
Bottom Centre Right - Bow Chiffon Chain Tied Gladiator Sandal - £28/€42 Evans Accessories.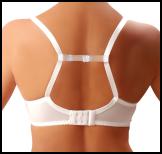 Bottom Far Right - This 100% George at Asda Viscose tie-dye violet dress has an embellished neckline with a racer back, drawstring waistband and a dip handkerchief hem. The dress available in sizes 8 to plus size 24 is also machine washable and costs just £16 at George at Asda. Pick it up with your groceries or buy it online at Asda.
To wear this racer-back dress to best effect you may need a special bra, so if you are on a very tight budget consider doing a Houdini, and use the Bradini strap connector just £3 from Bhs. The Bradini no-see bra strap connector is invisible, clear & extremely comfortable to wear! The clever hook'n loop converts any bra into a racer back, so straps won't show on sleeveless tops and dresses. The Bradini is available in select Bhs stores. BHS Stockist Tel: 0845 196 0000. For other bra solutions try the Wonderbra.
You are reading an original article on fashion colours for summer 2010 by Pauline Weston Thomas only for publication on www.fashion-era.com ©
Colour houses worldwide produce colour charts for textile/clothing manufacturers and most frequently they use the Pantone numbering system to portray their chosen colours. For some time the green family of rich gemlike tones has been growing in global popularity. Maybe it's the eco nature of green associations, but I like to think it's just because green is such a wonderful glowing, rich, gemstone colour that vibrates with life and freshness; I love it because being fair it really suits my colouring.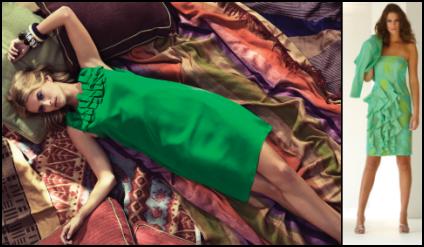 Think of emeralds, jade, peridot and green amethyst jewellery pieces and you quickly capture the green mood of the moment. Both these green dresses also have ruffle pleat frill flounce trims. Flounces and ruffles are part of the pretty romantic fashion trend for Summer 2010.
Above Left - Kaliko Origami Shift Dress £80 Kaliko.
Above Right - Frank Usher SS10 Collection Green/Lime Taffeta Strapless Dress & Frill Detail, Bolero Jacket. This is just the showstopper outfit a mother of the bride may be seeking for an afternoon into evening wedding. This ruffle and flounce trend is proving to be popular with women who like to show their love of more womanly feminine fashion lines. Both of these dresses have just the right amount of frill to make them look sophisticated rather than fairy doll prom girly.
Mother of the brides mostly compete with lots of well toned younger female wedding guests, so a stunning little jacket is perfect for covering up arms that don't have the firmness they once had. Feeling comfortable for the whole day at any special occasion, anniversary or birthday is the key to feeling good at the time, and later recalling the event fondly.

When the garment is occasion-wear, an appropriate jacket, which enhances the upper body curves rather than drowns out shape, makes an outfit feel exceptional. Feeling confident in strong bold colours will also make for unforgettable photos. Colours that bring the face alive will fetch compliments pouring your way. You will always remember that special clear blue, green, violet or hot pink dress that did so much to lift the tone of your skin, or highlight the colour of your eyes.
Hmmm ...but would you recall an abstract murky mufti camouflage digital print or utility chic outfit with such fondness a decade later, even if it was silk?
The key to success when wearing cool blues, sea greens and lime is to be bold, and juxtapose large chunks of bright block colours together. Other colour schemes of tangerine, coral and tomato red set against fuchsia pink and magenta create maximum buzz for the onlooker.
Right - Ungaro Catwalk SS2010 Bold.
The effect is electric, but stunning when coral and orange are teamed with a strongly competing shocking fuchsia pink. This Ungaro cropped pink jacket and skinny orange trousers was a catwalk show pop of colour and in contrast to all the pastel and flesh tints also being paraded at shows.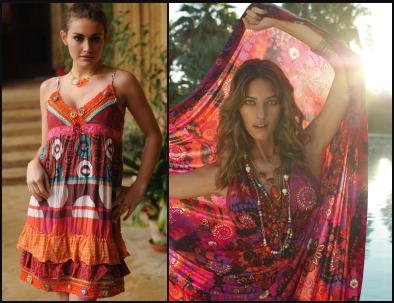 Some micro fashion trends pass by unnoticed by the majority. Other fads hold the imagination of fashion followers and hang on for years as consumers refuse to drop a look they love. Boho and ethnic styled fashion was a true fashion trend of the noughties. The Twentens continues this love of exotic and decorative looks with vibrant beachwear, kaftans and maxi dresses.
The generation who grew up in a world of urban anonymity cocooned in black and grey are now rediscovering the bright and vivid colour combinations of another era.
These glowing holiday dress examples show lots of seventies influence and bring 'flower power' back into our lives. One even comes from the delightfully aptly named colourfulfashion.com. Left - Savage Culture Alicia Short Dress, £119.95 at ColourfulFashion.com.
Near - Phase Eight - Martina Maxi Dress £99. SS 2010.

Soaring temperatures need sensational colours and vivid prints. These outfits all reclaim Boho looks with novel modern colour twists and colour combinations that would have seemed scary ten years ago.
Left - What a show stopping red.
This is Pantone's Tomato Purée from its top ten spring colour list - PANTONE 18-1661 - Spring Summer 2010.
Many women find the idea of a whole expanse of fabric, such as a dress or coat in one strong colour, difficult when the hue is unfamiliar to them. An easy way to adopt brighter colours is with the short shrug or waisted cardigan. These cropped cardis in Spring's top ten colours are also from colourfulfashion.com - love them - these are must-haves for 2010.
Near Right - Yumi Cindi Floral Lace Frill Skirt & Uttam Hot Pink Maya Cropped Cardigan, £38/£39.50 - Yumi at ColourfulFashion.com. Summer Vintage at Yumi. Uttam Stockist Tel 01297 444110.
Far Right - Uttam London at ColourfulFashion.com - Coral Orange Mia Cropped Cardigan, £45.


Coral is one of the best warm colours to buy into now this summer.
Near Right - This paler pastel soft coral for SS 2010 from Pantone is Fusion Coral - PANTONE 16-1543.
Far Right - For Fall 2010, Pantone has named Living Coral 16-1546 as its coral of choice. As you can see from the colour squares, the autumnal coral far right is just very slightly deeper than the Fusion Coral of summer.
Dresses and Macs based on coral, orange and tangerine tones, and worn as the sole colour are right on-trend.
The coral red Mac left and this coral decorative zipper cardigan are both from Monsoon - Monsoon Coral Gigi Mac £85/€144 Eire - Monsoon Fusion Summer 2010.
Near Left - Coral Clematis Cardigan £45/€76 Eire - Monsoon Fusion Summer 2010. The contrast hardware - zippers and buttons continue the fashion trend for focal interest.
Ever since Michelle Obama, at the 2009 Presidential Inauguration Ball, gave her seal of approval the one shouldered evening dress has taken hold in women's wardrobes. A year later the style is still a fashion favourite with women who realise the one shoulder strap offers just a bit more reassuring support than a full on strapless bustier piece.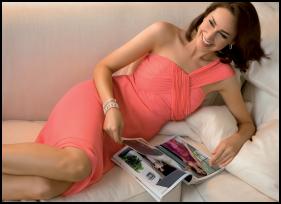 Right - Coral Eveningwear Dress from Vera Mont "Summer Melody" Style No. 2218/3961 - Dress Material:100% Polyester - UK ₤190/IRL €190. Spring/Summer 2010 - Vera Mont Stockist Tel: 020 7411 0322.
Vera Mont Say "Fashionable coral always creates a good mood: asymmetrical straps in a Roman tunic style and hems of varying lengths make this dress unique. The gathered bandeau elements around the bust create a very feminine outline and the unusual colour adds a touch of freshness."
How right they are, this really is a dreamy colour like the glowing spray rays of a hot equatorial sunrise.
Gold Looks
Gold and yellow have added a fresh life to the colour palette. First we had the iridescent shimmering materials, then the metallic brocades, and now we have a lovely mellow yellow.
The last of the bright colours in the Pantone palette is Aurora shown near left.
Near Top Left - Aurora PANTONE 12-0642 - SS2010.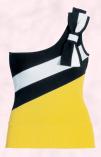 Yellow mixed with black, or set against white, can look striking especially in border prints, stripes, block colours or used in contrast piped combinations. However, be careful of overdoing this look and making the bumble bee or wasp effect! Select carefully.
Centre Left - Top by Kaleidoscope.
Right - Hobbs SS2010 - Yellow and White Striped Skirt and White Cropped Jacket.
Left - Ungaro Catwalk Cropped Yellow Jacket.
As you see Aurora is a very pretty yellow, the colour of summer sunshine and buttercups.
Jackets and blazers, like those above, are always wardrobe workhorse items, but for a softer look this pretty feminine yellow open cardi looks like the ideal easy cover up for a summer dress or easy skirt; see near right the cardi from GIVe. Equally this cardigan could go well with a pair of your favourite jeans, or cropped summer pants.
The soft cowl neckline short sleeved top beside it, is also by GIVe. and many women will appreciate the modesty of the cut. Nothing is worse than tugging at a top all day, constantly pulling it back into position because a bra or too much cleavage is showing. Fine when you intend the look to be underwear as outerwear, but mortifying when the intention is to have a clean uncluttered line. This garment looks thoughtfully designed to make for fuss free dressing.
Near Right - Canary Yellow Shrug - GIVe - Bloomsbury Collection. GIVe Stockist Tel: 0844 3351001.
Far Right - Lena Top £35 Canary Yellow Draped Neckline Tee - GIVe - City Chic Collection.
You may be wondering who is behind the new label GIVe. Well none other than fashion innovator, design guru and retail legend George Davies. His motivation? To bring cutting-edge style and affordable luxury to British women. I'd like to tell you more about GIVe the 4th retail venture for George Davies, on another later page. But for now, all you need to know is that there are three ways to shop with GIVe: online at www.give.co.uk, in one of 14 department stores around the UK, or in one of the 8 stand-alone GIVe stores. GIVe Details Tel: 0844 3351001.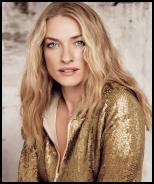 Gold metallic looks and brocades have stood the test of time in the noughties. Now in 2010 gold has gained new prominence as an ultra chic colouration. Dazzling colour effects can be achieved with the use of the gold-tones and similar metallic colours.
There are glossy gold tones in glittery gleaming lames. This heirloom chic look progresses to copper burnished tones for fall 2010. Near Left - Gold dress £24.99/€29.99 - TK Maxx Spring/Summer Womenswear 2010. Please See footnote as styles vary per store.
...(v4r)
Just because you are a plus size, does not mean you can't be glamorous. Today being an outsize or XXXL does not mean being a fashion outcast. In 2010 the plus size market is well catered for with companies like Marks & Spencer, Simply Be and Fifty Plus ensuring women have a modern selection of clothing pieces from which to select their perfect outfit. Plus size specialist fashion boutiques like Beige Plus have beautiful clothes and offer a broad range in sizes 16 to 28. Some of the companies mentioned on my Plus Sizes page may offer tips about plus size fashion shops near you.
Above Far Left - Plus Sizes 16-28 - Glamorous Old Gold Sequined Hoody - Beige Plus Stockist Tel: 0207 935 3999.
Neutrals
Taupe, cream, monochrome black, white and neutral grey act as a foil for the bolder shimmering colours. Neutral fashion pieces are never very far away from any fashion story this season.


Right - PANTONE 16-1219 Tuscany.
Near Right - PANTONE 12-1107 Pink Champagne.
GIVe Betty Cardigan £59, Statement Dark Beige Cardigan With Sequin Button Detail - GIVe Uniquely Vintage.
GIVe Stockist Tel: 0844 3351001.
Silver, soft grey, cream, beige, café-au-lait and ecru are colours that still work anywhere whether rain or shine. White is much harder to wear when rain is in the air. Somehow on dull cloudy summer days neutrals just seem to blend in better.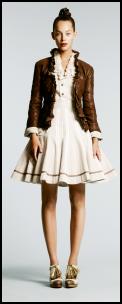 This striped shirt dress from Hobbs is summery, but would look good on the dullest of days when a floral alternative would seem too optimistic. Its crisply dressy, yet could be casual at the same time dependent on the informality of the accessories you select.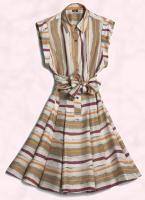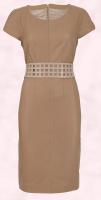 Coloured leathers, especially stone-toned leather skirts, jackets and dresses will see you through summer. Coloured leather and suede currently have more cachet than a black leather piece, and the high street has plenty of examples of leather dresses and skirts in these café-au-lait neutrals. Footwear in stone or other natural colours will work with many of your summer outfits, and neutral footwear always makes the legs look longer.
Near Left - Marks & Spencer Autograph, Dusted Pink Leather Evening Dress £149.
Left - Hobbs - SS10 Heritage & Artisan Collection - Calder Leather Jacket, £349, Avon Blouse, £119, Kennet skirt, £199, Austell Brogue Tassel Court, £249.
Far Right - Hobbs NW3 Stripe dress,£169 Hobbs Spring Summer 2010 Clothing.
Neutrals add a more business like air to clothing, so are welcomed for formal settings, but for a fresh 2010 wardrobe update, neutrals also work well with the sherbet tones. The neutral tones meld into many of the soft pastels with the soft pinks shown below getting a great deal of coverage.
You are reading an original article on colours trends for summer 2010 by Pauline Weston Thomas only for publication on www.fashion-era.com ©
Pastel sugar sorbet colours are so 2010, and the colour trend has roots in the soft neutral flesh tones of blush and creamy peachy colours shown here.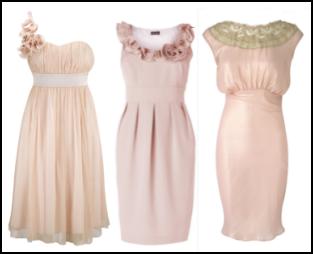 The sherbet colours include pink, peach, banana, citrine lemon, apricot, lavender, eau de nil, mint green, gooseberry, jade and of course, aquamarine. Think of delicate pastel sorbets, sugar almonds, sweet peas, milky blancmange or cream fool desserts.
These barely pink blush dresses are a lovely illustration of summer occasion wear. They are also a good fashion example of decorative shoulder interest with the rose/floral corsage 3D decoration and the lace yoke emphasising the neckline.
An underlying fashion trend for some years has been for a pale flesh soft blush, and its latest manifestation has been the fashion look of 'underwear as outwear' pieces. Whatever the design pattern, these soft hues are often found artfully placed in the natural construction sections of a dress or top.
See and read about Underwear Worn As Outerwear.
Details Above Left - FEVER Ivy Dress Nude £69.99, Fever Designs Chiffon Corsage Draped One-shoulder Pastel Peach Silk Dress.
Centre - Phase Eight Grosgrain Ruffle Dress £120, SS 2010.
Right - River Island Pink Dress with Detailed Yoke.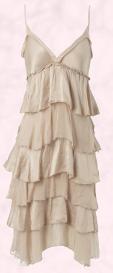 Romantic Pretty Sherbet Fashion Colours 2010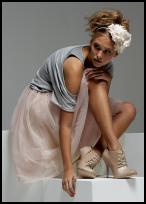 This is a girlish romantic mood and a fashion spiced with ice cream pastel colours.
Sherbet colours make the prettiest dresses and silk lace camisoles. Envisage scallop edges, satin, lace, flounces, ribbons, bows and soft tones of shell pink. Black on pink blush see through lace bra effects add edginess.
Picture champagne tones, diaphanous floating dresses, washed parachute silk with flattering, pretty girlish looks. Plisse fabrics, chiffon, cloque, lace and Chantilly lace help create fairytale frocks with frothy frills, frou-frou ruffles and flounces.
Right - Jane Norman Summer 2010 Tiered Ruffle Dress £60.
Left - Littlewoods Ballet Look Skirt & Vest.
Sweetshop pastels, candy floss, sugar fondant, cupcake colours, girly glamour sugar and spice are all part of the new pretty. But pretty is not always edgy, so you may need to harden this look by bringing it back down to earth with utility touches for the modern world.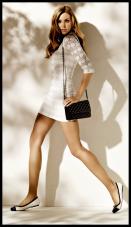 The dress - is still with us and Mad Men sheath dresses in Betty Draper & Christina Hendricks style pack the rails of retailers everywhere. Body con hugging fabrics and body con cut dresses use a multitude of fabrics that pull and push the figure into hour glass shapes. Sometimes the dresses conform to early sixties longer lengths, and at other times the dresses are way above the knee and appear to be straight out of 1966. Bold brights are as likely as pastel sugar colours or whites for eye catching figure defining dresses.
Right - A woman in white - a white lace dress from Jane Norman Spring 2010.
Jane Norman Lace Bow Scoop Back Dress £30/€39, Cross Body Studded bag £12/€16, Quilted Pumps With Studs £20/€26.
You are reading an original Spring Summer Fashion Trends 2010 Summer Fashion Colours article by Pauline Weston Thomas only for publication on www.fashion-era.com ©
One step from monochrome is the 'Woman in White' look.
White is terrific on hazy summer days. White can mean instant yacht cult glamour, or alternatively 80s Essex girl, it all depends on how you play it. The choice is yours, but just be careful the footwear matches the rest of your outfit, as footwear and skirt lengths can make or break the Woman in White look. Wear white too short and you'll be in chav territory, look too tanned and the contrasting glow of white will make you look passé.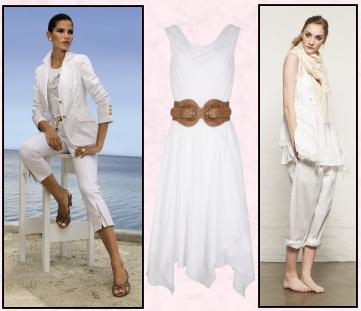 Far Left - Elégance Spring/Summer 2010 - White Cotton Blazer, £159. White Cotton T-Shirt with Gold Motif, £59. White 7/8 Length Jeans, £89. Stockist Tel: 0870 990 9904.
Centre - Debenhams Womenswear SS10 - Betty Jackson Black, White Belted Dress £65/€101.
Right - Warehouse - Traveller Turn Up White Chino Trousers £40/€52, Scarf £28/€ 36 White Crochet Cami Fairtrade Lace Trim Waistcoat £35/46.
...(v4r)
The Woman in White wears her whites with a natural skin tone. Those tones could be pale pink, café au lait or chocolate, but she leaves real or fake tans at home. Choose a footwear colour near your skin tone, it will serve you better than white shoes which can make feet look and feel very large. Soft shell pink, silver, natural tan and black patent can all work well with white. Tan leather accessories may work for you wear white accessories fill you with dread. However, flowing white trousers can be an exception where white footwear works well.
If you feel it's not worth investing too much money in new white garments, consider some staples such as a perfectly cut white shirt that proportionately suits your body form. Or opt for a good quality white T-shirt or vest by a mid range design house such as Marc Cain or Nicole Farhi.
You are reading an original Spring Summer Fashion Trends 2010 article by Pauline Weston Thomas only for publication on www.fashion-era.com ©
Monochromes
MONOCHROME MIXES - GREYS, BLACK, WHITE.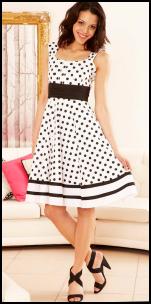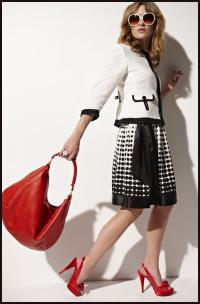 Monochrome Mixtures - The new monochrome has been around for decades - how new can this get? Well, now it includes black with silver grey.
Monochrome black and white have an extra layer of tonal variation with the soft grey hues that give the bold monochrome contrast look a new air. Animal prints in particular are frequently worked in black/white/grey with an uplift of white instead of the usual golden natural animal colours.
But the monochrome look gaining the most followers is that of the spotted print. Spots come in all sizes from pinhead to huge saucer like circles and ovals, and they are most effective when worked in black and white. Hemline bands in either black or white also create optical length illusions that women love - the dress and skirt shown here both appear short, yet look closely and you see the fabric reaches the knee.
This outfit left has been jazzed up with a bright tomato red Hobo bag and skinny red heels. Any strong 2010 colour like Amparo Blue, Turquoise or Aurora Yellow will help transform last years monochrome pieces into more dash than cash looks.
Left - Precis Petite - Precis Chic - Monochrome Spot Linen Skirt £79.
Right - Printed Sleeveless Black Polka Dot on White 50s Dress from Apricot SS10.
The rise of orange based coral red.
One noticeable colour seen to be a rising star in 2010 is an orange based light coral red. This rosier orange tone is very different from the hard more yellow based orange colours of the 1970s. The current orange hues are a warmer blush tangerine tone than the cooler, harsher 1970s orange.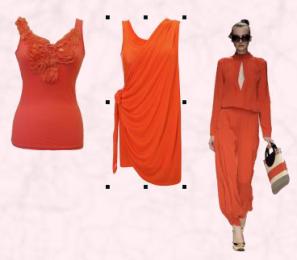 Near Right - Vest - Appliqué Bow by Apricot SS10 Ladieswear
Centre - French Connection Summer 2010 Summer Shadow Dress £50. This French Connection draped dress is made from orange gathered jersey and features a side wrap strapped tie waist in keeping with Grecian Goddess themes.
Right - Tangerine Orange Clementine Colour Family - Jaeger Catwalk Model Spring Summer 2010.
IMPORTANT BRIGHT COLOURS FOR 2010
Turquoise
Cobalt Blue
Cornflower Blue
Lavender Blues to Orchid Mauve Lilac Violet.
Violet and purple based colours were hugely popular sellers with women throughout 2009. There is still high demand for these rich vibrant shades that lift a woman's face. Note how the purples are often meeting the blues.
The iris/electric blue/purple/violet colour spectrum has stayed in favour, and also there are still plenty of mauve tones filtering down through lavender to cornflower blue for summer.
BLUE - BLUE - beautiful blue. Whilst purple is still having its moment it too must make way for blue - the colour of the year. Stock up on anything turquoise through to cobalt blue and cornflower. The marine blues are always expensive looking so are an excellent colour choice for new investment pieces. Think of that Tiffany turquoise box and you realise what turquoise means to many people.
Select colour and fabric carefully to maximise the wondrous effect blue can have on a woman or a man, as this is one colour that always looks great on men too. The business and evening environment provide a magnificent foil for the deeper cobalt blues creating a refreshing alternative to black. Rich blues are controlled, commanding, assured, sophisticated as well as alluring and memorable. Make a statement in blue and break that glass ceiling.

Still in the blue green spectrum, the sea greens and turquoise or aquamarine have once again made us more comfortable with the green family. The brights, acid green, lime, citron yellow tones remain accepted colour choices especially in summer cotton and linens. The more subtle green golds are a warmer khaki, olive green and egg yolk gold.
Colour blocking combinations like this occasion/evening dress from the Dusk Collection at Frank Usher, uses a marine blue turquoise and green to create a statement colour block piece which has dramatic impact, and makes for a memorable image. This dress left is an ideal choice for a Ladies Day at the races, or a summer wedding.
You are reading an original article on fashion colours for summer 2010 by Pauline Weston Thomas only for publication on www.fashion-era.com ©

Colour Blocking - Catwalk Colours
BLOCK COLOURS - Colour Blocking of Intense Brights.
So we note that vivid colour block mixing and clashing is once again a fashion norm. These catwalk hues have been taken up by the high street en mass and every store or boutique has a selection of clashing vibrant colour burst dresses. One of the most popular colour combos is hot pink and coral red in either large areas or using spots or stripes to make the colour clashing point.
Left - House of Fraser - Therapy Orange & Pink Ruffle Skirt £30/€36, Pink Soda White Puff Sleeve Blouse £65, Red & Orange Stripe Belt £20/€24 French Connection. Socks from a selection at House of Fraser. Womenswear & Accessories at House of Fraser Stockist Tel: 020 7003 4000.
Bright looks overwhelm some women; if that happens to you stay bright, but slightly soften brighter colours by wearing several related tones of similar colours. Mixed bright shades in a broken pattern do not create such an overpowering personality as one solid bright colour. Easily achieve a token nod to this micro trend with some of the colour blocked shoes or bags available.
...(v4r)
The correct colour choice for that summer jacket or parka will lift your skin tone much more than any unfashionable sun-baked mahogany tan. This is what you can do: to the stronger important bright colours such as turquoise, cobalt blue, lilac violet, coral, tomato red and aurora, add neutrals and softer sherbet colours. The neutrals include café Latté, beige, blush, cream, stone, warm ecru and the soft khaki shades of dried herbs/eucalyptus. Along with the Monochrome Schemes they offer a safe palette for those who resist intense colour.
Eucalyptus and Dried Herb are the balancing colours to bold brights. These khaki based colours soften down colour overload and make for wearable items.
Centre Left - PANTONE 15-0513 Eucalyptus - Is a paler dusty desert khaki colour. Eucalyptus and Dried Herb can be found in parkas, utility pants, military inspired pocketed, tabbed and epaulette trimmed macs and trenchcoats. The colour mixes well with denim and other neutrals.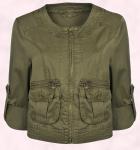 Left - PANTONE 17-0627 - Dried Herb - A deeper more green foliage camouflage Khaki perfect for Utility Chic looks.
Women love military jackets and this one far left is from high street and online retailer New Look and their Limited Edition Collection.
Above Left - Limited Edition Military Jacket £55/€79 - New Look UK.
Far Right - For Bigger Plus Size Girls - Military Chic Jacket by Evans.
For 2010 the most important block bright colour is turquoise.
Vivid brights, pastel sherbet tones, neutrals and monochrome palettes will satisfy every taste.
According to Pantone one of the world's leading colour specialists, the top colours for women's fashion for 2010 summer are:-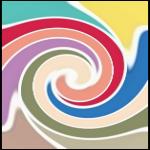 PANTONE 15-5519 Turquoise
PANTONE 18-1661 Tomato Purée
PANTONE 16-1543 Fusion Coral
PANTONE 16-3320 Violet
PANTONE 16-1219 Tuscany
PANTONE 12-0642 Aurora (Yellow)
PANTONE 18-3945 Amparo Blue
PANTONE 12-1107 Pink Champagne
PANTONE 17-0627 Dried Herb
PANTONE 15-0513 Eucalyptus
Summary of Summer Colour Fashion for 2010
The main women's fashion colours for 2010 are vibrant turquoise, inky sapphire through cobalt and cornflower blue. One challenge for the fashionista is to juxtapose bright block colours like hot orange, tangerine, coral and tomato red, against fuchsia pink and magenta.
Bright looks can overwhelm some women so consider softening brighter colours by wearing several related tones of similar colours. Mixed bright shades are not as overpowering as all one solid bright colour.
Top of page first image - Far Right - The patchwork bag follows a similar colour scheme to those in the Pantone Summer 2010 colours. Bulaggi Twin Handle Multicolour Shoulder Bag, £62.50 from ColourfulFashion.com. The embellished colourful dress beside it is from NEXT at £58.
Copyright of images courtesy of Prshots, Pantone, Marks & Spencer, Betty Barclay, Aquascutum, BHS, Jane Norman, Ungaro, Jaeger, Harvey Nichols, House of Fraser, John Lewis, George at Asda, Freemans, Phase Eight, Elégance, Kaliko, GIVe, Hobbs, Fever, River Island, Precis Petite, Evans, Monsoon, Debenhams, Littlewoods, Accessorize Monsoon, M&Co, Tamaris, A-Shu-co.uk, Schuh, T.K.Maxx, Matalan, ASOS, IFTF, NEXT, Swarovski, Very.co.uk, Warehouse, French Connection, Schuh, Betty Jackson, A|wear online, Frank Usher, Hush Puppies, Matalan, White Stuff, Bertie UK, Apricot, Vera Mont, Kaleidoscope, Yumi and Uttam at ColourfulFashion.com,
TK Maxx is an off-price retailer that sells designer and high street brands in womenswear, menswear, childrenswear, gifts, accessories and homeware at up to 60% off the RRP. A concept imported from the States and tailored for the UK market, 'off-price' shopping offers a mix of predominately current season designer and high street items all at up to 60% off the recommended retail price. The amazing deals can be passed on to customers because the stores offer a no frills operation. Each store has over 50,000 items in stock and will sell one fifth of all stock every week so there's 10,000 new items arriving in store every week. This fast turnover combined with daily deliveries means that stock is always fresh. TK Maxx currently has over 200 stores around the UK and Republic of Ireland and dedicated home stores in York, Edinburgh and Kingston. To find your nearest store visit www.tkmaxx.com.
Date Added 20 April 2010 - Ref:P.759
If you like this page then please share it with your friends
---
--Link--
For more information on ladies and teens fashion trends go to:-
Custom Search
About Fashion-Era.com
Fashion-Era.com looks at women's costume and fashion history and analyses the mood of an era. Changes in technology, leisure, work, cultural and moral values. Homelife and politics also contribute to lifestyle trends, which in turn influence the clothes we wear. These are the changes that make any era of society special in relation to the study of the costume of a period.

Fashion-Era.com can take no responsibility for any information on the site which may cause you error, loss or costs incurred from use of the information and links either directly or indirectly. This site is owned, designed, written and developed by author: Pauline Thomas and Guy Thomas. This site is designed to be viewed in 1024 X 768 or higher.
ALL RIGHTS RESERVED. Fashion-era.com reserves the right to add or delete information, graphics and links. Copyright © 2001-2014 on all content, text and images in Fashion-era.com. Images and text in this website may not be used on other websites.
Before you write to me for costume/fashion help or information please, please consult the extensive sitemap which lists all our pages. If you still cannot find the answer after searching the site, then before you email me, please consider if you are prepared to make a donation to the website.
Donations
Reader's donations help this site flourish, in particular donations encourage me to write more articles on fashion history as well as current trends. PayPal allows anyone with a credit card to donate easily and securely. You may donate any sum you feel appropriate.