Fashion Trends for Summer 2010
Fashion trends for even the next five years, let alone ten years are always impossible to predict, but these are the fashion trends many of us look for when refreshing our 2010 fashion wardrobe.
This list of top twenty fashion looks combines main and micro fashion trends for 2010. Each of the latest looks listed below is examined in more detail on this and other pages of the Fashion-era.com website.
TOP-TO-TOE FASHION SILHOUETTE 2010 - Volume sleeves/ornate yokes create wider shoulder focus. Note the swelling bell-like fuller skirt silhouettes - bubble, bloused and hoiked hemlines. DRAPING - Architectural geometric draping methods, which disguise/flatter imperfect bodies. Above/on knee dresses. See right: - Hobbs SS10 - Collybrooke Bubble Dress £299.
NEW PASTELS - The Sherbet Tones - Pink, peach, banana, lemon, lilac, powder blue, eau de nil, mint, jade, aqua. See right: Gerry Weber trench.
COLOUR BLOCKING - Bold Brights - Striking colours e.g. orange coral/fuchsia or yellow/turquoise. Acid brights, brilliant clear blues.
FASHION LOOKS - THE NEW PRETTY WOMAN - The Romantics - Petal print dresses, silk lace camis, scallop edges, satin, lace, flounces, ribbons, bows, soft nude tones of shell pink, lace bra effects. Black on pink blush.
UNDERWEAR WORN AS OUTERWEAR - Corsetry Underpinning - Applied tapes/lace, cut outs. Negligee dresses. Printed Tanks. LACE - Lace is used as a contrast and also as a base fabric. Often worked in flesh tones or creams. See right: Long Sleeve Lace Body, £15 - Yogoego.com.
TRENCHCOATS - REWORKED CLASSICS - Trench coats in beige and creams, bold brights and pretty pastels. Above knee Macs in every colour. Short cropped Macs.
UTILITY CHIC - Utility is nothing like 90's grunge. This is modern utility chic for the twentens with chinos, cargo pants, utility summer trousers. SPORTS STARS LOOKS - Baggie Trackies in luxury fabrics. JUMPSUITS - Military fashion styling.
NAUTICAL STRIPES - Red, blue or black with white. Wide/Narrow Striped Knits. Striped tops, dresses and outerwear.
Perennial DENIM DAYS - Distressed denim dresses, shorts, military jackets, jeans. Washed out looks. Closely aligned to utility chic and nautical.
LOOSE TAILORING - Chic loose blazers and trousers. The long leaner blazer is relaxed and loose - but not oversized. Right - Ivory Boyfriend Blazer Jacket by Mint Velvet jacket, £85.
ANIMAL PRINTS - Digitally Enhanced Animal patterns in colours or neutrals - grey + black + white.
TRIBAL BEAT - Safari, khaki and batik looks. Primitive/Jungle prints, clashing abstract print mixes. OTT chunky jewellery. See dress right: ASOS.com Africa Collection.
EXOTIC TRAVELLER - GYPSY/ROMANY/SPANISH/TURKISH NOMAD LOOKS - Bizarre Bazaar Exotic Materials.
WOMAN IN WHITE - Summer days - cool architectural linen, torn edge looks, blazers, jersey draping, gypsy flounces.
HAREM INSPIRED TROUSERS - FLAT and Peg-top trousers. Narrower legs balance wider top silhouette. Baggie Trackies. TREGGINGS. Skeggings.
ROSES/FLORALS - Superimposed flower forms as textured dress necklines, flower hemlines, floral sandal and corsage decoration. PETAL PRINTS, TEXTURED GRAPHIC STATEMENT PRINTS UTILISING FLORAL FORMS - See right - Floral border print dress - Uttam Pink Lilyana Summer Dress, £55.00, Uttam Hot Pink Maya Cropped Cardigan, £39.50, Uttam London at ColourfulFashion.com.
FABRIC PRINTS & FABRIC TEXTURES
Digitally Enhanced Fabric Prints - Petal Prints - Clashing Prints - Firework Bursts -1970s Prints - Spots - Animal Patterns. Border prints. Raw edges, natural ecrus and torn paper looks in fabrics. Short/long tassel and fringe trims.
COLOURS - MAIN PANTONE COLOUR PALETTE SPRING 2010 - Turquoise, Tomato Puree, Fusion Coral, Violet, Tuscany, Aurora (Yellow), Amparo Blue, Pink Champagne, Dried Herb and Eucalyptus. See more on colours on the colour trends page for 2010. Especially note - Turquoise - Cobalt Blue - Lilac Violet - Green, plus the rise of rose coral/orange red. IMPORTANT SUBTLE COLOURS FOR 2010 - Solid Soft Blush Pink with Black. NEUTRALS - Café Latté, beige, cream, stone, warm ecru and soft khaki. MONOCHROME MIXES - GREYS, BLACK, WHITE. GLOSSY GOLD TONES - Glittery gleaming lames, heirloom chic morphing to copper burnishing for fall 2010.
KNITWEAR - Printed Knitwear, intarsia patterned knits, rib knits, cable knits, uneven draping and cardigans. Pattern, stripes and cable combos in knits. Corsage flowers on knit necklines. Knee length cardigan coats - watch this knit coat trend develop next winter.

...(v4r)

ACCESSORIES -
JEWELLERY - TEXTURED BIB NECKLACES - Tribal and nomadic influence in jewellery. Colourful layered bangles and cuffs. Multi row necklaces. Chandelier earrings, teardrop gem earrings with pave surround.
BAGS to BUMBAGS - Coloured bags all colours, quilted with ladylike chain braided handles compete with neat clutches, denim bags.
BAGS AND BELTS FEATURING FLOWER FORMS - Appliqué corsage effects.
BELTS - Studded and spiked belts. Coloured 6 and 7cm deep, belts with massive Boho disc closures. Bow belts.
METAL HARDWARE - VISIBLE ZIPS, STUDS, BIKER BUCKLES - all are used to enhance the surface texture of shoe boots and clogs.
LEATHERWORK - Leatherwork featuring stencil and cutwork punchwork lace effects.
FABULOUS FOOTWEAR - Strapped biker boot cut out sandals. Shaped carved geometric heels. Clogs, wedges, chunky platforms. Hot colours, stripes, spots and animal print footwear with bows, buckles, roses and primary colour contrast bindings.
You are reading an original article on the latest trends in fashion for 2010 by Pauline Weston Thomas only for publication on www.fashion-era.com ©
Fashion Silhouette 2010 Focus on the Shoulders.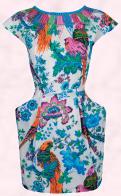 Wider Shoulders


The shoulder has been a focus of interest throughout the noughties. Now in 2010 the high street has settled on the extended cap shoulder piece sleeve, often little more than a wide band. Some dresses also have a small neat shoulder pad to elevate the seam and help keep the shape of the designer intended shoulder line silhouette. Sleeve styles are interesting and there are many sleeves with soft upper fullness either blouse or structured, stiffened puffs and draped puff waterfall styles.
Volume Sleeves - Watch for classic leg-of-mutton and other blowsy puff sleeve styles.
Above Right - Monsoon Fusion Spring Summer 2010 - Blue Cosmic Dress £65/€110 Eire.
Above Left - Monsoon Spring Summer 2010 - Blue Portobello Jacket £120/€285 Eire.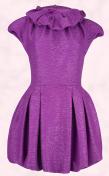 Focus on the Waist and curviness is created with fitted darts and structured seams and drapery.
Near Right - Mauve dress with all the fashion silhouette features to look out for this year. This dress is from the F&F Couture range at Tesco. F&F Couture Textured Pagoda Dress Magenta - £140 from Tesco Clothing - Stockist Number: 0800 505555 or tesco.com/clothing .
Nipped in Waists
This body conscious interest focuses on the waist and curviness created with drapery or fitted darts and structured seams. Look for:- Swelling Skirt Silhouettes - Domed Bell Like Stiffened Fuller Wider Skirts.

Focus on the hemline is achieved with bell skirts, bubble and tulip lines as shown on this page.
Swathed Grecian Goddess Drapery
Drapery in dress is a strong silhouette statement again this summer. Drapery in fashion has grown from micro trend to mass trend.
Draped dress styles are sometimes split and draw attention to the legs, and when well cut at the same time cause the eye to also focus on the curviness of the bust and waistline.
Well designed drapery can cover many figure faults, especially around the tummy area. Drapery can also and enhance curviness.
Left - Neutral draped blush dress - Blush J Grecian Dress £60/€93 by Jasper Conran at Debenhams. Note the little cap sleeve mentioned above and the ladylike quality of the dress. This fashionable dress does have a deep V neckline, yet has not been styled with the overflowing bosom look so familiar a few years ago. The overall effect is fascinating, but not vulgar.
Draping works classically in Grecian goddess mode when the material is smooth silky and plain. Prints of the moment such as tribal digital and striped prints are all used to great effect with draped fashion styles and create a more funky edgy look.
Near Right - One Shoulder Dress £30 ASOS April Clothing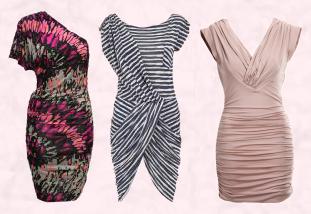 Centre - New Nautical Striped Draped Dress, Limited Edition T69 2978F £29.50 at Marks & Spencer.
Far Right - YOGO EGO Double Layer Jersey Wrap Neck Blush Dress £35 www.Yogoego.com . Yogo Ego is a young fashion company with lots of fresh ideas like this dress which is hot on trend.
Drapery is also apparent in the skirts, knitwear and trousers shown further below.
‡‡
Hemlines for 2010 are on the knee and above the knee as well as calf length and maxi skirts. Take your pick as many manufacturers may advertise women modelling shorter skirts, but so often those models are quite tall. The average woman in UK at 5'4" will often find those same shorter looking modelled skirts fall on their knee. These skirts shown feature plain and patterned fabrics. Two of them show digital prints and the longer skirt has bunches of roses, a popular 50s print theme for floral looks as Mad Men themes take us by storm.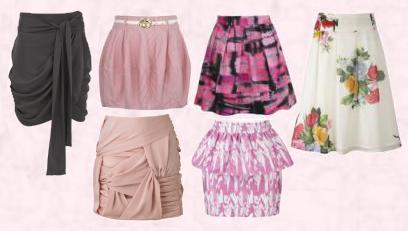 Far Left Top - Marks and Spencer Draped Skirt - A classy top of the league summer skirts style.
Centre Left Top - Matalan SS10 - Key Shapes - Be Beau Nautical Skirt £16. This style is very typical of short skirts that have a bit of bubble and tulip about them.
Centre Right Top - Matalan SS10 - Key Shapes - Be Beau Smudge Check Bubble tulip Skirt £16 - Another on trend basic skirt shape.
Far Right - FEVER Cezanne Pleat Floral Skirt - £48.99 Fever Designs. A longer length skirt and set on a hip yoke basque.
Centre Left Bottom - River Island - Pink Draped Skirt.
Centre Right Bottom - Pink Vero Moda Mini Peplum Skirt £28 - Peplum hip detail in abstract print Cat.No:26J210WB9 from Oli. This skirt is a take on some of the layered flounced or frilled skirts.
Trouser Volume and Width
Narrower Pant Styles with Added Volume....
Draping is is used everywhere to enhance the fashion silhouette. Notice how many of these images show knee to ankle trousers. There has been a growing trend to adopt narrower leg pants. Most of these narrower pants also have SOME peg top fullness. This fashion trend has been picking up speed the past two years. Women get very attached to their trouser shape and often hang onto several leg styles, when an alternative fashion style can flatter a woman so much more than the current pants fashion. If narrower pants are hard for you to wear consider teaming them with a longer line blazer or tunic top and which covers the hips. Don't worry too much if this fashion trend has never felt right for you and you think never will - Autumn 2010 looks set to have a good mix of wider leg and palazzo pants.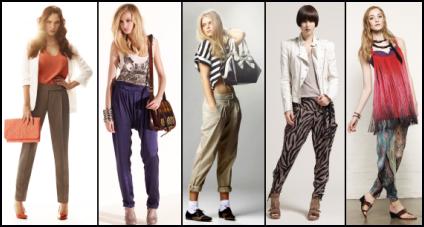 Far Left - Spring Summer 2010 Womenswear White Jacket £20, Tailored Taupe Trousers £18, Pointed Courts £12 and Coral Studded Clutch £25 all by F&F. Orange Vest £16 by F&F Collection at Tesco Clothing.
Centre Left - WW ASOS SS10 Printed Top £16, Navy Trousers £40, Bag £75, Bracelet £18, Shoes £48 all ASOS.com.
Centre - House of Fraser - Black & White Stripe Crop Top £15/€18, Black Ribbon & Pearl Necklace £14/€17, Bracelet £10/€12 Beige Trousers £30/€36 Black & White 'Bow' Bag £29/€35 Therapy White Ankle Socks £6, CK by Calvin Klein.
Centre Right - River Island SS10 WW - 80s Biker Jacket £49.99, Hook and Eye Vest £12.99, Chrissy Harems £29.99, Helene Shoe Boots £49.99.
...(v4r)
Far Right - Warehouse Silky Hareems £45/€60, Scarf £18/€24, Lace Fringe Vest £50/€65, Traveller Tie Dye Tassel Top.
Baggier Pants
Even baggier pant versions, harem ankle band styles or cropped versions and utility chic trousers satisfy all tastes. Utility trackie/tracky/tracksuit bottoms have their place for casual wear and sporting activities. They come in various leg widths from narrow to wider to baggy harem style. This is the sort of trouser that women buy for slopping around at home and doing chores, then dash out to do a last minute supermarket shop. Make sure yours look good enough to wear out and that they flatter your figure rather than destroy it!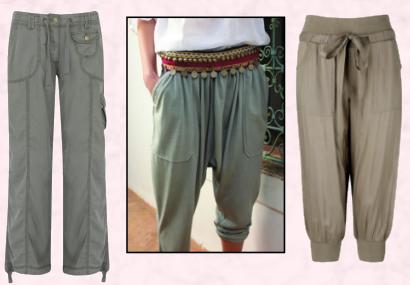 Above Left - Marks & Spencer Indigo Khaki Combat Trousers T54/5314 £35.00.
Far Right - Marisota Hareem Pant, Camel, From £23.
Centre - Plumo - Pocket harem pants in putty coloured soft jersey £49. This has been teamed with a Plumo coin belt £98.
Plumo say their sash style belt with tie ribbons is made from slightly quilted, colourful, embroidered vintage fabrics and trims. The belt is beautifully tasselled with Indian coins and beads but due to the vintage nature, each belt will differ slightly. The size is L140cm and adjustable.
If you like this coin belt as much as I do, maybe the style will become the new Boho belt of 2010!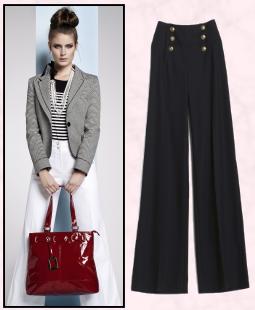 Wide Leg & Nautical Sailor Silhouette Pants
In total contrast for those who prefer wider leg looser formal more tailored pants, retailers are still producing many styles especially nautical influenced wide leg pants.
Wider leg trousers and palazzo pants fit well with cruise wear and the nautical holiday themed collections. And Autumn 2010 looks set to have a good mix of wider leg and palazzo pants so in darker colours they may become an investment piece.
Near Right - Hobbs Seymour Trousers, £119 - Hobbs Spring Summer 2010 Clothing.
Far Left - Take a closer look at Philip Green's BHS clothing ranges. This well made value for money outfit will suit those on a tight budget.
Far Left - Bhs Blazer £40, Striped Top £20, Linen Blend Trousers £25, Bag £22 & Necklace £18. All BHS Spring Summer 2010 Clothing.
You are reading an original article about the latest fashion for the Summer of 2010 by Pauline Weston Thomas only for publication on www.fashion-era.com ©
Softened Bloused Dropped 1920s Waists
If you want a rest from all the nipped in waist then cover up in style with a blouson casual or smock top. Pregnant women, the pleasantly plump and plus sizes will also be delighted with this blouse smock look. The line between blouse, smock, tunic and dress will often be hard to fathom. But this is a pretty look and will suit many women who long for the alternative comfort of a loose top over their midriff. Loose smock and blouson tops like these are especially comfortable on warm balmy days. They stretch your wardrobe by enabling mix and match combinations that can go from day into evening.

Above Left - Royal Blue/Sapphire Bloused Top from Religion.
Centre Left - Bloused Planet Digital Print Ruched Silk Blouse, Blue - £99. Available at John Lewis.
Centre Right - Matalan SS10 - Be Beau Print Halter Top £14 - Stockist Tel. 0845 330 3330
Far Right - Matalan Spring Summer 2010 Clothing - Et Vous Citrus Block Print Blouse £18.
‡
Bloused Tunic Dresses
Blouses and tunics drop past the waist to the hip, with some blousing to just above knee. Plenty of dresses are above the knee, but just as many below it. Tunics have never looked more likely to morph into a dress. You will ask yourself more than once this 2010, 'Is it a dress or a tunic I am buying?'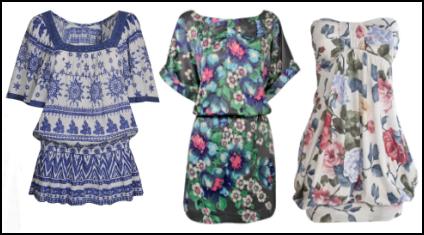 Left - Evans - Aztel Printed Top- Available in Plus Sizes £27/€42 - Evans Spring Summer 2010 Clothing.
Centre - Monsoon Fusion Spring Summer 2010 - Multi Posie Dress £50/€85 Eire.
Right - Republic Spring Summer 2010 Clothing - Womenswear Miso Collection.
The latest fashion looks on offer this Summer 2010 concentrate on the continued trend for feminine dresses and associated pieces. These garments are in either soft sherbet pastels and bold brights, like those further below, or monochrome mixes making the best of contrasting black, white and grey.
Colour, texture and print express femininity through soft patterns, abundant floral forms, lace surfaces and 3D appliqué flowers.
Envisage sherbet colours, dresses, silk lace camisoles, pretty scallop edges, satin, lace, flounces, ribbons, bows and soft tones of shell pink. Black set against pink blush all helps create see through lacy bra and corset effects and must-have underwear outerwear fashion looks.
Right - Pretty Romantic Designer Dress from Ralph Lauren - Available at select stores USA.
Picture champagne tones, diaphanous floating dresses, washed parachute silk and pretty girlish looks. Think of Plisse fabrics, chiffon, cloque, and Chantilly lace. Every material can help create fairytale frocks with frothy frills, frou frou ruffles and flounces.
Sweetshop pastels, candy floss, sugar fondant, sorbet ice and cupcake colours, are all part of the new pretty. But cute is not always edgy, so you may need to harden this look a little by bringing it back down to earth with utility touches for the modern world. Studded accessories help harden up peachy looks.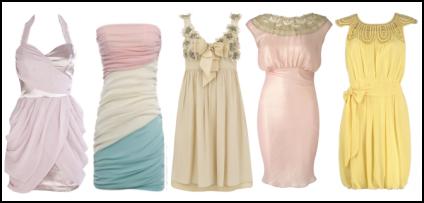 Far Left - Republic SS10 Miso Collection - Pink Draped Dress - Republic Spring Summer 2010 Miso.
Centre Left - Rare Spring Summer 2010 - Three Colour Ruched Tube Dress REF:DG-RY22 at RARE.
Centre - Cream Dress with Decorative Bodice by Marks & Spencer - No details.
Centre Right - River Island Pink Dress - No details.
Far Right - Matalan - Et Vous Lace Detail Dress £25 - Matalan SS10 - Key Shapes. Stockist Tel. 0845 330 3330.
The dress - is clearly still with us and Mad Men sheath dresses in Betty Draper & Christina Hendricks styles now abound. But body con hugging fabrics and body con cuts dress use a multitude of fabrics that pull and push the figure into hour glass shapes.
An underlying trend for some years has been that of soft peach blush pink an expensive colour tone in the near neutrals range. One of the strong micro trends this year is the fashion look 'underwear as outwear' pieces. Black, white, blush, cream and charcoal are all used in these underwear outerwear fashion designs.
Whatever the colour/pattern scheme all these hues are often found artfully placed in the natural construction sections of dresses. Read more on the Underwear worn as Outerwear page.
Left - New Look Limited Edition Corset Lace Dress £45-€59.
Centre - Marks & Spencer, Grey and White Dress £49.50. Due May-June.
Far Right - Marks & Spencer Black Lace Dress. T421923. £65 Due May-July.
Monochrome Neutrals Trend
...(v4r)
Some micro fashion trends float past unnoticed by the majority. Other looks catch the imagination of fashion followers and hang on for years. Monochrome is one of these looks. Now after being cocooned in black and grey for far too many years, new generations are rediscovering bright and lively colour combinations as earlier vibrant examples show.
Bold fashion colours are just that BOLD - they are foiled by everyday sensibility and monochrome black/white, neutral grey, taupe and cream. Neutral fashion pieces are never very far away from any fashion story this season.
For 2010 the most important block bright colour of the 2010 fashion colour palette is turquoise shown right. Melissa George favoured a hue in this colour range when she attended the Golden Globe Awards.
Image courtesy of the 66th Annual Golden Globes Awards.
Vivid brights, pastel sherbet tones, neutrals and monochrome palettes satisfy every taste.
Pantone's top 10 spring 2010 fashion colours for women are:- Turquoise, Tomato Puree, Fusion Coral, Violet, Tuscany, Aurora, Amparo Blue, Pink Champagne, Dried Herb and Eucalyptus. For more details of the actual Pantone colour numbers for 2010.
Cool Blues - The most important fashion colour contenders for 2010 are the blues with vibrant turquoise, inky sapphire through cobalt to cornflower blue and faded denim blue.
Warm Tones - Pink, red and coral have been hot colours for several years. These dresses below reveal some of the interesting warm combinations. One challenge to the blues, to pastels and monochromes is to be bold and juxtapose bright block colours like hot orange, tangerine, coral and tomato red, against fuchsia pink and magenta.
The effect is electric, but stunning when coral red and orange is teamed with a strongly competing fiery shocking fuchsia pink. Dresses based on coral orange tangerine tones and worn as the sole colour are right on trend.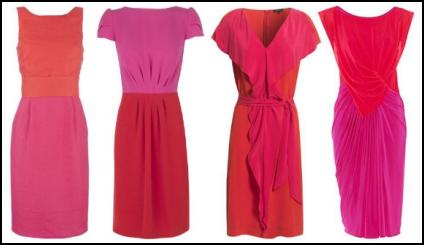 Above Left - John Lewis Women Linen Colour Block Dress - John Lewis SS10 COLLECTION, £65.
Centre Left - Marks & Spencer Autograph Summer 2010 Collection - Autograph Lined Silk Dress - £69.
Centre Right - Jaeger Matador Red Waterfall Dress, £199 - 100% Silk. Jaeger at John Lewis.
Far Right - Push the boat out with this luxurious designer dress - Vintage in the making. Gorgeous Donna Karan Bi-Colour Drape Dress from Harvey Nichols - £1,755.00.
Colours To Watch
The rise of orange based light coral red.
One noticeable colour seen to be a rising star is that of an orange based light coral red. This is very different rosier orange tone than the hard orange colours of the 1970s. This 2010 orange is warm and blushes more than the cooler, harsher 1970s orange.
Left - Lanvin Kimono Belted Hot Tangerine Dress at Harvey Nichols - £1,285.00.
Centre - Blood Orange Peplum Dress by Tesco SS10.
Far Right - Limited Edition Orange Silk Dress by Marks & Spencer.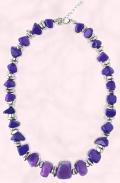 Violet and purple based colours have been incredibly popular sellers with women throughout 2009. There is still high demand for these rich vibrant shades that lift a woman's face. Note how the purples are often meeting the blues.
Right - Blue violet purple lavender necklace from Phase Eight Pebble Necklace in Thistle £25.
As well as the stronger important bright colours such as turquoise, cobalt blue, lilac violet, there are the neutrals and softer sherbet colours. The neutrals include café Latté, beige, cream, stone, warm ecru and soft khaki. They offer a safe palette for those who resist intense colour.
The correct colour choice for that summer jacket or parka will lift your skin tone more than any unfashionable sun-baked mahogany tan.
IMPORTANT BRIGHT COLOURS FOR 2010
Turquoise
Cobalt Blue
Cornflower Blue
Mauve Lilac, Lavender to Blues.
See more colour fashion trends for 2010
‡
Digitally Enhanced Fabric Prints
Digitally Enhanced Fabric Prints create a whole new world of up-to-the-minute fabrics. These are sometimes mixed with other equally demanding prints to create clashing print mixes that dazzle and confound whilst crying out novelty. This feature extends from jersey knit dresses through into knitwear.
Below digital watercolour effect fabrics and sculptural forms from brilliant young designer Mary Katrantzou. Image courtesy Swarovski.
Far Right - Value for Money Print Dress from George at Asda.
Tribal Structured Dress £16 George at ASDA.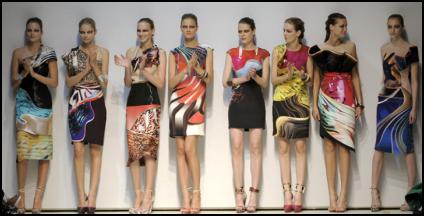 Petal Prints
Petal Prints - This uses large fulsome blooms to pinhead prints and mystical blurred watercolour effect flora, to form fabrics of ethereal beauty. This is an exceptionally pretty girly look, feminine and easily made more edgy with statement jewellery in bold designs and shoes that shock.
Whilst purple is still having its moment make way too for blue - the colour of the year. Stock up on anything turquoise through to cobalt blue and cornflower.
The marine blues add a cool calm elegant sophisticated aura to a woman. Like an image of sea breezes the tones are naturally expensive looking so make a good colour choice for new investment pieces.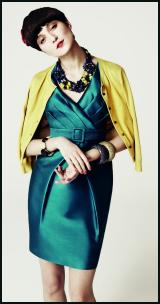 Right - M&Co Ladieswear SS10 Jewelled Floral Shift Dress £40.
Left - Hobbs Summer 2010 - Vaudeville Dress £159.
If you are now ten years older since you last wore one of the richer royal blue tones, then this colour may appear harsher against your skin tone than you first recall. So select the colour and fabric carefully to maximise the wondrous effect blue can have on a woman. Deeper cobalt blues are especially suited to the business and evening environment as they make a refined, yet glamorous in control alternative hue to black.
The iris/electric blue/purple/violet colour spectrum has stayed in favour and so there are still plenty of mauve tones filtering down through lavender to cornflower blue for spring.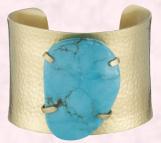 Still in the blue green spectrum the sea greens, turquoise and aqua have once again made us more comfortable with the green family. The rise of blue based accessories in bags and jewellery reflect this.
Right - John Lewis Collection Turquoise Cuff - £20.
The brights, acid green, lime, citron yellow tones all remain popular colour choices especially in summer cotton and linens, but now move toward warmer khaki, olive green and yolk gold.
...(v4r)
Shimmering brocades are glam and make for perfect occasion wear as summer weddings make their mark. Glimmer and a burnished glossy mirror shine are easily achieved with glossy bags, metallic footwear or the gold cuff just shown above.
Textures - Check out the Dolce and Gabbana crochet dresses and watch out for macramé bags and casual layering pieces. Look out for torn edges, frill layers, crunchy lace, Cornelli tape work, and 3D floral forms on dresses jackets and knitwear.
You are reading an original article about Summer Fashion Trends for 2010 by Pauline Weston Thomas only for publication on www.fashion-era.com ©
For an easy to wear fashion trend check out the blazer too, but note this year a more loosely tailored jacket.
Designers have pandered to investment dressing creating bread and butter styles that are universally recognised. Wearable basics are commercial in a society still careful with income in the aftermath of global financial chaos. Consider the new blazer especially in white or neutral tones.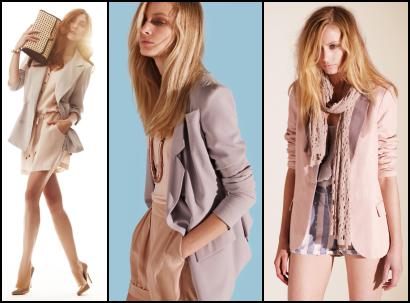 Left - Spring Summer 2010 Womenswear - Light Grey Boyfriend Blazer £30, Playsuit £20, Woven Clutch £10, Bracelet £7, Pointed Courts £12 - F&F at Tesco Clothing.
Centre - WW ASOS SS10 Jacket £60, Vest £6, Shorts £35, Necklace £12 ASOS.com SS 2010.
Far Right - WW ASOS SS10 Jacket £55, Scarf £22, Shorts £22, Vest £25 ASOS.com SS2010.
Take a look at the revamped trench coat variations as starting points to an investment wardrobe update.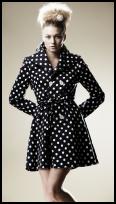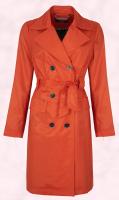 Designers have excelled by producing softer loosened up tailoring reflected in the cropped trench coats and colourful brighter colours.
Far left we have an above knee monochrome trend Mac with black and white spots overlay. Beside it a knee length trench coat in the hottest rising colour of tangerine orange.
Near Left - Star by Julien Macdonald - Orange Trench Coat £80/€124 at Debenhams.
Far Left - Retro Sweetheart S/S 10 Monochrome Spot Coat at boohoo.com.
The neutral tone Mac as supplied by Burberry and Aquascutum for generations is the traditional trench coat that most people think of along with scenes from old movies like Casablanca. It suits women and men and the choice of a neutral tone is a classic and timeless piece that will hang in your closet ready for a rainy day any year, anytime. This one near right is from - Hobbs SS10 Collections. Hobbs Riviera Rainmac, £149, Gaiety Top, £69, Vincente Shorts, £69, Gina Bangle, £49, Rocas Double T-Bar, £189.
Utility chic is a sporty military styling that targets younger followers. But for Summer 2010 utilitarian looks are frequently a contradiction - boots have open cut outs, whilst sandals climb the leg like boot forms.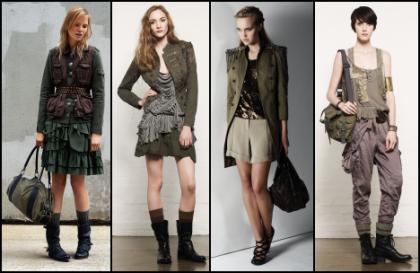 Centre Right - M&S Spring/Summer 2010 - Military Jacket £89/€120, Top £59/€80, Shorts £49.50/€67, Bag T83 £39.50/€54, Shoes £29.50/€40.
Above Left/Centre Left and Far Right - Images - Utility Looks from Warehouse Collections.
Contrary fashion creates notice-me options that decoders always love. Hard edged military jackets are softened with decorative elements. Soft jerseys make for relaxed practical utility daywear.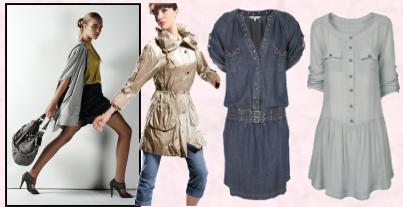 Above Far left - Marks & Spencer - M&S Spring/Summer 2010 - Jumper £39.50/€54, Top £32/€43, Skirt £35/€47.50, Bag £35/€47.50, Shoes £29.50/€40.
Centre Left - Betty Barclay Spring Summer 2010 - Betty Barclay Outdoor "Soft Pastells". Short coat, Style No. 4385/2630.UK ₤210/€245.00.
Centre Right - J by Jasper Conran at Debenhams Summer 2010 - Denim Rivet Shirt £40/€62.
Far Right - Monsoon Fusion Spring Summer 2010 - Grey Pixie Shirt Dress £50/€85 Eire.
Like every new decade preceding this one, fashion for 2010 fills us with fresh optimism. That optimism is part craving for the novelty of newness and part demand for the promise of figure flattering fashion designs. Secretly we hope that the latest fashion trends for Spring Summer 2010 will be the fashion looks that transform us into glamorous women and allows the goddess within us to emerge. You are reading an original Spring Summer Fashion Trends 2010 Top Fashion Looks article by Pauline Weston Thomas only for publication on www.fashion-era.com ©
Many of us are slowing down to pause and consider more carefully how we spend our money on new fashion pieces. We buy just about everything now in a more considered manner. What we buy, what we wear, how and from where we buy are for many well thought over before the final considered purchase. A considered purchase was once regarded as an item that cost over £100 and consumers gave little though to spending money on purchases under that figure. The recession and the knowledge of the reality or possibility of a future restricted fixed income have created angst among those who feel threatened. Those people now take careful note of every expenditure and pride themselves on savings.
The new all embracing fashion mantra encapsulates the concepts of quality, recycling, eco awareness, handcrafting, fashion swishing/swapping and wardrobe longevity. This doesn't mean the pieces have to be ultra classic, but it does mean that women are dressing their bodies to enhance them. Women thinking in terms of chiconomics and building personality wardrobes that show the world their individual style dictated by their own body form. It's not just a case of buying clothes to cover the body or ape someone else its more a case of purchasing items that define your individuality and address your statement style. So fashion has slowed a little.
Clearly the recession of the last two years of the noughties set a new mood globally of more thoughtfulness. Through 2008 and 2009 the majority of consumers quietly set themselves new standards. Now designers recognise that women wish to build groups of wearable outfits that span the seasons. Those existing wardrobes with the addition or removal of a new layer can incorporate new items seamlessly and fashionably. Classic no longer means dull safe and boring, but timeless quality materials and elegant figure flattering cuts. Accessories especially shoes and chunky statement jewellery can add a modern funky touch to any understated look.
When budgets remain tight assess the key fashion items you really need. Check the themes that appeal to your personality. If you like classic looks consider for example the stripes or spots themes as they come in and out of fashion with regularity, so can be stored rather than ditched if the fad passes. If you like feminine soft outfits go for sherbet colours or floral fashions. Note that burgeoning skirt as it get wider, sort out a pair of slimmer pants, assess your suitability to the well defined shoulder line, statement sleeves or emphasised waistline. Then either reject or adopt these elementary changes. Incorporate some on-trend colourful footwear, add a fashionable bag and you will be set to go.
After a decade of increasingly speeded up fast fashion, personally styled investment dressing has been creeping back into women's wardrobes. With the noughties well and truly gone I think of this new decade as the Twentens rather than the teens, tweens, teensies, tweensies or tenteens. Whatever it finally gets called, I'm sure it will survive endless fashion must-have pieces or wannabe outfits.
Decades, like trends come and go, but these days fashion trends are taking a new path as laptop shopping has rapidly become the new effortless way to buy the latest fashion pieces. Women love trying on garments in the comfort of their own home with their own jewellery, bags and shoes to hand. Shopping online means women have instant access to the latest looks knowing some really will suit their particular body shape and personal style. Women are making online fashion selections at leisure because it not only makes their lives easier, but enables them to grab the hard to track down size, length or colour. This is the ultimate self treat in a box and all without the hassle of queuing at a till.
In 2010 women are dipping into a variety of looks and pleasing themselves. With the rise of internet shopping the majority of women have become their own fashion buyers and fashion editors, selecting from a wide range of clothing pieces that appeal to their sense of personal style. They are more aware of the self esteem value that thoughtful grooming and styling brings. They have absorbed the makeover advice of Gok, Trinny and Susannah and countless other fashion gurus and taken on board that other people do look at them, what they wear and how they present themselves to the world. Nothing is more boosting to personal self esteem than to be told by an acquaintance 'you look great today, but then you always do look lovely'.
By absorbing some fashion do's and don'ts women are finding their own style and fashion level whilst becoming more clued up about appropriate fit for purpose underwear. Many now know that to appear fabulous, fit and fashionable they need to be aware not only of the latest fashion stock, but also know the corresponding underwear fashion fixes. All this plus also understand that no fashion look should be slavishly followed, but personalised with custom selected edited fashion elements.
The new pick and mix for grown women is fashion shopping online.
These are the latest top-to-toe developments of the silhouette trend for 2010. The shoulder has been a focus of interest throughout the noughties. Now in 2010 the high street has settled on the soft, but fuller upper sleeve. Also, continue to pay attention to the skirt width and shoulder silhouette and bring colour into your wardrobe.
Another of the latest fashion looks on offer this Summer 2010 concentrate is the trend for feminine dresses inspired by the 'Mad Men' television programme.
As for colours, Pantone's top 10 2010 fashion colours for women are:- Turquoise, Tomato Puree, Fusion Coral, Violet, Tuscany, Aurora, Amparo Blue, Pink Champagne, Dried Herb and Eucalyptus.
Fashion trends for even the next five years are difficult to predict, but this article highlights the fashion trends many of us will add this year when refreshing our 2010 fashion wardrobe.
You have been reading an original Spring Trends 2010 article by Pauline Weston Thomas only for publication on www.fashion-era.com ©
Header Image courtesy ColourfulFashion.com Floral border print dress - Uttam Pink Lilyana Summer Dress, £55.00, Uttam Hot Pink Maya Cropped Cardigan, £39.50, Uttam London all at ColourfulFashion.com.
Copyright of images courtesy of Prshots, Marks & Spencer, Harvey Nichols, House of Fraser, Colourfulfashion.com, John Lewis, Oli, Rare, Evans, Monsoon, Debenhams, Freemans, River Island, Monsoon, Tesco, M&Co, Marisota, Phase Eight, Jaeger, T.K.Maxx, George at Asda, NEXT, Matalan, BHS, ASOS, Warehouse, Pantone, Very.co.uk, Hobbs and Swarovski.
Date added March 2010 - Ref:P.757.
If you like this page then please share it with your friends
---
--Link--
For more information on ladies and teens fashion trends go to:-
Custom Search
About Fashion-Era.com
Fashion-Era.com looks at women's costume and fashion history and analyses the mood of an era. Changes in technology, leisure, work, cultural and moral values. Homelife and politics also contribute to lifestyle trends, which in turn influence the clothes we wear. These are the changes that make any era of society special in relation to the study of the costume of a period.

Fashion-Era.com can take no responsibility for any information on the site which may cause you error, loss or costs incurred from use of the information and links either directly or indirectly. This site is owned, designed, written and developed by author: Pauline Thomas and Guy Thomas. This site is designed to be viewed in 1024 X 768 or higher.
ALL RIGHTS RESERVED. Fashion-era.com reserves the right to add or delete information, graphics and links. Copyright © 2001-2014 on all content, text and images in Fashion-era.com. Images and text in this website may not be used on other websites.
Before you write to me for costume/fashion help or information please, please consult the extensive sitemap which lists all our pages. If you still cannot find the answer after searching the site, then before you email me, please consider if you are prepared to make a donation to the website.
Donations
Reader's donations help this site flourish, in particular donations encourage me to write more articles on fashion history as well as current trends. PayPal allows anyone with a credit card to donate easily and securely. You may donate any sum you feel appropriate.