Underwear as Outerwear - Fashion Trends for 2010
The popular blush colours of pale pink and creamy flesh tones are prominent in a new fashion trend for 2010 lingerie looks, namely underwear as outerwear. Soft tones can still be stand-alone colours, but they are also now used to emphasize underwear outerwear styling. The soft gentle blush tones, pastel greys through to white, all get the underwear-outerwear treatment. Blush can be as rosy as coral (see below) or as neutral as beige based nude tones; or blush can be gentle, soft, subtle and as pastel as magnolia pink.
WOMEN'S UNDERWEAR WORN AS OUTERWEAR in 2010
Corsetry as outerwear features especially with ribbon lacing combine stylishly to create the stencil like effects of underpinnings. Body contours are created with applied tapes and lace. This is an old figure-defining silhouette trick used in many other lingerie fashion periods such as the bustle era. Following the curves of a corset, especially a princess line corset, creates an optical illusion of shape; Venus curves and hour glass cleavage.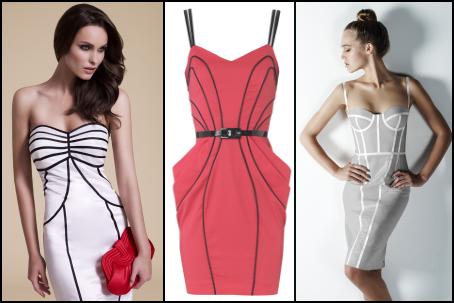 Above Left - Debut - Black Tape Bandeau Corsetry as Outerwear Dress £80/€124 at Debenhams.
Above Centre - Jane Norman Spring 2010 Piped Pleat Dress £42 Jane Norman - Premium Collection.
Above Right - M&S Spring/Summer 2010 Dress £59/€80, Marks & Spencer.
Camille also provide a good selection of affordable lingerie.
You have been reading an original lingerie fashion article by Pauline Weston Thomas only for publication on www.fashion-era.com ©
Single colour underwear outerwear dresses, like these above, emphasise corsetry lines with piped and taped seams. This modern lingerie fashion almost appears to have reversed the construction of 1950s boned-couture sheath dresses.
‡‡
We are all familiar with the empire line bra dresses, such as these summer sundresses below left and centre. Sun dresses morphed into bra dresses decades ago, so a bra dress is nothing new. Even when a bra dress is not in mainstream fashion there are always girls wearing them at seaside holiday locations.
This washed denim corset bra dress right, ticks all the boxes for a stylish summer holiday dress in corsetry as outerwear. Its denim and pastel so very on trend. For those wishing to reduce luggage this is a good double-purpose dress. Easy to get to the beach with just a bikini bottom, it is also a great cover up for lunch at the beach bar and offers the freedom of a full skirt.
Right - Marks & Spencer - Light Wash Blue Denim Corset Dress.
Such lingerie fashion styles are relaxed, cool and comfortable to wear when the bodice gives enough shaping for a woman to feel comfortable enough to wear top clothing without a bra. This makes this dress style ideal summer holiday wear for hot days. The easy flowing style also lends itself well to summer maxi and evening dresses.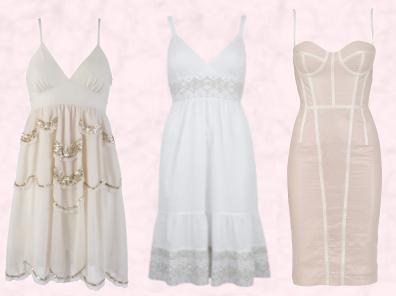 Above Left - Embellished Dress by Oli.
Centre - Summer Whites - Marks & Spencer Pintuck Embroidered Cup Dress T69/3019 £35.
Right - Marks & Spencer Dress £49.50 May-June.
The bra dress, far right above, is another colour way of the same underwear outerwear grey/white tape dress shown modelled at the top of the page. The more tailored construction gives the dress greater formality of corsetry as outerwear and thus is ideal for smarter wear. It would also team well with a jacket or light bolero giving just a glimpse of the underwear outerwear feature.
Pastel and sugar sorbet fashion colours for 2010, mean that the palest pink is exquisitely delicate, sophisticated and subtle, yet ultra girly in its prettiness.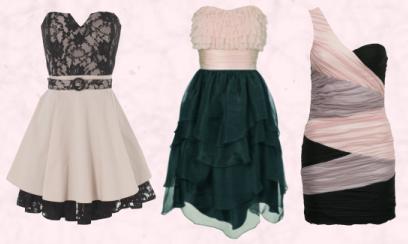 Above Left - Jane Norman Spring 2010 - Lace Bandeau Belted Mini Prom Dress £50.
Centre - Monsoon Spring Summer 2010 - March - Grey Petal Dress £160/€250 Eire - Monsoon Originals.
Far Right - Body Con Dress £45 at ASOS.com - ASOS April Clothing.
As well as surface application of lace trims, designers are also inserting lace or chiffon pieces of fabric in main areas of silhouette and seaming focus. Strong Corsetry as outerwear looks include pastels mixed with overlays of black lace.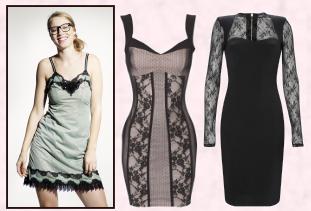 These dresses left and below show how black lace can be applied, or used as sections of a garment and create a different underwear outerwear look for 2010. The garments take a fresh twist when lace is mounted on flesh or pastel coloured fabric rather than the more usual black lace on black.
Far Left - New Look - Green Lingerie Dress - £25/€35.
Centre - Body con dress evening fitted lace party style wear from - Jane Norman Spring Summer 2010 - Lace Corset Panelled Dress - £45 Jane Norman Dresses.
Near Right - French Connection Summer 2010 Crepe Deluxe Insert Dress £120, French Connection Ladies Clothing. This black concealed cut-out dress has a fitted lace neckline and sleeve with a tailored zip.
You have been reading a 2010 underwear as outerwear article by Pauline Weston Thomas only for publication on www.fashion-era.com ©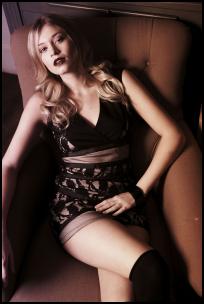 The pastel green dress near right is a straight forward lingerie dress and a pure take on a woman's underslip petticoat. Although to be fair, the wearing of a petticoat slip or chemise as an undergarment is rarer today, especially since most dresses are lined, and women prefer to wear alternative Spanx and Sculptz type foundation products.

A full lace slip was always seen as a very alluring garment in the past. Elizabeth Taylor wearing a gorgeous underslip in the old film, 'Cat on A Hot Tin Roof' springs to mind. Maybe lace trimmed slips as pretty as this one will make a come back if we continue to wear dresses so much.
This black dress far right above, and with lace sleeves, must be the little black dress that every woman falls asleep dreaming about, especially the woman who wants to hide/cover up her arms.
Every fashion retailer in 2010 has dresses with underwear outerwear lines that emphasise the upper body and waistline.
This lace panel black dress £65 right and which gives ample coverage is from Marks & Spencer - T421923 and is made from lace and satin totally in polyamide (100% nylon) so is fully washable, making it low cost on laundry after spillages.
This skimpier outfit far left is from Boohoo.com and their Edgy Parisienne Spring Summer 2010 collection.
So consider your age group and take your pick from all the lingerie fashion looks.
...(v4r)
Lace is big fashion news, and some blouses, tops, and bustier corsets are made entirely of lace. Some fashion lingerie pieces have lace band strips applied in the garment sections. Others are made from satin giving a luxury lingerie underwear outerwear experience for the wearer.
This corsetry as outerwear look is nothing new and was worn hundreds of years ago along with quilted petticoats which became the most showy underwear outerwear part of a woman's ensemble.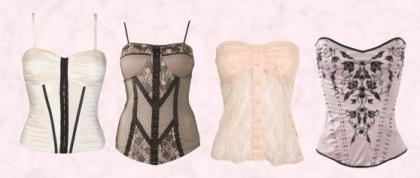 Top Left - Oli Contrast Bustier £38.
Centre Left - Internacionale Lace Corset Top £16.99 - Internacionale Summer 2010 - Stockist Tel. 0141 552 2020.
Centre Right - A|wear Womenswear - Peach Lace Corset €22 £16 - A|wear Stockist Number: 00 353 1 4724900.
Far Right - Jane Norman Spring 2010 - Jewelled Embroidered Front Pink with Black Corset £35 - Jane Norman.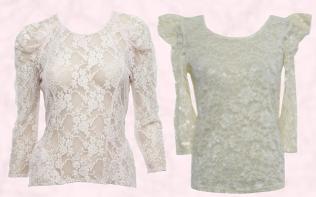 Lace is alluring, but it also has the texture to make it suitable for more sculptural pieces. Lace is often partly mesh net of light to heavy quality, so this makes it especially suitable for areas that need to be crisply self-supporting. The designers of the blouses right have used lace to create interesting sleeve heads. Stretch lace is also an interesting fabric because it lends itself to body con looks.
Near Right - Lace Blouse from a selection at Primark.
Far Right - Lace Blouse by Rare.
‡
Frilly fashion thrills with layers, flounces and tufts of tulle creating a girly romantic pastel prettiness not seen for decades.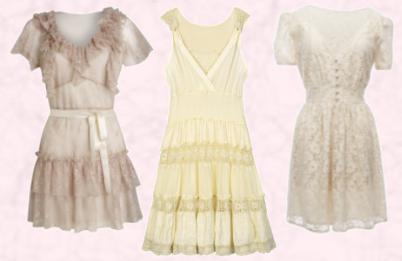 Above Near Left - Baby Doll Dress Oli Dress Cat.No: 24C938WB9 £65 - Oli.
Centre - Simply Be - Ivory Crochet Dress £60.
Above Right - Rose Lace Dress €17 - Penneys Ireland Collections Spring/Summer 2010.
See-through sheer or lace areas and erotic cut outs, create dresses and tops with the air of negligees. Nightdress looks and baby doll cuteness rule the day as well as the night.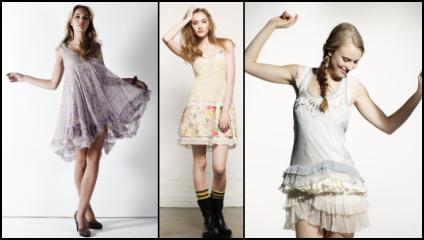 Far Left - Marks & Spencer Negligee Dress. Spring Summer 2010 Dress £45, Bangle £9.50, Shoes £45.
Centre - Warehouse 90's Grunge Yellow Cami £35/€46 Dress £45/€60 Warehouse Spring 10.
Right - New Look - Tiered Chiffon Dress £25-€35 - Embellished Frill Top £40-€55.
Flounced Skirts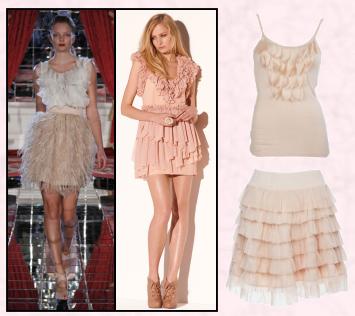 Lace is used to make whole dresses, however you could also trim fashion lingerie with tiered lace inserts or decorate dresses with frills and flounces, primarily of lace. Customizing a basic item with extra lace or trim will put your fashion piece into the designer category at a haberdashery price. Another girly pretty variation is for torn, frayed or laser cut chiffon, crepes, sheers, or semi sheer fabrics.
These frills and tiers also translate into catwalk looks in easy flounced skirts and tops.
Near Right - Jaeger Catwalk Model.
Centre Right - WW ASOS SS10 Campaign Shots ASOS BLACK Dress £100, Shoes £110, Ring £12 ASOS.com WW ASOS SS10.
Far Right - Decorated Top - SS10 Womenswear Miso by Republic.
Bottom Right - Flounced Frill Skirt by Penneys Ireland.
You may well have noticed that many of the fashionable looks on this page feature flesh tone mixed or trimmed lightly with black. This colour combination is everywhere, especially in fashion accessories like these pink blush ballet pumps with a fine black tape trim. Gorgeous - must have some!

Far Right - Shudoo French Sole Henrietta Blush/Black Trim Ballet Pump Shoes £95.
Stockist Number: 0845 680 0251 info@shudoo.co.uk
‡
Even shoes are made to blend and coordinate with the underwear outerwear look. The touch that says its summer 2010 are the spots and studs since spots and studs continue as a strong summer decorative theme. The black binding adds the trim often featured on bras with contrast sherbet colours.

Far Left - SPRING/SUMMER 2010, NEARLY NUDE Faith Footwear CANDICE - £55/€70 NEARLY NUDE bar beige court dolly faith neutral nude pale peep-toe Perspex shoe suede
Centre Left - Office Betsy Bow £60 Office Spring Summer 2010 Ladies Collection.
Office say "Have Fun in the Sun. Think 'Carry on Abroad' and enjoy some summertime frolics by letting your playful side run riot. Like your favourite childhood cartoon characters, the emphasis is on candy colours and pretty prints. Shopping has never been so much fun as OFFICE is transformed into a fantasyland full of suitably sweet shoes. Cute court shoes and pretty pumps are decorated with Mini Mouse style polka dots, Captain Birdseye stripes and larger than life kitsch motifs such as hearts, stars and anchors. If in doubt just remember, mish-mash and colour clash!"
Centre Right - Faith Leather Strapping and Studding Neutral Nude Pale Court Shoe. Stud shoe SPRING/SUMMER 2010 NEARLY NUDE Faith Footwear CALISTAT - £125/€155. Stockist Phone Number: 0845 880 1195.
Far Right - SPRING/SUMMER 2010 NEARLY NUDE Faith Footwear DEARY - £70/€90 NEARLY NUDE. Stockist Number: 0845 880 1195.
The little clutch bag is a winner especially at night and for occasion wear. Many are like exotic pieces of jewellery, trimmed with satin ribbon, feathers, and crystals. Clutches and minaudiθre add the perfect finishing accessory touch to any outfit.

Above Left - River Island Bow Clutch Bag £24.99 SS10 Womenswear.
Right - River Island Clutch Bag - £24.99 Spring Summer 2010. River Island Stockist Number: 0208 991 4904
Read more about the latest new fashion trends that may make it into your wardrobe closet in 2010. You are reading an original Spring Summer Lingerie Fashion Trends 2010 article by Pauline Weston Thomas only for publication on www.fashion-era.com ©
Conclusion on Underwear as Outerwear Lingerie Fashion
Creamy flesh tones are a major new fashion trend for 2010 of lingerie looks, namely underwear as outerwear. You may even spell it underware outerware. The soft gentle blush tones, pastel greys through to white, all get the underwear-outerwear treatment.
Corsetry features, especially with ribbon lacing, combine stylishly to create the stencil like effects of underpinnings. Body contours are created with applied tapes and lace. This is an old figure-defining silhouette trick used in many other fashion eras such as the bustle epoch. Think outwear lingerie looks and underwear-outerwear when you shop next.
You have been reading an original underwear as outerwear article by Pauline Weston Thomas only for publication on www.fashion-era.com ©
-------v6-------
Details of header image and first top image.
New Look Limited Edition Corset Lace Dress £45-€59.
Copyright of images courtesy of Prshots, Marks & Spencer, River Island, Simply Be, Rare, Office, Debenhams, River Island, Accessorize Monsoon, ASOS, Warehouse, Pantone, Oli, Dorothy Perkins, Jane Norman, French Connection, New Look, Shudoo, Office, Faith, Warehouse, House of Fraser, Jaeger, NEXT, Penneys, Internacionale, A|wear, Primark, boohoo.om, Miso by Republic, Simply Be,
Date Added April 2010 - Ref:P.758.
If you like this page then please share it with your friends
---
--Link--
For more information on ladies and teens fashion trends go to:-
Custom Search
About Fashion-Era.com
Fashion-Era.com looks at women's costume and fashion history and analyses the mood of an era. Changes in technology, leisure, work, cultural and moral values. Homelife and politics also contribute to lifestyle trends, which in turn influence the clothes we wear. These are the changes that make any era of society special in relation to the study of the costume of a period.

Fashion-Era.com can take no responsibility for any information on the site which may cause you error, loss or costs incurred from use of the information and links either directly or indirectly. This site is owned, designed, written and developed by author: Pauline Thomas and Guy Thomas. This site is designed to be viewed in 1024 X 768 or higher.
ALL RIGHTS RESERVED. Fashion-era.com reserves the right to add or delete information, graphics and links. Copyright © 2001-2014 on all content, text and images in Fashion-era.com. Images and text in this website may not be used on other websites.
Before you write to me for costume/fashion help or information please, please consult the extensive sitemap which lists all our pages. If you still cannot find the answer after searching the site, then before you email me, please consider if you are prepared to make a donation to the website.
Donations
Reader's donations help this site flourish, in particular donations encourage me to write more articles on fashion history as well as current trends. PayPal allows anyone with a credit card to donate easily and securely. You may donate any sum you feel appropriate.