'Mad Men' Christina Hendricks (Joanie)
What we are seeing on the fashion front is how the actresses of Mad Men fame have been inspiring women to regain that feminine look of the early 1960s. Role-models like Joan Holloway (Christina Hendricks), are women who illustrate how curves, and good fit combine with grace of movement to offer a more subtle sophistication than any strident warrior woman look might achieve
By the early sixties, dress styles from the 1950s (based on the Dior 1947 New Look) had exhausted all the possible bodice and skirt combinations. Features of this era included covered wide belts, halter necks, swathed draped slim sheaths or full skirts and both silhouettes used bold floribunda - tea and cabbage roses. Each of these fashion elements have been reworked into new styles by designers of the 21st century.
For 2010, 'Mad Men Ladies' have inspired pretty trends which put girls into slinky Joan Holloway hour glass silhouettes. To adapt to the 2010s these 1960 designs need to be given a little edginess. Footwear, bags, jewellery and scarves can all be jiggled to add diversification from the original concept. Mad Men is translating well to modern times, and will have fashion influence for some time yet.
For Autumn/Winter 2010/11 the catwalk has already declared that better cut classic pieces will be the fashion look that an economy aware society needs, rather than throwaway cheap garments. Right - Get the Joan Holloway look for less at Tesco Clothing Collection - From Somewhere to F&F - Stockist Tel: 0800 505555 / www.tesco.com/clothing.
You are reading an original 'Mad Men' Hendricks article for 2010 by Pauline Weston Thomas only for publication on www.fashion-era.com ©
Imagine how these dresses might mould to the figure of curvy Joan Holloway the office administrator, the ultimate ideal secretary of Mad Men TV cult fame.
The precise red dress in quality fabric, makes a woman look stunning and commented upon long after she stops wearing it. A red dress is not for the shy, yet wearing one can give a woman confidence. If the dress is a perfect fit sculpted and moulded to her body, it can give her a screen siren aura. Consider the red dress an investment in the same way you might a black dress. The bold bright LRD is in strong competition with the LBD in 2010.
To do justice to a dress like this most women need the assistance of some power foundation garments. Sculptz by Planet fashion, Gok Wan and Trinny & Susannah have all joined the Spanx bandwagon with their own version of shape wear products. Shapewear is nothing new, but it does seem new to a generation that have mothers who abandoned it.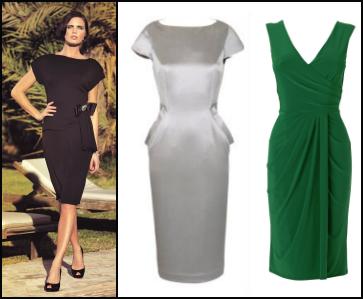 With these shapewear products, every lump and bump can be controlled and pushed into the shape you desire. Power net can even improve how you look after the diet as well as before it.
Above Left - The ultimate red dress (want one, must-have) - Harvey Nichols - Donna Karan Three Quarter Sleeve V Neck Cross Draped Red Dress £1,055.
Details - Donna Karan Dress No. 311162 at Harvey Nichols - Online (UK Customers): 0845 604 1888 and Online (Overseas Customers): +44 (0)160 466 2788.
Above Right - Phase Eight Red Jersey Dress.
Sleek dresses in solid hues can be dressed up, or dressed down. They can also be accessorized according to occasion, time of day or weather.
A little black dress is always a great buy. This one far left is by long established brand Alexon who make quality classic clothes that last and wear well.
Above Centre - Vintage Inspired Metallic Silver Pencil Dress - Littlewoods.com Trinny & Susannah £75.
Far Right - Phase Eight Green V Neck Draped Dress at John Lewis.
This is a green goddess dress for the redheads like Joan Holloway. Wouldn't she look perfect in this gown or this Bombshell Dress below from UK Costume Designer Katya Wildman. See more 'Mad Men' fashion.
‡‡
Behind The Scenes With Joanie
Janie Bryant is the costume designer behind the women's' clothes on Mad Men. She has been hailed as the new Patricia Fields of Sex And The City costuming fame. Janie Bryant pays attention to small details, as a fashion history critic, I find it hard to fault Mad Men's Hendricks. She always begins with great foundation garments just like the underwear styles women really wore in the early 1960s. Long-line bras, power girdles, stockings or under slip petticoats and tulle net tu-tu slips all help to create the key looks of the 50/60s era. Just wearing a boned-to-the-waist bra makes a woman hold herself differently, and this changes her posture.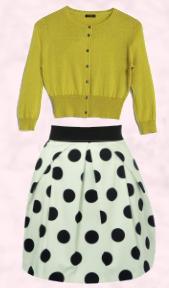 Whilst there are many modern bustier bras and corsets on the market today, one of the few long-line bras that has the audacity to resemble the sort worn in Mad Men is the long running Triumph Doreen bra. The 'Doreen' comes as a long-line, midi long line or short bra. I have discovered that over their authentic foundations the actresses wear garments that are either made in house, bought from vintage shops, or rented from costumiers.
To create this early Mad Men Hendrick's look you need to absorb the key elements of the era. The main styling elements in the early 1962/3 series are quite different to the very modern Twiggy styles people associate with late 60s mini dresses and dollybird fashion looks.
The simplest way to get an early 60s look is with a perky fuller skirt hovering around the knee, like this spotted skirt at £40 from Oasis. Add a cropped button cardigan, with short or pushed up sleeves, and the look is easy and everyday. In fact the style is similar to outfits worn by Fonzie's girlfriends in the Happy Days T.V. shows. Hobbs do a great cardi called the Hobbs Eve Cardigan, £59 and this is shown in citrus sulphur lime right. This cardigan is just the right style to team with Mad Men inspired pants, dresses or skirts.
Otherwise my Mad Men Ladies fashion Tips below will guide you.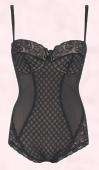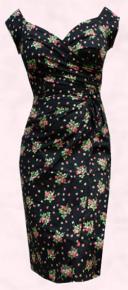 This Bombshell Dress shown right in fine cotton and covered with 50s/60s style ditzy print of wild strawberries is typical of 'it' dresses that are knocking women into curvy hour glass shapes. The cut of the drapery is impressive enabling the picture neckline to be adjusted to reveal even more shoulder. You can also arrange this Bombshell dress to show no cleavage or plenty of it. This must-have dress does of course focus on the cinched waist and doing it up is an exercise in breathing in (that's my excuse anyway!), but because of the shirred side bodice panels it sculpts and moulds to your body.
I liked the Bombshell Dress so much when I saw it and tried it on in my local boutique, that I had a sleepless night and had to go back and buy one the next day. A good shape-wear body like the one from Marks and Spencer shown further up this page or a strapless bra would help attain the perfect support for that film star shoulder line.
...(v4r)
Nigella Lawson reportedly spent £2,000 buying some 12 variations of these Bombshell dresses in different colour ways for her holidays in the Hamptons. Clearly she has over the years been inspired by other screen sirens like our Joan Holloway bombshell here. I bought my dress in Lynne Craig in Worcester UK. To ring the changes I sometimes wear one of Nick's belts with it. To my way of thinking the UK sizing (8-16) is flattering and possibly on a par with American sizes.
You may also find the Bombshell dresses at established boutiques such as The Cross in Notting Hill, London. The Dispensary at 200 Kensington Park Road is another fashion shop in Notting Hill London that stocks the Bombshell too.
Anyone who wears form fitting dresses all day like Joan chooses, has to relax at some point. At home Joan drops her guard and either dons a simple top or sweater with Capri pants, fitting trousers like these below. In more seductive mood she might pick out a flowing negligee. In 2010 I suspect your choice may be more inclined toward the Capri style or narrow leg pants shown here than a flimsy negligee.
Above Left - Top £80, Trouser £70, Necklace £35, Hat £120 - Viyella Stockist Tel: Women's: 01845 573 120 or www.Viyella.co.uk.
Centre - Vivid Electric Blue Gypsy Neckline Top and White Capri Pants - Gerry Weber.
Right - Wallis - Black Sleeveless Blouse £30/€47, Zebra Print Narrow Harem Trousers £35/€55. Gold Multi Drop Earrings £12/€20 - Wallis SS10 Stockist Tel: 08451214520. All of these outfits would have looked quite acceptable in the early 60s.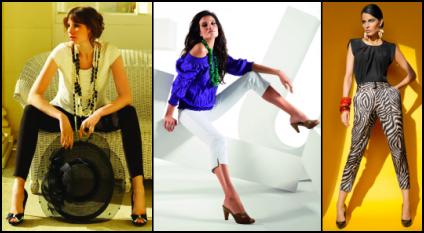 §
For following the early 60s fashion looks pay attention to:-
Silhouette in dress and form - curvy bodies, curvy fit. Wear structured underwear to achieve early 60s shaping. Corselets and long-line bras by Miss Mary of Sweden, Rago, and the famous Triumph 'Doreen' may seem severe, but they all knock the body into early 60s curves and can be bought from Woods of Morecambe, Damart, Daxon, Grattan or Littlewoods. You can also get modern softer control bodes from Marks & Spencer, Figleaves and BHS. Right - Marks & Spencer Control Body. These control shapewear bodies are ideal for Bombshell Dress looks.
Pay attention to waistline curves - buy with a wide band as above. Alternatively, belt the waist or wear a contrast colour cummerbund, or use a sash as shown right. Right - Jane Norman Spring 2010 Pacific Fern Knee Skirt £32.
No waist - then use an over-blouse feature (about 6cm covering below the waist area) or choose to empire line with higher empire lines that are finely belted, emphasised with a neat bow trim, change of print or contrast colour way. The empire styles may have slim sheath skirts or gently flare in A-line silhouettes in the style of Jackie Kennedy.
Pay attention to skirt length. Not too long - not too short. Choose knee length clothes that are hovering on the knee, but not especially above it. You want to show a shapely lower leg with the promise of more mystery above. Knee length clothes give a balanced silhouette, yet create a ladylike effect with a sense of decorum and subtle allure of more to see. The whole point of Mad Men looks is that it revives elegance. If you are under 25 shorter skater looks can also work well.
You will need 3 definite types of clothes - day, office and night pieces. Plus you might consider adding coordinated beach/pool wear which can fall under daywear, but is activity specialist.
Fabric - Look for checks, spots, stripes, floral and border prints. But also consider modern takes on flora such as digital prints which bring the material up to date whilst paying homage to all the funky Matisse inspired abstract designs of the fifties and sixties. Right - Floral Border Print Summer Prom Dress by Apricot SS10.
Physically the fastest way to get this Mad Men Hendricks look is to pay attention to grooming. Be perfectly groomed and stick to your natural skin colour without overdoing fake tan. Facially, opt for true red or coral red lips with made up skin looking clear and fresh and add perfectly applied winged flick upward eyeliner. The flicks are not as Egyptian influenced late sixties Elizabeth Taylor, but artfully enhance and lift the eye in a sophisticated screen star manner.
Upwardly winged spectacles also help re-create the early 1960s era. Next to lips go for matching red and coral nails, never the French manicure or squared off nails. 60s nails were almond shaped ovals, and mostly painted scarlet red, pearlized pinks or peachy corals. Forget fancy stick on designs if you want the 'Mad Men Lady' look.
There must also be an obvious trademark 'suit the face shape' hairstyle. This is not a look of recent years, where the concept of one hairstyle suits all, with cloned hair straightened looks as the winner. This is the opposite of lookalikes. Here every woman wanting to do the Mad Men look should think about how hair best suits her face shape and how can she make it look different to her best friends by colouring her hair, curling it, waving it, smoothing it or flicking it.
Another physical aspect is not to overwork the muscle tone. A little exercise like regular walking or basic workout will give a toned shapely figure, but too many muscle and definition workouts will kill the soft womanly look. Think Dita Von Teese softness rather than Madonna muscle definition.
In the main this look is a pretty, preppy, pink Palm Beach style as far away from utilitarian khaki as possible.
You are reading an original article 'Mad Men' Hendricks look by Pauline Weston Thomas only for publication on www.fashion-era.com ©
‡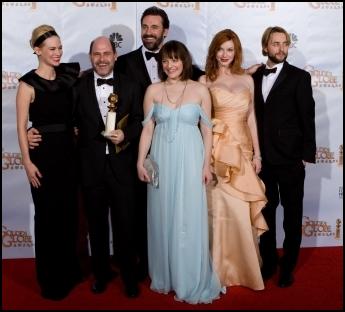 Cult TV series, such as 'Mad Men' emphasise how a woman can easily use her appearance to her advantage through good grooming and dressing.
Characters of the 1980s series Dynasty and Dallas and 1990s Sex and the City are TV programmes which have all become leaders of key fashion looks. Desperate Housewives, The Good Wife, Cougar Town and Ugly Betty all typically influence what we may come to wear. Some pieces once viewed take on an instant viral effect, as a result items soon become this years must-have trends. Clearly the 'Mad Men Women' look is here to stay this year at least.
Mad Men cast photo right, courtesy the 67th Golden Globe Awards © HFPA -2010.
Right - Matthew Weiner poses backstage with the cast members of Mad Men - January Jones, John Hamm, Elisabeth Moss, Christina Hendricks, and Vincent Kartheiser. They received the Golden Globe for BEST TELEVISION SERIES – DRAMA for "Mad Men" (AMC) at the 67th Annual Golden Globe Awards January 17, 2010.
-------v6-------
You are reading an original article 'Mad Men' Hendricks fashion by Pauline Weston Thomas only for publication on www.fashion-era.com ©
Copyright of images courtesy of Prshots, Marks & Spencer, BHS, Jane Norman, Harvey Nichols, House of Fraser, John Lewis, Oasis, Rare, Monsoon, Littlewoods, Monsoon, M&Co, Schuh, T.K.Maxx, ASOS, NEXT, Alexon, People Tree, Very.co.uk, Gerry Weber, Wallis, Viyella, Warehouse, Miss Selfridge, Hobbs, Warehouse, Apricot, Phase Eight, Tesco, Fever, River Island, 67th Golden Globe Awards © HFPA -2010 and Gaynor.
Date added 14 May 2010 - Ref:P.763.
If you like this page then please share it with your friends
---
--Link--
For more information on ladies and teens fashion trends go to:-
Custom Search
About Fashion-Era.com
Fashion-Era.com looks at women's costume and fashion history and analyses the mood of an era. Changes in technology, leisure, work, cultural and moral values. Homelife and politics also contribute to lifestyle trends, which in turn influence the clothes we wear. These are the changes that make any era of society special in relation to the study of the costume of a period.

Fashion-Era.com can take no responsibility for any information on the site which may cause you error, loss or costs incurred from use of the information and links either directly or indirectly. This site is owned, designed, written and developed by author: Pauline Thomas and Guy Thomas. This site is designed to be viewed in 1024 X 768 or higher.
ALL RIGHTS RESERVED. Fashion-era.com reserves the right to add or delete information, graphics and links. Copyright © 2001-2014 on all content, text and images in Fashion-era.com. Images and text in this website may not be used on other websites.
Before you write to me for costume/fashion help or information please, please consult the extensive sitemap which lists all our pages. If you still cannot find the answer after searching the site, then before you email me, please consider if you are prepared to make a donation to the website.
Donations
Reader's donations help this site flourish, in particular donations encourage me to write more articles on fashion history as well as current trends. PayPal allows anyone with a credit card to donate easily and securely. You may donate any sum you feel appropriate.