'Mad Men' Peggy Olsen - Elizabeth Moss
Peggy Olsen has a quirkiness in the Mad Men T.V. series that Joanie and Betty don't possess. Much of this is to do with her upbringing and niceness. She is a girl who still likes big sailor collars, spots, stripes and fun bags.
There is still a lot of the young girl in Peggy's dress style and unlike Joan or Betty she does not always emphasise her curves. This red spring coat from Hobbs for example flows over the body loosely and the style is very typical of circa 1963. A slightly shorter version of this coat is currently available at Hobbs for summer 2010.
Mad Men's Peggy Olsen wears styles suited to her personality of a less sophisticated female, floundering in a complicated world of men who get what they want because they are men. Her clothes often have a look of innocence and then she confounds us by wearing a fashion piece that shows she can be more modern. I think these clothes would suit Peggy well.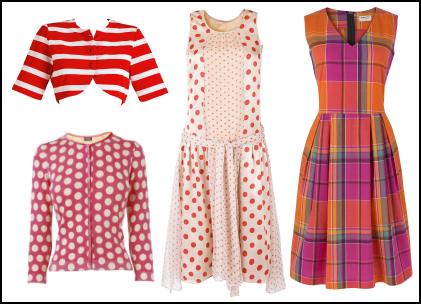 Above Left -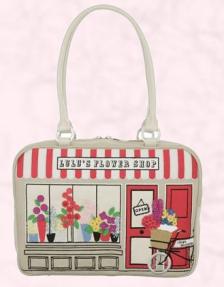 PPQ Striped Red White Jersey Jacket by Littlewoods Ireland - Stockist Tel: 01 811 22 22.
Bottom Left - Phase Eight Spot Cardigan £49.
Centre Left - Teatro, Pink Print Mix Spot Dress - Littlewoods.com £59.
Centre Right - Reds Check Sleeveless Dress by People Tree - 100% Handwoven Cotton £48. People Tree Spring Summer 2010 Eco Conscious Clothing - Stockist Tel: 020 7739 9659 or peopletree.co.uk.
The fun spot-cardigan is something Peggy would buy and she would look good in the big madras tablecloth check style frock or the easy dropped waist polka dot dress. Her sophistication is developing as she becomes more attuned to big city life. She is not afraid to be different, and I can see her sporting this Florist picture bag by Lulu Guinness and looking quite cute in her ensemble.
Far Right - Lulu Guinness Large Florists Shop Jenny Handbag, Stone/Red. This bag costs £225 and is available online at John Lewis. John Lewis have a huge selection of branded bags in every price range.
‡
For the office Peggy might wear neat collared pieces or simple shape jackets. That striped and bow trimmed bag, like the Lulu Guinness bag right, is also one that would lift any outfit from dull to interesting.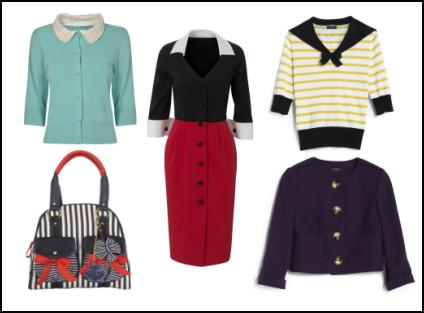 Above Left - Monsoon Fusion Spring Summer 2010 - Green Marisa Cardigan £45/€76 Eire.
Bottom Left - Striped Pocket and Bow Navy/White/Red Bag - NEXT.
Centre - Red/Black White Collar Cuffs Dress By Oli.
Top Right - Hobbs Luzia Striped Bow Sweater, £59 Hobbs Spring Summer 2010 Clothing.
Bottom Right - Hobbs Navy Madina Jacket £149. This simple unstructured jacket is just the type Peggy might select.
On occasion, Peggy has a penchant for more unusual fashion styles. Her love of collars and mixed prints means she is more adventurous in some ways than Betty Draper or Joan Holloway who already truly know their own fashion style. Peggy, like Ugly Betty (America Ferrera) is still experimenting and sometimes she comes up trumps.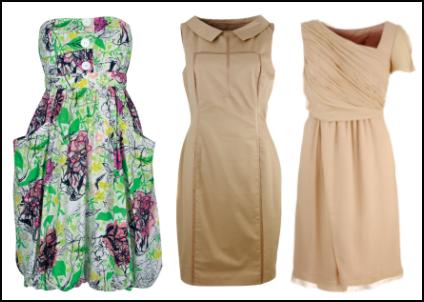 Above Left - Green Dress by Monsoon.
Centre - House of Fraser - Mushroom Dress - Small Collar Detail £75, Pied a Terre at House of Fraser.
Right - Nude Chiffon Asymmetric One Sleeve Dress £140, Pied a Terre at House of Fraser - Both Products House of Fraser Stockist Tel: 020 7003 4000. See more 'Mad Men' fashion.
Mad Men's Peggy would look great in this abstract print summer dress with its large capacious pockets. It's just the kind of unusual dress she would go for. For a conventional business meeting she might wear this flat collar sheath dress and then confound the almost all male team by turning up at the cocktail bar in this gorgeous unconventional, unusual one sleeved draped chiffon dress.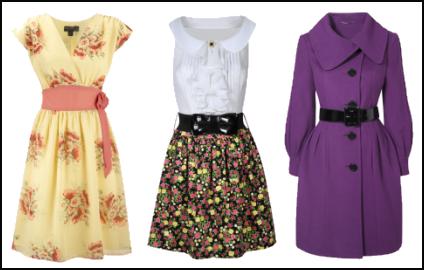 Above Left - FEVER Amalfi Empire Dress £65.99 This Fever Design is a large floral print retro v-neck yellow sash dress. FEVER Stockist Tel: 0207 6366 326.
Centre - Miss Selfridge Summer 2010 Outfit.
Far Right - Looking ahead to autumn. Monsoon Autumn Winter 2010 - English Heritage Purple Coat with Belt.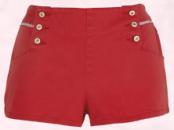 In the Mad Men series we often see Peggy travelling to work. This purple coat for autumn has the big collar a feature that Peggy would love. She likes bows and trims like these focus waistlines have.
All in all, Peggy is the new Mad Men woman to watch, as her style develops so she grows into a more confident powerful advertising woman who can think and look good. As the series progresses Peggy develops her own look, becomes more daring, and maybe she will eventually relax in shorts like these. Shorts, especially white shorts were very popular with all young women after the film South Pacific was a big hit in the 50s.
Right - Matalan - Be Beau Nautical Hot Pant £12 - Matalan SS10 - Key Shapes - Matalan Stockist Tel: 0845 330 3330.
‡
By 2010 the Mad Men T.V. series has achieved a large following and consequently its leading ladies have become fashion icons. What we are seeing is how the actresses of Mad Men fame have been inspiring women to regain that feminine look of the early 1960s. Role-models like Betty Draper (January Jones), Joan Holloway (Christina Hendricks) and Peggy Olsen (Elisabeth Moss) are women who illustrate how curves, and good fit combine with grace of movement to offer a more subtle sophistication than any strident warrior woman look might achieve.
...(v4r)
By the early sixties, dress styles from the 1950s (based on the Dior 1947 New Look) had exhausted all the possible bodice and skirt combinations. Features of this era included covered wide belts, halter necks, swathed draped slim sheaths or full skirts and both silhouettes used bold floribunda - tea and cabbage roses. Each of these fashion elements have been reworked into new styles by designers of the 21st century. Fashion designers have raided the archives for style inspiration that is too good to be left unseen by a new generation.
For 2010, 'Mad Men Ladies' have inspired pretty trends which put girls into slinky Joan Holloway hour glass silhouettes, or crinoline inspired Betty Draper prom dresses. To adapt to the 2010s these 1960 designs need to be given a little edginess. Footwear, bags, jewellery and scarves can all be jiggled to add diversification from the original concept. Mad Men is translating well to modern times, and will have fashion influence for some time yet.
For Autumn/Winter 2010/11 the catwalk has already declared that better cut classic pieces will be the fashion look that an economy aware society needs, rather than throwaway cheap garments. Betty Draper looks so good in classic dresses, and so too will you once you find the right silhouette for your body shape.
You are reading an original 'Mad Men' Peggy Olsen article by Pauline Weston Thomas only for publication on www.fashion-era.com ©
Janie Bryant is the costume designer behind the women's' clothes on Mad Men. She has been hailed as the new Patricia Fields of Sex And The City costuming fame. Janie Bryant pays attention to small details, as a fashion history critic, I find it hard to fault Janie. She always begins with great foundation garments just like the underwear styles women really wore in the early 1960s. Long-line bras, power girdles, stockings or under slip petticoats and tulle net tu-tu slips all help to create the key looks of the 50/60s era. Just wearing a boned-to-the-waist bra makes a woman hold herself differently, and this changes her posture.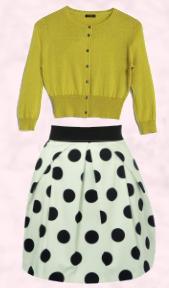 Whilst there are many modern bustier bras and corsets on the market today, one of the few long-line bras that has the audacity to resemble the sort worn in Mad Men is the long running Triumph Doreen bra. The 'Doreen' comes as a long-line, midi long line or short bra. I have discovered that over their authentic foundations the actresses wear garments that are either made in house, bought from vintage shops, or rented from costumiers.
To create this early Mad Men look you need to absorb the key elements of the era. The main styling elements in the early 1962/3 series are quite different to the very modern Twiggy styles people associate with late 60s mini dresses and dollybird fashion looks.
The simplest way to get an early 60s look is with a perky fuller skirt hovering around the knee, like this spotted skirt at £40 from Oasis. Add a cropped button cardigan, with short or pushed up sleeves, and the look is easy and everyday. In fact the style is similar to outfits worn by Fonzie's girlfriends in the Happy Days T.V. shows. Hobbs do a great cardi called the Hobbs Eve Cardigan, £59 and this is shown in citrus sulphur lime right. This cardigan is just the right style to team with Mad Men inspired pants, dresses or skirts.
Otherwise my Mad Men Ladies fashion Tips below will guide you.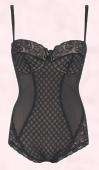 For following the early 60s fashion looks pay attention to:-
Silhouette in dress and form - curvy bodies, curvy fit. Wear structured underwear to achieve early 60s shaping. Corselets and long-line bras by Miss Mary of Sweden, Rago, and the famous Triumph 'Doreen' may seem severe, but they all knock the body into early 60s curves and can be bought from Woods of Morecambe, Damart, Daxon, Grattan or Littlewoods. You can also get modern softer control bodes from Marks & Spencer, Figleaves and BHS. Right - Marks & Spencer Control Body. These control shapewear bodies are ideal for Bombshell Dress looks.
Pay attention to waistline curves - buy with a wide band as above. Alternatively, belt the waist or wear a contrast colour cummerbund, or use a sash as shown right. Right - Jane Norman Spring 2010 Pacific Fern Knee Skirt £32.
No waist - then use an over-blouse feature (about 6cm covering below the waist area) or choose to empire line with higher empire lines that are finely belted, emphasised with a neat bow trim, change of print or contrast colour way. The empire styles may have slim sheath skirts or gently flare in A-line silhouettes in the style of Jackie Kennedy.
Pay attention to skirt length. Not too long - not too short. Choose knee length clothes that are hovering on the knee, but not especially above it. You want to show a shapely lower leg with the promise of more mystery above. Knee length clothes give a balanced silhouette, yet create a ladylike effect with a sense of decorum and subtle allure of more to see. The whole point of Mad Men looks is that it revives elegance. If you are under 25 shorter skater looks can also work well.
You will need 3 definite types of clothes - day, office and night pieces. Plus you might consider adding coordinated beach/pool wear which can fall under daywear, but is activity specialist.
Fabric - Look for checks, spots, stripes, floral and border prints. But also consider modern takes on flora such as digital prints which bring the material up to date whilst paying homage to all the funky Matisse inspired abstract designs of the fifties and sixties. Right - Floral Border Print Summer Prom Dress by Apricot SS10.
Physically the fastest way to get this Mad Men fashion look is to pay attention to grooming. Be perfectly groomed and stick to your natural skin colour without overdoing fake tan. Facially, opt for true red or coral red lips with made up skin looking clear and fresh and add perfectly applied winged flick upward eyeliner. The flicks are not as Egyptian influenced late sixties Elizabeth Taylor, but artfully enhance and lift the eye in a sophisticated screen star manner.
Upwardly winged spectacles also help re-create the early 1960s era. Next to lips go for matching red and coral nails, never the French manicure or squared off nails. 60s nails were almond shaped ovals, and mostly painted scarlet red, pearlized pinks or peachy corals. Forget fancy stick on designs if you want the 'Mad Men Lady' look.
There must also be an obvious trademark 'suit the face shape' hairstyle. This is not a look of recent years, where the concept of one hairstyle suits all, with cloned hair straightened looks as the winner. This is the opposite of lookalikes. Here every woman wanting to do the Mad Men look should think about how hair best suits her face shape and how can she make it look different to her best friends by colouring her hair, curling it, waving it, smoothing it or flicking it.
Another physical aspect is not to overwork the muscle tone. A little exercise like regular walking or basic workout will give a toned shapely figure, but too many muscle and definition workouts will kill the soft womanly look. Think Dita Von Teese softness rather than Madonna muscle definition.
In the main this look is a pretty, preppy, pink Palm Beach style as far away from utilitarian khaki as possible.
You are reading an original article 'Mad Men' Peggy Olsen article by Pauline Weston Thomas only for publication on www.fashion-era.com ©
-------v6-------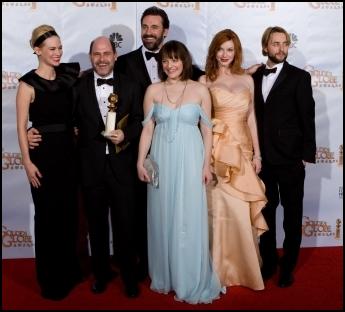 Cult TV series, such as 'Mad Men' emphasise how a woman can easily use her appearance to her advantage through good grooming and dressing.
Characters of the 1980s series Dynasty and Dallas and 1990s Sex and the City are TV programmes which have all become leaders of key fashion looks. Desperate Housewives, The Good Wife, Cougar Town and Ugly Betty all typically influence what we may come to wear. Some pieces once viewed take on an instant viral effect, as a result items soon become this years must-have trends. Clearly the 'Mad Men Women' look is here to stay this year at least.
Mad Men cast photo right, courtesy the 67th Golden Globe Awards © HFPA -2010.
Right - Matthew Weiner poses backstage with the cast members of Mad Men - January Jones, John Hamm, Elisabeth Moss, Christina Hendricks, and Vincent Kartheiser. They received the Golden Globe for BEST TELEVISION SERIES – DRAMA for "Mad Men" (AMC) at the 67th Annual Golden Globe Awards January 17, 2010.
Copyright of images courtesy of Prshots, Marks & Spencer, BHS, Jane Norman, Harvey Nichols, House of Fraser, John Lewis, Oasis, Rare, Monsoon, Littlewoods, Monsoon, M&Co, Schuh, T.K.Maxx, ASOS, NEXT, Alexon, People Tree, Very.co.uk, Gerry Weber, Wallis, Viyella, Warehouse, Miss Selfridge, Hobbs, Warehouse, Apricot, Phase Eight, Tesco, Fever, River Island, 67th Golden Globe Awards © HFPA -2010 and Gaynor.
Date added 14 May 2010 - Ref:P.764.
If you like this page then please share it with your friends
---
--Link--
For more information on ladies and teens fashion trends go to:-
Custom Search
About Fashion-Era.com
Fashion-Era.com looks at women's costume and fashion history and analyses the mood of an era. Changes in technology, leisure, work, cultural and moral values. Homelife and politics also contribute to lifestyle trends, which in turn influence the clothes we wear. These are the changes that make any era of society special in relation to the study of the costume of a period.

Fashion-Era.com can take no responsibility for any information on the site which may cause you error, loss or costs incurred from use of the information and links either directly or indirectly. This site is owned, designed, written and developed by author: Pauline Thomas and Guy Thomas. This site is designed to be viewed in 1024 X 768 or higher.
ALL RIGHTS RESERVED. Fashion-era.com reserves the right to add or delete information, graphics and links. Copyright © 2001-2014 on all content, text and images in Fashion-era.com. Images and text in this website may not be used on other websites.
Before you write to me for costume/fashion help or information please, please consult the extensive sitemap which lists all our pages. If you still cannot find the answer after searching the site, then before you email me, please consider if you are prepared to make a donation to the website.
Donations
Reader's donations help this site flourish, in particular donations encourage me to write more articles on fashion history as well as current trends. PayPal allows anyone with a credit card to donate easily and securely. You may donate any sum you feel appropriate.