The Aviator Jacket - Fashion Review Winter 2010/11
The Aviator Jacket has spawned many synonyms; this in itself is a sign of an important fashion trend. Look out for designer or high street garments with names such as Bomber Jacket, Biker Jacket, Amelia Earhart Jacket, or Flying Jacket.
The aviator jacket was at gale force on the Fall 2010 catwalk. These runway examples show how diverse a look this can be. The aviator jacket of the 2010s decade is chunkier, more rugged and perhaps more functional for winter than the cropped biker jacket of the noughties. This is about as far away as 'Mad Men' ladies fashion that you can get this season unless of course you think 'Happy Days' and the Fonz!
Above - Aviator Fashion Jackets - All by Burberry Prorsum (IFTF)
You are reading an original article on my Aviator Jacket fashion review for Autumn 2010 by Pauline Weston Thomas only for publication on www.fashion-era.com
Burberry Designer Jackets
Burberry was at the forefront of giving the seal of approval to this jacket that has cropped up in many guises this past decade. In butter soft lambskin, this piece offers a luxury item that looks good over many fashion garments from trousers to flimsy eveningwear.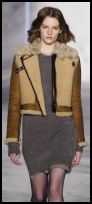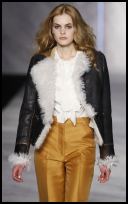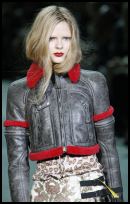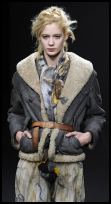 Above - Catwalk Show Flying Jackets
Far Left & Centre Left - Lim,
Centre Right - Grey /Red Jacket - Just Cavalli,
Far Right - by Wunderkind (IFTF).
Take standard pieces such as jeans; tuck them into boots for a contemporary feel, then take-off with a flying jacket. Or make a ditsy dress more edgy by teaming it with a luxury aviator jacket. Even Luxe gets a look in with such a practical garment, and on the catwalk there were embroidered versions or jackets using top end materials and shimmering surfaces.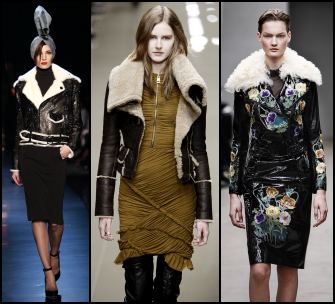 Above - Designer Flying Jacket Fashions
Left - Gaultier,
Centre - Burberry,
Right - Christopher Kane (IFTF).
These leather designer jackets have the air of Luxe about them. The Burberry black quilted crop Shearling leather jacket (see below top images) is also available from Cruise as well as directly from Burberry Prorsum and costs £2320. Cruise Reference 168843 Quilted Jacket - Cruise Autumn Winter 2010.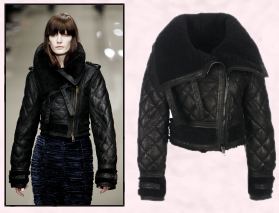 The flower detail embroidered designer jacket below left from Christopher Kane is available online to buy for £2590 from cruisefashion.co.uk. Details - Christopher Kane Jacket Ref168967 - Cruise Autumn Winter 2010. Both items - Cruise Stockist Number: 0844 800 4622 / www.cruisefashion.co.uk.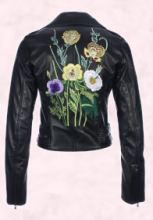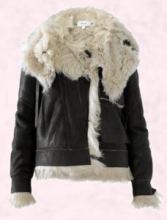 The through-and-through, totally Shearling Jacket from Pringle above right can be seen at www.matchesfashion.com and costs £2295. For luxury Aviator jackets browse the shopping websites at Brownsfashion, Burberry, Cruise and Matches.
...(v4r)
Since it was first made for World War I pilots in open cockpits, the Aviator Jacket has spawned many synonyms. Look out for names such as Bomber Jacket, Amelia Earhart Jacket, Amy Johnson Jacket, Flying Jacket, Biggles Jacket, Flight Jacket, Military Jacket, Patrol Jacket, RAF Jacket, Irvin Jacket. The names Aviatrix and of course Aviator jacket all spring to mind when visualising this fashion trend.
For the 2010s, this outdoor windcheater jacket, which everyone loves, has been given the RAF update with fur lining/trim and extra closures. You can see in the Burberry Ad Campaign image below how the quality really shines through.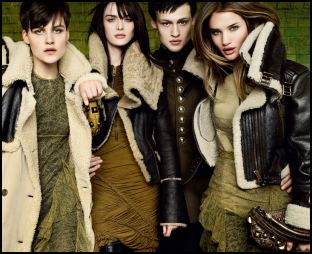 Above Burberry Aviator Jackets - Image Courtesy Burberry.
Designers teamed lace, watercolour silk, or chiffon dresses with these chunkier sturdier winter Shearling jackets. The effect is edgy, pretty, tough, yet girly and totally practical. What woman waiting for a taxi or limo doesn't want to keep the chill off without losing her street credibility.

Above - Designer Shearling Jackets from Wunderkind (IFTF)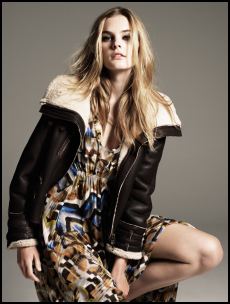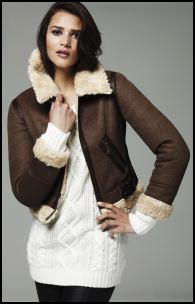 Above Left - Warehouse Jacket £300/€370 - Warehouse Autumn Winter 10 - Stockist Number: 0845 122 2251.
Right - Matalan Aviator Jacket AW10 - Women's Stockist Number: 0845 330 3330.
‡‡
Big Collar Biggles Jackets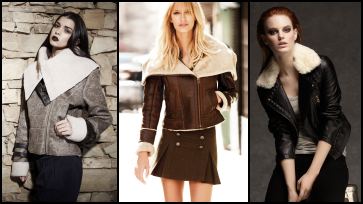 Above Left - Boohoo.com - The Great Outdoors A/W 2010. Boohoo Stockist Tel: 0161 237 7700.
Centre - NEXT Faux Sheepskin Aviator Jacket £75/€101, Military Kilt £25/€34. Stockist Tel: 0116 284 9220.
Right - House of Fraser - Grey Marl T-Shirt £5/€6 Therapy, Black Leather Jacket/ Sheepskin Collar £250/€325 Linea Weekend, Black Harem Trousers £35/€42 Therapy. HOF Stockist Tel: 020 7003 4000.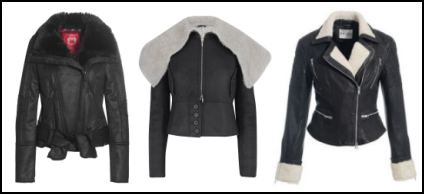 Above Left - Black Aviator Jacket by Esprit Autumn Winter 2010 - Stockist Number: 020 7025 7700.
Centre - Limited Aviator Jacket £89 - Marks & Spencer Clothing.
Right - Reiss Jacket.
Neutrals and creamy oyster can also take in the Shearling aviator jacket and gilet.
Far Right - High street fashion from Primark - Belted aviator £25, Harem pants £11, chunky knit snood £4 ALL due in store end September, knee high sock £2 and Military peep toe ankle boot £15, both in store now. Primark Womenswear Winter 2010. Primark Stockist Number: 0118 9606 300.
Pastel creamy tones with hints of camel and oyster colourways are the alternatives to real flying jacket colours of brown and black.
Below Left - Boohoo AW 2010 Coats and Jackets - Amy £45 - Boohoo Coats and Jackets - Stockist Tel: 0161 237 7700.
Centre - Dorothy Perkins AW10 - Metallic Faux Fur Golden Biker Jacket £49/€80 - www.dorothyperkins.com.
Right - A|wear Fur Trim Flying Jacket €65 £60 - A|wear Womenswear.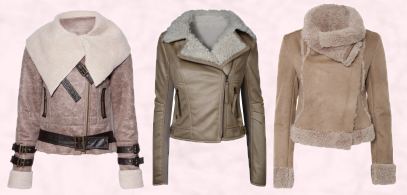 You are reading an original review article on Aviator Jacket fashion by Pauline Weston Thomas only for publication on www.fashion-era.com
Plus size girls can join in wholeheartedly with this aviator trend. The secret of not looking like Michelin Man when wearing any fur is having a garment that is actually large enough for you.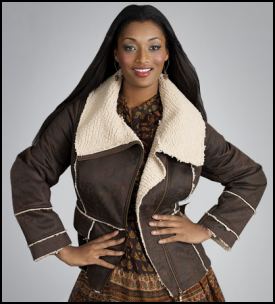 This machine washable fake fur jacket above by Evans fits the big girls shopping list.
Evans Faux Shearling Brown Aviator Jacket - £65, Item code: 05J26HBRN. Stockist Evans - Sizes 14 to 32.
‡
In faux materials, the Aviator jacket is more of a one season 'flog it until it wears out' fashion, but in quality Shearling, or good fur lined leather, this can be a true an investment purchase. The Aviator jacket can be a fashion trend that will be hot this year, but still be an investment piece next year.
Fashion is turning toward investment pieces, but that does not mean the pieces can't be fun or practical. This year the must-have winter jacket the aviator flying jacket has a close friend in the Shearling and fur gilet. Faux fur pieces are as abundant as real fur and Shearling versions. It also brings the cost down substantially.
Right - Catwalk Fashion by Roland - Fur Gilet - IFTF.
Below;-
Far Left - Gilet Creamy Shearling Gilet/Fur - Esprit Autumn Winter 2010 Womens Stockist Number:020 7025 7700.
Centre Left - Faux Fur Gilet £39.50/€59.50 - Evans Sizes 14 - 32 - Evans Stockist Number: www.evans.co.uk or 0845 121 4516.
Centre Right - Jane Norman A/W 2010- A Patchwork Bonded Faux Fur Gilet £10 - Jane Norman Jane Norman - Coats & Jackets at janenorman.co.uk
Right - Elégance Grey Fur Waistcoat - Elégance Autumn/Winter 10 - Coloured Grey Rabbit Gilet. Elégance Stockist Number: 0844 557 5507.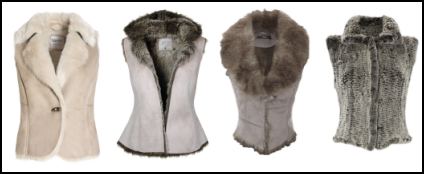 A gilet is ideal for an extra layer when pottering outside the house, or for that quick visit to the corner shop.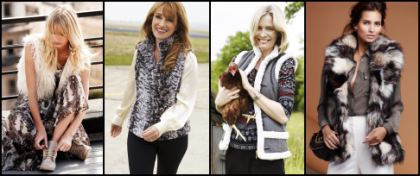 These gilets are from left to right from NEXT, CC (Formerly Country Casuals), Dash and Wallis AW10 Womenwear Collections. These four companies all also specialise in petite sizes.
Furry gilet versions have high or low necklines, straight or curved waistlines. Silhouette choice is up to the wearer so there is a style to fit every body shape.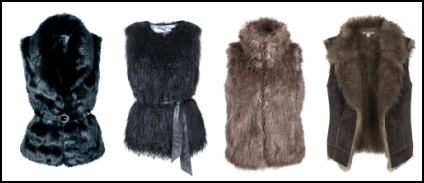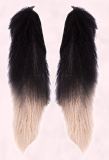 Left - Monsoon Anita Fur Gilet - 772039 - £75/€115 - Monsoon A/W10 Sleeveless Fur Gilet. Stockist 08448110068.
Centre Left - Dorothy Perkins AW10 - Fur Belted Gilet dorothyperkins.com
Centre Right - Republic Miso Fur Gilet £44.99.
Bottom Right - Marks & Spencer Clothing - Indigo Faux Fur/Faux Suede Gilet - £45.
This fur gilet far right is from Forever Unique by Alex Gerrard - Luxury Mongolian Sheep Wool Gilet £270. Stockist.
Natural Shearling and faux materials have been used in AW10 (Autumn Winter 2010) for every accessory imaginable. Handbags, boots, shoes, clogs, trapper hats, and gloves all make Shearling a lovely accessory to your aviator jacket - whatever your size.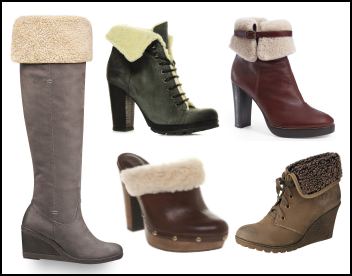 Top Left - Tall Boot - Tamaris Grey Suede Wedge Boot - £69.99 Sizes 36-41 - Tamaris Autumn Winter 2010.
Centre Top - NEXT - Sheepskin Boots, £65/€85 - NEXT Stockist Number: 0116 284 9220.
Top Right - Hobbs NW3 Arches Ankle Boot, £239 (€275) - Hobbs Autumn Winter 2010 Accessories - hobbs.co.uk.
Bottom Centre - Office Trip Out Clog - £78/€115 - office.co.uk or Tel:08450 580777.
Bottom Right - F&F Shearling Lined Wedge Boots £20 - Tesco A/W 2010 Womenswear tesco.com/clothing .
§
The Shearling Aviator Jacket is a core fashion piece this Autumn 2010 so the designer boutiques, high street stores and online malls are full of their versions. These investment materials or skins feature leather and suede, but the best are the ULTRA soft Toscana and Shearling coats, however these skins come with a hefty price tag.
The high street has responded with affordable versions for those who cannot pay Burberry prices. One-step on from the aviator jacket is the briefer gilet waistcoat with the stylish snow tip Toscana fur. Again faux is always at hand for the fashion conscious woman who wants a must-have, but has a can't-afford budget.
Alternatively, you may choose a hip length draped waistcoat or sleeveless cardigan coat like these shown right.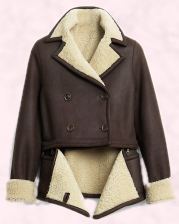 Near - Lauren £25 - boohoo.com AW 2010 Coats and Jackets.
Right - Faux Shearling Gilet, £38/€51 from NEXT.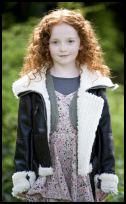 Or you can opt for the full length, but much more expensive, all natural rustic lambskin coat. Whatever your choice this autumn whether it's a Shearling bag, boot or biker jacket you'll be right on trend and if you move quickly you can get this flight jacket for your daughter too.
Left - Girl's flying jacket Waistcoat and floral dress, from £20 Jacket - Marks & Spencer AW10 Childrenswear Collection.
Right - Convertible Aviator Jacket - Hobbs AW10. This jacket unzips the hip yoke section to give a short crop version. This is high street value at its best. Limited Edition Corby Shearling Jacket, £999/€1150 Hobbs Autumn Winter 2010 Clothing - Hobbs Stockist Number: 0845 313 3130.
You have been reading an original article on my Aviator Jacket fashion review for Autumn 2010 by Pauline Weston Thomas only for publication on www.fashion-era.com©.
See more fall 2010 coats and jackets.
Copyright of images courtesy of PrShots.com, IFTF, Marks & Spencer, Hobbs, House of Fraser, Primark, Wallis, Elegance, Monsoon, Matalan, Warehouse, Jane Norman, Dash, CC, Dorothy Perkins, Republic, Next, boohoo.com, Office, Tamaris, Tesco, Cruise, Burberry, Esprit, Evans, A/Wear, Matchesfashion, Reiss.
Date Added 21 September 2010 - Ref: P.831.
If you like this page then please share it with your friends
---
--Link--
For more information on ladies and teens fashion trends go to:-
Archived Sections
Custom Search
About Fashion-Era.com
Fashion-Era.com looks at women's costume and fashion history and analyses the mood of an era. Changes in technology, leisure, work, cultural and moral values. Homelife and politics also contribute to lifestyle trends, which in turn influence the clothes we wear. These are the changes that make any era of society special in relation to the study of the costume of a period.

Fashion-Era.com can take no responsibility for any information on the site which may cause you error, loss or costs incurred from use of the information and links either directly or indirectly. This site is owned, designed, written and developed by author: Pauline Thomas and Guy Thomas. This site is designed to be viewed in 1024 X 768 or higher.
ALL RIGHTS RESERVED. Fashion-era.com reserves the right to add or delete information, graphics and links. Copyright © 2001-2014 on all content, text and images in Fashion-era.com. Images and text in this website may not be used on other websites.
Before you write to me for costume/fashion help or information please, please consult the extensive sitemap which lists all our pages. If you still cannot find the answer after searching the site, then before you email me, please consider if you are prepared to make a donation to the website.
Donations
Reader's donations help this site flourish, in particular donations encourage me to write more articles on fashion history as well as current trends. PayPal allows anyone with a credit card to donate easily and securely. You may donate any sum you feel appropriate.