Key Fashion Styles for 2010 AW (Autumn Winter)
Here are the most important fashion styles for 2010 AW (Autumn Winter). Each of these women's dress styles is explained lower down on this page.
Top Ten Fashion Styles for Fall 2010 Winter 2011
Top Ten Fashion Styles of Autumn 2010 Winter 2011
KEY STYLE 1- FASHION SILHOUETTE 1 for 2010/11 -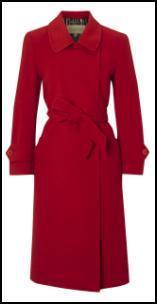 The womanly silhouette - Don't hesitate to invest in fuller skirt silhouettes, or waisted coats. Below the knee Mad Men skirt fashions of the late 50s and early 60s contrast with short skater skirts. Overall this womanly look is pared down, but gives a shapely minimal look along with a fuss free lines.
Far Right - Warehouse AW10 - Crew Neck Jumper £30/€39, Faux Fur Cossack Hat £25/€33, Clean Shoulder Bag £28/€36, Washed Leather Gloves £25/€33.
Near Right - Red Coat by Paul Costelloe at John Lewis - £299.
KEY STYLE 2 - FASHION SILHOUETTE 2 for 2010/11 - The flowing silhouette of uneven layered dressing creates a more haphazard 'pile it on' layer-on-layer effect. The lagenlook uses cosy knit pieces, scarves and fur, Shearling, leather or suede to mix up the style according to personal mood. This mode of dressing works especially well teamed with narrow high waist slim leg pants tucked into boots or can be more relaxed with flared leg wide pants dependant on figure.
KEY STYLE 3 - FASHION ATTITUDE This is the new retro investment dressing with elegant simplicity. Here we have classic bourgeois tailored camel investment coats, good quality fabrics and covetable designer pieces tailored to last.
For example, the coat is the main look and as such the key must-have clothing piece of autumn/winter 2010/11. Creamy tones across the range of camel beige reach as far as taupe and tobacco for an investment piece that will repay itself year in year out. Look for coats, capes, knitwear, pants, dresses and even gold tone chains to join the camel trend.
KEY STYLE 4 - IMPORTANT SUBTLE FASHION COLOURS FOR 2010 - Here we have neutral tones of camel, grey, beige oyster pinks, black, cream, white and navy. For the more adventurous there khaki/olive green, tobacco and aubergine toned brown are available. Manufactures realize that camel is not for everyone so they also produce alternative vibrant clean brights.
KEY STYLE 5 - IMPORTANT BOLD FASHION COLOURS - REDS and PURPLES Look out for hosiery in these colours - thick colourful red, purple and plum based colours.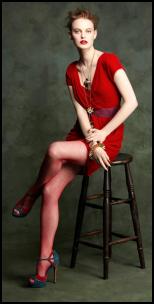 Above Far left - House of Fraser Autumn 2010 - Red velvet dress £180/€260 Episode, Gold 'Cluster' pendant £365 Erickson Beamon, Gold purse pendant £215 Mawi, Gold 'Tube' bangle £325 Mawi, Tights from a selection at House of Fraser. Centre - House of Fraser AW10 - Berry bow trilby £60 Helene Berman, Antique brocade coat £75/€90 Darling, Stretch bracelets £60/€72 each Lola Rose, Maroon opaque tights £6 Linea. Far Right - Gold Swarovski crystal encrusted necklace £380 Anton Heunis, Red knot draped jersey dress 150/€180 Pied a Terre House of Fraser Womenswear. House of Fraser Stockist Number: 020 7003 4000.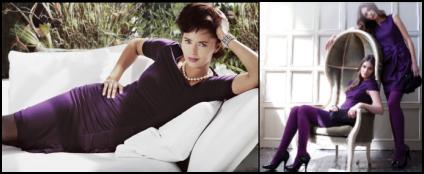 Other important colours for the fall of 2010 include coral/fuchsia, orange, violet purple and teal/turquoise. Alternatively, there are gold and copper lames, citrine yellow, acid chartreuse bright green.
Above Left - Alexon Autumn Winter 2010 - Purple Dress Pleat Front Jersey Dress - £80/€130 size 8-20.
Above Right - Great Plains Purple Dresses - Great Plains Autumn Winter 2010 Mimi Tailored Dress (sat down) £65. Mimi bow detail dress £70 satin clutch £30. Stockist www.greatplains.co.uk .
‡‡
KEY STYLE 6 - FASHION LEATHERS & SUEDE

- For the Autumn of 2010 there are some beautiful leather skirts, biker jackets, leather tunics and gilets. An alternative to get the same look is leather bindings on winter wools. There are suede versions of these leather garments, and especially in accessories such as handbags, gloves, belts. Orange toned tan leathers Hermθs style.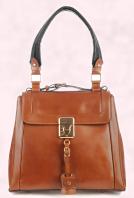 Far Right - House of Fraser Grey bow trilby £60 Helene Berman, Tan leather shift dress £295/€384 Pied a Terre, Gold 'Tube' bangle £325 Mawi, Charcoal tights £6 Aristoc. House of Fraser Stockist Number: 020 7003 4000.
Near Right - Matches fashion.com Leather bag.
KEY STYLE 7 - FUR COATS AND JACKETS - pay homage to teddy bears and koala bears. Shearling, yak and goat hair all come into view this autumn 2010. In fact, shearling coats/gilets are must-haves, as is anything that is sheepskin or fur lined. Then there are the fur accessories for collars, cuffs, hems, cowls, boots, shoes, cuffs, ear warmers, bags and mitts. At the luxury end of the market you will find sheepskin trimmed accessories such as plush Toscana, Kalgan or Tibetan lamb with shaved pile variations. Savage fur effects spell stealth wealth for the outdoors.
Innovations in the manufacturing of fur include special new methods of shearing, dying, and knitting. Then there is combining fur with other materials which results in a more creative end usage and novel high fashion ranges. Manufacturing innovations allow the fur garments to become lighter in weight, but with enhanced flexibility, yet the fur retains original warmth. These innovative improvements mean that a dash of luxury is easily added to any collection.

KEY STYLE 8 - FABULOUS FASHION BOOTS - This year there is a great diversity of boots styles including thigh high waders, practical UGG style boots with turnover cuffs. There does seem to be a trend for footwear with sheepskin trims and biker straps. Heel choices now offer relief from towering heights with kitten heels and lower blocked heels. Other variations include stud decorated clogs, wedges, chunky platforms; there is also lace fabrics on shoes and zipper tape trims.
Strapped biker boots, lace-up brogue boots and most footwear versions trimmed inside or on a cuff with Shearling or other fur feature heavily in collections everywhere. Studded wedge shoes and boots offer a level of comfort afforded by wedge sandals. Shearling clogs with studs on mock beige snakeskin, plain orange tan or black leather hit the right footnote.
Right - NEXT Faux Fur Clog Boot £55.
KEY STYLE 9 - DAY & EVENING GLAMOUR - Lace especially black or cream lace is big news, but velvet, brocade and embroidered fabrics are all in the game. Sophisticated sleek sleeveless/one-sleeved/one shoulder dresses short or long offer alternatives to ethnic inspired maxi dresses that have a folkloric feel and feed the opposite trend of nomadic traveller.
KEY STYLE 10 - OTHER FASHION ACCESSORIES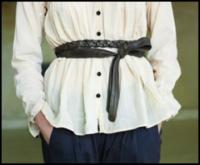 BAGS - Drawstring bags or Preppy rucksack style bags offer everyday practical bag solutions. Check the hard tailored structured bags like your great grandmother loved as they now provide the hottest look. Think Mulberry Alexa bags and Smythson Nancy weekender bags. Satchels go with the preppy look and come in many colours.
BELTS - The latest belt styles whether wide or narrow tend to have studded and zipper teeth edges. There is also a trend for fabric covered belts. Meanwhile here is a fresh way of tying and tucking the excess belt as seen at Plumo - Far Right.
JEWELLERY - Brooches are back in fashion so pile them on. The trend for OTT chunky jewellery continues, but this Fall 2010 we are also seeing simple wheel faceted necklaces of strong coloured semi-precious gemstones such as onyx, quartz, blue agate, red carnelian and coral.
...(v4r)
You may prefer triple-row retro style necklaces made of faceted natural gems such as sapphires, rubies and emeralds. Note the volume of snake and serpent jewellery, and also Swarovski crystallized pieces are still with us. Rose gold is fresh and picks up on copper accents such draped gold lame fashions bring jewellery directly onto the garment.
Pearls are back big time in rows of all sizes, in white and other colours. Gold lace cuffs.
HATS - Trilby hats, berets, fur hats and bobble knit ski hats or fur hoods add the final touch with extra-long gloves.
You are reading an original article on the latest fall 2010 fashion styles by Pauline Weston Thomas only for publication on www.fashion-era.com
Here are ten more fall 2010 trends. Each of the latest looks listed below is examined in more detail on other pages just follow the link!
‡
Military overcoats have been a strong trend for a decade or longer. This season they come in traditional khaki muddy tones as well as brights like red and the elements feature across jackets, rainwear and coats.

Now military has moved in on capes and in camel the military influence is just so obvious. Think of vintage nurses in their capes but try to avoid the capes on offer in navy as you may end up looking like something from Carry on Norse. Capes really do look good worn with pants rather than skirts which can be quite mumsy. Max Mara do a fairly unstructured blanket cape that drapes like a pareo. For the Sherlock Holmes factor opt for a Pringle checked wool cape or a leather bound cape.
Above Left - BHS SGC Grey Cape £50. BHS Stockist Number: 0845 196 0000.
Centre Left - Jane Norman Coats & Jackets - Stockist Number: 0207 659 9396 or www.janenorman.co.uk
Centre Right - Littlewoods Fashion AW10- Navy Cape Coat www.littlewoods.com
Far Right - Dorothy Perkins AW10 - Buckle Front Cape £65/€105 - Stockist Number: 0845 121 4515 and www.dorothyperkins.com
See more fall 2010 coats and jackets.
Conclusion Key Fashion Styles for 2010 AW
You have been reading an original article about autumn winter fashion styles for 2010 by Pauline Weston Thomas only for publication on www.fashion-era.com ©
Copyright of images courtesy of PrShots.com, IFTF, Swarovski, Miss Selfridge, Marks & Spencer, Hobbs, Harvey Nichols, House of Fraser, John Lewis, Primark, Penneys, Matchesfashion, Oasis, Debenhams, Wallis, New Look, Elegance, River Island, Marks & Spencer, Accessorize Monsoon, Matalan, Principles, Hobbs, Great Plains, Warehouse, Pantone, Harvey Nichols, Swarovski, Jane Norman, IFTF, Matches, Plumo, Prshots.
Date Added 11 September 2010 - Ref: P.828.
If you like this page then please share it with your friends
---
--Link--
For more information on ladies and teens fashion trends go to:-
Archived Sections
Custom Search
About Fashion-Era.com
Fashion-Era.com looks at women's costume and fashion history and analyses the mood of an era. Changes in technology, leisure, work, cultural and moral values. Homelife and politics also contribute to lifestyle trends, which in turn influence the clothes we wear. These are the changes that make any era of society special in relation to the study of the costume of a period.

Fashion-Era.com can take no responsibility for any information on the site which may cause you error, loss or costs incurred from use of the information and links either directly or indirectly. This site is owned, designed, written and developed by author: Pauline Thomas and Guy Thomas. This site is designed to be viewed in 1024 X 768 or higher.
ALL RIGHTS RESERVED. Fashion-era.com reserves the right to add or delete information, graphics and links. Copyright © 2001-2014 on all content, text and images in Fashion-era.com. Images and text in this website may not be used on other websites.
Before you write to me for costume/fashion help or information please, please consult the extensive sitemap which lists all our pages. If you still cannot find the answer after searching the site, then before you email me, please consider if you are prepared to make a donation to the website.
Donations
Reader's donations help this site flourish, in particular donations encourage me to write more articles on fashion history as well as current trends. PayPal allows anyone with a credit card to donate easily and securely. You may donate any sum you feel appropriate.