Winter Coats and Jackets for Fall 2010 Winter 2011
Here is a review of the major styles of women's winter coats and jackets for the fall 2010 / winter 2011 season.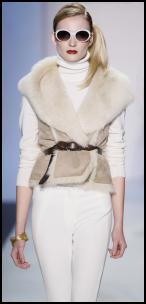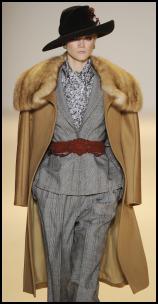 Quality materials and textures combine to make the mood of autumn 2010 fashion trends. Several key looks are based entirely on the material of a piece - Shearling, camel wools, lace, patterned Nordic or cable knitwear.
There are many individual coat trends for the winter of 2011, but these can be divided into two key looks of 'womanly minimal chic' and 'nomadic free spirit'. The colours can be subtle or strong with dusty dulled-down neutral shades being particularly popular. Camel is a top autumn colour, but there are also bright vivid hues especially RED, ORANGE and PURPLE.
The overall look of the camel trend has a high profile this autumn 2010. If you are thinking already 'not for me' take note this camel does encompass the concept of expensive neutrals, in particular, the taupe beige fashion colour family through to creamy oyster. It's perfect for luxe Mad Men fashion homage, and even better, it can also take in the Shearling aviator jacket and gilet.
Above Left - Catwalk trends - Caroline Herrera's camel coat and right gilet from Roland.
Far Right - High street fashion from Primark - Belted aviator £25, Harem pants £11, chunky knit snood £4 ALL due in store end September, knee high sock £2 and Military peep toe ankle boot £15, both in store now. Primark Womenswear Winter 2010. Primark Stockist Number: 0118 9606 300.
These looks leave us with lots of room to play with fashion's must-haves and gotta-get fads, whilst keeping the underlying foundation an investment trend. Accordingly the two key trends for autumn big ticket daywear are the neutral coat or cocooning Shearling piece. They are both at the core of this fashion season of Autumn 2010.
The season's key casual jacket is the rugged aviator which replaces the biker of recent years, and combined with lambskin offers a cocooning nonchalant alternative. This fur-lined Aviator jacket fashion trend is nestling under names such as Biggles Jacket, Amelia Earhart Jacket, Amy Johnson Jacket, Flying Jacket and The Aviatrix. Really it's just the outdoor windcheater biker jacket which everyone loves, but updated with fur lining/trim and extra closures.
You are reading an original article on winter coats and jackets for 2010 by Pauline Weston Thomas only for publication on www.fashion-era.com
Right - Convertible Aviator Jacket - Hobbs AW10. This jacket unzips the hip yoke section to give a short crop version. This is high street value at its best. Limited Edition Corby Shearling Jacket, £999/€1150 Hobbs Autumn Winter 2010 Clothing - Hobbs Stockist Number: 0845 313 3130 / www.hobbs.co.uk
Tougher looks make use of extra zips belts and buckle tabs to create this seasons aviator/biker jackets. Oasis and Warehouse have great lines covering Shearling. My own experience with buying Shearling has revealed that the cut need to be good and the fit needs to match over your own curves if you are not to look like Michelin Man. Be careful to avoid a size up which gives you massive shoulders and a chunky look, instead shop around for a better fitting garment.
When the Shearling is butter soft it drapes and flows in a natural way that falls over the body curves. This may be one time to really pay more to avoid the bulk of shearlings that are not trimmed or cut well. For people who find casual a hard look to do quality Toscana for example is the answer since it's expensive looking yet casually nomadic at once.
‡‡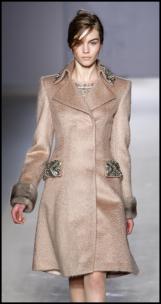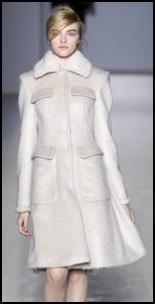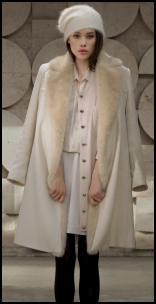 Minimal chic is a significant fashion trend for Winter 2011. Minimalist elegant designer led garment cuts, combined with the timeless subtle colours of camel, grey, black, white, navy and oyster all contribute to the stealth wealth look.
Stealth wealth coats offer understated fashion dressing whilst allowing the wearer to feel enveloped in elegant luxury.
The trend for classier refined, but grown-up womanly garments has been on the increase for two years.
I discussed elegant coat requirements last year and now this really is the season of acquiring beautiful clothes that every woman wants to wear. The clothes of autumn 2010 use luxury fabrics, leather, suede, cashmere, brocade, crêpe de chine silk and quality lace.
Above - Left - Two catwalk coats by Elsa Ferretti.
Right - Coat from French Connection AW10.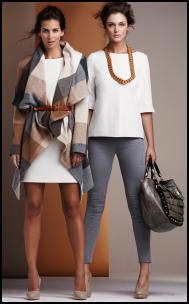 Far Right - Minimal tunic top and sleek grey pants. Near Right - Minimal cream dress with a dishevelled nomadic touch when teamed with a blanket pattern cape coatigan. Looks will marry when you limit yourself to using three colours and you'll grasp fast entrance to the key look if you stay within the neutral colour hues.
Right - Wallis - Model 1, Camel checked cape £85, Tan belt £18, Ivory minimal shift dress £45. Model 2, Ivory minimal t-shirt £38, Woven leather necklace £18, Biker jegging £38, Flap front shopper £50. Wallis AW10 Campaign - Stockist Number: 08451214520.
Those who are fazed by the tidiness of luxury looks with an ultra-womanly Mad Men silhouette, may prefer the looser fashion trend of nomadic traveller with a nod to glam grunge.
Figure hugging Mad Men dresses, off white coats and suits in below knee lengths in quality materials are simply not for everyone, therefore alternative trends like the nomadic twist in fashion introduce a little carelessness into dress.
But it's best to note that Autumn 2010/Winter 2011 is a big coat season whichever path you take.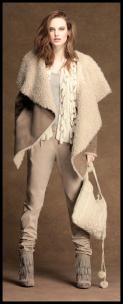 I shall be wearing my relaxed snow tipped Toscana one day, my more formal minimal oyster cashmere coat another and on the weekend an unstructured coatigan. There is no need to feel you must choose one look over the other.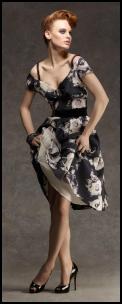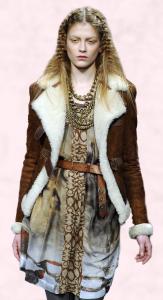 Robert Herrick's poem ** Delight in Disorder and its 'A sweet disorder in the dress kindles in clothes a wantonness...' highlights all the elements that help make the new nomadic traveller look such a carefree look in both appearance and putting together. As usual designers have ensured there is a hot fashion trend for everyone to follow.
The autumn 2010 looks are easily wearable and there is a key look to suit every woman. Those with real curves can opt for the womanly fashion trends of 50s/60s Mad Men retro or equally play with the Bohemian led free spirit of exotic nomadic traveller. They can mix aviator jackets with dresses as well as trousers and active that careless nonchalant I threw it together look in minutes, even if selecting the items took hours!
Above Left - House of Fraser Grey marl vest £5/€6 Therapy, Cream loop knit cardigan £140/€168 SuperTrash, Waterfall faux fur sheepskin coat £75/€90 Therapy, Cream chinos - jersey waistband £50/€65 Linea Weekend, Cream pom-pom bag £22/€24 Therapy. Far Right - Also House of Fraser Grey powder 'Rose' dress £130/€169 Linea Eveningwear, Silver 'Skull' bracelet £300 Mawi. House of Fraser Stockist Tel:020 7003 4000. Centre Right - Wunderkind - Aviator Jacket - Catwalk Fashion AW10.
Hot on the trails of all these looks is Leopard print a true fashion trend that like Military Utility is still firmly with us. Newer trends include the rise of the cape, the blouse and changing trouser shapes.
...(v4r)
A sweet disorder in the dress
Kindles in clothes a wantonness:
A lawn about the shoulders thrown
Into a fine distraction--
An erring lace, which here and there
Enthrals the crimson stomacher--
A cuff neglectful, and thereby
Ribbands to flow confusedly--
A winning wave, deserving note,
In the tempestuous petticoat--
A careless shoe-string, in whose tie
I see a wild civility--
Do more bewitch me than when art
Is too precise in every part.
Camel
The coat is the main look and as such the key must-have clothing piece of autumn/winter 2010/11. Creamy tones across the range of camel beige reach as far as taupe and tobacco for an investment piece that will repay itself year in year out. Look for coats, capes, knitwear, pants, dresses and even gold tone chains to join the camel trend.
Shearling has had new treatments that make it ultra-soft
Shearling, Shearling and more Shearling.
Ooh I am so glad I bought two gilets last autumn in Toscana Shearling, one in black and a second in brown the last with a front fall grey mix snow tipped fur collar. This season there are gilets, aviator jackets, coats, headwear, gloves and footwear all utilising Shearling.
Shearling and sheepskin are the same product, but the difference between a good skin is the breed of lamb and the way the skin is treated after removal. Many Shearling fleeces are now super soft and shaved back to create textural effects. Some Shearling is given ironing treatments that help produce this ultra Luxe fur skin. Premium Shearling includes sheepskins from Spanish Merino and Toscana breeds. New Zealand Lambskin slink is considered the finest of all costing about twice as much as finest Spanish Merino skins. Slink skin is produced from the skins of natural lambing fatalities that occur during the lambing season and it is soft and supple making it ideal for luxury goods such as premium gloves.
Right - Luxury Coat - Dom & Ruby 100% Shearling Coat, £1180 at Harvey Nichols AW10.
Military overcoats have been a strong trend for a decade or longer. This season they come in traditional khaki muddy tones as well as brights like red and the elements feature across jackets, rainwear and coats.

Now military has moved in on capes and in camel the military influence is just so obvious. Think of vintage nurses in their capes but try to avoid the capes on offer in navy as you may end up looking like something from Carry on Norse. Capes really do look good worn with pants rather than skirts which can be quite mumsy. Max Mara do a fairly unstructured blanket cape that drapes like a pareo. For the Sherlock Holmes factor opt for a Pringle checked wool cape or a leather bound cape. See more on women's military coats.
Above Left - BHS SGC Grey Cape £50. BHS Stockist Number: 0845 196 0000.
Centre Left - Jane Norman Coats & Jackets - Stockist Number: 0207 659 9396 or www.janenorman.co.uk
Centre Right - Littlewoods Fashion AW10- Navy Cape Coat www.littlewoods.com
Far Right - Dorothy Perkins AW10 - Buckle Front Cape £65/€105 - Stockist Number: 0845 121 4515 and www.dorothyperkins.com
More Fashion Styles for 2010 Fall and Winter
Here are ten more important women's styles for 2010. Each of these fashions is explained more fully on another page, just follow the links below.
Top Ten Fashion Styles for Fall 2010 Winter 2011
‡
Here are ten more fall 2010 fashion trends. Each of the latest looks listed below is examined in more detail on other pages just follow the link!
Conclusion of Winter Coat and Jacket Fashion 2010
...(v4r)
Grown up autumn trends are dominated by Shearling and statement coats with the cape gaining ground fast as must-have for any new winter wardrobe.
You are reading an original article on winter coats and jackets for 2010 by Pauline Weston Thomas only for publication on www.fashion-era.com ©.
Copyright of images courtesy of PrShots.com, IFTF, Swarovski, Miss Selfridge, Marks & Spencer, Hobbs, House of Fraser, John Lewis, Primark, Penneys, Matchesfashion, Oasis, Debenhams, Wallis, New Look, Elegance, River Island, Marks & Spencer, Accessorize Monsoon, Matalan, Principles, Hobbs, ASOS, Warehouse, Pantone, Harvey Nichols, Swarovski, Oasis, Jane Norman, Prshots.
Date Added 11 September 2010 - Ref: P.827.
If you like this page then please share it with your friends
---
--Link--
For more information on ladies and teens fashion trends go to:-
Archived Sections
Custom Search
About Fashion-Era.com
Fashion-Era.com looks at women's costume and fashion history and analyses the mood of an era. Changes in technology, leisure, work, cultural and moral values. Homelife and politics also contribute to lifestyle trends, which in turn influence the clothes we wear. These are the changes that make any era of society special in relation to the study of the costume of a period.

Fashion-Era.com can take no responsibility for any information on the site which may cause you error, loss or costs incurred from use of the information and links either directly or indirectly. This site is owned, designed, written and developed by author: Pauline Thomas and Guy Thomas. This site is designed to be viewed in 1024 X 768 or higher.
ALL RIGHTS RESERVED. Fashion-era.com reserves the right to add or delete information, graphics and links. Copyright © 2001-2014 on all content, text and images in Fashion-era.com. Images and text in this website may not be used on other websites.
Before you write to me for costume/fashion help or information please, please consult the extensive sitemap which lists all our pages. If you still cannot find the answer after searching the site, then before you email me, please consider if you are prepared to make a donation to the website.
Donations
Reader's donations help this site flourish, in particular donations encourage me to write more articles on fashion history as well as current trends. PayPal allows anyone with a credit card to donate easily and securely. You may donate any sum you feel appropriate.