Key Fashion Trends for Fall Winter 2010
This list of women's fashion trends for fall 2010 / winter 2011 will help you when you are shopping for your winter wardrobe. Each of these latest clothes looks is examined in more detail lower down on this page.
Top Ten Fashion Trends for Fall 2010 Winter 2011
Top Ten Fashion Trends for Autumn 2010 Winter 2011
Left to Right Above - Camel Coats - Jaeger, Hobbs and Minuet Petite AW10.
Left - Embrace the Jaeger understated quality and new minimalism with this wool and angora swing coat. Fitted at mid-length and tie belt. Jaeger Panelled Swing Coat - £350. Jaeger London Collection Product Code:580061Y. Due October.
Hobbs Model in Iden Coat, £349/€400. Lara Roll Neck, £55/€63. Camel Trousers, £159/€185. All Hobbs Autumn Winter 2010 - Stockist Number: 0845 313 3130 or www.hobbs.co.uk
Minuet Petite - CamelCoat £159 €215 Trousers £80/€115. Minuet Petite Autumn Winter 201. Minuet Petite Stockist Number: 01582 399809.
TOP TREND 1 - NEW MINIMALISM - EXPENSIVE LOOKING NEUTRALS - CAMEL COATS - The 2011 trend is for 'Statement Coats' in beautiful quality materials such as camel cashmere mixtures or soft neutrals - tobacco, taupe, grey, navy, oyster, white and black. Invest in clothes that are wearable time and again. These coats shown below are all from matchesfashion.com coat range. As you can see, they move from tobacco, dark camel, golden camel to creamy oyster giving a tone and length to suit everyone. The coats above are from Jaeger, Hobbs and Alexon AW10 and all masters at high street quality tailoring. The coats below are from Matchesfashion.com and the variations in price are due to the fibre content, with cashmere attracting a premium price.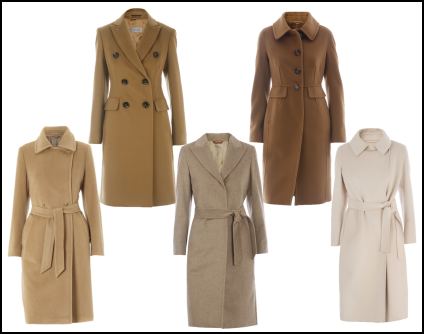 Top Left - Sportmax Camel Double Breasted Coat - £598.
Top Right -Maxmara Single Breasted Coat - £538.
Bottom Left - Maxmara Double Breasted Coat - £608.
Bottom Centre - Maxmara Cashmere City Coat - £1,048.
Bottom Left - Maxmara Wool-mix Coat - £568.
All the above coats are available from matchesfashion.com coat range.
‡‡
TOP TREND 2 - SHEARLING EVERYTHING - AVIATOR JACKETS TO FOOTWEAR - These investment materials or skins feature leather and suede, the best are the ULTRA soft Toscana and Shearling coats, however they come with a hefty price tag.
Shearling or leather aviator jackets - Burberry favoured Amy Johnson and Amelia Earhart styling as shown below in their Autumn 2010 Ad Campaign. Pringle opted for a luxurious longhaired style. One-step on from this is the briefer gilet waistcoat with snow tip Toscana fur. Alternatively, you opt for the full length, but much more expensive, all natural rustic lambskin coat.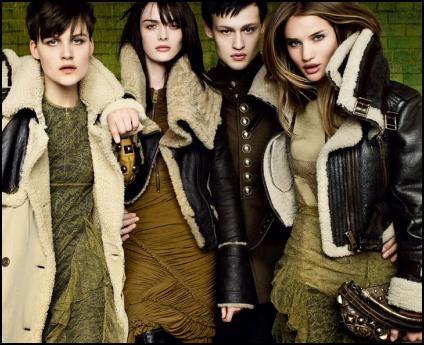 Above Burberry Aviator jackets - Image Courtesy Burberry.
TOP TREND 3 - MAD MEN RETRO WOMANLY DRESSES/SKIRTS - EARLY RETRO SIXTIES NIPPED IN HOUR GLASS WAISTLINES - Think Mad Men dresses, womanly suits, skirts and coats finished off with a belt. This fashion look features all types of materials from brocade, lace, Venetian polished wools, cashmere wool velour, velvet, lace and leather. Marc Jacobs, Creative Director for Louis Vuitton captured the essence of this trend perfectly and shown extensively in the Louis Vuitton Autumn 2010 Ad Campaign below.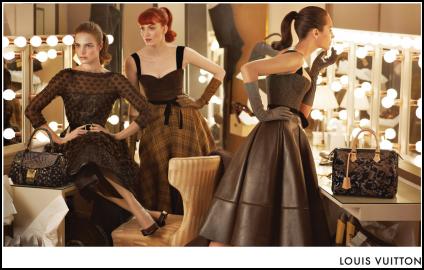 Autumn 2010/ Winter 2011 Image Above - Courtesy Louis Vuitton.
TOP TREND 4 -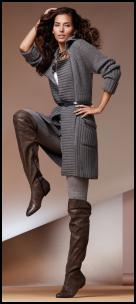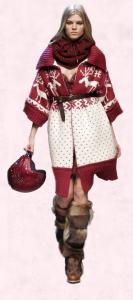 NOMADIC TRAVELLER - Nomadic layered looks, that use knitwear, furs, blouses, scarves and leather to create a look which is sometimes dishevelled but is always very wearable and easy to pull together for those with a Boho leaning.
This trend embraces the - KNITWEAR COATIGAN - Knee length cardigan coats called coatigans. Nordic snowflake/fair isle patterns. Cable knits, uneven draping cardigans and ponchos. Long tunic style knitwear for cosy layering, belting. Lagenlook/Layering of wispy mohair or cashgora knits, chunky cables. Isabel Marant showed gossamer light knitted furs creating pieces that fit in with several trends. There are also knit berets, bobbles, oversized scarves, cowls/snoods.
Far Right - Wallis AW10 Campaign - Asymmetric zip long line cardigan £45, biker jegging £38 - Wallis Stockist Number: 08451214520.
Centre Right - Image courtesy IFTF from the D&G AW10 Catwalk Show.
TOP TREND 5 - ANIMAL PRINTS - LEOPARD LOOK MATERIALS - In the Autumn of 2010 you will see natural leopard colours and monotone mixes of this ever popular animal print. Boxy, three quarter chubby and fitted fur jackets act as cover ups that the world cannot miss. Less obvious options include print sweaters, dresses, tights, bags. Incidentally, footwear and even jewellery are exploiting the leopard print fashion trend.
Leopard animal prints are key pieces, thus you could choose a luxe coat instead of (or in addition to!) a camel coat. Leopard print is used for clutch bags and the animal attraction goes even further with pony skin leopard spot trainers. I have found in real life a leopard print bag is one of the most versatile bags of all to own. It almost always blends in with everything.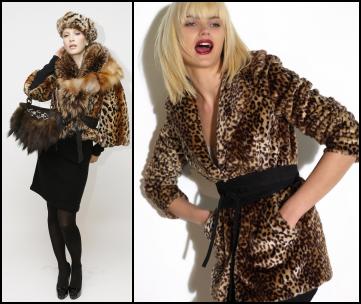 Above Left - Adrienne Landau Leopard Print Fur Design.
Above Right - New Look Leopard print coat £45/€59. Black corset belt £8/€10 Womenswear at www.newlook.com - Stockist Number:0500 454 094.
TOP TREND 6 - LACE LOOKS - Here are dresses, diaphanous lace sleeves, bodice yokes, see through sheer areas, lace tights, evening bags even shoe fronts all in lace. This lace fashion trend travels through expensive lace ladylike cocktail dresses to glam gothic dishevelled grunge looks.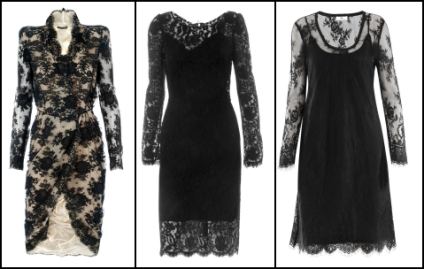 Above Left - Alexander McQueen - Black Lace Dress - £2,865.
Centre - Dolce & Gabbana - Black Lace Dress - £1,370.
Right - Day Birger et Mikkelsen - Long Sleeve Black Lace Dress - £228.
...(v4r)
TOP TREND 7 - BLOUSES - The Autumn 2010 trend is for luxury satins, fulsome sleeves and bows, fitted or full bodies. The fabrics are interesting ranging from lace to gold lamι, brocade and soft velvets in inky indigoes/purples/black. The garments often make a statement with volume sleeves and inspiring collars, you may also see velvet devore burnout contrast fabrics.
TOP TREND 8 - TROUSERS - THREE STYLES OF PANTS
Peg Top Trousers - To keep your legs warm in the Winter of 2011 choose narrow slim high waistline paper bag peg top trousers. Peg trousers cropped above the ankle at Wang emphasises this leaner look, as did the skinny cargo pants at JBRAND; look out for them at Jaeger.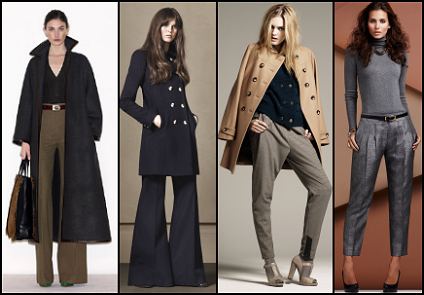 Above Left - Celine Fashion. Centre Left - Hobbs - Hobbs - Navy Augustine Coat, £239/€275. Navy Augustine Trousers, £149/€170. Delancy Court Shoe, £139/€160. Hobbs Autumn Winter 2010. Centre Right - Warehouse Autumn Winter 10 - Camel Coat £100/€130, cardigan £40/€52, Trousers £50/€65 - Warehouse Stockist Number: 0845 122 2251. Far Right - Wallis AW10 Grey polo neck £18, Grey pants £40 Wallis Stockist Tel: 08451214520
Cigarette Pants - These suit clean cut simple minimalist looks. When cut at the ankle have modern touch.
Wide Flared Leg Pants - Trousers return with fluid flare at Chloe. Chloe fluid flares help lengthen the leg and have a classic expensive mad Men twist when teamed with a high polo roll neck sweater and pearls.
TOP TREND 9 - MILITARY OUTERWEAR - CAPES, JACKETS/COATS - Military capes are a rising utility trend which combines military waistcoats with coats and jackets. The cape is a slow burning trend that is gaining momentum as a must-have for any new winter wardrobe. Look out for military be-ribboned bags to match your outfit.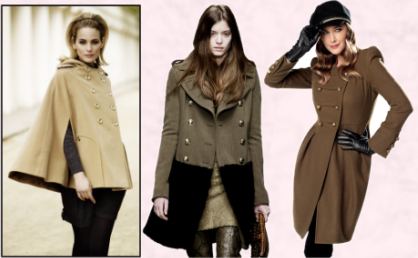 Above Left - Sainsbury's Tu Clothing - Camel Cape £45 - Stockist Number: 0800 636 262.
Centre - Burberry Coat - Available at Burberry.com - Military Doeskin Great Coat Shearling Panel - £1,895. Double breasted military doeskin great coat with raglan sleeves and epaulettes on shoulders. The coat is fitted at the waist and has a curly Shearling panel in contrast colour on the skirt. Large brass buttons in a vintage finish engraved with the Burberry Prorsum inscription. Image Courtesy IFTF.
Far Right - Lisa Snowden Wears Marks & Spencer Coat £99, Trousers £18, Gloves £29.50, Hat £15, Boot £85.
TOP TREND 10 - TRADITIONAL PREPPY TWEEDS - This look embraces retro TAILORED EQUESTRIAN CHIC. There is a wide range for choice from fine tweeds, ladylike suits in classic British wools and speckled tweeds. For accessories there are authentic riding boots, argyle sweaters, leather patched sleeves, leather covered buttons and bindings. Traditional Preppy Styling.
Key Fashion Styles for 2010 Fall and Winter
Here are ten more important fashion styles for 2010. Each of these women's dress styles is explained more fully on another page just follow the links below.
Top Ten Fashion Styles for Fall 2010 Winter 2011
‡
Fall 2010 Fashion Trends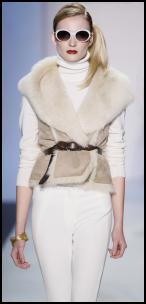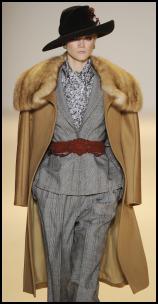 Quality materials and textures combine to make the mood of autumn 2010 fashion trends. Several key looks are based entirely on the material of a piece - Shearling, camel wools, lace, patterned Nordic or cable knitwear.
There are many individual coat trends for the winter of 2011, but these can be divided into two key looks of 'womanly minimal chic' and 'nomadic free spirit'. The colours can be subtle or strong with dusty dulled-down neutral shades being particularly popular. Camel is a top autumn colour, but there are also bright vivid hues especially RED, ORANGE and PURPLE.
The overall look of the camel trend has a high profile this autumn 2010. If you are thinking already 'not for me' take note this camel does encompass the concept of expensive neutrals, in particular, the taupe beige fashion colour family through to creamy oyster. It's perfect for luxe Mad Men fashion homage, and even better, it can also take in the Shearling aviator jacket and gilet.
Above Left - Catwalk trends - Caroline Herrera's camel coat and right gilet from Roland.
Far Right - High street fashion from Primark - Belted aviator £25, Harem pants £11, chunky knit snood £4 ALL due in store end September, knee high sock £2 and Military peep toe ankle boot £15, both in store now. Primark Womenswear Winter 2010. Primark Stockist Number: 0118 9606 300.
These looks leave us with lots of room to play with fashion's must-haves and gotta-get fads, whilst keeping the underlying foundation an investment trend. Accordingly the two key trends for autumn big ticket daywear are the neutral coat or cocooning Shearling piece. They are both at the core of this fashion season of Autumn 2010.
The season's key casual jacket is the rugged aviator which replaces the biker of recent years, and combined with lambskin offers a cocooning nonchalant alternative. This fur-lined Aviator jacket fashion trend is nestling under names such as Biggles Jacket, Amelia Earhart Jacket, Amy Johnson Jacket, Flying Jacket and The Aviatrix. Really it's just the outdoor windcheater biker jacket which everyone loves, but updated with fur lining/trim and extra closures.
You are reading an original article on the latest trends in fashion for Autumn 2010 by Pauline Weston Thomas only for publication on www.fashion-era.com
Right - Convertible Aviator Jacket - Hobbs AW10. This jacket unzips the hip yoke section to give a short crop version. This is high street value at its best. Limited Edition Corby Shearling Jacket, £999/€1150 Hobbs Autumn Winter 2010 Clothing - Hobbs Stockist Number: 0845 313 3130 / www.hobbs.co.uk
See more fall 2010 coats and jackets.
-------v6-------
Conclusion Fall Winter 2010 Fashion Trends
You have been reading an original fall winter fashion trends for 2010 article by Pauline Weston Thomas only for publication on www.fashion-era.com ©
Copyright of images courtesy of PrShots.com, IFTF, Swarovski, Miss Selfridge, Marks & Spencer, Hobbs, House of Fraser, John Lewis, Primark, Penneys, Matchesfashion, Oasis, Debenhams, Wallis, New Look, Elegance, River Island, Marks & Spencer, Accessorize Monsoon, Matalan, Principles, Hobbs, ASOS, Warehouse, Pantone, Harvey Nichols, Swarovski, Oasis, Jane Norman, Prshots.
Date Added 11 September 2010 - Ref: P.826.
If you like this page then please share it with your friends
---
--Link--
For more information on ladies and teens fashion trends go to:-
Archived Sections
Custom Search
About Fashion-Era.com
Fashion-Era.com looks at women's costume and fashion history and analyses the mood of an era. Changes in technology, leisure, work, cultural and moral values. Homelife and politics also contribute to lifestyle trends, which in turn influence the clothes we wear. These are the changes that make any era of society special in relation to the study of the costume of a period.

Fashion-Era.com can take no responsibility for any information on the site which may cause you error, loss or costs incurred from use of the information and links either directly or indirectly. This site is owned, designed, written and developed by author: Pauline Thomas and Guy Thomas. This site is designed to be viewed in 1024 X 768 or higher.
ALL RIGHTS RESERVED. Fashion-era.com reserves the right to add or delete information, graphics and links. Copyright © 2001-2014 on all content, text and images in Fashion-era.com. Images and text in this website may not be used on other websites.
Before you write to me for costume/fashion help or information please, please consult the extensive sitemap which lists all our pages. If you still cannot find the answer after searching the site, then before you email me, please consider if you are prepared to make a donation to the website.
Donations
Reader's donations help this site flourish, in particular donations encourage me to write more articles on fashion history as well as current trends. PayPal allows anyone with a credit card to donate easily and securely. You may donate any sum you feel appropriate.