Winter Coats and Jackets for Fall 2010 Winter 2011
Here is a review of the major styles of women's red winter coats for the fall 2010. I also cover fashionable jackets and short coats for this winter 2010/11 season.
Red Winter Coats
There is no doubt that this winter is the season of the coat. Camel may well be considered the top fashion tone for fall 2010, but if you simply loathe camel what are the alternatives? Look no further than a lovely red coat.
In this women's coat review page I'm also looking at short coats and other styles of women's winter coats, which are perfect for fall 2010/winter 2011, but which are not camel style.
Forget subtle. If you abhor neutral colours then you will like these fashionable red coats, whether vermillion, scarlet or cherry. The catwalks of AW10 showed this trend too, for example, this woman's red coat shown left from Caroline Herrera AW10.
Those camel coats seem to have been getting all the attention this season, but those looks may not be for every woman. These red coats offer grown-up looks that emulate catwalk styles and offer cheerful happy colour. Above right - Rich Red Winter Women's Coat From Viyella Autumn Winter 2010 Womenswear.
If colour is less important, then seek out texture for your coat in the form of brocade, velvet, leather or fur leopard print fabric. Ring the changes with heavy textured cable or Fair Isle knits and coatigans that all complete the winter outerwear picture. Whatever your aspirations, you will find plenty of choice of texture and colours amongst these styles: full maxi, calf, knee, hip length coats, and jackets for the winter 2011 wardrobe.
Be cheered, there are also many subdued women's coat colours other than camel which may offer a better choice for your lifestyle and importantly flatter and compliment your hair and skin colouring. You are reading an original article on red winter coats and jackets for 2010 by Pauline Weston Thomas only for publication on www.fashion-era.com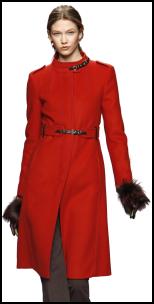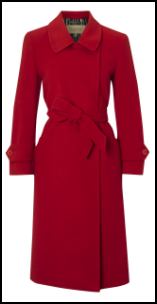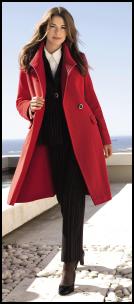 Left - Sportmax Catwalk Coat.
Centre - Paul Costello Red Tie Belt Coat - John Lewis.
Right - Elégance Red Coat. Elégance AW10. Red Wool Coat £349, Black and Red Pinstripe Blazer £299, White Silk Blouse £119, Black and Red Pinstripe Trousers £159. All available in sizes 10-22 - Stockist Number: 0844 557 5507.
»
Subdued colours like khaki drab and navy dominate the utility military pieces, but for those who long for colour there is the brilliance of vivid brights. These coats below have military touches with their uniform fastenings and sharp precision shapes.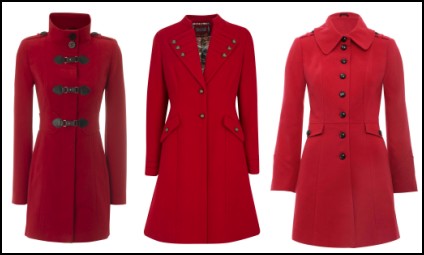 Left - Jane Norman AW 10 Red Coat.
Centre - Marks & Spencer Red Military Style Coat.
Right - Red Military Coat £65 - AW10 M&Co - Stockist Number: 0800 0317 200.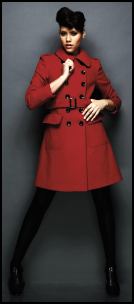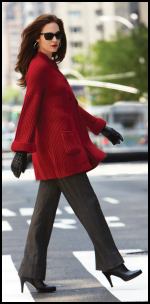 Above Left - Red Belted Coat - Matalan AW10 Women - Matalan Stockist Number: 0845 330 3330.
Above Left - Bonmarché Rib Coat Cardigan £20, David Emanuel Tweed Trousers £22, Leather Gloves £10 - Bonmarché Stockist Number: 01924 700 100.
Above Centre - Wallis Red Coat - Wallis AW10. You are reading an original article on red winter coats and jackets for 2010 by Pauline Weston Thomas only for publication on www.fashion-era.com
Alternatively, go even shorter and check out thigh length red coats in cloth or rib knits.
These red coats below follow a similar theme using the duffle and repeat button effect. The coats combine to make good casual outfits with impact to create a youthful look that's great for dashing about.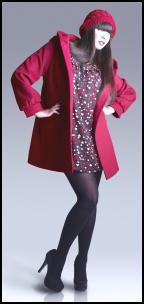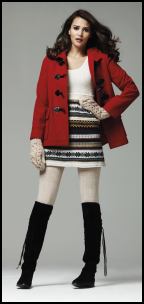 Above Left - Red Coat £65, Heart Print Tunic £35 - Simply Be Stockist Number: 0871 231 5000.
Above Centre - Matalan AW10 - Winter Duffle Fastening Red Coat.
Above Centre Left - Matalan AW10 Red Coat.
If you are not convinced by red coats, then think of adding red accessories such as gloves, colourful tights or scarves.
Ω

Thick opaque tights are the saviour of a winter wind; they also compliment a skirt that's just a bit too short for office wear, and in cold weather add to everyday comfort. It is often possible to get away with a shorter skirt length whatever your age as long as the legs are covered up with leggings or opaques.
Opaque tights have the advantage of looking good with contrast shoes or boots, and being the low cost accessory that can pull an outfit together.
Stock up on your wardrobe of winter tights and get your favourite colours on your wardrobe shelves at home now. I like the functional warmth opaque tights provide, so the wide colour selection and easy availability at Marks and Spencer is terrific.
M&S offer various weights and deniers from nylon to wool. I am especially fond of the M&S Autograph range pure merino wool or cashmere varieties. The tights at Marks and Spencer are excellent value and their most popular opaque tights are the three pack 40 denier tights T602123B at £8 for three pairs.
Left - Maroon opaque tights £6 Linea House of Fraser, Helene Berman Antique Brocade Coat £75/€90. Stockist Number: 020 7003 4000.
But my latest must-have are these gorgeous M&S Autograph black lace tights T605423 shown left and which liven up the plainest of dresses or add pizzazz to a red outfit.
Brighten up your winter with any coat colourful or subtle. Just make sure you have at a new coat to make that statement for 2010.
You are reading an original article on red winter coats and jackets for 2010 by Pauline Weston Thomas only for publication on www.fashion-era.com
Copyright of images courtesy of Prshots.com, IFTF, Marks & Spencer, Bonmarché, John Lewis, Viyella, House of Fraser, John Lewis, Matchesfashion, Debenhams, Wallis, New Look, Elegance, Matalan, Simply Be, Jane Norman.
Date Added 17 October 2010 - Ref: P.834.
If you like this page then please share it with your friends
---
For more information on ladies and teens fashion trends go to:-
Archived Sections
Custom Search
About Fashion-Era.com
Fashion-Era.com looks at women's costume and fashion history and analyses the mood of an era. Changes in technology, leisure, work, cultural and moral values. Homelife and politics also contribute to lifestyle trends, which in turn influence the clothes we wear. These are the changes that make any era of society special in relation to the study of the costume of a period.

Fashion-Era.com can take no responsibility for any information on the site which may cause you error, loss or costs incurred from use of the information and links either directly or indirectly. This site is owned, designed, written and developed by author: Pauline Thomas and Guy Thomas. This site is designed to be viewed in 1024 X 768 or higher.
ALL RIGHTS RESERVED. Fashion-era.com reserves the right to add or delete information, graphics and links. Copyright © 2001-2014 on all content, text and images in Fashion-era.com. Images and text in this website may not be used on other websites.
Before you write to me for costume/fashion help or information please, please consult the extensive sitemap which lists all our pages. If you still cannot find the answer after searching the site, then before you email me, please consider if you are prepared to make a donation to the website.
Donations
Reader's donations help this site flourish, in particular donations encourage me to write more articles on fashion history as well as current trends. PayPal allows anyone with a credit card to donate easily and securely. You may donate any sum you feel appropriate.