Women's Camel Coats and Jackets for Fall 2010 Winter 2011
Here are of some the major styles of women's camel coats, jackets and camel pieces specially selected for the fall 2010/winter 2011 season.
Review of Women's Camel Coats
Fall 2010 is the season of the coat, in particular the season of the camel coat. The AW10 catwalks dripped with outer garments in camel, tan, taupe, caramel and oyster cream tones (see right).
Jacket choice is also good with camel again being touted as the top tone. As with coats, the vast range of colours displayed on the catwalks showed diversity within the colour range from clotted buttery cream to dusty desert sand.
The range of material for women's coats was also large, for example, we see knitwear, wool Melton, tweed, silk, felt, leather, suede, Shearling and leopard prints all get the camel colouration.
Camel can be an expensive look, but choose your winter coat thoughtfully. For some women a careful appraisal of the exact tone of this neutral beige is important, especially if a yellow-based camel makes your skin look flat and tired or worse jaundiced.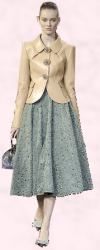 Some magazines will try to convince you that camel flatters everyone, but it doesn't. The tone has to match an individual's skin tone; otherwise, camel clothing can be death by dullness. Just make sure you get the perfect shade just as you would when selecting a foundation face base. Take your time to get the camel colour that lifts your persona rather than destroys it by drab insipidness.
Catwalk Fashion Images all courtesy of IFTF - Montage Copyright www.fashion-era.com
Right - Catwalk Mad Men Style - Soft Camel Leather Jacket - Dolce & Gabbana Autumn 2010.
So just how do you see camel as a colour?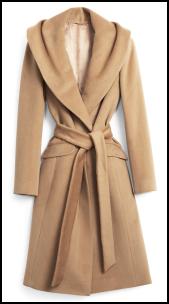 Do you see it, as I do, just like the shawl collar coat shown far left? Or do you see camel as a tad more golden like the cape right? The latter has a nuance of being subtly warmer.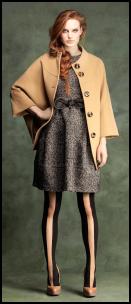 Left - Coat - Hobbs A/W 10 - Valence Coat, £269/€310 - hobbs .
Right - Camel Cape £180/€234 - Pied a Terre at House of Fraser.
Alternatively, do you envisage a creamy oyster beige, yellow spice, manila, buff or dirty greyed sand in your mind's eye? All are valid colour descriptions of camel.
Whilst camel does suit my fair appearance I almost always prefer the lift I get from a more creamy or clear fresh tone than anything dusty muddy in shade.
The camel colour works for complexions in the same way that a pearl's lustre works for necks - some skins light up more with white pearls than with yellow cream pearls, while other women find their skin more lifted with natural peach pearls.
Manufacturers are not so stupid as to disregard this catwalk camel trend, consequently, this fall you will find many subtle variations on this pastel beige theme online or in shops near you.
‡‡
Camel Hair Tones
Surprisingly, the camel animal itself cannot only live in the hot desert, but also thrives in cool climates. They can develop snow-white hair or black camel hair dependent on the genetic breed. Bactrian camels, the ones with two humps, have a coat colour that varies from blonde to rich tobacco brown.

Manufacturers are even calling some camel coats 'blonde' on their websites.
Just take a look at this image I made right by capturing squares from photos of the skin of 10 different breeds of camels. You will instantly grasp how real camel skin ranges from a pastel blonde to a rich copper brown. The last colour blocks are surprisingly dark and some animals I reviewed were black. Not quite how I saw an average camel until I reviewed camel coats.
You have been reading an original article on women's camel coats for 2010 by Pauline Weston Thomas only for publication on www.fashion-era.com ©.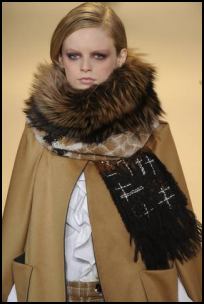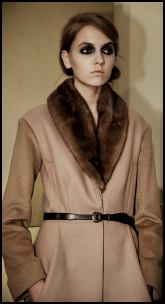 Very few women's camel fashion coats today are made from real camel hair, which is taken from the combings of the animal's undercoat rather than its top fur.
Unless you seek out a top brand designer garment and specify camel hair, the material base is far likelier to be pure new virgin wool, cashmere, angora or a mix of all these fibres. Most fabric mixes also add a little nylon (polyamide) for increasing wearing qualities and to prevent shrinkage and 'felting'.
Left - Lunaraine Mink Trimmed Cashmere Coat - Clements Ribeiro.
Above Right - Catwalk Coat - Caroline Herrera.
...(v4r)
One way to lift the colour of a camel coat is to trim it with a fur collar, which picks up on another creamy or dark colour. This is why the fur collared camel or cream beige coat can be such a great women's garment if chosen carefully.
These catwalk collection women's coats use real fur. The high street coats below use faux fur.
The fur collar also adds a touch of luxury to your camel coat, and you can chose faux or real fur according to your conscience. Note the wide range of beige tones available from soft creamy palominos to rich sandy camels.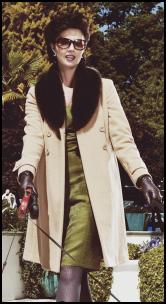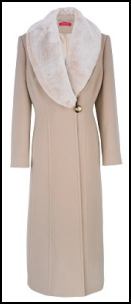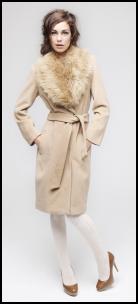 Left - Alexon Faux Fur Cream Coat - £130/€200, Size 8-20 - Alexon Autumn Winter 2010.
Centre - Jacques Vert - Long 128cm Luxury Coat £299. This coat has a detachable collar making it suitable on sunny but still cool spring days. Available at the Jacques Vert website.
Right - Primark - Cashmere Coat/Faux Fur Collar £49. Stack Heel Platform Shoe £15, Primark Womenswear A/W 2010.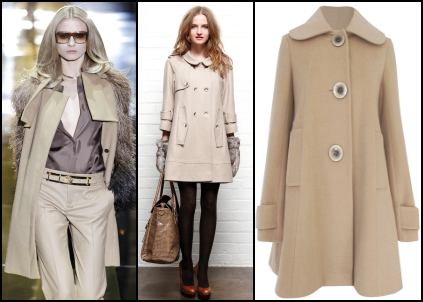 Above Left - Gucci Wool Felt Coat With Ostrich Feather Sleeves.
Centre - Warehouse Coat £100/€130, Bag £45/€60, Mittens £20/€26 - Warehouse Autumn Winter 10.
Right - Camel Swing Coat €70/£60 Savida Autumn Winter 2010 Clothing Stockist Number: 00353 14751111.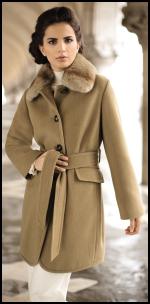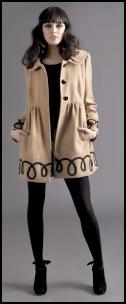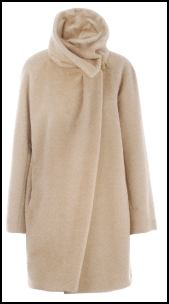 Left - Camel Jacket £479 - Elégance describe this coat with its removable cosy 100% rabbit fur collar, as luxuriously soft, made of new wool with a high angora content. The 88cm long coat has flap pockets and a decorative stitched tie-belt.
Centre - Camel Cornelli Coat £80/€99, Miss Selfridge - Simplicity Collection - Stockist Number: 0845 121 45 17.
Right - Maxmara Alpaca Camel Coat £698 - Matches Fashion.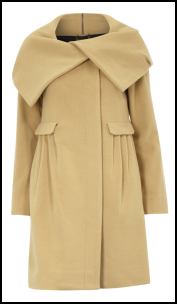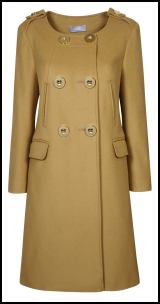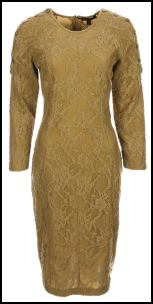 Left - Matches Fashion - Diane Von Furstenberg Loren Camel Coat £639.
Centre - Camel Button Double Breasted Collarless Coat £85/€103 - Wallis AW10 Stockist Number: 08451214520
Right - Burberry Prorsum - Camel Lace Button Shoulder Dress - Perfect for Cocktails. £1050 at Cruise Autumn Winter 2010. Cruise Stockist Number: 0844 800 4622 - cruisefashion.co.uk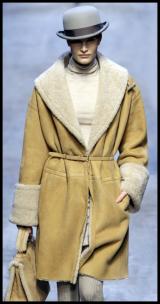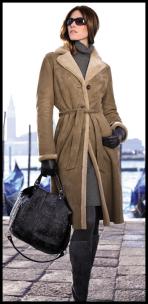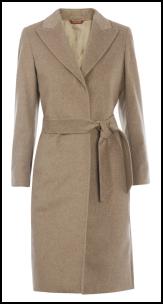 Above Left - Catwalk Fashion - Camel Shearling Coat & Bag - Hermes AW10.
Centre - A Smart Warm Camel Lambskin Belted Coat £999 from Elégance. The coat comes in sizes 10-22 (66121) and is described as beige. Photography and the skin itself can make this colour appear to vary. Elégance Autumn/Winter Stockist Number: 0844 557 5507 and elegance.co.uk .
Right - Maxmara Cashmere City Coat - £1,048 available from matchesfashion.com . A very similar Maxmara wool mix coat is available in a creamy paler colour at £568.
All three of these camel style coats use tie wrap belts, also notice the fuller skirts on two of these coats.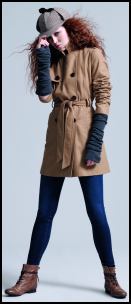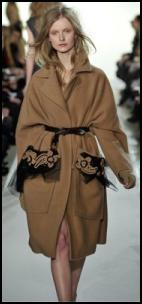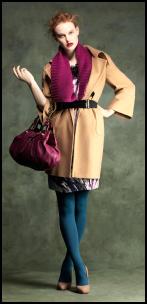 Another way to lift the colour of camel is to add a sharp accent of bold fabric panels. Trim a piece with decorative piping contrast, add black buttons or decorative black appliqué and take camel out of its safety zone. These coats above and below illustrate how black or a strong bold bright against camel makes the hue bolder and more vibrant.
Above Right -. Stockist Number: 0208 991 4904 - riverisland.com.
Centre - Aquascutum AW10 Catwalk Fashion - Aquascutum Camel Wrap Coat with Decorative Pockets.
Right - House of Fraser Camel Coat £160/€208 By Pied a Terre and Brushstroke Silk Beaded Dress £80/€104 Linea, Pink 'Daria' tote £275/€297 Patrick Cox, Black Patent Belt £12/€14 Therapy, Teal Tights £7 Aristoc, Fuchsia Knit Cocoon Cardigan £115/€138 Almost Famous - HOF Stockist Number: 020 7003 4000.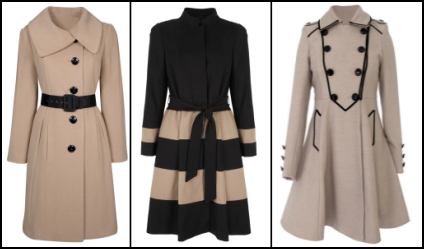 Above Left - Monsoon A/W 10 Ada Camel Coat - £160/€250 - English Heritage Collection - monsoon.co.uk.
Centre - Principles by Ben de Lisi - Colour Block Coat £100/€155 - Debenhams Stockist: 08445616161.
Right - Savida Piped Camel Swing Coat - £60/€70.
‡
The high-button camel coat, with a stand or funnel neck collar, is an ideal winter coat to keep out chills. Cover from the cold is provided at throat level. If you are not a lover of extraneous accessories such as scarves, shawls or snoods, then this is the style for you because it ensures plenty of thorax cover to ward off biting winter winds.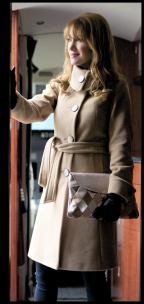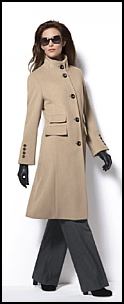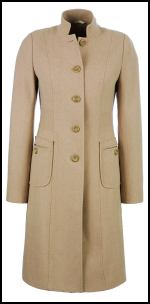 Left - CC AW10 - Petite Camel Coat Tie Waist Winter Trench Coat £229 - Country Casuals Stockist ccfashion.co.uk
Centre - Elégance AW2010 - Camel Coat by Elégance - £299 - 60% Wool and 40% Angora .
Right - Littlewoods Mandarin Collar Camel Coat £85 - Autumn 2010/Winter 2011.
The Modern British Warm
The British style of a double-breasted coat with a hint of military styling offers plenty of extra front torso cover. However, such styles can have low open collars, in which case extra scarves and shawls are useful to stop the chest getting cold.
Centre - Debenhams - J by Jasper Conran Camel Crombie Coat £190/€294, Pants £45/€70, 3/4 Ruched Gloves £22/€34, Tote £85/€132.
Right - Oasis Camel Crombie Coat - Oasis AW10.
Right - A short jacket version of the classic British Warm from Marks & Spencer AW10 Minimal Collection.
Marks & Spencer Coat £49.50/€67,Trousers £39.50/€54.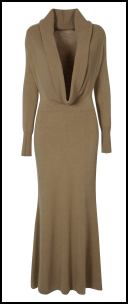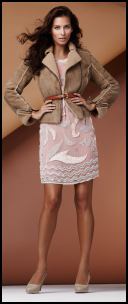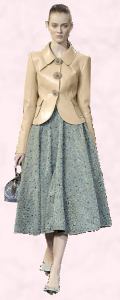 The full-on ladylike camel coat may be a step too far for the rock chick who is struggling to get her head around the 'Mad Men' super groomed looks. For her the little Shearling, caramel aviator or leather jacket provides a nod to camel whilst leaving a more casual choice of bottoms such as jeans, treggings, or jeggings. A rock chick may also like the sleek silhouette given by a languid knit dress, or the cowl-neck maxi dress shown far right.
...(v4r)
Left - Catwalk Inspiration - Dolce and Gabbana Catwalk Model Leather Jacket.
Right - Wallis Sheepskin Aviator Jacket £250, Embellished Shift Dress £150 Wallis AW10. wallis.co.uk
Left - Wallis Camel Long Sleeve Winter Maxi Dress £65/€85 Wallis AW10 Clothes.
You have been reading an original article on women's camel jackets for 2010 by Pauline Weston Thomas only for publication on www.fashion-era.com ©.
This is not just the season of camel coats and jackets, but also the season of the nomadic traveller and of a knitwear revival.
Left - Elégance Short Cable Knit Cardigan £89, Knit Dress £119, Bag £249, Autumn/Winter 2010.
Centre - Marks & Spencer - Travelling Rib Camel Cowl Neck Knit £39.50/€54.
Right - Camel Cashmere Wrap Jumper £99 - Marks & Spencer.
Team that knit or jacket with some camel pants in any of several cuts that are now in fashion. Find pants that suit your body-shape, or else soften down your leopard print jacket with some quieter plain fabric.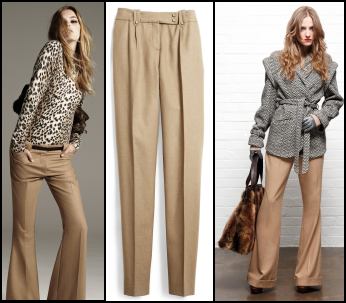 Left - Warehouse Autumn Winter 10 - Jumper £35/€46, Trousers £45/€60, Belt £25/€33, Bag £45/€60 -Warehouse Stockist Number: 0845 122 2251.
Centre Left - Hobbs Camel Trousers, £159/€185 - Hobbs Autumn Winter 2010 Clothing hobbs.co.uk
Centre Right - Warehouse 70's Kick Flare Trousers £45/€60, Herringbone Wrap Jacket £80/€104.
Far Right - Alexon Camel Trousers £80/€130, Jewel Cardigan £70/€115/Tipped Tank £35/€55 - Alexon Autumn Winter 2010.
Cloche hats and trapper hats set the agenda for winter 2010/11 accessories. Trapper hats are often made from Shearling and the shortcut to these is just to buy earmuffs! For a sleeker ladylike look, select a felt cloche hat. Whilst these are all low cost accessories, they show a variety of colour tone within the camel range.

Left - Beige/Black Spot Hat £25/€35 - Marks & Spencer Accessories.
Centre - Accessorize - Camel Corsage Trim Cloche £26/€40 A/W10. Accessorize Hats Stockist Number: 08448110068.
Right - Dunnes Wool Hat €10 £8.50 (Nov 2010) - Dunnes Stores Autumn Winter 2010 Accessories - Stockist Number: +353 147 51111.
Above Left - Urban Outfitters - Camel Leather Lace up Ankle Heeled Boot £65.
Right - Marks & Spencer - Camel Handbag - Marks & Spencers Accessories AW10.
Still others simply accept that camel is not for them and they are possible safer with greys and look much better wearing silver to charcoal toned coats. Both are readily available in all the shops this year.
Conclusion of Women's Camel Coat and Jacket Fashion 2010
Shearling, brocade, wool or cashmere coats plus the cape are the best way of showing the world this winter that you are a woman who understand the trends of Winter 2011. The camel coat or camel pieces in particular is the must-have for any new winter wardrobe.
You have been reading an original article on women's camel coats and jackets for 2010 by Pauline Weston Thomas only for publication on www.fashion-era.com ©.
-------v6-------
Copyright of images courtesy of Prshots.com, IFTF, Miss Selfridge, Marks & Spencer, Hobbs, House of Fraser, Primark, Matchesfashion, Oasis, Debenhams, Wallis, Urban Outfitters, Cruise, Aquascutum, Jacques Vert, Littlewoods, Alexon, Dunnes, Savida, Elegance, River Island, Accessorize, Monsoon, Warehouse, John Lewis, Swarovski. Header Image - Camel Coat by Oasis. AW10.
Date Added 29 September 2010 - Ref: P.833.
If you like this page then please share it with your friends
---
--Link--
For more information on ladies and teens fashion trends go to:-
Archived Sections
Custom Search
About Fashion-Era.com
Fashion-Era.com looks at women's costume and fashion history and analyses the mood of an era. Changes in technology, leisure, work, cultural and moral values. Homelife and politics also contribute to lifestyle trends, which in turn influence the clothes we wear. These are the changes that make any era of society special in relation to the study of the costume of a period.

Fashion-Era.com can take no responsibility for any information on the site which may cause you error, loss or costs incurred from use of the information and links either directly or indirectly. This site is owned, designed, written and developed by author: Pauline Thomas and Guy Thomas. This site is designed to be viewed in 1024 X 768 or higher.
ALL RIGHTS RESERVED. Fashion-era.com reserves the right to add or delete information, graphics and links. Copyright © 2001-2014 on all content, text and images in Fashion-era.com. Images and text in this website may not be used on other websites.
Before you write to me for costume/fashion help or information please, please consult the extensive sitemap which lists all our pages. If you still cannot find the answer after searching the site, then before you email me, please consider if you are prepared to make a donation to the website.
Donations
Reader's donations help this site flourish, in particular donations encourage me to write more articles on fashion history as well as current trends. PayPal allows anyone with a credit card to donate easily and securely. You may donate any sum you feel appropriate.