Women's Military Coats Fashion Fall 2010 Winter 2011
Here is my review of the major styles of women's military winter coats and jackets for the fall 2010/winter 2011 season.
Review of Women's Military Coats
The military theme has been a dominant trend in women's winter coats for the past decade. Coats, jackets, dresses and knitwear all get the army, navy, or air force treatment.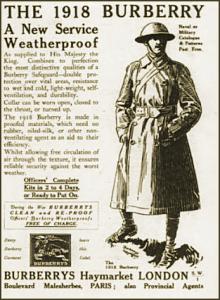 Sometimes the effects are soft and cartoon like, for example, the little drummer boy style with braiding and tape ornamentation. Other times the military line takes on a seafaring personality with a Captain Bird's Eye touch and lots of parallel button arrangements. Now and then military fashion meets utility garment, and the result is near to the original functional outerwear garment, where the military coat acted as a blanket for long treks and army manoeuvres.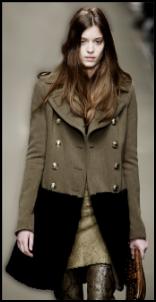 The main women's fashion coat trends of autumn 2010/winter 2011 include camel as a top autumn colour, but with subdued bland neutral shades of beige through tobacco or khaki and taupes. These tones are also popular for classic and military styles. Other practical everyday top-coat trends include the aviator bomber jacket.
You are reading an original review of women's military coats for 2010 by Pauline Weston Thomas only for publication on www.fashion-era.com.
Left - Burberry advert of 1918.
Right - Burberry Prorsum - Fashion Trendsetter Catwalk Model.
Burberry Prorsum combines traditional British outerwear pieces with a modern twist. The word Prorsum is a Latin adverb meaning 'forwards', or 'onwards'; Burberry use it to differentiate these military coats from their more classic ranges. High street retailer instantly copy the designs. Of course the material used at high street level rarely matches the quality fabrics and good stuff Burberry uses, but the mass retailers do a good job of capturing the current fashion mood in this case women's military coats.
The khaki Burberry coat below left sells at £2,030 at Cruise. The Burberry catwalk coat, above right, costs £1,895 directly from Burberry or matchesfashion.com. See how the centre and right coat below are less than a twentieth of the price at £75 and £90 respectively. But of course, they don't carry the Burberry label, nor do they use top end luxury Shearling. But as the old saying goes - 'Cut your clothes according to your cloth' or in this case according to your purse!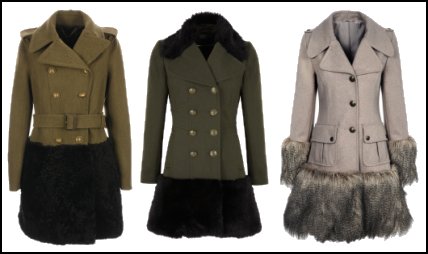 Left - Burberry Prorsum 168833 Khaki Women's Military Wool Coat With Deep Shearling Hem £2030 - Cruise Autumn Winter 2010 - Stockist Number: 0844 800 4622 or cruisefashion.
Centre - Debenhams Red Herring - Fur Hem Olive Green Khaki Women's Coat £75/€116.
Right - Fur Hem Women's Military Coat £90/€115 Miss Selfridge - Stockist Number: 0845 1214517 - Winter Pastels.
Khaki Style Military Army Coats
Women's Military overcoats have been a strong fashion trend for a decade or longer. Women's military have been visible in every fashion era such as the Regency. This season they come in traditional khaki muddy tones, but trimmed with gold buttons and braids or leather buttons. Think of a genuine army uniform fabric, classic WW2 squaddie wear, and you have the exact colour.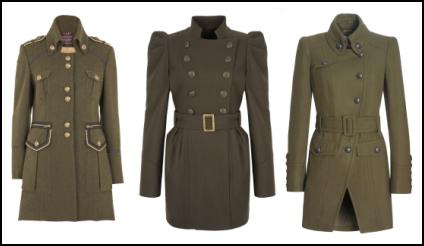 Above Left - River Island Peron Coat £79.99 River Island AW10 Womenswear Hero Shots - Stockist riverisland
Centre - Tesco Clothing - F&F Wool Khaki Military Style Women's Coat £35 - Stockists - tesco
Right - Olive Green Women's Military Coat Esprit Autumn Winter 2010 Womenswear.
‡‡
Marks & Spencers AW10 Military Range
Department stores like Marks & Spencer offer a range of military looks in jackets, coats, knitwear and utility trousers. Snap up these bargains now for a fast fashion fix. Notice these items are styled with opaque tights and boots. The M&S Limited Collection and Autograph both pick up elements of catwalk fashion and make it affordable and available for women of all pockets, but at high street prices.
Left - Khaki Military Coat £99 by Marks and Spencer.
Centre - Military Coat £65 by M&S.
Right - M&S AW10 Military Coat £75.
The military coat lends itself very well to the full length maxi coat, making it an ideal warm winter coat when all a woman wears beneath are leggings and a short flimsy tunic dress.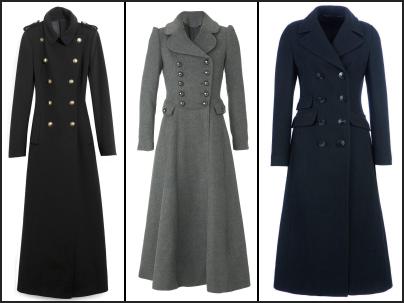 Left - Hobbs Black Tyler Maxi Coat, £269/€310 - Hobbs Autumn Winter 2010 - Maxi Coat Stockist hobbs.co.uk.
Centre - Primark Grey Floor Length Maxi Military Coat £45 - Due Mid Oct - Primark Womenswear AW 2010.
Right - Littlewoods.com Black Maxi Coat.
Drummer Style Winter Coats
No review of women's military coats would be complete with without looking at the 'Drummer Boy' style. Observe how tapes and braids with parallel button arrangements add the drummer boy, marching boy, Sergeant Pepper and Cossack touch to women's military coats, and in some cases they almost become coat dresses.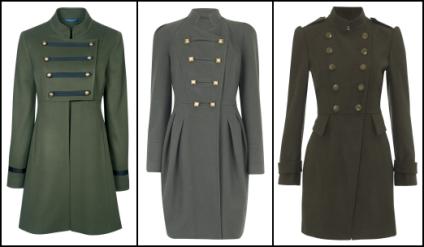 Above Left - Monsoon Michelangelo Coat - Florence 772061 - £100/€155 - Oct A/W 10.
Centre - Autograph Double Breasted Coat - £99 October Marks & SpencerAW10.
Right - Penneys Military Coat €40.00 Penneys (Ireland) Autumn 2010 Womenswear.
Women's Military Trends in Dark Coats With Gold Buttons
Navy military line coats always have an air of the ocean about them. But for women they are also very smart with trousers adding a touch of nautical that can work really well as spring days appear.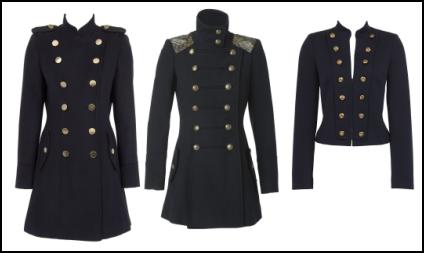 Left - Women's Melton Military Coat Navy £70 - BHS AW10 Womenswear - Stockist Number: 0845 196 0000.
Centre - Primark Embellished Shoulder Coat £35 Primark Womenswear Autumn 2010 Stockist Tel: 0118 9606 300.
Right - BHS Drummer Boy Jacket £40.00 - BHS AW10 Womenswear Stockist Number: 0845 196 0000.
The choice available in military line coats is enormous. I especially like the Savida coat below centre left and the cape far right is a trend gaining ground.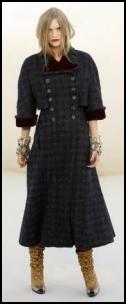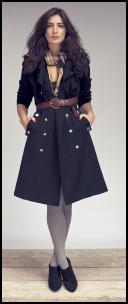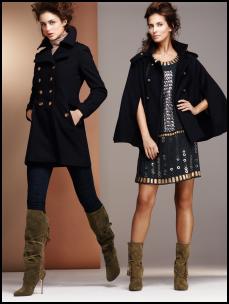 Above Left - Chanel Catwalk Check Pattern Modern Military Coat. Women's Box Tweed Double Breasted Coat with Dyed Sheared Mink Collar and Cuffs.
Centre Left - Savida Gold Button Black Coat €100/£85 Ref:7934278 (Oct 2010) at Savida Autumn Winter 2010 - Savida Stockist Number: 00353 14751111.
Far Right - Model 1, Navy Military Coat £85. Model 2, Navy Military Cape £95 Wallis AW10 Clothing.
These navy military coats all have necklines that can stand high and encase the neck. The smart coat below far right with its dip hem is from Evans so available in very large plus women's' sizes.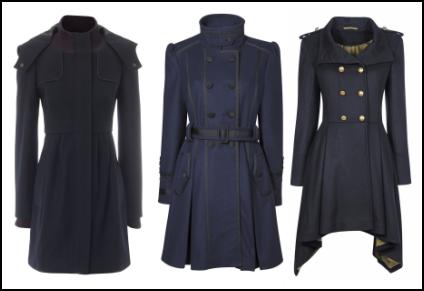 Above Left - Jane Norman - Women's Coats & Jackets janenorman
Centre - Sergeant Pepper Military Coat - 772032 - £180/€280 A/W 10 Monsoon Fashion.
Right - Evans Dip Hem Military Coat £65/€99.50 - Evans AW10.
You are reading an original review on women's military coats and jackets for 2010 by Pauline Weston Thomas only for publication on www.fashion-era.com ©.
...(v4r)
For a camel coat style with longevity, choose a classic women's 'British Warm' double breasted style. These coats below ranging from £350 to £1570 will always look good, never date and can be funkied up if you desire by styling with the latest lace tights, leopard scarves or bags.
They will all age well, always look as if they cost a lot and tell the world you understand classic understated good taste if that is what you want your social circle to decode about you.
There is always a 'British Country' trend every winter in one form or another and this coat style slots very safely into it if you are seriously prepared to buy an investment coat.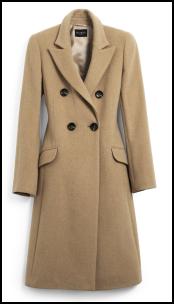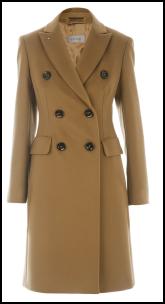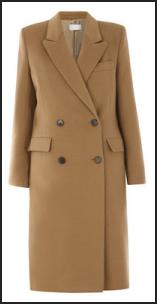 Left - Hobbs Camel Iden Coat, £349/€400 Hobbs Autumn Winter 2010 Women's Clothing hobbs.co.uk.
Centre - Women's Deep Camel Coat By Sportmax Aw10 - £598 at matchesfashion.
Right - Chloe Double Breasted Coat Also Matches Fashion AW10 - £1570 - 75% Virgin wool, 25% Angora.
Creamy tones, beige and taupe mushroom all offer alternative tones for those who don't do camel. These coats below offer the modern military equivalent of a car coat length. Yet the black trimmed coat below shows not only a longer length, but also how women's skirt coat silhouettes are gaining volume, which also accommodates fuller skirts and dresses.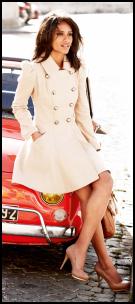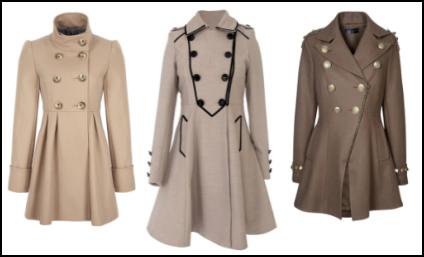 Above Left - NEXT - Flare Military Style Women's Coat £75/€101 - NEXT Stockist Tel: 0116 284 9220 or 0845 4567818.
Centre Left - George at ASDA - Camel Pleated Double Breasted Coat £30 - George at ASDA AW10 - Ladies Clothing.
Centre - Classy Velvet Trim Women's Military Coat €70/£60 - Savida Autumn Winter 2010 No. 7934269 - Stockist Tel 00353 14751111.
Right - Dorothy Perkins AW10 - Stud Cuff Women's Military Coat £70/€110 - dorothyperkins.
Jacquard Brocade Coats AW10
This is fresh take on military. Designers have used jacquard brocade and novel raised cloque fabrics with the same sever military cuts. In effect these are women's frock coats.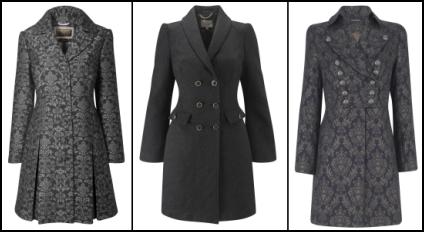 Left - Monsoon Lara Coat - £160/€250 (October) Monsoon A/W 10 - Historical Romance Range- Tel 0844 8110068.
Centre - FEVER Empress Coat £129.99 - Fever Designs AW10 Stockist Number: 0207 6366 326.
Right - Limited Collection - Black Patterned Quilted Military Long Jacket £99 - Available Nov - Marks & Spencer.
‡
Military Trends in Women's Capes
Finally if you want to get ahead get a women's military cape. This one gives you a Primarni look at Primark prices.
Navy military cape £25 due in Primark stores early October 2010. This cape is worn with wet look leggings £7, chunky cable arm warmers £3, grey over the knee socks £2, and black lace ankle boots £15. Budget fashion clothes all from Primark Womenswear Autumn 2010.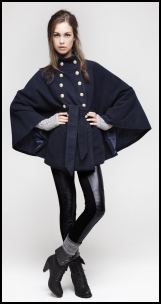 Now military has moved in on capes the military influence is just so obvious. For the Sherlock Holmes factor opt for a Pringle checked wool cape or a leather bound cape.

Above Left - BHS SGC Grey Cape £50. BHS Stockist Number: 0845 196 0000.
Centre Left - Jane Norman Coats & Jackets - Stockist Number: 0207 659 9396 or www.janenorman.co.uk
Centre Right - Littlewoods Fashion AW10- Navy Cape Coat www.littlewoods.com
Far Right - Dorothy Perkins AW10 - Buckle Front Cape £65/€105 - Stockist Number: 0845 121 4515 and www.dorothyperkins.com
Finally if a military coat, cape or jacket is not for you, consider a military inspired piece bag or these gloves.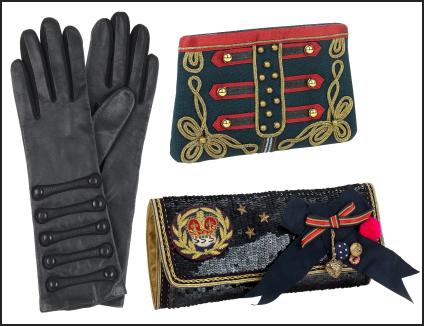 Left - Black Leather Military Gloves - Marks & Spencer £29.50/€40.
Top - Sergeant Pepper Purse £8.50/€13.20 - Accessorize A/W10.
Bottom Right - Military Brooch Clutch £30/€46 A/W10 Accessorize Stockist Number: 08448110068.
Conclusion of Women's Military Coat Fashion 2011
...(v4r)
This is a coat season of functional clothes for women and this year it's hard to beat a military based British Warm coat. Make the coat your most significant coat choice this season.
Coat dressing this autumn is statement making. Think of a military coat, a cape, a classic coat, a 1950s/60s fuller skirted coat or a fur based coat. The coat is the must-have for any new winter wardrobe, so buy your coat for the long haul and think of it as an investment piece.
You are reading an original article on women's military coats and jackets for 2010 by Pauline Weston Thomas only for publication on www.fashion-era.com ©.
Copyright of images courtesy of PrShots.com, IFTF, Cruise, Swarovski, Miss Selfridge, Debenhams, Marks & Spencer, Hobbs, House of Fraser, Primark, Penneys, Matchesfashion, Wallis, River Island, Monsoon, Sainsburys, Savida, Evans, BHS, Tesco, Burberry, Fever, Next, George at Asda, Littlewoods, Dorothy Perkins, Jane Norman. Header image - Debenhams Red Herring - Fur Hem Olive Green Khaki Coat.
Date Added 26 September 2010 - Ref: P.832.
If you like this page then please share it with your friends
---
--Link--
For more information on ladies and teens fashion trends go to:-
Archived Sections
Custom Search
About Fashion-Era.com
Fashion-Era.com looks at women's costume and fashion history and analyses the mood of an era. Changes in technology, leisure, work, cultural and moral values. Homelife and politics also contribute to lifestyle trends, which in turn influence the clothes we wear. These are the changes that make any era of society special in relation to the study of the costume of a period.

Fashion-Era.com can take no responsibility for any information on the site which may cause you error, loss or costs incurred from use of the information and links either directly or indirectly. This site is owned, designed, written and developed by author: Pauline Thomas and Guy Thomas. This site is designed to be viewed in 1024 X 768 or higher.
ALL RIGHTS RESERVED. Fashion-era.com reserves the right to add or delete information, graphics and links. Copyright © 2001-2014 on all content, text and images in Fashion-era.com. Images and text in this website may not be used on other websites.
Before you write to me for costume/fashion help or information please, please consult the extensive sitemap which lists all our pages. If you still cannot find the answer after searching the site, then before you email me, please consider if you are prepared to make a donation to the website.
Donations
Reader's donations help this site flourish, in particular donations encourage me to write more articles on fashion history as well as current trends. PayPal allows anyone with a credit card to donate easily and securely. You may donate any sum you feel appropriate.