Chinoiserie Ming Blue Dresses and Accessories for Summer of 2011
The star dresses for this summer are inspired by Ming blue and white porcelain. The dress designs are beautiful, feminine and stand out in crowd as a breath of fresh air. Another indication that this is a strong trend is that there are so many variations, both in the styles of dresses and in the breadth of matching accessories.
Blue, Indigo, Blue and White Colour Trends
Blue and indigo denim is strong in all garment pieces especially 70's skirts, pants and jackets. The top trends in the summer of 2011 focus on brilliant bold colour and floral prints and the best dress this season is the Ming inspired chinoiserie. You will also see white, lace, and 1970's styled blouses, wider trousers and maxi dresses in women's fashion this year.
All the blues, but especially KLEIN BLUE and electric blue dominate. Denim is back, is as blue as ever, and sometime features metallic prints. Blue acts as a complementary hue to orange corals. Read more below.
Right - Petal Print Dress £75/€127, Zandra Zig-Zag Longline Cardigan £60/€102 - Monsoon Stockist Number: 08448110068.
At Rodarte, wood was an inspiration, and there were grained knot patterns of wood and plank prints. Other prints were slices of redwood logs.
Memorable clear blue and white Chinoiserie styled flower added the accents of a Ming vase to airy fabrics. This is a very attractive clean fresh summertime look.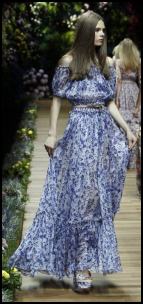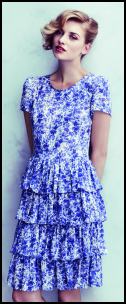 Above Top Left and Centre - Catwalk Fashions - SS 2011.
Right & Below Left - Oasis high street interpretation of a beautiful china blue dress.
Oasis Blue/White 100% Viscose Tiered Print Dress £50 - Oasis Spring Summer 2011.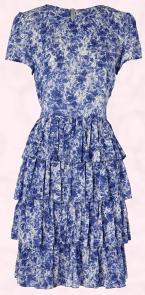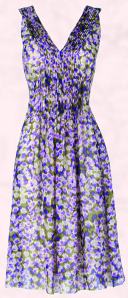 Above Right - Phase Eight Violetta Print Silk Dress £120 - Stockist Tel: 0800 032 8808, www.phase-eight.co.uk.
Women love dresses and are fascinated by Mad Men styles. A new website set up by Jane and Marilyn features a limited selection of some of the best Mad Men inspired styles. The dresses which offer grown up glamour for real women, come in plain or rich prints. They are exactly the dress style Mad Men fans adore. The blue and white dress below has a Ming quality to the print, making it hot on trend and the best dress to buy this year.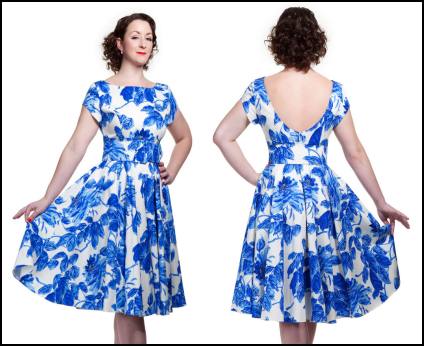 Mad Men Dress by Jane and Marilyn - Stockist - www.janeandmarilyn.co.uk.
‡‡
Maxi dresses are a holiday staple again in the summer of 2011, and these all look so fresh and airy in blue and white patterns. The Ming dress below is styled for plus sizes and is from Ann Harvey.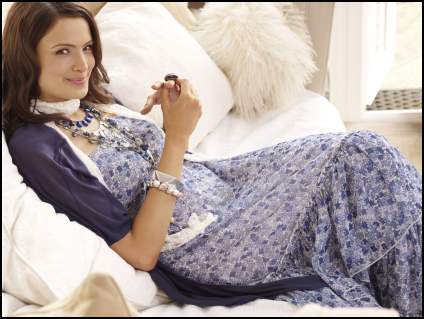 Above - Easy relaxed fashionable women's plus size fashion at its best - Blue multi floral maxi dress worn with blue Hannah shrug and ivory delicate lace scarf. Dress £60/€95, Shrug £18/€29, Scarf £12'€19 - Ann Harvey Spring Summer High 2011.
It's not just dresses that get the ditsy Ming blue abstract treatment, swimwear like this stylish cut out swimming costume also follows the trend. Cut out swimsuits were all the rage in the 1970s.
You are reading an original article by Pauline Weston Thomas about Ming chinoiserie dresses for summer 2010, it's only for publication on www.fashion-era.com
A shirt in your beach bag makes for an instant cover up when the sun gets too hot or you suddenly decide to wander to a nice restaurant. A playsuit like the chinoiserie print one below can also act as a great cover up or even be worn instead of a bikini or swimsuit. This beachwear is so pretty and feminine as well as lightweight.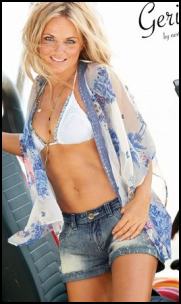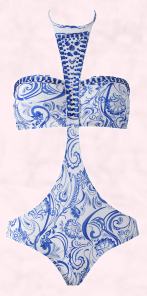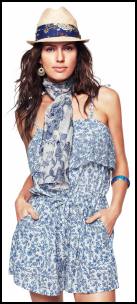 Above Left - Geri Halliwell models for NEXT online and wears this blue Ming inspired beach cover up at £35. It teams well with denim, but would just as good over the Ming inspired New Look swimming costume beside it.
Above Centre - New Look SS2011 - Blue Paisley Cut Out Swimsuit £24.99/€32.99. New Look Stockist www.newlook.com.
Right - Petal Print Playsuit 863052 £50/€85 - SS 2011 Monsoon - Stockist Number: 08448110068.
The top and pants below are also ideal holiday wear. The cool crisp fresh blue and white always looks terrific at the seaside. The delicate, yet unsullied look makes a refreshing change from nautical pieces, or the multi coloured oversized florals.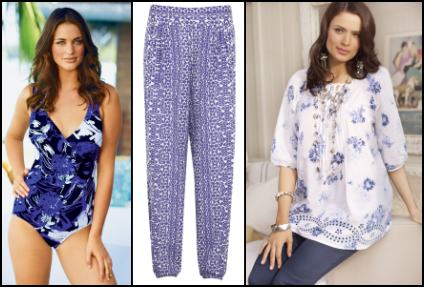 Above Left - Blue Print Swimsuit - By Marshall Ward's ISME Summer 2011 Collection.
Centre - Mauritius Baggy Harem Printed Holiday Trousers £40/€68 SS 2011 - Monsoon Beach Stockist Number: 08448110068.
Plus sizes and fuller figured women have not been left out of the blue and white Ming trend. This lovely white background peasant top is from Alexon's Plus Sizes specialist Ann Harvey.
Above Right - Ann Harvey Spring Summer High 2011 - White/Blue Cut About Tunic £42/€67, Navy Cotton Twill Jeggings £30/€49, Necklace £15/€24, Earrings £10/€16.
At Pucci bias cut silk dresses and light bright colours of blue and white gave a fresh feel to clothing, which every store has picked up and made their own translation for their customer.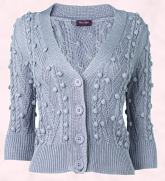 So look out for Ming inspired blue and white china fabric patterns.
Aran texture, blackberry stitch and bobbles give textural surface interest and a folksy look to knitwear. Right - Phase Eight SS11 Bobbly Cardigan £69 - Stockist Number: 0800 032 8808 or www.phase-eight.co.uk.
Other knit texture utilises Missoni style zigags, geometric blocking, bold and narrow stripes and overprinting of knits.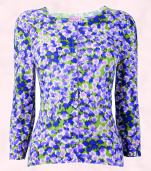 Left - Inspired by Missoni - Blue/White Pattern Knit Dress £59 - Kaleidoscope SS11.
Very girly pretty knits use both ballerina and floral trends for print cardigans and sweaters.
Right - Phase Eight SS11 - Saffron Cardigan £69.
Watercolour, tropical and nautical anchor motifs pick up on other fashion trends in pattern and give knitwear a novel appeal that makes a little pattern go a long way.
§
Navy To Lilac Blue Lavender
Indigo Floral Bag
Navy as part of the blue spectrum is also on the rise again, threading its way through the denim indigo range where it soon meets lavender. Inky blues look terrific in tie dye too and look softly natural against indigo dyed denims.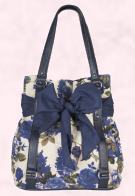 Variations on viola purple progress to make lovely soft lilac tones.
Far Right - Indigo Blues Floral Bow Bag by NEXT.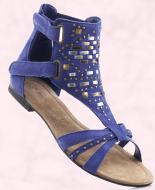 Blue Gladiator Sandals
Coloured leather accessories also fit in with the focus on colour blasts throughout Summer 2011 trends. Check out Prada's royal blue clutch purse and ogle the rich draped ruched Sea Green bag from Miu Miu.
Matchy-matchy means colourful footwear and is very strong this summer. These bright saxe blue gladiator sandals easily inject a pop of uplifting accessory colour to an all white look. The gladiator sandal is a true fashion trend that has stood the test of time, each year reinventing itself with minor tweaks that quickly update this look. Above Centre - Embellished Blue Gladiator Sandal - www.bonprix.co.uk.
These blue sandals are typical of Gladiator and thong styles of summer footwear for 2011. The fringed version and rose flower version give the 2011 styling touch seen in so many other fashion pieces.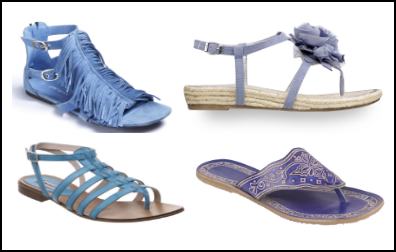 Above Top Left - Blue Suede Fringed Sandals £35 - Simply Be.
Bottom Left - Dune - Cala - £55/€64 - Dune 2011 Womens Footwear.
Top Right - Dune - Cala - £55/€64.
Bottom Right - Iman blue printed flip flop 841213 £25/€42 - Monsoon SS 2011 - Stockist Number: 08448110068.
Conclusion of Chinoiserie Ming Blue and White Dresses for Summer 2011
The most striking dresses you will see this summer are likely to be those inspired by Ming blue and white porcelain. These dress are beautiful, feminine and will stand out in crowd. Another indication that chinoiserie Ming blue fashion is a strong trend is that there are is so much variety, both in the styles of the dresses and in the breadth of their matching accessories. You have been reading an original article by Pauline Weston Thomas only for publication on www.fashion-era.com ©
Copyright of images courtesy of Prshots.com, Swarovski, www.janeandmarilyn.co.uk, Marks & Spencer, Hobbs, Schuh, Dune, Primark, Penneys, Oasis, Debenhams, River Island, Accessorize Monsoon, Matalan, Hobbs, Benetton, ASOS, Warehouse, Jaeger, New Look, Next, very.co.uk, Isme, French Connection, Isme, Mint Velvet, Ann Harvey, Phase Eight, Kaleidoscope, A|wear, Tamaris, Simply Be, Fifty Plus, Faith.
Date added 31 January 2011 - Ref: P.835.
If you like this page then please share it with your friends
---
--Link--
For more information on ladies and teens fashion trends go to:-
Archived Sections
Custom Search
About Fashion-Era.com
Fashion-Era.com looks at women's costume and fashion history and analyses the mood of an era. Changes in technology, leisure, work, cultural and moral values. Homelife and politics also contribute to lifestyle trends, which in turn influence the clothes we wear. These are the changes that make any era of society special in relation to the study of the costume of a period.

Fashion-Era.com can take no responsibility for any information on the site which may cause you error, loss or costs incurred from use of the information and links either directly or indirectly. This site is owned, designed, written and developed by author: Pauline Thomas and Guy Thomas. This site is designed to be viewed in 1024 X 768 or higher.
ALL RIGHTS RESERVED. Fashion-era.com reserves the right to add or delete information, graphics and links. Copyright © 2001-2014 on all content, text and images in Fashion-era.com. Images and text in this website may not be used on other websites.
Before you write to me for costume/fashion help or information please, please consult the extensive sitemap which lists all our pages. If you still cannot find the answer after searching the site, then before you email me, please consider if you are prepared to make a donation to the website.
Donations
Reader's donations help this site flourish, in particular donations encourage me to write more articles on fashion history as well as current trends. PayPal allows anyone with a credit card to donate easily and securely. You may donate any sum you feel appropriate.