Colour Fashion Trends for Summer 2011
Bold Colours & Colour Blocking in Apparel
Here is an appraisal of the colours which most fashionable for the spring summer season of 2011. This review describes in detail the colours used in dresses, footwear, and women's fashion accessories. The hot trend for the summer of 2011 is colour blocking.
Bold Colours & Colour Blocking in Apparel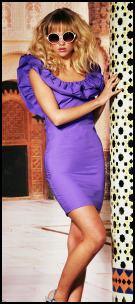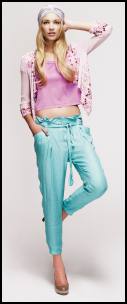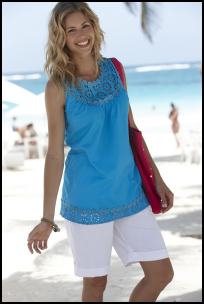 In the Summer of 2011 the dominant colourways are those of the sky and sea - all the blues, cerulean, cornflower, electric blue, Gitanes blue, turquoise and very blue denim. Check out the Prada royal blue clutch purse and the richest draped ruched Sea Green bag at Miu Miu.
Above Left - Violet Body Con Dress - POP by PPQ SS11 at Very.co.uk.
Above Centre - Paris White Blazer, Electric Blue Mischa Top £29.99. Violet Hareem Trousers £29.99, Mustard Court Shoes £64.99 - All River Island SS11 Womenswear.
Above Centre - Pink Sequin Jacket With Waterfall Front £26.99/€34.99 , Pink Cropped T_Shirt £4.99/€6.99, Turquoise Harem Trousers £21.99/€29.99, Grey Turban £4.99/€6.99, Round Toe Courts £29.99/€39.99 - New Look Stockist Number: www.newlook.com or 0500 454 094
Above Right - Plus Size Beachwear from Fifty Plus. Turquoise Sleeveless Tunic - From £18 Fifty Plus Spring Summer 2011 Womenswear Stockist Number: 0871 231 2000.
Colour blocking and Ombre fading of colours, create memorable pieces with a slight 80s feel. These garments are from the high street and illustrate typical approaches to the colour-slab dress and the Ombre washed out dress in the summer of 2011.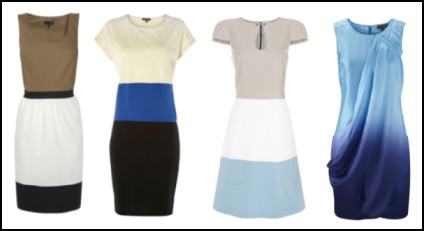 Above Left - NEXT - Neutral Tone Colour Blocked Summer Shift Dress.
Centre Left - Jersey & Silk Colour Block Dress £90 Pied a Terre at House of Fraser Women's Clothing - HOF Stockist Tel: 020 7003 4000.
Centre Right - South Colour Block 60s Dress €54 - Spring/Summer 2011 at Littlewoods Ireland Womenswear Fashion.
Right - Fever Brasilia Blue Ombre Dye Dress £79.99 - Fever Designs SS 2011 Fashion Stockist Tel: 0207 6366 326.
Bold Jumpsuits, Catsuits, All-in-Ones
Purple has been very popular for five years, and is just as popular in summer as winter. It looks wonderful as a solid block of colour, which you can see in this jumpsuit or in the pants and Peasant style blouse. Take a second look and see how vivid and strong this tone of purple is; it screams out that its bright purple!
The all-in-one has been making a slow comeback. More styles including cat suits, playsuits and dungarees show that the jumpsuit is a real fashion trend stylish women are buying.
Right - Warehouse Purple Jumpsuit SS11.
Left - Viola blouse, Violet Harem Pants £29.99, Flower Corsage. SS11 Women's Fashion at River Island.
TOP TREND TIP - SILHOUETTE - Peplums, or short over-skirts, were originally popular in the 1940s, they made a reappearance in the noughties and in 2011 present perfect construction areas for contrast primary colours. Look out for injections of colour such as purple faced with yellow or hot pink on godet peplums.
You are reading an original article by Pauline Weston Thomas about 2011 colour trends in women's fashion, only for publication on www.fashion-era.com ©
Rich Navy to Strong Sea Green Blues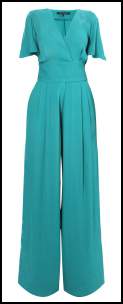 Above Left - Jane Normand Jumpsuit - www.janenorman.co.uk.
Centre - Marks & Spencer - Limited Collection Blue Colour Block Jumpsuit £79.
Right - French Connection Ladies Spring-Summer'11 - Fast Apollo Sea Green Seventies Crepe Jumpsuit £167 - French Connection Women's Clothing - Stockist Number: 020 7036 7200.
Matchy Matchy Shoes

If you want to take this colour mixing trend further pick up on the colours in these blue and turquoise teal heeled sandals.
Left - Tamaris Blue Multi Strappy Sandal £49.99 - Sizes 36-42 - Tamaris Spring Summer 2011.
Centre - Blue t-bar Sandal £49 - Marks & Spencer.
Right - Schuh Saffron Knot Sandal £68/€85(Late April) - And in Yellow and Tan Schuh Spring Summer 2011 - Stockist www.schuh.co.uk.
‡‡
Neon brights will dazzle boldly when used with block colours and Ombre effects. These colour schemes give 2011 shocks of fashion colour.
This new shock of colour blasting is counterbalanced by more conservative styling and lengths.
The catwalk colour combination in the below-knee outfit near-left is the clear inspiration for the River Island SS 2011 summer kit far left.
Look twice at colour combos when shopping, for it might be a simple spring weight tweed, but the colour will be brilliant. Or it might be a very slim belt, but the colour will be fluorescent and hot producing a very unexpected colour mix.
Even finer detail is that of a mere smidgen of colour finely piped on the edge of a handbag, but the contrast will not be safe, but bold and vivid.
Above Left - River Island Summer 2011 - Gia Boob Tube, Violet Hareem Pants £29.99, Metallic Gold Belt, Warrior Cuff.
Centre - Catwalk Fashion SS2011.
Far Right - Elégance Mondrian Colour Block A-Line Shift Dress £159 - Available Sizes 10-22 - Elégance Spring/Summer 2011 This sleeveless dress has plenty of fashion chic for an occasion such as the races, Ascot, or a wedding. Elégance Stockist Number: 0844 557 5507.

A typical colour scheme might also include pink, magenta, citrus lime and black, these in combination soon make clashing paint box colours. The opaque magenta top and lemon cropped pants are also by River Island.

Fortunately choice is huge and Spring 2011 colour also offers soft ice cream colours and ladylike retro. For even more subdued colour than sorbet soft tones, the neutrals are at hand for those who cannot cope with colour clashes.
Another feature of colour in 2011 is how clean white, tan or black tones down any shades too daringly bright on its own. And of course hot bright colours always look far more acceptable on bright sunny days whether it be Californian, Far Eastern, African, Mediterranean or Australian light.
Palette cleansing white is refreshing against so much strident shocking colour, and these items below show how the use of white for summer can be as sharp and business like as you desire, alternatively white can be soft, feminine or casual.
Left - Electric Blue Mischa top £29.99, Gina Short Shorts £26.99. River Island SS11 - Stockist Number: 0208 991 4904.
Right - Lucy Sheer Blouse, Sunflower Peg Leg Trousers £34.99, Nairobi Sandals £39.99 - River Island SS11 - Stockist Number: 0208 991 4904.
Recognise that in 2011, lace is not only available in more traditional black, white or ivory cream, but also comes in a variety of colours, especially deep coffee cream, bright green, blood orange or red lace. Flesh pink against black works particularly well.
These red lace dresses follow prom lines in keeping with Mad Men fashion trends.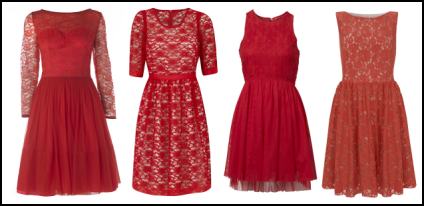 Above First Left - Beyond Retro Vintage Red Lace Party Dress, £22.
Centre - Marks & Spencer Autograph - Red Lace Prom Dress £89.
Right - Primark Holly Lace Dress £15 March Spring 2011 - Primark Stockist Number: 0118 9606 300.
Far right - Lace Prom Dress £20 - George at ASDA Clothing - Stockist Number: 0800 952 0101.Trousers
§
Vibrant top-to-toe colour blocking works really well when pinks and reds are mixed. One of the hottest trends this season is that of pink or red trousers. In particular pink jeans, pink cropped summer trousers and red flares. Team these with a pink toned top. Ease into brights via coral and honeysuckle pink in 2011.



RASPBERRY RED - CORAL RED - HONEYSUCKLE PINK. These reds offer some of the hottest colours that move into vibrant oranges. Zingy vivid bright colours. Electric shock colours. Wear head-to-toe brights. In the main, colour blocking is not a fashion look for shrinking violets. Colour popping can lift your dreary look into new heights.
VIBRANT TOP TO TOE COLOUR AND COLOUR BLOCKING - COLOUR WHEEL BRIGHTS. But choose carefully you can capture the mood without the discord. Colour clashing, neon nightmares, extreme wide bands of colour or vibrant harmonic colour mixes can all be pulled off this season. Enjoy choosing the colourful combo that suits you best.
Left - New Look Pink Lace Top £21.99/€29.99, Bright Pink Capri Pants £17.99,€24.99.
Left Centre - New Look Salmon Top/ Sequin Embellishment £26.99/€34.99, Coral Silk Harems - Tie Waist £21.99/€29.99.
Right - Penneys (Ireland) Spring 2011 Womenswear - Print Vest €4, 70's Styled High Waisted Flares €17.
Bi or Tri Colours
For these bold colour schemes to work, think in terms of head to toe tonal colour schemes, or dramatic colour clash colour blocking. The secret is to restrict your colour combinations to two or three different tints, otherwise you will look like a circus clown.
Blocks of colour also work well on footwear. In the summer of 2011 there are multi-coloured and two tone shoes. You may also like shoes with contrast dark or light piping that add freshness to old styles like the Mary Jane shoe.
Left - Catwalk Fashion.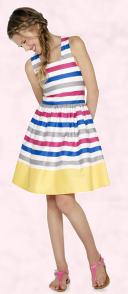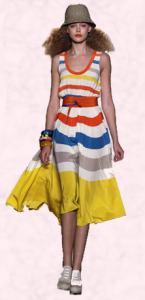 centre - Primark Summer 2011 - Orange, Yellow & Blue Colour Block Dress.
Right - Sainsbury's Tu Clothing.
Expect to be wowed by dazzling brights and neon bold colours - colours of the rainbow push black into the background. Paint box pops of colour make the sludge colours from a Dutch oil painters palette look dull. From sorbet soft shades to striking sunrise colours expect to be able to find colours that update your wardrobe in a way not seen in the last decade.
Stripes feature in combinations of red with pink, pink/white and blue/white. Striped trims also appear on fashion accessories such as sunglasses, shoes and scarf wrist bands.
If you can't afford Prada's candy stripes then try NEXT'S striped garments in light pink tones/ taupe/black mixtures or the M&S Autograph range.
Colour blocking can be combined with stripes and is especially popular in blue hues.
You are reading an original review of colour trends in women's fashion for the summer of 2011, by Pauline Weston Thomas only for publication on www.fashion-era.com ©
Bursts of Colour
Garments and accessories are rainbow brights. The extreme version of this is the clash of neon hues.
This is a look that makes real impact and gets you to stand out in a crowd. A leader in this field is fashion icon Her Majesty Queen Elizabeth II, a woman who needs to be seen, and does so brilliantly by using top to toe colour.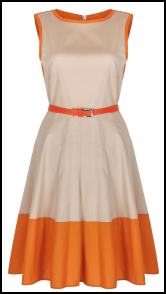 RASPBERRY RED AND CORAL RED - The red range is fruity, think nectarine and pomegranate pinks. Coral pink, shrimp pink and honeysuckle pink reign with citrus and summer fruits taking charge.
Think about tints flowing on from light red and coral. Now move toward adjacent warm colours and think about the whole orange range from burnt orange, carrot red, tangerine to golden apricot peach. Ombre effects are an extension of colour blocking, but a softer way of positioning the colour changes - think now of the bloom on a nectarine, a sunrise or a sunset. To the rich mixed blush of a blood orange to the rich golden tones of an apricot or the rich tan a cowhide.
Orange, tangerine, yellow and lemon add a fresh buzz to fashion prints and solid colour clothing.
Above Left - Monsoon - Era - S/S 2011 Orla Red Evening Dress 853100 £190 - Stockist Tel: 08448110068.
Right - Betty Jackson at Debenhams - Colour Block Dress £65/€98.
Bags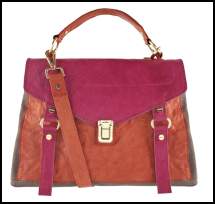 TANGERINE - ORANGE - CORAL TONES. Whole looks are based on orange tones especially in leather. Note the Hermes orange tan colours and clean camel leathers bags in rich tan that have tooling, threaded whipped leather/studs. Some bags are relaxed as drawstring duffle effects. This is a very natural leather look based on natural orange toned dyes.
Right - ASOS Accessories - ASOS Leather Colour Block Satchel £75 - www.asos.com
Colourful shoes in the orange sunrise family feature thick wedge soles and utilise suede which makes the colour look velvety. Hot orange is a rising sun and soon will be viewed as a normal joyous colour.
1970s platforms go head-to-head with more wearable wedges. Wooden clog sandals also add height with platforms.

Above Left - Raspberry Pink Wedge Shoes By Primark SS 2011 Collection
Centre Left - Raffia and Suede Peep Toe Wedge Shoes - Office SS 2011 Collection.
Centre - Right - Schuh Ipanema Wedge Sandal £75 /€100 Schuh Spring Summer 2011 Collection - www.schuh.co.uk.
Far Right - Orange Suede Wedge - £29.99/€39.99 - New Look Footwear.
Shoes are striking - one look at Dior's purple feather shoes with loop stitch trim and espadrille platform will make you sit a up and take notice of fashions in footwear. Sugar sweet colours were used by Miu Miu with a show of multi colour sorbet tone shoes with black trims. These sorbet tones are the inspiration for many footwear colour designs you see everywhere.
Red shoes or cheeky print shoes are flirtatious and are made for dancing. This year the usual red court shoes have been overtaken by wedges and platforms. Red suede, coral and deepest orange suede through to scarlet in both plain and patterned material give shoes a quirky twist. Wear these bright wedges with the new wider leg trouser shapes for a great 70s silhouette.

Above Left - Red Label Fashion Footwear Stockists: www.redlabelfashion.com.
Centre - NEXT Stripe Wedges, £40/€51 Next Paint Box - Stockist Number: 0116 284 9220.
Right - Office High Summer Ladies Footwear 2011 - Walk Away, £60/€85. Office Stockist www.office.co.uk.
The Golden Tones
Metallic gold shimmers with soft lustre in snakeskin python effects on belts and purse. The gold is 24ct toned, although it has great deal of competition from sunshine yellow. A little goes a long way and bright golden yellow is an ideal for colour block mixing in every facet of women's apparel.
Some footwear shows real definition with sculptured fascinating heel forms. These twisted heels and sculptured pieces are like works of art they are so rococo in line.

Gold, mustard, yellow and lemon all add sunshine to shoe styles.
Above Left - Schuh Mouse Twist Heel Yellow Court Shoe - £65/€85. Also available in red and black Schuh Spring Summer 2011 Collection Stockist Number: 0845 307 2484 or www.schuh.co.uk.
Centre - SS11 Womens Chunky Heel Espadrille £18 Matalan Ladies Footwear Stockist Tel: 0845 330 3330.
Right - Office High Summer Ladies Footwear 2011 - Hurley Burley, £68/€100.
...(v4r)

This 70's sling-back gold heel mid open toe sandal is totally 1970s retro in design. The sturdy heel and one centimetre platform help make it a high comfort option for dancing the night away. Stockist www.office.co.uk or Tel. UK 08450 580777.
Blue trails through into green with sublime ease, covering every tint from the sea until it reaches the depth of green found in plants. Green is used on its own, or green looks great worked with either black or a rich caramel tan. Look for watery mint, lime and grass and asparagus as green is commanding attention and has truly come back into fashion. Introduce green into your wardrobe with some fresh green accessories.
This summer shoes come in every colour, but for an inexpensive holiday option consider the basic espadrille. Penneys of Ireland have taken their cue from some of the main fashion colours in Pantone's SS2011 palette also shown below.
Note the sorbet hues of the Penneys summer espadrilles. You are sure to find tints and shades in garments that tone, mix and match with all these base colours. Below - Penneys (Ireland) - Summer Canvas Espadrilles €4 - Penneys Spring 2011 Womenswear Shoes.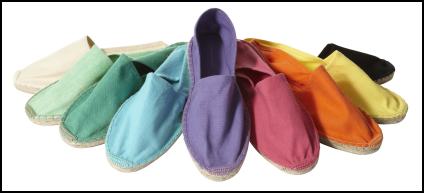 Contrasting combinations are desirable as you navigate the colours of 2011. Colour is vivid, very vivid. Papal purple and other energized hues such as green and bubbling orange compete with inky blues and subtler neutrals.
These colours in the strip below are Pantone's selection of fashion colours for summer 2011.
They are shown in full on the Spring Summer 20011 Pantone colour page.

Colours can shock when they are brightly mixed up. Yellow, lemon, butter and citron add acid sharpness to red and teal or turquoise. Take it one step further into fluorescence and you have to be a brave fashionista as the look will truly turn heads. Choose you colours wisely when working with fluoro colours - make sure the tone suits you to garner compliments rather than cutting remarks.
The Top Colors for Women's Fashion for Spring 2011 are: PANTONE 18-2120 Honeysuckle, PANTONE 16-1349 Coral Rose, PANTONE 14-0941 Beeswax, PANTONE 18-4039 Regatta, PANTONE 15-3817 Lavender, PANTONE 15-4825 Blue Curacao, PANTONE 14-6324 Peapod, PANTONE 12-1206 Silver Peony, PANTONE 18-1235 Russet, PANTONE 15-4502 Silver Cloud.
Read more about colour here - Spring Summer 20011 Pantone colour page.
Conclusion of Fashion Colours for Summer 2011
The hot trend for women's apparel in the summer of 2011 is colour blocking. This review also describes in detail the colours trends in dresses, footwear, and women's fashion accessories. You have been reading an original article by Pauline Weston Thomas only for publication on www.fashion-era.com ©
Copyright of images courtesy of Prshots.com, Swarovski, Marks & Spencer, Hobbs, House of Fraser, Schuh, Dune, Primark, Penneys, George at Asda, Oasis, Debenhams, Littlewoods, River Island, Accessorize Monsoon, Matalan, Benetton, ASOS, Warehouse, Pantone, Jaeger, New Look, Jane Norman, Office, Bonprix.co.uk, Ralph Lauren, Dolce & Gabbana, Boohoo.com, Lipsy, Love Miss Daisy Vintage, Sainsbury's Tu, Next, Monsoon, Fever, Yogoego.co.uk, very.co.uk, French Connection, Isme, Mint Velvet, Ann Harvey, Internacionale, Phase Eight, Kaleidoscope, A|wear, Fifty Plus, Simply Be, Tamaris, Redlablefashion.com, Faith.
Date added 31 March 2011 - Ref: P.836.
If you like this page then please share it with your friends
---
--Link--
For more information on ladies and teens fashion trends go to:-
Archived Sections
Custom Search
About Fashion-Era.com
Fashion-Era.com looks at women's costume and fashion history and analyses the mood of an era. Changes in technology, leisure, work, cultural and moral values. Homelife and politics also contribute to lifestyle trends, which in turn influence the clothes we wear. These are the changes that make any era of society special in relation to the study of the costume of a period.

Fashion-Era.com can take no responsibility for any information on the site which may cause you error, loss or costs incurred from use of the information and links either directly or indirectly. This site is owned, designed, written and developed by author: Pauline Thomas and Guy Thomas. This site is designed to be viewed in 1024 X 768 or higher.
ALL RIGHTS RESERVED. Fashion-era.com reserves the right to add or delete information, graphics and links. Copyright © 2001-2014 on all content, text and images in Fashion-era.com. Images and text in this website may not be used on other websites.
Before you write to me for costume/fashion help or information please, please consult the extensive sitemap which lists all our pages. If you still cannot find the answer after searching the site, then before you email me, please consider if you are prepared to make a donation to the website.
Donations
Reader's donations help this site flourish, in particular donations encourage me to write more articles on fashion history as well as current trends. PayPal allows anyone with a credit card to donate easily and securely. You may donate any sum you feel appropriate.