Key Fashion Trends for Summer 2011
Here is a review of the important fashion looks for the spring summer season of 2011. This article describes in detail the main styles in dresses, footwear, bags, jewellery and other women's fashion accessories.
Even more than previous years, the summer of 2011 offers a variety fashion of fashion for all shapes and sizes of women.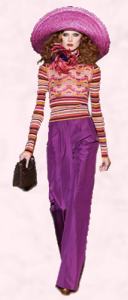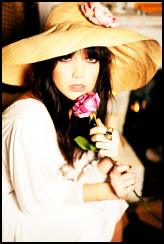 Fashion styles in Summer 2011 focus on colour blasts of block colours. This growing fashion trend may even be going in the direction of 'top-to-toe colour' outfits. Pretty and decorative is fused with utility and minimal for Spring/Summer 2011. Skirt hemlines are dropping and trousers are getting wider; both contrast with colourful cropped pants such as cropped bright pink trousers. These skirt and pant silhouette trends are complemented by the return of beautiful blouses and the tunic. Denim fabric is strong again and so are white pieces, especially in lace. Below-the-knee dress styles feature more innovative designs and maxi dresses remain popular. Ballet looks embrace blush tones.
One of most commercial fashion trends in UK of 2011 is new retro 1970s. Nouveau 1970s embraces florals, flares, fantasy prints and fuller sleeves. This look was seen in the flowing purple wide pants at Marc Jacobs (above right) and is a natural follow-on from the numerous Boho style elements so beloved by British women. Above Left - Biba Tunic and Hat at House of Fraser.
A fashion trend that is establishing itself, is that of the concept of 'forever fashion.' All-in-all this year there is wearable fashion for every girl and woman whatever her age.

The next time you see a fashionable 2011 skirt, observe how the hemline silhouette follows the 1970s look of longer dropped hemlines and wider pants. In the twentens over-the-knee hemlines pay homage to the current recession. Also look out for 1970s lines in tunic tops, they are a little longer than last year. Note the attention directed to feminine blouson tops and wistful ethereal dreamy looks.
There are plenty of alternatives to the longer lengths, but long and longer lengths were displayed too often in shows to dismiss this silhouette trend. Micro minis say bye bye, evening luxe and daytime elegance say hello to a decade of style starting right now in 2011 and going on into fashions for 2012.
Right - 1970's Retro Blue Denim Skirt - House Of Fraser.
Expect some fashion silhouettes that take a cue from the costume history fashion style of movie mania in the eras of 'The King's Speech' or mini TV series such as 'Boardwalk Empire'.
‡‡

It's Handcrafted quality work that gives an accessory its must-have desirability. This is evidenced in minimalist finely crafted handbags that are ultra subtle in their simplicity of tasteful design.
Gucci always uses the finest artisan craft skills to show Italian workmanship to the best. The Gucci catwalk collection opened with slim skirts in jewel colours. These were followed by safari jackets, crafted sandy leather pieces, macramé and tassels showing Gucci workmanship to teasing effect. Sporty looks were added with satchel bags and other accessory pieces which gave a commercial nod to tribal trends.
The palate cleanser collection from Dolce & Gabbana collection was also full of fine crafted handwork incorporating lace, silk and appliqué, crochet bags and broderie anglaise. This was contrasted with some leopard/lace print or black pieces. The fashion elements were imbued with quality and subtle handwork giving an understated glamour to gowns.
All this artisan workmanship is costly, so fashion needs to be savoured and slow down for us to truly appreciate these items are made to last. Forever Fashion beckons the recession challenged shopper who now demands product excellence as well as sartorial satisfaction in their purchases.
Left - M&S Jumpsuit, Full Garment Image Details Below.
The top women's fashion trends focus is on brilliant and bold colour. Closely followed by, floral prints, minimalist neutrals and white, 1970's glam retro. Then there are romantic blouses perhaps with ballerina transparency and lace. To complete the ensemble the 2011 fashion is for wider trousers, fuller skirts and dresses. Retro elements of 1970s fashion styles make this a huge commercial trend for summer 2011. Blue and indigo denim is strong in all garment pieces especially 70's skirts and jackets.
...(v4r)
The underlying trend for the new twentens decade shows women are relearning the concept of glamour. The fashion mood is changing and women have begun to discover understated, but contemporary fashion of ageless design. The newest fashion trend is to concentrate on buying apparel that can fit seamlessly into an existing wardrobe. Designers have begun to understand the need and desires of an older demographic. That same woman has real spending power and she will return season after season for desirable wearable fashion pieces. Designers are acknowledging their customers needs in more than one way. At Burberry Christopher Bailey has explained how he is aware that a global customer in USA or Australasia needs to be accommodated with collections that are trans seasonal.
This is also the year when the average British bra size moved up to 36E, so what woman would not be happy to find some pieces that are wearable season after season. Hunting for the perfect fitting garment for a beautiful full busted silhouette takes time and passion.
TOP TREND TIP 1- LONGER SILHOUETTE - A Softened Romantic Silhouette - Longer Skirts - Maxi and Calf Length Skirts - Longer Tunics.
Shape and silhouette can be a tricky trend. Look for newer mid length skirts, but also see too how many short hemlines are available. Calf length dresses skirts are belted 'New Look' Style. Then there is drama and contrast such as that of skater skirts to ballerina calf length as favoured by Richard Nicoll.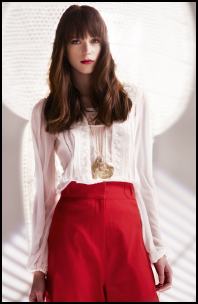 TOP TREND TIP 2 - FULLER SLEEVE SILHOUETTE - Note billowing fullness especially in sleeves. Blouses focus on billowing 1970s sleeves with flop and have a pussy bow, frilled fronts or peasant smock necklines.
Left - River Island SS2011 Tuck/Lace White Summer Blouse, Red Wide Pants.
TOP TREND TIP 3 - LOOSER PANTS SILHOUETTE - Trousers have widened substantially and the wide 1970s flared palazzo pant is the new pant of 2011.
The louche silhouette of trousers and layering tops gives a messy silhouette that is flowing and relaxed, and which is in total contrast to the new move to the more directional defined shapely silhouette.
TOP TREND TIP 4 - SHAPELY SILHOUETTE - At Rodarte for example, firm moulded shapes outweighed deconstructed looks.
Despite the wider pant leg development, narrow Capri pants and paper bag waistline top trousers are in great demand for summer wear.
TOP TREND TIP 5 - ALL-IN-ONE SILHOUETTE - The flare fullness in pants also adds another dimension to a micro-trend which has slowly been growing. In 2010 high street collections offered perhaps one or two jumpsuit varieties. This year expect to be able to select an all in one from half a dozen or more styles in each shop.
The 70s cat-suit comeback is now full on. This garment is sometimes called a jumpsuit and often named all-in-ones. Casual day versions are playsuits cropped at calves or above knee and there are also more utilitarian dungarees. Whatever the piece is called each garment is ultimately an all-in-one.
...(v4r)
Expect to be wowed by dazzling brights and neon bold colours - colours of the rainbow push black to the background. Paint box pops of colour make the sludge colours from a Dutch oil painters palette look dull. From sorbet soft shades to striking sunrise colours expect to be able to find colours that update your wardrobe in a way not seen in the last decade.
Contrasting combinations are desirable as you navigate the colours of 2011. Colour is vivid, very vivid. Papal purple and other energized hues such as green and bubbling orange compete with inky blues and subtler neutrals.
In the Summer of 2010 the trend is for garments and accessories to be rainbow brights. The extreme version of this is the clash of neon hues.
This is a look that makes real impact and will get you noticed in a crowd. A leader in this field is the fashion icon Her Majesty Queen Elizabeth II, a woman who needs to be seen, and does so brilliantly by using top-to-toe colour.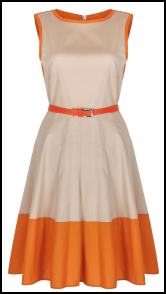 RASPBERRY RED AND CORAL RED - The red range is fruity think nectarine and pomegranate pinks. Coral pink, shrimp pink and honeysuckle pink reign with citrus and summer fruits taking charge. Checks and wide stripes play their part.
Tangerine Tones - LADY MARMALADE GETS HOTTER
Think about the tints flowing on from light red and coral. Now move toward adjacent warmer colours and think about the whole orange range, from burnt orange and carrot red, through to tangerine and golden apricot peach. Ombre effects are an extension of colour blocking, but a softer way of positioning the colour changes - think now of the bloom on a nectarine, imagine the rich mixed blush of a blood orange or the rich golden tones of an apricot.
Orange, tangerine, yellow and lemon add a fresh buzz to fashion prints and solid colour clothing.
Above Left - Monsoon - Era - S/S 2011 Orla Red Evening Dress 853100 £190 - Stockist Tel: 08448110068.
Right - Betty Jackson at Debenhams - Colour Block Dress £65/€98.
Red Check Dress - Dolce&Gabbana Catwalk.
Read more about lace types here on my collecting vintage pages.
Colour Blocking and Ombre fading of colours create memorable pieces with a slight 80s feel.
The dominant fashion colour ways are those of sky and sea blue. Indeed, in this 2011 season all the blues, cerulean, cornflower, electric blue, Gitanes blue, turquoise and very blue denim are prominent. Check out the Prada royal blue clutch purse and the richest draped ruched Sea Green bag at Miu Miu.
Fashion designers are employing neon brights which dazzle boldly especially when used with block colours and Ombre effects. These colour schemes give 2011 shocks of fashion colour. Right - Paris White Blazer, Electric Blue Mischa Top £29.99. Violet Hareem Trousers £29.99, Mustard Court Shoes £64.99 - All River Island SS11 Womenswear.
This new shock of colour blasting is counterbalanced by more conservative styling and lengths.
The catwalk colour combination in the below knee outfit is the clear inspiration for the River Island SS 2011 summer kit far left. Look twice at colour combos when shopping, while it might be a simple spring weight tweed, the colour will be brilliant. Or it might be a very slim belt, but the colour will be fluorescent and hot and a very unexpected colour mix.
Even finer detail is that of a mere smidgen of colour as a finely piped edge on a handbag, but the contrast will not be safe, but bold and vivid.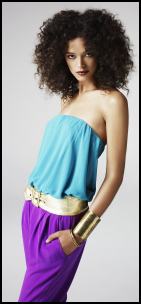 A typical colour scheme might also include pink, magenta, citrus lime and black and soon make clashing paint box colours. The opaque top and lemon cropped pants are also by River Island.
Fortunately choice is huge and Spring 2011 colour also offers soft ice cream colours and ladylike retro. For even more subdued colour than sorbet soft tones, the neutrals are at hand for those who cannot cope with colour clashes.
Clean white, tan or black can easily tone down any shades which are too daringly bright at first attempt. And of course hot bright colours always look far more acceptable on bright sunny days whether its Californian, Far Eastern, African, Mediterranean or Australian light.
Palette cleansing white is refreshing against so much strident shocking colour, and these items below show how the use of white for summer can be as sharp and business like as you desire, or as soft, feminine and casual as required.
You are reading an original article about spring and summer fashion trends for 2011 by Pauline Weston Thomas only for publication on www.fashion-era.com ©
These colours in the strip below are pantone's selection of fashion colours for summer 2011. They are shown in full on the Spring Summer 20011 Pantone colour page.

Colours can shock when they are brightly mixed up. Yellow, lemon, butter and citron add acid sharpness to red, teal or turquoise. A brave fashionista would take it one step further into fluorescence, and thus create a look that will truly turn heads. Chose your colours wisely when working with fluoro colours - to garner compliments rather than cutting remarks make sure the tone suits you. For more colour fashions see the Colour Block Fashion and Blue Ming Chinoiserie Fashion page.
4---------M4--------4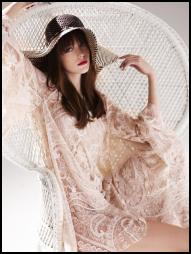 Lace was very popular last year especially over contrast linings. Lace continues as a prominent fabric trend, what you will notice in 2011 is that lace has become crustier and crustier. Think delicate, but textural Chantilly lace, imagine thick crunchy guipure and Austrian lace.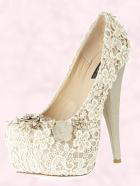 Designers currently have a fascination with these three factors: texture and contrast, smooth and shiny, rough and raised textiles. One easy way to adopt this trend quickly is with accessories. For example, get a bag that features lace or lace laser, or shoes that utilise lace overprinting or burnout texture.
These gorgeous guipure lace shoes are from River Island. Right - Lace Platform Shoes - Jemima Platform £100 - River Island SS11 WW Accessories - Stockist Number: 0208 991 4904.
Left - A beautiful lace tunic dress from River Island. This lace creation is spot on in capturing the 1970s mood. Dolce and Gabbana featured lace in their bags for Summer 2011.
Early 90s minimalist white uses clean lines and crisp white lines, this look returns in 2011 to make a white shirt and white body a must have again.
Along with the soft and calmer neutrals of flesh and buff/taupe tones, white is also fashionable, see below. Dolce and Gabbana always do summer whites so well. Feminine, vintage and ultra modern womanly looks combined to create clothes that were desirable and perfect for hot summer days.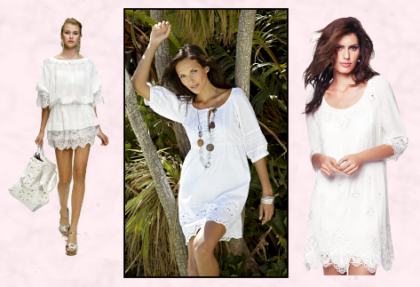 Above Left - Dolce&Gabbana Summer Whites Catwalk Fashion Summer 2011
Centre - M&Co Boutique Broderie Tunic £40 - M&Co SS11 Womenswear
Above Right - Monsoon Ivory Lace Tunic £250 S/S 2011- Monsoon Stockist Number: 08448110068.
This white lace tunic dress garment is perfect relaxed occasion wear for the bride at a beach wedding.
Read more about lace types here on my collecting vintage pages.
Broderie anglaise and summer whites in crusty lace dominated the Dolce and Gabbana Spring Summer 2011 shows. There were crunchy white guipure lace bags. White lace was featured hugely not just in apparel, but in accessories such as lace white bags.
Dolce and Gabbana excelled at producing a new take on white lace where the sweetness and innocence meant that such luscious crunchy crusty lace fabrics needed little more than a simple shape to show the designs off to perfection.
Recognise that in 2011, lace is not only available in more traditional black, white or ivory cream, but also comes in interesting colours, especially deep coffee cream, flesh pink black, bright green, blood orange or red.
It doesn't matter which city or which part of the world you live in, the neutral palette won't go away. Neutrals translate best in natural material such as toned hemp and linen knits, or double faced linens. Chiffon and viscose also give this colour way a summery feel.
The neutral fashion palette for 2011 takes in cappuccino shades from milky creams to dark roasted coffee beans. You will also see frocks with flair in a range of colour from the dark inky black of mushroom gills, to the palest soft pinks. Buff hues are becoming the new black!
Buff neutral colours of flesh and nude tones are the favoured colour of those with taste and a love of expensive materials. These are the tones that look wonderfully expensive when made up in trouser suits, palazzo pants and silky evening gowns. Buying into the concept of soft flesh, buff, cafe-au-lait and taupe tones will help develop a closet of pieces that takes on relaxed understated luxury with ease. For wardrobe planning such colours work so well with black or white, navy, olive or red pieces that you already have.
Above Right - NEXT Mink Ditsy wide Leg Trousers. Whilst this is not a match-matchy trouser suit the overall impression is that this is a coordinated outfit and it acts in a similar way to a pants suit, but is much less formal giving more casual wear options. So often now we associate trouser suits with business wear.
The leather outfit trend is a hard reaction to the soft floating dreamy dresses and ballerina romance currently found in dress. At anytime in fashion history there is always an alternative for the woman who hates frilly or feminine.
...(v4r)
Left - Sleek Chic Autograph Leather Dress.
Summer Punk is chic with leather looks that sport studs on biker jackets. Appliqué leather jackets from Miu Miu spread creativity in leatherwork. Rock inspired heavily studded cropped luxe biker jackets from Burberry Prorsum add glam biker chic which is always in fashion. The Balmain collection explored 1980s punk using the obvious elements of safety pins and leather. Shorter jackets have biker appeal. For biker jackets Burberry and Pinko both have designs that will be vintage of the future.
For Spring/Summer 2011 washed silks, silk charmeuse, viscose, organza, flowing silk chiffons are all used to make light as air dreamy hazy summer day and evening dresses. Lightness and transparency, especially in voiles and chiffons emphasise the mood of 1970s flowing dresses. Light-as-air, otherworldly draping blouses and undulating hemline kimono tops of various lengths make their mark on Summer Trends 2011. If you like the ultra light fabrics of translucent tulle flowing silk and chiffon, then you will also appreciate the tactile, knobbly cloque and shiny satin, all of which are mesmerizing in surface quality.
Headstrong print is kaleidoscopic and comes in many forms, but print is here with verve for Spring Summer 2011.
Prints divide into, animal, tribal, Ming, graphic, geometrics, stripes, spots and floral. Floral print subdivides further into botanical based tropical oversized flowers, back down to dime size and pinhead flower forms.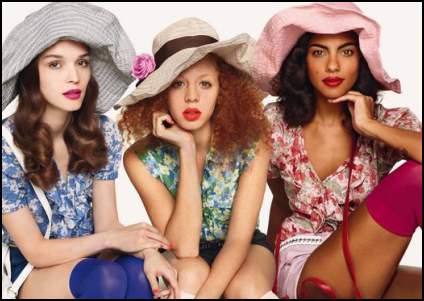 Above - Benetton Floral Fashions Trends Summer Campaign 2011.
Summer fabric trends include a banquet of flowers, from ditzy pinhead flowers and borders to hot house botanical prints that are as inviting as a tropical paradise. These lovely ditsy print blouse are from Benetton and they are full on retro 1970s when teamed with the floppy70s hats.
Wear your hat with wide voluminous hair or sleek and super smooth stylish cuts. Tight buns, updo, hair rolls and big hair all follow the hair mood of 2011. Seek out costumier trims - cowboy, bowler, toreador sailor hats and 1970s brimmed sunhats. Wear these alone or with silk headscarves, big plastic frame sunglasses add celebrity and movie star style.
The Summer 2011 designer fashion catwalks were awash with floral based fabrics and accessories. Abstract organic and idealised oversize blooms also contrast with pinhead plants.
‡
Faded floral bloom prints, supersized flowers, hydrangea blossoms and garden party summer borders are as visible as the prints of hot house plants and rare tropical flowers. Plant forms wow with statement making bold botanical splurges of impact.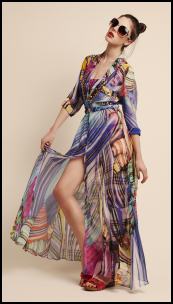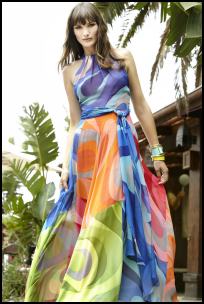 These are not simply flowers, but giant hothouse jungle flowers sometimes as large as a serving platter with a trail as tall as the wearer. The greenhouse blooms brim with joie de vivre. Leaf trails take you both into the conservatory and the wild flower meadow.
Painterly watercolour florals where intense vivid colour flows into itself creating inkblot like shapes, have an air of spontaneity in the decorativeness of the splashy prints. The designs are so gorgeous, that any artist would be thrilled to have painted some of the fabrics used in summer's fashion apparel.
Left - Kaleidoscopic Print Maxi Dress - River Island High Summer 2011- Stockist Number: 0208 991 4904 www.riverisland.com.
Right - This occasion wear abstract print maxi dress is by nationwide UK Retailer M&Co. M&Co Boutique Wow Maxi Dress £100 - M&Co SS11 Womenswear - Stockist Tel: 0800 0317 200.
For innovative prints try the designs at TopShop where prints designed by Mary Katrantzou will give the bold among you real print power.
The grand art oils and watercolour theme continues through into fruit bowl still-life arrangements, the result is 'Mad Men' inspired early 1960s young starlet full dirndl skirt dresses. Many designers including Stella McCartney, Moschino, Prada and YSL thought it was time for tutti frutti fashion and a little bit of Carmen Miranda homage.
The glory of fruits with some as luscious as a painting from a famous art collection was evidenced in designs featuring mouth-watering reminders of the beauty of these everyday raw foodstuffs we take for granted. Then of course there are the prints with repeat fruit motifs, which in creation are as primitive in form as a potato print.
New Look is another high street and online retailer which has inexpensive skirts and tops that feature lemons with contrasting bold green foliage. Cherries and other fruits always add the novelty effect in fruit prints which ape 1950s/60s 'Mad Men' dresses. These two high street pieces shown left, capture the look at a fraction of the catwalk price.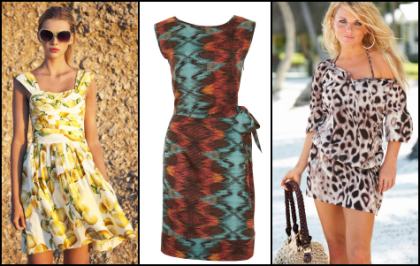 Above Far Left - Primark Lemon Print Sundress £9 and Sunglasses £2, both Primark Summer 2011 - Primark Stockist Number: 0118 9606 300.
Above Far Right - A|wear Womenswear - Tribal Print Dress €45/£40 A|wear Womenswear Stockist Number: 00 353 1 4724900.
Above Left - Geri Halliwell for NEXT - NEXT Animal Print Peasant Blouse Top Beach Kaftan £30.
Tropical flora and fauna prints can also have a primitive tribal stencil quality. At Prada for Summer 2011 we saw monkey prints and elsewhere decorative designs of butterflies and orchids.

Desert tribes have been used to generate rich primitive and naive patterns that can only be described as 'Tribal Prints'. Also all the associated colour ways of African earth ochre browns have been a true trend of the late noughties and they satisfy those women who like prints, but hate floral fashions. Tribal prints in desert mufti hues adapt well to working situations and holidays in hot dusty countries.
Primitive motifs combined in chevron arrangements give more rigid form to these tribal patterns and create integral borders within negative and positive motif positions. All hint at the natural colours found in the mineral in the soil, clays and mother nature earth.
This tribal fashion trend works it way into that old favourite - the animal print. Perfect for the nightclub, perfect for the beach the animal print has become such a classic suiting many occasions that we now find it is also a classic print in our sitting rooms.
Right - Animal Print Kaftan - Eternal Glamour from Dolce & Gabbana - SS2011.
Slate grey, sea blue, anthracite, antique gold and other murky neutrals lend an earthy mineral tone colouration to African tribal based prints. Toffee, cinnamon, tortoiseshell, quince, sulphur, ginger and crème caramel define the earth tone wardrobe. Boost this look by spicing it up with hot tangerine like the bag above right, or add a shot of vivid turquoise. When wardrobe planning, mix the textures so that dull or shiny linen blend and add contrasts with the texture of smooth leather, coarser raffia or tooled textured leather.
At Rodarte, wood was an inspiration, and there were grained knot patterns of wood and plank prints. Other prints were slices of redwood logs.
Memorable clear blue and white Chinoiserie styled flower added the accents of a Ming vase to airy fabrics. This is a very attractive clean fresh summertime look.
Left - Dolce & Gabbana Catwalk Fashions - SS 2011.
Right - Oasis - High street interpretation of a beautiful china blue dress.
Oasis Blue/White 100% Viscose Tiered Print Dress £50 - Oasis Spring Summer 2011.
Very girly pretty knits use both ballerina and floral trends for print cardigans to create stylish sweaters. The blue print cardigan below shows how this blue and white porcelain inspired trend has invaded every fabric type and appears in home interiors and linen too as blue/white based New England and Toile style prints.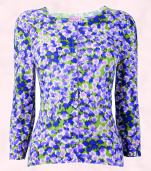 Watercolour, tropical and nautical anchor motifs pick up on other fashion trends in pattern, they also give knitwear a novel appeal that makes a little pattern go a long way.
Aran texture, blackberry stitch and bobbles also give great surface interest and a folksy look to knitwear.
Other knit texture utilise Missoni style zigags, geometric blocking, bold and narrow stripes and overprinting of knits.
Right - Phase Eight SS11 - Saffron Cardigan £69.
Ballerina fashion has been inspired by the Natalie Portman film Black Swan. But it's not just that film which is instrumental in the ballerina look. These ballerina romance fashions focus on flesh tone pinks, which have been all the rage for a year or more. It also picks up on 'Mad Men' fuller skirt trends, ballerina lengths and tulle petticoats.
Note that overall skirts are longer than we have seen for years.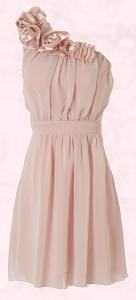 The true centre of attention is still on the EARLY 'Mad Men' silhouette of fuller, longer skirts. For shorter, above knee versions of the ballerina fad look no further than the blush tones of ultra feminine cropped dresses at Nina Ricci.
Transparency gets a makeover when used as a contrast or juxtaposed to lace of any type. This fashion fad is light and pretty using silk gazar and crusty lace frothed with the joie de vivre of bygone fashion days. These dresses are almost always cinched with belts or sashes. The frothy fad is in complete contrast to the practical modern Lagenlook dress of today.
Above Left - Icon Marilyn Monroe in ballerina length tulle skirt. Miu Miu does the modern version if you need an updated version. Above Left - Chiffon and Mesh Layer Maxi Skirt in Ballerina Pink - £45/€58.50. Lipsy Stockist Number: www.lipsy.co.uk. Far Right - Jane Norman One Shoulder Dress With Roses. This dress is part ballerina and part baby doll.
Baby doll merges with ballerina belles and gives us girly feminine blush pink dresses and tops. These are worn with short tutu prom skirts. Alternative lengths mean that 'Mad Men' inspired calf length elegant ballerina dresses give fashion opportunities to a wider and older audience.
From hot pink to softer gentler blush, blush pink is the colour that overall gives a soft look to fashion this year. Marc Cain has a lovely soft blush pink blouse that works so well with taupe and other neutral pieces.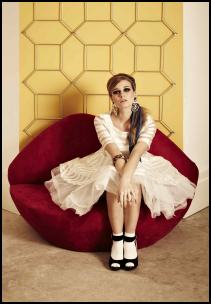 This colourway is especially soft and feminine in blouson sleeved tops and lace dresses. But do take care and get the nude tone right for your skin type. Even footwear spotlights blush with blush brogues and blush UGG boots.
Baby doll dresses with lingerie detailing appeal to teens and younger women. But beware the mutton moment if you are older, as older women who can't resist them need to make a realistic assessment and note they may be better wearing the baby doll dresses as tunic tops with skirts or trousers.
Left - Spring Sweetheart SS 2011 from Boohoo.com. Boohoo Stockist Number: 0161 237 7700.
Right - Another Boohoo.com Ballet Look - Spring Summer 2011.
Designers at last recognise that women over 40, 50 and 60 like to look good and follow catwalk collections. But these same 'more mature women' shy at looking ridiculous in too short skirts up to their backsides. Longer lengths create bread and butter ranges for fashion designers. Clearly everyone wins as fashion houses ensure a steady profit when wealthier older clients buy with more assurance.
Ribbon and fringe has been used as trim for jackets, dresses, accessories and footwear. It can add a little Boho flavour or a 1920's 'Boardwalk Empire' touch. A fringed dress is a dress to party in for sure. Whilst a fringed leather jacket can dress up any outfit.
Fringing can be a titivation too far, as it is such a statement making trim. Keep to fringe on one item and you may well be able to work this look without appearing to be in a costume that steps out of the circus ring. For a softer take on dress choose a dance friendly shimmy dress in Boardwalk Empire 1920s style.
Fringe is worked in every possible material and the prairie theme is easy to spot when fringe is worked in leather or suede.
Fringe as a 1970s decorative element on garments can be difficult to wear well. Avoid pieces that over use it as many items can develop an over-the-top lampshade effect. Fear the fringe and choose carefully!
Left - Marks & Spencer Glamazonian Dress £89, Shoes £59.
Fine pleating has had a revival and lends itself superbly to all manner of drapery especially in tops and blouse, but also to skirts and ruffles. These images illustrate how versatile fine pleating can be when used to make a flowing asymmetric ruffled dress. The pleats add an extra feminine touch whilst enhancing the Grecian quality. This fantastic elegant filmy dress enables the wearer to ooze elegance.
Right - Coffee Fine Pleated One Shoulder Chiffon Dress - NEXT.
Fine Fortuny pleats and accordion pleat layers all help define the Kimogami concept. The continuance of darts at necklines and side hiplines also create origami structured effects.
There is a slight nod to ethnic where East meets West. This look has Asian influences including obi belts, cheongsams and kimono sleeves. To this add floral embroidery and so emulates designs seen on old mandarin robes, or other pieces that typify peasant decoration. Lush rich deep embroidery favouring birds, exotic oriental flower shapes and snakes inspire us to think of ancient eastern details which are opulent and dramatic.
Right - Oriel Pussy Bow Tunic £95, SS 2011 from Monsoon Miami Collection.
Centre - SS2011 Yogo Ego Bell Sleeve Womens Fashion Hitch Up Shirt £25 - www.Yogoego.com Stockist Number: 0208 920 6626.
Far Right - Fever Designs Oahu Blouse Black £54.99 - Fever Spring Summer 2011 Stockist Number: 0207 6366 326.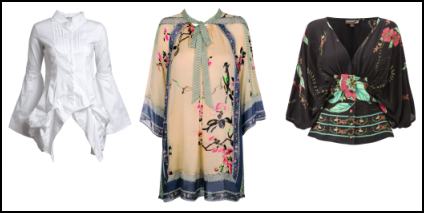 These 'Red Lacquer' and 'Eastern Kimono Origami' influenced looks fall under the new name of Kimogami. This is sharp and stylised in a modern take on Japanese elements rather than traditional Chinese fashion fundamentals.
Kimogami styled outfits show modern catwalk Japanese fashion influence in garments and accessories. Look for shiny patent trims that glow like lacquer, and artful origami-like folding and capacious kimono or Magyar sleeves.
The blouse is back, and is truly one of the great new must-have pieces for Spring 2011. With its long sleeves, the blouse is the ideal trans-seasonal piece and perfect on days where the temperature dips. Look for batwing and very full sleeve blouses. Wear your extra long and ruffled blouson sleeved blouse beneath a three quarter sleeved cropped jacket.
Collars and Cuffs -
Here we see big volume ballooning sleeves finished by bold cuffs from Viktor & Rolf brought fashion drama, all the more emphasised by the use of the crustiest of lace - guipure. The finest of permanent fine pleats and a raw look with raw rustic lace is typical decoration for an embellished blouse in 2011. Expect to see floral piping/ appliqué and ribbon trim on the newest blouses.
Indulging your inner gypsy should be easy with the volume ruffles seen on blouses, dresses and peasant top bodices. Similar tops are available on the high street - as you can see from the image right and below. This top is also one of the easiest designs to sew yourself as fitting is controlled by elastication or drawstring ribbon.
Above Left - Animal Print and With White Shirt/Blouse at Dolce&Gabbana SS2011.
Far Right - Dolce & Gabbana Summer 2011 Floral Ditsy Print Gypsy Peasant Top.
There were designers such as designer Riccardo Tisci at Givenchy who sent out crisp white shirts. Classic shirts are part of any glamorous woman's timeless capsule wardrobe. Variations include cropped silk shirts. Well cut, classic shirts can be seen at the shops of British master of shirt dressing designer Paul Smith.
----------m6-----------
Trousers have had 'another' makeover. Pants have new wider leg trouser shapes.
Check out those by Raoul at matchesfashion.com. If you want something bright and exotic in the pants line, take a look at the gorgeous wide leg sea green pants at Jaeger. Raoul has designs for the modern discerning woman who needs easy wearable pieces. As well as wide pants, silk dresses are another Raoul talking point and cost around £200.
Other trouser looks that are well suited to summer days are cropped pants and silky harem pants. Slim legged trousers that land just above the shoe are much loved by fashionistas.
For more formal wear, the return of the pants suit adds a refreshing, alternative dose of masculinity when closet racks are packed with feminine dresses. The skirt is still less common than trousers in 2011, so pants add the piece that teams well with blouses and jackets. The all-in-one has been making a slow comeback. More styles including cat suits, playsuits and dungarees show that the jumpsuit is a real fashion trend stylish women are buying.
Left - Penneys (Ireland) Spring 2011 Womenswear - Print Vest €4, 70's Styled High Waisted Flares €17.
Centre - Warehouse Purple Jumpsuit SS11.
It is truly amazing how the much maligned 1970s and 80s are considering how often their styles are incorporated by designers. And even back in the 1970s designers were merely aping fashion history styles of the 1930s and 40s. This newest seventies fashion trend captures some of the very best of the 1970s in all its full glory.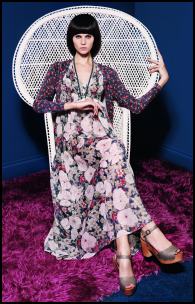 Floating semi sheer and transparent fabric dresses and maxis recapture 1970s heydays. Check out fluid fantasy flares, flowing maxi dresses and frilled fiesta frocks. Look out for skinny rib striped knits and floral print cardigans.
Romantic ruffles of the 1970s flow to faded hippy chic. Fringed bags, bleached denim cropped jeans, halter dresses worn with platform shoes and big straw floppy hats hark back to seventies flower children moments in fashion. 1970s uses Luxe fabrics to recreate the drape of full wide trousers and silk chiffon which emulates the long dreamy dresses of the fashion era.
In the actual 70s decade the fabrics were more likely to have been made of Laura Ashley sprigged cottons, or crinkle crepe viscose or backed moss crepe. The silhouette of the era was very much due to the specific fabrics because they draped in a heavy way. The thick cellulose fabrics showed the wide flared line very well. The flared A-line shapes held their outline because they were mostly made from high bulk polyesters that seemed preformed.
Above Right - Hobbs NW3 Paisley Print Cardigan, £99 (€115). NW3 Nightingale Necklace, £55 (€65). NW3 Lily Maxi Dress, £159 (€180). NW3 Hankins Scalloped Wooden Sandals, £110 (€125). All Hobbs Spring Summer 2011 - Hobbs Stockist Number: 0845 313 3130 / www.hobbs.co.uk.
The biggest fashion trend to be discreetly establishing itself, is that of the concept of 'forever fashion.' All-in-all this year there is wearable fashion for every girl and woman whatever her age.
Zany footwear is fun again, but handbags are going classic and have become more streamlined with sleeker cleaner lines, as these two framed bags here illustrate.
Streamlined style in handbags means a return to smoother sleeker shapes that are less sack like and more squared bags, albeit with rounded edges to the handbags.
Blooming spring flower prints and garden party fabrics take bags and all accessories into a new world. Floral fabrics work really well for shoppers, beach bags and sack bags.
Right - Aspinal Classic Neutral Classic Streamlined Handbag - £495 From John Lewis.
Near Right - River Island Summer 2011 Floral Handbag. Sophie floral box bag £32.99 - River Island - Stockist Number: 0208 991 4904.
Refined and sleeker envelope-shaped clutch bags have downsized from a sack-like shopper bag to a more sensible wallet like purse silhouette with quilted clutch bags top of the must-have list.
For the must-haves there are the newest zebra prints, animal prints/leopard and reptilian skin effects. Bags with tassels, fringes, or band trims use primary colour edgings that add pizzazz. Contrast piping around the edge of handbags is made even more substantial with the texture of frou frou rosettes or bows.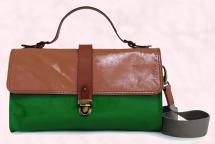 In bag styles multi colour four, three and two-tone handbags are more and more commonly found everywhere. An example would be this season's Yves St Laurent taupe stone, burnt orange and magenta plum handbag.
Green was a strong colour along with brown in the real 1970s decade and now apple green, citrine lime and sunshine yellow create a bold freshness in colours especially for handbags.
This bag utilises emerald green and tan a popular colour combo for 2011.
Near Right - NW3 Howden Bag, £179/€205.
...(v4r)
Gucci showed THE belt that defined the season, wide with metallic gold snakeskin and a plaited narrow trailing twist finished with a tassel - deliciously far flung looking. For an instant wide belt there are plenty of leather obi belts and satin Obi belts that can help catch this fad. Paul and Joe do a great gold one at £345.
Shoes are striking - one look at Dior's purple feather shoes with loop stitch trim and espadrille platform will make you sit a up and take notice of 2011 fashions in footwear. Sugar sweet colours were used by Miu Miu with a show of multi colour sorbet tone shoes with black trims. These sorbet tones are the inspiration for many footwear colour designs you see everywhere.
Some footwear shows real definition with sculptured fascinating heel forms. The twisted heels and sculptured piece below centre is like a work of art it is so rococo in line.
Gold, mustard, yellow and lemon add sunshine to shoe styles.
Below Left - Schuh Ipanema Wedge Sandal £75 /€100 Schuh Spring Summer 2011 Collection - www.schuh.co.uk.
Above Centre - Schuh Mouse Twist Heel Yellow Court Shoe - £65/€85. Also available in red and black Schuh Spring Summer 2011 Collection Stockist Number: 0845 307 2484 or www.schuh.co.uk.
Below Right - Bi-colour Shoe by Hobbs - NW3 Collection - Goodison Brogue Court Shoes - £159/€180.

The modern way with colour mixing in 2011 extends to shoes which are mostly two or even three colours. Think of a shoe and think of bold harmonic colours such as turquoise emerald and royal blue, positioned to create an abstract pattern worthy of Mondrian. Tan and other neutrals complement these bold twists of colour. Greens and yellows pair well with white as the brogue courts above show.
More blocky looking cone and solid square heels or stacked heels that endow a cubist effect follow the 1970s trend in women's shoes. These steadier styles below may all be newer styles for you. With the wooden clog like platform they suggest elements of a 1970s Dr. Scholl sandal form.
Top Right - Hobbs - Curvy Flat Sandals, £99/€115. Hobbs Spring Summer 2011 Footwear & Accessories.
Centre Right - NW3 Hankins Scalloped Wooden Sandals, Nude, £110/€125
Bottom Right - Hobbs - NW3 Hiking Sandals, Cherry, £110/€125.: 08445616161.
Straps are multiplying on women's shoes and there a bi and triple ankle strap shoes, plus tie bows. The Mary Jane is an easy comfortable style even with a high heel, because that midway strap neither cuts the ankle or hugs toe cleavage so far down that the strap gets rendered ineffective at staying in place.
Correctly positioned, a Mary Jane strap can support and hold the shoe on a foot that would otherwise struggle with a heeled shoe. No wonder Mary Janes have been so popular for dancing through the decades.
Extra footwear features of note are fake flowers, particularly roses and also there is an element of transparency in footwear as transparent mesh inserts, bows or fronds of tulle create wispy effects. Combine this with nude and flesh tones and the footwear is all in keeping with ballerina looks.
These shoes focus on bows and patent finishes as well as the Mary Jane Bar.
Below Left - Schuh Prince Bow Bar Court £67/ €85 Also Available Red - Schuh Spring Summer 2011 Collection
Centre - Open Bar Shoes, Nude, £129 (€150) Hobbs Spring Summer 2011. Footwear & Accessories - www.hobbs.co.uk.
Right - Black Bow and Piping, Block Heel Mary Jane Shoe By Dune.

----------m6-----------
New twists mean rope or ribbon toes on footwear mean that ties trace up the leg from ankle to calf. Other shoes and sandals show abundant ribbon ankle wrapping. Some of the ribbons follow the floral themes in prints. Teens will love these girly shoes.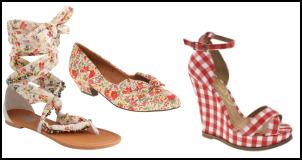 In the summer of 2011 we are going to see a lot of ditsy floral itsy bitsy fabric prints that look as if they have jumped off a patchwork quilt fly onto all sorts of footwear from flat Grecian sandals, pretty flower print pumps, floral fabric espadrilles, chunky wedges, strappy platform heels and flower powered sneakers.
These shoe choices use 1970s dolly-bird ditsy fabric prints beloved of stores such as Cath Kidston, Liberty and Laura Ashley.
The flower prints from pastels to peach coral reds are usually set on white cream or black backgrounds. This floral and check footwear works well with the traditional looks of the current fashion craze for peasant Gypsy Chic blouses.
Above Left - Matalan SS11 Womens Shoes - Floral Tie Ankle Wrap Gladiator Sandal £14.
Centre - Floral Pump Shoe - Office SS2011.
Right - Zany Fun Fifties Red and White Check Wedge Shoe
If you are seeking a Mad Men feel to your retro outfits add a 1950s touch with polka dot spots and tablecloth check fabrics. These shoes will add that certain something whether your fashion outfit is a pair of shorts, cropped Capri pants or prom dress.
Wedges are increasingly popular in summer as they offer height, but with the supporting comfort of the steady wedge.
In contrast to neck breaking high heels, there are flats and wedges offering safer alternatives for everyday running around for both work and play. Studded shoes, platform heels, wedges, raffia wedges line up against kitten heels and super flat ballerina pumps.
These three wedges use natural tan leather, denim and animal print classic materials that will blend easily with lots of outfits.

Left - Autograph Leather Peep-Toe Wedges, £49 - Marks & Spencer Accessories.
Centre - Tamaris Denim Wedge £39.99 sizes 35-41 - Tamaris Spring Summer 2011.
Right - Star by Julien MacDonald Leopard Wedge £32/€48. Debenhams Footwear Stockist Number: 0844 5616161.
Neutral palette shoes offer an ideal surface for excess details such as studs, stitching or punching. Hot poker branding marks, laser lace work or leather strip thong threaded through and over edges or used in woven areas add a decorative touch.

Left - Dune - Vampy - £85/€100 Dune - Vampy - £85/€100 Dune Womens Laser Footwear Trend 2011.
Centre - Schuh Kitty Cut Out Wedge £65/ €85 Schuh Spring Summer 2011 Collection - Stockist Number: 0845 307 2484 or www.schuh.co.uk .
Right - Schuh Kaitlin Cut Out Bar Peep £60/€80 - Spring Summer 2011 Collection.
The best thing about most accessories is that diets are not necessary, therefore whether your passion is shoes, bags or a treasure chest of diamonds, no shopping trip will be a failure.
Stack 'Em High Bangles and Rings
STACK 'EM HIGH BANGLES - Several cuffs worn on the arm are the mode. Moroccan ethnic cuffs are a new way of wearing very chunky jewellery. Clank rattle and roll with multiple layered bangles. Whether wood, gold, silver enamel or plastic the arm candy of 2011 is the cuff or bangle. Stack 'em high also applies to rings. If your budget is very limited these fun items from New Look will be just the on trend answer.
Left - New Look Pink Bangle Set £9.99/€12.99.
If the budget is a bit larger and you have a significant beloved or best friend who loves to buy you trinket charms then consider collecting the Pandora ranges.
CHARM BRACELETS - Pandora bracelets especially in pinks and gold are novel and personal creating a rainbow of jewels that are very personalized. The alternative Chamilia.com range also in pinks and gold, Troll or Links pieces all add up to lots of charm bracelet and necklet options. Be sure you understand this modern charm system before you choose your base necklace or bracelet as not all charms fit all bracelets. It really is well worth reading the eBay help guide on Troll/Chamila/Pandora differences.
'The King's Speech' is a 2010 British historical drama film directed by Tom Hooper and written by David Seidler.
The film won the 2010 Toronto International Film Festival People's Choice Award and has been nominated for twelve Academy Awards, fourteen BAFTA awards and was nominated for seven Golden Globes.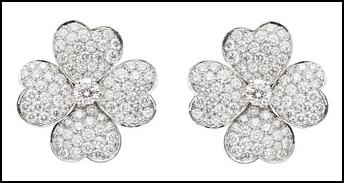 The actress Eve Best, who plays Wallis Simpson, wears Van Cleef & Arpels High Jewellery in the film and it includes the fabulous 'Diamond Zip Pompom Necklace and these Cosmos Earrings - White Gold & Diamonds.
If you can afford it opt for serious investment jewellery and that means diamonds and other precious stones. Jewellery trends to watch or buy into, are interchangeable necklaces, leaf earrings, rose earrings with some of the classiest at Dior. Big statement earrings also add cachet to your jewellery wardrobe.
Nuggets of natural gems, especially semi precious stones have a new chic and understated allure when worn as an interchangeable clasp such as those by Anna Tabakhova on a short necklace. The contrasting longer sautoir of semi precious gemstones or a long rope of good pearls offer scope to wear these necklace styles wrapped and knotted. The sautoir was very popular in the 1920s and 1930s.
Check out too heart necklaces, Georg Jensen link collars at Aspinal of London and the scarf like strap watches from Missoni at £370.
For a more streamlined sleek luxury opt for a semi hidden neck tie-pin brooch and wear it on a classy silk blouse. Understated forever fashion luxury. But for the ultimate in jewellery Chic look at the Van Cleef and Arpels gems shown here.
----------m6-----------
Blonde hair is back in fashion, but so is the desire for luscious locks like those of bride to be, princess in waiting, Kate Middleton.
1940's glamour lips and chignons give screen siren quality that is dramatic. Hair is made bigger and plied with extras such as plaits - think of the TV series 'The Tudors' for influence. Look too at the 1920s hairstyles of 'Boardwalk Empire' and 'The Great Gatsby'.
Red lips and paint box lips have full on glamour. Sheer lips love the new Lipfinity lip tint pens. The Max Factor Lipfinity lip tint pens are non transferable and a give warm rush of colour stain to create desirable, kissable lips. I also like the Bodyshop lip tint. Trans matte lip looks are an alternative to glamour makeup for lips. Eyes from botanic palettes of vibrant purple and blue eye make up kits, bold mascara eyes all join forces with the fashion trend of colour blasting.
For the best foundation make up look try Vitalumiere Aqua by Chanel. I was blown over by a sample of this and all day kept think how well the make up made me look. Even better I kept feeling good all day. This Vitalumiere Aqua by Chanel water based make up has a ball bearing inside the container. The container has to be shaken to create an emulsion. The £32 price tag is worth it for the reward of a face that glows with health and dewiness all day. Its natural looking make up with a hint of summer shimmering.
Conclusion of Key Fashion Trends Spring Summer 2011
This review features the most important women's fashion looks for the summer of 2011. This article reviews the main looks in dresses, footwear, bags jewellery and other fashion accessories. You have been reading an original fashion trends article by Pauline Weston Thomas only for publication on www.fashion-era.com ©
Copyright of images courtesy of Prshots.com, Swarovski, Marks & Spencer, Hobbs, House of Fraser, Schuh, Dune, Primark, Penneys, George at Asda, Oasis, Debenhams, Littlewoods, River Island, Accessorize Monsoon, Matalan, Hobbs, Benetton, ASOS, Warehouse, Pantone, Jaeger, New Look, Jane Norman, Bonprix.co.uk, Ralph Lauren, Dolce & Gabbana, Boohoo.com, Lipsy, Love Miss Daisy Vintage, Sainsbury's Tu, Next, Dune, Monsoon, Fever, Yogoego.co.uk, very.co.uk, Van Cleef & Arpels, French Connection, Isme, Beyond Retro, Mint Velvet, Ann Harvey, Internacionale, Phase Eight, Kaleidoscope, A|wear, Matalan, Tamaris, Redlablefashion.com, Faith.
Date added 31 March 2011 - Ref: P.835.
If you like this page then please share it with your friends
---
--Link--
For more information on ladies and teens fashion trends go to:-
Archived Sections
Custom Search
About Fashion-Era.com
Fashion-Era.com looks at women's costume and fashion history and analyses the mood of an era. Changes in technology, leisure, work, cultural and moral values. Homelife and politics also contribute to lifestyle trends, which in turn influence the clothes we wear. These are the changes that make any era of society special in relation to the study of the costume of a period.

Fashion-Era.com can take no responsibility for any information on the site which may cause you error, loss or costs incurred from use of the information and links either directly or indirectly. This site is owned, designed, written and developed by author: Pauline Thomas and Guy Thomas. This site is designed to be viewed in 1024 X 768 or higher.
ALL RIGHTS RESERVED. Fashion-era.com reserves the right to add or delete information, graphics and links. Copyright © 2001-2014 on all content, text and images in Fashion-era.com. Images and text in this website may not be used on other websites.
Before you write to me for costume/fashion help or information please, please consult the extensive sitemap which lists all our pages. If you still cannot find the answer after searching the site, then before you email me, please consider if you are prepared to make a donation to the website.
Donations
Reader's donations help this site flourish, in particular donations encourage me to write more articles on fashion history as well as current trends. PayPal allows anyone with a credit card to donate easily and securely. You may donate any sum you feel appropriate.