Neutrals & Texture in Fashion Apparel
It doesn't matter which city or which part of the world you live in, the neutral palette won't go away. Neutrals translate well into natural material such as silk, natural toned hemp, ramie, linen, pure cotton and double faced linens. Chiffon and viscose also give this colour way a summery feel. Neutrals are also used in contrasting textures and give garments an expensive look when the palette is finely limited to a small range of related neutral tones.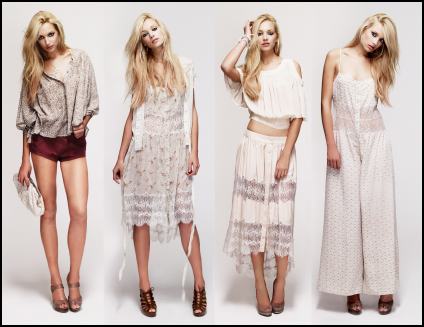 Above - New Look SS2011 Fashions For Summer 2011 - www.newlook.com or Tel: 0500 454 094.

Above - A selection of neutral toned shorts ranging from taupe to copper and all available from A|wear.
Left - A|wear Brown Linen Shorts - A|wear Belt €30/£25 - Womenswear Stockist Number: 00 353 1 4724900
Centre Left - A|wear Camel Shorts With Cream Belt €30/£25 - A|wear.
Centre Right - A|wear Khaki Linen Shorts €30/£25 - A|wear Womenswear.
Right - Copper Shorts €30/£25 A|wear Womenswear - Stockist Number: 00 3531 4724900.
Fine pleating has had a revival and it lends itself superbly to all manner of drapery especially in tops and blouse, but also to skirts and ruffles. In neutrals tones like these garments it looks ultra expensive.
The cropped fine pleated jacket left is the ideal cover up for a skimpy top or dress whilst helping retaining a floaty ethereal chic.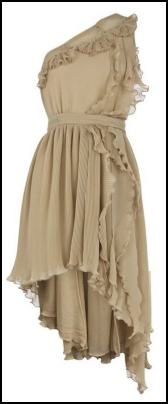 It has a pure 1970s retro quality and captures the 1970s mood totally. Team it with palazzo pants and platform shoes for a real 70s vibe.
Left - Monsoon SS 2011 - Sindri Nude Pleated Jacket £140/€238.e.
These images illustrate how versatile fine pleating can be when used to make a flowing asymmetric ruffled dress. The pleats add an extra feminine touch whilst enhancing a Grecian quality. This fantastic elegant filmy dress enables the wearer to ooze elegance.
Right - Coffee Fine Pleated One Shoulder Chiffon Dress - NEXT.
The pleated chiffon skirt is a most appealing trend as whole generations of women are unfamiliar with it's flowing style. Think minute pleats that fan and flare. TopShop do a great silk chiffon skirt for £60 and at Whistles a silk skirt with fine pleats is £125.
Design houses currently seem deeply besotted with fine pleats, fine wispy chiffons, ribbon-work, roses and torn chiffon as well as fringe. Ribbonwork, Cornelli embroidery dresses and rose corsage encrusted tops are now very easily available at high street prices. Far Right - Jane Norman One Shoulder Dress With Roses. This dress is part ballerina part baby doll.
Women are thinking anew about the ease of wearing chic elegant timeless fashion. Thus deconstructed looks are on the wane giving way to a precise sharper, tailoring and contoured better finished dressmaking.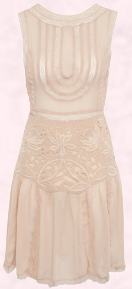 The rawness of some outfits the past decade in their lack of finish in the name of 'latest fashion', has been replaced by a return to a desire for couture qualities in construction.
The latest designs show garments and accessories with better finish with finer hems, or precisely edged faced band finishes. Look out too for a merging of transparent fabric strips into solid materials. All this points to a neater and less slipshod way than many Boho garments of the past decade made possible.
Craft is important in dress once again, making skilled workmanship worth paying for, and making an item the purchaser deems worthy of wearing many times. Glamour and grooming is back and even punk is glamorous. Glam punk has become the foil to the latest softer fashion trends of floral romance, ladylike ballerina, 1970's retro, minimalism and the lace summer whites so dominant in the latest Spring 2011 fashion trends.
For great crafted dresses like this embellished creamy one above check out the Monsoon website. This embellished blush pink dress is from ASOS.
‡‡
Catwalk collections for summer 2011 showed lace alongside other crafted textures. Crafted handmade crochet was further emphasised with natural elements of wooden jewellery and leather pleating. There was texture, texture and more texture.
These 3 dresses below illustrate some of that texture or embroidered fabric mixed with lace, surface appliqué work and feather trimmed hemlines.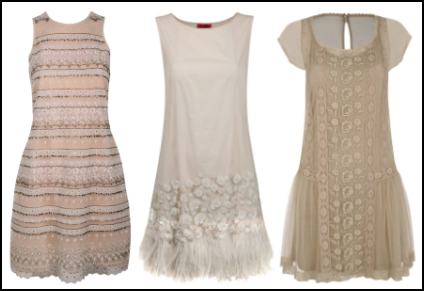 ...(v4r)
Note too the focus on contrast hemlines and recognise that this 1920's element to looser dropped styling is probably a direct result of the popularity of the 1920's TV mini series Boardwalk Empire.
Above Left - Gardenia Pink Beaded Shift Dress £150/€254 S/S 2011 Monsoon Dreamers.
Above Centre - Monsoon Dreamers - Orchid White Feather Hem Dress £150/€254 - SS2011.
Above Right - Peridot Cream Embroidered Sheer Tunic Dress £65/€110 -S/S 2011 Monsoon Stockist Tel: 08448110068.
Handcrafted quality work in an accessory gives it must-have desirability. This is equally evidenced in minimalist finely crafted handbags that are ultra subtle in their simplicity of tasteful design.
Safari jackets, crafted sandy leather pieces, macramé and tassels showed Gucci workmanship to teasing effect. Sporty looks were added with satchel bags and other pieces gave a commercial nod to tribal trends. The palate cleanser collection from Dolce & Gabbana collection was full of fine crafted handwork incorporating lace, silk and appliqué, crochet bags and broderie anglaise. This was contrasted with a little leopard/lace print or black pieces. The fashion elements were imbued with quality and subtle handwork giving an understated glamour to gowns.
All this artisan workmanship is costly, so fashion needs to be savoured and slow down for us to truly appreciate these items are made to last. Forever Fashion beckons the recession challenged shopper who now demands product excellence as well as sartorial satisfaction in purchases.
§
The leather dress trend is a hard reaction to soft floating dreamy dresses and ballerina romance currently found in dress. At anytime in fashion history there is always an alternative for the woman who hates frilly or feminine.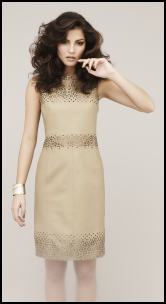 Leather has been a winter trend, but much of it was covered up with knitwear the climate was so cold. Summer Punk is chic with leather looks that sport studs on biker jackets. Appliqué leather jackets from Miu Miu spread creativity in leatherwork. Rock inspired heavily studded cropped luxe biker jackets from Burberry Prorsum add glam biker chic which is always in fashion. For biker jackets Burberry and Pinko both have designs that will be vintage of the future.
Right - French Connection Ladies SS11 Nude Leather Dress £325, Jenae Stiletto £100 - French Connection Stockist Number: 020 7036 7200.
Left - Autograph Leather Dress £225/£199 - Marks & Spencer.
Leather is worked in not only neutral colours, but also jewel. At Gucci leather was crafted with fringe, macramé and tassels. Lovely leather glows with honest goodness with top quality skins. Leather dresses, skirts and lush leather bags show a new fascination with quality items bought to last longer than one season. Leather fashion is definitely part of forever fashion.
This is a season of beautiful understated leather bags. There are classic handbags that will see you through many a season if you prefer to concentrate on the new preoccupation with quality rather than quantity. Aquascutum, Ralph Lauren, Calvin Klein, Chloé. Michael Kors and other top brands all have sleek leather handbags and purses that are classy and understated in design. At Marks and Spencer their small leather purse belt for the waist is much smarter than any bum bag seen recently.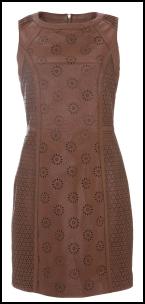 Suede is embroidered in ethnic fashion style with leathers showing similar artisan craftsmanship. Artisan craftsmanship is always in abundance at Ralph Lauren. The current Spring 2011 adverts for Ralph Lauren emphasise the fabulousness of tradition in tooled leather with trims of Western buffalo head buckles and silver Concho elements that are all based on traditional American Indian roots.
The Balmain collection explored 1980s punk using the obvious elements of safety pins and leather.
Shorter jackets have biker appeal. Traditional and enduring good quality leather biker jackets can go on for years as this trend of girl on a motorcycle turns round and round. Silver jewellery with biker jackets gives modern look and who better than Burberry to find the ideal biker jacket. If you are going to buy one invest in a desirable collectable reliable brand.
Neutrals got coverage at Alessandro Dell'Acqua where caramelised tobacco brown, cream and beige create looks with style. Subtle yet lush colour palettes of caramels, tan and every subtle tone of dusty sand between covering creamy oyster, taupe and tan were all the focus at Ralph Lauren.
Near Right - Classic Tan Neutral Leather Top From Louise Goldin.
Far Right - Mint Velvet Dark Tan Laser Cut Leather Dress £199. Mint Velvet SS11 Stockist Number: 0845 456 2200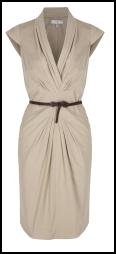 The underlying trend for the new twentens decade shows women are relearning the concept of glamour. The fashion mood is changing and women have begun to discover understated, but contemporary fashion of ageless design. The newest fashion trend is to concentrate on buying apparel that can fit seamlessly into an existing wardrobe.
Designers have begun to understand the need and desires of an older demographic. That same woman has real spending power and she will return season after season for desirable wearable fashion pieces. Designers are acknowledging their customers needs in more than one way. At Burberry Christopher Bailey has explained how he is aware that a global customer in USA or Australasia needs to be accommodated with collections that are trans seasonal.
This is also the year when the average British bra size moved up to 36E, so what woman would not be happy to find some pieces that are wearable season after season. Hunting for the perfect fitting garment for a beautiful full busted silhouette takes time and passion. The concept of forever fashion where a woman select carefully to add to her wardrobe is on the up.
Above Left - Classic Dress that will remain fashionable over several seasons. J by Jasper Conran - Debenhams Stockist Number: 08445616161.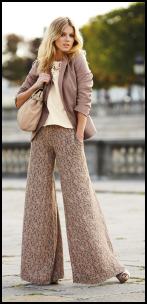 Far Right - Penneys Polka Dot Chiffon Dress €19, Penneys (Ireland) Spring 2011 Womenswear.
The neutral fashion palette for 2011 takes in cappuccino shades from milky creams to dark roasted coffee beans. The rich gills of dark inky mushroom tones to palest soft pinks helps create frocks with flair. Buff hues are the new black.
Buff neutral colours of flesh and nude tones are colour of those with taste and a love of expensive materials. These are the tones that look wonderfully expensive when made up in trouser suits, palazzo pants and silky evening gowns. Buying into the concept of soft flesh and buff cafe au lait and taupe tones will help develop a closet of pieces that takes on relaxed understated luxury with ease. The colours work so well with black or white, navy, olive or red, add them to your wardrobe in 2011 and they will fit seamlessly with outfits in 2012.
On the high street clever use of neutrals takes the ditsy dolly bird floral print into an everyday wearable style.
Left - NEXT Mink Ditsy Print Wide Leg Trousers £38, Mink Cotton Blazer £39, Cream Lace Top £30, Shoes £30, Bag £28.
Conclusion of Neutrals & Texture in Fashion Apparel
You have been reading an original article about neutrals & texture in fashion apparel by Pauline Weston Thomas only for publication on www.fashion-era.com ©
Copyright of images courtesy of Prshots.com, Swarovski, Marks & Spencer, Hobbs, House of Fraser, Penneys, Debenhams, River Island, , Matalan, ASOS, Warehouse, New Look, Jane Norman, Bonprix.co.uk, Lipsy, Benetton, Next, Monsoon, very.co.uk, French Connection, Mint Velvet, Phase Eight, A|wear, Matalan, Fifty Plus, Simply Be.
Date added 31 March 2011 - Ref: P.840.
If you like this page then please share it with your friends
---
--Link--
For more information on ladies and teens fashion trends go to:-
Archived Sections
Custom Search
About Fashion-Era.com
Fashion-Era.com looks at women's costume and fashion history and analyses the mood of an era. Changes in technology, leisure, work, cultural and moral values. Homelife and politics also contribute to lifestyle trends, which in turn influence the clothes we wear. These are the changes that make any era of society special in relation to the study of the costume of a period.

Fashion-Era.com can take no responsibility for any information on the site which may cause you error, loss or costs incurred from use of the information and links either directly or indirectly. This site is owned, designed, written and developed by author: Pauline Thomas and Guy Thomas. This site is designed to be viewed in 1024 X 768 or higher.
ALL RIGHTS RESERVED. Fashion-era.com reserves the right to add or delete information, graphics and links. Copyright © 2001-2014 on all content, text and images in Fashion-era.com. Images and text in this website may not be used on other websites.
Before you write to me for costume/fashion help or information please, please consult the extensive sitemap which lists all our pages. If you still cannot find the answer after searching the site, then before you email me, please consider if you are prepared to make a donation to the website.
Donations
Reader's donations help this site flourish, in particular donations encourage me to write more articles on fashion history as well as current trends. PayPal allows anyone with a credit card to donate easily and securely. You may donate any sum you feel appropriate.