White Lace Dresses for Summer 2011
Lace comes in many styles, for example: Chantilly, Broderie Anglaise, Brussels or Guipure; furthermore each type of lace supports in an infinite range of textures, but whichever lace fashion you choose for the summer of 2011, the most popular colour has to be white. Read more about lace types here on my collecting vintage pages.
Right - Dolce&Gabbana Summer 2011 Summer White Lace Handbag
Broderie Anglaise white and summer whites in crusty lace dominated the Dolce & Gabbana Spring Summer 2011 shows. There were also matching crunchy white guipure lace bags. White lace featured hugely not just in apparel, but also in accessories such as bags, which you can in the pictures below.
Dolce & Gabbana excelled at producing a new take on white lace where the sweetness and innocence meant that such luscious crunchy crusty lace fabrics needed little more than a simple shape to show off the designs to perfection. This makes the simple tunic a great choice for lace placement.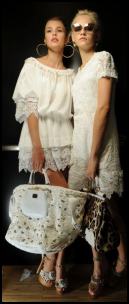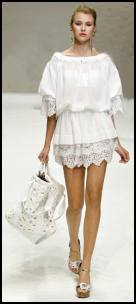 Above - 2011 Summer Whites Women's Apparel From Dolce & Gabbana Catwalk Show.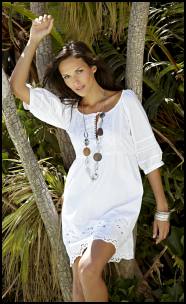 Left - M&Co Boutique Broderie Tunic £40 - M&Co SS11 Womenswear.
Right - French Connection Ladies SS'11 - White Cotton Dress £82, Jenae Stiletto £100 - French Connection Womenswear Stockist Number: 020 7036 7200. You are reading an original article on white lace dresses for the summer of 2011 by Pauline Weston Thomas only for publication on www.fashion-era.com ©.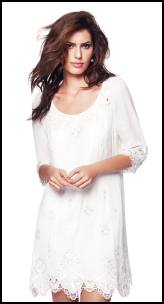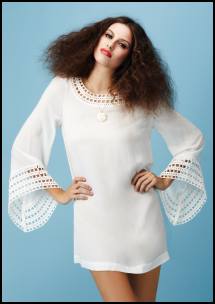 Above Left - Monsoon Ivory Lace Tunic £250 S/S 2011- Monsoon Stockist Number: 08448110068.
This white lace tunic dress garment is perfect relaxed occasion wear for the bride at a beach wedding.
Centre - New Look Crochet Trim White Kaftan Tunic Top £24.99/€32.99, White Rose Necklace £3.99/€4.99.
----mtb2-----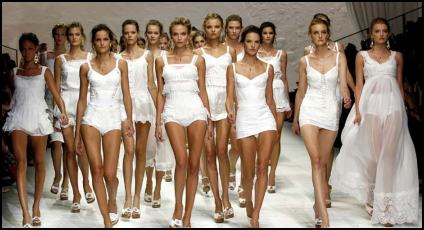 Here are a gaggle of girls each wearing a different design of white lace underwear as outerwear. Above - Summer Whites From Dolce & Gabbana Catwalk Show.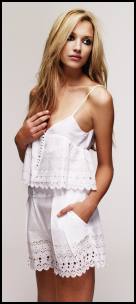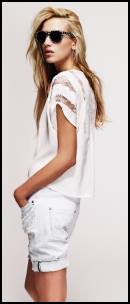 Above left and centre left illustrate the Dolce&Gabbana underwear outerwear approach to some summer white pieces.
Centre Right - New Look Cutwork Camisole £29.99/€39.99, Cutwork Shorts £32.99/€44.99
Left - New Look Lace Blouse Top With Lace Inserts £29.99/€39.99, Patchwork Boyfriend Shorts £25.99/€32.99, Sunglasses £4.99/€6.99, Gold Earring Hoops £0.99/€1.99. New Look Stockist: www.newlook.com.
Maxi-dress fashion has grown in strength in the summer of 2011. These summer white lace dresses are reminiscent of fine cotton dresses the Edwardians wore. The advantage of buying a long lacy summer white maxi dress 100 years on is the more carefree attitude today. No woman today is forced to wear an underslip petticoat when the temperature soars; if she wears one its her choice - same with tights or pantyhose - some loathe them others hate being bare legged. Today we are fortunate to be able to buy open toe bare cooling tights. Check out your local Marks and Spencer for this legwear. Edwardians would certainly have approved of the hats the models are wearing, because they knew that a protective hat helped to keep the complexion unlined and the delicate dermis undamaged by the harsh sun. So get yourself a 1970s floppy hat - help your skin and be on trend.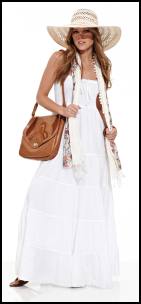 Above Left - White Lace Dress Dolce Gabbana Catwalk Show.
Centre Left - White Lace Dress Dolce Gabbana Catwalk Fashion.
Centre Right - New Look Lace Insert Maxi Dress £44.99/€59.99, Straw Hat £9.99/€12.99, Brown Lace-up Wedges £22.99/€29.99.


Right - Matalan SS11 Womens Papaya White Strappy Tiered Maxi Dress £18, Floppy Straw Sun Hat £8.
FABRICS
Lace was very popular last year especially over contrast linings. Lace continues as a prominent fabric trend for 2011 however, the trend is for the surface to become crustier and crustier. Think delicate, but the texture can range from Chantilly lace through to thick crunchy Guipure and Austrian lace.
Designers currently have a fascination with texture and contrast, smooth and shiny, rough and raised textiles. Hems in particular get lots of focus through embellishment with appliqué and feathers, like this dress from Monsoon. Both Monsoon and River Island have had no difficulty tackling this hot fashion trend for white pieces with crusty raised surface texture.
Above Right - Monsoon Textural White Orchid Dress, £150/€254 - Monsoon Womenswear Clothing SS11 Stockist Number: 08448110068.
Left - A beautiful lace tunic dress from River Island. This lace creation is spot on in capturing the 1970s mood.
...(v4r)
The one easy way to adopt this trend quickly and bring it to many outfits is with accessories.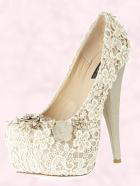 Dolce & Gabbana featured lace in their bags for Summer 2011.
Get a bag or some shoes that utilise lace or lacy texture. Macramé bags offer a heavier chunkier contrast than finer lace, yet shows openwork with a similar texture to lace.
These gorgeous guipure lace shoes are from River Island.
Right - Lace Platform Shoes - Jemima Platform £100 - River Island SS11 WW Accessories - Stockist Number: 0208 991 4904.
§
The Dolce & Gabbana hard frame white handbag below has been softened up a little with the addition of guipure lace motif appliqué. Guipure lace is thick and one of the strongest lace types, which makes it ideal for footwear too. Those White lace platform sling back shoes might be all you need to lift a simple dress and of course they are great for weddings.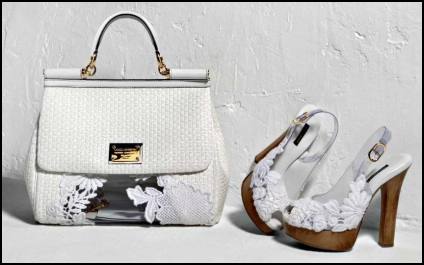 Guipure is a large patterned heavy lace usually of Swiss cotton or French made. Thus guipure is a very textural lace as both the lace shoe and the bag above show.
Dolce and Gabbana may have shown an abundance of Broderie Anglaise and guipure lace in their summer whites, but Phoebe Philo at Céline gorged too on crusty lace and highlighted the importance of contrasting textures. The inclusion of woven texturally interesting hand loomed pieces, knotting, feather and fringe adds further to this texture feast.
This rich lace dress below is an occasion shift ideal for a special occasion, the races, a wedding or a party. Celebrate with lace. Read more about lace types here on my collecting vintage pages.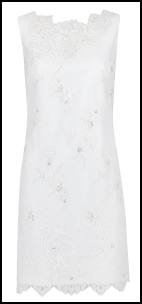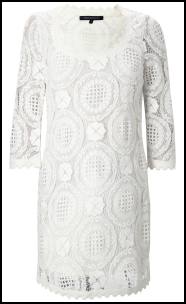 Above Left - White Lace Dress Dolce Gabbana Catwalk Fashion.
Centre - Short Bridal Lace Dress From the High Street. Monsoon SS2011 - Emberton Lace & Sequin Sleeveless Shift Dress £160/€271 Monsoon Stockist Number: 08448110068.
Right - French Connection Ladies Spring/Summer'11 Lark Rise Lace Dress £165 - French Connection Ladies Clothing - Stockist Number: 020 7036 7200.
Early 90s minimalist white uses clean lines and crisp white lines that make a white shirt and white body a must have again in 2011. Hobbs always does minimal white garments really well, each year I buy a few linen pieces there and they never seem to go out of fashion enabling one to wear them on for several years. Take my tip and you will have wear out of basic minimalist linen items for 5 years until 2016.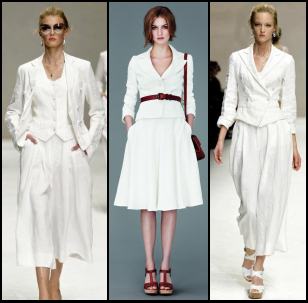 Above Left - Dolce&Gabbana Summer Whites Catwalk Fashion Summer Trends 2011.
Centre - Hobbs Spring Summer 2011 Albus Jacket, £169/€195. Albus Skirt, £99/€115. Greenham Bag, £149/€170, Orleton Belt, £49/€55, Cork T-Bar Wedges, £110/€125. Hobbs Stockist Number: 0845 313 3130.
Right - Dolce&Gabbana Summer Whites Catwalk Fashion Summer 2011.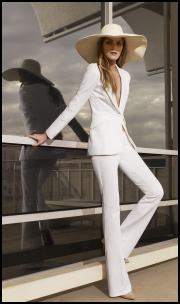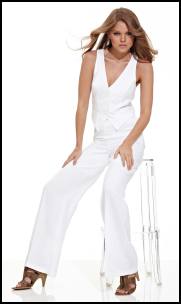 Left - Warehouse Trouser Suit. Jacket £85/€101 Trousers £55/€65 Hat £16/€21. Warehouse Spring Summer 2011 Warehouse Stockist Number: 0845 122 2251.
Centre - Matalan Ladies SS11 - Womens Papaya White Fitted Linen Waistcoat £14, White Wide Leg Linen Trouser £16 - Matalan Stockist Number: 0845 330 3330.
Take your pick from white trouser styles in 2011. Choose from crop leg, 1970s wide leg flares, boot cut or narrow leg paper bag top trousers. Add a white jacket of a different texture if you are unsure of going so far as the full on top to toe matching all one colour white trouser suit.



Above Left - New Look White Net V-neck Vest £16.99/€21.99, White Ribbed Vest £3.99/€4.99, White Hooded Summer Parka £34.99/€44.99, White Capri Jeans £24.99/€32.99, Black Shoes £29.99/€39.99 - Stockist www.newlook.com.
Centre - Marks & Spencer Fluid Form Jacket £89/€120, Trousers £59/€80, Shirt £35/€47.50, Shoes £55/€75.
Right - Warehouse Jumpsuit. Luxe by Warehouse Open Back Wide Leg Jumpsuit £160. Warehouse Luxe by Warehouse Stockist Number: 0845 122 2251.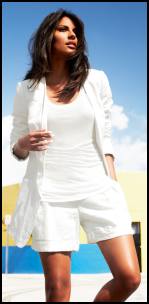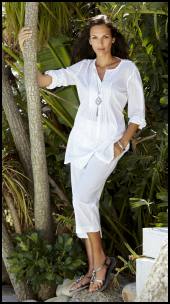 ...(v4r)
Cropped trousers and summery shorts with linen jackets or a blouse are good basics for many events. These casual smart white clothes just need the addition of a well groomed woman. They can all be easily adapted for holiday wear dependant on your own personal style. Smarten them up with red and blue accessories to give them a nautical or Kate & Will 'Royal Wedding' touch.
Above Left - White Linen Jacket £249, Stripe Floral T-Shirt £69, White Cropped Linen Trousers £149, Red Wedges £159, Clutch £259, Trilby £25, Corsage £35 All available in sizes 10-22, Shoes available in sizes 3-8. Elégance Spring/Summer 2011 Stockist Number: 0844 557 5507.
Centre - Summer White Shorts by NEXT.
Right - M&Co Top £28, Cropped Trousers £25, Necklace £12, Bracelet £6, Sandals £15. M&Co SS11 Womenswear. M&Co Stockist Number: 0800 0317 200.
You are reading an original article on white lace dresses for the summer of 2011 by Pauline Weston Thomas only for publication on www.fashion-era.com ©.
A basic white blouse, shirt or dress can take on another dimension when you add a black belt or a bright coloured belt. These white lace dresses come with their own belts, but you can easily change a belt for a wider or narrower one dependant on your figure.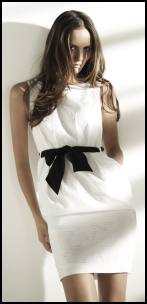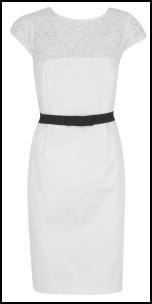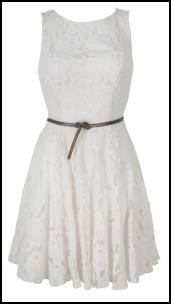 Above Left - Phase Eight Shift Dress £99 - SS11 Stockist www.phase-eight.co.uk .
Centre - White Dress Black Waistband - Marks & Spencer.
Right - Debenhams Red Herring White Lace Prom Dress £45 €68 - Debenhams Women's Fashion Stockist Number: 08445616161.
When a black, white, navy or denim jacket is combined with a simple white summer dress it can double as great business wear when you need to look formal, but want to feel summery.
Summer whites make great easy beach wear and can be as informal or formal as you like. In great sunshine you can get away with white. This white lace dress (centre) has a wavering hem which is always in fashion when the hemline is indecisive and about to fall dramatically or rise suddenly. Great for women who like to hedge their bets and can't cope with an ever imprecise hemline!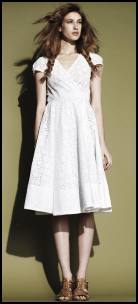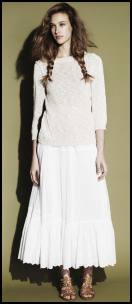 Above Left - Debenhams Lovely White Circle Pattern Broderie Anglaise Lace Dress - Perfect for the woman who wants to feel feminine, cool and pretty.
Centre - New Look Mix Match Broderie Dress £49.99/€64.99, White Sun Hat £7.99/€9.99.
Right - Casual and relaxed - A long white gypsy skirt that would look wonderful with a peasant blouse top too.
Rocha John Rocha at Debenhams - Jumper £40, Skirt £45, Sandals £50 - Stockist Number: 08445616161.
Many prints are graphic, focusing on bold looks and striking positive negative pattern repeats. Black and white fabric prints are timeless.
Calligraphic script patterns and doodle scribbles worked in black and white/ivory/cream have an abstract appearance. So these dresses work really well in the city where flowers sometimes strike the wrong note. This graphic fashion trend always hits the right spot for business wear and if too lively can be toned down with a black jacket or cover up. In certain business environments the white element works well on a summer day, lightening up the wearer without sacrificing professional appearance over much.
The Versace collection used a Greek key motif to highlight bands on op-art red and white bags. Search out intense digital patterns for this on trend fashion. This classic look of black teamed with white in blocks or graphic black and white prints is always a winner. Everyone finds it easy to incorporate this neutral scheme into their existing wardrobe and use it trans-seasonally.
Left - J by Jasper Conran - Graphic Print Dress £60, Dame Bag £75 at Debenhams - Stockist Tel: 08445616161.
Near Centre - Newspaper Print Halter Neck Dress £65 - Graphic Fashion From Jasmine Guinness at Very.co.uk SS11.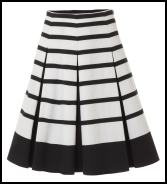 The tuxedo jacket is a classic look that both Chanel and Jaeger have done really well for Spring fashions 2011. Look for lots of tuxedo variations and to update them team them with high waistline wide leg trousers or palazzo pants. Never throw away a black or white tuxedo jacket - sometime, sooner than you think it will sway back into mainstream fashion.
GRAPHIC PRINTS. Calligraphic script patterns and doodle scribbles worked in black and white/ivory/cream are abstract in nature and make a good buy now as the font form motif has been featured by designers for Fall/Winter 2011.
Right - Black and white monochrome below knee skirt that could become a classic winner for your wardrobe. Stripes and black and white colour schemes are never far from the catwalk and return season after season.
Right - Principles By Ben De Lisi - Monochrome Black & White Stripe Cotton Sateen Horizontal Stripe Skirt £40 - Debenhams.
MINIMALISM is relaxed chic which can be as casual or formal as you desire and plain white blouse or plain white shirt is one of the simplest ways to work the minimal trend.
The blouse is back and truly is one of the great new must-have pieces for Spring 2011. With its long sleeves, the blouse is the ideal trans-seasonal piece and perfect on days where the temperature dips. Look for batwing blouses and very full sleeve blouses. Wear your extra long and ruffled blouson sleeved blouse beneath a three quarter sleeved cropped jacket.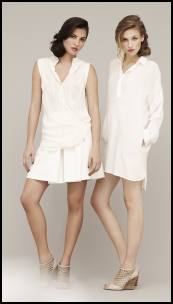 Collars and Cuffs - Big volume ballooning sleeves finished by bold cuffs from Viktor & Rolf brought fashion drama, all the more emphasised by the use of the crustiest of lace - guipure. The finest of permanent fine pleats and a raw look with raw rustic lace is typical decoration for an embellished blouse in 2011. Expect to see floral piping/ appliqué and ribbon trim on the newest blouses.
There were designers such as designer Riccardo Tisci at Givenchy who sent out crisp white shirts. Classic shirts are part of any glamorous woman's timeless capsule wardrobe. Variations include cropped silk shirts. Classic well cut shirts are forever fashion and the British master of shirt dressing is designer Paul Smith.
Above Left - Animal print toned down with a white shirt and blouse at Dolce&Gabbana SS2011.
Near Right - Marks & Spencer Blouse £49.50/€67, Shorts £39.50/€54, Shoes £55/€75.
Far Right - Marks & Spencer Shirt £39.50/€54, Shoes £55/€75.
Blouses and shirts are both hot fashion trend must-haves in 2011.
You may wonder what the difference is between a blouse and a shirt, here are my definitions.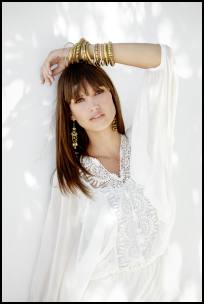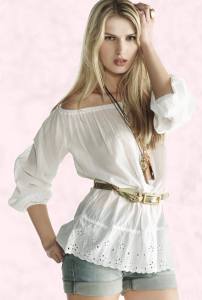 The key features to look for are open front, back opening, looseness and neckline details.
Definition - A Blouse
Blouses can have back or front openings, or be without obvious opening if the width of the neckline is loose enough to slip the garment over the head. The buttons on a blouse can be at the front, back or side of the garment. There may also be an alternative zip, press stud or hook/eye closure or even no closure at all if the neck opening is big enough. Mostly a blouse has some looseness and can be worn outside or tucked into a bottom garment. The looseness flows and so blouses over when tucked into a skirt or pants. A blouse can be semi-fitted too and in this form sometimes may double up as little jackets. One specific style that lends itself to a blouse without any fastening involved, is the easier wider neckline provided by a cowl neckline.
...(v4r)
Right - White Peasant Blouse With Broderie Anglaise Trim Hem.
Above Right - SM&Co S11 Womenswear Boutique Peasant Top £35, Denim Shorts £24, Necklaces Both £10, Clogs £35. All M&Co SS11 Womenswear Stockist Number: 0800 0317 200.
Right - M&Co Chiffon & Lace1970s Batwing Blouse £35 - SS11 Womenswear Stockist Number: 0800 0317 200. The chiffon kimono sleeve blouse and peasant top also nod back towards the 70s look, encompassing two hot trends this season in just one wearable item.
Definition - A Shirt
A shirt does not open in the back. It always opens in the front either with buttons and a button band, or a simple fabric facing. A shirt can also have a short faced front neck opening or side neck button opening with stand (Russian Cossack style). Unless it's tailored to the body contours, a shirt is usually loose-cut for comfort and ease of wearing. It may also become looser and called oversized or be more closely fitted and darted or seamed according to the whims of fashion. Shirts mostly have collars, stand granddad collars, but may also be collarless according to fashion trends.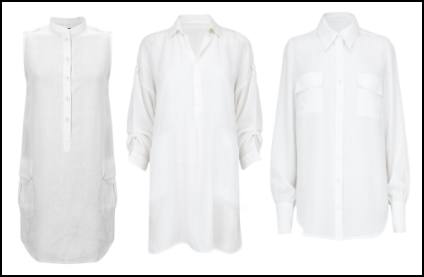 Above Left - Great Plains Spring/Summer'11 Sky Linen Shirt Dress £66 - Great Plains SS11 Stockist - www.greatplains.co.uk .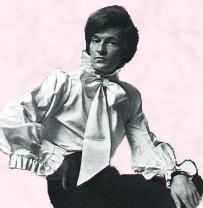 Centre - Limited Collection Oversized Shirt £39.50 Marks & Spencer Clothing
Right - Marks & Spencer Limited Collection Women's White Shirt £35.
A poet shirt has a faced or bound open front neck and can have a more blouse like quality; often it has neckline front ruffle frills, Dandy bows and very voluminous sleeves. It fits the 1970s retro mould of fashion styles very well. Think of D'Arcy from Jane Austen's Pride and Prejudice or Patrick Lichfield in his Dandy outfit shown right.
For classic shirts Paul Smith is the designer to beat
Kimogami is a slight nod to ethnic where East meets west. This look has Asian influences including obi belts, cheongsams and kimono sleeves. But some of the most defining features are origami like folds. This shirt is an excellent example of a Kimogami styling.
Left - SS2011 Yogo Ego Bell Sleeve Womens Fashion Hitch Up Origami Shirt £25 -Stockist www.Yogoego.com.
This page has been about the huge fashion trend for summer white women's fashion.
Summer whites make great forever fashion pieces that will not date and will look just as good in your fashion wardrobe in 2012 and 2013. Summer white lace blouses, tops, dresses and maxi dresses are ideal for those on limited budgets as you can add items to you white collection every year. Fashion trends that really take off generally last 3 or 4 years, so buy into both the quirky and classic or basic white fashion trends now and you will get value from these clothes until the trend peaks in 2014.
Think forever fashion and buy eco friendly cotton and linen that will see you right through the twentens decade.
Read more about lace types her on my collecting vintage pages.
§
Conclusion of White Lace Dresses for Summer 2011
You have been reading an original white lace dresses article by Pauline Weston Thomas only for publication on www.fashion-era.com © Summer 2011.
Copyright of images courtesy of Prshots.com, Dolce&Gabbana, Marks & Spencer, Hobbs, House of Fraser, Great Plains, Warehouse, Penneys, Oasis, Debenhams, River Island, Monsoon, Matalan, New Look, Jane Norman, ASOS, NEXT, Yogoego.co.uk, very.co.uk, French Connection, Phase Eight, Matalan, Tamaris, Elégance.
Date added 31 March 2011 - Ref: P.838.
If you like this page then please share it with your friends
---
--Link--
For more information on ladies and teens fashion trends go to:-
Archived Sections
Custom Search
About Fashion-Era.com
Fashion-Era.com looks at women's costume and fashion history and analyses the mood of an era. Changes in technology, leisure, work, cultural and moral values. Homelife and politics also contribute to lifestyle trends, which in turn influence the clothes we wear. These are the changes that make any era of society special in relation to the study of the costume of a period.

Fashion-Era.com can take no responsibility for any information on the site which may cause you error, loss or costs incurred from use of the information and links either directly or indirectly. This site is owned, designed, written and developed by author: Pauline Thomas and Guy Thomas. This site is designed to be viewed in 1024 X 768 or higher.
ALL RIGHTS RESERVED. Fashion-era.com reserves the right to add or delete information, graphics and links. Copyright © 2001-2014 on all content, text and images in Fashion-era.com. Images and text in this website may not be used on other websites.
Before you write to me for costume/fashion help or information please, please consult the extensive sitemap which lists all our pages. If you still cannot find the answer after searching the site, then before you email me, please consider if you are prepared to make a donation to the website.
Donations
Reader's donations help this site flourish, in particular donations encourage me to write more articles on fashion history as well as current trends. PayPal allows anyone with a credit card to donate easily and securely. You may donate any sum you feel appropriate.