Nouveau 1970s Fashion for Summer 2011
This newest retro fashion trend captures the very best of 1970s in all its full glory.
Floating semi-sheer and transparent fabric dresses recapture 1970s fashions precisely. Check out fluid fantasy flares, flowing maxi dresses and frilled fiesta frocks. Look out for skinny rib striped chevron knits and floral print cardigans.
Romantic ruffles of the 1970s flow into faded hippy chic. Fringed bags, bleached denim cropped jeans, halter dresses worn with platform shoes and big straw floppy hats hark back to seventies flower children moments in fashion.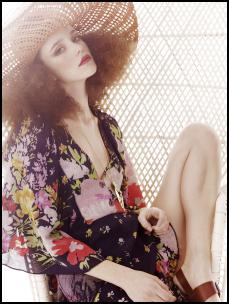 It is truly amazing how the much maligned 1970s appear to be referenced as often as they are by designers. But even back in the 1970s designers were merely aping styles of the 1930s and 40s. This newest retro fashion trend captures some of the very best of 1970s in all its full glory.
1970s retro uses Luxe fabrics to recreate the drape of full wide trousers and silk chiffon which emulates the long dreamy dresses of this fashion era. In the real 70s decade the fabrics were probably made of Laura Ashley sprigged cottons or crinkle crepe viscose.
Above Right - Hobbs NW3 Paisley Print Cardigan, £99/€115. NW3 Nightingale Necklace, £55/€65. NW3 Lily Maxi Dress, £159/€180. NW3 Hankins Scalloped Wooden Sandals, £110/€125. All Hobbs Spring Summer 2011 - Hobbs Stockist Number: 0845 313 3130 www.hobbs.co.uk.
Above Left - River Island Chelsea Girl Dress and Hat - Delightful 70s retro fashion. River Island Chelsea Girl Stockist Number: 0208 991 4904 or www.riverisland.com .
The Spring Summer 2011 designer fashion catwalks were awash with floral based fabrics and accessories. These pieces are all vintage retro 70s inspired.

Above - D&G Floral Fashions Trends Summer Campaign 2011.
‡‡
Fashion in the seventies used lots of floral patterns, from ditsy pinhead prints to massive exotic hothouse blooms.
For Spring/Summer 2011 washed silks, silk charmeuse, viscose, organza, flowing silk chiffons and parachute silk fabrics are all used to make light-as-air dreamy hazy summer day dresses.
Lightness and transparency, especially in voiles and chiffons emphasise the mood of 1970s flowing dresses. Otherworldly light-as-air draping blouses and undulating hemline kimono tops of various lengths make their mark on Summer Trends 2011. Look for the ultra light fabrics of translucent tulle flowing silk and chiffon, tactile, knobbly cloque and shiny satin all of which are mesmerizing in surface quality.
Sizzling fashion trends include contrasting dress looks where edgy sharp funky dresses contrast against billowing chiffon and lace peek-a-boo. The result is feminine fairytale fantasy frocks of an age long gone.
Tiny lace pleating around cuffs on blouse and dresses adds a prim puritanical 'touch me - touch me not' aura.
You are reading an original article on 70's women's retro by Pauline Weston Thomas only for publication on www.fashion-era.com ©
Left - Watercolour Floral Tiered Chiffon Maxi Dress £150 - Supertrash at House of Fraser.
Right - Monsoon - Woodland - Brighton Rose Ra-Ra Skirt Floral Dress £60 - Monsoon Womenswear S/S 2011 Stockist Number: 08448110068.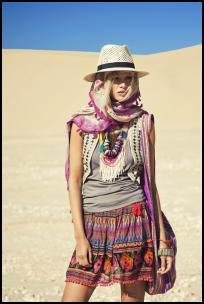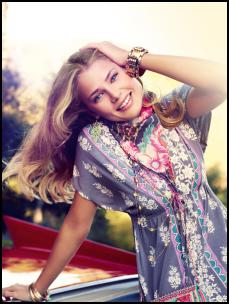 In contrast to florals there are eastern inspired prints with elements of tribal motifs, but the 2011 twist in adding bright rich colours that evoke hot bazaars and colourful nomad textiles and tents. Hats, Fringe, tassels and colourful scarves or border prints are all an easy way to add that seventies touch.
Here are some press shots that would easily add that 70s fashion look. The beaded beach sandal has fun summer tassels and coins all reminiscent of 1970s hippy styles of footwear brought back from holiday travels.
Left - Penneys Summer 2011 Womenswear Panama Hat €6, Floral Tassel Scarf €5, Coin Waistcoat €13, Ibiza Skirt €13.
Right - Accessorize Spring Summer 2011 Campaign - Stockist Number: 08448110068.
Above - Accessorize S/S 2011 - Bazaar Anklet Sandal £35/€59. Accessorize Stockist Number: 08448110068.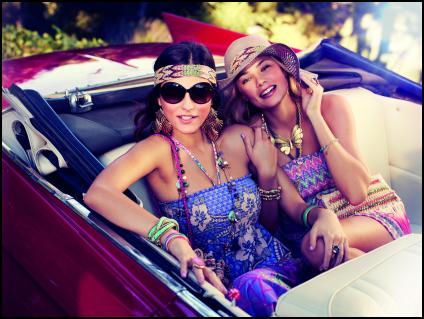 Above - Accessorize Spring Summer 2011 Campaign - Stockist Number: 08448110068.
Left Girl Jaipur Elastic Bracelets Set of 5 884779 £9, Cord Cuff 884768 £8, Painted Embossed Ethnic Bangle 884737 £6, Embossed Gold Bangle 884657 £5, Zig Zag Crochet Bando 886793 £7, Large Fine Frame Tort Sunglasses 897004 £15, Giant 80's Shell Chandelier Earrings 881831 £12, India Cord and Bead Rope Necklace 882633 £10, Marrakech Long Bead Necklace 882766 £12, African Flower Maxi Dress 897101 £45. Stockist Number: 08448110068.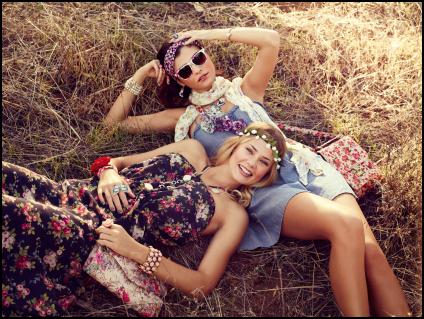 Above - Accessorize Spring Summer 2011 Campaign - Stockist Number: 08448110068.
...(v4r)
Flower Crown Bando 886771 £6, Capri Rope Necklace 882782 £12, Vintage Chintz Rose Maxi Dress 897214 £50, Carved Rose Stretch Bracelet 884710 £12, Amalfi Printed Clutch 889763 £25, Carved Rose Vine Flower Ring 885238 £8, Perspex Graphic Butterfly Ring 885235 £8, Mexican Rose Plait Bando 886684 £8.
Original article by Pauline Weston Thomas on 70's women's fashion revisited.
§
Indulging your inner gypsy should be easy with the volume ruffles seen on blouses, dresses and peasant top bodices. Combine these with freely flowing flared skirts and tiered ruffle frill skirts.
70s Peasant Dresses
This floral green and pink printed gypsy tunic captures the 70s vibe in all its glory. Wear it as a dress or a long top.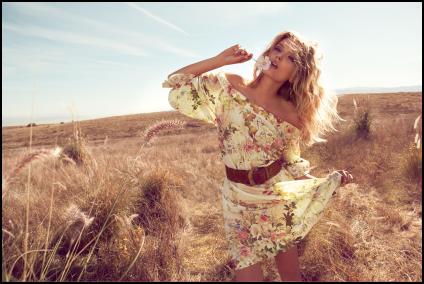 Above - Monsoon Botanical Gypsy Dress £85/€144 SS2011 Monsoon Stockist Number: 08448110068.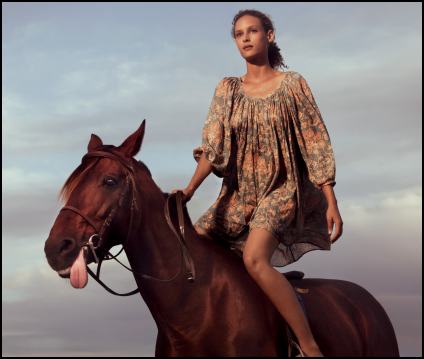 TOP TREND TIP - FULLER SLEEVE SILHOUETTE - Note billowing fullness especially in sleeves.
Above - French Connection Ladies SS'11 Floral Scoop Neck Dress £67 - Summer Womenswear French Connection Stockist Number: 020 7036 7200.
Pretty 70s smock tops with full bloused sleeves are one move away from peasant tops.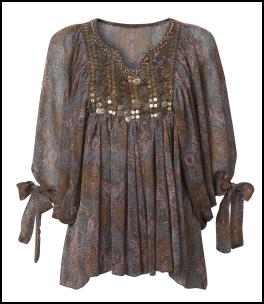 This blouse smock is by A|wear.
Possibly every woman has a loose easy peasant top blouse they throw in their bags for a summer holiday. Such tops are heaven sent, relaxed and forgiving when the sun gets too hot. Now you can work this blouse top into your gypsy look and be spot on the trend.
Similar tops are available on the high street as you can see from the image right and below. This top is also one of the easiest of all to sew yourself as fitting is controlled by elastication or drawstring ribbon.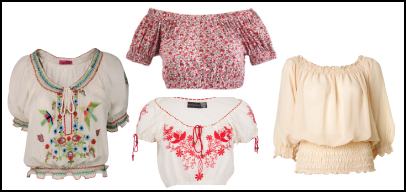 Above Far Left - Monsoon Woodstock - Sapphire Bird & Floral Embroidered Ruched Blouse £38 - SS2011.
Centre Top - SS11 Matalan Womens Papaya Floral Gypsy Top £10 - Matalan Stockist Tel: 0845 330 3330.


Centre Bottom - Soul Cal Deluxe Gypsy Crop Top
Far Right - Internacionale Plain Chiffon Gypsy Top £18.99 - Internacionale Stockist Number: 0141 552 2020.
To this Inner Gypsy look add flamenco full skirts that froth and flounce with buoyant ruffled volume skirts or go for linen gauchos. Ruffle trimmed skirts add a 70s touch whilst letting you long buried hankering for a return of Boho come to the fore.
Prairie Spirit Pioneer Girl is one move from Inner Gypsy and likes denim and indigo dyed goods with Navaho touches especially in accessories.
Think of these looks as Gypsy Chic with vintage peasant prairie prettiness. Its the opposite of understated elegance, but it has lots of now wow factor.
The carefree Boho element of peasant style gypsy tops lends itself to relaxed holiday dressing and goes well with 70s flared jeans.
Right - Monsoon SS201 - Marvel Bird Embroidered Peasant Top £38/€64 and Lola 70s Style Rich Dyed Denim High Waisted Flares £50/€85 - SS 2011.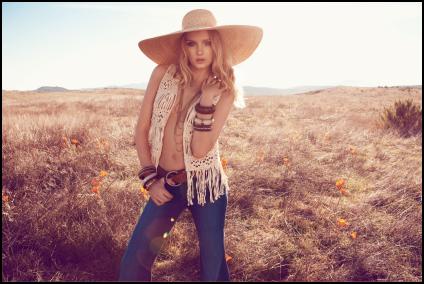 Above - Monsoon Jeans & Crochet Waistcoat.
White hit the catwalks in a big way for Spring Summer 2011. Dolce& Gabbana showed a wonderful white collection and the high street retailers have gone to town copying every idea offered.
Tiered and lingerie looks, plus lace insertions seal this style and emulate the summer whites of Edwardian days. White maxi dresses reign.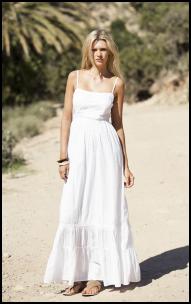 Above - White Voile Catwalk Fashion Dolce&Gabbana.
Centre - £17 High Street Bargain White Maxi From Penneys (Ireland).
Right - Santa Ines Ivory Organic Cotton Maxi Dress £150/€254 (Due May) - Monsoon S/S 2011 - Monsoon Stockist Number: 08448110068.
4---------M4--------4
Tiers & Frills
This beady snowy white maxi skirt is a summer stunner with all its tiers and frills. imagine wearing it on a glorious summer evening or strolling down the beach promenade.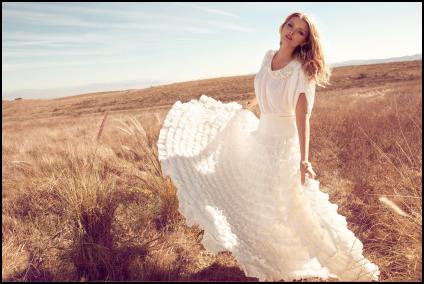 Above - San Antonio White Beaded Top £150/€254 With San Lorenzo Frill Maxi Skirt £180/€305. Both SS2011
Monsoon SS11 - Stockist Number: 08448110068.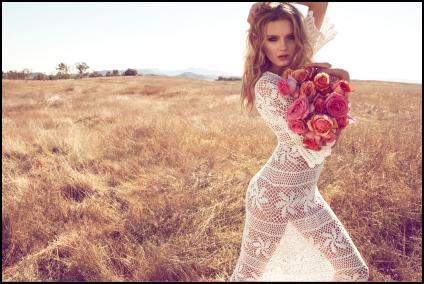 Lace in every form stormed the catwalks for summer 2011. Crochet and macramι are trends to watch and buy into now.
Above White Crochet Maxi Dress - The ideal place to wear this dress might be the beach as a light cover up. Monsoon SS11 - Stockist Number: 08448110068.
Vivid Colours
Colour Blocking and vivid Ombre dye techniques and prints create bright cheerful maxis and kaftans that are pretty and feminine.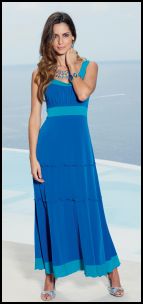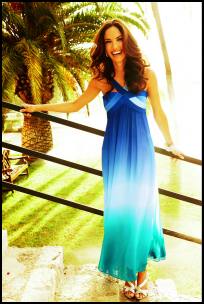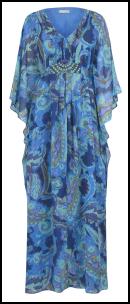 Above Left - Cobalt Blue Turquoise Colour Block Dress - From £50 Fifty Plus Spring Summer 2011 Womenswear Stockist Number: 0871 231 2000. A bright block blue colour flattering holiday cruise wear dress that comes in plus sizes.
Centre - Blue to Green Maxi Dress £95 Kaleidoscope SS11 - Womenswear Stockist.
Right - Aquatic Print Kaftan Dress £65 - Marks & Spencer Clothing SS11.
Above Left - A flowy pinks colour block sleeveless maxi dress. Jasveer Colour Block Dress £85/€144 - Monsoon SS11 Stockist Number: 08448110068.
Centre - River Island Shaded Pink /Purple Maxi Beaded Band - Stockist Number: 0208 991 4904.
Right - M&S Limited Collection Orange /Pink Tiered 70s Maxi Dress From £20 -Marks & Spencer.
Trousers have had 'another' makeover. Pants have new wider leg trouser shapes. Even jeans are flaring widely.
Check out those by Raoul at matchesfashion.com. If you want something bright and exotic in the pants line, take a look at the gorgeous wide leg sea green pants at Jaeger. Raoul has designs for the modern discerning woman who needs easy wearable pieces. As well as wide pants silk dresses are another Raoul talking point and cost around £200.
LOOSER PANTS SILHOUETTE - Trousers have widened substantially and the wide 1970s flared palazzo pant is the new pant of 2011. The louche silhouette of trousers and layering tops gives a messy silhouette that is flowing and relaxed. Despite this wider pant leg development, narrow Capri pants and paper bag waistline top trousers are in great demand for summer wear.
...(v4r)
Right - Penneys (Ireland) Spring 2011 Womenswear - Print Vest €4, 70's Styled High Waisted Flares €17.
Above Left - ASOS Zip Pleat Flare £36,$58, €43 - Stockist: www.asos.com.
You are reading an original article on 70's women's retro by Pauline Weston Thomas only for publication on www.fashion-era.com ©
Other trouser looks that are well suited to summer days are cropped pants and silky harem pants. Slim legged trousers that land just above the shoe are much loved by fashionistas.
For more formal wear the return of the pants suit adds a refreshing, alternative dose of masculinity when closet racks are packed with feminine dresses. The skirt is still less in favour, so pants add the piece that teams well with blouses and jackets.
Palazzo pants are ideal vacation pants, keeping you cool in hot dusty places. Denim too is revived and bright blue denim returns as flared jeans and longer skirts all 70s style.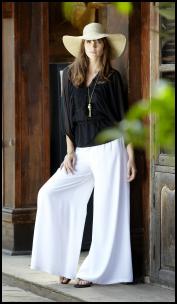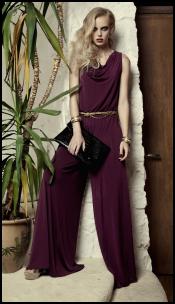 Left - Kimono Sleeve Lace Detail Top £35, Monochrome Palazzo Trousers £40, Necklace £10 - M&Co SS11 Womenswear Stockist Number: 0800 0317 200.
Right - Club Tropicana 5: Slinky Cowl Neck Jumpsuit £40/€45, Croc Print Envelope Clutch £16/€20. A|wear Club Tropicana - Stockist Number: 00 353 1 4724900.
Jumpsuits
The all-in-one has been making a slow comeback. More styles including cat suits, playsuits and dungarees show that the jumpsuit is a real fashion trend stylish women are buying.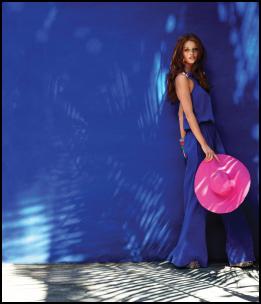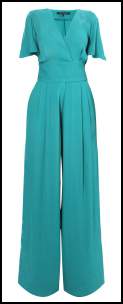 Left - Blue Jumpsuit from NEXT SS2011.
Right - Matalan SS11 Womenswear - Be Beau Vintage Corsage Wide Leg Jumpsuit £25, Engraved Earrings £6, School Satchel £10, - Stockist Number: 0845 330 3330.
Observe the silhouette hemline changeover of 1970s longer dropped hemlines and wider pants. Over the knee hemlines pay homage to the recession. Look out for 1970s lines with longer tunic tops. Note the attention directed to feminine blouson tops and wistful ethereal dreamy looks. In particular note the rise and rise of the floaty maxi dress like this one from Matalan.
Micro minis bye bye, evening luxe and daytime elegance say hello to a decade of style starting right now in 2011.
In UK in 2011, the most commercial fashion trend is likely to be that of new retro 1970s. This look as seen in the flowing purple wide pants at Marc Jacobs and is a natural follow on from the numerous Boho style elements so beloved by British women.
70s Points To Note
TOP TREND - 1970S GLAM GEAR - Think high stacked platforms flowers and flares. Check - MISSONI STYLE ZIG ZAG KNIT PATTERNS. But this retro 1970s version is far more bewitching than the fashions of the real 1970s. Costlier fabrics and cunning cutting revives this fashion era into a slinky fluid look that is almost futuristic.
Glam Rock Chicks NEVER DIE!
FOOTWEAR - WEDGES & Sandals - There are cubist effects in squared off 1970's block heels. Colour mixing of textures and materials with shoe designs highlights colour blocking even more. Exotic elements to 70s dressing means beaded jewelled sandals team well with maxis.
ASOS REVIVE
For a fast high street 70s fix through your fingertips try ASOS REVIVE and the new collection of the same name.
ASOS REVIVE is by Marc Jacobs and captures style silhouettes of the seventies. ASOS REVIVE has kaftans, palazzo pants, maxi dresses, big bell sleeves and dreamy fluttering evening pieces fit for Miss Vintage lover. Add a big brimmed floppy Biba hat and tie a floral scarf around the headband for a touch of real retro.
§
Conclusion of 70's Women's Fashion Revisited
This 2011 retro fashion trend captures the very best of 1970s in all its full glory. You have been reading an original article by Pauline Weston Thomas only for publication on www.fashion-era.com ©
Copyright of images courtesy of Prshots.com,Marks & Spencer, Hobbs, House of Fraser, Penneys, George at Asda, Oasis, River Island, Accessorize Monsoon, Matalan, Principles, Hobbs, Benetton, ASOS, Warehouse, New Look, Jane Norman, Dolce & Gabbana, Next, Monsoon, Fever, French Connection, A|wear, Fifty Plus, Kaleidoscope.
Date added 31 March 2011 - Ref: P.842.
If you like this page then please share it with your friends
---
--Link--
For more information on ladies and teens fashion trends go to:-
Archived Sections
Custom Search
About Fashion-Era.com
Fashion-Era.com looks at women's costume and fashion history and analyses the mood of an era. Changes in technology, leisure, work, cultural and moral values. Homelife and politics also contribute to lifestyle trends, which in turn influence the clothes we wear. These are the changes that make any era of society special in relation to the study of the costume of a period.

Fashion-Era.com can take no responsibility for any information on the site which may cause you error, loss or costs incurred from use of the information and links either directly or indirectly. This site is owned, designed, written and developed by author: Pauline Thomas and Guy Thomas. This site is designed to be viewed in 1024 X 768 or higher.
ALL RIGHTS RESERVED. Fashion-era.com reserves the right to add or delete information, graphics and links. Copyright © 2001-2014 on all content, text and images in Fashion-era.com. Images and text in this website may not be used on other websites.
Before you write to me for costume/fashion help or information please, please consult the extensive sitemap which lists all our pages. If you still cannot find the answer after searching the site, then before you email me, please consider if you are prepared to make a donation to the website.
Donations
Reader's donations help this site flourish, in particular donations encourage me to write more articles on fashion history as well as current trends. PayPal allows anyone with a credit card to donate easily and securely. You may donate any sum you feel appropriate.