Trends in Animal Print Accessories for Winter 2011/12
This article focuses on new styles in animal print accessories for Autumn Winter 2011/12. There is an animal print accessory for every woman whether the style be bold or subtle, large or small.
Animal Print Fur Baker Boy Sixties Hat

Left - River Island AW11 Leopard Animal Print Fur Baker Boy Sixties Hat.
Right - River Island AW11 White & Black Spot Animal Print Fur Hat.
River Island Stockist 0208 991 4904.
Animal Print Scarves for AW11/12
Leopard print is now a classic pattern for designers to incorporate in their catwalk shows. Read more about the animal print types markings here.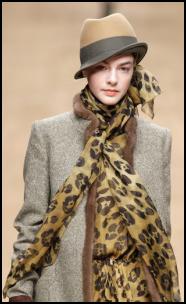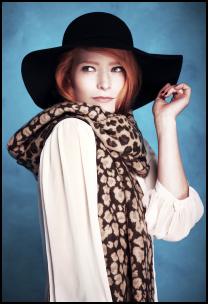 Left - Left - Blugirl Animal Print Scarf AW11/12.
Right - F&F Autumn/Winter 2011 - Animal Scarf £8 tesco.com/clothing.
Leopard, zebra, snakeskin and prints of other wild beasts translate well in all materials from fur, velvet, spandex to silk chiffon and lingerie fabrics. Animal print is timeless, and acts as a bridging or updating print when used in novel ways. An unexpected hat band, garment facing, wrist cuff belt or bag adds saucy fillip to an otherwise subtle outfit. Just a hint of animal print piping can bring an outfit bang up to date.
Women's floppy hats add the true 70s remix element, so don't be shy about buying a floppy hat in animal or plain material.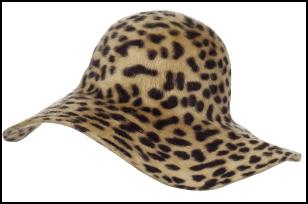 John Lewis Floppy Leopard Print Hat - £125.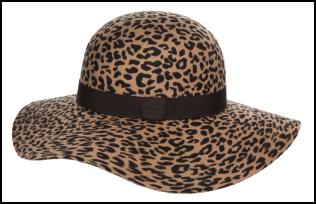 Biba At House of Fraser - Camel Animal Print Floppy Hat £55/€88.
Biba Stockist Number: 020 7003 4000.
‡‡
Animal Print Scarves
This lovely scarf below is from Accessorize Monsoon.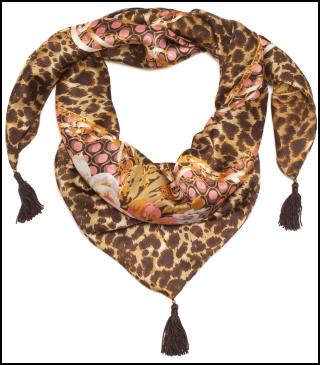 Accessorize AW11/12 - Margot Animal Print Scarf - £16/€27.
Coats and jackets are the first choice for an animal print, as well as dresses, followed by bags, shoes, hats scarves and knitwear. This year we have seen a lot of coloured fabric prints bearing animal patterns especially zebra and snakeskin in dresses and jackets all giving a fresh fashion twist.
Leaders in bag trends include Gucci. Snake skin was strongly featured in AW11 shows. This beautiful bag is their mustard coloured python 'Stirrup' bag and priced at £3230.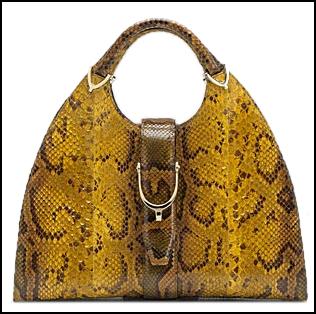 This lovely bag from Hobbs, has a very striking black and white pattern which could be paying homage to a zebra or tiger print or simply fashionable stripes of the season.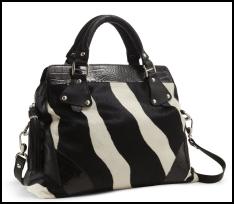 Hobbs London Aubree Bag, £249/€285 - Hobbs Footwear & Accessories.
Stockist Number: 0845 313 3130 - hobbs.co.uk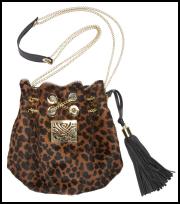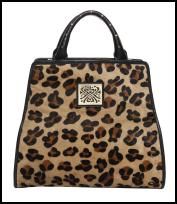 Left - Leopard Print Drawstring Tassel Bag £295/€336 Biba at House of Fraser.
Right - Leopard Print Medium Grab Bag £245/€280 Biba at House of Fraser.
HOF Stockist Number: 020 7003 4000.
Fur Tippet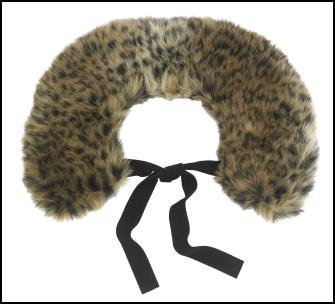 River Island AW11 Leopard Print Fur Tippet.
‡‡
Women's Animal Print Gloves
As ever animal prints are used in almost every one of the different trends on offer. If you don't wish to invest too heavily in animal prints then consider buying a small accessory such as a pair of gloves in animal print or focus on some animal print shoes.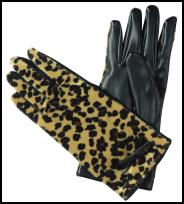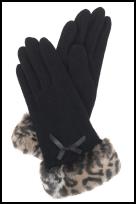 Left - These low cost £7 gloves from Bonmarché would brighten up any drab outfit.
Right - Marks & Spencer Leopard Cuff Glove £12.
Footwear changes mean that low kitten heels, flat block heels and brogues are showing up in shops and in our closets. These are some of my favourite animal print shoes this season and which are not outrageously high. All of them are on my must-have list.
HOBBS 30th Anniversary Kingston Kitten Shoe, £159/€180.
Hobbs 30th Anniversary Archive Footwear Collection - Stockist hobbs.co.uk.

River Island - Leopard Print Flat Shoes. River Island AW11/12.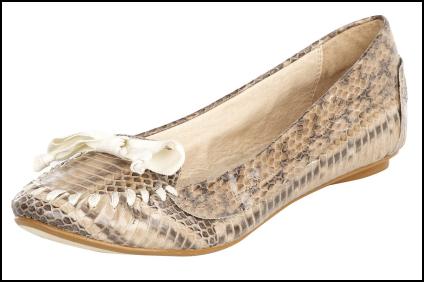 Simple Snake Print Loafer Flat Shoe - Dune AW11 - Lorri - £65/€76.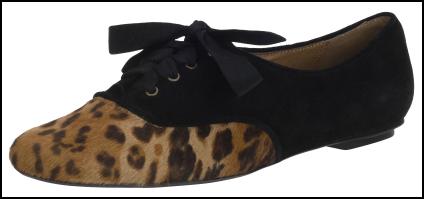 Flat Lace Leopard Shoes - Brogues From Bertie - Maki - £75/€87.
Bertie Women's Footwear Stockist Number: 0207 258 3605.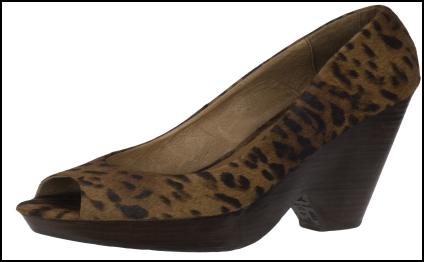 Bertie - Pray Wedge Heel Shoes- £85/€100.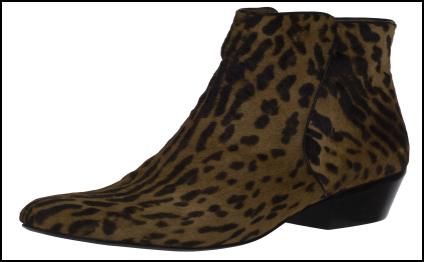 Bertie - Animal Print Ankle Chelsea Boot - Kai - £125/€147.
This fashion trends article focuses on the Autumn Winter 2011/12 main styles and trends in women's animal print accessories. There is an animal print for every woman bold or subtle.
These animal pattern cardigans could be used to lift any plain black pants or worn over a simple plain dress.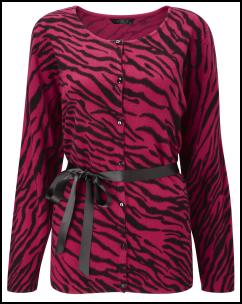 Animal Print Cardigans - All £18 Each - From Bonmarché AW11/12.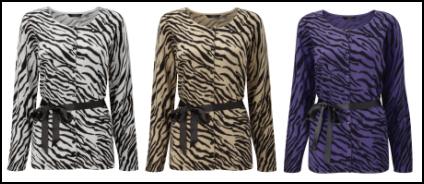 More Key Fashion Trends for Autumn 2011
Animal Print Women's Footwear
The key elements of fashion trends for autumn 2011, winter 2012 depend on longer lengths and bold rich vibrant colours in contrast textures and luxury fabrics. The silhouette pays homage to forties, sixties and seventies decades of style fashions.
-------v6-------
Animal Print Wellington Boots
These women's welly boots or wellies from Dune below right are aptly named MUDDLE! They are much more attractive than those old black rubberised versions one size fits all of years ago. The wellington boot is now truly a fashion item ideal for festivals and just puddles. Buy your wellies a size larger then in winter you can wear extra thick socks enabling you to save better footwears and still look on trend. Wear your wellingtons in slushy winter weather and at muddy open air rock festivals.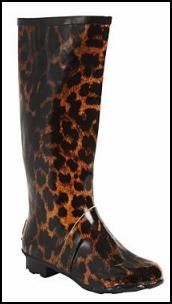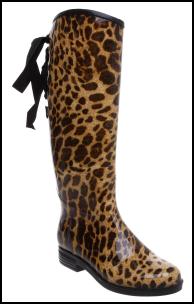 Left - Faith Leopard Print Wellies - £25 - Debenhams.
Right - Dune - Military Muddle Welly Boots - £75/€87 - Dune AW11.
Wellingtons were first worn by the Duke of Wellington in 1817 after he became disenchanted with his own boots that did not fit well with new style trousers. Wellingtons were then a much more basic piece of utilitarian footwear throughout the 19th century. Wellingtons are sometimes called Hunter Boots, Gum Boots or Rubber Boots.
Animal Print & Fur Wedge Women's Boots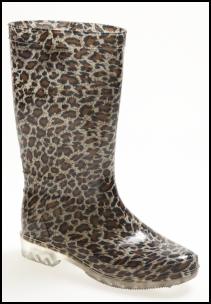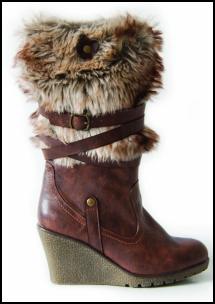 Left - Light Animal Print Wellingtons - Internacionale £16.99.
Right - Wedge Boots With Animal Fur Cuff - Dunnes Stores £26.
Animal Print 70s Block Heel Shoes
The 70s remix shoes with sturdy and steady block heel could take you shopping all day.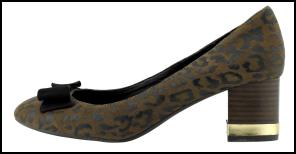 River Island Womenswear AW11 Accessories Hero Shoes.
Stockist Number: 0208 991 4904.
Animal Print Wedge Shoes for AW11/12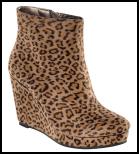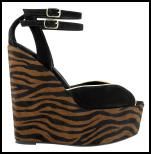 Left - La Redoute Printed/Plain Wedge Heel Leopard Print Boots £35.
Stockist Number: 0844 842 2222.
Right - AW11 River Island Accessories - Stockist Number: 0208 991 4904.
Animal Print Shoe Boots - Shboots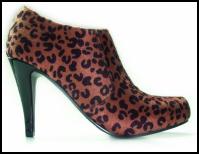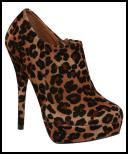 Left - Dunnes Stores Animal Ankle Boot €30/£27.
Right - Pilot AW11 Leopard Print Stiletto Ankle Boot £25.99.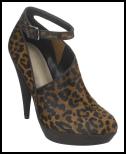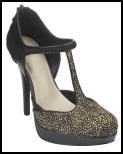 Right - Animal Print Shoes - £65 Marks & Spencer.
Left - Animal Print T-bar Shoe £59 (Both Nov).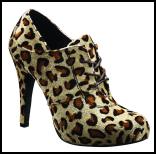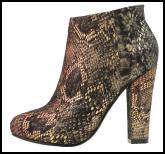 Left - AW11 Leopard Print Shoe Boot - Bonprix.co.uk.
Right - Snake Print Shoe Boot £29.99/€37.99 - AW11 New Look Footwear.
Stockist Number: newlook.com .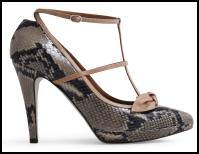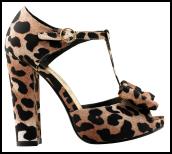 Left - Hobbs 30th Anniversary Kings Bow Court Shoe, Natural, £179/€205.
Stockist Number: 0845 313 3130 - hobbs.co.uk.
Right - New Look AW11 - Leopard Block Peep-toe Shoes £29.99/€39.99.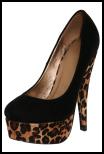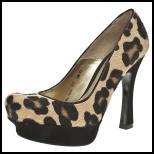 Left - Pilot AW11 - Black and Leopard Skin Stiletto Heel Shoe £25.99.
Right - Black & Leopard Skin Stiletto Heel Shoe £25.99 - Pilot AW11.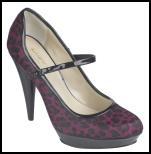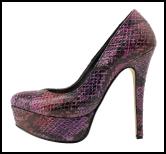 Left - Mary Jane Animal Print Shoe. Purple Platform Shoes Marks & Spencer £59.
Right - Snake Print Purple Shoes £29.99/€39.99 - New Look AW11.
Animal Print Court Shoe High Heels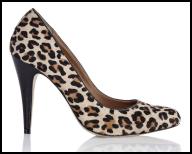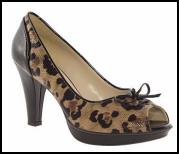 Above - Fearne Cotton 'Rago' Leopard Print Court Shoes - Oasis AW11.
Right - Comfortable Animal Print Court Shoes By Naturalizer at Debenhams AW11 - £65.
Snakeskin Bangle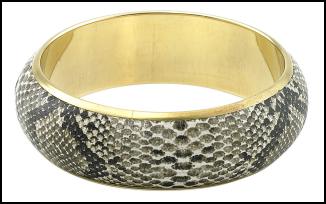 River Island AW11 - Snakeskin Effect Bangle.
Animal Print Belt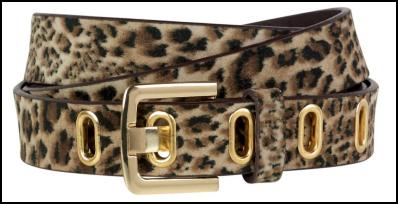 Finally the cheapest animal trend product I could locate was this belt at F&F in Tesco - just £4.
Key Fashion Accessory Trends Autumn 2011
Now that you are aware of the trend for animal prints, observe how it permeates women's fashion accessories. From leopard skin scarves to snakeskin shoes, there is something to suit everyone. You have been reading an original fashion accessory article by Pauline Weston Thomas only for publication on www.fashion-era.com ©
Copyright of images courtesy of IFTF, Swarovski, Bertie, very.co.uk Marks & Spencer, Debenhams, River Island, ASOS, Marisota, Oasis, New Look, Accessorize Monsoon, Bonmarché, Dune, La Redoute, Mint Velvet, Internacionale, Miss Selfridge, Sainsbury Tu, PRShots.com, Hobbs, F&F at Tesco, Pilot, Fifty Plus, Yours Clothing, Penney's. Header Image - Tesco Clothing.
Date Added 21 Sept 2011 - Ref: P.859.
If you like this page then please share it with your friends
---
--Link--
For more information on ladies and teens fashion trends go to:-
Archived Sections
Custom Search
About Fashion-Era.com
Fashion-Era.com looks at women's costume and fashion history and analyses the mood of an era. Changes in technology, leisure, work, cultural and moral values. Homelife and politics also contribute to lifestyle trends, which in turn influence the clothes we wear. These are the changes that make any era of society special in relation to the study of the costume of a period.

Fashion-Era.com can take no responsibility for any information on the site which may cause you error, loss or costs incurred from use of the information and links either directly or indirectly. This site is owned, designed, written and developed by author: Pauline Thomas and Guy Thomas. This site is designed to be viewed in 1024 X 768 or higher.
ALL RIGHTS RESERVED. Fashion-era.com reserves the right to add or delete information, graphics and links. Copyright © 2001-2014 on all content, text and images in Fashion-era.com. Images and text in this website may not be used on other websites.
Before you write to me for costume/fashion help or information please, please consult the extensive sitemap which lists all our pages. If you still cannot find the answer after searching the site, then before you email me, please consider if you are prepared to make a donation to the website.
Donations
Reader's donations help this site flourish, in particular donations encourage me to write more articles on fashion history as well as current trends. PayPal allows anyone with a credit card to donate easily and securely. You may donate any sum you feel appropriate.