Trends in Animal Print Coat Fashions for AW11/12 (Autumn 2011 Winter 2012)
This review focuses on the new styles of animal print coats for women. For 2011/12 we are seeing a lot of coloured fabric prints bearing animal patterns especially zebra and snakeskin in jackets and dresses, all giving a fresh fashion twist.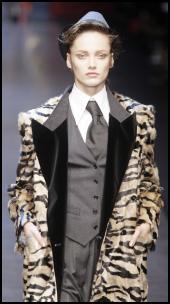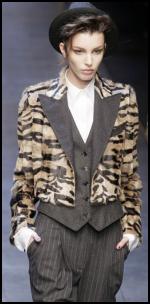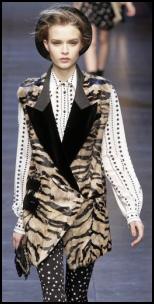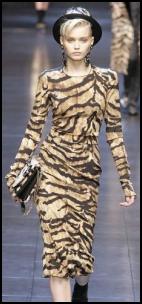 Catwalk Animal Print Fashions
Animal Prints From Dolce & Gabbana - Autumn 2011 - Winter 2012.
Dolce&Gabbana remained faithful to their love of animal print. For Autumn Winter 2011/12 pieces featured abstracted tiger/zebra markings.
This article focuses on the Autumn Winter 2011/12 main styles and trends in women's fur animal print garments. There is an animal print for every woman, whether the design is bold or subtle.
Leopard print is now a classic pattern for designers to incorporate in their catwalk shows.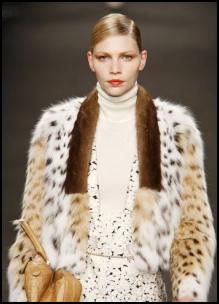 Fur Jacket by Brioni AW11.
Leopard, zebra, snakeskin and prints of other wild beasts translate well in all materials from fur, velvet, spandex to silk chiffon and lingerie fabrics. Animal print is timeless, and acts as a bridging or updating print when used in novel ways. An unexpected hat band, garment facing, wrist cuff belt or bag adds saucy fillip to an otherwise subtle outfit. Just a hint of animal print piping can bring an outfit bang up to date.
‡
When selecting an animal print fur coat check that the proportions are correct for your own body silhouette. Careful selection and trying on of many styles and fabric weights will ensure you buy your ideal animal print coat. Decide which animal print is for you. You may be surprised at how many animal skin types there are and the huge range of animal markings.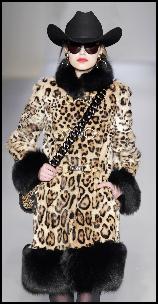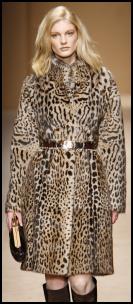 Left - Moschino Leopard Stencilled Rabbit Coat With Dyed Black Fox Trim.
Right - Ferragamo AW11 Stencilled Mink Coat.
Since a coat is such a statement making top cover overall look, select more subtle pieces to wear beneath the animal print piece.
High Street Leopard Print Jackets
Leopard print three quarter jackets are ideal winter coats for use casually with trousers or as a luxury touch for evening. Last year I bought faux fur Biba Leopard coat. It proved to be a very successful buy for the arctic snowy winter we had and best of all is such a classic item that it will be just as fashionable this year and in winter 2012 as it was in 2010.
Biba today can be found at House of Fraser online or instore.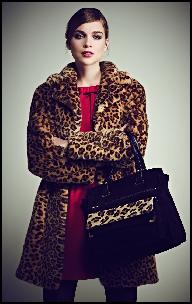 Left - Oasis AW11 - Fake Fur Leopard Print Coat.
Right - Leopard Print Coat at very.co.uk.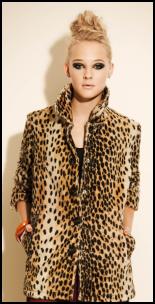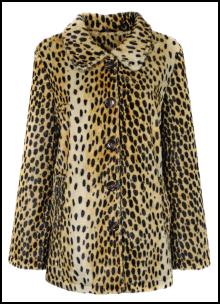 Left & Right - Miss Selfridge Faux Fur Leopard Print Coat £89.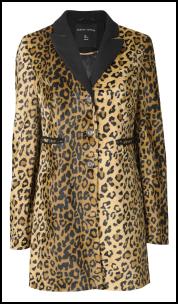 Contrast black faced revers add a wicked look.
Left - Leopard Faux Fur Coat £69.
Right - Dorothy Perkins Brown Animal Leopard Coat, Contrast Collar £79.
Catwalk Coats Fashion AW11/12
Jackets & Capes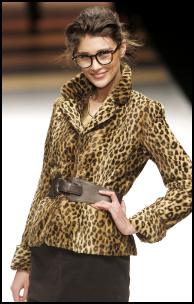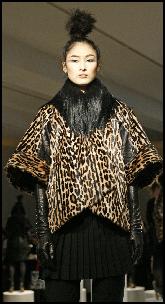 Left - Caroline Charles - Animal Stencilled Calfskin Jacket.
Right - Latest Cape Trend - Malandrino Leopard Print Distressed Leather Jacket With Kidassia Goat Collar Trim.
Short Animal Print Jackets
Retailers have adapted animal catwalk looks to produce some useful jackets and many come in affordable prices.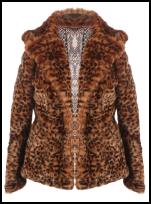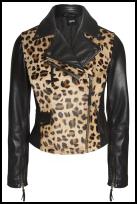 This short faux fur jacket incorporates golden orange tones giving fashion kudos for the rise of orange/tangerine/ginger hues.
Left - Contoured Animal Print Fur Jacket From Missguided.
Right - Leather Leopard Print Pony Effect Biker Zipper Jacket - £160 - ASOS WW AW11 Collection.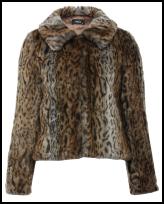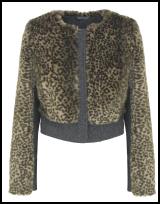 Left - Animal Print Fur Jacket From M&Co.
Right - M&S AW11 Limited Collection Fur Jacket.
Catwalk AW11/12 - Leopard Print Fur Gilets
Team plain trousers, jeans, jeggings or leggings with animal print gilets. Gilets in leopard prints featured in several catwalk shows for Autumn 2011.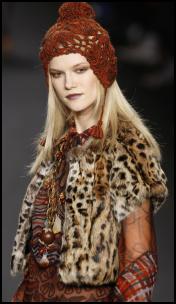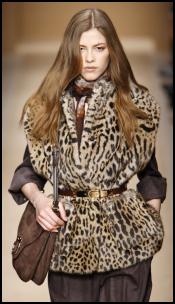 Left - Leopard Print Fur Gilet from Anna Sui Aw11.
Left - Dior Leopard Printed Mink Gilet.
‡
But are they leopard spots? Just check this chart below I made for a fashion-era 2008/9 animal fashion article. This animal print chart shows versions of real animal skin types that most assume are leopard spots.

At a first glance you might think these are all leopard patterns, but only two are leopard. From left to right there is leopard, which has both open and closed small spots, next is jaguar (with a more open paw like spot); at the centre is cheetah (with a much smaller compact spot). The ocelot has both curvy spots and short striped areas. Finally the last image right is snow leopard, which is much paler in tone and has open and closed spots.
Animal Print Scarves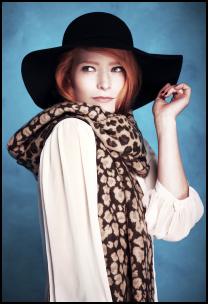 F&F Autumn/Winter 2011 - Animal Scarf £8 tesco.com.
Floppy Hats
Floppy hats add the true 70s remix element so don't be shy about buying a floppy hat accessory in animal or plain material. Read more about animal accessories, shoes and bags.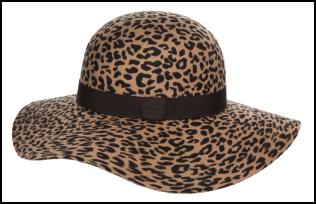 Biba At House of Fraser - Camel Animal Print Floppy Hat £55/€88.
Biba Stockist Number: 020 7003 4000.
Key Fashion Trends Autumn 2011
The key elements of fashion trends for autumn 2011, winter 2012 depend on longer lengths and bold rich vibrant colours in contrast textures and luxury fabrics. The silhouette pays homage to forties, sixties and seventies decades of style fashions. As ever animal prints are used in almost every one of the different women's fashion trends on offer.
Conclusion of Key Animal Coat Fashion for AW11/12
This review features the most important women's fashion fur coat looks for the autumn 2011 and Winter 2012. The most popular faux animal prints are: leopard, zebra and snakeskin. You have been reading an original animal print article on women's coats by Pauline Weston Thomas only for publication on www.fashion-era.com ©
Copyright of images courtesy of IFTF, Swarovski, very.co.uk Marks & Spencer, House Of Fraser, Debenhams, ASOS, Marisota, Dorothy Perkins, Oasis, Missguided, M&Co. New Look, Accessorize Monsoon, Internacionale, Miss Selfridge, Sainsbury Tu, PRShots.com, River Island, Marisota, F&F at Tesco, Pilot, NEXT, PRShots.com. Header Image - AW11 Oasis Coat.
Date Added 21 Sept 2011 - Ref: P.857.
If you like this page then please share it with your friends
---
--Link--
For more information on ladies and teens fashion trends go to:-
Archived Sections
Custom Search
About Fashion-Era.com
Fashion-Era.com looks at women's costume and fashion history and analyses the mood of an era. Changes in technology, leisure, work, cultural and moral values. Homelife and politics also contribute to lifestyle trends, which in turn influence the clothes we wear. These are the changes that make any era of society special in relation to the study of the costume of a period.

Fashion-Era.com can take no responsibility for any information on the site which may cause you error, loss or costs incurred from use of the information and links either directly or indirectly. This site is owned, designed, written and developed by author: Pauline Thomas and Guy Thomas. This site is designed to be viewed in 1024 X 768 or higher.
ALL RIGHTS RESERVED. Fashion-era.com reserves the right to add or delete information, graphics and links. Copyright © 2001-2014 on all content, text and images in Fashion-era.com. Images and text in this website may not be used on other websites.
Before you write to me for costume/fashion help or information please, please consult the extensive sitemap which lists all our pages. If you still cannot find the answer after searching the site, then before you email me, please consider if you are prepared to make a donation to the website.
Donations
Reader's donations help this site flourish, in particular donations encourage me to write more articles on fashion history as well as current trends. PayPal allows anyone with a credit card to donate easily and securely. You may donate any sum you feel appropriate.