Animal Print Fashions in Women's Clothes for Autumn 2011 Winter 2012
This review focuses on the main styles of animal print garments and accessories for Autumn Winter 2011/12 (AW11/12). Faux fur animal print materials are used on every item of clothing imaginable. This year we have seen a lot of coloured fabric prints bearing animal patterns especially zebra and snakeskin in dresses and jackets all giving a fresh fashion twist.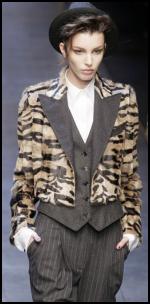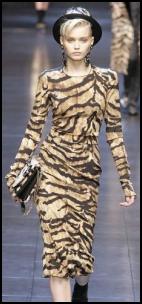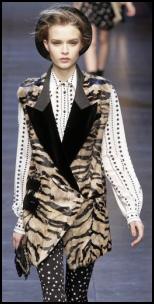 Catwalk Animal Print Fashions
Animal Prints From Dolce & Gabbana - Autumn 2011 - Winter 2012.
Amid many star prints, Dolce&Gabbana remained faithful to their love of animal print. For Autumn Winter 2011/12 a smattering of pieces featured abstracted tiger/zebra markings.
Coats were the first choice for an animal print in AW11/12, followed by bags, shoes, hats scarves and knitwear. As you read through this original article by Pauline Weston-Thomas, observe the variety of animal prints, and see that there is bold or subtle style for every woman.
Leopard print is now a classic pattern for designers to incorporate in their catwalk shows.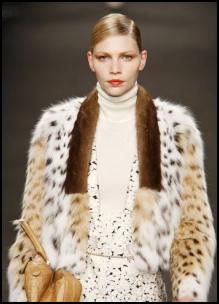 Fur Jacket by Brioni AW11.
Leopard, zebra, snakeskin and prints of other wild beasts translate well in all materials from fur, velvet, spandex to silk chiffon and lingerie fabrics. Animal print is timeless, and acts as a bridging or updating print when used in novel ways. An unexpected hatband, garment facing, wrist cuff belt or bag adds saucy fillip to an otherwise subtle outfit. Just a hint of animal print piping can bring an outfit bang up to date.
‡
Catwalk Coats Fashion AW11/12
Jackets & Capes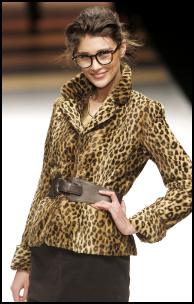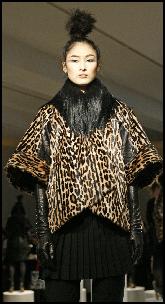 Left - Caroline Charles - Animal Stencilled Calfskin Jacket.
Right - Latest Cape Trend - Malandrino Leopard Print Distressed Leather Jacket With Kidassia Goat Collar Trim.
Retailers have adapted animal catwalk looks to produce some useful jackets and many come in affordable prices.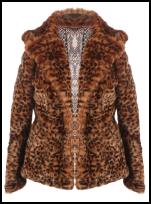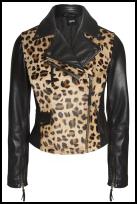 This short faux fur jacket incorporates golden orange tones giving fashion kudos for the rise of orange/tangerine/ginger hues.
Left - Contoured Animal Print Fur Jacket From Missguided.
Right - Leather Leopard Print Pony Effect Biker Zipper Jacket - £160 - ASOS WW AW11 Collection.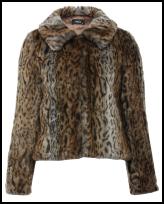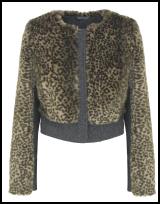 Left - Animal Print Fur Jacket From M&Co.
Right - M&S Limited Collection Fur Jacket.
When selecting an animal print fur coat check that the proportions are correct for your own body silhouette. Careful selection and trying on of many styles and fabric weights will ensure you buy your ideal animal print coat.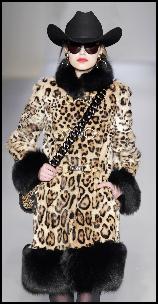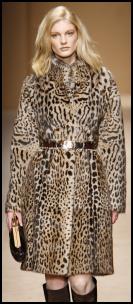 Left - Moschino Leopard Stencilled Rabbit Coat With Dyed Black Fox Trim.
Right - Ferragamo AW11 Stencilled Mink Coat.
Since a coat is such a statement making top cover overall look, select more subtle pieces to wear beneath the animal print piece. You are reading an original animal print fashion article by Pauline Weston Thomas only for publication on www.fashion-era.com ©
§
Dresses in standard animal colours abound, but coloured animal prints add more scope for wardrobe planning. Animal prints veer away from just leopard spots and move into zebra, snakeskin and tiger prints in every colour range imaginable. Abstracted patterns are especially dynamic and modern looking.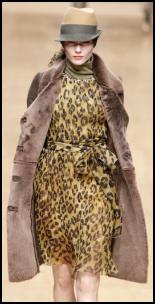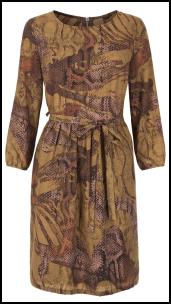 Left - Blugirl Animal Print Spot Dress AW11/12.
Centre & Right - Animal Snakeskin Print Dress - Very.co.uk.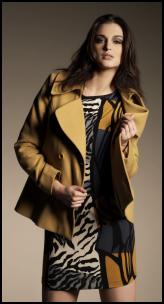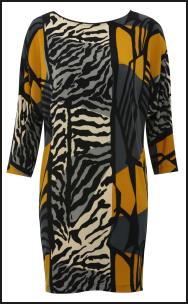 This animal print dress above utilises tiger/zebra markings in an abstract design to create a novel modern looking print shift dress. Stockist - Very.co.uk.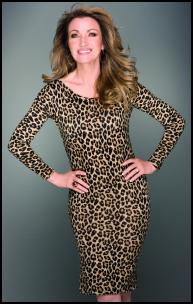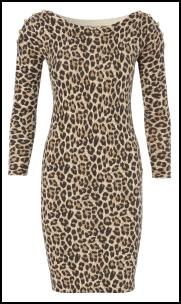 Left & Right - Petite Jane Seymour Wearing Animal Print Knit Dress From CC - £99.
CC AW11 ccfashion.co.uk.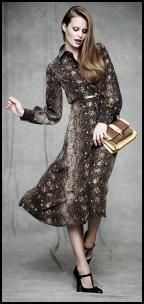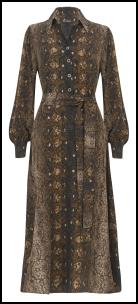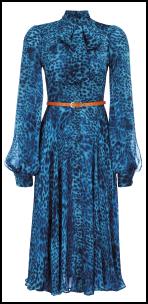 Left & Centre - Retro Glamour - M&S Autograph Snakeskin Print Dress £89.
Right - Blue Animal Spot Pussy Bow Bloused Sleeve Dress - Debenhams AW11.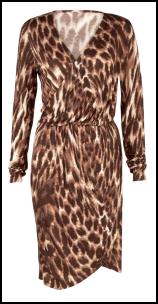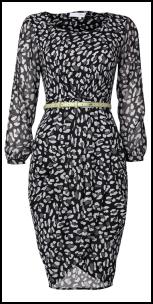 Left - F&F Wrap Dress £16.
Centre - Star by Julien MacDonald at Debenhams. Animal Print Dress £65/€97.50.
Right - Preen Edition at Debenhams - Animal Print Jersey Dress £65/€97.50.
Debenhams Stockist : 08445616161.
Team short dresses like the ones below with thicker winter coloured tights. Add your own belts to accessorize and define the shape.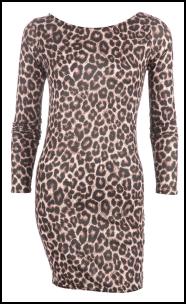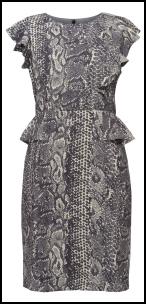 Left - Dorothea Leopard Print Long Sleeved Bodycon Dress £14.99 - missguided.co.uk.
Right - Women's Dress £35. Sainsbury's TU Clothing Womenswear - Stockist 0800636262.
Animal is now such a classic print that designers are using rainbow colours with these traditional motifs. Green, red, blue and purple are all colours available in animal print dresses.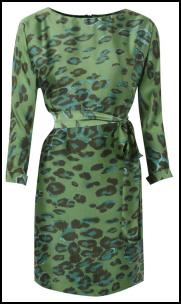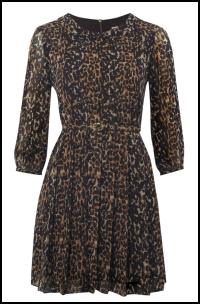 Left & Right - Animal Print Dresses - Mary Portas At House Of Fraser.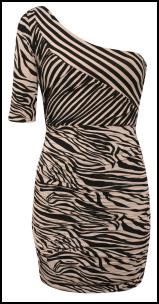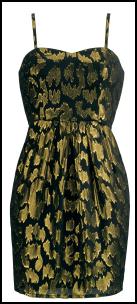 Left - One Shoulder Zebra and Diagonal Stripe Dress in Black £25.99.
Stockist Number: +44 24 7671 8834.
Right - Holly Willoughby Animal Print Strappy Brocade Bustier Dress £69. Stockist - very.co.uk.
See more animal print dress and top fashions here.
Animal Print Scarves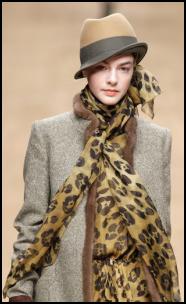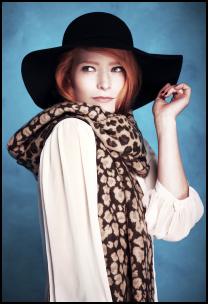 Left - Left - Blugirl Animal Print Scarf AW11/12.
Right - F&F Autumn/Winter 2011 - Animal Scarf £8 tesco.com.
This lovely scarf below is from Accessorize Monsoon.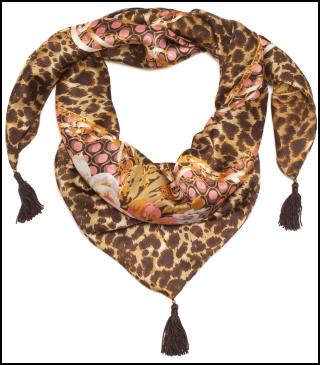 Accessorize AW11/12 - Margot Animal Print Scarf - £16/€27.

Floppy Hats

Floppy hats add the true 70s remix element so don't be shy about buying a floppy hat in animal or plain material.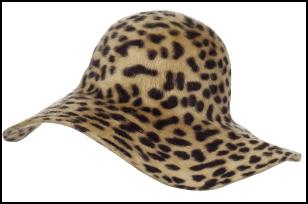 John Lewis Floppy Leopard Print Hat - £125.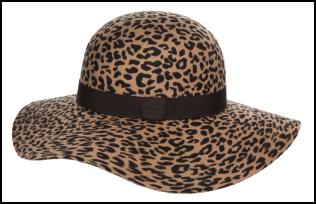 Biba At House of Fraser - Camel Animal Print Floppy Hat £55/€88.
Biba Stockist Number: 020 7003 4000.
See more animal print accessories here.
Animal Print Tops & Trousers
If tops and trousers are more your style then seek out some animal print pants or a pretty top. These two tops could not be more diverse and will suit quite different figure types.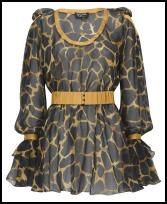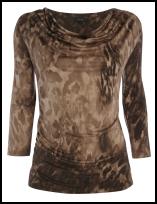 Left - M&S AW11 Animal Print Top - Per Una Speziale Animal Kaftan.
Right - EBay Fashion Outlet Cowl Neck Animal Print Top.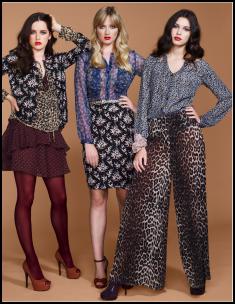 ...(v4r)
This year wider palazzo pants have regained favour and the trend is growing as so many women find them comfortable. But if you prefer leggings or jeggings you are sure to find some with animal panels or trims.
New Look Wide Leg Animal Print Trousers £32.99/€44.99 Limited Edition.
Stockist Number: 0500 454 094.
Catwalk AW11/12 - Leopard Print Fur Gilets
Team plain trousers, jeans, jeggings or leggings with animal print gilets. Gilets in leopard prints featured in several catwalk shows for Autumn 2011.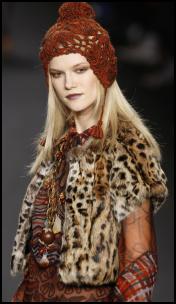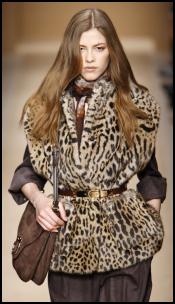 Left - Leopard Print Fur Gilet from Anna Sui Aw11.
Left - Dior Leopard Printed Mink Gilet.
High Street Leopard Print Jackets
Leopard print three quarter jackets are ideal winter coats for use casually with trousers or as a luxury touch for evening. Last year I bought faux fur Biba Leopard coat. It proved to be a very successful buy for the arctic snowy winter we had and best of all is such a classic item that it will be just as fashionable this year and in winter 2012 as it was in 2010.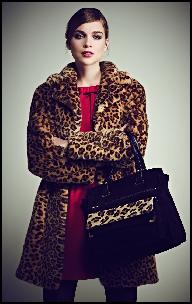 Left - Oasis AW11 - Fake Fur Leopard Print Coat.
Right - Leopard Print Coat at very.co.uk.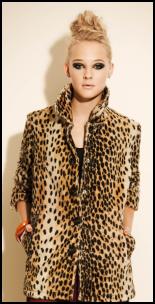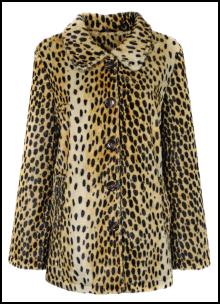 Left & Right - Miss Selfridge Faux Fur Leopard Print Coat £89.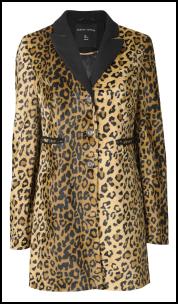 Left - Leopard Faux Fur Coat £69.
Right - Dorothy Perkins Brown Animal Leopard Coat, Contrast Collar £79.
Footwear changes mean that low kitten heels, flat block heels and brogues are showing up in shops and in our closets. These are some of my favourite animal print shoes this season and which are not outrageously high. All of them are on my must-have list.
HOBBS 30th Anniversary Kingston Animal Print T-Bar Kitten Shoe, £159/€180.
Hobbs 30th Anniversary Archive Footwear Collection - Stockist hobbs.co.uk.

River Island - Leopard Print Flat Shoes. River Island AW11/12.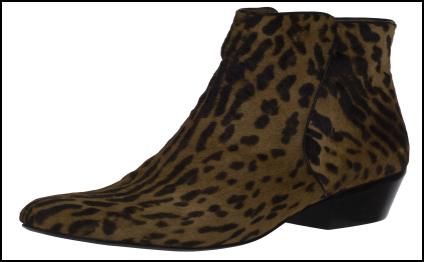 Bertie Animal Print Ankle Boot - Kai - £125/€147.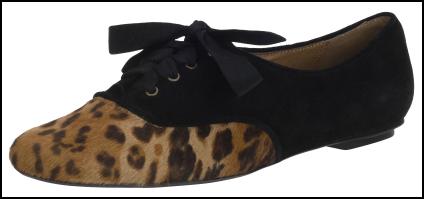 Flat Lace Leopard Shoes - Brogues From Bertie - Maki - £75/€87.
Bertie Women's Footwear Stockist Number: 0207 258 3605.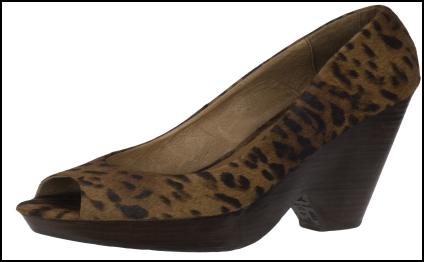 Bertie - Pray Heel Shoes- £85/€100.
See more animal accessories - footwear, boots and shoes here.
Key Fashion Trends Autumn 2011
...(v4r)
The key elements of fashion trends for autumn 2011, winter 2012 depend on longer lengths and bold rich vibrant colours in contrast textures and luxury fabrics. The silhouette pays homage to forties, sixties and seventies decades of style fashions. As ever animal prints are used in almost every one of the different trends on offer.
Conclusion of Key Animal Fashion Trends Autumn 2011 Winter 2012
This article reviews the main looks in animal print, leopard, zebra and snakeskin material fashions in clothing and accessories. You have been reading an original animal print fashion article by Pauline Weston Thomas only for publication on www.fashion-era.com ©
Copyright of images courtesy of IFTF, Swarovski, Bertie, very.co.uk Marks & Spencer, Debenhams, River Island, John Lewis, EBay, CC, Debenhams, Dorothy Perkins, Oasis, M&Co. New Look, Hobbs, Accessorize Monsoon, Miss Selfridge, Sainsbury Tu, PRShots.com. Header Image - IFTF Brioni Jacket.
Date added 21 Sept 2011 - Ref: P.856.
If you like this page then please share it with your friends
---
--Link--
For more information on ladies and teens fashion trends go to:-
Archived Sections
Custom Search
About Fashion-Era.com
Fashion-Era.com looks at women's costume and fashion history and analyses the mood of an era. Changes in technology, leisure, work, cultural and moral values. Homelife and politics also contribute to lifestyle trends, which in turn influence the clothes we wear. These are the changes that make any era of society special in relation to the study of the costume of a period.

Fashion-Era.com can take no responsibility for any information on the site which may cause you error, loss or costs incurred from use of the information and links either directly or indirectly. This site is owned, designed, written and developed by author: Pauline Thomas and Guy Thomas. This site is designed to be viewed in 1024 X 768 or higher.
ALL RIGHTS RESERVED. Fashion-era.com reserves the right to add or delete information, graphics and links. Copyright © 2001-2014 on all content, text and images in Fashion-era.com. Images and text in this website may not be used on other websites.
Before you write to me for costume/fashion help or information please, please consult the extensive sitemap which lists all our pages. If you still cannot find the answer after searching the site, then before you email me, please consider if you are prepared to make a donation to the website.
Donations
Reader's donations help this site flourish, in particular donations encourage me to write more articles on fashion history as well as current trends. PayPal allows anyone with a credit card to donate easily and securely. You may donate any sum you feel appropriate.