Women's Cocoon Coat Fashion Trends
The cocoon coat is a hit but, with so much freedom to select from many styles, ensure that the proportions of length, shoulder and hip width are correct for your own body silhouette. The trend is growing for relaxed, but structured fit and longer ladylike styles.
See how you can select a reworked silhouette style from at least 5 different decades of the C20th.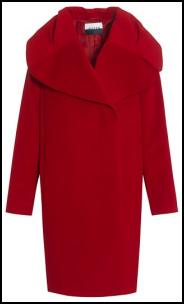 Left- Easy Loose AW11 Coat - De La Renta Fur Trimmed Coat.
Centre - Jaeger AW11 - Guardsman Red Oversized Cocoon Long Wrap Coat £450. This Jaeger coat has a dynamic pleated collar.
Right - Black Cocoon Coat AW 11 Ralph Lauren.
Here is my review of the important cocoon coat fashion looks for Autumn 2011 and Winter 2012. An autumn 2011 wardrobe update demands less flesh exposure than a spring update. Cooler temperatures offer opportunities for more gracious looks in a chance to show-off jewel colours.
The strongest coat silhouette at Designer shows was the cocoon coat, alongside statement jackets, sixties Mod and seventies remix. If you are investing in a new style coat this winter 2012 opt for cocoon coat style elements. We saw this trend start back in 2000, slowly gaining ground so that now it's full on with balloon and cocoon coat styles in both above and below knee lengths. Some retailers call this cocoon style an ovoid coat. If you feel the volume of fabric drowns your tiny waistlin, then show it off by belting the cocoon style.
There is a style for every woman and in 2011 you can choose from a cocoon coat in wool or cashmere double cloths, wool tweed, fur, leather, shimmering brocade, or padded puffa materials. This fashion trends article focuses on the Autumn Winter 2011/12 main styles and trends in women's cocoon coats.
This cocoon trend also works its way around the more casual relaxed wear of quilted puffa padded coats and fur coats.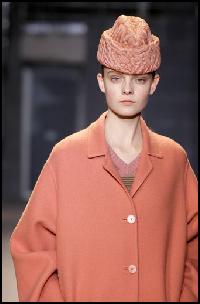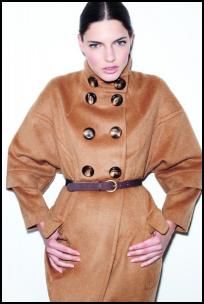 Left - Luxury from Oscar De La Renta AW11.
Cinnamon Double Faced Double Drape Alpaca Cocoon Coat.
Right - Wallis Autumn Winter 2011/2012 Double Breasted Winter Coat £120.
‡
The Overall Volume Look Autumn 2011 - This includes Cocoon Coats, padded fur sleeves in coats and jackets. There is a trend for he trend is growing for relaxed, but structured fit in some coats. Volume sleeves mean full blouson sleeves sometimes morph into cape shoulder styles or cape sleeves.
Cocoon Cape Coat Style
Burberry opted for colour and wool to create bright pieces.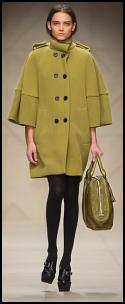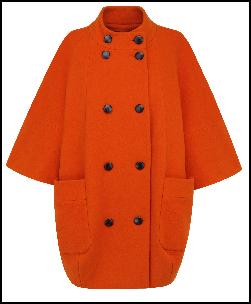 Left - Burberry AW11 Green Sculptural Wool Cocoon Cape Coat - £2195.
Right - Marks & Spencer Bright Orange Katy Cocoon Cape Coat £89.
Ovoid Coat Styles for Women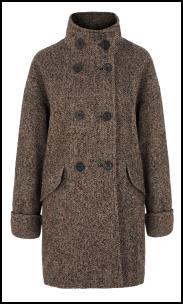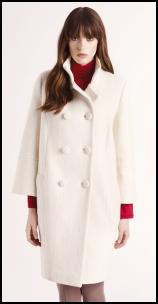 High street adaptations of Cocoon or ovoid coats sometimes economise on the bulk of the coat, but still allow for winter clothing. This can be a good thing as these styles do cover excess lumps and bumps but make sure the shoulder fit and sleeve length is good too. The coat fashion style is a good choice for building up winter layers.
Left - Next Hoxton Girls Cocoon Coat £65/€86. Next Stockist 0844 844 8000
Right - Debenhams - Butterfly by Matthew Williamson Cream Coat £120/€180.
Debenhams Stockist Tel:08445616161.
Heritage as a style theme was seen at Fendi, Rag & Bone, Tory Burch and Burberry. This look uses traditional British textile materials for best effect.
Relaxed Fit Coats in Tweed, Plaid, Tartan and Check
Burberry used colours with black to create amazing checks in rich wools. Burberry used these luscious wool fabrics to create coats and capes that were distinctive and desirable. Hound and dogtooth checks, blanket plaids and tablecloth checks give a cosy air to winter coats, throws, wraps, ponchos and capes. Tailored jackets and pure wool check skirts also suit the good quality British wool theme. Burberry show several trends in silhouette including a trend for relaxed, but structured fit in some coats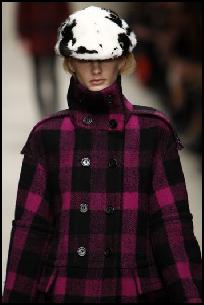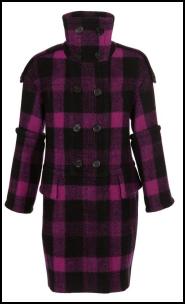 Left - Burberry Prorsum - Relaxed Fit Purple & Virgin Wool Check Coat, Tubular Sleeves & High Funnel Neck - £2395.
Available at Burberry and www.brownsfashion.com. The double-breasted front closure adds an extra warming front layer right up to the chin. Ideal torso cover in winter winds. The half-length sleeves have layered detail, whilst the long epaulettes add shoulder focus. At the back, interest is given with a half cinch belt and gathering. The relaxed fit means the wearer has room for some winter layers, making this a stylish chic but practical choice.
§
Top Fashion Trends for Autumn Winter 2011-2012
For 2011/12 some fashion designers have reworked styles from several specific decades of the 20th century. They've created so many fresh innovative looks enabling every woman to style her individual lifestyle new image and wardrobe. Sixties looks merge with seventies retro and forties elements all working together.
This fashion trends article focuses on the Autumn Winter 2011/12 main styles and trends in women's cocoon coats.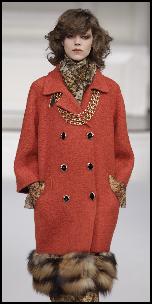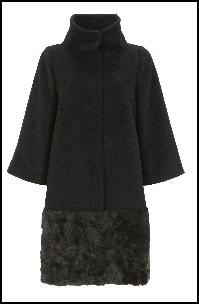 These coats above have semi loose lines, but with fur hem trims.
Left - Catwalk AW11 - Coat from Oscar De La Renta.
Right - Mint Velvet AW11 Funnel Neck Fur Trim Coat, £199/€259.
Mint Velvet Stockist Number: 0845 456 2200.
Many coat styles and dresses have fur hemlines or cuffs this winter. The fur in high street pieces is mostly faux. An alternative to fur is the leather or faux leather hem panel band and features on many retro sixties shorter coats.
Black Cocoon Coats - Occasion Wear
Shimmering Coats and Statement Cuffs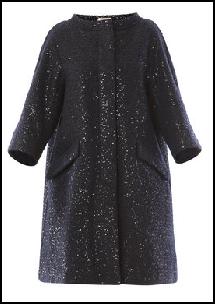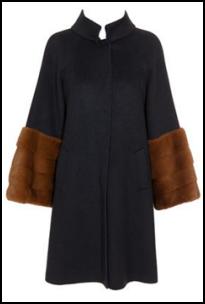 Left - Nina Ricci Shimmering Black Cocoon Coat - Matchesfashion.com.
Right - Fendi Cashmere Coat With Mink Fur Cuffs £5990.
Made in Italy this Fendi coat is available from www.brownsfashion.com in London.
Browns describe it as 'Marl navy cashmere swing coat with golden orange mink fur trimmed cuffs by Fendi. Fold over collar leads into a concealed press stud front closure. Wide, long sleeves. Two hip pockets. Unlined. Relaxed fit. Hemline finishes above the knees. 100% cashmere with Mink fur.'
...(v4r)
You will have noticed there are many black as well as coloured coats. Everyone needs a black coat in their wardrobe. I have four black coats in mine in different styles and lengths all bought in the past decade along with coloured, quirky and neutral coats. Coats are my favourite winter buy and I just have to buy one, sometimes two every year even if I don't buy much else. Coats are statement making pieces that the onlooker sees first and gains an impression. You can put your personality on show for a particular day by the coat you don that day.
Yes cocoon coats come in standard black as well as fashionable bold bright colours. Buy into the hot trend for a quality Cocoon coat with the alpaca black style below left. This Nicole Farhi coat has an enormous enveloping wide shawl picture collar. In fashion history, style elements always repeat and the wrap feature of this Farhi coat is a nice touch for those who love 1920s Boardwalk Empire fashions.
Below - Two USA sisters wearing similar 1920s fashion silhouette wrap coats in 1927.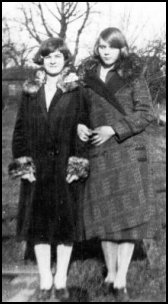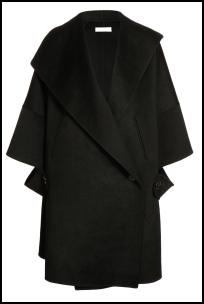 Left- Two USA sisters wearing similar 1920s fashion silhouette wrap coats in 1927.
Right - Autumn 2011 - Nicole Farhi Double Faced Double Draped Coat.
This luxurious coat is 70% Alpaca/ 30% Wool - £1,000.
Nicole Farhi is at 158 New Bond Street, London W1S 2UB.
Stockist - Tel: +44 (0) 20 7499 8368 or www.nicolefarhi.com .
Collarless Coats
At one extreme we have huge collars and large upstanding funnel cowl necklines on coats, yet also collarless coats with Audrey Hepburn or Jackie Kennedy sixties style elements.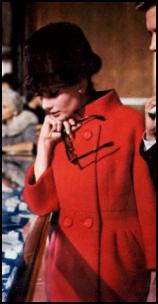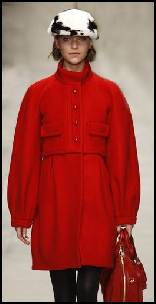 Above - Audrey Hepburn in the 1961 film Breakfast at Tiffanys and wearing a Givenchy burnt orange/tangerine red coat. The Burberry Red Coat AW11 - £1595.
This memorable, lusted after 60s coat, with wide stand variation of neckline styling, is similar to many of the coats below here. Designers cannot help but raid the fashion history archives. Coats such as these are perfect for styling with scarves, pussy bow blouses and dresses, or high roll sweaters.
Collarless Coats were a trend of Autumn 2011 catwalk shows. Some are totally collarless, others have the slightest round stand collar or an inset round faced insertion to add support and neckline shape. But it is an interesting change from revers and makes an ideal flat surface for scarf accessorising or adding the latest must-have accessory a fur tippet or choker necklace.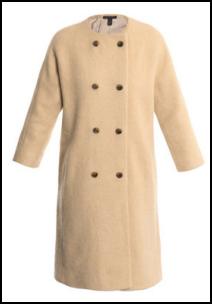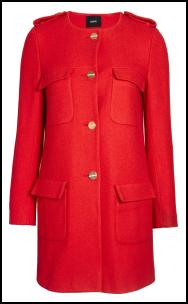 Left - Camel Wool/Angora Collarless Coat - Marc by Marc Jacobs.
Stockist - matchesfashion.com.
Right - ASOS Red Collarless Military Styled Coat - £100.
Fur tippets that can be added to coats, jackets, dresses and knitwear are a winning wardrobe planning piece. Collarless coats worn with roll polo neckline sweaters give a true 60s and 70s touch when the wearer add in patterned opaque tights.
In fashion history terms round collarless styles that sit very neatly at the neckline like these coats above, are also sometimes described as Chanel necklines.
-------v6-------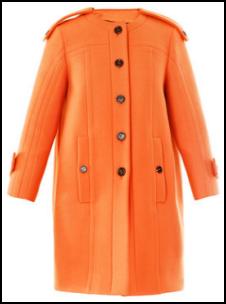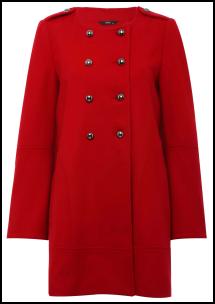 Left - Burberry Orange Coat - AW11.
Right - Red Collarless Coat £75 - M&Co AW11 Womenswear.
M&Co Stockist Number: 0800 0317 200.
The red coat above and the black and white windowpane check coat below are almost lookalike copies of the orange Burberry coat fashion styles above left and the Burberry red coat below.
They have minor differences, enough to make them worthy in their own right; but it is clear that the Burberry designs were the starting inspiration for these high street pieces. Collars have very high funnel neck stands, low or no stand or revers, thus making them totally collarless.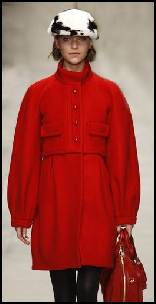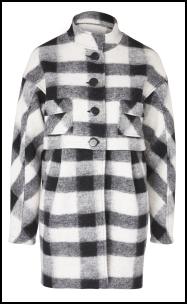 Left - Burberry AW2011/12 - Loose Shape Red Wool Balloon Sleeve Coat £1595 & Baker Boy Hat.
Right - ASOS AW11 Coats - Check Hooded Stepped-waist Coat £95.
Stockist Number: www.asos.com
Chubby cocoon faux fur coats in bright colours such as purple, navy, claret, teal, caramel and honey have surfaces that are set in rows like traditional skins were once used. Shearling and Mongolian fur has been dyed to bright colours. Purple and aubergine toned dyed fur was a popular choice.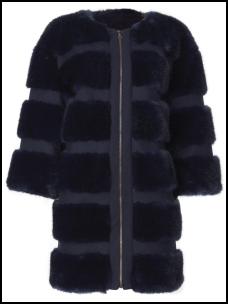 Left & Right - Collarless Fur Cocoon Coat - Roksanda Ilincic Edition For Debenhams - £199/€299.
Debenhams Stockist Number: 08445616161.
Give extra shape to your cocoon coat by adding a belt and cinching in your waist.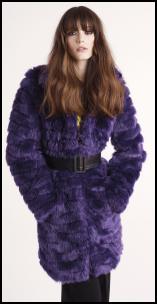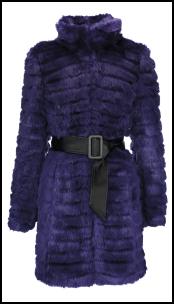 Left & Right - Star by Julien MacDonald Glam Faux Fur Coat £99/€148.50 - Debenhams.
Shaggy Fur Coats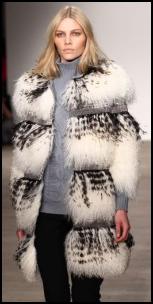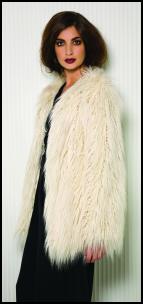 Right - Fur Coat Matthew Williamson AW11.
Centre - Fur Chubby Coat Dunnes Stores.
Shaggy furs such as Mongolian fur and synthetic versions dominate casual outerwear jackets and gilets. Expect to see some very interesting fashion clothing pieces based around fur trim.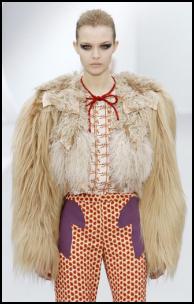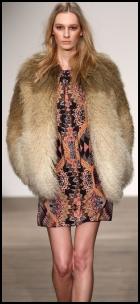 Right - Fur - Just Cavalli AW11.
Left - Chubby Fur Coat Matthew Williamson AW11.
-------v6-------
Short Fur Jackets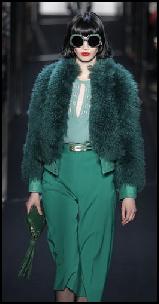 Left - Chubby Fur Coat Matthew Williamson AW11.
Centre - Sea Green Short Cocoon Fur Jacket. Diane Von Furstenberg AW11.
Creamy neutral chubby furs will team with many clothes, but the bold bright colours of seas green add a zing very much of this season.
Cocoon Outerwear Apparel Styling
Even the modern Autumn 2011 gilet and padded jacket follows the loose cocoon effect.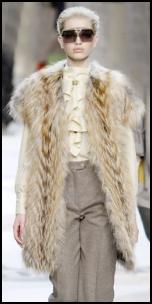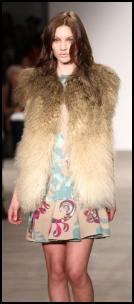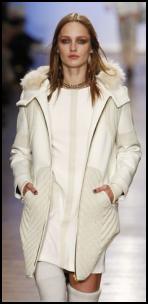 Left - Fabulous Long Fur Gilet by Fendi AW11.
Centre - Mongolian Fur Gilet Matthew Williamson AW11.
Right - Catwalk Fashion AW11 - Padded Winter White Coat From Rag & Bone.
Fabrics & Texture
Shininess, Silky Fluid, Furry & Fuzzy Fabrics
Fashion fabrics for autumn 2011 are simply fabulous. Fashion designers chose materials with superb tactile qualities and shininess.
Look out for fuzzy fabrics, furry textures, goat hair, teased mohair and soft cosy pieces that make you want to get closer. Boucle wool sleeves on cardigan coats offer high street value options to compliment catwalk designers take on fur panels on coats sleeves.
Faux fur is used extensively with whole garments and fur trim collars, tippets and bag flaps all getting the fur or skin treatments. Chubby shorter fur coats are always winter warmer seasonal must-haves - Karan knows this and showed chubby coats at DKNY. Marina Rinaldi has some luxury fur coats that are both sleek and stylish, perfect for plus size women who long for high fashion and enough material to cover lumps and bumps.
Rich texture is easiest to do if you select fur collars and jackets of fur. Maribou feathers in rich jewel colours add exotic alternative texture to hems, cuffs and necklines.
After that try baroque brocade fabrics or crocodile and snakeskin textures in bags, footwear and fabrics. Shearling handbags and Mongolian furs add texture that is layered to enhance contrast.
You will fall in love with mixture of textures from subtle languid fluid silks to coarser hairier and sports fabrics. Silk and silk/wool mixes are the winter must-have fabrics. Other luxury materials such as silk panne velvet make the perfect luxury fabric for winter festive coats.
Coat Accessory & Add-ons Autumn 2011
Bags Tippets Gloves
Get instant lift with a bright bold fashionable handbag. Carry your bag in an obvious no handle grasp under your arm as hug me pouches. Well try it for the season and see how much it irritates you compared with underarm handle bags.
Update your autumn pieces that with jewel toned court shoes. Select a heel that suits you and try a small platform for the seasonal touch.
The Mary Jane shoe has multiple straps and worn with patterned hosiery/pantyhose adds retro quality to leg looks. Pump shoes have shorter pointed toes and easy heels. Solid square heels and cone heels follow 1970s trends in women's shoes. Platforms and wedges, which are still available, often have fur cuff trims.
Knee high, above or just below the knee high boots are called cuissardes. Take the easy way to get one of the strongest fashion looks of fall. You are reading an original article about and winter fashion cocoon coats for 2011-2012 by Pauline Weston Thomas only for publication on www.fashion-era.com ©
Key Fashion Trends Autumn 2011
The key elements of fashion trends for autumn 2011, winter 2012 depend on longer lengths and bold rich vibrant colours in contrast textures and luxury fabrics. The silhouette pays homage to forties, sixties and seventies decades of style fashions.
Tailoring Fashion Trends for Autumn 2011
The strongest coat silhouette at Designer shows was the cocoon coat. This fashion trends article focuses on the Autumn Winter 2011/12 main styles and trends in women's cocoon coats.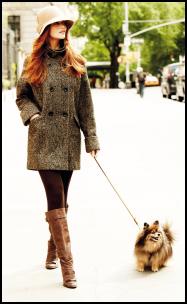 NEXT AW11/12 - Hoxton Girls Cocoon Coat £65/€86.
Whatever silhouette or retro trend you select you can be sure fashion styles for autumn 2011 and winter 2012 focus on mixes of zinging jewel colours.
Conclusion of Key Fashion Trends Autumn 2011 Winter 2012
This review features the most important women's fashion looks for the autumn 2011 and Winter 2012. This article reviews the main looks in dresses, footwear, bags jewellery and other fashion accessories. You have been reading an original cocoon coat fashion article by Pauline Weston Thomas only for publication on www.fashion-era.com ©
Copyright of images courtesy of IFTF, Swarovski, Marks & Spencer, Debenhams, M&Co., ASOS, Next, very.co.uk, Mint Velvet, Wallis, Dunnes Stores, Rag & Bone, matchesfashion.com, brownsfashion.com, Jaeger, Nicole Farhi, PRShots.com. Header Image - IFTF.
Date Added 21 Sept 2011 - Ref: P.848
If you like this page then please share it with your friends
---
--Link--
For more information on ladies and teens fashion trends go to:-
Archived Sections
Custom Search
About Fashion-Era.com
Fashion-Era.com looks at women's costume and fashion history and analyses the mood of an era. Changes in technology, leisure, work, cultural and moral values. Homelife and politics also contribute to lifestyle trends, which in turn influence the clothes we wear. These are the changes that make any era of society special in relation to the study of the costume of a period.

Fashion-Era.com can take no responsibility for any information on the site which may cause you error, loss or costs incurred from use of the information and links either directly or indirectly. This site is owned, designed, written and developed by author: Pauline Thomas and Guy Thomas. This site is designed to be viewed in 1024 X 768 or higher.
ALL RIGHTS RESERVED. Fashion-era.com reserves the right to add or delete information, graphics and links. Copyright © 2001-2014 on all content, text and images in Fashion-era.com. Images and text in this website may not be used on other websites.
Before you write to me for costume/fashion help or information please, please consult the extensive sitemap which lists all our pages. If you still cannot find the answer after searching the site, then before you email me, please consider if you are prepared to make a donation to the website.
Donations
Reader's donations help this site flourish, in particular donations encourage me to write more articles on fashion history as well as current trends. PayPal allows anyone with a credit card to donate easily and securely. You may donate any sum you feel appropriate.