Yellow Colour Fashion Trends for Autumn 2011 & Winter 2012
Here is my review of the importance of yellow in women's fashion colours for Autumn 2011 and Winter 2012. Gold, brocades and metallic looks were a hit with consumers in the noughties. Now yellow gold is back on the fashion rails.
The vivid rich jewel colours of golden amber, citrine and peridot add sunny liveliness to the colour palette. Yellow can be mixed in small or large amounts when colour blocking. Do use yellow and yellow gold for accents and other fashion pieces. Yellow is a colour that will take you into spring 2012. For Autumn-Winter 2011/2012 Pantones yellow is Bamboo.


Left - Pantone's Autumn Winter 2011 Bamboo.
Right - Pantones Spring 2012 Solar Power.
Pantone describe AW11 Bamboo 'as a fall hue, bringing a warm, exotic flavour to the season. Like a filtered sunset on the waning days of fall, Bamboo is a standout yellow with a subtle green undertone.'
For Spring 2012 Pantone show a warmer golden yellow. But clearly yellow is here this year and next. Many of these hues have metallic undertones, for example, golden yellow, marigold, green and copper. You are reading an original article about yellow fashion colours for 2011-2012 by Pauline Weston Thomas only for publication on www.fashion-era.com ©.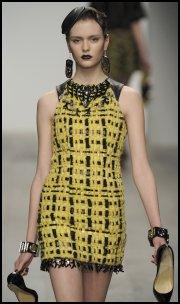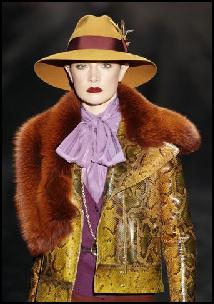 Left - Holly Fulton Ready To Wear AW11 Textured Weave Yellow/Black Dress.
Right - Snakeskin Jacket & Fur Collar, Wool Jacket & Fur Collar - Gucci Catwalk AW11.
Note the Fedora hat and pussy bow blouses. Snakeskin imagery is also being used in jewellery, scarves, spectacles, footwear and handbags. I love the snakeskin bangles at Harvey Nichols and the snakeskin boots from Prada. At Chloe snakeskin looked at home on bucket bags making statement making accessories with a sixties vibe. For a more affordable take try the snakeskin clutch at Banana Republic. You are reading an original article about yellow fashion colours for 2011-2012 by Pauline Weston Thomas only for publication on www.fashion-era.com©.
The centre of attention for autumn 2011 has been on jewel colours. This major development carrying on from spring brights and colour-blocks.
For Autumn 2011 Winter 2012 vivid rich jewel colours of citrine, amber and pink when made up in fur materials create striking unexpected effects. When worked as retro 60s cute coats they are fun and and frivolously youthful.
The high street has responded with several yellow coats.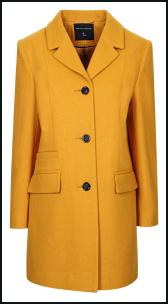 Left - Topshop AW11 Yellow Black Trim Short Coat.
Centre - Dorothy Perkins AW11 Yellow Gold Mustard Coat.
Right - Matalan AW11 Women's 70's Single Breasted Tulip Coat £40.
Matalan Stockist Number: 0845 330 3330.
The inspiration for yellow coats was taken from designer such as Philosophy and Gucci.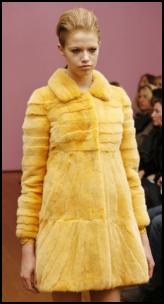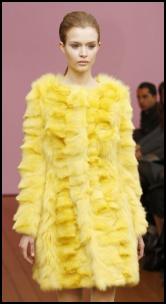 Philosophy - 60s Inspired Baby Doll Yellow Fur Coats.
Every colour embraced catwalk fur coat styles. See more on my fur coat article.
Seventies hippy chic took advantage of bright colours in fashion and maxed out old Afghan Style Boho coats, but with a new twist. Shearling and coloured Shearling was a popular designer choice especially at Gucci. Retailers everywhere have copied the catwalk look even in brilliant colours like these shown here as well as purple, blue and red. Many more designs use soft and dark greys or cinnamon and taupe colours which are more wearer subtle.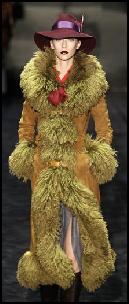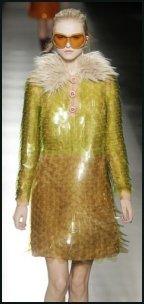 Left - Retro Seventies Afghan Style Coat Gucci AW11.
Right - Golden Sequins From Prada.
Hats complimented these seventies silhouette coats. The Fedora hat, the Trilby hat and the Cloche hat all added to the retro feel of catwalk remix shows. These hats are easy to buy from the high street stores at every price level.
Add Christmas sparkle with a sequin or beaded dress. Dolce & Gabbana star sequin dress is a hit and expect to see star prints everywhere.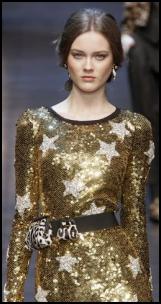 Cocktail Glamour - Dolce & Gabbana Sequin Gold Star Dress.
‡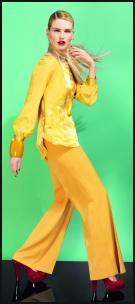 Centre - Dorothy Perkins AW11 Yellow Palazzo Pants & Blouse.
Right - New Look AW11 Yellow Flare Blouse & Black Skinny Jeans.
Right - Softer Colour Blocking - Benetton AW11.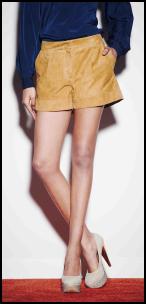 Skinnies & Shorts
Left - River Island Bonny Gold Trousers £35, Anita Feathered Shoes £65.
Right - Littlewoods Ireland - Love Label Gold Suede Shorts €82.
Heritage and prim looks were strong catwalk styles and the pieces often made use of Pure New Wool. Burberry in particular showed British wool to its best advantage.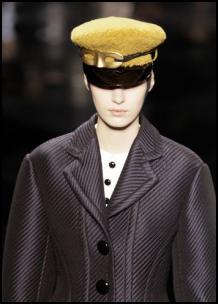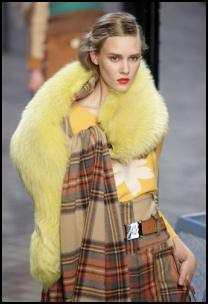 Left - Louis Vuitton Yellow Gold Bamboo Baker Boy Hat Cap.
Right - Sonia Rykiel Yellow Tartan Heritage Skirt.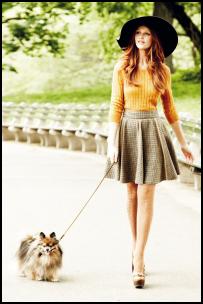 AW11 Heritage Looks Love Yellow Knits and Tweed Skirts.
Next AW11 Hoxton Girls - Swing Sweater £30/€40, Skater Skirt £35/€46, Floppy Hat £24/€33.
Bow blouse and pussy bow blouse are a growing fashion trend for tops and dresses.



Left - Debenhams Outfit AW11.
Centre - Mustard Yellow Blouse With Black Bow Tie - River Island Ladylike Womenswear Fashion AW11 - Stockist Number: 0208 991 4904.
Right - Miss Selfridge AW11 - Colourful Purple Opaque Tights/Pantyhose, Prim Yellow Print Dress.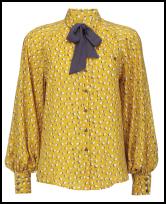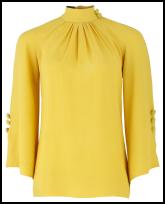 Left - Detail of Debenhams AW11 Yellow Print Blouse.
Right - Yellow Top - River Island - Stockist Number: 0208 991 4904.
Prim blouses in yellow, bamboo, cumin and golden mustard tones are sharpened with black trims in the form of contrast buttons, bows and broderie touches. Embroidery today is mostly produced on huge machines and so a fashion extra that was once the privilege of a few is available for the price of a meal.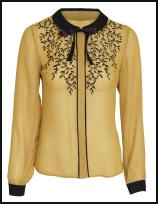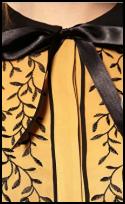 Left & Right - Mustard Blouse with Black Decoration, Black Collar and Cuffs - ASOS AW11.
Notice how often yellow is teamed with black and charcoal. Or features are picked out in black. Buttons, braid trim, contrast cuffs, collars and belts are the obvious choice.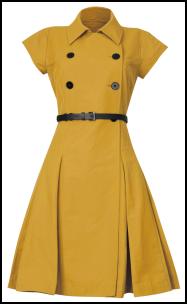 Left - Debenhams AW11 Yellow Dress With Black Button/Belt Trim.
Centre - Miss Selfridge AW11 Bamboo Yellow Cape Dress & Yellow Tights.
Right - F&F Autumn/Winter 2011 Womenswear Dress £28 - F&F Limited Edition - All Tesco.com.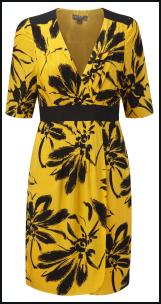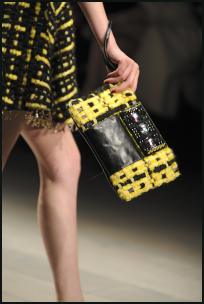 Left - Fever AW11 Black Yellow Exotic Print Dress.
Right - Holly Fulton Black Yellow Clutch Handbag.
§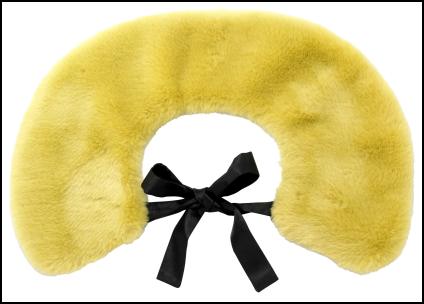 River Island AW11 - Yellow Fur Tippet & Black Tie Ribbon.
Fur tippets are a seasonal accessory this year. They can be a great thrift measure to brighten up a favourite old coat or simply be used as a should cover up from taxi to table. This River Island fur tippet has a green overtone so typical of this seasons' yellows. River Island is well known for great add-on accessories. You are reading an original yellow colour fashion trends article by Pauline Weston Thomas only for publication on www.fashion-era.com ©.
Bamboo Yellow flows seamlessly into cedar green.
This budget 60s inspired mini-coat from Matalan, uses a lime green fabric which follows on from recent colours this past year or so. Again note the black button contrast trim. This season is all about colour contrast.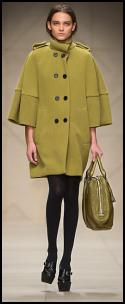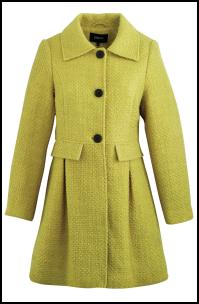 Left - Burberry Green Sculptured Cocoon Coat. Burberry Fashion AW11.
Right - Matalan AW11 - Women's 70's Lime Green Single Breasted Tulip Coat £40.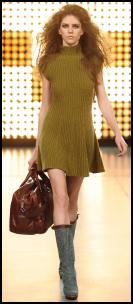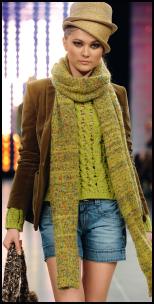 Left - Benetton Green Sweater Dress.
Right - Benetton Knitwear AW11.
PANTONE 16-0526 Cedar,
PANTONE 18-0930 Coffee Liqueur,
PANTONE 16-1320 Nougat.
Cedar green teams well with coffee tones.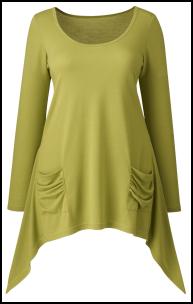 Simply-Be Green Pointed Pocket Tunic.
Colourful bags and shoes also go the green way. Kermit green and emerald green - not much to say other than glorious vibrant green is a favourite for Autumn/Winter 2011 at Mulberry.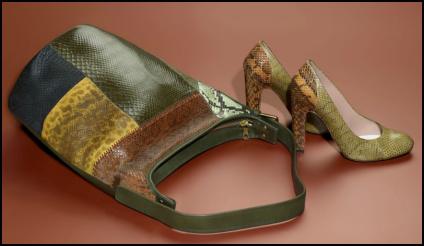 Whatever garment colours you choose this winter be sure to check the latest colours in nail varnish or polish
4---------M4--------4
Nail Polish - Nail Lacquers
he metallic colour to buy this autumn is Chanel's Le Vernis Nail Colour in Peridot - perfect peacock green and gold giving a moiré shimmer. Morticia would crave the newness of a non-pink tint! Revlon advises that muted bright nail polishes and lacquers are both big trends for autumn 2011. Max Mara have shown models wearing dark wine nails. T
Conclusion of Key Fashion Colour Trends Autumn 2011 Winter 2012
This review features the most important women's fashion colour looks for the autumn 2011 and Winter 2012. This article reviews the main colour looks in dresses, footwear, bags jewellery and other fashion accessories. You have been reading an original colour fashion trends article by Pauline Weston Thomas only for publication on www.fashion-era.com ©.
Copyright of images courtesy of Prshots.com, IFTF, BHS, Pantone, Swarovski, A|wear, ASOS, Accessorize Monsoon, Matalan, Marks & Spencer, Mulberry, M&Co, Hobbs, House of Fraser, Oasis, Debenhams, Littlewoods, Benetton, New Look, Next, Fever, very.co.uk, French Connection, Miss Selfridge, T K Maxx, Elegance, East, Louis Vuitton, Dorothy Perkins, F&F Tesco, Pilot, Oli, People Tree, Primark, Penneys, Wallis, Simply Be, Fifty Plus, Apricot, Dunnes, River Island.
Date added 21 Oct 2011 - Ref: P.867.
If you like this page then please share it with your friends
---
--Link--
For more information on ladies and teens fashion trends go to:-
Archived Sections
Custom Search
About Fashion-Era.com
Fashion-Era.com looks at women's costume and fashion history and analyses the mood of an era. Changes in technology, leisure, work, cultural and moral values. Homelife and politics also contribute to lifestyle trends, which in turn influence the clothes we wear. These are the changes that make any era of society special in relation to the study of the costume of a period.

Fashion-Era.com can take no responsibility for any information on the site which may cause you error, loss or costs incurred from use of the information and links either directly or indirectly. This site is owned, designed, written and developed by author: Pauline Thomas and Guy Thomas. This site is designed to be viewed in 1024 X 768 or higher.
ALL RIGHTS RESERVED. Fashion-era.com reserves the right to add or delete information, graphics and links. Copyright © 2001-2014 on all content, text and images in Fashion-era.com. Images and text in this website may not be used on other websites.
Before you write to me for costume/fashion help or information please, please consult the extensive sitemap which lists all our pages. If you still cannot find the answer after searching the site, then before you email me, please consider if you are prepared to make a donation to the website.
Donations
Reader's donations help this site flourish, in particular donations encourage me to write more articles on fashion history as well as current trends. PayPal allows anyone with a credit card to donate easily and securely. You may donate any sum you feel appropriate.