Neutral Coffee Colour Fashion Trends for Autumn 2011 & Winter 2012
Here is my review of the important fashion neutral tones for Autumn 2011 and Winter 2012 that offer contrast to autumns jewel hues. Vivid rich jewel colours include golden amber, carnelian red, garnet, pink ruby, sapphire, emerald, olive green quartz, aquamarine and purple amethyst.
You can add more restrained notes of colour by using the soft neutral tones.
You are reading an original article about Autumn and Winter fashion colours for 2011-2012 by Pauline Weston Thomas only for publication on www.fashion-era.com ©.
Consumers continue to add stability to their wardrobes with neutrals. Rich, decadent Coffee Liqueur brings a sense of elegance to fall, and is a savoury alternative to basic black.
A deliciously warm camel tan, nougat is easily a tasteful base colour for embellishment with Phlox/Purple, Emberglow/Peachy Orange Coral or Honeysuckle/Pink.
Left - PANTONE 18-0930 Coffee Liqueur.
Right - PANTONE 16-1320 Nougat.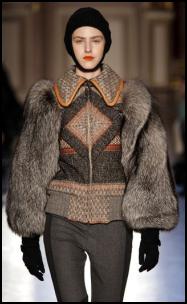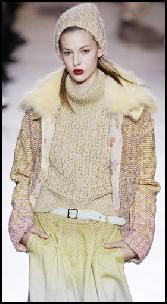 Left - Tsumori Chisato AW11 Fur Sleeve Jacket.
Right - Missoni Jacket & Knitwear.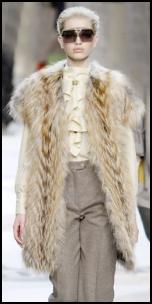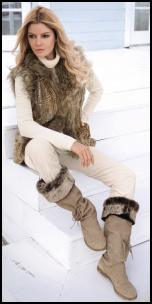 Left - Fendi AW11 Long Fur Gilet Sleeveless Coat.
Right - Camel Fur Gilet Waistcoat £489, Ecru Sweater £109, Ecru Velvet Trousers £129, Knee Length Fur Trim Boots £289. Elégance Autumn/Winter 2011 - Stockist Number: 0844 557 5507.
Furry looks are a huge trend this winter. Easy ways to achieve this involve the simple addition of a gilet, cropped cardigan, with a fur collar, or fur trim slippers to pad around the house! These two pieces are ideal for fast tracking into fur.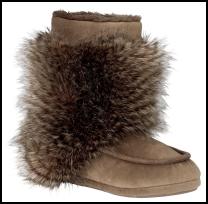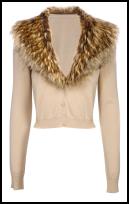 Left - Marks & Spencer Fur Trim Slippers £15.
Right - Miss Selfridge AW11 - Tipped Fur Collar Cardigan.
‡
Pencil lines and A-line dresses pick up on two of the best styles of dress from early and mid-sixties fashions. The A-line shift could easily be worn as a pinafore dress with a contrast polo neck sweater, or a pussy bow blouse.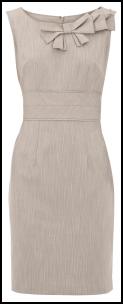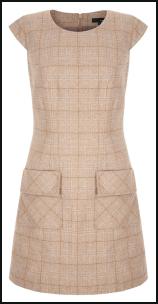 Left - Oasis Beige Dress With Neckline Bow Feature.
Right - NEXT A-line 60s Heritage Check Pinafore Pocket Shift Dress, £50/€66 - NEXT AW11.
Years ago a beaded or sequined dress would have cost so much you would have been out of pocket. But now these dresses cost a fraction of the price they might have been twenty five years ago.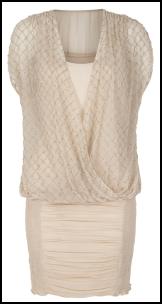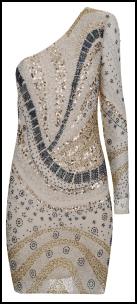 Left - Monsoon/Accessorize AW11 Skylark Dress, £160/€250 - Womenswear
Stockist Number: 08448110068.
Centre - Love Label Cream Beaded 80s Dress - Very.co.uk AW11.
Right - Miss Selfridge AW11 - Beaded One Shoulder One Sleeve Cocktail Dress.
The short cocktail dresses above are all ideal for dressing up over Christmas. Imagine how fetching you might look in one of these for canapés and drinks Christmas parties. Note how the intricate bead and sequin work runs through the neutral palette to great effect.
The simple one shouldered dress has taken a new twist this Christmas, and now there are many more versions of both long and short party dresses sporting a wrist length sleeve. This style is almost more dramatic to the onlooker. The dress below far left is especially interesting as the sleeveless shoulder is not in fact cut away. At first glance you get the optical illusion that it's a one-shouldered dress because it has only one sleeve. It would be possible to wear a normal bra with this style.
The two dresses centre both echo styles of the mid/late sixties and early seventies when empire bodices were often beaded or embellished with fake flowers. The oasis dress centre right and covered in fabric flowers is very reminiscent of gowns from the 60s label Jean Varon.




Left - Miss Selfridge AW11 - One Sleeve Split Evening Dress.
Centre Left - M&S AW11 Classy Long Empire Dress.
Centre Right - Oasis Pretty Fabric Flower Empire Evening Dress.
Right - Miss Selfridge AW11 - Sunray Pleated Lurex Sheen Dress.
The sunray pleated halter neck dress far right has a touch of Marilyn Monroe 50's film star style about it. These neutral colours all look very expensive, but be sure to get your make-up just right so you don't appear washed out.
Fashion fabrics for Autumn 2011 are simply fabulous. Fashion designers chose materials with superb tactile qualities and shininess. You will fall in love with mixture of textures from subtle languid fluid silks to coarser hairier and sports fabrics. You are reading an original colour fashion trends article by Pauline Weston Thomas only for publication on www.fashion-era.com ©.
§
Silk and silk/wool mixes are the winter must-have fabrics, but whatever piece you chose colour will be one of the most important aspects of your selection. For those scared of colour neutrals offer a safe haven and are always good wardrobe basic that for some are must-haves.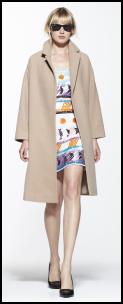 Left - Marks & Spencer AW11 - Masculine Feminine Stone Coat.
Right - Loose Camel Beige Coat - Very.co.uk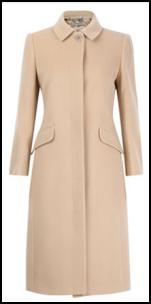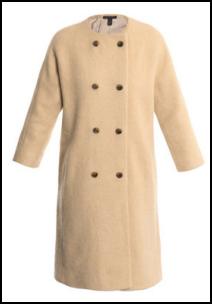 Left - Jigsaw Caramel Tailored Coat.
Right - Marc B Collarless Coat.
Latest Colour Trends for Late 2011
Intense Jewel Colours - Ruby Red, Amethyst, Sapphire, Emerald, Malachite, Garnet, Amber, Carnelian, Lapis and Citrine add a rich zing of colour. Kingfisher blues, jade and raspberry reds vie with orange brights and rusty carnelian tones. In red hues think lipstick red, ruby red, geranium and hot fuchsia pink.
Colour Mixing - Mondrian Block Colour Mixing - Subtle Block Mixed Neutrals. Arctic Whites. Greens and orange are the new 'it' colours to enliven your clothes rail.
The centre of attention for autumn 2011 has been on jewel colours/ This major development carrying on from spring brights and colour-blocks. These mass market garments above, and the way they have been styled are good illustrations of achieving hot on trend looks by wearing contrasting legwear or hosiery. Coloured jeans, chinos or tights inject vibrant pops of colour at low cost.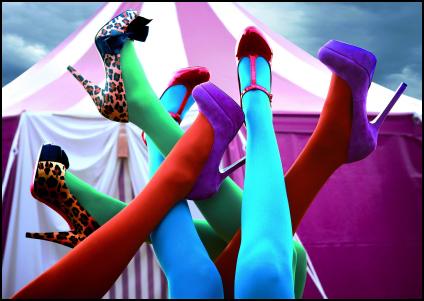 Colour mixing bold purple and magenta purple with other brights like pink or teal is a norm for winter 2012. So go ahead and mix and match your colour block look.
4---------M4--------4
Black is low on the list of trends this autumn unless you intend to devote yourself to Fetish/Goth looks. The bright colours that popped up everywhere for summer 2011 are now subdued into the vibrant but more subtle colours of gems from a jewellery store. For Spring 2011 colour fashions see spring's Colour Block Fashion.
Jewel colours are now the main colour story of autumn 2011 fashion trends. Those softer ballet tones are subtly there, but the main colour focus is richness and depth of tone. This is found in sapphire, lapis, emerald, garnet, deep amethyst, ruby and golden citrine. Much of the golden yellow and copper tones are frequently metallic as are many green shades.
Conclusion of Key Fashion Colour Trends Autumn 2011 Winter 2012
This review features the most important women's fashion colour looks for the autumn 2011 and Winter 2012. This article reviews the main colour looks in dresses, footwear, bags jewellery and other fashion accessories. You have been reading an original colour fashion trends article by Pauline Weston Thomas only for publication on www.fashion-era.com ©.
Copyright of images courtesy of Prshots.com, IFTF, Pantone, Swarovski, Accessorize Monsoon, Marks & Spencer, House of Fraser, Oasis, Debenhams, New Look, Next, very.co.uk, Miss Selfridge, T K Maxx, Elegance, Jigsaw, Marc B, Pilot, Oli, Primark, Penneys, Wallis, Dunnes, River Island.
Date added 21 Oct 2011 - Ref: P.868.
If you like this page then please share it with your friends
---
--Link--
For more information on ladies and teens fashion trends go to:-
Archived Sections
Custom Search
About Fashion-Era.com
Fashion-Era.com looks at women's costume and fashion history and analyses the mood of an era. Changes in technology, leisure, work, cultural and moral values. Homelife and politics also contribute to lifestyle trends, which in turn influence the clothes we wear. These are the changes that make any era of society special in relation to the study of the costume of a period.

Fashion-Era.com can take no responsibility for any information on the site which may cause you error, loss or costs incurred from use of the information and links either directly or indirectly. This site is owned, designed, written and developed by author: Pauline Thomas and Guy Thomas. This site is designed to be viewed in 1024 X 768 or higher.
ALL RIGHTS RESERVED. Fashion-era.com reserves the right to add or delete information, graphics and links. Copyright © 2001-2014 on all content, text and images in Fashion-era.com. Images and text in this website may not be used on other websites.
Before you write to me for costume/fashion help or information please, please consult the extensive sitemap which lists all our pages. If you still cannot find the answer after searching the site, then before you email me, please consider if you are prepared to make a donation to the website.
Donations
Reader's donations help this site flourish, in particular donations encourage me to write more articles on fashion history as well as current trends. PayPal allows anyone with a credit card to donate easily and securely. You may donate any sum you feel appropriate.